DiscoverEU gives 14,500 more young people the chance to explore Europe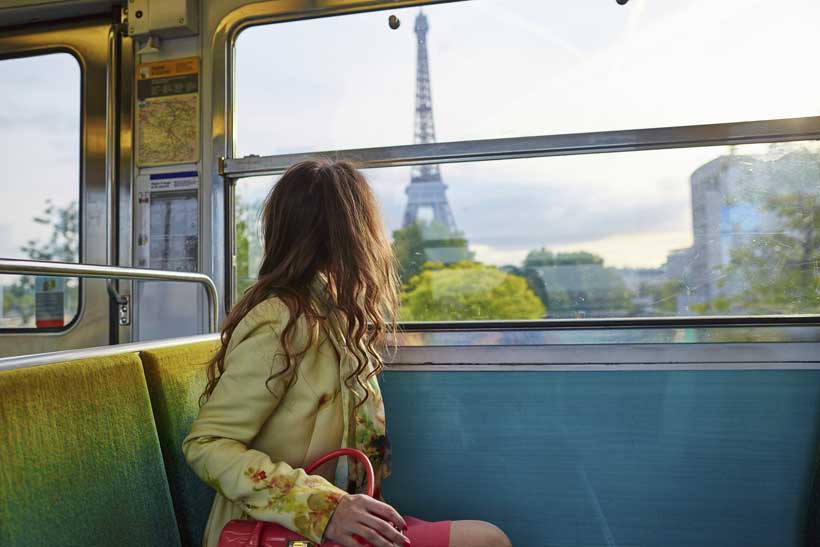 More than 14,500 18-year-olds have been selected from almost 80,000 applications to receive a DiscoverEU travel pass. Participants will be able to travel between 15 April and 31 October 2019 for up to 30 days.
The second round of the European Commission's DiscoverEU initiative attracted applications from almost 80,000 young people from all EU Member States during a two-week period that closed on 11 December 2018. 14,536 young Europeans were selected based on the award criteria and taking into account the quota set for each EU Member State.
Commissioner Tibor Navracsics, responsible for Education, Culture, Youth and Sport,said: "It is wonderful to see how young Europeans are using DiscoverEU to get to know their continent. In total, almost 180,000 young people from all over Europe have applied during the two rounds in 2018; and thanks to this initiative, we will have so far given around 30,000 young people the chance to explore Europe's cultures and traditions and connect with other travellers, as well as the communities they are visiting. It is inspiring to see how young people are exploring Europe through a personal journey. DiscoverEU allows them to plan their own trips, share their stories on social media and make new friends."
The winners of the second round will now be contacted so that they can book their trips. They will be able to travel, alone or in groups of maximum five people, between 15 April and 31 October 2019 for up to 30 days. Most of them will travel by rail with alternative modes of transport used in exceptional cases.
As well as the travel pass, the young people will receive pre-departure guidance, and they will be able to get in touch with each other on social media. They will also be informed of special opportunities available to them, for example price reductions on entry tickets for museums or cultural sites, participation in learning activities or welcome events organised by locals in the cities they will visit.
Background
DiscoverEU is an informal travel experience for young individuals or small groups, including those from disadvantaged backgrounds, which is accessible and simple. It gives 18-year-olds a chance to learn about European cultural heritage and diversity, to connect with other young people and to explore their European identity. The initiative was launched in June 2018, following a proposal from the European Parliament for a Preparatory Action with a budget of €12 million in 2018. The first application round gave around 15,000 young people the opportunity to travel around Europe. For 2019, the European Parliament has approved €16 million for DiscoverEU. The Commission is planning to launch the next application round in summer 2019. Specific dates and further information will be announced on the European Youth Portal in due course.
In May 2018, the Commission proposed €700 million for DiscoverEU as part of the future Erasmus+ programme under the EU's next long-term budget for 2021-2027. If the European Parliament and the Council agree to this, an additional 1.5 million 18-year-olds would be able to travel over those seven years.
The Commission is working to develop DiscoverEU into an even more valuable and inclusive learning experience for young Europeans. To this end, the Commission aims to increase the impact of the action and improve it further based on the interests shown by young travellers and on feedback from both travellers and key stakeholders.
12 ways to make a positive impact on your travels
After a period of plummeting tourism numbers during the pandemic, tourism is having a resurgence. This is good news for many workers and businesses, but it could be bad for the planet. Here is a selection of ways tourists can ensure that their holidays don't harm the environment.There are many positive aspects to tourism. Around two billion people travel each year for tourism purposes. Travel and tourism connect people and bring the world closer through shared experiences, cultural awareness and community building. It provides jobs, spurs regional development, and is a key driver for socio-economic progress.
However, there is often a downside; Many popular destinations are threatened by increasing pollution, environmental hazards, damage to heritage sites and overuse of resources. And that's without factoring the pollution caused by travel to and from these destinations.
So, with that in mind here are some tips that will help you to enjoy your trip, and leave with the confidence that your favoured tourist destination will not be damaged by your presence, once you return home.
1. Ditch single-use plastics
Often used for less than 15 minutes, single-use plastic items can take more than 1,000 years to degrade. Many of us are switching to sustainable options in our daily lives, and we can take the same attitude when we're on the road. By choosing reusable bottles and bags wherever you go, you can help ensure there is less plastic waste in the ocean and other habitats.
2. Be 'water wise'
On the whole, tourists use far more water than local residents. With a growing number of places experiencing water scarcity, the choices you make can help ensure people have adequate access to water in the future. By foregoing a daily change of sheets and towels during hotel stays, we can save millions of litres of water each year.
3. Buy local
When you buy local, you help boost the local economy, benefit local communities, and help to reduce the destination's carbon footprint from transporting the goods. This is also true at mealtimes, so enjoy fresh, locally grown produce every chance you get.
4. Use an ethical operator
Tour operations involve people, logistics, vendors, transportation and much more. Each link in the chain can impact the environment – positively or negatively. If you prefer to leave the planning to someone else, be sure to pick an operator that prioritizes the environment, uses resources efficiently and respects local culture.
5. 'Please don't feed the animals'
Sharing food with wildlife or getting close enough to do so increases the chances of spreading diseases like cold, flu and pneumonia from humans to animals. Also, when animals get used to receiving food from humans, their natural behaviours are altered, and they become dependent on people for survival. In some cases, it can also lead to human-animal conflict.
6. And don't eat them either!
By creating the demand, consuming endangered or exotic animals leads to an increase in poaching, trafficking and exploitation of animals. Besides the harm done to the individual animal on your plate, irresponsible dining can contribute to the extinction of species already threatened by climate change and habitat loss. Keep this in mind when shopping for souvenirs as well, and steer clear of products made from endangered wildlife.
7. Share a ride
Transportation is a major contributor to the carbon footprint from tourism. Instead of private taxis, explore using public transportation like trains, buses and shared cabs. You can also ride a bicycle, which offers a convenient and cheaper way to explore and learn about a place.
8. Consider a homestay
Staying with a local resident or family is a nature-friendly option that allows you to get up close and personal with local culture and customs. Staying at local homestays can uplift communities by providing income while giving you a peek into different ways of life.
9. Do your homework
Before your travel, educate yourself about your destination. Doing so will allow you to better immerse yourself in local traditions and practices and appreciate things that might have gone unnoticed otherwise. With the right information, you can explore a destination in a more sensitive manner and surprise yourself with new adventures and discoveries.
10. Visit national parks and sanctuaries
Exploring nature and wildlife through national parks is an intimate way to learn about the animals and their ecosystems first hand. In some cases, your entrance fee supports conservation efforts that protect species and landscapes and preserve these natural spaces for future visitors to enjoy.
11. Don't leave a trace
You can make a mark by not leaving a mark on your vacation destination. Put garbage in its place to avoid litter, and don't remove or alter anything without permission. Let's make sure we leave only soft footprints, and not the environmental kind.
12. Tell your friends
Now that you're ready to travel in eco-friendly style, it's time spread the word! Inform fellow travellers, friends and family about how sustainable tourism benefits local people by enhancing their livelihoods and well-being, and helps all of us by safeguarding our beautiful environment.
X Ways to Kill Time Near London's Victoria Coach Station
London's Victoria Coach Station is an active railway to the south of the ritzy Buckingham Palace that contains two separate railways combined into one. And if you're arriving in London by air or train there's a good chance that you'll make your way through this major hub.
A few fun facts about Victoria Coach Station to know upon your visit:
It wasn't named after Queen Victoria. Rather, it was named after the actual street where it resides, Victoria Street
It once held a cinema called the Victoria Station News Theatre, back in 1933. Sadly, it closed decades later in 1981.
The station was a terminus during the First World War where trains would carry soldiers into the area to and from France. You can find a commemorative plaque on Platform 8
Here are five ways to kill time near London's Victoria Coach Station
As you make your way in and out of the area, be sure to find Victoria Coach Station luggage storage so that nothing is holding you back.
Visit the Grosvenor Hotel
While you have time to kill if you are short on time but have just enough to do one thing then it's worth heading to the Grosvenor Hotel for a drink or quick bite. This hotel is right next to Victoria Coach Station and is worth the visit because it was originally built in 1861 before being renovated only in the 1890s.
Take a stroll through one of the many parks
London is known for its parks—there are just so many! If you have time to kill, grab a book, laptop, or just your travel companion for some good conversation and head to any one of these parks nearby:
Chester Square
Easton Square
Ecclestone Square
Warwick Square
Any one of these parks will provide you with the calm and clarity amid all of your hectic travel plans.
Head to Strutton Ground
Very close to Victoria Street is a cobblestone marketplace called Strutton Ground where locals and visitors alike can be seen killing time. It is busiest on weekdays, because of the local workers during the lunchtime breaks, and contains numerous stalls and shops worth peaking into.
Say hello to Little Ben
Not to be confused with the beaming tower heard around the world, Big Ben, Little Ben is right outside of Victoria Station and acts as a smaller model of his big brother. It's a cast iron replica, at the crossroads of Vauxhall Bridge Road and Victoria Street, right in central London. If you're headed in or out of Victoria Station you won't miss it.
Explore a restaurant in London
There are some delicious restaurants in London that are worth trying. If you're in the area and have enough time to kill, here are a few recommendations:
For Indian food head to Bengal Village—Best of Brick Lane, located at 75 Brick Lane, London E1 6QL
If you enjoy seafood then you'll want to try J Sheekey, located at 28-52 St Martin's Court, London WC2N 4AL
For more European flair, head to The Ledbury, , located at 127 Ledbury Road, London W11 2AQ or The Wolseley, located at 160 Piccadilly, Street, James's, London W1J 9EB
Those who enjoy Asian-Fusion will really like Inamo Covent Garden, located at 11-14 Hanover Place, London WC2E 9JP
Then there are, of course, the British classics of Restaurant Story, located at 199 Tooley Street, London SE1 2JX, and St. John Restaurant, located at 26 St John Street, Barbican, London EC1M 4AY
To be more on the casual side, head to Padella, located in Borough Market at 6 Southwark Street, London SE1 1TQ
If you love Greek food, try Alexander The Great Restaurant, located at 8 Plender Street, London NW1 0JT
Those who enjoy a delightful chophouse should head over to Blacklock Soho, located at 24 Great Windmill Street, London W1D 7LG
For some North African fare, take the time to stop into The Barbary, located at 16 Neal's Yard, London WC2H 9DP
But before you go be sure to stop at a Victoria Coach Station luggage storage spot, so that you don't have to carry your extra baggage in and out of any one of these restaurants.
Conclusion
And Victoria Coach Station luggage storage has plenty of options so you can be on the go. You can easily drop off your luggage on Sutherland Street, Victoria, near Pimlico Station, at Victoria Station, on Buckingham Palace Road, in South Kensington, at St. James's Park Station, at Knightsbridge, around Piccadilly, near the Shepherd's Market, around Leicester Square, at Oxford Circus or Oxford Street, at the Covent Garden, on Old Brompton Road, at Vauxhall, inside Charing Cross Station, at Battersea, near Mayfair Market, on Gloucester Road, at Grosvenor Square, near Lambeth North Station, at the Bond Street Station, the Broadwick spot, and so many more. What's even better is that many of these Victoria Coach Station luggage storage spots are available 24/7 so that you can easily drop-off and pick-up your items at your convenience.
Extra flavour and fraud prevention on the menu for Europe's beer and wine industries
BY DANIELA DE LORENZO
The debate over whether fermentation was a more important human discovery than fire will continue forever. In the meantime, with Europe as the world's premier producer of wine and a significant manufacturer of beer, Horizon-backed scientists are researching ways to reinforce Europe's competitiveness in the drinks industry.
In 2019, European Union wine sales were 16 billion litres with an export value close to € 20 billion, while beer production in the EU in 2020 amounted to 33.1 billion litres. Europe accounts for 63% of global wine production while the number of breweries in Europe now exceeds 11 000.
The wine sector has built its reputation and dominant market share based on quality but all the turmoil of recent years and the risks from climate change mean that the drinks industry cannot afford to stand still, especially with imported beverages becoming increasingly popular.
Enhancing beer and wine flavours through research into new yeast strains is one way the drinks industry is trying to keep ahead. At the other end of that, more secure supply chains are needed to ensure delivery of a quality product. This will help Europe's drinks industry retain its market position.
Distinct aroma
Alcoholic flavours result from complex metabolic reactions performed by yeasts. A type of fungus that transforms sugars into alcohol during fermentation, yeasts also help to give each wine its distinct aroma and taste.
The Horizon-funded Aromagenesis project, led by the University of Dublin in Ireland, focused on understanding the genetics and biochemistry in yeast strains that are responsible for aromas and flavours in lager beers and wine.
'The traditional wine and beer industry uses specific and limited numbers of yeast strains,' said Ursula Bond, professor of microbiology at the University of Dublin. 'We thought it was important to make a big survey of different wines' and lagers' yeasts and characterise them to see whether some already existing in nature have more favourable aroma and flavour.'
Aromagenesis, which finished researching in May this year, assessed whether science could help by varying the flavour profile of certain strains. Working with the drinks industry, through experiments, co-fermentation and hybridisation, the researchers were able to select new yeast strains.
They then created a bank of natural yeast that can produce different flavour compounds and in varying amounts. This led to a bounty of new yeast varieties and taste profiles.
Yeast palette
The new yeast palette is currently available to companies involved in the project. They include German brewer Erdinger Weissbräu and Canada-based Lallemand, who develop of yeasts for the global market.
'We are now finishing the first trial fermentations in our experimental wineries,' said Jose Heras, technical manager at Lallemand Oenology in Spain. Spain is Europe's second largest exporter of wine with 27% of the market in 2019. The project will turn to the winery to 'validate four of the hybrid yeast strains created for aromatic white wines,' he said.
The drinks industry intends to put the yeast research to immediate effect with commercialisation of more flavourful Sauvignon Blanc and Verdejo wines potentially starting in 2023, according to Heras.
Some consumers have reservations about genetically modified organism (GMO) products, so the research was conducted exclusively with non-genetically modified (GMO) yeasts. This will potentially broaden the appeal of the results within the drinks industry as a whole, according to Bond.
Aromagenesis research is published as a publicly available resource which could also end up benefiting many others in the drinks industry.
'Part of our research is open-source and our data will be published soon,' said Bond. If a beer or wine producer wishes to avail itself of the new strains, it can make licensing agreements, she said.
Wine fraud
Alcohol ranks among Europe's most counterfeited products. Unfortunately, the consumer appeal of such household names as Spanish Rioja, Portuguese Porto and Italian Prosecco, attracts the attention of criminal gangs seeking illicit profits. Wine fraud, where a cheaper product is passed off as a fine wine, is estimated at €1.3 billion annually, or around 3% of total sales.
At the moment, a wine label provides consumers with information about the origins and flavours of the product. However, it can't enlighten them about the number of intermediaries between the vineyard and the shop or restaurant where it's purchased.
The TRACEWINDU project, which began last year, has set out to change this.
The Horizon-backed project is focusing on a decentralised blockchain technology that, with a printed QR code, could register information about a wine bottle's whole life cycle in a manner that is transparent.
Blockchain technology is familiar to users of so-called digital currencies such as bitcoin, because it promises security and traceability.
'Wine producers are concerned about illicit trade, so we need to identify in an unambiguous way the origin of the wine,' said Gustavo Pérez González, senior project manager at the Universitat Autònoma de Barcelona in Spain.
Tracewindu are also investigating the possibility of including information derived from analytical chemistry techniques in the QR code. These can be used to specify the unique features of a bottle of wine, such as the geographical location, providing a further guarantee of the contents.
Winemakers participating in the project also suggested tracking the temperature during transportation. This would help ensure that the wine hasn't been degraded when it reaches its destination, creating improved consumer satisfaction.
Environmental goals
In line with the European Green Deal plans to reduce the use of pesticides and fertilisers, the project also has environmental goals.
'We are now looking at ways to reinforce the immune system of grapevines and therefore reduce the need for additional chemicals,' said Pérez González.
This resilience will be reflected in the label too. If it can be shown that the organic characteristics of the wine are not altered, this feature could add value by showing which winegrowers comply with European sustainability goals.
Pérez González also foresees a possible bottle-return system. This would require winemakers to commit to the QR coded and laser-printed bottles on a long-term basis – but it would align with the circular- economy objective of reusing food packaging rather than producing more of it. This would lead to job-creation in the traceability, distribution and logistics sectors.
Research in this article was funded via the EU and it was originally published in Horizon, the EU Research and Innovation Magazine.