NATO generals do not believe in good relations with Russia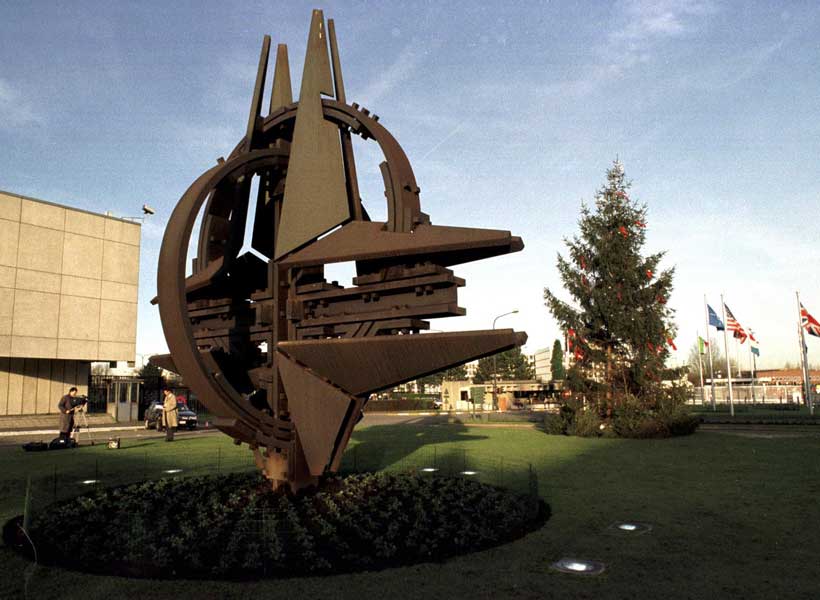 In December NATO allies agreed the civil and military budgets for 2019. At a meeting of the North Atlantic Council allies agreed a civil budget of €250.5 million and a military budget of €1.395 billion for 2019.
NATO Secretary General Jens Stoltenberg welcomed the agreement of the budgets, saying: "The world is changing, and NATO is adapting. Allies are investing in NATO to address the challenges of our time, including cyber and hybrid threats, a more assertive Russia, and instability across the Middle East and North Africa.
Thus, according to the NATO Secretary General, Russia remains one of the main threats the Alliance will face in 2019. The message that NATO is eager to negotiate with Russia is not always proved by the Alliance's actions. The more so NATO high-ranking officials even contradict such message by their statements. It has become obvious that NATO as well as Russia is not always aboveboard.
General Philip Breedlove, former supreme allied commander Europe, and Ambassador Alexander Vershbow, former NATO deputy secretary general made a report "Permanent Deterrence: Enhancements to the US Military Presence in North Central Europe" that assesses the adequacy of current US deployments, with a focus on North Central Europe. A full report will be completed in January 2019. But there is a short summary of the task force's conclusions and recommendations.
All recommendations are made in order to bolster NATO deterrence and political cohesion. The authors say that "military build-up in Russia's Western Military District and Kaliningrad, and its "hybrid" warfare against Western societies have heightened instability in the region, and have made collective defense and deterrence an urgent mission for the United States and NATO. "
They innumerate significant steps taken by the United States and NATO to enhance their force posture and respond to provocative Russian behavior.
The Alliance adopted the Readiness Action Plan, which called for the creation of a Very High Readiness Joint Task Force (VJTF) and expansion of the NATO Response Force (NRF) to increase the Alliance's capacity to reinforce any ally under threat.
At the 2016 Warsaw Summit, the Alliance took the next step in building deterrence by agreeing to deploy four multinational NATO battle groups of about 1,200 troops in each of the Baltic states and Poland.
The NATO Readiness Initiative, the so-called "Four 30s" plan, would designate thirty ground battalions, thirty air squadrons, and thirty major naval combatants to be ready to deploy and engage an adversary within thirty days.
Other steps were taken to bolster the NATO Command Structure and reduce mobility problems through Europe. Among others the main report's recommendation are:
enhance the United States' and NATO's deterrent posture for the broader region, not just for the nation hosting the US deployment, including strengthening readiness and capacity for reinforcement; reinforce NATO cohesion;include increased naval and air deployments in the region, alongside additional ground forces and enablers; promote training and operational readiness of US deployed forces and interoperability with host-nation and other allied forces; ensure maximum operational flexibility to employ US deployed forces to other regions of the Alliance and globally; expand opportunities for allied burden-sharing, including multilateral deployments in the region and beyond; and ensure adequate host-nation support for US deployments. All these steps do not look like a diplomatic compromise or an intention to decrese the tension between NATO and Russia.
In its turn Russia flexes its military muscle. Moscow is to hold 4,000 military exercises in 2019. Russian defense minister said that Russia will increase combat capabilities in response to the U.S. intention to withdraw from the Intermediate-Range Nuclear Forces (INF) treaty.
The two super powers increase their military capabilities and put Europe at risk of war. The only way out is to negotiate, to show goodwill to change the situation, to stop plotting war hiding behind mutual accusations.
Gung-ho statements by India's jingoist military and civil leaders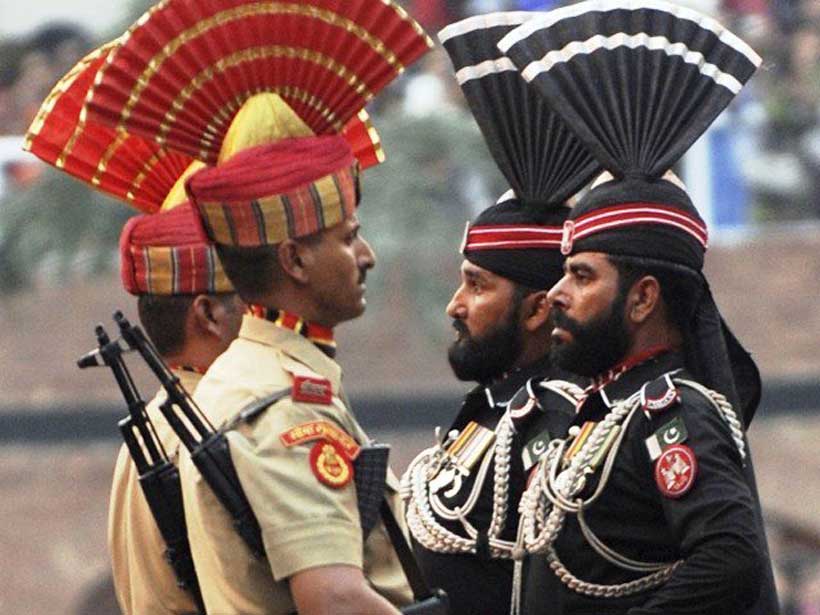 Cross fire between Indian and Pakistan forces was a recurrent phenomenon. It usually hurt the unarmed civilians rather than the troops. Realising futility of intermittent exchange of fire across the border, India and Pakistan, always at daggers drawn, agreed to ceasefire that is still being upheld. However, an agreement on no-firearms use between the two countries, akin to Sino-Indian agreement, is nowhere in the offing. Despite the accord, India and China still engaged in fisticuffs at Galwan.
As if in deliriums tremens, India's Northern Army Commander Lt General Upendra Dwivedi shouted, "As far as the Indian Army is concerned, it will carry out any order given by the Government of India [to annex Azad Kashmir and Gilgit Baltistan "(Whenever such orders are given, we will always be ready for it, The News International, November 22, 2022).
His statement is a sycophantic follow-up to a similar statement by India's defence minister Rajnath Singh "of taking back PoK". Besides Rajnath many other Indian leaders including Bipen Rawat, Ajit Doval and Narendra Modi have made provocative statements about AK and GB. Pakistan's army chief has replied to Dwivedi's statement in befitting words. In 1994, India's lok Sabha (house of people) passed aresolution under the then prime minister Narasimha Rao. The resolution stated that AJK and GB are an integral part of India by virtue of Jammu and Kashmir's accession to India.
India's claim to accession of the Jammu and Kashmir is unfounded. India never showed the so-called Instrument of accession to the United Nations. The UNO passed two resolutions to outlaw probable accession by the puppet JK assembly to India. The UN resolutions recognise that the dispute could be resolved only through a plebiscite. Till about 1954, India continued to owe allegiance to the UN resolutions. Then in a volte face, Nehru declared that the UN resolutions are mediatory, not mandatory in nature. India's unilateral renunciation of the UN resolutions eminently qualified it as a rogue state subject to international sanctions.
India treacherously annexed over 500 other princely state by hook or by crook. For instance, Junagadh annexation is still an unresolved item on UN agenda.
Dwivedi means 'one who knows two vedas'. In Sanskrit, Dvi means 'two' and Vedi means 'to see'. Therefore, a Dwivedi is one with 'two-fold vision', or someone who is able to distinguish between right and wrong. The general's statement reflects that he has purblind vision, not seeing consequences of a war between two nuclear armed neighbours. Victory in case of a nuclear confrontation will, at best, be pyrrhic.
Dwivedi appears to have been infatuated by provision of K9-Vajra self-propelled howitzer (50 mile range) is being manufactured by Larsen and Toubro in Gujarat. China has already provided Pakistan similar howitzers to neutralize India's fire power (China supplies mounted howitzers to Pak to maintain arms parity with India, Hindustan Times Jan 27, 2022).
Dwivedi appears to be oblivious of facts about Azad Kashmir and Gilgit Baltistan.
Gilgit Baltistan
On November 1, 1947, the governor of Gilgit, Brig Ghansara Singh surrendered to the Gilgit Scouts and signed an instrument of surrender on November 3, 1947. The people of the region proclaimed Gilgit as part of Pakistan and hoisted Pakistan's flag. Skardu was liberated after about a year on August 14, 1948, when Lt Col Thapa of 6th Jammu and Kashmir infantry along with 250 soldiers surrendered to liberation forces.
Historian Yousaf Saraf if of the view that Gilgit –Baltistan is a part of Azad Kashmir as is evident from Accord signed between AK and Pakistan government. Sartaj Aziz committee recommended to the federal government to make Gilgit-Baltistan a full-fledged province with representation in both the houses of parliament.
A psycho-analytic view" Indian leaders "frogs"
Indian civil military leaders suffer from a fight-and-flight complex. The human beings, particularly the macho typos, like Indian military leaders, think they are independent decision makers. But, subconsciously they are slaves to the subconscious to the scripts they have learned to live with. In his book, Scripts People Live, Claude Steiner analyses "life scripts" which we choose at an early age and which rule every detail of our lives until our death. Steiner postulates that people are innately healthy but develop a pattern early in life based upon negative or positive influences of those around them. Thus children decide, however unconsciously, whether they will be happy or depressed, winners or failures, STRONG or dependent, and having decided, they spend the rest of their lives making the decision come true. For those who choose a negative script, the consequences can be disastrous unless they make a conscious decision to change.
The tragedy is that the person who needs to rewrite his or her life script most is unwilling to admit that he needs to revamp his life script.
Narendra Modi is such a person who by his conduct and political statements reflects that he suffers from a negative life script. He wants to pose as a "prince", though he is actually a "frog". Modi's recent statements provide a clue how he is neurologically programmed.
Concluding reflections
Modi is convinced that his electoral achievements are due to his Macho (strongman) image. Lest his image should be shattered he delayed withdrawing anti-farmer laws for about a year since the farmers began protesting. He trumpets his "surgical strikes", celebrates "Kargil victory", and anti-Muslim citizenship laws.
Modi is still fettered to his teen-age memory of being a waiter at a tea-stall. The Modi government should turn a new leaf in India's relations with its neighbours by shunning the strong-man image. He could do better by attending to the economic welfare of the masses and promoting social harmony.
Ukraine recruits fighters from Africa
"If Ukraine decides to pay me a very good amount of money, which I know I cannot earn here, I will definitely go there and fight," Kimanzi Nashon, a student in the Kenyan capital Nairobi said. "When we go there, and then the war ends before anything happens, I will come back to Kenya and be a millionaire."
And Nashon isn't alone in harboring such naive thoughts of being a hired fighter in Ukraine.
"If an opportunity presented itself for me to fight in Ukraine as a mercenary, I would be on my heels running there," Beatrice Kaluki, who is unemployed in Kenya, told 'Deutsche Welle'. "I would rather die on the front line in Ukraine knowing that my family would be compensated even after my death, rather than die from depression because of the insane unemployment rate!"
However, African countries have come out strongly to condemn Ukraine's call for African fighters to join the "international legion" against the Russians.
Now Nigeria, Senegal and Algeria have criticized Ukraine's efforts to enlist international fighters as it resists a Russians. Analysts say those who have responded to the call need to reconsider.
According to Ryan Cummings, director of 'Signal Risk', a South African-based security risk management consultancy, 'President Zelenskyy might be capitalizing on Africa's challenging socio-economic conditions to lure African fighters to Ukraine.' According to the Nigerian daily, 'The Guardian', more than 100 young men registered their interest in fighting for Ukraine at the country's embassy in Abuja.
A spokesperson for Nigeria's foreign affairs minister, Francisca Omayuli, said Nigeria would not allow its nationals to volunteer as mercenaries.
Senegal has also expressed its displeasure with Ukraine's government, saying that at least 36 people in Senegal were ready to confront Russian forces. Senegal's Ministry of Foreign Affairs said that it was astonished to learn that the embassy of Ukraine in Dakar had posted an appeal on its Facebook page for foreign citizens to come to Ukraine's military forces.
In a statement, the Senegalese government criticized the initiative and warned its citizens that recruiting volunteers, mercenaries, or foreign fighters on Senegalese soil is illegal.
"These young people who want to get involved [in Ukraine] have not fully considered political or religious implications," said Serigne Bamba Gaye, a researcher on peace, security and governance at the US-based Peace Operations Training Institute (POTI).
"They are only interested in answering a call without perhaps understanding the issues surrounding the Ukrainian conflict," Gaye said.
For security and risk analyst Ryan Cummings, African countries need to consider the implications of allowing their citizens to travel to Ukraine as hired guns. "Russia has stated any country that is actively assisting Ukraine in this war, or as Russia calls it: 'A special military operation to demilitarize and de-nazify Ukraine,' will be considered at war with Russia," he said.
He warned that the Kremlin could also retaliate by ending diplomatic relations with African countries that support Ukraine in this way.
The Reagan Institute poll: Americans are losing trust in the military
The current era is marked by fading trust in U.S. institutions, but confidence in one pillar has held up: the military. But now even that is eroding, and the question is whether the brass will get the message, writes "The Wall Street Journal".
The Reagan Institute releases an annual survey of public attitudes on national defense, and this year only 48% reported having "a great deal of confidence" in the U.S. military in results first detailed here. That's down from 70% in 2018, and within the margin error of last year's 45%.
Some 52% also had reduced confidence in uniformed officers.
General Mark Milley's speech to Congress last year that he wanted to understand "white rage," in response to reasonable inquiries about whether cadets at West Point should be learning critical race theory, was a lapse in judgment. Many Americans think the military is no longer an institution that runs on excellence, merit and individual submission to a larger cause.
The Pentagon denies this is a problem, but it surely is if half the public believes it.
Americans on the left have their own reasons for declining confidence in the military: 46% cited right-wing extremism, even though this scourge has been wildly overstated.
This drop in confidence comes at an ominous moment, as the public seems to know.
Some 75% in the Reagan survey viewed China as an enemy, up from 55% in 2018, and the percentage of those worried about Russia has doubled. Some 70% are concerned China might invade Taiwan within five years, and 61% support increasing the U.S. military's Pacific footprint.
International Affairs