What UK defense minister was doing in Odessa, or a taste for farce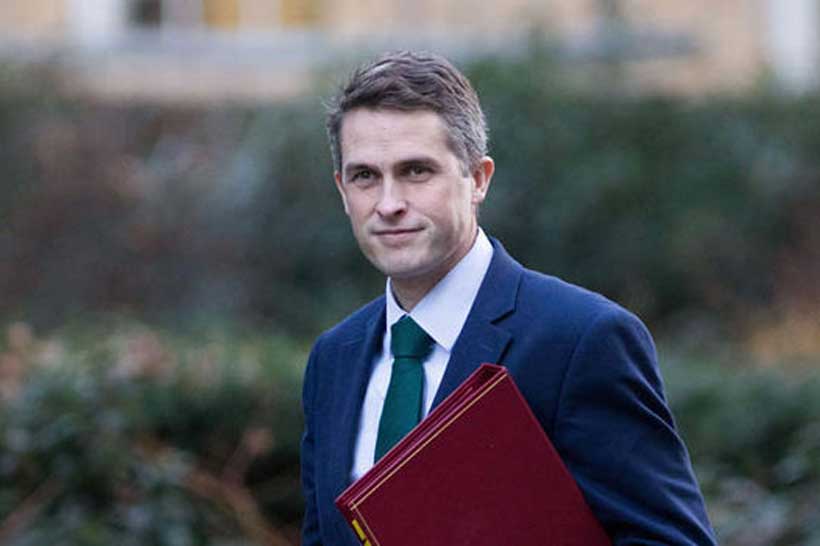 History repeats itself. This popular maxim also rings very true today. Many episodes of the Crimean War are still fresh on the memory of Russians, French and the British. Disregarding the sanctions and "annexation," Britons and French nationals keep coming to Sevastopol to take part in a historical festival, donning period costumes and engaging in mock battles.
And yet, the distant successors of those who fought Russia during that war still remember, on a genetic level, how Russian soldiers kept fighting on against the tallest of odds (during one of the battles fought  in Sevastopol, mortally wounded and bleeding members of a Russian regiment still refused to plead for mercy and, instead, continued fighting the enemy with their bayonets) even at lunch, after five in the evening, and, most unpleasantly, at night. The war fought not by the book, the freezing cold of the Crimean winter and the well-known "balaclava" headdress is something Russia's foreign guests will never forget.
It still looks like the lessons of history have been lost on some representatives of the British elite. In December 2018, Britain's Defense Minister Gavin Williamson arrived in Odessa in southern Ukraine to vent his outrage about the detention by Russia's Coast Guards of three Ukrainian boats at the approaches to the Kerch Strait, and express London's support for a second Ukrainian naval foray into the Sea of Azov. It was not Williamson's first visit to Ukraine though – in September 2018, he bravely spent a whole 20 minutes on the line of disengagement in Donbass.
London is backing up its military-diplomatic efforts with real action.
"At 20:30 local time, on December 17, 2018, the Royal hydrographic survey ship HMS Echo sailed into the Black Sea via the Bosporus Strait. This modern reconnaissance ship is designed to conduct operations in support of submarines and amphibious operations. It can share adapted information almost in real time. (…) This is the first NATO warship to enter the Black Sea in the wake of the Azov crisis to demonstrate the UK's support for ensuring freedom of navigation in the region," Ukrainian expert Andrei Klimenko happily wrote.
In the mid-19th century, Britain regarded Russia as an enemy in the Big Game, and opposed it using political and economic means available to it. Simultaneously, it was the case of an empire facing off against another empire – in the Balkans, in the Caucasus and over the straits (Bosporus and Dardanelles). Britain no longer rules the seas, but its keen interest in strategic straits, such the Kerch Strait, is still very much alive.
London's strategy, being implemented as part of the anti-Russian bloc, can best be described as "I'm doing all I can." However, the former empire is playing an ever increasing role now that Ukraine is not being viewed by US President Donald Trump as an object worth of any effort. Still, there are powerful anti-Russian forces out there, which will not just sit and watch the presidential elections in Ukraine and, even though they have lost their patron in the person of the US president, they remain hell-bent on making Ukraine instrumental in their efforts to ramp up the conflict with Moscow.
Washington is reviewing international agreements and withdrawing its forces from Syria focusing instead on playing spy games, but now on its own territory, to fight the "Russian threat," "Russian aggression," and most importantly – "Russian intervention." The central events and characters here are the Mueller investigation, the case of Maria Butina, and the recent detention in Moscow of a former US Marine, Paul Whelan, on charges of espionage.
But this is not enough, so you need something else, more dramatic and attention-grabbing, preferably done by someone else.
No matter how opposed to Trump's policies some top officials in the US government may be, they still can't afford to openly defy the president and thus destroy the country's power institutions. And here political analysts  come up with a very interesting version: "Therefore, England takes the burden of orchestrating the Ukrainian-Russian war in its own hands. Well, not England as such, but, rather, the real masters of both England and the United States (…) Poroshenko may not venture a provocation, and to make sure that he gets no ideas about giving up on the war, the British defense minister arrived in Ukraine. (…) Britain is bringing pressure to bear on Kiev to go to war with Russia in the coming week, period."
Although a second foray into the Kerch Strait planned for the coming week never happened, the plan itself hasn't gone anywhere. A follow-up to the provocation in the Kerch Strait has gone beyond the time frame outlined by the martial law President Poroshenko imposed ahead of the presidential election, but the threat of new provocations fraught with a confrontation  lingers on nonetheless.
The law "On the adjacent zone of Ukraine," signed by Petro Poroshenko in December 2018, provides a legal basis for actions by the Ukrainian military and diplomats by expanding Kiev's border and customs control in the Black Sea.
"In the adjacent zone, the State Border Service of Ukraine will prevent violations of national immigration and sanitary legislation. Border guards will be able to stop vessels, inspect them, detain or seize vessels or their crew members, with the exception of warships and other state ships used for non-commercial purposes."
The new law sets the stage for further provocations against Russia by portraying it as "an aggressor and invader," backing this up with "irrefutable evidence" and showing it on TV.
The coordinated nature of the actions and intentions by the "friends" of Russia in ensuring "free navigation in international waters" is too obvious to ignore. Following the provocation in the Kerch Strait, the US guided-missile destroyer McCampbell was allegedly spotted in the vicinity of a Russian naval base in Vladivostok.
US Pacific Fleet spokeswoman Rachel McMarr said that the ship had carried out a "freedom of navigation" operation.
"The USS McCampbell sailed in the vicinity of Peter the Great Bay to challenge Russia's excessive maritime claims and uphold the rights, freedoms, and lawful uses of the sea enjoyed by the United States and other Nations," McMarr told CNN.
She emphasized that "the United States will fly, sail and operate wherever international law allows."
Britain's policy of the past few years has been pretty strange. Execution-wise, its actions are perceived as a farce and essentially as a tragedy for the country's political elite. London is taking cue from Kiev, with its actions and "projects" (the Skripal case and the Salisbury subproject) very much resembling Ukrainian projects. London came up with the "Skripal poisoning," and Kiev – with the day-long "Babchenko's murder" circus.
Sadly, this anti-Russian trend translates into a real policy based on farce and fakes, which does not change the essence of London's foreign policy projects based on fakes.
Ukraine, for its part, continues its attempts at "coercion to conflict," which may bring about a clash of civilizations, since this is an attempt to influence the decisions of the "core states of civilization (Samuel Huntington). However, the conflicts that Ukraine has been involved in and has initiated are the result of outside bidding and made possible thanks to the support from and sanctions by external forces.
Ukraine's foreign policy is by and large determined by the logic of its policy at home. Ending up as a zone of inter-civilization conflict, Kiev is willy-nilly trying to rebuild the cultural foundations of the Ukrainian state and society.
The West appears all set to extract Ukraine from the sphere of the political, economic and socio-cultural influence of Russia. It is within this framework that Kiev and all sorts of other actors are working as they try to achieve their domestic goals thus stoking up tensions and radicalizing both the country's political forces and some elements of the Ukrainian society.
All this farce and grandstanding by European and overseas leaders and politicians still fails to smokescreen the potential threats to the security of the Russian Federation. In this sense, the Sea of Azov and the Kerch Strait should be viewed as a place where the West may attempt a series of "tests" similar to the November 2018 attempt by Ukrainian naval boats to break into the Sea of Azov. The recent "heroic" cruise by US naval ships 100 kilometers off Vladivostok, presumably to "challenge Russia's excessive maritime claims and uphold the rights, freedoms, and lawful uses of the sea enjoyed by the United States and other nations," could be repeated also in the Sea of Azov and the Kerch Strait, along the Northern Sea Route, in the Arctic and the Baltic Sea.
The Black Sea region thus becomes a model of counteracting the "sea claims of Russia." Indeed, it is a really volatile region with an unstable Ukraine ready for any provocations, Crimea, reunited with Russia (plus the Crimean Bridge), a high-handed NATO member, Turkey, which maintains close contacts with both Russia and the West, and the Caucasus region. It poses a problem for Russia due to the flurry of potential and real threats existing there, but it is also a problem for Russia's "friends," because of the high degree of security of the Crimean border and other borders of the Russian Federation. This combination of security and threats makes the Black Sea region an ideal place for all sorts of provocations and endurance tests.
Well aware of Russia's strength, the West is trying to test Moscow's determination with small, albeit significant, provocations, such as the Ukrainian naval ships' attempt to enter the Sea of Azov on November 25, 2018. The West is equally aware of Russia's response to such provocations by Kiev. What is not so clear to the West, however, and London's activity attests to this, is how Russia will respond to similar passages by multinational flotillas. This uncertainty could only stem from a desire to trigger a conflict or from misguided thoughts about Russia's indecisiveness to enter into a serious confrontation with the West.
Whatever grounds London or Washington may have for organizing a second cruise to the Crimean Bridge, no matter how many ships will take part and the flags they will sail under, Russia will do all it takes to protect its territory, border, water area, and important infrastructure.
The question London has to answer now is how will the former empire get out of this situation? There are only two options available: either to stage ever new provocations or continue grandstanding and firing verbal broadsides.
First published in our partner International Affairs
Demystifying the Myth of War Crimes in Ukraine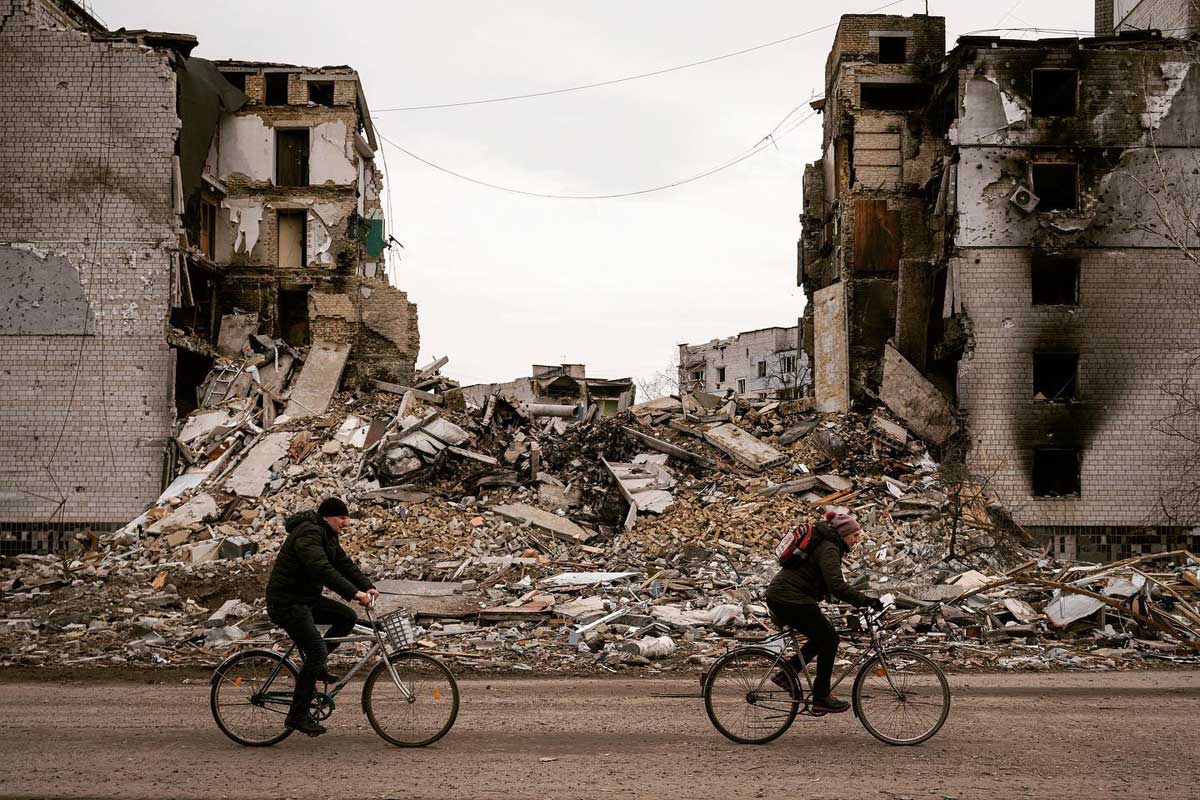 Hypocrisy – a prevalent trait of the western powers. West's policies on human rights are deluged with double standards. What is going around the world is a secondary, to them safeguarding their interest is prime. What Indian barbaric regime is doing in India with the minorities and in Indian occupied Kashmir, Israelis in Palestine, is not enough to catch an eye, because Muslims are dying, its none of their business. Let's recap what USA did in Afghanistan and Iraq. How war crimes done by the west in these countries can be ignored. Humanity suffered at the hands of these western states. Innocent people got killed in the drone strikes and the West called it 'Collateral Damage'. Innocent civilians suffered pain, hunger, and anguish, but West was mute. Human rights are for all without any discrimination based on religion, origin, race and colour. Unfortunately, the hypocrite USA only consider Human Rights for its allies and the holy land of USA. Clear violations of international humanitarian law are done by USA and its western allies in Afghanistan and other states. Moreover, the crime partner of USA, India is doing ferocious acts in India Occupied Kashmir, but all of them are silent.
As per the standards set by USA, kill innocent people and then an apology by Central Command is enough to justify an unjust loss of human life. Yes, the world should follow this too. Why only Americans have the right to make unjust just. Who will set an example of justice, war mongers, liars and killer USA? Oh yes, wonderful, now make big news out of nothing or yes something on Ukraine. Ukrainians are the only human left on the face of earth to get the western sympathizes. But it's important for the Ukrainian decision makers to not to be fooled by the USA. Demystifying the war crimes by Russia in Ukraine is not to support Ukraine but yes to counter Russia. The very reason why this conflict started is West itself. And then, yes USA is excellent at imposing sanctions and it did the same with Russians as well. But, literally speaking who is going to listen to USA, not even India, one of the USA's defense partners.
International Criminal Court – ICC should know its responsibility and first of all held USA accountable for the war crimes in Afghanistan and Iraq. Fake news, misinformation, mal-information, and disinformation is playing big role in manipulating the contemporary international politics. States are using this to hijack the actual information and create an environment of mistrust. Access to actual information in such circumstances in becoming difficult. Why Russian news channels are blacklisted, why only Ukrainian and other foreign media outlets are into play. USA is busy in narrative building based on fake information. USA is actually selling the despairs of Ukrainian people. Therefore, huge responsibility also lies on journalists as well. Are we living in the stone age or in 21st century? Where is responsible journalism? The journalist and civil societies should work as pressure groups and push ICC to open investigations on unlawful killings by USA and its allies in Afghanistan. ICC also open inquires on the atrocities done by Israelis in Palestine, and Indian barbarism in Indian Occupied Kashmir. A detailed systematic investigation is need of hour.
This will reveal the horrible face of these elites of international arena. The USA forces in Afghanistan have "committed acts of torture, killings, cruel treatment, outrages upon personal dignity, rape and sexual violence". Did Russian forces have created a 'secret kill team' to allegedly kill innocent Ukrainian Civilians? The answer is NO. Let's also consider 'Collateral Damage' in the case of Russia – Ukraine War. Instead of making world fool again on Ukraine, USA should remorse over its war crimes. A shameless country with no ethos is going to advocate Human Rights when its own citizens are not safe from the hate-fire it started. Humanity – a word, not known to USA. All it knows is to control other states' resources, sovereignty, and independence. Subtle interference in the other countries' internal matters, and creating fault-lines to manipulate the policy making. I doubt USA as an example of human rights and democracy. Disinformation is the new normal for USA.
The Illusion of Constraint: Russia Advances in Eastern Ukraine Despite Harsh Sanctions
The war of attrition is gradually becoming a reality as Russia continues to make gains in the east. According to Ukrainian officials, Russian forces now control about 80% of the eastern Ukrainian city of Severodonetsk. Despite new aid packages by the US and European Union (EU), Ukrainian armed forces are struggling in Donbas as a brutal Russian offensive is underway – forces now controlling over 20% of Ukrainian territory, according to president Zelensky. Analytical estimates reveal that Russia (alongside pro-Russian rebels) has already seized almost 90% of eastern Donbas; en route to upend the city of Severodonetsk and Lysychansk in the province of Luhansk. And geopolitical experts believe a similar showdown in the neighboring Donetsk province would ease Russian domination over the entire Donbas region.
The Ukrainian dignitaries have consistently insisted on long-range artillery support to counter Russia's onslaught. However, a single contention prevails in the Western cohort: supplying long-range weaponry could enable Ukrainian attacks beyond Russian borders, perhaps invoking a direct conflict with a belligerent Russia. Thus, the Western support remains mostly limited to conservative alternatives as Russia defies earlier odds to gain an upper-hand. The core western defense has been the barrage of sanctions imposed on Russia and the damage to the Russian economy. The West believes it could avoid militarily provoking Russia and still economically debilitate the country to the point of desperate negotiation. However, the truth is far divergent from this popular belief.
Even after three and a half months, the torrent of sanctions has failed to decimate the Russian economy as initially envisioned by the West. Putin has spent the last two decades fortifying the Russian economy via integration into the global financial apparatus. Sure, the invasion in late February spurred financial restrictions and constraints on trade. But the initial panic has since receded as relative stability is taking on the reins. The Central Bank of Russia has played a pivotal role in preventing a financial collapse. As sanctions threatened to spur a crisis, the Bank of Russia hiked the policy rate to 20% – encouraging savings; preventing the egress of investments. The Kremlin mandated the state-owned enterprises to hold export receipts in Roubles. And salaries and pensions were generously increased to compensate for the inflationary effects of the invasion. Three months forward, the interest rates are back to the pre-invasion level of 9.5%. The Rouble – crashing to a record low in days following the invasion – is trading near four-year highs. And inflation, though still a vice, has cooled off to 17% year-on-year from a two-decade peak in April. While fiscal and monetary policies have considerably stabilized the economy, another underlying factor has unsurprisingly buttressed the rebound: the Russian energy sector.
Foreign companies are pulling out, investments are downgrading, and currency reserves are locked up around the globe. Then how exactly is Russia financing the war in Ukraine? Sure the stocks of imports are running low, and people are spending less. Yet how is the Russian war machine still operational when the world is closing up for Russia? Ironically, the world is indirectly financing the Russian agenda in Ukraine. Fossil fuel exports have always been monumental for the Russian economy. Receipts from oil and gas exports made up roughly 45% of Russia's federal budget in 2021. According to a market report of the International Energy Agency (IEA), Russia's oil revenue alone is up by 50% this year – despite the toughest raft of sanctions ever meted out by the West. The US has utterly banned Russian energy imports while the EU has managed to reduce its reliance on Russian energy supplies. According to the data from the Center for Research on Energy and Clean Air (CREA) – a Finnish nonprofit think tank – the EU lowered natural gas imports from Russia by 23% in the first 100 days of the invasion (February 24 to June 3) compared to the same period last year. The data further reveals that the EU reduced its oil imports from Russia by 18% in May. Still, Russia earned a record $97 billion in revenue from exports of fossil fuels despite a modest fall of 15% in export volumes. How is that possible?
Despite trading at roughly 30% discount from international prices, Russian crude is sailing as surging global oil prices are still fetching receipts over 60% higher compared to last year. The volumes have certainly lowered as many countries have refused to trade with Russia to avoid American fury. Yet some countries have contended for cheap Russian energy supplies to guard domestic economic interests. India has been surprisingly vocal and determined about its choices of self-interest despite Western pressure. Since the invasion, India has procured 27% of its crude needs from Russia – up from less than 5% in April. According to research, India has cumulatively imported roughly 18% of Russia's total oil exports since the invasion – increasing from roughly 1% pre-war quota. China has been another noteworthy importer of Russian oil, building its strategic reserves amid high global oil prices. Despite agreeing on a partial embargo banning roughly three-quarters of Russian oil imports to the region, Europe would not cast a substantial blow to Russia until 2023. While criticizing India and China for purchasing Russian oil, the EU has perhaps neglected its own energy imports from Russia, approximating €57 billion in the first 100 days of the invasion. And in spite of lofty promises to wean off Russian energy, European countries like Hungary and Slovakia would continue to rely on Russian oil via pipeline till at least 2024. Hence, while the West convenes to topple Russian dominance in Ukraine, the efforts are unfortunately not enough to fluster Putin – at least in the short run.
Nonetheless, the sanctions would hurt Russia somewhere down the line. Elvira Nabiullina – Governor of the Bank of Russia – recently admitted: "The effect of sanctions has not been acute as we feared at the beginning. [However] it would be premature to say that the full effect of sanctions has manifested itself." The windfall energy export receipts may continue, but the import shortfall could damage the productivity of other sectors of the Russian economy. However, we need to understand that this is a war of attrition. And (despite a budget deficit) Russia has enough fiscal room to finance its domestic and military needs shortly. Mr.Richard Connolly – Director of the Eastern Advisory Group – sums up the reality perfectly: "For as long as the political will is there in the Kremlin and for as long as export prices remain high, I don't see any immediate financial constraints confronting the Kremlin." Hence, as sanctions fall short and Ukrainian defense fissures, the outlook is bleak – especially when Kyiv is resistant to negotiate territorial gains to fend off a humanitarian catastrophe.
Ultimately, the West needs to acknowledge its failure and decide: Is the sluggish war in favor of Ukraine or Russia? And what would be the primary goal of negotiations if Russia gains enough territory to dictate the terms? Given how the West has already exhausted almost all of its economic options and military options are off the table, I wonder how even the negotiations could do any good to Ukraine!
Lithuania to lose confidence for German troops in near future
Nine NATO member states held talks in Romania on Friday ahead of a key NATO summit later this month.
The nine, including Romania, Poland, Hungary, Bulgaria, the Czech Republic, Slovakia, Estonia, Latvia and Lithuania urged NATO to increase their protection.
It should be noted that some of these countries use every political event to call NATO for additional troops on their territories. Thus, the Baltic States are the leaders among applicants.
Germany in its turn agreed last week to increase its contribution to NATO's Enhanced Forward Presence (eFP) battalion in Lithuania. German Chancellor Olaf Scholz announced such plans after passing legislation to increase defense spending during a visit to Vilnius on Tuesday.Germany leads the 1,200-strong eFP battlegroup in Lithuania and currently has around 500 soldiers stationed there.
"We are going to increase our contribution by strengthening the Eastern flank of NATO. We are going to create a strong brigade and we have discussed that together in our meetings and we are going to have to work towards this direction," Scholz said at a press conference with Baltic and German leaders.A brigade usually consists of between 3,000-5,000 troops. So, Berlin intends to increase its troops by 10 times.
The Baltic States welcomed Germany's "historic decision" without suspecting what it could lead to.
It is no secret that German military contingent has very dubious reputation. In 2021 Germany had to recall a platoon from a NATO mission in Lithuania after reports emerged of troops engaging in racist and anti-Semitic behaviour, as well as sexual assault.According to Der Spiegel, the allegations relate to a party held at a hotel in Lithuania at the end of April, 2021.Some 30 German soldiers headed home from Lithuania.
The misconduct of foreign soldiers in Lithuania was a slap in the face of Lithuanian population who believed troops are here to defend.
A number of troops were also suspected of bullying, threatening violence and filming an incident of sexual assault.
Such behaviour is not only inexcusable but brings shame on Germany as NATO's security guarantor.
Meanwhile, according to the FT latest publication, the proposal from Berlin is that a 3,500-strong brigade would only have a permanent headquarters in Lithuania, staffed by 50 to 60 personnel, but be based in Germany.
And probably, this Germany's back step will secure Lithuanian population.
The Berlin's decision to increase its military presence in Lithuania by 10 times could cause potential threat of increasing the number of incidents with inappropriate behavior of German military personnel by 10 times. It is logical that the number of crimes will rise and the residents' trust in NATO ally will drop significantly. Is Lithuania ready to tolerate aggressive foreign soldiers in the streets of its cities? Can Lithuanians be calm for their children? Does Lithuania really need such foreign troops increasing? There are too many questions to answer before making the final decision.