United Arab Emirates to host 2019 UNIDO General Conference in Abu Dhabi
The 46th session the Industrial Development Board (IDB), which inter alia reviews the implementation of the UNIDO work programme and makes policy recommendations to the General Conference welcomed the offer by the Government of the United Arab Emirates (UAE) to host the next General Conference and decided to hold the eighteenth session of the General Conference in Abu Dhabi, from 3 to 7 November 2019.
Since becoming a specialized agency, the UNIDO General Conference was hosted away from its Vienna Headquarters only three times: in Bangkok, Thailand (1987); in Yaoundé, Cameroon (1993); in Lima, Peru (2013); and now in Abu Dhabi, United Arab Emirates (2019). The General Conference will be preceded by UNIDO's Least Developed Countries (LDCs) Ministerial Conference, which will also be hosted in Abu Dhabi.
"We highly appreciate the generous offer of the Government of the United Arab Emirates to host the eighteenth session of the UNIDO General Conference in Abu Dhabi", said UNIDO Director General LI Yong. "I look forward to further strengthening our ties, especially since UNIDO and the United Arab Emirates UAE share the commitment to take a transformational approach towards shaping the future of manufacturing and jointly co-chair the Global Manufacturing and Industrialisation Summit (GMIS)".
"Spreading global prosperity is deeply instilled in the UAE and unlocking the potential of the manufacturing sector will support our efforts", said UAE Minister of Energy and Industry Suhail Mohamed Faraj Al Mazrouei. "However, the lines are blurred between the physical, digital, and biological spheres: the developments that the Fourth Industrial Revolution brings must be exploited to ensure prosperity is shared across all societies, particularly in developing countries".
UNIDO and the UAE have a long-standing partnership and both serve as co-chairs for the Global Manufacturing and Industrialisation Summit (GMIS), the world's first cross-industry platform that gathers leaders from public and private sectors as well as civil society to harness the Fourth Industrial Revolution's transformation of manufacturing to the regeneration of the global economy.
SDGs and Her Initiative Announces Winners of 2019 Global Competition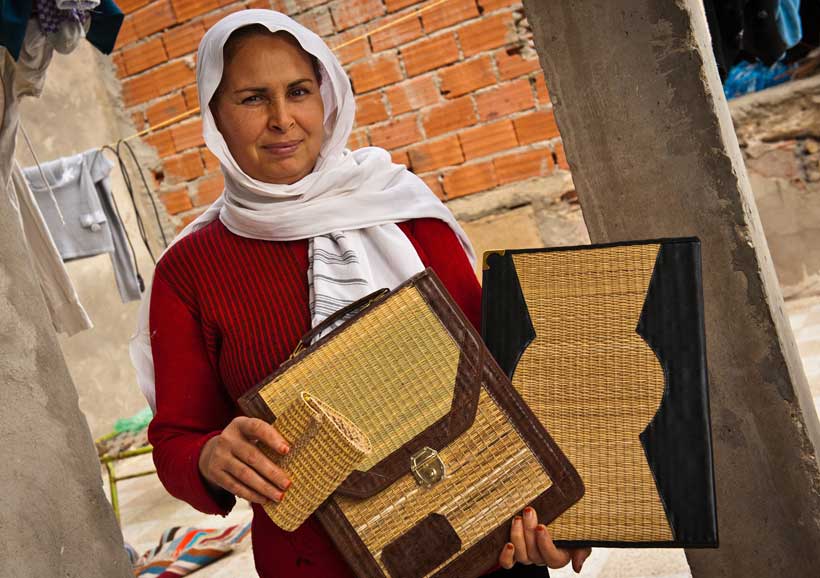 Today, the global SDGs and Her Competition announced the winners of the 2019 global competition. The contest– co-sponsored by the World Bank Group, UNDP, UN Women, and the Wharton School's Zicklin Center– showcases women micro-entrepreneurs who are helping to achieve the Sustainable Development Goals (SDGs) through their business operations.
The winning entries are Taxshe, owned by Vandana Suri from India, and Green Business Innovation, owned by Saida Yusupova from Uzbekistan.
TaxShe is an exclusive, all-women, driver-on-demand service that provides transportation services to school children and women workers, making day-time and late-night travel safe. Based in Bangalore, TaxShe selects drivers from marginalized communities, provides them with professional driving skills, and employs them as part- or full-time drivers. Through its business, TaxShe addresses SDG 5 to further gender equality, SDG 8 to promote decent work and economic growth, and SDG 10 to reduce inequality.
Green Business Innovation operates in the areas of green business and technology, providing content and partnership support for 3 projects: a science accelerator, a water accelerator, and the ClimateLaunchpad in Uzbekistan. The company links the UN Sustainable Development Goals with green business opportunities. Through its consultancy work, the company addresses SDG 6 to ensure clean water and sanitation for all; SDG 8 to promote decent work and economic growth, SDG 9 to build industry, innovation, and resilient infrastructure; and SDG 13 to take urgent climate action.
Suri, and Saida will speak about their work and impact at an Award Ceremony on April 11, 2019, taking place on the sidelines of the World Bank Group-International Monetary Fund Spring Meetings in Washington, D.C.
The 2019 contest attracted over 1,200 entries from all regions of the world: Sub-Saharan Africa, Latin America and the Caribbean, South Asia, the Middle East and North Arica, Europe and Central Asia, and East Asia and the Pacific.
The SDGs and Her competition seeks to increase knowledge about the SDGs and their potential impacts on women as well as to collaborate with private sector partners and share best practices and innovative ideas. The competition is open to women who own and/or lead micro-enterprises with nine or fewer employees, and which have loan eligibility under USD $10,000 or annual sales under $100,000.
The winners were chosen based on their impact on the SDGs, vision and purpose, and clarity of the entries. The final judging panel included senior officials from the World Bank Group, UNDP, UN Women, and Zicklin Center for Business Ethics Research at the Wharton School.
New Global Coalition Will Focus on Improving Value of Healthcare
The healthcare sector faces major challenges in delivering value for healthcare. According to the OECD, spending on healthcare in 2016 – the most recent year that data is available – increased by 3.4%, the highest rate since 2009. In response, leaders in the $8 trillion global healthcare sector need to embrace value-based healthcare, an approach that defines the goal of healthcare as the achievement of improved health outcomes that matter to patients at the same or lower cost.
Achieving a value-based healthcare system faces numerous barriers. Optimizing its delivery requires high-quality health data, but industry estimates suggest that about 80% of healthcare data is unusable in its current format. Value-based healthcare also requires companies to make major changes to their business models, but such shifts can involve a high degree of risk, and there is often little incentive for the private sector to take on this challenge. From a regulatory perspective, changing the structure of the healthcare system requires strong political will and can generate backlash. The biggest obstacle to the spread of value-based healthcare is that misaligned incentives in current health systems make it difficult for industry stakeholders to act collectively.
As the final report of the Forum's three-year Value in Healthcare project, Value in Healthcare: Accelerating the Pace of Health System Transformation, released by the World Economic Forum in collaboration with Boston Consulting Group (BCG), describes three major initiatives to address these challenges and accelerate the transition to value-based healthcare in health systems around the world:
A "user's guide" to health system transformation: The report proposes best practices based on a review of pioneering efforts around the world and on the Forum's experience with two pilot projects. For example, in 2016, Santeon, a network of hospitals in the Netherlands, launched a joint value-based healthcare programme that resulted in a 17% improvement in positive breast cancer surgery margins. In 2017, about 40 stakeholders came together in Georgia, USA, to create the Atlanta Heart Failure Pilot to improve heart-failure survival in Atlanta by 2022. In 2018, around 35 stakeholders in Canada launched the Ontario Diabetes Pilot to help patients suffering from type 2 diabetes.
A "roadmap" for global health-informatics standardization: This effort lays the foundation for promoting value-based healthcare over the next four years by proposing a global vision and a "digital health bill of rights", which will be developed in consultation with patient advocacy organizations around the world. This global vision and bill of rights will help governments, patient groups and the private sector ensure that their informatics work is patient-centred and will inform other efforts to harmonize informatics standards around the world.
The Global Coalition for Value in Healthcare: This public-private effort will provide a platform where stakeholders and medical practitioners can learn from one another, develop shared visions and goals, and exchange best practices. The coalition will provide technical assistance and facilitate local partnerships, develop global enablers of value-based healthcare, document and disseminate best practices, and build a global community of practice.
"The coalition will be a global platform for accelerating the development of value-based health systems around the world," said Vanessa Candeias, Head of Global Health and Healthcare at the World Economic Forum. "It will serve as a source of information and learning about value-based transformation and will convene a global community of healthcare leaders engaged in making value-based healthcare a reality."
"The World Economic Forum's initiative on value in healthcare has highlighted the urgent need for multistakeholder cooperation to transform health systems," said Rich Lesser, Global Chief Executive Officer of Boston Consulting Group, USA. "We are excited for the next phase of this global partnership, where we foresee new levels of collaboration across healthcare – for instance, in the field of health informatics. These initiatives are key to secure the long-term sustainability of health systems around the world and better health outcomes for patients."
Christophe Weber, President and Chief Executive Officer of Takeda Pharmaceutical Company, Japan, said: "The industry is all too aware how fragmented and siloed it is. Takeda is very proud to continue leading in the space as part of the Global Coalition for Value in Healthcare, with particular focus on the value-based payments work of the coalition."
What is 'South-South cooperation' and why does it matter?
This week in Argentina's capital, Buenos Aires, over one thousand people, including high level government delegations and representatives from the private sector and civil society, will gather for the Second High-level United Nations Conference on South-South Cooperation, or BAPA+40.
The Conference marks the 40th anniversary of the United Nations Conference on Technical Cooperation Among Developing Countries, which was also held in Buenos Aires.
The central theme of discussion will be how South-South cooperation represents an opportunity to achieve the 2030 Agenda for Sustainable Development, the globally-agreed blueprint for peace and prosperity for people and the planet.
UN Secretary-General António Guterres, who will participate in opening ceremony of the event, strongly believes in the importance of South-South cooperation to generate both new ideas and concrete projects and also as a means to enable voices from the Global South to drive innovation and promote development.
UN News has put together a handy guide to answer some questions regarding this important meeting.
Let's start with the basics, what is South-South Cooperation?
South-South cooperation refers to the technical cooperation among developing countries in the Global South. It is a tool used by the states, international organizations, academics, civil society and the private sector to collaborate and share knowledge, skills and successful initiatives in specific areas such as agricultural development, human rights, urbanization, health, climate change etc.
What happened in Argentina 40 years ago?
During the 1960s and 1970s, with the global socio-economic climate entangled with Cold War politics, developing countries began seeking ways to chart the course of their own development; alternatives to the existing economic and political order.
Technical cooperation among these Southern States started as a pioneering associative effort to strengthen their diplomatic and international negotiating power through political dialogue.
What is now known as South-South cooperation, derives from the adoption of the Buenos Aires Plan of Action for Promoting and Implementing Technical Cooperation among Developing Countries (BAPA) by 138 UN Member States in Argentina, on September 18, 1978.
The plan established a scheme of collaboration among least developed countries, mostly located in the south of the planet. It also established for the first time a framework for this type of cooperation, and incorporated in its practice the basic principles of relations between sovereign States: respect for sovereignty, non-interference in internal affairs and equality of rights, among others.
The BAPA defined as well a series of new and concrete recommendations aimed at establishing legal frameworks and financing mechanisms at the national, regional, interregional and global levels.
Technical cooperation was defined in Buenos Aires as "an instrument capable of promoting the exchange of successful experiences among countries that share similar historical realities and similar challenges".
But what about North-South cooperation and Triangular cooperation?
The division of "North" and "South" is used to refer to the social, economic and political differences that exist between developed countries (North) and developing countries (South).
Although most of the high income countries are indeed located in the northern hemisphere, it should be noted that the division is not totally faithful to the actual geographical division. A country is defined as North or South not by location, but depending on certain economic factors and the quality of life of its population.
North-South cooperation, which is the most traditional type of cooperation, occurs when a developed country supports economically or with another kind of resources a less favored one, for example, with financial aid during a natural disaster or a humanitarian crisis.
Triangular cooperation, as the name implies, involves three actors, two from the South and one from the North. The latter, which can also be an international organization, provides the financial resources so that the countries of the South can exchange technical assistance on a specific topic.
For example, in what is considered a successful experience, Japan International Cooperation Agency (JICA) made it possible financially for demining Cambodian experts to travel to Colombia and exchange their knowledge and experience in that field. Both Cambodia and Colombia had a major issue with anti personnel-mines in different moments of their history.
What is the importance of South-South cooperation?
"Innovative forms of knowledge exchange, technology transfer, emergency response and recovery of livelihoods led by the South are transforming lives," said the Secretary-General in November 2018, during the inauguration of the 10th South-South Development Expo at UN Headquarters in New York.
"The facts speak for themselves", António Guterres said. The countries of the South have contributed to more than half of the world's growth in recent years; intra-south trade is higher than ever, accounting for more than a quarter of all world trade; the outflows of foreign direct investment from the South represent a third of the global flows; and remittances from migrant workers to low and middle income countries reached 466 billion dollars last year, which helped lift millions of families out of poverty.
The UN chief believes that the ambitious and transformational 2030 Agenda for Sustainable Development can not be achieved without the ideas, energy and tremendous ingenuity of the countries of the Global South.
What can South-South cooperation achieve?
Together with political dialogue and financial cooperation, South-South cooperation has promoted a large number of knowledge and expertise exchanges through programs, projects and initiatives that have helped solve specific problems in the countries of the Global South.
Last November, the UN Office for South-South Cooperation published a document gathering more than 100 successful experiences that have contributed to the development of countries around the world.
The publication contains examples from all regions of the world that demonstrate the potential success of South-South cooperation such as Cuba's support in the fight against Ebola in West Africa; Mexico's experience in diversifying corn products to improve health and nutrition in Kenya; the knowledge of strategies to reduce hunger shared by Colombia to Mesoamerican countries; and the lessons from Chile to the Caribbean countries on product labeling as a measure to end obesity, among many others.
What is going to happen this week in Argentina?
The Member States will meet again in Buenos Aires for the Second High Level Conference on South-South Cooperation, BAPA+40, to review four decades of trends and launch a new strategy in order to implement the 2030 Agenda.
BAPA+40, provides a unique opportunity to review the lessons learned since 1978, identify new areas and mechanisms where South-South and Triangular cooperation can add value and have a greater impact, and commit to build an adequate and systematic follow-up in the framework of the United Nations system.
For three days, world leaders will meet to discuss a political declaration that is expected to call for an increase in South-South cooperation, as well as an institutional strengthening of reporting and monitoring systems for this type of partnership.
The event will also feature panel discussions and a pavilion of different countries that will share successful experiences, demonstrating the effectiveness of this type of cooperation, and the potential of the ideas of the countries in the Global South.
How can I participate in the discussion?
You can follow live coverage of the event on UN Web TV.
If you miss anything, all on-demand videos related to BAPA+40 can be found here: http://webtv.un.org/meetings-events/conferencessummits/second-high-level-united-nations-conference-on-south-south-cooperation-20-22-march-2019-buenos-aires-argentina/
On social media, you can comment, tweet, and participate using the hashtags: #BAPA40; #SouthSouthCooperation; and #SouthSouth.