The Secret Logistics of America's Global Deep State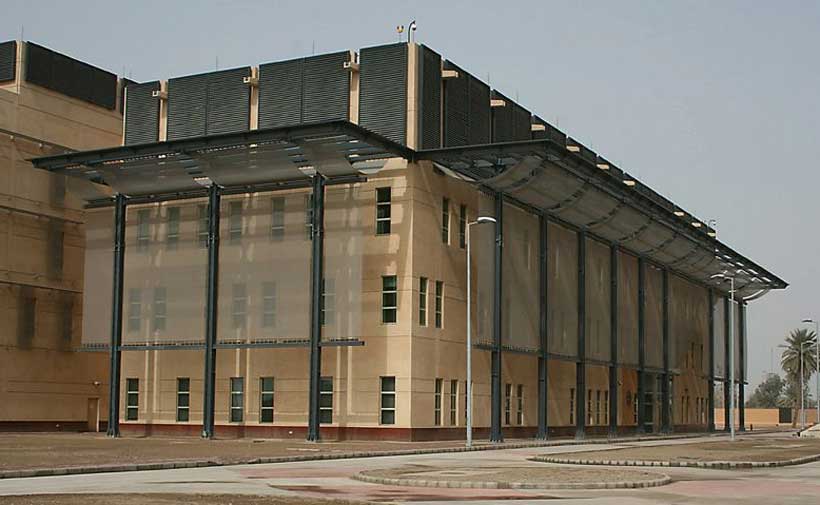 Why is America's Baghdad Embassy the world's largest embassy — and the largest by far?
"It's as if the U.S. Embassy is there not only to protect American interests, but to manage the entire world from the heart of the capital, Baghdad."
— Iraqi Sheikh Qassim Al Ta'ee, as quoted on 27 December 2011 in Al Iraq News and translated by Ibrahim Zaidan from the original Arabic by Nicholas Dagher
Zaidan's article went on to say:
The world's largest embassy is situated in the Green Zone and fortified by three walls, another barrier of concrete slabs, followed by barbed wire fences and a wall of sandbags. It covers an area of 104 acres, six times larger than U.N. headquarters in New York and ten times larger than the new embassy Washington is building in Beijing – which is just 10 acres.
[Editor's' Note: The ten-acre U.S. Embassy in Beijing is the second largest overseas construction project in the history of the Department of State — and the 104-acre U.S. Embassy in Iraq is the largest.]
So, America's largest diplomatic mission is surrounded by high concrete walls, is painted in black, brown and grey and is completely isolated from its environment. … The United States announced several months ago that between diplomats and employees, its embassy would include 16,000 people after the pullout of U.S. forces.
On January 1st, Will Sillitoe headlined at the Helsinki Times, "What does the US embassy in Baghdad export to Finland and dozens of other countries?"  and he reported that:
More than a million kilograms of cargo were shipped from Baghdad to different parts of the world, reveals US embassies procurement documents.
Mysterious cargo shipments from the US Embassy in Baghdad to other American embassies and consulates around the world have been revealed on a Wikileaks' database. Procurement orders of US embassies are public documents, but Wikileaks put them in a searchable database making it easier to analyse.
The database displaying worldwide US embassy orders of goods and services reveals Baghdad as a postal and shipping centre for tonnes of freight.
Though military freight might be expected between the US and Iraq, records show that embassies across Europe, Asia, the Middle East, the Americas and Africa are all receiving deliveries from Baghdad too.
According to Wikileaks' database, orders to ship more than 540 tonnes of cargo to the US were made in May 2018. The same document shows other main delivery destinations included 120 tonnes of freight to Europe, and 24 tonnes to South Africa, South America and Central Africa respectively. …
On December 29th, Sillitoe had headlined "Guarded warehouse near airport and mysterious cargos from Baghdad; what is the US embassy in Helsinki up to?"  and he opened:
Why does the US Embassy in Helsinki need a big warehouse near Malmi Airport and what are the contents of thousands of kilograms of cargo sent to Helsinki from Baghdad?
A dilapidated warehouse in Malmi is being used by the US Embassy for unknown operations after a Wikileaks release revealed its location.
The anonymous looking building on Takoraudantie is notable only for the new 427 meter perimeter fence that according to the Wikileaks' database was ordered by the US Embassy in April 2018.
Situated across the street from the main entrance of Malmi Airport, the warehouse with its 3 meter high security fence appears an unlikely location for official embassy business. Neighbouring companies include a car yard and a tyre warehouse.
Helsinki Times visited the perimeters this weekend. Security personnel, young Finns in uniforms with American flags on their arms, appeared nervous and suspicious when asked to comment on the warehouse. …
Sillitoe closed that article by saying: "The searchable Wikileaks database and info about Finland related activities can be found HERE."
That link leads to a "US Embassy Shopping List" of 24 separate documents, one of which is "RFP 191Z1018R0002 Mission Iraq Shipping Transportation Services", dated "5/17/18."
Item 2 there is "Packing of unaccompanied air baggage (UAB) – Throughout Iraq – U.S. Embassy Baghdad, Baghdad International Zone, U.S. Consulate General in Basrah, U.S. Consulate General in Erbil, U.S. Baghdad Diplomatic Support Center, U.S. Erbil Diplomatic Support Center (Note: under the specified unit of measure the U.S. Government contemplates 'per kilogram' of gross weight in kilograms)"
The "Quantity Estimated" is "100,000" and the "Unit of Measure" is "kilogram."
Item 7 is "Storage Services – Monthly Storage of containers – Throughout Iraq – U.S. Embassy Baghdad, Baghdad International Zone, U.S. Consulate General in Basrah, U.S. Consulate General in Erbil, U.S. Baghdad Diplomatic Support Center, U.S. Erbil Diplomatic Support Center."
The "Quantity Estimated" is "100" and the "Unit of Measure" is "40' Container."
Item "Section B.5 Sub-CLIN:84E" is "From Republic of Iraq to Western European Countries (Austria, Belgium, Denmark, Finland, France, Germany, Greece, Iceland, Ireland, Italy, Luxembourg, Netherlands, Norway, Portugal, Spain, Sweden, Switzerland, United Kingdom, Andorra, Liechtenstein, Malta, Monaco, San Marino, and Vatican City, Nicosia)"
The "Quantity Estimated" is "5,000" and the "Unit of Measure" is "kilogram."
Item "Section B.5 Sub -CLIN:84 F" is "From Republic of Iraq to Eastern European Countries (Armenia, Azerbaijan, Belarus, Estonia, Georgia, Latvia, Lithuania, Moldova, Russia, Ukraine, Albania, Bosnia and Herzegovina, Bulgaria, Croatia, Czech Republic, Hungary, Macedonia, Montenegro, Poland, Romania, Serbia, Slovakia, Slovenia, Kosovo)"
The "Quantity Estimated" is "5,000" and the "Unit of Measure" is "kilogram."
By far the biggest categories for shipments are to the eastern U.S. states: "From Republic of Iraq to the Unites [sp.] States Eastern Time-Zone – the following States: VT, ME, NH, MA, RI, CT, NJ, DE, MD, DC, NY, PA, VA, NC, SC, GA, FL, WV, MI, OH, IN, KY, GA"
There are 11 such categories:
"Section B.5 Sub-CLIN:85A"
"Section B.5 Sub-CLIN:86A"
"Section B.6 Sub-CLIN:84A"
"Section B.6 Sub-CLIN:85A"
"Section B.6 Sub-CLIN:86A"
"Section B.7 Sub-CLIN:84A"
"Section B.7 Sub-CLIN:85A"
"Section B.7 Sub-CLIN:86A"
"Section B.8 Sub-CLIN:84A"
"Section B.8 Sub-CLIN:85A"
"Section B.8 Sub-CLIN:86A"
Each one of those eleven will receive 30,000 kilograms, under the contract.
In each of the eleven, the products will be going "From Republic of Iraq to the Unites [sp.] States Eastern Time-Zone – the following States: VT, ME, NH, MA, RI, CT, NJ, DE, MD, DC, NY, PA, VA, NC, SC, GA, FL, WV, MI, OH, IN, KY, GA"
That's a total of 330,000 kilograms. That's 727,525 pounds, or 364 tons, which are going from the world's largest Embassy, America's in Baghdad, to America's eastern states.
In addition, around another 1,091,287 pounds are going from the Baghdad Embassy to other locations throughout the world.
The RFP, or Request For Proposal, informs its recipient that "The Contractor shall provide the services for the base period of the contract," but "base period" isn't defined in the RFP. However, the contract does specify that there shall be "a firm fixed unit price for any contract line item number in the Base Year," and therefore the obligations under any contract will continue for at least one year, but possibly longer (if renewed). Furthermore, the "Type of Solicitation" here is not "Sealed Bid (IFB)," but instead "Negotiated (RFP)," which means that the U.S. Government officials who are "Soliciting" these offers will choose whom to request to present an offer; and, if two or more recipients are being approached and make an offer, then the U.S. official will select the winner that he or she prefers, and won't be required to accept the lowest-priced one, but can instead take some sort of kickback, as long as there is no evidence of having done that. It can easily be arranged. Furthermore, private arrangements bond the two parties, even if the arrangement is just a one-time deal, because neither party will want the private arrangement to be made public, and if ever it does become public, then both parties will be revealed as guilty; it'll hurt both parties. Moreover, since any contract may be renewed, the offeror of the contract, which is the Embassy employee, holds the power to affect that — the length of term, and everything that's associated with it, will be controlled by the Embassy's side, and not by the contractor's side. And no matter how brief a contract-term might be, and no matter how many non-Americans might be signing any particular type of contract during any given period of years, none of the private parties will have any motive to make public any kickback. Consequently, there is every motive to keep these arrangements private; and the Embassy employee will always be the more powerful one in any private arrangement that is made with any contractor.
Prior RFPs are also online, for example this one from 16 November 2014. The annual amounts seem to be fairly stable.
On 10 October 2007, while the U.S. Embassy in Iraq was still building, the Congressional Research Service issued to Congress their report, "U.S. Embassy in Iraq", and it said:
The U.S. Ambassador to Iraq (currently Ambassador Ryan Crocker) has full authority for the American presence in Iraq with two exceptions: 1 — military and security matters which are under the authority of General Patraeus, the U.S. Commander of the Multinational Force-Iraq (MNF-I), and 2 — staff working for international organizations. In areas where diplomacy, military, and/or security activities overlap, the Ambassador and the U.S. Commander cooperate to provide co-equal authority regarding what is best for America and its interests in Iraq.
By "Patraeus" it meant David Petraeus. He was the person who designed the torture-system that was applied by his assistant James Steele and used in Iraq to extract from prisoners everything they knew about Saddam Hussein's assistance to the 9/11 event. Petraeus subsequently became a regular participant in the annual meetings of the private and secretive Bilderberg group  of representatives of the U.S. and allied nations' billionaires that constitute The West's Deep State. Prior to that, Petraeus and Steele had organized and instituted in El Salvador that Government's death-squads, to eradicate opponents of U.S. control over that country.
The most corrupt parts of the U.S. Government are usually in the military, because the entire Defense Department isn't audited. It is instead financially an enormous dark hole, even to U.S. Senators and Representatives, and even to the U.S. President. Only members of the U.S. Deep State might have an approximate idea of how much money is getting 'lost' in it. After all, the Deep State isn't, at all, answerable to the public. Since it operates in secret, it can't be. The consequences of the Deep State, however, can become public, and may contradict what is shown in publicly available documents and public statements, which have been circulated, to the public, by the press. In any nation where a Deep State rules, such contradictions, between public assertions and the actual outcomes, are so commonplace as hardly to be even news at all, if and when they appear, at all.
On 2 July 2017, the great investigative reporter Dilyana Gaytandzhieva headlined "350 Flights Carry Weapons Diplomatic for Terrorists", and provided documentation of the U.S. CIA's intricate global network, which secretly "sends $1 billion worth of weapons" through many countries to jihadists in Syria to take down Syria's Government. Iraq was mentioned 6 times in the original publication of her article, and is mentioned 9 times in the 29 April 2018 updated version. That secret U.S. supply of weapons to jihadist groups to overthrow Bashar al-Assad and his secular, non-sectarian, Baathist Party, is a secret operation, just like the U.S. State Department's Baghdad Embassy's operations are, and that Embassy could even be this particular operation's headquarters.
The 200-page, December 2017, study, "Weapons of the Islamic State: A three-year investigation", by Conflict Armament Research Ltd., states in its Conclusion:
IS forces, like most non-state armed groups, acquire significant quantities of weapons and ammunition on the battlefield. … Evidence presented in this report, however, confirms that many of the group's weapons — and notably its ammunition — are newly manufactured, having been delivered to the region since the start of the Syrian conflict in 2011. These weapons originate in transfers made by external parties, including Saudi Arabia and the United States, to disparate Syrian opposition forces arrayed against the regime of President Bashar al-Assad.
Here are just a few of the details that this passage in the summary was based upon and summarizing:
On pages 36-9, it says:
CAR has documented and traced numerous weapon systems in service with IS forces. Many derive from shipments made to the US government, or to entities operating under US government contracts. The United States has acknowledged its support to Syrian opposition forces, orchestrated primarily through resupply from the territories of Jordan and Turkey.26  All of the shipments originated in EU Member States; in most cases, US retransfers (exports made after purchase by the United States) contravened clauses in end-user certificates (EUCs) issued by the United States to EU supplier governments. The United States signed these certificates prior to transfer, stated that it was the sole end user of the materiel, and committed not to retransfer the materiel without the supplier government's prior consent. It did not notify the supplier states concerned before [violating that, and] retransferring the materiel. …
On 21 December 2016, Jaysh al-Nasr, a Syrian armed opposition faction active in the Hama Governorate of Syria, published a set of photographs of its fighters.29  In one of these, Jaysh al-Nasr fighters are operating a 9M111MB-1 ATGW30 bearing an identical lot number and a serial number (365) close in sequence to the one CAR documented (286) in Iraq, suggesting both were part of the same supply chain. …
In May 2015, Syrian YPG forces recovered a PG-7T 40 mm rocket from IS forces near Al Hasakah, Syria, where CAR documented it on 20 May 2015. The Government of Bulgaria confirmed that it exported the item to the US Department of the Army through the US company Kiesler Police Supply. The application for the export licence was accompanied by the original EUC issued by the US Department of the Army (with a non-re-export clause) as well as a delivery verification certificate. The item was exported on 23 June 2014.32 …  CAR has yet to receive a reply to a trace request sent to the United States regarding these rockets.
Page 54 says:
Like the United States, Saudi Arabia has provided support to various factions in the Syrian conflict, including through the supply of weapons. Working with the Bulgarian authorities, CAR has traced numerous items deployed by IS forces to initial exports from Bulgaria to Saudi Arabia. These transfers were uniformly subject to non-retransfer clauses concluded between Saudi Arabia and the Government of Bulgaria prior to export. In this respect, onward retransfers by Saudi Arabia of these weapons contravene its commitments to the Government of Bulgaria not to re-export the materiel in question without Bulgaria's prior consent.
Just like in the case of the Baghdad Embassy's agreements with contractors, the powerful party in any contract will be the party whose side is paying (the buyer), and not the party whose side is supplying the service or goods (the seller). Money always rules.
The CAR report, which was issued just months after Dilyana Gaytandzhieva's report, was entirely consistent with, and largely overlapped, hers. The U.S. and Saudi Governments were not only using Al Qaeda as their main proxy in southwestern Syria to lead the jihadist groups to overthrow Syria's non-sectarian Government, but were also using ISIS in northeastern Syria as their main proxy forces there to overthrow Syria's Government. After Russia's entry into the war on 30 September 2015 on the side of Syria's Government, America's assistance to Al Qaeda in Syria (Al Nusra) continued in order to help replace that Government by one which would be controlled by the Sauds. And America's assistance to ISIS was almost totally replaced then by its assistance to ethnocentric Syrian Kurds in the northeast as the Syrian Democratic Forces, which were fighting against both the Government and ISIS. Russia, of course, was against both Al Qaeda-led jihadists and against ISIS jihadists. (Turkey was against ethnocentric Kurds, because those people want to take a chunk out of four nations: Turkey, Syria, Iraq, and Iran. The CIA edited and written Wikipedia's article on Kurdistan conveniently doesn't even make note of that key fact.)  So: America was using a complex combination in order to take over Syria for the Sauds ultimately to control. But Russia's entry into Syria's air-war on 30 September 2015 has overcome that U.S-led and Saudi financed combination against Syria.
Would any secret facility, anywhere in the world, be better situated to manage that operation, on America's side, than America's Baghdad Embassy?
So, the question then arises: who benefits from this enormous Embassy, and from the Deep State of which it is a part? The American public certainly do not.
Generally speaking, the people who get paid to promote endless wars, such as sellers of the constantly receding (propagandistic) "light at the end of the tunnel", support continuing if not intensifying such wars. Typical is the neoconservative (in foreign affairs) and neoliberal (in domestic affairs) David Bradley, who controls and is the Chairman of Atlantic Media, which publishes the neocon-neolib The Atlantic, and many other public-affairs magazines and websites. His "Defense One" site posted, on 22 March 2018, from its Executive Editor, "The War in Iraq Isn't Done. Commanders Explain Why and What's Next", and closed with "'We need to be very careful about rushing to the exit, and secure this win,' said the senior U.S. military official. 'This is a significant win.'" The "senior U.S. military official" wasn't identified, other than to say that he "spoke only on background." But, of course, George W. Bush had already told the world all about this "win," back in 2003. Salespeople just continue their pitches; it's what they are paid to do, and so they never stop.
The annual military costs alone, for the U.S. to keep being, as its propaganda euphemistically puts the matter, "policeman for the world" (such as, in the Syrian case, by means of those proxy boots-on-the-ground warriors, the jihadists, and the ethnocentrists among Syria's Kurds) are actually sufficient, even on their own, to cause America's soaring federal debt — and that's not a benefit, but an extreme harm, to the public. Future generations of Americans will be paying the tab for this. And the costs for being "policeman for the world" are enormous. Even just militarily, they're over a trillion dollars each and every year.
Though current U.S. Defense Department budgets are around $700 billion annually, the United States is actually spending closer to $1.2 trillion annually on the military when all of the nation's military spending (such as for military retirements, which are paid by the Treasury Department not by the Defense Department) are factored in. The only people who benefit from being "policeman for the world" are the billionaires of the U.S. and (though to only a lesser extent) of its allied countries. And, of course, they pay their lobbyists and propagandists. It's really being policeman for those billionaires, who own and control all of the international corporations that are headquartered in this alliance. The U.S. public isn't paying the tab by any cash-and-carry basis; instead, future generations of Americans will be paying the tab, for today's U.S.-and-allied billionaires. Those billionaires today are the chief beneficiaries. It's all being done for them and their retinues. That's why America's Founders didn't want there to be any "standing army" at all. They didn't want there to be any permanent-war government. They wanted military only for national defense — not for any billionaires' protection or 'insurance policy', or what might actually be publicly paid and armed thugs in service abroad as if they were the nation's armed forces — when, in fact, they are the armed forces for only those billionaires and their servants. America's Founders wanted no military at all that serves the aristocracy. They wanted no aristocracy, at all. They wanted no "standing army" whatsoever. They wanted only a military that protects the public, when a real military danger, from abroad, to the domestic public, exists. Of course, that's possible only in a democracy, but the U.S. is no democracy now, even if it might have been in the past.
On 11 December 2017, Montana State University headlined "MSU SCHOLARS FIND $21 TRILLION IN UNAUTHORIZED GOVERNMENT SPENDING; DEFENSE DEPARTMENT TO CONDUCT FIRST-EVER AUDIT", but the Pentagon's promised audit has failed to materialize. A major accounting firm was hired for the task but soon quit, saying that the Defense Department's books were too incomplete to proceed further. Three days before that article was published, a colleague of that MSU team headlined at Forbes, "Has Our Government Spent $21 Trillion Of Our Money Without Telling Us?"  and said that the answer was yes. All of this 'lost' money was spent merely by the Department of Defense. Just managing the more-than-a-thousand U.S. military bases worldwide requires a lot of money. Any actual war-fighting adds to that U.S. military-base cost — the war-fighting costs are extra. Those military bases etc. are the "standing army." Protection of our billionaires' investments abroad, and of their access to raw materials in underdeveloped countries (such as to manufacture cellphones), is an enormously expensive operation. Basically, the American public are hugely subsidizing America's billionaires. But only future generations of Americans will be paying that debt — plus, of course, the accumulated interest on it.
The Department of Defense isn't the only federal Department that has ever been unauditable. On 18 June 2013, Luke Johnson and Ryan Grim at Huffington Post bannered "GAO Cannot Audit Federal Government, Cites Department Of Defense Problems" and opened: "The Government Accountability Office said Thursday that it could not complete an audit of the federal government, pointing to serious problems with the Department of Defense. Along with the Pentagon, the GAO cited the Department of Homeland Security as having problems so significant that it was impossible for investigators to audit it. The DHS got a qualified audit for fiscal year 2012, and is seeking an unqualified audit for 2013." However, on 17 November 2014, the Washington Post headlined "Homeland Security earns clean audit two years running", and Jerry Markon reported that, "For the second straight year, the Department of Homeland Security has achieved a much sought-after clean audit of its financial statements by an independent auditor." Furthermore: "for nearly all of its first decade of existence, DHS was unable to achieve a clean audit because it had been created by combining 22 federal agencies and components into one massive department. That led to inherent challenges." That wasn't the situation at the Defense Department, which was far different. On 8 December 2017, NPR headlined "Pentagon Announces First-Ever Audit Of The Department Of Defense", and opened: "'The Defense Department is starting the first agency-wide financial audit in its history,' the Pentagon's news service says." However, almost as soon as the auditing team began their work, they quit it, because the Department's books were garbage. Only  the DOD is like that — almost entirely corrupt.
On 2 October 2018, Project Censored headlined "$21 Trillion in Unaccounted-for Government Spending from 1998 to 2015". However, it falsified. It opened: "Two federal government agencies, the Department of Defense and the Department of Housing and Urban Development (HUD), may have accumulated as much as $21 trillion in undocumented expenses between 1998 and 2015." None of that was actually HUD, it was 100% DOD. And all of "the alleged irregularities in DoD and HUD spending" were not merely "alleged," but they were, in fact, carefully checked and repeatedly verified, and were only at DOD, despite what Project Censored published. This inaccuracy is important. If people don't know that DOD is the only unaudited federal Department, then they can't possibly understand why that is the case. The reason it is the case, is that almost all of the "waste, fraud, and abuse" in the U.S. federal government is at  the Defense Department. It has never been auditable. How much do America's 'news'-media report this  reality?
DOD is consistently, year after year, and decade after decade, the federal Department or federal or local governmental function, that Gallup's polling has shown to be more respected by the U.S. public than is any other. (It's identified there as "The military". It beats, for examples: "The Supreme Court," "Congress," "The public schools," "The presidency," "The police," and "The criminal justice system.") The most corrupt isn't the most despised; it is the opposite — it is the most respected.
Secret government tends to be costly for taxpayers, and also tends to add a lot to the governmental debt. An unauditable governmental department, such as the Defense Department is, cannot function, at all, without an enormous amount of corruption. This  is the reality about America's military. However, there's much propaganda contradicting it. The news-media also serve those same billionaires.
How likely, then, is it, that America's Baghdad Embassy serves the U.S. public? It certainly does not serve the Iraqi public. But it does serve the people — whomever they are — who control the U.S. Government. And that's the Deep State. That's the reality, but what's promoted is fantasyland. And this fantasyland, which is promoted, is called "American democracy". Just ask Big Brother, and he'll tell you all about it. He always does.
Author's note: first posted at strategic-culture.org
Latin America is inching slowly towards a change for the better
Authors: Ash Narain Roy and Shimone Jaini*
Every utopia sooner or later turns into a dystopia. Why, then, do Latin Americans fancy themselves constructing alternative utopias? What good is utopia? Uruguayan writer Eduardo Galeano seems to have the answer, "it is good for walk." Latin America hasn't stopped imagining and dreaming. It may not have captured the imagination of global policy-makers and the chattering classes. But the region has indeed changed, mostly for the better. However, it would be premature to proclaim that Latin America has turned the corner.
Why has Latin America acquired the reputation for its pursuit of endless revolutions or what Marina Sitrin calls 'Everyday Revolutions'? Peruvian novelist Santiago Roncagliolo provides some insights about such revolutions in his novel, Red April, "there is a feeling in Latin America that good ones were not so good and the bad ones were not so bad."
Latin America has long been a laboratory of political and social experiments. Sebastian Edwards, author of Left Behind: Latin America and the False Promise of Populism, says that the political and economic history of Latin America has been "marked by great hopes and even greater disappointments". And yet, some of the political and social experiments continue to catapult the region into the global consciousness and resonate with people across the globe.
Latin America suffers from many frailties. But it refuses to put an end to imaginations. It continues to dream how to construct a world where many worlds could live. Thanks to their endless dreams and imaginations, the region glimpses possibilities of other worlds. There is a lot to learn from Latin America both from its best practices and worst failures.
Deepening democracy and political participation
With the entrenchment of democracy, new paradigms of governance have emerged in Latin America. In recent decades the region has shown a trend to reject traditional political parties and vote for new formations to power. The dominance of the Christian Democrats and Social Democrats is long over. But Political institutions are still quite weak. Rewriting constitutions comes easy to Latin Americans. Dominican Republic is having its 32nd constitution. Venezuela, Haiti and Ecuador have had 32nd, 26th and 20th constitutions respectively. Now Chilean President has agreed to change the 1980 Pinochet constitution.
Does it show Latin America's growing impatience with the non-performing models? Or are Latin Americans undermining democratic principles in the name of pursuing more radical agendas?
The institutional architecture for democracy has been very diverse in Latin America. For instance, in some countries, the party system has collapsed (e.g., Peru and Venezuela); in other countries, parties have become increasingly detached from civil society (e.g., Chile and Mexico), and, in others, social movements have replaced traditional parties (e.g., Bolivia).
The region has also shown deep contempt for modern democratic politics. It means a different kind of politics, not necessarily the denial or rejection of politics. Maybe what the region is hankering after is not just a politics which delivers but also which uses a new language of politics. It is, in a way, what Andreas Schedlar calls 'end of politics.'
The same voters who were captivated by new, mostly leftist movements, promising to redistribute wealth, punishing traditional parties and turning political systems on their heads have now begun rejecting them. Across the continent traditional parties have disintegrated though the trend is more pronounced in the Andean region.
It all began with the emergence of a 'vote of rage' towards the end of the 1990s and the beginning of the present century. Several governments lost power and the voters made a demand like 'que se vayantodos' (they all should go). Elections in Mexico in 2000 ended 70 years of PRI's domination. In 1999, elections in Venezuela brought an end to 40 years of bipartisan politics. Something similar happened in Uruguay in 2000 when the domination of the Colorados and the Blancos came to an end. Popular movements toppled several governments in Argentina, Bolivia and Ecuador.
Ivan Hinojosa of Catholic University in Lima says that "some parties recuperate but many don't, and in their place you have all new and unpredictable movements".
The institutions that promised better outcomes have delivered at best modest results. Much of the frustrations and anger that have given rise to mass protests and democratic discontent across the region are centred on the weaknesses of these institutions.1 Governments have changed, new parties and political formations have captured power and even the rhetoric has changed but meaningful institutional innovations are still a work in progress.
Constitutional changes and innovative schemes have empowered the various indigenous groups. Social policies and constitutional recognition of new citizenship rights have given these groups a new sense of belonging. However, the durability of these measures remains a moot question at a time when Latin America is witnessing end of the commodity boom and electoral setback to left-wing regimes.
New tools to boost political participation
In the areas of women's empowerment and advancement of gender rights, the region has made notable advance. A study conducted by International IDEA in 18 Latin American countries demonstrates how important it is to have both men and women leaders to promote better participation from women, if the parties want to be democratic and inclusive institutions.
Efforts made by such parties in 11 "institutional spaces" include Statutes and Declarations of Principles, Internal Organization, Financing, Training, Recruiting, Media, etc. For example, the United Nations Convention on the Elimination of All Forms of Discrimination against Women (1979) have been ratified by every Latin American country. Most countries have approved laws promoting gender equality. Moreover, a small yet significant step of using gender-sensitive language to acknowledge women has proven monumental in reversing the predominantly male concepts in political language.
Despite the continued presence of a series of obstacles limiting the political participation of women in the region, such political parties have undertaken innovative and effective initiatives that can be considered "best practices".
Multiple global crises have led to an increased interest in Latin America in the social and solidarity economy (SSE). In Latin America, the social and solidarity discourse, deployed with increasing intensity since the 1990s, refers to a model of political and economic development based on principles of solidarity, participation, cooperation and reciprocity. The same has also been articulated as 'social knowledge economy'.
Hotbed of political innovation
A wave of political innovation is sweeping across Latin America as it is creating more participatory and inclusive democratic governments, breaking its shackles from the deep-rooted authoritarianism. It has also become an inspiration for many on how path to democracy is mapped out and advanced.
The Instituto Update, which studies political innovation in Latin America, found in its study that more than 600 initiatives have been put in place which are trying to reduce the gap between citizens and their governments by increasing political participation, improving transparency and accountability, encouraging innovation in government, and doing more to develop independent media.
The study identifies 5 main approaches in Latin America towards creating, developing and practicing new methods and instruments to foster political participation and trust in government. Firstly, citizens themselves are working for social change. The Secundarista movement that spread all over Brazil was led by students protesting for better education reforms in Saõ Paulo's public high schools.
Another movement in México known as #Yo soy 132 was spearheaded by students who were protesting against political corruption during the 2012 presidential elections. This shows that people are creating new innovative ways to mobilize resources and to persuade elected officials and bureaucrats to pursue public policy changes.
Secondly, there are many feminist movements taking place all over Latin America like-#PrimaveraFeminista, #NiUnaMenos, #Pimp My Carroça, demanding reproductive rights and bringing attention to the issue of domestic abuse. Activists and organisations are also using social media and humor like GregNews, a comedy news show to make citizens aware and interested in public interest issues.
Thirdly, elected officials are trying to make institutions more participatory and inclusive. Measures like DemocracyOS (Argentina) and LinQ (Ecuador) to Brazil's Internet Bill of Rights have made great progress in giving voice to the people in the policymaking process.
Moreover, to monitor and hold politicians and corporations accountable, civil society organizations are using technology and open data. Groups like Paraguay's A Quienes Elegimos, Argentina's Chequeado, and Chile's Del Dicho al Hecho are using online tools and organising public protests to insist on transparency from the government.
And finally, there's a recognition that politics across Latin America needs new voices and new people to get involved. Today, movements such as Mexico's WikiPolítica and Brazil's Bancada Ativista, as well as new political parties like Chile's Revolución Democrática and Argentina's Partido de la Red, are aiming to make politics accessible, cool, and honorable to a new generation of activists.
How protest movements are novel
Culture has long been a tool of propaganda. But culture in Latin America is also a tool of protests. Protesters dancing to the rhythms of cumbia and salsa music and citizens pot-banging from their balconies have grabbed global eyeballs. Brazilians have resorted to 'panelacos' (protesting with pots and pans) against President Bolsonaro for denying science on Coronavirus.
Chileans have resorted to social media with their different artistic modes of expression to warrant their movement against the government which decided to privatize public services and raise the price of public transportation. Victor Jara's 1971 song "Derecho a la paz"(Right to peace) has become a resistance anthem for students and working-class protestors. The song, originally composed during Pinochet's dictatorship, has now become an inspiration for the demonstrators to take to the streets despite the violent oppression by the police and military national forces.
New slogans, new symbols of power, new empowerment
For hundreds of years the indigenous people remained invisible in a culture dominated by the language and traditions of Europe. They also became victims ofwhat sociologist Eduardo Bonilla-Silva calls 'Racism without Racists'. Hence, recent gains by the indigenous are credible. Today, they have begun to dream. After all, dreams give vision and vision leads to action. Today, the various indigenous communities refuse to return to the dark valley; they have realized that forgetting could be a key part of learning.
Empowerment is an enabling exercise. It begins with the marginal, the forgotten. The indigenous groups in particular have worked to address the incompleteness of citizenship. In their efforts to rework politics, they have pointed out how for many, citizenship has remained an unfulfilled promise; citizenship is not mere entitlement.
For the indigenous, the body is the site for politics, very much the way it was for Gandhi. It is also a site for struggle. As Shiv Viswanathan argues, "the body prevents politics from straying into the abstractions of ideology or policy. It is a statement of presence, of sensing politics and suffering as part of a sensorium of sounds, smells, touch, taste and memory." No less importantly, the rise of the indigenous has gone a long way to liberate politics from its behavioral and ideological pomposity.
By making way for leaders of their choice to gain power and overthrowing several presidents in Bolivia and Ecuador, the newly empowered indigenous groups want to ensure that no despot ascends the throne but a doer, one who heals their wounds, not turn the knife in them. In several countries and more specifically in Bolivia and Ecuador, the traditionally occupied indigenous territories have been recognized and protected and the sustainable development of natural resources located in their land has been guaranteed. Some of the issues like land as an economic base, a space of social reproduction and a condition for survival, recognition of their collective rights, have gained recognition in international forums.
Indigenous and peasant groups have not stopped at mere protests. They have adopted another strategy: protesta con propuesta, whereby positive alternatives have been suggested. The Confederation of Indigenous Nationalities of Ecuador (CONAIE), for example, has formulated its own water reform proposal. Without denying their economic importance, the proposals emphasize the community-based, social, and ecological aspects of water. Also in Peru and Bolivia, platforms of popular alliances and peasant and indigenous organizations have formulated constructive counter-proposals that complement their claims and protests.
The following section analyses some of the institutional innovations and best practices in Latin America that have found acceptance and admiration outside the region.
Mexico's Oportunidades and Brazil's Zero Hunger
Progresa, Mexico's Conditional Cash Transfer (CCT) program,(later known as Oportunidades and now as Prospera), is known for increasing school enrolments and attendance in its initial 18-month randomized evaluation (Parker and Todd 2017). In this program, money is directly given to families if they send children to school, meet nutrition standards and receive regular health check-ups. This has had significant long-term benefits that could reduce intergenerational poverty according to a study published in National Bureau of Economic Research.
A similar CCT program was adopted by Colombia in 2000 known as Familasenaccion which provides money to poor households with children under 18 years old. It targets population that comprises of poor families that have either been displaced by the conflict or are from indigenous communities. Though it is no longer regarded as an emergency response to a short-term crisis, but it has proven efficient as an answer to more structural poverty problems.
Another commendable example towards ensuring food security for everyone was taken up by Brazil in the form of 'Fome Zero' or Zero Hunger program. The program launched in 2003 with the goal that all people be able to access enough and the right kinds of foods, to meet basic nutritional needs and support health. Fome Zero is based on a multi-sectoral approach at the public policy level, involving policies and programs around social protection and safety nets, education, food production, health services, drinking water, and sanitation. This can serve as a role model for national commitment to making better nutrition a top priority.
Another best practice, Participatory budgeting (PB), has been the most serious effort to take democracy to the doorsteps of the citizens. The Workers Party and a coalition of civil society organizations of Brazil introduced PB in Porto Alegre in 1989. It soon spread to more than 250 municipalities. Several countries followed suit. PB is a process of democratic decision-making. It is a type of participatory democracy, in which ordinary people decide how to allocate part of a municipal or public budget. It allows citizens to identify, discuss and prioritize public spending projects and gives them the power to make real decisions about how money is spent. The Porto Alegre model is no longer used in the same way in Porto Alegre itself. It has lost its sheen elsewhere in Latin America.
Consulta previa (prior consultation) is another significant legal framework that some countries in Latin America have institutionalized to deepen democracy. It is the right of the indigenous and ethnic groups to be consulted on matters affecting their culture and heritage as established by ILO Convention 169. Its implementation has at best been patchy. While it has been successfully implemented by Peru's Amazonian communities, progress is much slower as far as the Andean communities are concerned. Much of the natural resources are located in the region inhabited by the indigenous communities, consulta previa has given the people a say in the extraction of raw materials. However, many left-leaning governments have resorted to the so-called "progressive neo-extractism" to 'fight poverty'. The indigenous groups have sharpened attacks on the Left arguing such model of development, which relies on the rapacious extraction of natural resources, entails environmental destruction and the fragmentation of indigenous territory.
Cuba's medical internationalism
For nearly 60 years, Cuba has been sending healthcare professionals all over the globe. This is done partly to support those in need but also as a part of concerted campaign of its medical diplomacy and to make some money to help the country survive an ongoing US embargo. Since then, Cuba has established permanent medical missions in a number of countries. Over the last five decades, it has sent between 135,000 to 400,000 doctors abroad.
The tradition of medical internationalism in Cuba goes back to the first years of the Cuban Revolution. The country has dispatched 593 workers to 14 countries in the battle against Covid-19. According to the Cuban health ministry, 179 doctors, 399 nurses and 15 health technologists have been dispatched as part of Henry Reeve initiative. According to Helen Yaffe, free healthcare as a universal human right has been a key tenet now and in the 1959 Cuban Revolution which laid the foundation of medical internationalism thereby enforcing the idea and practice of sending medical teams abroad.
Even though the Cuban medical support has been helpful and hopeful to all those in desperate need, it also hasn't been able to keep away from criticism. Some rights groups have accused Havana of exploiting its medical workers who are forced to work in unsafe environments. Others have criticized by calling the program "selectively humanitarian" which makes lower numbers of doctors available to the Cuban population. Many countries have been wary of accepting Cuba's help due to its poor human rights record. While everyone may not find Cuba's help genuine, this is perhaps the time to put ideological differences aside and focus on the joint effort against the global war of Coronavirus.
Zapatistas' enduring legacy
The Zapatista movement was the first post-modern movement and it is still defiant in mountain strongholds. It rose up not just to fight indigenous repression, but also the globalization from above. It was a genuine popular movement striving for justice and for changing the status quo. Scholarly interest in the various indigenous movements in Latin America was shown only after the 1994 Zapatista uprising in Chiapas.The images of the Zapatistas were too striking to be missed—indigenous peasants with wooden rifles declaring war on the Mexican government. With their faces covered by black ski masks or red bandanas, the Zapatistas symbolically became the face of the faceless, the voice of the voiceless.
The Zapatista National Liberation Army had one-third women, some in bare feet. They became instant heroes of the left and an inspiration to indigenous groups and political romantics. There are still areas under their control where they have their own system of education, health, justice and security. They train their own teachers and doctors and some have their own currency. Their slogans have been equally instructive such as "cuando una mujeravanza, no hay hombre que retrocede (when a woman advances, no man is left behind) and "here you can buy or sell anything except indigenous dignity". The Zapatistas spelt out their key priorities like revitalizing indigenous worldviews, building autonomous, locally focused food system and food sovereignty and gender equity. Mexican sociologist Gonzalez Casanova says that the Zapatistas represent a new way of approaching problems and alternatives beyond the old dilemmas of the left, defending life, water, land and forest. The Zapatista movement offered alternative ways to organize societies, economies and the food systems.
In 1990s, Colombia's indigenous groups formed the Indigenous Social Alliance. It won a few seats in national parliament a few years later. Nationally visible indigenous parties came up in mid-1990s in Bolivia and Ecuador. In Bolivia, groups like the Assembly for the Sovereignty of the Peoples, Movement towards Socialism and Pachakutic Movement of Plurinational Unity gained traction. The Confederation of Indigenous Nationalities (CONAIE) in Ecuador has tasted electoral success and acquired considerable clout. It initially supported the left but later broke from its tutelage. The indigenous movements have helped in the democratization process. The group has combined indigenous culture and state institutions in innovative ways.
Limits of caudillismo
Latin Americans are masters at creating leaders, prophets and gods. The bane of Latin America is the system of caudillos (strongmen). Hence some are seeking leaderless revolutions. They contend, we don't need leaders, certainly not big leaders. As Emile Zapata says, "strong leaders make a weak people."
Populism the bane
Populism continues to be the bane of Latin American polity. Power and authority are still configured in relation to caudillos, not institutions. Parliaments, judiciary, party system and civil society provide little institutional counterweights to political abuses by the political class. The caudillos promise magical solutions and people still fall for them. Ironically, to remain in power, the maximum leader exerts and abuses state force but also propagate the myth that he/she is there by the popular will. The growing polarization has not allowed institutions like the judiciary and the police to become autonomous and independent. Populism has acquired a "new dimension" with decisive leaders pushing nationalism, demonizing opposition and stirring up issues that divide society. Populismhas marginalized the centrist forces and removed their bonding powers resulting in gridlock in parliament and diluting public trust in its efficacy.
Bertrand Russell says that the game of politics is the process by which people choose the man who will get the blame. Latin America has witnessed the masterful play of such blame game. Populist leaders thrive on confrontation and chaos. Bolsonaro is using the pandemic to stir up his base. He has dismissed Coronavirus as "just a little flu", "we will all die one day".
Conclusion
Some of the best practices in Latin America have caught the attention of the world. Whether these are replicable or not requires further research and study.The region has been long experimenting with novel political, social and economic initiatives and practices which resonate with people across the globe. Some consider the region to be a land of endless revolutions, but it has launched not only slogans but sustainable alternatives as well. It has maintained the ideal of 'Protesta con propuesta'(Protest with purpose). However, many have questioned the robustness of these measures when Latin America is witnessing the end of the commodity boom and the defeat of left-wing governments. The historical conflicts, the silhouettes of authoritarianism and past of caudillismo still weigh heavily on the Latin American present.
Will the region be able to overcome its non-democratic past and advance with its revitalized worldview? Or will it succumb to the ghosts of the old despotic regimes? There are no easy answers. It has to do with Latin American psychology, "the rejection of what is real and possible." Latin America also fits in Hannah Arendt's description how the most radical revolutionary becomes "conservative the day after the revolution". That of course doesn't deter Latin Americans from constructing alternative utopias.
*Shimone Jaini is doing Masters from Centre of Spanish, Portuguese, Italian andLatin American Studies, Jawaharlal Nehru University
Murder of George Floyd – On Camera Murder by Neo Ku Klux Klan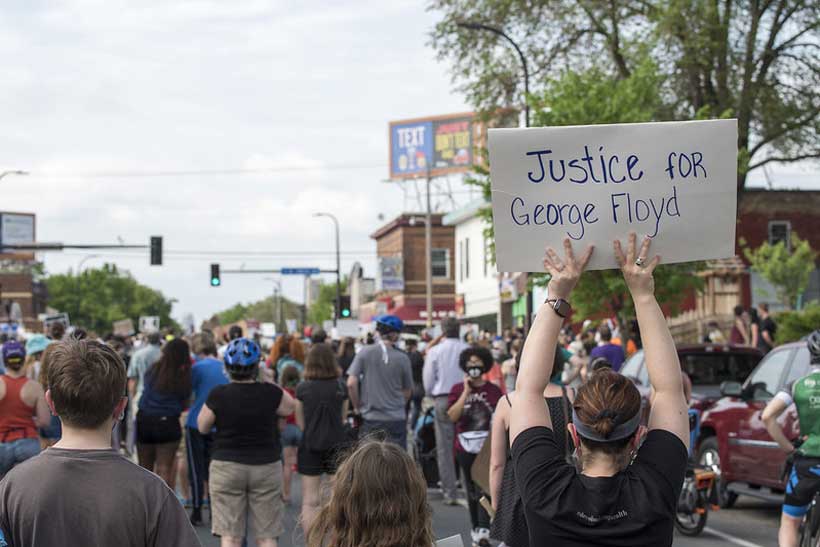 Now that the doors of racism have been shut down by law, the de facto persecution of blacks carry on. The cold-blooded murder of George Floyd by Minneapolis officers is one of the many such cases. If the four racist cops could strangulate a handcuffed person on camera, one should be fearful to assume what could they be doing off camera. Until the lion learns how to write, every story will keep glorifying the hunter.
The persecution and segregation of colored people has been done since long. Gone are the days when Rosa Parks could be ordered to leave her seat on bus for a white. And gone should have been the days when Eugene Bull Connor could use state authority to subjugate unarmed protestors in Birmingham during Civil Rights Movement while being filmed on Television. George Floyd kept on begging to let the air in for he was suffocating.The racist cop told him to be easy while putting more pressure on his neck while Floyd laid down on ground with his hands cuffed behind his back. The four armed cops apparently could not find a better way to handle him except strangling him to death. Or perhaps they did not wish to.
The inhumane treatment, especially when done by state authorities, develop grievances in vulnerable communities. A liberal state is meant to treat everyone equally. When Jim Crow Laws were on a high and Ku Klux Klan started to target humans on basis of skin color, it led to the formation of violent groups in African Americans like Black Panther. Violence against particular groups cannot sustain for long in a developed world. When USA tries to proliferate liberal values across the world, it should not remain aloof that despite being the world's oldest democracy, blacks are still victims of oppression in America.
The white supremacy is not a myth. The Minneapolis officers were able to kill a person while being filmed as well as begged by the civilians to do mercy on Floyd for he didn't put any threat to them. The cops gave him a slow death without any shame like they were living in a pre-Lincoln era. Luckily, the heinous crime was filmed and all the cops have been terminated but it is likely that without being prosecuted for the cold-blooded murder, it may not give a lesson to other state authorities regarding misuse of their powers.
This is simply a Neo Ku Klux Klan where the Blacks are being oppressed on the basis of color and the murderers get a clean chit. A similar case happened in 2014 when Eric Garner was strangulated when he kept saying "I can't breathe" while dying and the white officers didn't face federal charges despite being filmed doing the murder. In the same year, a 12 year old black boy Tamir Rice was carrying a toy gun and he was killed by a white cop. In 2016, Philando Castile was murdered in his car when the situation could be handled pacifically but the police used preemptive measure to kill him right away. There are many cases in recent past that make it evident that The United States of America has not fixed the problem of Ku Klux Klan; rather it is a neo Ku Klux Klan that is de facto segregating and oppressing the colored community. One in every 1000 black males can expect to die at the hands of police in USA.
The Neo Ku Klux Klan needs to be stopped. State institutions must function as they are supposed to perform and not to deal humans with discrimination depending on what color of skin they carry on their flesh. Racism should have been buried when President Kennedy got successful in calling civil rights a moral cause. But racism thrives till today and now with President Donald Trump, it is far from possible to end racism in American society when he himself dehumanizes the blacks. If the state institutions as well as the public does not proactively try to resolve the issues that are a direct threat to human security when it comes to black lives, the dreams of Equality, Liberty and Pursuit of Happiness will remain a hoax.
What do Donald Trump and ultra-conservative Pakistani imams have in common?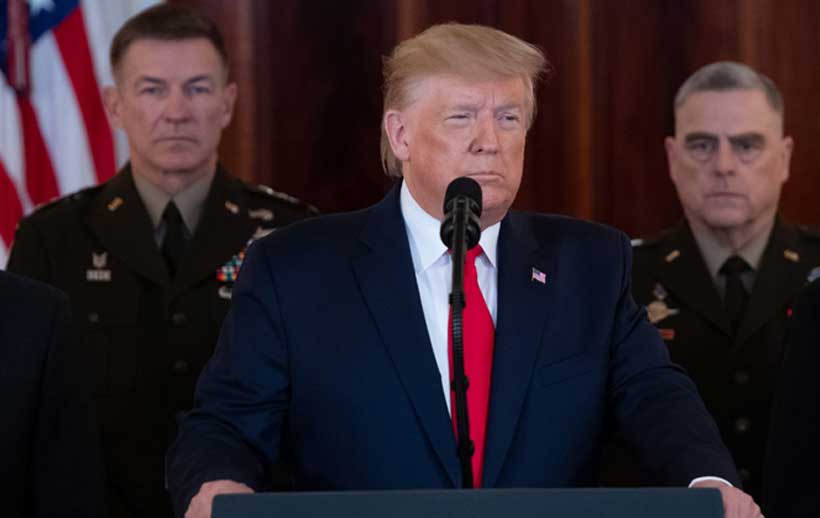 Authors: James M. Dorsey and Tehmina Qureshi*
US President Donald J. Trump and ultra-conservative Pakistani religious scholars may have more in common than either would want to admit: a belief that congregation is an essential pillar of prayer irrespective of public health concerns.
Mr. Trump, however, may wish that he had the kind of less polarized and/or more compliant audience that Pakistani clerics address.
Scores of religious leaders and groups in the United States have sought to protect their communities by advocating virtual rather than physical congregation at the time of a pandemic in which the coronavirus has yet to be brought under control.
Religious authorities in much of the Muslim world, Pakistan being the exception that proves the rule, have heeded government instructions and medical and public health advice.
That advice ranged from the closure of mosques to bans on social gatherings that precluded traditional iftar meals breaking the Ramadan fast and celebrations of this week's end of the holy month to Saudi Arabia's suspension of the umrah, the lesser pilgrimage to Mecca and possibly the haj too.
Leaving aside the question whether he has the legal power to do so, Mr. Trump vowed to overrule governors who refused to open houses of worship, noting that the Center for Disease Control (CDC) had issued guidelines that included physical distancing.
The move designed to play to Mr. Trump's Evangelist voter base received a mixed reception among American faith communities.
It appealed to those segments of the community with an unqualified belief in God's ability and will to protect and that often are steeped in notions of Christian manhood that have deep roots in American Evangelism and were boosted by the 9/11 attacks on New York's World Trade Towers and the Pentagon in Washington.
Mr. Trump's recognition of prayer as an "essential" societal activity further drew a line intended to give houses of worship autonomy in an environment in which state intrusion into people's lives has expanded greatly in a bid to fight the pandemic.
In that sense, the president was fighting a battle similar to that of Pakistani Sunni and Shia Muslim leaders who rejected a total closure of mosques but were willing to accept guidance on issues such as physical distancing.
The leaders see mosques "as spaces where you cultivate and express a communal religious identity that is very central to…their vision of the Pakistani state," said a Pakistani Islamic scholar.
The clerics' determination to retain control of religious spaces was reinforced by Prime Minister Imran Khan's flip flops that resembled Mr. Trump's zig zags.
Mr. Khan initially sought to appeal to religious circles by meeting in the early days of the pandemic with Maulana Tariq Jameel, a leader of Tablighi Jamaat, who initially denied the contagious aspect of the virus.
Mr. Jameel reversed course and embraced physical distancing after his movement's mass gatherings in Pakistan, Malaysia, India and Indonesia turned into super spreaders of the coronavirus.
Mr. Khan's government further complicated issues by initially agreeing with religious leaders on a division of labour that would have empowered the clerics to advise their followers to stay at home, avoid congregational prayer and maintain physical distancing and then jumping the gun to announce the measures without coordination.
Mosques in major Pakistani cities were packed in recent days, despite religious leaders paying lip service to physical distancing, in a reflection of the degree to which ultra-conservatism has woven itself into the fabric of Pakistani society and in stark contrast to Saudi Arabia's pre-emptive response to the health crisis.
Pakistan's Supreme Court ruled against government lockdowns, suggesting that the coronavirus was not a pandemic. Religious leaders have since backed away from their acceptance of physical distancing, demanding that the advice be abandoned.
Mr. Trump's recognition of prayer as essential aligned itself with notions of concepts of religious freedom promoted by his administration, with Secretary of State Mike Pompeo in the lead, that in effect serve to legitimize discrimination against minorities of various stripes.
Few doubt that Mr. Trump made his move with an eye on the US presidential election in November. Mr. Trump was embarking on a road on which mainstream ultra-conservative Pakistani clerics were also travelling.
The clerics remained silent when Ahmadis, a sect viewed as heretic by mainstream Muslims, were excluded from a national commission created by the government earlier this month to promote religious tolerance and counter persecution of minorities.
Pakistan's religious affairs ministry barred inclusion of Ahmadis, who are among Pakistan's most discriminated minorities, on grounds that they did not qualify as a minority and refuse to recognize the country's constitution.
A 1974 amendment of the constitution bars Ahmadis from identifying themselves as Muslims because they do not recognize Mohammed as the last prophet.
Compared to the polarising environment that Mr. Trump operates in and likes to entrench, Pakistani clerics have it a lot easier. Except for liberals and human rights activists, few in Pakistan are willing to stand up for Ahmadi rights.
Moreover, the government shied away from imposing its will on the religious establishment during the pandemic as did the military, which built quarantine centres in various cities and helped local authorities implement a lockdown.
Pakistan lacks truly influential, more liberal religious voices in the mould of for example Reverend Curtiss DeYoung, CEO of the Minnesota Council of Churches that groups African-American denominations, the mainline church and the Greek Orthodox Church.
"We listen to communities of colour, and many of our congregations' people are engaged in representing refugees and immigrants, African-Americans, Latinos, even seniors, they're saying, why the urgency?" Mr. DeYoung said in response to Mr. Trump's push.
"They're…directly affected. They're actually afraid in many cases to go into group gatherings…We feel that we need to make our decisions based on good science and the recommendations of our health department," the reverend added.
Mr. DeYoung was joined by his Muslim counterparts in contrast to their Pakistani brethren.
"American Muslim scholars and community leaders have already determined that mosques will not be open in the near future because of the health concerns brought on by the pandemic. That's a determination for them to make not for the president to make," said Ibrahim Hooper, communications director of the Council on American–Islamic Relations, the largest US Muslim civil rights and advocacy organization.
To be sure, the United States and Pakistan are vastly different countries. Pakistan has been hard hit by the pandemic with 55,657 cases of infection to date and 1,155 deaths. Yet, that is a far cry from the United States' 1,613,324 cases and 96,659 deaths.
Pakistan, nonetheless, saw its number of cases quadruple during the month of Ramadan and the rate of new infections jump by 30 percent in the last week as the holy month neared its end .
Yet, when it comes to employing religion to entrench power at the cost of striking a balance between faith and science, Mr. Trump and Pakistani religious scholars share the kind of opportunism and worldview that serve their short-term interests irrespective of the cost to human life and potentially to already battered economies.
*Tehmina Qureshi is a multi-platform journalist and editorial writer at Dawn, Pakistan's leading English-language newspaper.