Thousands risk lives fleeing fighting in Syria's last ISIL stronghold
North-east Syria is seeing increasing numbers of civilian casualties and large-scale displacement amid intensifying efforts to defeat extremists from ISIL, otherwise known as Da'esh, in Deir-ez-Zor governorate, the UN refugee agency, UNHCR, said on Friday.
Speaking to journalists in Geneva, spokesperson Andrej Mahecic warned that, in recent months, clashes and airstrikes in the eastern governorate's Hajin enclave – once part of an ISIL stronghold straddling the Syria and Iraq border – have forced tens of thousands of people to flee northwards in search of safety.
"Over the past six months more than 25,000 people have been displaced in that part of the country, said Mr. Mahecic. 'We have seen an increase, especially with the escalation that has occurred in the course of December."
Babies are among the dead, 'too weak to survive'
Those at risk include "many" women, children and the elderly, the UN official said, adding that many families reaching the safety of Al Hol refugee camp in north-east Syria near the border with Iraq had risked their lives to do so. "The dangerous and difficult journey and the conditions inside the enclave are reported to have led to the deaths of six children – all under 12 months.  Most died after arriving at Al Hol, too weak to survive," the UN spokesperson explained.
Emergency health teams in the camp are tending to "wounds, amputated limbs, injuries and frostbite", Mr. Mahecic continued, before adding that some of those fleeing the fighting had spent "four nights or more" in the desert, in heavy rain and cold weather, with barely any belongings. "People coming out of the conflict zone do also have wounds that have been inflicted. We also know that many of them tell us that they have been targeted while they were fleeing."
Urging all parties "and those with influence over them" to ensure freedom of movement and safe passage for displaced families, the UNHCR spokesperson explained that the crisis is far from over.
"This is still going on and people are arriving daily," Mr. Mahecic said. "Through the desert, trying to move through the different checkpoints and reach safety in the camps and other areas outside the conflict zone."
Together with its partners, UNHCR teams inside Syria prioritize protection for unaccompanied or separated children, while also identifying and helping those in need of medical assistance. Tents and other essential relief items are provided to new arrivals, while communal facilities are being scaled up to prepare for an expected increase of arrivals from Hajin.
"It's estimated right now that 2,000 people remain in the conflict-affected area of Hajin," Mr. Mahecic explained. "Those fleeing report increasingly desperate conditions, with diminishing services and extremely high prices for basic foods. We are worried for civilians who continue to be trapped in ISIL-held areas."
Vietnam's Coastline Urgently Needs New Resilience Development Strategy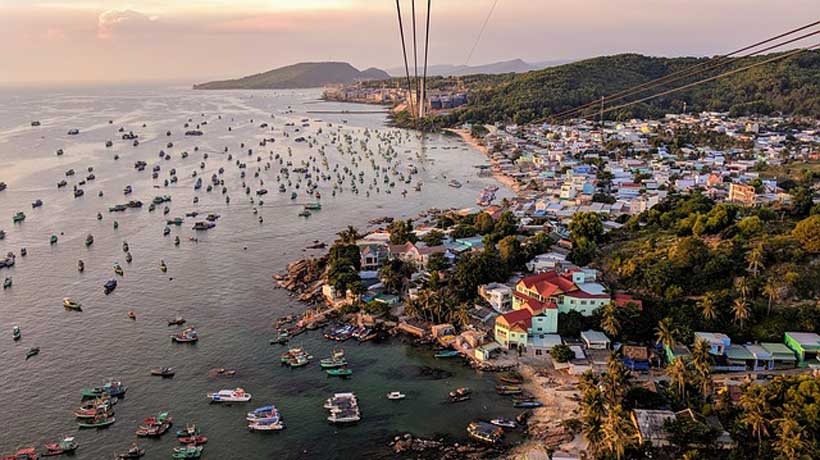 The coastline of Vietnam is increasingly exposed to natural disasters, resulting in significant human and economic losses, but current risk management measures prove inadequate. A new resilience development strategy is urgently needed ─ otherwise, additional economic growth over the next decade in the range of billions of dollars could be wiped away by natural shocks, according to a new report by the World Bank.
The ongoing devastating storms and floods that battered the central part of Vietnam are the latest evidence of a worrying trend that natural risks, which have already been substantial, are intensifying due to rapid urbanization, economic development, and climate change. Resilient Shores, a report jointly developed by the government of Vietnam, the World Bank, and the Global Facility for Disaster Reduction and Recovery released today, provides some sobering statistics on how vulnerable the coastline is and who and what are most impacted.
"To ensure the sustainable development of Vietnam's coastal zones, we cannot ignore the challenges of natural shocks and climate change. To secure prosperity, we must invest in resilience," said Tran Quang Hoai, Director General, Vietnam Disaster Management Authority, Vietnam's Ministry of Agriculture and Rural Development.
The report estimates that 12 million people in coastal provinces are exposed to the threat of intense flooding and over 35 percent of settlements are located on eroding coastlines. Each year, an average of $852 million – or 0.5 percent of GDP – and 316,000 jobs in key economic sectors are at risk from riverine and coastal flooding.
Public facilities and infrastructure are also at risk, which means disruption of service delivery at the time when they are most needed. Severe flooding affects directly 26 percent of public hospitals and healthcare centers and 11 percent of schools in the region. More than one-third of Vietnam's power grid is located in forested areas, at risk of being damaged by storm-induced fallen trees.
Despite much progress over the past decade, Vietnam's current risk management scheme still faces significant challenges. Major shortcomings the report identifies include fragmented and incomplete risk information and ineffective enforcement of related regulations such as spatial planning, building codes, safety standards and systematic maintenance of infrastructure systems. For instance, the report shows that two-thirds of Vietnam's sea dike system does not meet the prescribed safety requirements.
"If the current trends of rapid economic development in high-risk areas continue, disaster losses are bound to increase," said Carolyn Turk, World Bank Country Director for Vietnam. "It's time for a new approach to balance the risks and opportunities so that Vietnam's coastal regions can continue to be an engine of growth while being resilient to shocks."
The report presents a concrete action plan in five strategic areas that needs to be rolled out immediately and decisively.
Strengthening data and decision-making tools by establishing openly accessible natural disaster databases, as well as asset management systems for critical infrastructure.
Factoring risks in zoning and spatial planning based on the best available information.
Strengthening the resilience of infrastructure systems and public services by upgrading such assets in the most exposed and under-protected areas and updating existing safety standards.
Taking advantage of nature-based solutions by tapping into the protective function and economic contribution of ecosystems in a systematic manner.
Improve disaster preparedness and response capacity by upgrading the early warning system, strengthening local response capacity, improving social safety nets and implementing comprehensive risk financing.
Vietnam's diverse coastline spans over 3,000 kilometers. The coastline's wealth of natural endowments provides livelihoods for some 47 million people or half of the country's population. The region also bears the brunt of natural disasters that hit Vietnam regularly.
Impact of COVID-19 on Commodity Markets Heaviest on Energy Prices
While metal and agricultural commodities have recouped their losses from the COVID-19 pandemic and are expected to make modest gains in 2021, energy prices, despite some recovery, are expected to stabilize below pre-pandemic levels next year, the World Bank said.
Oil prices fell dramatically in the early stages of COVID-19 and have only partially regained pre-pandemic price levels, while metal prices declined relatively modestly and have returned to levels that preceded the shock, according to the semi-annual Commodity Markets Outlook report. Agriculture prices were relatively unaffected by the pandemic, but the number of people at risk of food insecurity has risen as a result of the broader effects of the global recession.
"The impact of COVID-19 on commodities has been uneven, and could have lasting effects for energy markets," said Ayhan Kose, World Bank Group Acting Vice President for Equitable Growth, Finance & Institutions and Director for the Prospects Group. "When declines in commodity prices are short-lived, policy stimulus can buffer their impact. However, when prices remain depressed for an extended period, policy makers need to find solutions so their economies can adjust smoothly to a new normal. Because of COVID-19, the new normal for oil-exporting emerging and developing economies arrived earlier. In the post-COVID world, these countries need to be more aggressive in implementing policies to reduce their reliance on oil revenues."
Oil prices are expected to average $44 per barrel in 2021, up from an estimated $41 per barrel in 2020. Demand is expected to rise only slowly as tourism and travel continue to be held back by health concerns and as global economic activity is anticipated to return to pre-pandemic levels only in the year after next. Supply restraint is expected to be eased steadily. Energy prices overall —which also include natural gas and coal—are expected to rebound sizably in 2021, following large declines in 2020, an upward revision from April's forecast. A resurgence of a second wave of the pandemic that results in more lockdowns and less consumption, and delays in vaccine development and distribution, could lead to lower energy prices than forecast.
Metal prices are expected to post modest increases in 2021 after falling in 2020, supported by the ongoing recovery in the global economy and continued stimulus from China. A prolonged period of weak global growth would lead to lower prices than forecast.
Agriculture prices are expected to rise slightly in 2021, following an estimated 3% increase in 2020 following some shortfall in edible oil production. Concerns about food insecurity remain relevant in several emerging market and developing economies. These concerns are prompted by hits to incomes from the global recession, bottlenecks in food availability at the local level, and border restrictions that have constrained labor supply. Food price inflation has spiked in several countries.
The pandemic is only the latest in a long history of shocks to commodity markets. A Special Focus looks at the nature of commodity price shocks on 27 commodities during 1970-2019. It finds that highly persistent ("permanent") and short-lived ("transitory") shocks have contributed almost equally to commodity price variation, although with wide variety across commodities. Permanent shocks account for most of agricultural commodity price variability while transitory shocks are more relevant in industrial commodity prices. The varied duration of such shocks points to a need for policy flexibility.
A transitory commodity price shock may call for stimulative fiscal policy to smooth consumption; countries that depend on exports of commodities subject to cyclical price swings may want to build fiscal buffers during the boom phase and use them in the bust period to support economic activity. In countries that rely heavily on commodities that are subject to permanent shocks, structural policies such as economic diversification and broadening the tax base may be needed to facilitate adjustments to new economic environments.
Pakistan: Stronger Public Financial Management and Digital Services to Support Growth
Today, the World Bank's Board of Executive Directors approved $304 million in financing for Punjab Resource Improvement and Digital Effectiveness Program (PRIDE). The program supports efficiencies in public resource management that generate savings and create fiscal space for growth-generating investments in the Punjab province.
"The PRIDE program is integral to the World Bank's whole-of-country approach in helping Pakistan strengthen public financial management systems at the federal and provincial levels," said Najy Benhassine, World Bank Country Director for Pakistan. "Punjab is the largest province, accounting for 55 percent of the population and about 60 percent of the economy, so improving quality and access to public services is key to Pakistan's development."
The PRIDE Program will support the government of Punjab in strengthening fiscal risk management and budget formulation to ensure reliable resource allocation for public services. The program will improve revenue collection by increasing registration of businesses and real estate, and simplifying tax administration processes such as registration, filing, payment, refunds and appeals.
In the wake of COVID-19 pandemic, the program also focuses on deploying technology-based solutions to enhance public service delivery and increase access to online services for firms and individuals. This will support Punjab in digitizing key government services to streamline processes and increase efficiencies in the public service delivery.
"With prolonged restrictions on face-to-face services due to COVID-19, the PRIDE program will help the provincial government expand its existing citizen feedback model and accelerate the use of technology for revenue mobilization and public procurement," said Akmal Minallah, Task Team Leader for the program. "The program also puts in place monitoring and transparency mechanisms at the provincial and local levels that increase government accountability."
PRIDE supports the Punjab Growth Strategy and the Punjab Public Financial Management Reforms Strategy, which both aim at developing a robust public financial management system. The program also aligns with the Responsive Investment for Social Protection and Economic Stimulus that the government of Punjab designed to stimulate recovery from the pandemic and increase resilience to future shocks. Together with PRIDE, these initiatives layout a roadmap for Punjab to accelerate digitization of government services and ensure business continuity during emergencies.
The World Bank in Pakistan
Pakistan has been a member of the World Bank since 1950. Since then, the World Bank has provided $40 billion in assistance. The World Bank's program in Pakistan is governed by the Country Partnership Strategy for FY2015-2020 with four priority areas of engagement: energy, private sector development, inclusion, and service delivery. The current portfolio has 53 projects with a net commitment of $10.5 billion.