Thousands risk lives fleeing fighting in Syria's last ISIL stronghold
North-east Syria is seeing increasing numbers of civilian casualties and large-scale displacement amid intensifying efforts to defeat extremists from ISIL, otherwise known as Da'esh, in Deir-ez-Zor governorate, the UN refugee agency, UNHCR, said on Friday.
Speaking to journalists in Geneva, spokesperson Andrej Mahecic warned that, in recent months, clashes and airstrikes in the eastern governorate's Hajin enclave – once part of an ISIL stronghold straddling the Syria and Iraq border – have forced tens of thousands of people to flee northwards in search of safety.
"Over the past six months more than 25,000 people have been displaced in that part of the country, said Mr. Mahecic. 'We have seen an increase, especially with the escalation that has occurred in the course of December."
Babies are among the dead, 'too weak to survive'
Those at risk include "many" women, children and the elderly, the UN official said, adding that many families reaching the safety of Al Hol refugee camp in north-east Syria near the border with Iraq had risked their lives to do so. "The dangerous and difficult journey and the conditions inside the enclave are reported to have led to the deaths of six children – all under 12 months.  Most died after arriving at Al Hol, too weak to survive," the UN spokesperson explained.
Emergency health teams in the camp are tending to "wounds, amputated limbs, injuries and frostbite", Mr. Mahecic continued, before adding that some of those fleeing the fighting had spent "four nights or more" in the desert, in heavy rain and cold weather, with barely any belongings. "People coming out of the conflict zone do also have wounds that have been inflicted. We also know that many of them tell us that they have been targeted while they were fleeing."
Urging all parties "and those with influence over them" to ensure freedom of movement and safe passage for displaced families, the UNHCR spokesperson explained that the crisis is far from over.
"This is still going on and people are arriving daily," Mr. Mahecic said. "Through the desert, trying to move through the different checkpoints and reach safety in the camps and other areas outside the conflict zone."
Together with its partners, UNHCR teams inside Syria prioritize protection for unaccompanied or separated children, while also identifying and helping those in need of medical assistance. Tents and other essential relief items are provided to new arrivals, while communal facilities are being scaled up to prepare for an expected increase of arrivals from Hajin.
"It's estimated right now that 2,000 people remain in the conflict-affected area of Hajin," Mr. Mahecic explained. "Those fleeing report increasingly desperate conditions, with diminishing services and extremely high prices for basic foods. We are worried for civilians who continue to be trapped in ISIL-held areas."
Over 1.9 billion people in Asia-Pacific unable to afford a healthy diet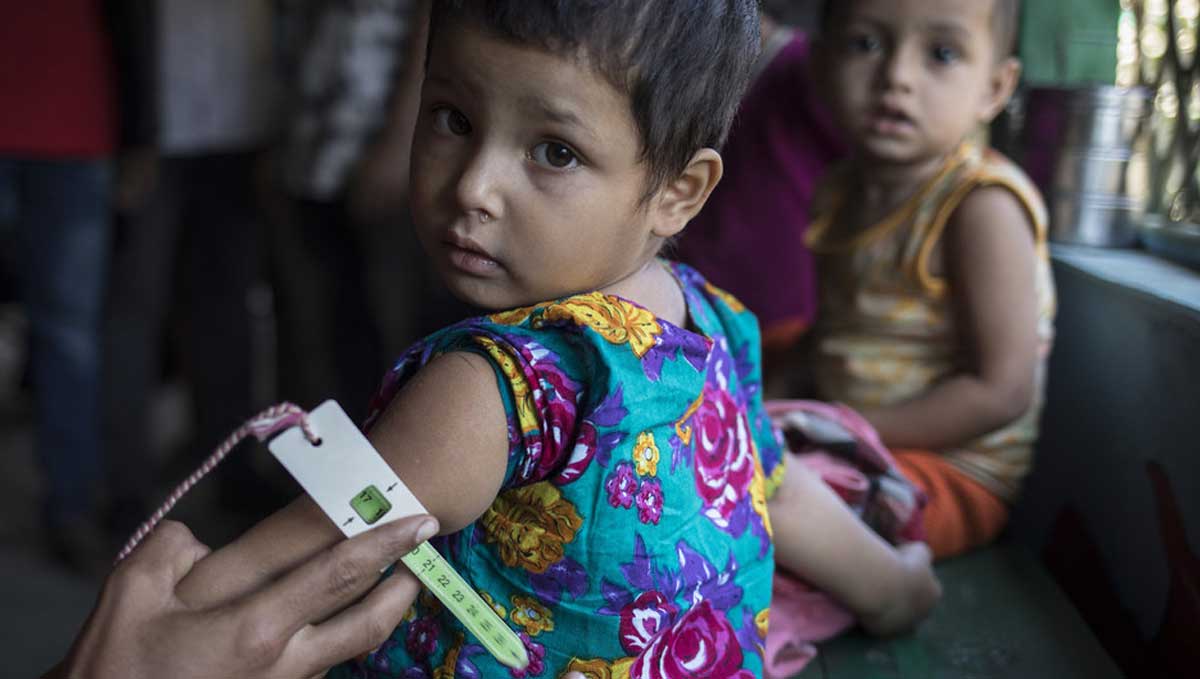 The economic impact of the coronavirus pandemic and surging food prices are keeping almost two billion people in Asia and the Pacific from healthy diets, United Nations agencies said on Wednesday.
According to the 2020 Regional Overview of Food Security and Nutrition, the region's poor have been worst affected, forced to choose cheaper and less nutritious foods. The report is jointly produced by the Food and Agriculture Organization (FAO), the UN Children's Fund (UNICEF), the World Food Programme (WFP) and the World Health Organization (WHO).
"The outbreak of COVID-19 and a lack of decent work opportunities in many parts of the region, alongside significant uncertainty of food systems and markets, has led to a worsening of inequality, as poorer families with dwindling incomes further alter their diets to choose cheaper, less nutritious foods," the agencies said.
"Due to higher prices for fruits, vegetables and dairy products, it has become nearly impossible for poor people in Asia and the Pacific to achieve healthy diets, the affordability of which is critical to ensure food security and nutrition for all – and for mothers and children in particular."
As a result, progress is also slowing on improving nutrition, a key target for the Sustainable Development Goals (SDGs). As of 2019, over 350 million people in the region are estimated to have been undernourished, with an about 74.5 million children under five stunted (too short for their age) and 31.5 million suffering from wasting (too thin for height).
'Impact most severe in first 1,000 days'
The UN agencies went on to note that while nutrition is vitally important throughout a person's life, the impact of a poor diet is most severe in the first 1,000 days, from pregnancy to when a child reaches the age of two.
"Young children, especially when they start eating their 'first foods' at six months, have high nutritional requirements to grow well and every bite counts," they said.
The agencies called for an integrated systems approach – bringing together food, water and sanitation, health, social protection and education systems – to address underlying factors and achieve healthy diets for all mothers and children.
'Changing face of malnutrition'
They also highlighted the "changing face" of malnutrition, with highly processed and inexpensive foods, readily available throughout Asia and the Pacific. Often packed with sugar and unhealthy fats, such food items lack the vitamins and minerals required for growth and development and also increase the risk of obesity, diabetes and cardiovascular disease.
The report urged governments to invest more in nutrition and food safety to promote healthy diets, as well as regulate sales and marketing of food for consumers, especially children. It also highlighted the need for action within the private sector, given the sector's important role in the food system and its value chains for achieving healthy diets.
Priorities for improving diversity and inclusion in the energy sector
Prominent energy figures from around the world took part in a virtual dialogue last month on ways to accelerate progress on diversity and inclusion in energy. The event was co-hosted by Dr Fatih Birol, the IEA Executive Director; Ambassador Madeleine Chenette, the Permanent Representative of Canada to the Organisation for Economic Co-operation and Development (OECD); and the Clean Energy, Education and Empowerment International Initiative (C3E International).
The C3E International Initiative, under the IEA Technology Collaboration Programme and the Clean Energy Ministerial, aims to enable greater gender diversity in clean energy professions, recognising that transitions to a clean energy future will need to harness all possible talent to succeed.
Participants from across the energy sector took part in the event on 2 December 2020 to share perspectives and insights on what really matters in the industry. Dr Birol emphasised that diversity and inclusion were priorities for his modernisation agenda for the IEA because "decision-making benefits from the strength of diverse perspectives." He noted that the share of women in leadership positions at the IEA had grown from 16% in 2015 to 38% today. Dr Birol said he was "delighted that the virtual dialogue represented voices from across the IEA family, reflecting the 'all fuels and all technologies' approach of the Agency."
Highlighting that women's participation and representation in the energy sector is far below those in other comparable sectors, Ambassador Chenette set out the moral, political and strategic imperatives for accelerating progress. She emphasised that both high-level and personal leadership are critical for overcoming slow progress, and thanked Dr Birol for his leadership in emphasising the need to make economic recoveries from the Covid-19 crisis sustainable.
Empowering women in clean energy transitions is one way to help achieve sustainable recoveries, Ambassador Chenette said, calling for greater efforts to embrace the principle of "what gets meseaured, gets done." She noted that "it is crucial that we all recognise the economic, environmental and social benefits that gender equality delivers."
Elbia Gannoum, CEO of ABEEólica, the Brazilian wind energy association, said that "across the energy sector in Brazil, there is an urgency building – companies are searching for solutions on how to make the shift" to harness the benefits of diversity and inclusion. Due to the growing demand for resources and tools, Ms Gannoum announced the creation of the Energia da Transformação platform, which plans to boost inclusion and diversity through the Brazilian energy sector based on collaboration, knowledge sharing and raising awareness.
A data-driven approach is essential for accelerating progress across industry. Laura McGee, founder and CEO of Diversio, a Canada-based company that provides an intelligence platform to measure, track and improve diversity and inclusion, said that the "energy sector is in the middle of the pack compared to some sectors, and could achieve rapid progress by learning from other industries." Data-driven diagnostics are critical for avoiding missteps and allocating resources to targeted pain points, she added.
Lyu Fang, a senior engineer at the Electrical Engineering Institute at the China Academy of Sciences, shared her personal journey from the start of her career in remote solar PV stations in China to eventually holding leadership positions in the country's huge renewables industry. Today, Ms Fang is Secretary General for the PV Committee of the China Green Supply Chain Alliance and C3E International China Global Ambassador. She highlighted that China's climate ambitions offer many growth opportunities in clean energy through "rising sun industries." She said these should be harnessed to accelerate women's participation and representation in energy.
Strengthening gender diversity in the energy industry requires unrelenting long-term efforts to boost inclusion. Joel Couse, Special Advisor to the IEA, highlighted that the energy industry faces challenges in finding and retaining talented staff in a competitive global market, including to seize the opportunities of clean energy transitions. On the supply side, boosting the number of women entering STEM programmes remains a priority for achieving gender-balanced recruitment. However, getting women into energy careers is not enough, he said, adding that the industry needs to be actively supporting women to progress past the experience hump before caring responsibilities limit their opportunities for certain types of operational jobs. A key challenge is shifting mind-sets and addressing harmful stereotypes about job roles and advancement opportunities that unnecessarily hold women and men back across the talent pipeline, Mr Couse said. Setting quantitative objectives and dates helps focus efforts to make progress.
Leading energy figures call for action
Mechthild Wörsdörfer, IEA Director of Sustainability, Technology and Outlooks who leads the Agency's Gender Diversity Task Force, concluded the virtual dialogue, thanking the participants for driving change and reiterating that the IEA Gender Initiative is focussed on bringing data-driven solutions to the table.
In 2020, the IEA Gender Initiative started work on delivering the mandate set by Ministers from IEA Member Countries on equal opportunities in the energy sector. The Agency began by collecting better disaggregated data on gender and energy.
Strengthening collaboration is key, with the IEA and OECD working together to collect data on women in employment, entrepreneurship and decision‑making roles in the energy sector, and developing indicators on the gender of inventors of energy technologies, which will be published in 2021.
The initiative has determined that there is a lack of good and comparable data on gender trends in the energy sector, and also a strong need to improve methodologies, which is why the IEA accepted the role of Coordinator for C3E International's knowledge and data collection work stream.
The IEA will also conduct a survey of members of the IEA Energy Business Council to develop a baseline on existing corporate practices. The findings and analysis from the survey will be shared in the coming months.
The Agency is also exploring how to integrate gender diversity into its regular analytical work, such as the World Energy Outlook, the measuring of energy efficiency, and through the Clean Energy Transitions Programme, which supports key partner countries in developing and implementing policies. This includes planning a policy package on implementing energy efficiency measures in India, which will impact a predominantly female workforce. The IEA is also prioritising new work on people-centred clean energy transitions, which will also include analysis on gender dimensions.
To share these learnings and insights, and to develop a mutual understanding of the evidence base and what works, the IEA will keep bringing together government, industry and civil society stakeholders to review data and analysis, and to identify priority actions.
Looking ahead, with the help of partners and governments within the IEA family and C3E International, the IEA Gender Initiative can help to mainstream diversity and inclusion in energy policy-making. The IEA Gender Initiative aims to develop a stronger understanding of gender balances throughout the energy sector and to shape the priorities for policy action in future decision-making. The initiative will deliver its first progress report in 2021.
'Swift action' needed in Tigray to save thousands at risk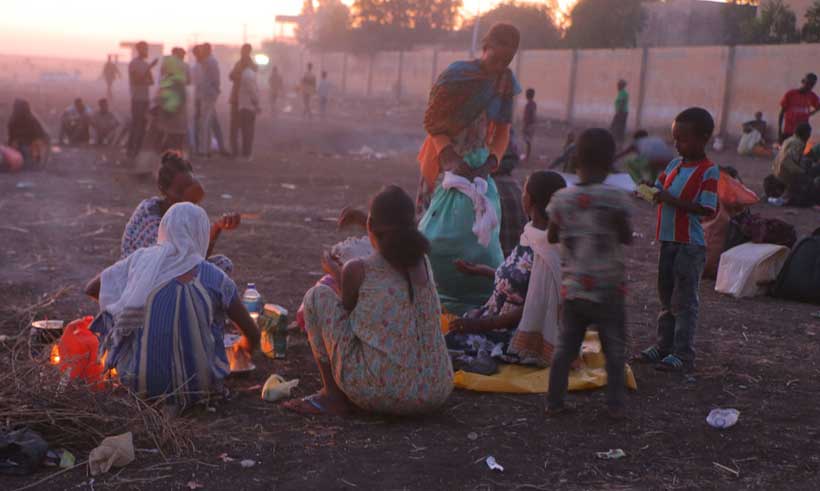 Two months after conflict forced humanitarian workers to withdraw from the Tigray region of Ethiopia, the UN refugee agency (UNHCR), on Tuesday, stressed the need for "swift action" to restore safe access to "save thousands of lives at risk".
Granted one-time admittance by the Ethiopian authorities to conduct a needs assessment, UNHCR led the first humanitarian mission to Mai Aini and Adi Harush refugee camps since the start of the conflict in November and found Eritrean refugees in "desperate need" of supplies and services, agency spokesperson Babar Baloch told journalists at a regular press briefing in Geneva.
"The assessment, which concluded last week, found help is urgently needed for the tens of thousands of Eritrean refugees in northern Ethiopia", he said.
Refugee plight
Cut off from supplies and services for more than two months, Mr. Baloch explained that the refugees had run out of fuel for their water pumps, leaving them to fetch water from a nearby creek for washing, cooking and drinking – "resulting in diarrhea like illnesses".
While the only assistance they had received since the start of the conflict was a one-time food distribution conducted by the World Food Programme (WFP) almost a month ago, he said that "plans are underway for a second distribution".
Threat from 'armed gangs'
The UN teams "thankfully" found that in both Mai Aini and Adi Harush camps, buildings and structures remain intact, including refugee homes, schools and clinics, "with little damage observed", according to the UNHCR spokesperson.
However, refugees told UNHCR staff that while they were not impacted directly by the fighting, they were threatened and harassed by various armed groups.
"The refugees told us they continue to have safety concerns, reporting that armed gangs roam the camps at night stealing and looting", Mr. Baloch said.
"UNHCR is working with the Government and partners to re-establish a regular presence at the camps and launch a response based on the information collected", he said, adding that the UN agency has also called on the Government to strengthen security in both camps.
Still inaccessible
Further north in Tigray, the UN refugee agency has not, since November, been able to access the Shimelba and Hitsats refugee camps.
As highlighted in High Commissioner Filippo Grandi's statement last week, UNHCR continues to receive a number of reports of significant damage to those camps and indications that many refugees have fled in search of safety and food.
"We remain deeply concerned about them", said Mr. Baloch.
'Restore safe access'
Meanwhile, some 5,000 Eritrean refugees have made their way to the town of Shire where they are living in "dire conditions", said Mr. Baloch, painting a picture of many sleeping in an open field on the outskirts of the town, 'with no water and no food". 
"UNHCR reiterates the UN wide call for full and unimpeded access to all refugees in the Tigray region and remains committed to work with the Ethiopian government to seek solutions together", he stated.
The conflict between the Ethiopian Government and regional forces of the Tigray People's Liberation Front (TPLF) began in early November, when the Prime Minister ordered a military offensive after rebels attacked a federal army base.
Government forces reported that the region had been secured at the end of November, but TPLF resistance has continued amid accusations of extrajudicial killings and rights abuses.