Leaders Will Address the Cultural Dimensions of "Globalization 4.0" in Davos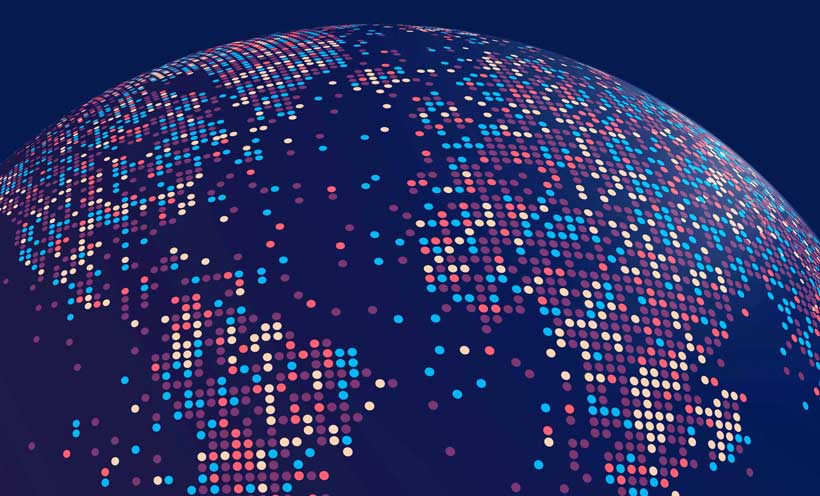 The World Economic Forum announced today that several cultural leaders will participate in its Annual Meeting 2019 in Davos-Klosters. These cultural leaders will join their peers from business, government, the media and civil society to advance dialogue on how inclusivity and sustainability can be the pillars of change under the meeting's theme, Globalization 4.0: Shaping a Global Architecture in the Age of the Fourth Industrial Revolution.
Cultural leaders will include the 2019 Crystal Award recipients conductor Marin Alsop (USA), film director Haifaa Al-Mansour (Saudi Arabia), and broadcaster and naturalist Sir David Attenborough (UK). Others include the "world's best teacher" Andria Zafirakou (UK), VR filmmaker Milica Zec (USA), photographer Rena Effendi (Turkey), robotics artist Madeline Gannon (USA), and the 2018 winner of the Young Wildlife Photographer of the Year award, 16-year-old Skye Meaker (South Africa).
"All the major intractable issues we face, from inequality to climate change, have important cultural dimensions. Our goal is to help identify roadblocks, shift perceptions, and inspire change," said Nico Daswani, Head of Arts and Culture at the World Economic Forum.
Arts and Culture will be integrated across disciplines and in joint efforts with several partners to advance change in the following areas:
A focus on disability inclusion for the one billion people in the world living with a disability. The main exhibition at the Annual Meeting, ACCESS+ABILITY, developed in collaboration with Cooper Hewitt, Smithsonian Design Museum, will present 20 ingenious, recent designs made with and by people with disabilities. Items include an eye-tracking device for hands-free communication, adaptive clothing and a Braille smartwatch. The items demonstrate that designing for inclusion spurs innovation and benefits everyone. Several related sessions including interactive workshops, the "Business Case for Disability Inclusion" panel, the Sensory Dinner in the Dark experience every evening, by Sight of Emotion and led by visually-impaired guides, and the insights of several people with disabilities, will contribute to providing leaders with tools for making businesses, schools and cities more accessible. #WEFaccessible #valuable
At a time of catastrophic destruction of our natural habitat, biodiversity will also be on the agenda with activities that include the groundbreaking Tree VR, an award-winning multi-sensory experience that simulates becoming a tree; the Wildlife Photographer of the Year Award exhibition from the Natural History Museum, London, showcasing some of the world's best nature photography through immersive projection-mapping; and the private, world-premiere screening of segments of Our Planet, a new series from Netflix in collaboration with the World Wide Fund for Nature (WWF) and Silverback Films, which will be presented and narrated live on stage by Sir David Attenborough (22 January). Several panels will also promote the #newdealfornature for leaders to set and agree on new environmental targets for 2021.
A focus on youth, diversity and freedom of expression, including the Opening Concert (21 January) led by Crystal Awardee Marin Alsop conducting the Taki Concordia Orchestra, in association with Southbank Centre and the Royal Academy of Music, London. Featured will be special guest Clara Shen, a 13-year-old winner of the 2018 Junior Menuhin Competition, and a world-premiere composition by Anna Clyne. The concert is supported by Intesa Sanpaolo. The Closing Concert (25 January) will feature a quartet from the Sphinx Virtuosi, that includes some of the best young African-American and Latino soloists in the USA, performing to awe-inspiring imagery from National Geographic of the Earth from Space. The concert is supported by Robert Smith, Founder, Chairman and Chief Executive Officer of Vista Equity Partners, and Board Chairman, Carnegie Hall. The meeting will also feature the exhibition "Cartooning for Peace – Davos Edition" in collaboration with editorial cartoonist Patrick Chappatte. It presents the work of cartoonists from around the world, who have taken on cultural taboos and thorny issues through art and humour. Finding Hope, a monumental site-specific surrealist mural inside the Congress Centre by Iranian artist Mehdi Ghadyanloo will offer an evocative reminder of our need to eschew simplistic narratives and engage with the myriad complexities of our global society.
The journey of the Aleramici to Sicily
Filming for the documentary film "Le vie Aleramiche and Normanno Sveve", which tells the story of the Normans and Swabians dynasties is now almost completed. Fabrizio Di Salvo, Its creator and director, chaired an online meeting with the key European partners in this ambitious cultural project.
The Aleramicibrought their culture to Sicily where it was absorbed by the local population.  Even today the Gallo-Italic idiom persists in many Sicilian areas.
Accompanied by the late Roberto Maestri, Di Salvo, (Sicilian by origin and Piedmontese by adoption) visited Sicily on various occasions to participate in study seminars organized by the Piazza Armerina UNESCO club (coordinated by Anna Maria Di Rosa Placa in collaboration with the Regions of Sicily, Piedmont and Liguria, with contributions from Italian Universities).
It was in Piazza Armerina – the only city completely rebuilt by the Aleramici – that Di Salvo and Maestri first thought of retracing the ancient emigration of the Lombards from northern to southern Italy. This project subsequently evolved into the creation of a cultural, touristic and gastronomic network of places marked by the presence of Aleramici, Normans and Swabians from the eleventh to the thirteenth century.
The Euro-Mediterranean Federation aims to unite associations, municipalities, universities and members of the Scientific Technical Committee into a single body which will build upon the work accomplished by Di Salvo over years of studies, meetings, debates and travels in the various countries today involved in the project.
Di Salvo chaired the meeting in several languages, reflecting the international dimension of the event and the zone of scientific research which stretches to the farthest borders of Europe. 
The aim of the "The Aleramici and Norman-Swabian Ways"visio-conference was to establish a framework for the different stakeholders to collaborate on future cultural, economic and tourist projects. It took place in the presence of the mayors Enzo Daniele ofSezzadio, (birthplace of Aleramo), Guy Fossardof Hauteville La-Guichard(Hauteville in Normandy home of the theAltavilla family) and Nino Cammarata (Piazza Armerina, a city founded by the Aleramici).
The actor Walter Siccardi, who participated in the filming of the documentary "Le Vie Aleramiche", also took part, as well as Annamaria Gobello, head of FAI in Sezzadio and the English filmmaker David Paul Carr.
Also involved in the project were the mayor of Troina, Fabio Venezia (Troina was the first Norman capital in Sicily following the conquest of the Grand Count Ruggerod'Altavilla, twinned with Hauteville since the 90s and also with Coutances) and Martin Mundorff (Head of the Historical Archive of Goppingen, city of Baden-Wurttemberg, a region once known as Swabia and homeland of the Hohenstaufen dynasty "Swabians").
In addition to the mayor of Piazza Armerina, Nino Cammarata, there were also fellow citizens Ettore Messina, councilor for tourism – who last summer chose to present the traditional Norman Palio also with a short trailer on Ruggerod'Altavilla – Marco Incalcaterra, president of the Council, Lavinia Garsia, who in the project manages and updates – together with FiladelfioCrivillaro of  San Fratello – the facebook page "Aleramici in Sicilia" (m.facebook.com), Agata Caruso, president of the AIParC Territorial Center partner of the project and Salvatore Lo Re, historian and President of  Society of Homeland History of Sicily.
Among the objectives of the Euro-Mediterranean Federation, will be the study of the migrations of peoples that occurred in ancient and medieval times. This research will cover not only Europe but also Russia, the countries bordering the Mediterranean Sea, the Middle East, Anatolia and the Caucasus. Scientific studies will be supported by a high-level academic committee, including the well-known Henri Bresc, Luca Sineo of the University of Palermo, Davide Pettener of the University of Bologna and Joanna Drell of the University of Richmond United State .
These studies will serve to demonstrate that all peoples of the earth are connected to each other and form a single race, the human one.
BRICS Alliance and its Quest for Cultural Cooperation: Interview with Victoria Panova
Modern Diplomacy brings you the final in the series of interviews that focus on BRICS Alliance and its Quest for Cultural Cooperation. In this interview, Victoria Panova, Co-Chair of the BRICS Civil Forum, Managing Director of the National Committee on BRICS Research, Scientific Supervisor of the BRICS Russian Organizing Committee Expert Council and Vice President for International Relations of Far Eastern Federal University, discusses most of the salient points. Here are the interview excerpts:
In 2015 you headed the NGO Working Group on BRICS, what would you say were the main non-government directions and, to what extent, these have been implemented over these past five years?
Panova:Back in 2006, when there was still the G8 and Russia was chairing the Group that year we, a group of dedicated representatives of civil society and academia led by prominent activist Ella Pamfilova, who was back then chairing the Council on development of human rights and civil society organizations in Russia together with our colleagues in the other G8 countries came up with the idea of the need of much deeper involvement and need for enhanced influence on the part of civil society of our countries on the otherwise quite closed process of governmental meetings of the G8 countries.
There were meetings with business that interested official representatives, but also parallel anti-globalist process trying to counter the official process. We thought that it is vital to make sure our governments here us, but we realized we have to act constructively and joined efforts to launch the full-blown Civil process at the G8, in fact that year was the first time that we garnered attention of all the nine Sherpas (including that of the EU) and had our ideas promoted among the governmental representatives urging them to be bolder and have a real connect with their proper civil societies.
The year 2015 came, the second time for Russia to host initiated BRICS alliance, the G8 was no longer existent at that time, but we were sure changing the composition of states is not altering the essence of what we were trying to do. And it goes without saying that in today's world it should be two-way movement – not just people and society working for their country to be strong and efficient, but the country – its officials – should be ensuring the State does understand the vital needs and wishes of its people. And importance of this idea doesn't change from one type of political regime to the other, doesn't have a different meaning in the Western or Eastern hemisphere, doesn't depend on the level of economic development of the given country and group of countries. Thus, once again, partly with the same enthusiastic civil society representatives, partly the newcomers we came up with the idea to enrich the second track of diplomacy and ensure a broader engagement of BRICS local communities in shaping the global agenda (it should be noted, that two years earlier similar process was also initiated at the Russian Chairmanship in the G20). Our goal was to create an environment for a constructive dialogue between governments and its citizens, promoting mutual understanding and acknowledgement of people's concerns as well as encouraging strong problem-solving relations and generation of innovative ideas.
Within Russian Chairmanship in 2015, we kick-started the BRICS civil process by holding the first Civil Forum. We were looking at previous experience of the kind, but also tried to innovate with extra formats of involvement to ensure our voices are heard to their maximum. This year with the pandemic we experimented even further. In fact momentum wasn't lost even with the travel restrictions and globally introduced lockdowns. We've held unprecedented number of online round tables across all the eight working groups in order to work out comprehensive and inclusive set of recommendations featuring wishes and needs of global, not just BRICS, civil society community.
This format received attention from the BRICS governments and it speaks volumes. As the BRICS governments' officials traditionally attend some of our events, the credibility of our interaction platforms is widely recognized. I think that our important result is the creation of conditions for public sector and civil society representatives to discuss sensitive issues where they can go beyond official talking points and explore new ideas. These consultations provide policymakers with a better understanding of motivations and interests of the other actors and a clearer sense of how their policy initiatives are perceived by the citizens of BRICS countries.
Capabilities to offer policy advice and produce positive effects provided food for thought regarding institutionalization of the BRICS civil process. It would allow our societies to have more profound people-to-people connections, a wider range of joint activities, including cultural exchange. Emerging of intra-BRICS association of NGOs may also upgrade our current consultation platforms and mechanisms. It seems that we are on the way to it.
How would you argue that some of the initiatives have largely remained unrealized primarily due to diverse challenges and due to the geographical locations of BRICS members?
Panova:Challenges related to the geographical remoteness of the BRICS countries have been consistently associated with peculiarities of people-to-people cooperation. Long distances and high costs of travel within our countries, certain underdevelopment of services sectors and tourist infrastructure as well as burdensome visa procedures remain the foremost barriers for BRICS. We also have to remember that BRICS represents 40% of the world population and about 30 % world's land surface that is why it takes time to raise awareness on BRICS and engage our societies into activities of the grouping. Our countries thereby seek to expand the geography of BRICS official events and promote each other's cultures.
Outcome documents elaborated within the BRICS track 2 diplomacy have traditionally comprised recommendations and suggestions in these fields. Among them – to simplify visa procedures, to launch initiatives on cultural tourism, to harmonize standards of educational systems, to establish scholarship schemes promoting cultural and educational exchange. We may witness that these recommendations are gradually addressed, but tangible results could be expected in a long-term perspective only.
Could you please discuss why empowering women, in particular, has become important as one of the latest NGO directions for BRICS? How has this stimulated interest among members of BRICS?
Panova:A primary reason for the growing relevance of women empowerment agenda for BRICS is that in this context our countries encounter a variety of common challenges. Performance of BRICS countries in the international rankings, such as WEF Global Gender Gap Index and the OECD SDG Gender Index displays that we tend to be ranked lower than most of developed and some developing countries are. Despite the fact that our five countries demonstrate relatively high performance in the fields of education and health, we have major gaps in women's economic and political participation.
Among these challenges, we may see the lack of transparency in gender budgeting, low participation of women in decision-making and political processes, gaps in implementation of women's labour rights, including gender pay gap. In all BRICS countries women have to overcome barriers such as lack of professional training to obtain necessary digital skills, prevalence of informal employment and unpaid care work, lack of financing for women-owned businesses, and many others. In addition, stereotypes about the role of women in the society aggravate this situation.
I should say that this issue gained momentum in 2015, when BRICS countries made their commitments to adhere to Sustainable Development Goals, including SDG 5 on achieving gender equality and empowering all women and girls. It also encouraged women and men worldwide to take more active roles in gender mainstreaming. It evolves as a trend, and upstream initiatives began to emerge. Topics on gender equality more often appear at BRICS events organized by our civil society organizations.
Our civil society organizations persistently draw the attention of the BRICS Leaders to the gender agenda. Our governments repeatedly recognized empowerment of women as a driving force for economic growth and agreed on a set of key policy principles to improve the status of women. This year BRICS Women's Business Alliance was established to foster female entrepreneurship and participation of women in international trade. There is still a room for action. Recently the world has seen implications of these gender disparity trends catalyzed by the COVID-19 pandemic. I can say that balance upset caused by the pandemic revealed those pre-existing problems and pushed forward gender mainstreaming in all countries of the world, not only in BRICS.
I think that continuing efforts of our civil society in this regard will contribute to further formation of BRICS as a prominent example of an alliance uniting socially responsible economies, attaching great importance to ensuring the inclusiveness of its communities and to meeting the needs of citizens.
Despite all you have said above, in what ways would you argue that the group has a unique for developing Civil Society?
Panova:Indeed, BRICS is the grouping of countries from different parts of the world, countries with distinctive histories and cultures, but similar values. At the same time, BRICS brings together great minds of humanity with outstanding creative potential. BRICS is paying higher attention to its human capital and it is but natural to opt for the taking advantage exactly of this potential.
There is one thing that may "kill" the most innovative idea – lack of political will. In this context, BRICS represents an open platform established by our governments as a priority. This is also an important precondition for laying a solid groundwork for the advanced development of our societies.
So, are the negative perceptions really changing about BRICS? What keeps you personally motivated working for this Civil BRICS?
Panova:For over a decade the public image of the grouping has been transforming from "BRICS as marketable product" to "BRICS as a strategic partnership". For some time, BRICS was perceived as not a very successful interpretation of Jim O'Neil's ideas, for another period BRICS has been viewed as "a power to confront the Western dominance". Luckily, the reality has nothing to do with both judgements.
BRICS perception of itself is close to the ideas or Yevgeny Primakov, Russian former Prime Minister. He drafted the concept of the need for maximum multi-vector engagement, championed the idea of no other alternative to the multipolar democratic world and as one of the prerequisites of such – the Russia – India – China strategic triangle which is considered to be a progenitor of future BRIC, and later – BRICS. Still, BRICS as a newly established club mechanism had to earn its place in the system of global governance.
I should say I see much less skepticism about BRICS lately. Probably it is changing due to certain global outcomes of the BRICS economic cooperation while it is only one of three pillars of our partnership (other two are "politics and security" and "humanitarian and cultural cooperation"). Let me give you some examples: in 2020, the total GDP of the BRICS countries amounted to 25 % of the global GDP and in 2015-2019 our GDP have been growing faster than the global GDP. In 2020, the share of BRICS in international trade reached 20 % while over the past five years the mutual exports of have also grown by 45 %. BRICS countries were capable of establishing the New Development Bank and launch effective solutions globally. I must emphasize that it became the first case in history when so called "club mechanism" managed to create its full-fledged financial institution and created it in less than five years.
What keeps me personally motivated is keen interest of our countries' citizens to shape and take part in BRICS agenda. This interest is growing beyond BRICS – today we witness ever-increasing engagement of representatives from non-BRICS societies that is also a positive trend. BRICS is getting more demanded for people, and there is a strong message from our governments that BRICS should be a people-centered institution. I think these are the most essential conditions for creativity and innovation.
In terms of strategic outlook, is it appropriate to conclude the discussion here that BRICS is purposefully looking for a unified Soft Power as part of efforts in dealing with dominance by Western and European countries?
Panova:As I briefly mentioned in my previous answer – BRICS has never intended to be the power dealing with dominance of any states or groups of states. BRICS has grown to be self-sufficient mechanism, and it means that our governments need to respond to the needs of their citizens. These needs formulate grand strategy of the grouping, and it coincides with interests of the most countries in the world. Expanding outreach to its networks, BRICS serves as a proponent of the renewed world order that implies several decision-making centers. I think this circumstance could raise the idea that BRICS endeavors to undermine the world order.
On the contrary, our countries aim to play a stabilizing role in global affairs by promoting respect for the principles of national sovereignty, non-intervention in internal affairs, mutual respect and consideration of each other's interests as well as respect of the international law. As BRICS stands for multipolar, democratic, just and fair world order, it undertakes efforts to make the voices of the developing world heard. And aren't those the core features of peaceful and harmonic world?(Modern Diplomacy)
"The City of Tomorrow" Shows the Future Left Behind
"The City of Tomorrow", the exhibition project of the international group of curators and researchers, is currently on view in Novosibirsk within the framework of the Year of Germany in Russia 2020/21. The show considers the life and afterlife of the Soviet city, focusing on the social and ideological fabric that once wove the Soviet Union together. The vast body of documentation presents the evolution of Soviet modernist architectural heritage from the early 1920s to its end that coincidedwith the collapse of the Soviet Union. Numerous thematic sections include both architectural projects implemented in the Soviet Union as well as utopian projects left in paper.
The current moving exhibition is a visible manifestation of cultural diplomacy and research thinking. The curators of the project Ruben Arevshatyan (Armenia) and Georg Schölhammer (Austria) have been researching and documenting the architecture from across the CIS countries and beyond for almost two decades. Previously much of this legacy has been left out of architectural history books. In an attempt to bridge that gap a big team of researchers and consultants later joined the project. As a result, the current show presents over 600 acclaimed masterpieces and not widely known architectural monuments from Russia and the former Soviet republics displayed in the form of photographs, models, plans, and film fragments from more than 70 archives.
Grandeur palaces of culture and gigantic stadiums, brutalist industrial structures and residential districts, sanatoriums and swimming pools, boulevards and monuments, cinema houses and even bus stops – all these components of architectural landscape expressed the spirit of the Soviet project embodied in stone, giving the urban space a certain flavour so characteristic of those times.
The exhibition was launched back in 2019 in Minsk, and since then the Goethe Institute project has been in Yerevan, Moscow. In 2021 it will travel to Kiev and Tbilisi.
The show organized by Goethe-Institute Novosibirsk in the Center of Culture (CK19) includes a new section, especially developed for the Novosibirsk edition of "The City of Tomorrow". It encompasses the architectural processes in Siberia throughout the 20th century. "We talk here about architecture and urban development with a reference to the Bauhaus school in Germany. The exposition consists of two main sections – the core that is exhibited in different cities and the local extension with a focus on paper architecture – projects that were not realized in construction", says Mr. Per Brandt, Director of the Goethe-Institute Novosibirsk. Our observer Elena Rubinova spoke with Anton Karmanov, Novosibirsk edition curator, about the role of Soviet modernism for architectural history and practice, the second wave of paper architecture, and young viewers' impressions of the exhibition.
As far as I know, the curators of the entire project have been researching for the project across the former USSR for almost two decades. Why has the project finally emerged in recent years as a traveling exhibition? ​​​​​​
The research project began around 2004. At that time, the first discussions about the phenomenon of "Soviet architecture" were initiated. Large-scale architecture seemed solid, but in fact, complex ambiguous processes were behind its declarative nature. And finally, it was possible to talk about it and do major research. In the 2000s, Soviet modernism started to be seen not as a homogeneous, but multifaceted phenomenon, described by the notion of "local modernities". With this new approach, it became possible to see the whole picture of Soviet modernism, on a different level and in a different quality. In parallel, interest in modernism was spurred by a number of popular publications. In 2011, Frederic Chaubin's book "USSR" ("Cosmic Communist Construction Photographed") was published. The book was a dizzying success and became a bestseller in the West: The architecture described in it did not exist in the Western countries, the audience did not know it existed and did not expect to have such a revelation. Interestingly enough, this architecture was not expected to be discovered in Russia as well. The book became a revelation both for the professional audience and for the general reader. So the growing interest in the Soviet heritage and the discovery of new layers of the architecture of that time were the catalysts of the exhibition process.
What is the significance of Soviet modernism today?
Speaking about Siberia, the importance of Soviet modernism is fundamental: urbanization of its vast lands falls largely into the 20th century, the height of modernism. Much of the infrastructure, transport, energy, education, culture, and cities in general are the result of processes where modernism as a philosophy and modernism as a style prevailed. Cities in Siberia were often formed from scratch, from square one, so to say. The structure of the future cities immediately implied that they would be populated by a new type of people, society would not be "traditional" – with kitchen slavery and class distinctions. In these cities of tomorrow schools, kindergartens, and colleges were built from the start.
What is behind the blanket term "Siberian" modernism, the concept which has been in focus in the current edition? What cities other than Novosibirsk and territories does this term describe?
First and foremost, "Siberian modernism" stands for a modernist architectural school formed in Siberia, its institutions and architectural heritage, which territorially refers to this region and implies the idea of this place. Of course, the school did not include only local architects who designed Siberian, Far Eastern, Northern cities or cities of Central Asia. Here in Siberia there were many leading specialists who received their architectural education and began to work here such as the renowned Soviet architect Mikhail Posokhin (the Palace of Congresses, New Arbat street in Moscow, and a number of international pavilions of the USSR are among his projects), or the engineer Nikolai Nikitin, who went through the progressive "concrete" school at the Siberian Institute of Technology. He used his knowledge in the design of the Ostankino TV tower, the sculpture "Motherland calls!" and a number of other iconic projects. To outline briefly, the Siberian modernism is a modernism of the bases which is supposed to convey "more ethics – less aesthetics". Siberian modernism has an essentially strict, universal character. And, of course, this concept refers not only to Novosibirsk, but this city was one of its centers.
Does the exhibition trace ideologically-induced changes? How is this aspect reflected in the exhibition?
Architecture is always a manifestation of its epoch, a story of economic and political power telling a viewer how social relations were perceived. It always provides rich material for studies. It is these particular issues that thematic sections of the main part of the exhibition address. For instance, the exhibition includes such sections as "Ideology in Stone," or "Parallel Ideologies." In the latter section one can find what was behind the declarative nature of Soviet modernism, what ideas were conceived within the architectural process but were camouflaged under Soviet norms. On the display viewers can see examples how post-modernist or nationalist motifs made their way in Soviet architecture. Or the section "Free Time and Leisure," tells us about the concept of "free time" in Soviet society. It was only in the early 1960s that a 5-day working week was introduced, and the employees were meant to enjoy an extra day off in libraries, cinemas, and houses of culture.
For a wide non-professional audience, the concept of "paper architecture" is not always familiar. What does this special phenomenon stand for? How is this theme presented in the exposition?
"Paper architecture" is a phenomenon of the 1980s, which emerged as a reaction to overregulation. "Paper architecture" was an alternative, a step away from the mainstream of Soviet architecture with its functionalism and standardized construction, it was an idea of a generation, a special character of the sensibility of that time. In the Novosibirsk edition of the show "paper architecture" fits into the architectural and urban history – it demonstrates the transition from Soviet urbanism to urbanism, which then in the postmodernist mindset and theories was popular among architecture students in Novosibirsk. We focus on the main architectural groups – some were employees of design institutes, others opened the first private architectural studios in 1985. In the show, this inclusion of "paper" as part of architectural history builds a bridge to the 1920s, to late-Soviet architecture, to the architecture of the 1990s, and to what is happening now. But it should be noted that "paper architecture" as a mass phenomenon did not appear everywhere. There were two centers – in Moscow and Novosibirsk, they had different backgrounds, but they were in a dialogue. The architectural schools of Leningrad and Yekaterinburg did not engage in paper architecture en masse and remained mostly conservative and pragmatic. It should be noted that many of the Novosibirsk "paper" projects are quite realizable and quite modern to this day.
What is the Soviet style in architecture – details, certain elements, dimensions? How will the audience, especially viewers who did not live in the USSR – imagine a "Soviet city" after they visited this exhibition? I assume, this must have been one of your goals as a curator ….
As a curator, I set myself the task of breaking down the one-sided understanding of the "Soviet style". It was important to me to show the multiple concepts that were born in the Soviet period and were in dialogue, in development. In order to show this, there was enough material. I cannot say that people who did not live in the Soviet Union have absolutely no idea what a Soviet city is. In Novosibirsk, there is almost no historical development of the city, and all significant public buildings are Soviet buildings, with very few exceptions. Even younger generations who have not lived in the Soviet Union, were born in Khrushchev time residential blocks and grew up in bedroom communities. Rather, the exhibition gives enough material to make it clear what projects were originally like, before multiple reconstructions, without advertising, banners, and the infamous siding. General knowledge of architecture ends in the 30s at best. The history of Soviet architecture is not taught in institutes of higher education; this experience is not understood, not studied, not engaged. The oblivion of modernism, its invisibility despite its ubiquity, is characteristic not only of the philistine, but also of the architecture student. And the exhibition certainly fills this gap.
What is happening to the legacy of Soviet modernism today? Will gentrification be most common in terms of conservation? What is the situation like in Novosibirsk?
"Gentrification" often hides a meaningless development that does not increase the quality of the territory, but reduces it. If most people thought about development rather than profit, then the doctrine of modernism aimed at development would have come true. Even if the urban modernist framework changes, the spirit of modernism is unchanged – the desire for development. One other problem is also most common – what are the criteria of a piece of architecture or monument to be under protection? At the city and regional level, let's say, a run-down crooked hut of Peter the Great times is more likely to be considered a monument than a well- preserved masterpiece of modernist architecture. I think that the situation in Novosibirsk is no different from many other cities. It is clear that nowadays there is no need to have a large number of huge cinemas and libraries with auditoriums for thousands of people – the distribution of video, films and texts takes place by other means. However, the need for public buildings, public relations, and cultural practices remains; it does not disappear, but takes new forms. And we have to work with this.
From our partner International Affairs