2018: A good year for China-India relations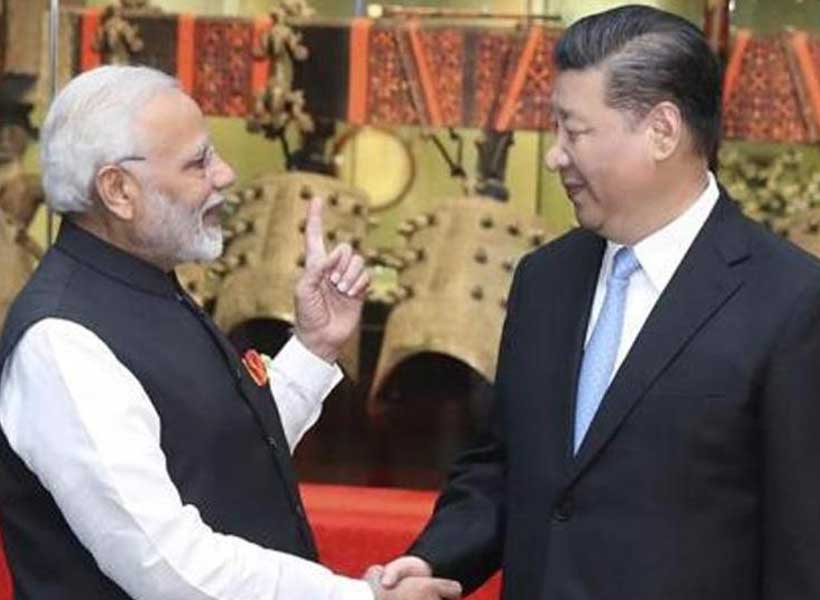 Authors: Arun Upadhyaya and Carter Chapwanya*
The year 2018 ended on a high note for China's peripheral diplomacy as Sino-India relations are in good shape owing to several positive steps taken by the two governments.
Relations between the two countries had turned sour in the fall of 2017 due to border disputes in the South-Western part of mainland China. Several pundits had predicted that the standoff would escalate into a major military confrontation but the events that ensued proved them wrong.
Diplomatic efforts from both sides mitigated the conflict and culminated into an informal summit between President Xi and Prime Minister Modi which was held in Wuhan in April 2018. This summit had serendipitous effects that would reverberate to this day as they have come to be known as the ectoplasm essence of the 'Wuhan Spirit'.
The two leaders agreed to focus on areas of cooperation and respective national development which would consequently enable them to set aside their differences.
They agreed to consolidate their resources in efforts of hastening regional development. The 'China-India Plus' cooperation model for regional development was devised and this would serve as a trust-building mechanism between two great economies that would then work together on several projects in and around the South-Asian region.
By October, the fruits of this arrangement could already be seen as the first phase of the India-China joint training for Afghan diplomats commenced in Delhi from October 15 to 26. The second phase was then held a month later in Beijing from November 18 to December 2.
India's External affairs minister, Sushma Swaraj remarked that the joint training sessions were building blocks for a long-term trilateral partnership for the befit of Afghanistan. This came as a surprise to many as India had shown great reluctance towards trilateral interactions involving China in Nepal.
A similar sentiment had just two days earlier been expressed on the official account of the Indian Embassy in Afghanistan, which also described the training as 'Trilateral Cooperation between India China and Afghanistan'. This was a major indication of the shift in India's traditional position and created optimism for greater cooperation between the two countries.
The Doklam military standoff, in the border dispute, may just have laid the seeds for greater friendship between China and India as the efforts to resolve it resulted in many positive outcomes for the future of Sino-Indian bilateral ties.
In the meetings in Wuhan, Xi and Modi also saw the need to pursue more people-to-people mechanisms of high-level cooperation. At the end of December 2018, Chinese foreign minister; Wang Yi visited India to attend the first meeting of the China-India high-level people-to-people and cultural exchanges mechanism building on the agreement reached by the two countries in Wuhan.
At the meetings in Delhi, delegates from both countries reviewed the progress of the people-to-people initiative and agreed that the cultural exchange has been conducive for consolidating the social base of China-India friendships. They identified areas for further cooperation while strengthening existing programs such as the China India think tanks; youth exchange programs, education cooperation among others.
On the regional and the multilateral level, a consensus was reached to use organisations like East Asia Cooperation, BRICS, Ancient Civilisations forum and the Shanghai Cooperation Organisation in consolidated efforts of peace-building and development.
In addition, Sino-India economic ties improved significantly in 2018. China has now begun importing Agricultural and Pharmaceutical products from India and this has been quite a welcome development for India.
Another milestone achieved in 2018 as the two countries deepened their defence and security cooperation. Beijing and Delhi held the first high-level meeting on bilateral security cooperation with an objective of strengthening cooperation on counter-terrorism, drug control among others. Their two militaries also resumed military drills that had stalled in the aftermath of Doklam standoff. India also agreed to the renaming of Taipei and this was a very significant step in strengthening the bilateral relations.
Increased cooperation between China and India could be instrumental in fostering sustainable peace, stability and development in the region. Pundits now believe, increased strategic cooperation between the two Asian giants could also have interesting implications to the global balance of power.
The future looks bright for Sino-India relations as just in 2018; the two sides maintained strategic communication. The two leaders met several times for high-level meetings in an effort to build bridges on areas of dispute as well as to strengthen the mutual desire for commensurate growth and development. 2019 may even bring greater areas of convergence for Sino-India relations especially if the US protectionist agenda persists, and with the 'spirit of Wuhan' working well for the two countries it is doubtful whether there would be any major trepidation.
*Carter Chapwanya is a published author and currently a Political Science PhD candidate at Shandong University
Abrogation of Article 370 and Pakistan's Pathetic Response
Pakistan, which is a party to Kashmir dispute could not make significant move after the Indian decision to scrap Article 370. The fragile economy, conventional military asymmetry and limited influence in international community restrict the options for Pakistan to take any strong stance against Indian illegal decision.
A month ago the government of BJP illegally dissolved the special status of Jammu and Kashmir through demolishing the Article 370. The article provides immunity to Jammu and Kashmir from Indian laws except foreign affairs, finance and communications. The decision is profoundly rejected by masses of Jammu and Kashmir and Pakistan. In the mean time the opposition parties in India also expressed strong dissatisfaction against decision and predicted severe repercussions for Indian state. The decision has also been challenged in the Indian Supreme Court and hearing has already been started. Yet, since the 5th August Kashmir is under siege, curfew has been imposed, communication network, medical and health facilities have been blocked. The international human rights organizations and defenders issued a genocide warning and warned India not to commit genocide.
In this critical situation which is developed by India, Pakistan took stance to stand by Kashmir. Pakistan highlighted the violent action which engulfed the rights and lives of Kashmiri people's. Although Pakistan expressed strong resistance and proclaimed to use all the means to give Kashmiri's their right, but there is a huge difference in words and deeds. On behest of Pakistan, China called UN Security Council meeting to discuss the issue and Chinese ambassador strongly condemned the Indian action and urged both parties to resolve the dispute through peaceful means. Yet it is important to point out that permanent members of UNSC refused to issue a post meeting joint statement.
Here it is wise to highlight that the international politics is dominated by the self-interests of dominant powers and weak states have no say in the system. Pakistan could not compete with Indian power in international relations. After scrapping the article, India immediately sought foreign support and Prime Minister Narendra Modi went to different states. Modi visited France, Bahrain and UAE, while Prime Minister of Pakistan Imran Khan only made phone calls to seek support against Indian action. This clearly disclosed the inefficiency of Pakistan to counter the Indian narrative.
Indian economic and investment potential is another factor behind cool response of international powers. India is trading partner of many countries and most prominent among them are USA, UK, UAE, China, European Union and Australia. The US has invested 9 million in India during the 2016 and UK has signed the commercial deals of 9.3 million recently. Australia is benefitted from Indian students and its education export is 2 billion dollars. EU a group of 27 independent states is another major investor and trade partner of India with 2.5 % international shares.
In contemporary international politics, diaspora is a backbone of any nation and same is true for India. It is observed that Indians are residing almost every influential state. More than 3.5 million Indians are working in UAE. During the 2015, Indian share was 16% in expats residing in the US, and Saudi Arabia host 1.9 million Indians. Kuwait having 1 million Indian workers and Oman 777,632 Indians. Europe also host the 1.2 million Indians.
The bilateral trade of India with US, China, EU, Japan, and Australia is impressive. In 2019, bilateral trade of India-China crossed the 100 billion, which expects to grow further. The US is second largest trading partner of India in goods, and the single largest export destination of Indian exporters. The bilateral trade has been grew at 7.59% annually from 68.4 billion in 2008 to 142.1 billion in 2018.
The 8.8 million Pakistanis are residing in western states, 4.7 million are living in EU and 1.2 in U.K. But Pakistan failed to activate its diaspora to promote national interests of the state. The Pakistani leadership never paid serious attention to engage diaspora, which resulted in poor representation of Pakistan in international community. On the other hand, Indian diaspora is much influential and have strong say in policies of US and EU. Their skills and education help them to climb the ladder of success and influence. So, it is high time for Pakistan to devise an effective strategy to lobby the national interests and engage diaspora. The diaspora is considered the defense line as they bridge the gap between their parent and host state.
Pakistan's economic structure is fragile with rising debt and prices of commodities. The country is dependent on international monitory institutions to repay its debt which crossed over 100 billion dollars. It is on 150thposition in poverty index among 189 countries according to UN Human Development Indicators. The value of rupee is decreased to lowest level and government is losing its credibility. Pakistan is spending its 20% budget on Army which is higher than education, health and social development allocation. The fragile economy, poor coordination in policy making and influence of military in foreign policy making has reduced the role of other state institutions. Although, current civilian government claims that civilian and military leadership is on same page, but the poor and ill-coordinated response exposed the fault lines. The top hierarchy of civilian and political leadership did not bother itself to convey Pakistani position on Kashmir, except making statements.
If Pakistan really want to influence the international community, then it needs to fix its poor economy, to improve its human and social system, engage diaspora, make effective and inclusive foreign and security policy. The economic, political and military power can guarantee the national interests of the country. So Pakistan work tirelessly on all the fronts to achieve the status of major power.
Pakistan's peace-loving gestures are considered its weakness, unfortunately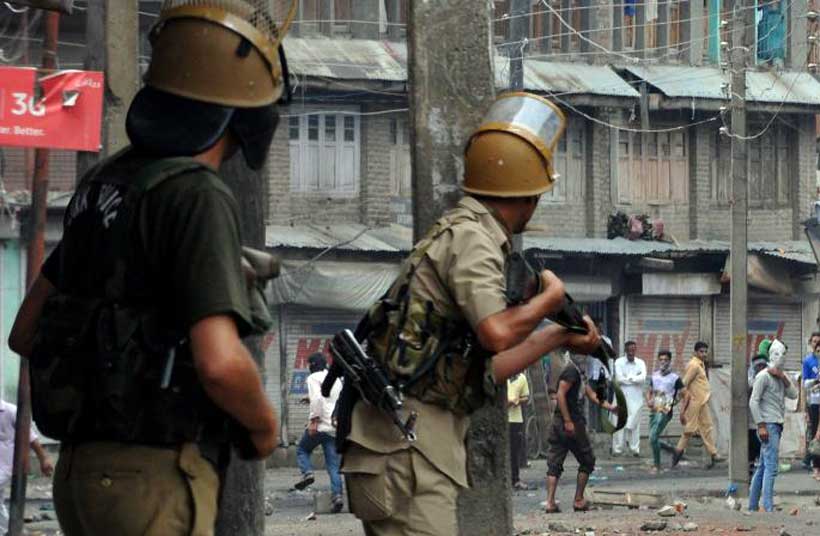 Pakistan is a peace-loving nation and a responsible state. The leadership, civil and military. Both are visionary and rational very much. Pakistan was the hub of western tourists in the 1950s, 1960s, and 1970s, due to its natural beauty, friendly and hospitable environment, and affordable living. Economic growth was one of the highest in this part of the world. But suffered a lot since the 1980s, due to the situation in Afghanistan. It was not our war, but unfortunately, we were pushed into this war. As a result, Pakistan offered 80,000 precious lives of Pakistani nationals, an economic loss of estimated up to 250 billion US dollars. In addition to it, extremism, terrorism, trafficking, smuggling, ethnicity, intolerance, gun, and drug culture, etc. were a gift. Due to the war-like situations during the last 4 decades, nations spared all resources, including human resources, financial resources etc on imposed war-front. As a result, industrial agriculture, infrastructure development, education, SW&T, R&D, Innovation, Commercialization, Health Sector, etc all walks of life suffered a lot and as result, today facing the worst economic crisis with over 100 billion foreign debt.
But, after having so many bitter lessons, the nation is even more mature and trained to survive under any circumstances. In fact, has emerged one of the most resilient nation. India staged the drama of "Pulwan" on 14 February this year, and without collecting evidence and investigation, just within hours, blamed Pakistan and threatened Pakistan. Pakistan offered to extend full cooperation in investigation and punish the responsible. But, India, according to pre-plan, attacked Pakistan on the 25th of February and dropped bombs in Balakot a city deep inside Pakistan. The leadership of Pakistan is very much sensible and rational and noticed that India is pushing Pakistan into full-scale war. The visionary leadership in Pakistan realized the consequences of war, especially when, both India and Pakistan, both are nuclear states, possessing enough piles of lethal weapons to destroy each other completely, and its impact on the region as well as global. Formulated a smart strategy to respond on the 27th of February, giving a message to India, that although Pakistan has capabilities and enjoys supremacy over India, it still sticks to "Love-For-Peace" and does not wish to opt for war, successfully averted to escalate to a full-fledged war. Even that, Pakistan released the captured pilot of Indian air force inside Pakistan territory, as a good-will gesture.
India revoked its own constitution on the 5th of August and imposed curfew in Kashmir. It is an act of war and violation of UN charter, Simla Agreement and all norms & practices of civilized world. Siege of Kashmir, complete black-out by suspending Internet, mobile phone services. Cutting all modes of communication, evacuating all foreigners and visitors from Kashmir. Keeping people under house arrest. Occupying forces are killing, arresting, detaining and raping on a mass scale and draconian laws imposed empowered the security forces to shot at a spot on suspicion only, with any judicial process. After 42 days of curfew, people are facing a severe shortage of food, fuel, electricity, medicines, and life is completely at a halt, stand-still status. It is the largest curfew in the known-history of human beings, as around 8 million people are under siege, and Kashmir has been turned into a big jail, people are treated as prisoners. India's atrocities and brutalities have crossed all records of human rights violations.
UN, Human Rights Organizations, Mainstream Media, International organizations, NGOs, the whole International community have shown deep concerns on Indian atrocities. Protests, agitations, rallies, and demonstrations, all around the world as solidarity with the people of Kashmir have been witnessed. European Parliaments, UNSC, OIC, SCO, and all other international organizations are worried about the deteriorated situation of humanity in Kashmir.
Kashmir is a dispute between China, Pakistan, and India. India has illegally occupied a part of Kashmir known as Indian Occupied Kashmir. But people of Kashmir are spread all over three parts, i.e in Pakistan known as Azad or Free Kashmir and China. Kashmir is one nation and having blood relations in all three parts. They are charged at peak to enter into India Occupied Kashmir and help their brothers and sister in Indian Occupied Kashmir. They wanted to provide them food, medicines and basic necessities of life. The government of Pakistan is trying its best to stop them to march toward Indian Occupied Kashmir, as they are unarmed and simple villagers, they might have the high spirits to rescue the lives of their brothers and sisters in Indian Kashmir but might face firing by Indian Army. I am afraid, the public pressure is growing with passing each day and they might march toward Indian Occupied Kashmir, and Pakistani Security Forces may not be able to stop them, then they might come under the Indian forces firing range. It might complicate the situation. The government of Pakistan is committed to observing restrains and avert any war, with India, but if its civilians are killed, it may create an unexpected situation, difficult to predict the reaction.
On the other hand, Indian military deployment along the line of control and frequent violations of line of control, use of cluster bombs on civilian population inside Pakistan, and war-preparations are alarming. Indian Army Chief announced that The Indian Army is well prepared to Attack Pakistan and just waiting for a signal from its Government in Delhi.
Pakistan is trying its best to observe restrains and showing maximum tolerance and patience. But India considers Pakistan "Love-For-Peace" as its "weakness", Unfortunate! Very Unfortunate!
Webinar: Kashmir Outside the Crosshairs- Does Anyone Care about Kashmir?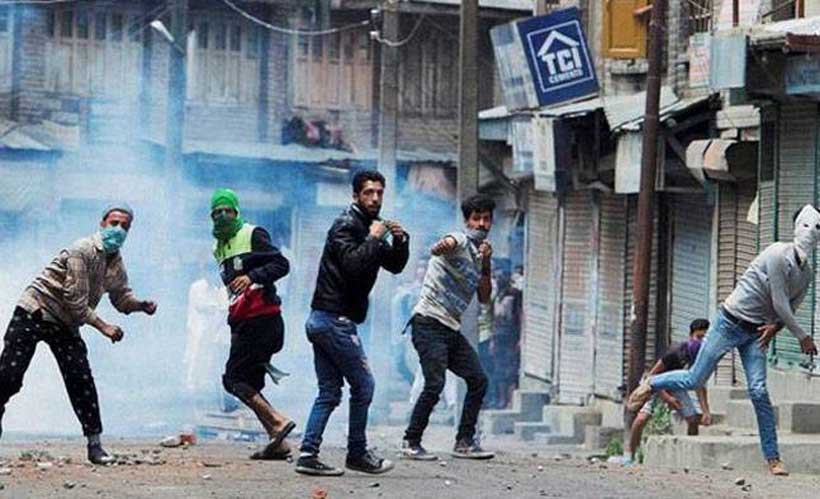 Join Modern Diplomacy and our Executive Vice Chairman, Prof. Matthew Crosston, for a Live Intelligence briefing / Webinar, on Sunday September 29 at 18:30 (IST) to learn:
* Why does the US continue to ignore Kashmir but give loads of attention to every country around it?
* Is it necessarily a positive if the US DOES start paying attention to it?
* What would be GOOD attention and what be BAD? Which one is the US likely to give?
* Can Kashmir ever be left alone to develop independently and not be a pawn of regional neighbors?
These and other controversial but critically important questions will be covered in an exciting intelligence briefing that will still allow for a dynamic, open discussion exchange with one the world's most recognized, accomplished and sought after Intelligence experts, Dr. Prof. Matthew Crosston, Executive Vice Chairman of Modern Diplomacy.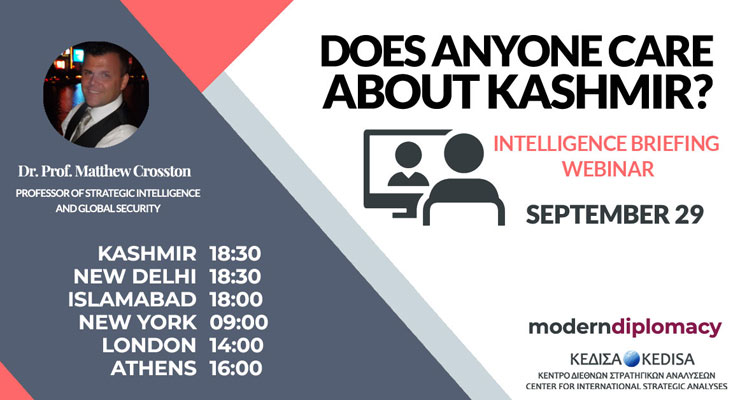 Dr. Matthew Crosston is Director over all Intelligence programs and Professor of Strategic Intelligence and Global Security in the School of Security and Global Studies at the American Military University. He is an acclaimed author and international speaker who consults with governments, media organizations, and academic institutions on a range of issues covering peace mediation, human rights conflicts, resource dilemmas, intelligence, change leadership, and education innovation. His works overall have been translated into Russian, Arabic, Chinese, Indonesian, Hebrew, Spanish, Turkish, Farsi, Greek, and Uzbek. He has a BA from Colgate University, MA from the University of London, PhD from Brown University, and completed his Post-Doctoral Fellowship at the University of Toronto.
Modern Diplomacy and Center for International Strategic Analyses