UN: 'Critical test' for North Korea's Government as civilian suffering remains rife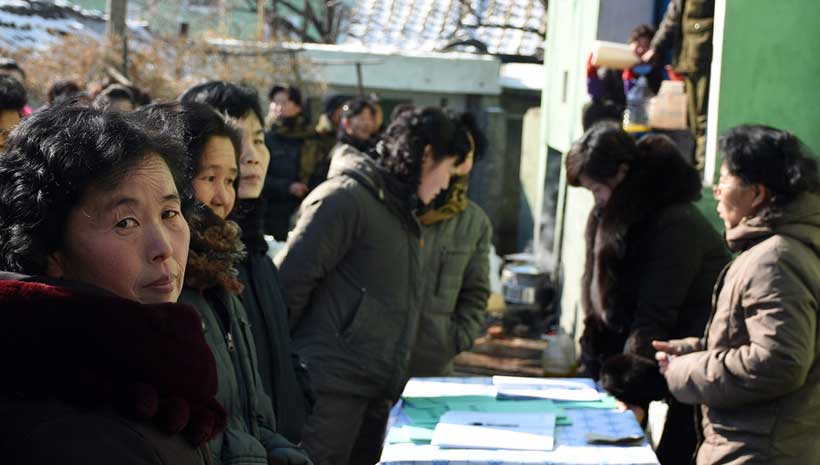 The human rights situation in Democratic People's Republic of Korea – DPRK – remains "extremely serious", and along with international demands for denuclearization, this constitutes a "a critical test" for the year ahead, a senior UN-appointed expert said on Friday.
Tomás Quintana was speaking in his capacity as UN Special Rapporteur on human rights in DPRK, commonly known as North Korea; his press conference was held in the South Korean capital, Seoul, as he continued to be denied access to its northern neighbour.
"Of those who left the North recently that I interviewed during this mission, every person gave accounts of ordinary people being subjected to exploitative labour and serious human rights violations such as forced evictions in the name of development," he said. "Stories were told to me of people, including children, being subjected to long hours of labour where they were forced to work without remuneration…. One person concluded: "the whole country is a prison."
Mr. Quintana urged the DPRK authorities to engage with his mandate and allow him to visit the country "to hear the voice of the people and the authorities".
Many ordinary people 'being left behind'
He detailed personal testimonies gathered during his five-day mission about "political prison camps" which contain "thousands of people" accused of committing crimes against the State.
Their detention happens without "due process guarantees or fair trial, in a manner that amounts to enforced disappearances with the family not knowing their whereabouts", the Special Rapporteur explained, before highlighting that people's "fear" of being imprisoned was "very real and deeply embedded in the consciousness of the ordinary North Korean people".
Surveillance and close monitoring of ordinary citizens is also a fact of life in DPRK, Mr. Quintana continued, as well as other restrictions on basic freedoms, not least the prohibition on leaving the country.
His comments follow a historic meeting between DPRK leader Kim Jong-Un and US President Donald Trump in Singapore last June, which focused on denuclearization talks.
Humanitarian aid remains 'vital'
Noting that Kim had stated that "improving people's standard of living radically" was a priority in his New Year message, Mr. Quintana said that this might represent "recognition" of economic and social hardships for ordinary people.
It "represents an important first step towards taking action to address the challenges," the UN expert said, before calling on the international community to continue to support the "vital" humanitarian assistance that was being provided by various actors to the people of the DPRK.
"In particular, it is important that humanitarian cooperation is extended without politicization and in full respect of the principles of neutrality and independence," he said, reiterating a call to the UN Security Council to ensure its sanctions do not have a detrimental impact on the people of the DPRK.
The findings of Mr. Quintana's latest report will be delivered to the Human Rights Council in Geneva at its next regular session which begins in late February.
Forum calls for stepped-up action to end child labour
Participants at a forum held at the Centenary International Labour Conference (ILC) called for stronger action to end child labour, and highlighted some of the challenges resulting from the major transformations occuring in the world of work.

In an emotional moment, youth advocate Molly Namirembe recalled how she and her sister worked on a tea plantation in Uganda when they were children, after their parents died. "We would work for 12 hours, sometimes on an empty stomach," she recalled, tears running down her cheeks.

The thematic forum entitled Together for a brighter future without child labour also focused on accelerating action towards SDG Target 8.7 that calls for "immediate and effective measures to eradicate forced labour, end modern slavery and human trafficking and secure the prohibition and elimination of the worst forms of child labour, including recruitment and use of child soldiers, and by 2025 end child labour in all its forms."
"Ever since the creation of our Organization, the elimination of child labour has been a top priority," said ILO Director-General Guy Ryder, adding that he expected the ILO would achieve soon the universal ratification of Convention 182 on the Worst Forms of Child Labour .

Kumaran Shanmugam Naidoo, Secretary-General, Amnesty International, called for a holistic approach "where we not only view the phenomenon of child labour but also the very systems that drive children to work at such a high cost."

Juneia Martins Batista, Women's Secretary, Single Confederation of Workers (CUT), Brazil, spoke of the need to improve the situation of women who make a living as domestic workers and rural workers. "The idea is that we can empower these adults, mostly women, to have a decent life. With decent work, we may be able to eliminate child labour."

Assefa Bequele, Founder and former Executive Director, African Child Policy Forum, said: "The big question … is what needs to be done to initiate the kind of policy we need to narrow the gap between rhetoric and action and that would put children at the heart of public policy."

Sue Longley, General-Secretary, International Union of Food, Agricultural, Hotel, Restaurant, Catering, Tobacco and Allied Workers' Association, said, "The key question, the key accelerator will be addressing the fundamental power imbalance in rural areas – we really still do have feudal landlords and slavery."

Jacqueline Mugo, Executive Director, Federation of Kenya Employers, stressed the need "to address the root causes and systemic issues. These are poverty, informality and the lack of educational opportunities for young people."

Tanzila Narbaeva, Deputy Prime Minister of Uzbekistan, said: "To ratify a child labour convention is only half of the job: what is needed is to change the mindset of people and their perception of the child labour phenomenon."

Phyllis Kong Wai Yue, Human Rights and Responsible Sourcing Specialist at chocolate maker Ferrero, said, "It is in business' interest to demand stronger policies for protecting children, as well as the enforcement of labour laws."

The forum was followed by a music event providing testimony to children and young people's role combating child labour.
UN: Understanding of LGBT realities 'non-existent' in most countries
Policymakers in most parts of the world are taking decisions in the dark when it comes to sexual orientation and gender identity, an independent UN human rights expert said on Wednesday.
In a statement issued ahead of presenting his latest report to the Human Rights Council later this month, Victor Madrigal-Borloz urged States to collect more data in an effort to understand the root causes of violence which is often routinely directed towards Lesbian, Gay, Bisexual and Transgender (LGBT) people in societies across the world.
"States must adequately address this scourge through public policy, access to justice, law reform or administrative actions," said Mr. Madrigal-Borloz. "In most contexts, policymakers are taking decisions in the dark, left only with personal preconceptions and prejudices."
Clear information about the realities as lived by most LGBT people are at best, little understood, "incomplete and fragmented", said the UN Independent Expert on Protection against violence and discrimination based on sexual orientation and gender identity, "but in most countries it is simply non-existent".
"My findings show that barriers created by criminalization, pathologization, demonization and stigmatization, hinder accurate estimates regarding the world population" which is affected, he said. "Maintaining such a level of ignorance without seeking appropriate evidence is tantamount to criminal negligence."
The expert said that data collection efforts are already underway in many parts of the world and have supported assessments of the situation of LGBT persons in various areas of life, including their relative safety, well-being, health, education and employment.
"However, many other areas still lack data and remain unexplored, for example, the concerns of ageing LGBT people and intersections with disability, racism and xenophobia", he noted, adding that where States criminalize certain forms of sexual orientation and gender identity and expression, fully effective data collection is impossible: "I have received multiple accounts of data being used for surveillance, harassment, entrapment, arrest and persecution by government officials in such contexts", he added.
The rapporteur called on States to "design and implement comprehensive data collection procedures to assess the type, prevalence, trends and patters of violence and discrimination against LGBT persons. When doing so, States should always respect the overriding 'do no harm' principle and follow a human rights-based approach to prevent the misuse of collected data," concluded the expert.
Women's Rights: Between East and West, the Case of Azerbaijan
This year marks the centenary of the granting of the right to vote to women in Azerbaijan, the first country of the Muslim East to grant this right. To celebrate this occasion, the France-Azerbaijan Friendship Group organized an event entitled "Women's Rights: Between East and West, the Case of Azerbaijan", which took place at the French National Assembly on 7 June.
As part of the celebration, UNESCO's Director for Gender Equality, Ms Saniye Gülser Corat, was invited to speak at the round table entitled, "La réussite au féminin", which was moderated by Ms Fawzia Zouari, writer and journalist. The speakers included Mr Jean-Louis Gouraud, writer and journalist; Ms Charlotte Payen, Secretary-General, French-Azerbaijani University; Ms Leyla Taghizadé, co-founder of Social Innovation Lab; and Ms Anne Lauvergeon, CEO of Anne Lauvergeon Partners (ALP).
During her speech, Ms Corat recalled the important role of education in promoting gender equality. She highlighted the importance of gender inequalities in the scientific world. Across the world, 30% of science researchers and 21% of executives in technology companies are women. In developed countries, 26% of the overall STEM workforce are women. In addition, when it comes to the Nobel Prize in physics, chemistry or medicine, only 17 women have been awarded since Marie Curie in 1903 – compared to 572 men.
Ms Corat explained that UNESCO works to address inequalities wherever there are, particularly within new technologies. She announced that UNESCO recently launched the report I'd blush if I could with funding from the Government of Germany. This publication stresses the growing gender gap in frontier technologies such as artificial intelligence, and the troubling repercussions this is likely to have on future generations.
She concluded her speech with a message of hope: "We want girls and women, in Azerbaijan and across the world, to move full steam ahead towards a career in the discipline of their choices, unrestrained by gendered perceptions of different fields. Put simply, girls and women must have the opportunity to develop the skills that will enable them to thrive in today's world and to participate equally in creating the world of tomorrow".
At the end of the event, Ms Corat gave interviews to two different media outlets from Azerbaijan that were present in the room, namely Report News Agency and Azerbaijan State News Agency (AZERTAC).