Turkic Chinese soup: A barometer of anti-Chinese sentiment
A heavy soup made of pulled noodles, meat, and vegetables symbolizes Central Asia's close cultural and/or ethnic ties with China's repressed Turkic and Hui Muslims. It also explains growing Central Asian unease with China's re-education campaign in its north-western province of Xinjiang and its signature infrastructure and energy driven-Belt and Road initiative.
Named Ashlan Fu and introduced to Kyrgyzstan in the late 19th century by Dungans, exiled Chinese Hui Muslims who fled over the Tien Shan Mountains after a failed rebellion in 1877, the soup has become a staple of Kyrgyz cuisine.
Made of Laghman noodles, starch preserves, onion, garlic, chilli, dark vinegar, and egg, Ashlan Fu is "the best cure for a hangover," says Aman Janserkeev, a Kyrgyz student.
It's also indicative of the potential fallout of China's crackdown on Turkic and increasingly Hui Muslims that amounts to the most frontal assault on Islam in post-World War Two history and of commercial terms underlying Belt and Road-related Chinese investments in Kyrgyzstan and Central Asia.
Some 150 members of Kyrgyzstan's far right Kyrk Choro (Forty Nights) group last month protested outside the Chinese embassy in the Kyrgyz capital of Bishkek against the inclusion of ethnic Kyrgyz in the up to one million Muslims detained in re-education camps in Xinjiang as part of the Chinese crackdown.
In a sign of the times, Kyrk Choro, a nationalist group that has gained popularity and is believed to have the support of the Kyrgyz ministries of interior and labour, migration and youth, and the National Security Committee (GKNB), focused in its protest exclusively on ethnic Kyrgyz in Chinese detention.
Acting as vigilantes, Kyrk Choro four years ago raided clubs in Bishkek in a campaign against prostitution and accused Chinese nationals of promoting vice. In a video of an attack on a karaoke club, a Kyrk Choro leader showed a receipt that featured a girl as one of the consumed items.
Yet, while standing up for the rights of ethnic Kyrgyz and Kyrgyz nationals, Kyrk Choro has also called for Uighurs, the Turkic Muslims that populate Xinjiang, to be booted out of Bishkek's most popular clothing bazaar and replaced by ethnic Kyrgyz.
During December's protest, Kyrk Choro also demanded the expulsion of illegal Chinese migrants. It further insisted that the government check the documents of migrants, including those who had obtained Kyrgyz citizenship over the last decade, including 268 Chinese nationals who are in majority of Kyrgyz descent.
Kyrk Choro's contradictory demands and claims reflect not only a global trend towards ethnic and religious nationalism with undertones of xenophobia but also concern that Belt and Road-related projects serve Chinese rather than Kyrgyz and Central Asian interests.
The Kyrgyz government recently reported that 35,215 Chinese citizens had arrived in the country in 2018, many of them as construction workers on Chinese-funded projects.
Political scientist Colleen Wood noted that social media activists were linking criticism of Chinese commercial practices with China's crackdown in Xinjiang.
"One widely-shared image, which declares "Don't let anyone take your land," depicts a strong fist — adorned with a Kyrgyz flag — stopping a spindly hand — marked by a Chinese flag — from snatching factories and a field," Ms. Wood wrote in The Diplomat.
Ms. Wood said some activists compared Chinese practice to the demarcation in 2002 of the Chinese-Kyrgyz border during which the Central Asian nation handed over 1,250 square kilometres of land to China.
Another Facebook page, Kytai baskynchylygyna karshybyz (We're against Chinese aggression) posted articles about Chinese mining companies operating in Kyrgyzstan, a target of Kyrgyz protesters, alongside articles depicting the intrusiveness of the crackdown in Xinjiang, according to Ms. Wood.
Ashlan Fu, the popular Dungan soup, could prove to be a litmus test of the depth of mounting anti-Chinese sentiment.
An Instagram account with a Stop China feed publishes xenophobic content about Chinese culinary habits as well as regular updates on the crackdown that is expanding into the autonomous region of Ningxia Hui.
Ningxia Hui recently signed a cooperation agreement on anti-terrorism with Xinjiang in a bid to learn from the crackdown on the Turkic Muslims or in the words of the Global Times, a Communist Party organ, "to learn from Xinjiang's experiences in promoting social stability."
In advance of another protest at the Chinese embassy in Bishkek scheduled for January 17, Kyrgyz First Deputy Prime Minister Kubatbek Boronov called this week on the public not to believe anti-Chinese postings on social media.
In an acknowledgement of Kyrk Choro's appeal, Mr. Boronov asserted that the group had denied participating in the December protest.
The government, much like Turkey and the vast majority of Muslim countries, has so far evaded taking China to task on its crackdown for fear of jeopardizing its relations with the People's Republic.
Kyrgyz President Sooronbay Jeenbekov insisted last month that "the ethnic Kyrgyz of China are citizens of China, who obey the laws of their country. How can we intervene in their domestic matters? We can't."
If Kazakhstan where the issue of ethnic Kazakhs detained in China has flared up is anything to go by, the Kyrgyz government is walking a tightrope.
Asyla Alymkulova,  a Kyrgyz national recently established  the Committee to Protect the Kyrgyz People in China after her husband, Shairbek Doolotkhan, a Chinese-born Muslim, vanished in October on a business trip to Xinjiang.
Mr. Doolotkhan's company subsequently advised Ms. Alymkulova that her husband had been "sent away to study" in a camp.
A Kyrgyz diplomat was among representatives of 12 non-Western countries whom China in the last week invited to Xinjiang to counter criticism of the crackdown and showcase economic and social progress. A group of foreign journalists was invited separately.
Short of a reunion with her husband, there is little that is likely convince Ms. Alymkulova or the relatives of thousands of other Central Asians, including at least 2,500 Kazakhs, that Chinese policy towards Muslims is benign and benefitting the community and the region's progress.
That in turn will not make things easier for the Kyrgyz and other Muslim governments at a time that ethnic and cultural identities in a nationalistic and at times xenophobic environment are becoming prevalent. Kyrgyz attitudes towards Ashlan Fu may be the barometer.
Turkmenistan's Permanent Neutrality: A Key Foreign Policy Tenant
Turkmenistan is a country in Central Asia which got independence on 27 October 1991 from the Soviet Union after its disintegration. After independence, Turkmenistan adopted and promoted a neutral position because it wants to live peacefully with its neighbours, to improve its relations with all countries and develop mutually beneficial economic relations with them. It also adopts neutral policy on almost all domestic and international issues. It did not join the Shanghai Cooperation Organization and maintained cordial relations with the Taliban and their opponents, the northern alliance to remain neutral. It provided northern alliance very limited support against the Taliban after 9/11attacks on world trade centre because of its neutrality and peaceful approach to resolve all international issues.
The neutrality of Turkmenistan was deep-rooted in its constitution; therefore, the United Nations General Assembly (UNGA) recognized its neutrality on 12 December 1995 in its special resolution. After the resolution, it became the only state whose permanent neutrality was recognized by the UN. 185 countries voted in favour of the resolution which portrays that it is playing a very efficient role in the peaceful development of world affairs, ensuring communal security and unbiased progress. On 3 June 2015, UNGA passed another resolution to support Turkmenistan neutral and legal status which was the accreditation of better direction of its foreign policy. It was the success of Turkmenistan's active foreign policy that UNGA declared 12 December as International Day of Neutrality. In 2020, Turkmenistan is celebrating 25th anniversary of its neutrality. According to the neutrality of Turkmenistan, international law is the law of peace and neutral states should act upon that in both situations of peace and war. Turkmenistan with permanent neutrality status always adheres to its constitution, UN charter and international obligations.
After permanent neutral status, Turkmenistan got international recognition and became a member of 44 international, regional and multinational organizations, established diplomatic relations with 44 countries and became a member of United Nations and its specialized agencies like UNDP, WHO, UNICEF, UNRCCA, UNHCR and Management for drugs and crime. It has now got such importance that whenever it decided to join any organization or group of states, it can demand changes according to its neutral status and join as a full member after those changes. Turkmenistan's neutrality has provided a new concept of world peace and cooperation. It has offered its neutral space for different countries to host several meetings and conferences to find the solution of complicated issues like intra-Tajikistan and intra-Afghan dialogues. The permanent neutral status of Turkmenistan had remained very productive for its economic development, its promotion as an active player and strengthening security and stability in the region and the world.
Turkmenistan is a very responsible country and it always believes on respecting the sovereignty and development of every state and adheres to these points even in a difficult situation even at the time of tension with Uzbekistan in 2002 to 2004 on some bilateral disputes.
Turkmenistan is using its positive neutrality status for the betterment and promotion of world cooperation, sustainable development and international peace. Turkmenistan with its world's fourth-largest energy resources and permanent neutrality is initiating a plan to provide stable and reliable energy to the world. It also nominated a constructive proposal in the field of transit and trade which was well responded by the international community and acknowledge by UNGA with the adoption of a resolution on "The role of transport and transit corridors in ensuring international cooperation for sustainable development" on 19 December 2014.Turkmenistan is a proponent of permanent neutrality, therefore, with its support the UN has established a group of friends of neutrality for peace, security and development and Turkmenistan have the chairmanship of that eighteen member group. The main purpose of the group is to promote and achieve regional stability, safety and shared prosperity. The United Nations also opened an Ashgabat based United Nations Regional Centre for Preventive Diplomacy for Central Asia on Turkmenistan's initiative.
The international community and the UN have accepted that permanent neutrality of Turkmenistan is unbreakable and it will stick to it in every situation so now they are giving it different responsibilities as an international liable player. It was elected as the Vice-Chair of UN General Assembly in 58th, 62nd, 64th, 68thand 71stsession, in 2012; it was elected first time to the United Nation Economic and Social Council between 2013 and 2015, the member of United Nations Commission on Population and Development and was elected to UNESCO's Executive Committee from 2013 to 2017.
Turkmenistan as a prominent, positive and neutral country is in a good position to guide the world in a better way. Turkmenistan's neutrality potential has a lot of demand in the world at this time to solve outstanding issues like Afghan matter, the process of disarmament and weapon reduction, reasonable solution of water, energy problem and ecological issues. The main point is that it has the potential to play a constructive role in resolving the issues which had become a danger for world peace.
Turkmenistan is getting benefits from its neutral policy and has chosen the approach which is constructive and flawless. Every country adopts a policy to achieve its goal but the most important thing about Turkmenistan's neutral policy is no harm to others which is the most important approach every state must adopt. In the current environment where every country has historical issues with other countries, Turkmenistan with its neutral policy has set standards which other countries should adopt to minimize their problems and differences. If the world will adopt this approach then it will be easy to achieve sustainable development and to the prosperity of their population which the sole purpose of every state.
The State of Civil Society in Central Asia: Insights from Kazakhstan and Uzbekistan
The power transitions in Kazakhstan and Uzbekistan have raised a series of unanswered questions regarding their domestic and foreign policy implications. This paper specifically focuses on the challenges and opportunities of a vibrant civil society emergence in post-Nazarbayev Kazakhstan and post-Karimov Uzbekistan.
A vibrant civil society has long been thought to be a crucial instrument for political change in countries in transition and a key component of a democratic society.
Meanwhile, according to widely held beliefs, the Soviet authoritarian legacy combined with local conservative political culture has obstructed the emergence of democratic values and a vibrant civil society in Central Asian countries.
Kazakhstan represents a distinct Central Asian model of civil society, comparable to Russia but qualitatively different from that in Europe, where civil society is more cooperative with the authoritarian system and offers less resistance to state. As for Uzbekistan, while Islam Karimov's authoritarian governance would put heavy restrictions on civil society organizations, a question arises as to what extent the government change in 2016 has trickled down to civil society. The presidential decree 'On measures for strengthening civil society institutes' role in democratization processes' of April 2018 is seen as a considerable stride towards setting the foundations to build dialogue between civil society and the government while removing the procedures that would restrict NGOs activities.
Civil society in Uzbekistan has been primarily associated with mahallas, which are self-governing bodies responsible for helping members of the community and other social work (conflict resolution, overall community upkeep, etc.).
The question remains as to what the main challenges to the emergence of a youth-driven, issue-specific civil society are.
Essentially, one of the main priorities on the path to a vibrant civil society emergence in Uzbekistan includes developing the capacities of NGOs, particularly secular civil society organizations. Even though there are over 9000 NGOs registered in Uzbekistan, unlike conservative religious organizations, the opportunities for secular civil society organizations to represent societal interests remain limited due to their organizational weakness and lack of financial support. As a result, many of them have long been inactive with little to no potential to represent certain interest groups and influence decision making.
Similarly, the NGOs in Kazakhstan remain weak and unsustainable. The explanations of institutional ineffectiveness lay in disconnect with local traditions, low visibility of NGOs, and unsupportive government. Survey of general population suggests that people in Kazakhstan know little about NGOs and do not appreciate their utility.
Studies show that one of the main dimensions on the path to a vibrant and consolidated civil society is the "change on the inside", related to the nature of civil society per se: such as the way it is organised and operates. This has a great deal to do with the development of adequate institutional and professional capacity in civil society organisations and networks as a vital tool for influencing policy making. The institutional development at the organisational level includes building organisational capacities for governance, decision-making, and conflict management, as well as clarifying organisational identity, values, and strategy of impact. The latter is of crucial relevance as a lot of CSOs in both countries were established with no predefined mission, strategic plans, and organization structure. That said, they were doomed to failure in terms of addressing the specific needs of their constituencies.
Another formidable challenge to civil society advancement is restrictive environment, compounded by state repression of dissent and pluralism in the two countries.
The freedom of expression remains severely restricted in both countries. The Karimov's administration would meticulously control media narrative on politically sensitive issues in Uzbekistan, while shuttering or blocking independent outlets. Even though domestic media, including news websites and live television programs, now cautiously discuss social problems and even criticize local officials, it is not uncommon for journalist to avoid self-censorship to avoid harassment by government. As a result, they avoid openly criticizing Mirziyoyev and the government. Not surprisingly, as suggested by Human Rights Watch reports, censorship is still widespread in Uzbekistan, with the authorities consistently restricting the media through the official state bodies that issue registration for media outlets and regulate journalistic activity.
As for Kazakhstan, the new legislation that came into force in January 2018 has further exacerbated the crackdown on freedom of expression. The law requires journalists to verify the accuracy of information prior to publication by consulting with the relevant government bodies or officials, obtaining consent for the publication of personal or otherwise confidential information, and acquiring accreditation as foreign journalists if they work for foreign outlets.
Clearly, the restrictive legislation has taken its toll on Kazakhstan's NGO landscape. In effect, NGOs operate under the conditions of mounting harassment by the government and are at risk of incurring fines and other punishments for obscurely stated offences, such as 'interfering with government activities or engaging in work beyond the scope of their charters'. It is not uncommon for civil society activists to face criminal prosecution and imprisonment just for being outspoken and critical.
Along with the restrictive legislation, low trust, and misperceptions of civil society organizations, have significantly obstructed the advancement of a vibrant civil society. It has common for post-Soviet societies to treat civic associations as threat to the power and stability of the state together with the conviction that the state bears the responsibility for the wellbeing of the society.
As a matter of fact, establishing a civil society platform for NGOs, and media organizations to monitor government activity is essential for the emergence of a vibrant civil society. In the past two years, Uzbekistan has introduced several reforms and amended legislation, but there has been no analysis or monitoring of their implementation or potential or real impact on society. Meanwhile, the input from NGOs, think tanks and media can significantly contribute to the implementation of those state programs that are deemed useful by civil society. This, in turn, comes down to the changes in the very nature of civil society relations with the state and its potential and ability to foster reform, or what is often referred to as "change on the outside."This has a lot to do with increasing their impact on public policy, through intensifying their interaction with public institutions and actors and most importantly, through engaging more with their constituencies.
A major impediment to civil society advancement in both countries is prevailing post-Soviet "informality" in the form of behavioral practices, such as considerable tolerance towards informal governance, the use of informal networks and connections in exchanges of favors, phone justice, corruption, etc. The latter has long condemned both countries to a vicious circle of underdevelopment and bad governance. Even though it would be an oversimplification to contend that graft is a way of life it takes a long time for deep rooted behavioral practices to change.
Moreover, the rise of 'illiberal civil society' or movements with a conservative agenda is a common phenomenon across Central Asia, and elsewhere. In Central Asia, Russian-language media, and religious-based outlets, have become instruments to spread illiberal ideas, which use 'traditional family values' and 'national identity' to condemn progress, often related to the rights of LGBT, the role of women in society or different minorities.
Overall, the core hindrances to the advancement of a vibrant civil society in the two Central Asian countries include severe limits on the freedom of expression, association, as well as the Uzbek and Kazakh governments' tendency of silencing dissent. Meanwhile, eradicating these malpractices is critical to reassuring and reinforcing post-Nazarbayev and post-Karimov governments' promises and pledges of significant democratic reforms.
Tajikistan: Building Blocks for a Dynamic Post-COVID-19 Economy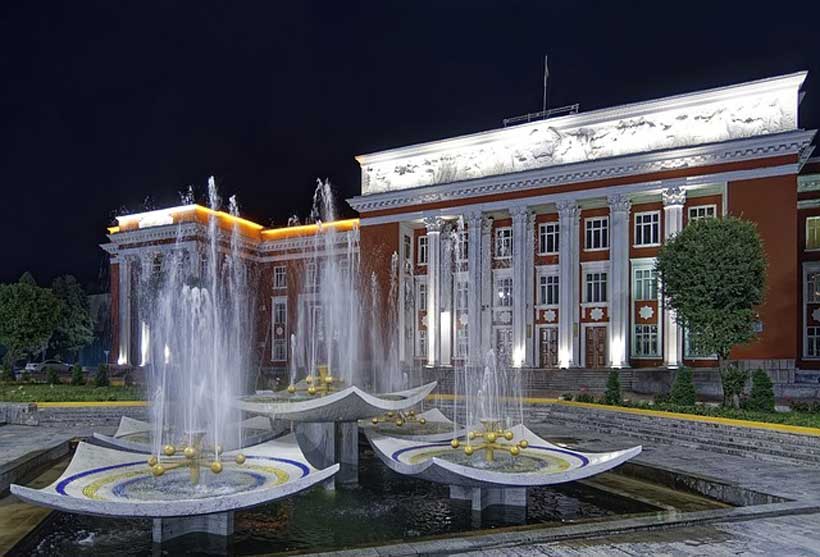 The pandemic year is slowly drawing to a close, but not all challenges associated with it will disappear with the beginning of the millennium's third decade. Households, firms, and government are all focusing their efforts to ensure the security of food, income, and/or electricity over the next few months. At the same time, the country is in the middle of making decisions that will determine whether Tajikistan can transform this crisis into an opportunity to "build back better".
The current crisis is the fourth over the last twelve years, with three of them having been outside Tajikistan's influence and control. Following the impacts of the global financial and economic crisis of 2008, the oil price collapse of 2014 (with massive impacts on the value of remittances flowing back into Tajikistan's economy), and the banking crisis of 2016 (having required a major budget-financed bail-out), the current difficulties have hit the country at a moment of fiscal fragility and a high risk of debt distress. Despite high rates of economic growth, these crises meant that Tajikistan has been struggling to respond with adequate fiscal resources to the combination of these inherited and emerging challenges.
But not all is gloom. In fact, the key to unlocking an effective crisis response— one with minimal upfront costs and future benefits to the budget—is found outside the government's direct scope of control: if the state strengthens its partnership with entrepreneurs and (potential) investors, with clear and uniform rules, Tajikistan could tap into the considerable potential of sustainable economic dynamism. With profit opportunities in domestic and neighbouring markets (of which there are many) and the clarity and predictability of obligations towards the state (a current policy priority), the private sector is certain to exploit these. This, in turn, will open doors to addressing a long list of priority challenges influencing economic policymaking, well beyond the immediate one of broadening the tax base to a much larger number of successful firms. For instance, the (frequently prohibitively) high interest rates would be lowered when more firms and employees deposit their incomes in the banking sector and when financial institutions share the confidence in a firms' future success. The trend depreciation of the Tajik somoni, with detrimental effects on, especially, the most vulnerable segments of the population, could be countered by having private companies exploit available export opportunities to the very large (now accessible), underserviced markets in the country's direct vicinity. This would lead to an increased influx of foreign currency, which, in turn, would strengthen the domestic currency. Risks to social cohesion would be reduced by generating more and higher-paid employment opportunities—particularly in the remote and rural regions of the country—while food insecurity could be addressed by increasing local self-reliance on food production and agricultural inputs provided.
It is well understood that Tajikistan requires the private sector to play a more dynamic role, with considerable preparatory work having already been done to put into place the required reforms to boost private-sector confidence, domestic productivity, local production, exports, and job creation. The three following areas of reform are especially promising in providing the population with an environment characterized by lower inflation, interest, and tax rates, while accelerating the rate of job creation, and lifting average wages beyond the current levels prevailing in the market.
First, adopting a tax reform that aligns incentives and fosters compliance. Tajikistan's current economic model, largely remittance-financed and import-reliant, is a legacy from an earlier period of reconstruction and transition. One element of this legacy relates to revenue collection. The levying of taxes, required to meet pre-defined tax collection targets, has been based disproportionately and non-transparently on tax penalties and pre-payment requests. To counter the negative effects on business confidence, very generous tax incentives—estimated at around six to ten percent of national income—were granted. These, however, did not generate commensurate socio-economic benefits (investments, innovations, employment, and/or regional development). The ongoing preparation of tax reforms thus aims at combining a modern, consistent, and simplified tax code with the redefinition of the Tax Committee's overarching mission statement—with a focus on maximizing voluntary tax compliance. This would shift the tax authorities' principal focus on analysing all information on the accuracy of tax-payer statements and conducting audits on the basis of identified inconsistencies. The reliance on risk-based tax audits would increase the tax authorities' effectiveness and firms' incentives to submit accurate tax statements. In parallel, temporary tax incentives would be subject to specific expectations that are monitored, recorded, and made the basis for subsequent decisions on potential extensions. The decision to launch public consultations on the new draft code would be a critical signal of the country's commitment to developing a real partnership with the private sector as foundation for a strong, sustainable, and inclusive recovery.
Second, providing for the foundations of the economy's digital transformation. The government is preparing reforms that would enable the country to "leap-frog" towards a modern, digital economy with a faster, less expensive internet. This would allow for dynamics that could increase (1) the quality of, and access to, public services (e-government, e-health, distant learning, smart city, or cashless payments); and (2) the scope for new digital firms, including in rural and remote areas, to explore new opportunities and create additional employment opportunities. For results that are both fast and tangible, the government would need to modernize the legal framework in the telecom sector and establish an independent (public) regulator to allow for proper competition to bring down prices and increase the quality of services. The government is in negotiations with international development partners that have shown interest in supporting foundational reforms and most providing critical investments needed for the national roll-out of e-government priorities that can finally utilize the potential for Tajikistan's digital transformation.
Third, developing a modern supply chain from agricultural production to food processing. The COVID-19 crisis has heightened the risks of food scarcity during the off-season months, notwithstanding increased production during the summer and autumn. To this end, the government has focused important activities on planning measures to guarantee sufficient, high-quality food.
This includes measures to provide farmers with seeds and fertilizers, build resilient livelihoods and institutions, and create additional jobs in the agriculture and food-processing sectors for the next years to come. It is being sought to strengthen the crisis resiliency of the agricultural sector, increase the sustainable production of food, ensure safety, foster processing, and facilitate export competitiveness—especially in the high-potential horticulture sector. This can only be done with a viable sector of (new) micro, small, and medium-sized enterprises in rural areas. If linked to the digital agenda, farming and food production could allow for a dramatic increase of agricultural productivity, thereby transforming Tajikistan's low-productivity, segmented, and crisis-prone agricultural sector to a modern one comprising effective systems of (1) managing seeds, seedlings, and planting materials; (2) promoting market-led, high-value horticulture value chains; (3) strengthening systems of quality control, food safety, and certification; and (4) linking these to strengthened systems of early warning and response.
In all of these efforts, Tajikistan finds itself well-prepared, on the eve of making the required—albeit difficult—decisions necessary to alter perceptions and dynamics. A view on the budget's revenue side, in relation to the most urgent expenditure obligations, shows that tax revenues alone would not suffice in responding to current and future challenges. The state needs, as a partner, a dynamic, innovative, employment-generating, and tax-paying private sector. Its decisions to invest and innovate reflect perceptions of future profitability. In support, the government would need to continue to improve the environment and move towards guaranteeing the predictability in tax obligations, ensuring the ability to enforce contracts, and fostering the enormous development potential that is inherent in fair competition on a level playing field. With innovative, dynamic, exporting, and profitable enterprises, current priority challenges to economic policymaking—from taxes over interest and exchange rates, to employment opportunities—fade into the background, providing the state more space to focus on strengthening health, education, and the necessary investment needed to increase the human capital of every citizen of Tajikistan, along with their standards of living and resilience to fragility and future crises.
Originally published in Asia Plus via World Bank