The current situation in Syria
Syria is the great rotating platform of the Middle East. Paraphrasing the statement by Mackinder, the well-known British geopolitician of the early twentieth century, "who rules Syria commands the Middle East, who rules the Middle East controls Europe and Africa".
This is the profound meaning of the "war between the wars", as Israel once defined its air operations in Syria.
Israel, in particular, does not want Iran to be hegemonic in Syria.
This is the reason why, first and foremost, it tends to achieve a clear balance with the Russian Federation, which will certainly not leave Syria completely in Iran's hands.
In fact, in November 2018 Israel started new bombings of the Iranian business districts, such as Kiswah, near Damascus, or Harfa, a strong Hezbollah position near the Golan Heights.
In Syria Bashar el Assad's forces are pressing the jihadist positions in the Idlib region, as well as the cities of Lahaya and Masasnah in the Northern Province of Hama.
The anti-Bashar groups, i.e. the Free Syrian Army, Tahrir al-Sham, also known as al-Qaeda in Syria, and Jaish al-Izza, a jihadist group affiliated with the Free Syrian Army, with armaments supplied by the United States, but operating mainly in the areas near Hama, faced the Shiite forces' attack very well and still hold a large part of Idlib.
Idlib is, in fact, the most important corridor for de-escalation, as established by the Astana Agreement, but it is also the city in which Syria connects to Turkey and, hence, to the primary lines heading for Europe.
Turkey has so far taken control of the Murak pass, in the Northern Hama province, while Tahrir al-Sham, that previously held that region, has repositioned itself in Kafr Zeita, again in the Northern Hama province.
In the Western part of the Idlib province, the group led by al-Qaeda in Syria, namely Tahrir al-Sham, has negotiated a "ceasefire" with the other jihadist groups, which allows it to keep control of six villages in the Ghab Plain.
Meanwhile, Assad' Syrian Arab Army, with the elite forces of the 42ndDivision, dubbed "Ghait Forces", and the 4th Armoured Division, is moving from Southern Syria to the Northern region of the Latakia province.
It should be remembered that all Syrian fighting Corps also have powerful Russian advisors.
The Iraqi Shiite militants, led by the Islamic Revolutionary Guard Corps, have moved to Hama's Northern province, while the Fifth Corps of Assad's Army – again with Russian support – carries out reinforcement and backup actions between the North of Aleppo and Hama and Latakia's Northern region.
Hayat Tahrir al-Sham, i.e. the Syrian "section" of al-Qaeda, destroyed all the bridges of Al Eys, in the Southern Aleppo Province.
Hence the Aleppo-Idlib Northern axis is the centre of gravity of this war, while the South is becoming essential  for covering and protecting the Northern regions, which are now decisive for the solution of the Syrian war.
The jihadist group, however, has currently positioned itself on the side of the demilitarized zone of Idlib, which is controlled by Russia, Turkey and Iran.
Meanwhile, some groups – probably linked to Daesh-Isis, which is far from having been "eliminated", as the Western press propaganda maintains – fight against the al-Qaeda-linked groups in the Idlib region.
This region is the centre of gravity of the war. Operations attributable to ISIS have also been carried out in Aleppo.
Meanwhile, the YPG Kurds effectively fight the jihadist groups surrounding the Kurdish city of Afrin, which is currently controlled by the Turkish troops.
In the meantime, Russia has put its anti-missile defence batteries back into operation in the Western province of Hama.
Hence what does Iranians want from Syria? Initially Iran used the Damascus corridor almost exclusively to transfer arms to the Lebanon.
Currently, however, weapons are manufactured directly in that country. In fact, Hezbollah has approximately 150,000 rockets, missiles and mortar shells, which are produced  both in Iran and in Syria.
The ferocious anti-Zionist policy of current Iran is based above all on Hezbollah's remarkable ability to attack Israel.
According to Israeli intelligence, one in four buildings is a military base of the Shiite group in Southern Lebanon.
In 2017, however, the Israeli air force began to hit hard on the weapon landline stretching from Teheran to Beirut.
Hence Syria has become a sort of second Lebanon, with the current establishment and deployment of an Iran-led army on the field, in addition to the normal maintenance of the lines for transferring weapons from Iran to Southern Lebanon.
Hence this transformation of Israel's operational logic has led to a change of Iran's tactics.
On the basis of the agreement signed between Iran and  Assad's regime on August 26, instead of operating solely on Syrian territory,  the Shiite Islamic Republic will merge almost entirely with the Syrian armed forces, while Iran's  war industries will be integrated with those of the Baathist regime.
In all likelihood, Iran wants to replace the fallen soldiers of Assad's army with its own.
Nevertheless Iran is increasingly using Iraq as a storage area for missiles and it also wants to use the Iraqi Shiite militias in the future.
The fact remains that Iran is increasingly standing out as a regional winner in the Syrian conflict.
Russia is certainly not happy about it.
After the US quick withdrawal from Syria, which enables Assad's regime to stand as the sole protector of the Kurdish groups of Rojava, the Russian Federation is developing a new strategy.
Together with Iran to the Syrians, the Russians are moving to the middle Euphrates river valley, so as to later cross that river and conquer the areas previously occupied by the US forces and their Syrian allies, namely the Syrian Democratic Forces (SDF), that fought mainly against Isis-Daesh.
The aforementioned region is rich in oil, but Russia and Syria are mainly trying to prepare for the offensive of the Turkish Army on the city of Manbiji, one of the symbols of the Kurdish independence movement.
Considering the US withdrawal, the Syrian Democratic Forces (SDF), however, are dealing with Assad and the Russian forces to grant passage on the territory they previously conquered.
Moreover, with a view to securing the border between Iraq and Syria, the Iraqi regime is actively collaborating with the Russian-Iranian coalition.
Nevertheless, at economic level, things are not going so well for the Syrian-Iranian and Russian coalition.
In eight years of war, however, Assad's forces have lost control of most Syrian oil wells and natural gas fields.
The phosphate reserves and the agricultural production areas have also fallen into enemy hands.
Syria has reserves worth 2 billion oil barrels – and Bashar al-Assad's regime stopped light oil production in 2012 and  heavy oil production in 2013.
Before the war, Syria produced an average of 385,000 barrels a day.
Currently, according to official sources, Assad's regime extracts only 20,000 barrels a day.
In its action against the jihadist groups, however, the Syrian regime has recently reconquered – one after the other – the most important oil areas, namely Shaar, al-Hayl, Arak, Hayan and finally the area of Al-Mahr, in the region of Palmira.
Meanwhile, the Kurds – already supported by the United States – keep control of their oil fields and gas deposits in Eastern and North-Eastern Syria.
The areas controlled by the Kurds – currently in contact with Assad's forces  – account for 30% of the Syrian territory.
The Kurdish forces have conquered approximately 1,000 wells, some of which are in good condition and can easily start production.
The Kurdish wells, controlled only by the forces of Rojava, are enough for the consumption of the whole area. Probably the Syrian government secretly bought oil from the Kurds so as to resell it at a higher price, since the Kurdish oil had  a much lower price than the one charged on the international market.
As to natural gas, the largest well is the old Conoco, in the Eastern region of Deir Ezzour, which is still controlled by the Syrian Democratic Forces (SDF).
One of the old axes of the US presence in Syria.
A well that before the conflict produced 21 million cubic meters a day, as against the current 8.5 million cubic meters, while the Syrian government maintains that it currently produces 16.5 million cubic meters a day.
Obviously the cost of gas for Syrian citizens has multiplied by ten during the war, which is still continuing.
With specific reference to phosphates, of which Syria was one of the top exporting countries, in all likelihood the over 2 billion tons of  Syrian reserves will be spoils of war for both Russia and Iran.
The largest production area is again in the region of Palmira. The Islamic Revolutionary Guard Corps took full control of the region in 2015.
In 2017 Syria also signed an agreement on phosphates with Russia, thus leaving Iran aside.
Only Russia, however, does invest in the Syrian phosphate extraction areas.
As to olive oil, the main Syrian agricultural resource, before the conflict Syria was the top Arab producer, with 100 million olive trees and 1.2 million tons of olive oil a year.
As a result of war, production has fallen by 300%.
The provinces of Aleppo and Idlib were the major olive oil production areas.
Let us now analyse the behaviour of Turkey, which is the other great army operating in Syria.
Turkey's army – the second largest within NATO – which also seems to be strangely not interested in the Syrian war, has carried out extensive and effective operations in Northern Syria.
Apart from some obscure operations – such as the one of Tell Rifaat, where the Russians immediately gave in to the Turkish forces surrounding the country – the somehow  hidden and secret alliance between Turkey and the Russian Federation seems to be increasingly clear.
Why? Probably because Russia wants to prevent Turley from siding too much with the United States.
Moreover, after the Turkish shooting down of a Russian fighter aircraft in 2015, and after President Erdogan's official apologies to Russia, it seems that the Turkish-Russian-Iranian axis is strengthening, above all to define and control the "de-escalation zones".
There are four de-escalation zones: 1) the Idlib province, as well as the North-Eastern areas of Latakia province, the Western areas of Aleppo province and Northern areas of Hama province. There are over one million inhabitants in this zone, dominated by an alliance of al-Qaeda-linked jihadist groups.
2) the Rastan and Talbisehenclave in Northern Homs province. There are approximately 180,000 inhabitants in this zone and its wide network of rebel groups includes al-Qaeda-linked fighters.
3) Eastern Ghouta in the Northern Damascus countryside. Controlled by Jaish al-Islam, a powerful rebel faction that was participating in the Astana talks, it is home to about 690,000 civilians.
4) The rebel-controlled South along the border with Jordan that includes parts of Deraa and Quneitra provinces. As many as 800,000 civilians live there.
The agreement envisages that the jihadist rebels and government forces should halt hostilities for six months.
Russia will continue to fly over the areas, but refrain from conducting air raidsto bomb enemy positions.
In short, Turkey is siding with Russia and the latter is interested in having Turkey as a key ally in Syria, with a view to breaking NATO's Middle East strategy and having a strong army operating in Assad's territory, as well as reducing its engagement and hence the cost of the Russian mission to Syria.
Battling for the Future: Arab Protests 2.0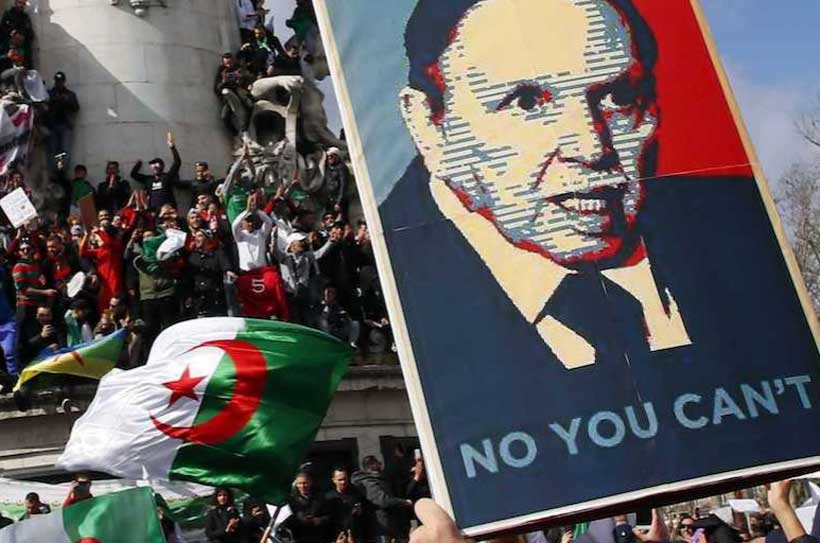 Momentous developments across Arab North and East Africa suggest the long-drawn-out process of political transition in the region as well as the greater Middle East is still in its infancy.
So does popular discontent in Syria despite eight years of devastating civil war and Egypt notwithstanding a 2013 military coup that rolled back the advances of protests in 2011 that toppled Hosni Mubarak and brought one of the country's most repressive regimes to power.
What developments across northern Africa and the Middle East demonstrate is that the drivers of the 2011 popular revolts that swept the region and forced the leaders of Egypt, Tunisia, Libya and Yemen to resign not only still exist but constitute black swans that can upset the apple cart at any moment.
The developments also suggest that the regional struggle between forces of change and ancien regimes and militaries backed by the United Arab Emirates and Saudi Arabia is far from decided.
If anything, protesters in Algeria and Sudan have learnt at least one lesson from the failed 2011 results: don't trust militaries even if they seemingly align themselves with demonstrators and don't surrender the street until protesters' demands have been fully met.
Distrust of the military has prompted an increasing number of Sudanese protesters to question whether chanting "the people and the army are one" is still appropriate. Slogans such as "freedom, freedom" and "revolution, revolution" alongside calls on the military to protect the protesters have become more frequent.
The protests in Algeria and Sudan have entered a critical phase in which protesters and militaries worried that they could be held accountable for decades of economic mismanagement, corruption and repression are tapping in the dark.
With protesters emboldened by their initial successes in forcing leaders to resign, both the demonstrators and the militaries, including officers with close ties to Saudi Arabia and the UAE, are internally divided about how to proceed.
Moreover, neither side has any real experience in managing the crossroads at which they find themselves while it is dawning on the militaries that their tired playbooks are not producing results.
In a telling sign, Sudan's interim leader Abdel Fattah Abdelrahman Burhan praised his country's "special relationship" with Saudi Arabia and the UAE as he met this week with a Saudi-Emirati delegation at the military compound in Khartoum, a focal point of the protests.
Saudi Arabia has expressed support for the protests in what many suspect is part of an effort to ensure that Sudan does not become a symbol of the power of popular sovereignty and its ability to defeat autocracy.
The ultimate outcome of the dramatic developments in Algeria and Sudan and how the parties manoeuvre is likely to have far-reaching consequences in a region pockmarked by powder kegs ready to explode.
Mounting anger as fuel shortages caused by Western sanctions against Syria and Iran bring life to a halt in major Syrian cities have sparked rare and widespread public criticism of president Bashar al-Assad's government.
The anger is fuelled by reports that government officials cut in line at petrol stations to fill up their tanks and buy rationed cooking gas and take more than is allowed.
Syria is Here, an anonymous Facebook page that reports on economics in government-controlled areas took officials to task after state-run television showed oil minister Suleiman al-Abbas touring petrol stations that showed no signs of shortage.
"Is it so difficult to be transparent and forward? Would that undermine anyone's prestige? We are a country facing sanctions and boycotted. The public knows and is aware," the Facebook page charged.
The manager of Hashtag Syria, another Facebook page, was arrested when the site demanded that the oil ministry respond to reports of anticipated price hikes with comments rather than threats. The site charged that the ministry was punishing the manager "instead of dealing with the real problem."
Said Syrian journalist Danny Makki: "It (Syria) is a pressure cooker."
Similarly, authorities in Egypt, despite blocking its website, have been unable to stop an online petition against proposed constitutional amendments that could extend the rule of President Abdel Fattah el-Sisi until 2034 from attracting more than 320,000 signatures as of this writing.
The petition, entitled Batel or Void, is, according to Netblocks, a group that maps web freedom, one of an estimated 34,000 websites blocked by Egyptian internet service providers in a bid to stymie opposition to the amendments.
Mr. El-Sisi is a reminder of how far Arab militaries and their Gulf backers are potentially willing to go in defense of their vested interests and willingness to oppose popular sovereignty.
Libyan renegade Field Marshall Khalifa Belqasim Haftar is another, Mr. Haftar's Libyan National Army (LNA) is attacking the capital Tripoli, the seat of the United Nations recognized Libyan government that he and his Emirati, Saudi, and Egyptian backers accuse of being dominated by Islamist terrorists.
The three Arab states' military and financial support of Mr. Haftar is but the tip of the iceberg. Mr. Haftar has modelled his control of much of Libya on Mr. El-Sisi's example of a military that not only dominates politics but also the economy.
As a result, the LNA is engaged in businesses ranging from waste management, metal scrap and waste export, and agricultural mega projects to the registration of migrant labour workers and control of ports, airports and other infrastructure. The LNA is also eyeing a role in the reconstruction of Benghazi and other war-devastated or underdeveloped regions.
What for now makes 2019 different from 2011 is that both sides of the divide realize that success depends on commitment to be in it for the long haul. Protesters, moreover, understand that trust in military assertions of support for the people can be self-defeating. They further grasp that they are up against a regional counterrevolution that has no scruples.
All of that gives today's protesters a leg up on their 2011 counterparts. The jury is out on whether that will prove sufficient to succeed where protesters eight years ago failed.
As Marsha Lazareva languishes in jail, foreign businesses will "think twice" before investing in Kuwait
IF THERE IS one thing to glean from the case of Marsha Lazareva, it's that foreign businesses must now think very carefully before investing in Kuwait.
For more than a year, Lazareva, who has a five-year-old son and is one of Russia's most successful female investors in the Gulf, has been held in the Soulabaiya prison by Kuwaiti authorities. Those authorities claim she 'stole' half a billion dollars, a claim she strenuously denies.
Human rights groups and prominent officials, including the former FBI director, Louis Freeh, and Jim Nicholson, former Chairman of the Republican Party and former US Ambassador to the Vatican, have called for her release and expressed concerns about the apparent absence of due process in a country where Lazareva has worked for over 13 years. Both Freeh and Nicholson visited Kuwait in recent weeks with Neil Bush, son of the late President George H. W. Bush. Bush has said Lazareva's incarceration 'threatens to darken relations between the U.S. and Kuwait, two countries that have enjoyed a long and prosperous relationship.'
Russian officials have been equally concerned. Vladimir Platonov, the President of the Moscow Chamber of Commerce and Industry, confirmed that a single witness gave testimony in Kuwaiti court, and only for the prosecution. 'I myself worked in prosecution for more than eight years, and I cannot imagine any judge signing off on an indictment like this,' he said. 'One fact of particular note is that Maria was given 1,800 pages of untranslated documents in Arabic.'
Serious questions surrounding the safety and future viability of investing in Kuwait are now being raised. Through The Port Fund, a private investment company managed by KGL Investment, Lazareva has contributed hundreds of millions of dollars to local infrastructure and economic development projects during her time in the country. Until 2017, when a Dubai bank froze $496 million without cause, she had worked largely unobstructed.
But as things stand, more foreign investment is unlikely to be forthcoming. Jim Nicholson has said that the 'imprisonment and harassment' of Lazareva 'threatens' U.S. support. adding that the 'willingness of the U.S. to do business with Kuwait' is based on 'its record as a nation that respects human rights and the rule of law'. Mark Williams, the investment director of The Port Fund and a colleague of Lazareva's, has called on international investors to 'think twice before doing business in this country'.
These comments will surely concern the Kuwaiti government, who said last year that FDI was 'very crucial' to the success of its Kuwait Vision 2035 road map. In September 2018, the FTreported that the government planned to reverse its traditional position as an investor in order to diversify its economy, carrying out a series of reforms designed to facilitate foreign investment and assist investors.
But despite these changes, which have propelled Kuwait to 96th—higher than the Middle East average—in the World Bank's 'Ease of Doing Business' report, investors may be unwilling to take the risk so long as Lazareva remains in jail. Lazareva's lawyers have accused Kuwait of violating international law by breaching a long-standing bilateral investment treaty with Russia. Lord Carlile of Berriew, QC has brought the case to the attention of the British public and the EU, writing in The Times that 'there is no evidential basis to justify any claim of dishonesty, corruption or any other criminal wrong'. He added: 'Anyone thinking of doing business in Kuwait should read on with mounting concern.'
What's worth remembering is that Kuwait is an important, long-standing ally of the UK, and a country generally seen as stable and fair. It is equally a major non-NATO ally of the United States, where there are more than 5,000 international students of Kuwaiti origin in higher education. But these relationships, and the investment to which they have historically led, have been cast into doubt. And it now seems certain that relations will continue to sour so long as Marsha Lazareva languishes in Soulabaiya.
Economic reform in the Gulf: Who benefits, really?
For Gulf leaders, long-overdue economic reforms were never going to be easy.
Leaders like the crown princes of Saudi Arabia and the United Arab Emirates, Mohammed bin Salman and Mohammed bin Zayed, quickly discovered that copying China's model of economic growth while tightening political control was easier said than done. They realised that rewriting social contracts funded by oil wealth was more difficult because Gulf Arabs had far more to lose than the average Chinese. The Gulf states' social contracts had worked in ways China's welfare programmes had not. The Gulf's rentier state's bargain—surrender of political and social rights for cradle-to-grave welfare—had produced a win-win situation for the longest time.
Moreover, Gulf leaders, struggling with mounting criticism of the Saudi-UAE-led war in Yemen and the fall-out of the killing of journalist Jamal Khashoggi, also lacked the political and economic clout that allowed China to largely silence or marginalise critics of its crackdown on Turkic Muslims in the troubled northwestern province of Xinjiang.
The absence of a welfare-based social contract in China allowed the government to power economic growth, lift millions out of poverty, and provide public goods without forcing ordinary citizens to suffer pain. As a result, China was able to push through with economic reforms without having to worry that reduced welfare benefits would spark a public backlash and potentially threaten the regime.
Three years into Mohammed bin Salman's Vision 2030 blueprint for diversification of the economy, Saudi businesses and consumers complain that they are feeling the pinch of utility price hikes and a recently introduced five per cent value-added tax with little confidence that the government will stay the course to ensure promised long-term benefit.
The government's commitment to cutting costs has been further called into question by annual handouts worth billions of dollars since the announcement of the reforms and rewriting of the social contract to cushion the impact of rising costs and quash criticism.
In contrast to China, investment in the Gulf, whether it is domestic or foreign, comes from financial, technology and other services sector, the arms industry or governments. It is focused on services, infrastructure or enhancing the state's capacities rather than on manufacturing, industrial development and the nurturing of private sector.
With the exception of national oil companies, some state-run airlines and petrochemical companies, the bulk of Gulf investment is portfolios managed by sovereign wealth funds, trophies or investment designed to enhance a country's prestige and soft power.
By contrast, Asian economies such as China and India have used investment fight poverty, foster a substantial middle class, and create an industrial base. To be sure, with small populations, Gulf states are more likely to ensure sustainability in services and oil and gas derivatives rather than in manufacturing and industry.
China's $1 trillion Belt and Road initiative may be the Asian exception that would come closest to some of the Gulf's soft-power investments. Yet, the BRI, designed to alleviate domestic overcapacity by state-owned firms that are not beholden to shareholders' short-term demands and/or geo-political gain, contributes to China's domestic growth.
Asian nations have been able to manage investors' expectations in an environment of relative political stability. By contrast, Saudi Arabia damaged confidence in its ability to diversify its oil-based economy when after repeated delays it suspended plans to list five per cent of its national oil company, Saudi Arabian Oil Company, or Aramco, in what would have been the world's largest initial public offering.
To be sure, China is no less autocratic than the Gulf states, while Hindu nationalism in India fits a global trend towards civilisationalism, populism and illiberal democracy. What differentiates much of Asia from the Gulf and accounts for its economic success are policies that ensure a relatively stable environment. These policies are focused on social and economic enhancement rather than primarily on regime survival. That may be Asia's lesson for Gulf rulers.
Author's note: first published in Firstpost