21st Century Great Power Scramble Rush to Indian Ocean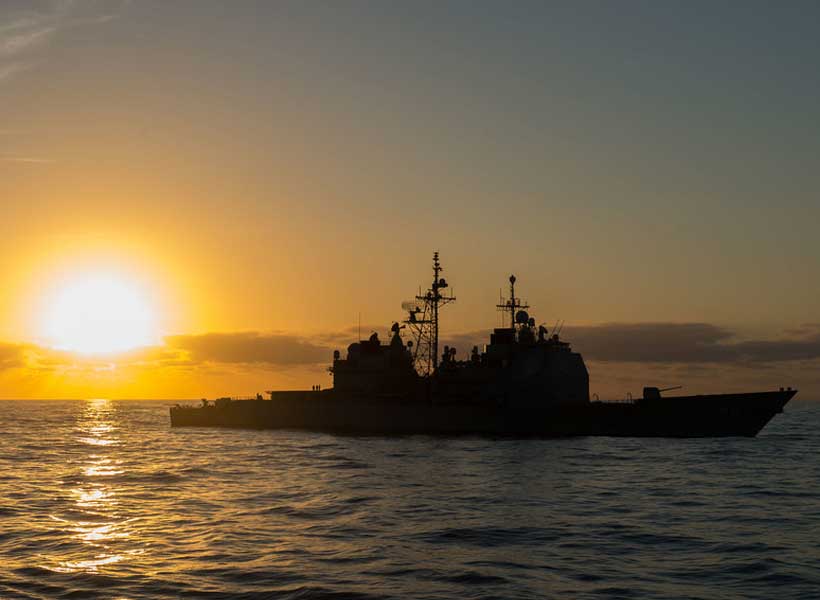 The Indian Ocean Region (IOR),dubbed as the 21stcentury's "pecuniary cauldron" has emerged to be the modern competitive zone for existing and emerging powers of the world. The global power patterns at present remain in the transformational stage. However, in the past the international community has seen spectrum of power shifting from bipolar to unipolar whereas at the present junction, the growing expectations are of a clash within materializing multipolarity. John Mearsheimer, renowned international relations scholar, deduces that in a multipolar world order there are greater likelihood for war, particularly when states in order to address "security dilemma" practice the offensive realpolitik approach.
Great power states are espying their futures in the high waters of the Indian Ocean that is third largest on the world map and is heavily packed with eccentric sea resources. India and China considering their geographical proximity remain the elitist contenders that are striving hard for the steering. The United States (US) remains a key player in the emerging scenario with the "Pivot towards Asia" gaining an exponential credibility under the Trump administration that looks towards the region under the broadly coined term "Indo-Pacific". It also signifies the strategic interest of the Americans, underlying that US is not ready to compromise on both ends. The policy of bandwagon with potential allies allows the "sole superpower" in wake of its declining power and influence to remain "hand-dipped" and relevant in the waters of the Indian Ocean. The years after British departure, US strengthened its footsteps in IOR by inheriting the Diego Garcia island base. At present, it continues to back India to contain China's "peaceful rise". The activities are supported by the Fifth Fleet which continues to rest beside the major choke points. The fleet has substantial presence near the Red Sea located at the closure of Bad-el-Mandab Strait. The naval convoys have long provided US the operational easiness since the Second World War against its potential foes. The fleet has since then with an intermission in its presence has extended its diameter to the Indian Ocean in the post-Cold war period.
The region holds overriding significance for China, whose staunch presence provides it with the prospect to pursue its economic and political interests in the South China Sea. It relies on 'The Sea Lines of Communication (SLOC)'for the essential energy consumption. The approximate of 80 percent of its oil requirement is fulfilled through these lanes from Middle East. In this ongoing setting, any blockade of Malacca and Hormuz Strait is almost exorbitant to the Chinese economy that is aiming to surpass the US economy in times to come. The oil-rich Middle East transports its petro-minerals via the Indian Ocean routes to the East and West. Any disruption in these communication lines can lead to economic collapses of major power relations, analogous to what was witnessed during the First and Second World War. Indian Ocean stores immense amount of resources in the form of islands, bays and straits in the waters and on the bordering regions whose control will remain reason for perpetual conflict. The Bay of Bengal holds in it range of fossil fuels and hydrocarbons. Andaman and Nicobar Islands located in the bay's premises are militarized by India.It has stationed its special naval forces in the demesne and aims to increase the patrolling networks in the region. India and China are contradicting each other with the apophthegm'enemy of your enemy is your friend'. Beijing coupled with Pakistan considering it as the classical rival to India whereas India openly sides with the US. With the 'Look East Policy', Delhi has gained new allies, most of whom are China's adversaries in the troubled waters of the South China Sea that are prescribed to react to the 'Strings of Pearls'.
Chinese enlargement in Gwadar via the China Pakistan Economic Corridor (CPEC) project with Pakistan, has made its economic presence firm and permanent in the area. The country has rendered a foreign policy as sympathizer to the developing states but Indian analyst describe is as a curtain of its goodwill knitted by China under the aim to grow its military control all across Indian Ocean borders. The Indian Ocean allows China to achieve its long-term goals to sustain immense fiscal growth, providing it a stronger position to deter enemies and contenders alike. The Omni presence of Beijing has raised inquisitive period in the international arena about the new potentials of Xi's administration. Will the Indian Ocean become another South China Sea and is an escalation likely, is an interesting question.US being not a direct participatory in region, has allowed India and China to exercise more openly in a region that is home to three nuclear powers.
Like always, there is uncertainty in what lies ahead in international relations. The 'peaceful rise of China', which can be labeled as the US equivalent to a 'new world order' seems to tackle the situation with diligence by providing a win-win situation to all parties. It also depends largely on the US and India, as to how far they are willing to push China, that could in the near future to influence the regional and international geopolitical setting. The economies of the People's Republic of China and India are flourishing day by day whereas the US economy remains contracted with the domestic and international opposition to the President Trump's economic vision. Yet, the economy of US remains at-least two fold greater than that of Beijing. However, the "Red Regan" is swiftly catching up and can fill the void in the decades to come. The puzzle considering the present geopolitical complexions remains uncertain as to which of the power would gain supremacy in the maritime space of the Indian Ocean. International law gives freedom of navigation in the international waters under the United Nations Convention on Law of the Sea (UNCLOS) 1982. However, with the speculation of historical evidences, international law could never have an eminent effect on the realist power maximization intentions of states.
Prime Minister K.P. Oli of Nepal miss the opportunity
In Nepal, Prime Minister K. P. Oli seems to stay in power by disrespecting his party members. He doesn't care about agreement made with his party co-leaders Prachanda regarding power sharing after Oli's 2.5 years reign. He bluntly made a statement that his party members are meeting covertly in hotels of Kathmandu to overthrow him with the assistance of India. This resulted to the seeding of conflict within party allowing Chinese ambassador running door to door for negotiating with party leaders to reconcile. Chinese ambassador to Nepal is engaging with Nepal Communist Party(NCP) leaders to keep K. P Oli in power but India wants to overthrow him. The Prime Minister post in Nepal is now became the platform where two big powers are colliding.
Oli's 2.5 years in office achievement is not satisfactory. The two underperforming arena are Foreign Policy & Economy. In Foreign Policy, Nepal is facing proxy war from the US-China global confrontation heat, India's assertiveness & defensive approach & Chinese greater engagement in Nepal comparing to past. Secondly, Nepal's philosophical confusion whether to continue full liberal capitalism model set by Nepali Congress or follow socialism model based on the ambition of communism. Oli's team is now surrounded by capitalist forcing them to decide in favor of them. By theory, they have to work for pro-poor(because they are communist). Secondly, capitalist lobby and party cadres aspiration smash together—every basic commodities like health, education should be free as said by cadres and capitalist see business in these sectors. Confrontation between party cadres aspiration and capitalist has made economy standstill. COVID-19 impact is bringing Nepal migrant workers back home. No one has plan to resettle them. Dependency with India is very much high. In 2017, Nepal imports from India worth US$6520 million( 64.95% of out of total imports) whereas Chinese exports to Nepal is worth of US$1267 million(12.63% out of total imports in Nepal). These two immediate neighbors exports more than 75% of commodities to Nepal making Nepal highly reliant state.
Oli instead of trimming down this dependency with India—engaged in "nationalist' war. He is unaware about India that his Sudurpaschmin & Karnali province youth has a employment opportunity in India. These provinces has very low HDI comparing with countrywide index. The HDI of Sudurpaschmin is 0.478 and Karnali province is 0.469. Youths of these provinces going to India for work because of very low job prospects on Nepal. This our ground reality. Underestimating this reality, Oli rhetoric on "Indian virus is more lethal than Chinese virus" had damaged the bilateral relationship to very extent. Unfortunately, the impact of such damage wont' have to bear by him but by the youth of Sudurpaschim and Karnali who are working in millions in India because we are clear Post COVID-19 Nepal won't have tremendous job boom in these provinces. So, they are again forced to go back to their work. During their presence in various job stations of India, they may be disrespected and bullied based on the Nepal's PM statement.
Secondly, Oli mishandling of foreign policy of Nepal—–becoming suicidal for Nepal. Nepal had long enjoyed a friendly relationships with almost every powers centers of the world. During the time of the Cold War also, Nepal had managed to deal effectively with both Russia & the US. But this time, Nepal's reactionary foreign policy tactics fuelled by Oli had made our immediate neighbors irritated and had also welcomed the US geostrategic presence in Nepal; knowingly or unknowingly. Each neighbors are having lack of trust in current Nepali government and wants to secure their interest by "overt or covert" operation. Nepal's Non-aligned foreign policy is seriously being challenged by Nepal's unorganized engagement in India-China-US frontiers. We are now came across crossroads—We are dependent on India for food, Close to China for political backup & supporting communist regime and more closer to the US for financial support. This will bring us to nowhere. India and China has sense of Competition & Collaboration(2C), US-China has a global confrontation on many sense. Nepal's closeness to India is not liked by mass public in Nepal. Nepal's communist party ally with China is not liked by India & the US. This is where the current ball is trapped. Nepal is in complete dilemma. The Belt & Road Initiative; the signature grand strategy of China & Indo Pacific Strategy(IPS) of the US are both ideologically confronts with each other. And, Nepal wants take advantage of these two based on the fragile diplomatic capacity that Nepal has.
Inside home politics, Oli has managed to concentrate power within him. The three powerful departments are: National Investigation Department, Department of Revenue Investigation & Department of Money Laundering Investigation have brought under the Prime Minister's office. This meaning, Intelligence department for "covert or overt" operation for his rivals and the remaining two "money" related department for "cleaning up" the money from offshore and freeing up the corruption charges for his loyal. This is dangerous. His path put us on doubt whether he wants to become new "dictator" for Nepal. Secondly, his jokes are not working anymore on public like that of pre-election period. Everyone is irritated. Oli crack jokes even in parliament at a time when country is hard hit by COVID-19. He suggest public to have turmeric powder as a solution to COVID-19 cure—which is a laughable matter for everyone. Unfortunately, this is not proven scientifically. Next to it, Oli is critically ill. He recently had a second Kidney transplant. How to become assure such critically ill person with the support of medicines can perform best for the country? He is even "misusing" president of Nepal to take decision in favor of himself. In recent time, President quickly approved the prorogation of the session of the parliament sent by the cabinet. This is a thinkable matter. How can institution like "President" can decide instantly without analyzing its constitutional & political challenges of the recommendation sent by the cabinet. Oli is hardly a school pass out leader and always vocal to "defame" intellectuals of Nepal. Nepali intellectuals irrespective of independent or democrats values are fade up Oli words. So, no use of criticizing such move of cabinet.
When his party members started to dethrone him for the first time; he had used "nationalism" card to put Limpiyadhura, Kalapani & Lipulekh area— encroached land by India on Nepal's official map resulting public applaud. But critics know this is a tactics to remain in power. When he came to power with full majority—he has everything: Two-third majority, massive opposition support and enormous public trust on him but he failed like those other governments made within 30 years span of Nepal's democratic life since 1990. He seriously missed the opportunity. This resulted to the Nepal's prosperity again in deadlock phase.
The haunting Karo-Kari culture in Pakistan's Sindh province
In the desolated land of district Ghotki in Pakistan's Sindh province, which is comprising of sand dunes, barren fields and mounds of many destroyed settlements of yesteryears/past, hundreds of unfortunate women are buried who have been killed by any male member of their families in the name of honor. Tattered clothes and footwear of women, scattered human bones everywhere and a deep silence state that there are so many tragic untold stories of women who are killed for being Karis (dishonored) have been associated with this no man's land. It is locally known as 'The valley of witches' so that people can be restricted from coming here and knowing the truth.
A local namely Rasool Bux tells an incident which happened to him a long ago here, 'During my childhood, I once was passing through this place and saw that a flock of wild dogs was eating something mercilessly. I first thought that it could be a dead animal but when I saw the clothes on the dead body came to know that it's a woman who might be buried by someone here and dogs had dig out the dead body. The blood curdling scene had made me seriously ill and for many days I was not in position to eat, talk or even walk. My parents thought that I had seen a witch but that was a woman's dead body.'
Besides this valley of witches, in Deh Pooh's Mehar Shah graveyard, a large number of Karis (women killed in the name honor) are buried in a separate corner and an aged woman has been performing here the duty of Mujawari (care taker) for years. She daily comes early in the morning, fills water in water pitchers, cleans graves/graveyard with broom and goes back to her home before sunset. She says 'My only loving daughter was declared as Kari and killed by her husband and father in law. She is buried here in that corner (she pointed her finger toward south-west corner) since that day I have been coming here to meet and take care of my unfortunate daughter. This is the last hope behind my existence.'
Next to it is Fatu Shaheed graveyard which is situated 7 kilometers away in south from Reti Railway Station. In Deh Derawaro, Gharho Pir and Pir Mehboob graveyards are also notorious as they all have separate corners for Karis. From the walking distance of the Kun Waro Qabarustan in Deh Pooh, hundreds of Karis are buried on a desolated sand dune. Once, a Hindu priest (Bhopa) was also caught red handed from here who was trying to carry a bagfilled with human bones. He also affirmed that this was his second effort of the same type and he had dig out hundreds of graves of women for using their bones in black magic.
At some distance from this point, in Deh Chacharki's Lundi Wara Luk area many Karis are buried which also include those educated mother and daughter, who revolted against the unfairness of their male family members on a property matter and were cruelly tortured and finally killed by their own male blood relatives after declaring them as Karis. According to a local who was the eyewitness of the incident 'They first shackled the hands of both women in a jeep, dragged them from home to here at this spot and then buried them without any funeral services.'
Hundreds of women are killed in the name of honor in Sindh province every year and shockingly there happens no registration of FIR (First Information Report) by the Police against the killers because the police couldn't find any clue and witness about murderers or even the whereabouts of dead bodies. Most of the cases remain unreported so the majority of the culprits remain safe. There is also involvement and pressure of local feudal lords (locally called Wadheras/Sardars in Sindhi language) in continuation of this negative social custom which have destroyed thousands of households in the province.
In a Karo-Kari case, mostly women suffer and men remain safe from being murdered. This happens because often the intensions behind declaring a couple, Karo happen to be financial and property related matters. Nobody takes any further efforts to prove those allegations 'false' because there happens no hearing or following of case after the murder of a Kari woman.
The height of our social backwardness can be measured from this Sindhi language phrase 'Wadhi ya Kadhi' means 'slaughter or kick out' which is considered as a powerful reply of a man when he finds that his woman has done anything wrong or betrayed him in a relationship. Kicking a woman out means giving her divorce which does not occur in most of the cases of Karo-Kari. Arranging a Jirga is the second and last part of this deplorable practice in which alleged man is pressurized to pay for the unproven guilt.
The women who get divorce from their men are handed over to relative Sardar's palace for serving but in most of the cases they are sold by the local Sardars and powerful landlords and those who don't get any buyer keep bearing the brunt for rest of their lives. According to a retired servant of a Sardar in upper Sindh(who requests to remain anonymous) his master/Sardar had sold around 2 dozen such women for approximately 5,000,000during his tenure of performing duties at his palace.
This is also a fact that for killing alleged Kari women, services of masters in this business are obtained. There are many such expert killers involved in honor killings in Sindh's Ghotki, Jacobabad and Kashmore districts who have killed more than 10 women in Karo-Kari. A local tells 'My uncle was famous in the area as an expert of honor killings as he alone killed more than 25 women throughout his nearly 100 years' life. People came to him for such matters and he used to do that very easily for a little amount of money.'
Now since the state has been taking some action against such unlawful killings of deprived women and pressure of non-governmental agencies working to defend women's rights starting to build up, the murderers have become adroit/clever and changed the modus-operandi of such killings. They now, first trace the desolated place and then kill the Kari women by expunging all the identities of the deceased. There is also another technique being used nowadays that is tying a stone to the neck of dead body and throw it in river/water body.
There is still a need that the awakened minds of the society must kick off an effective and decisive campaign against such social culprits in order to save the daughters of the Eve from the wildest humans of the social order because it's the only way out to change the muted mindset of this society.
One year Siege of Kashmir
It has been one year, that 900,000 troops deployed in Jammu and Kashmir to impose a strict curfew. Indian trained troops used excessive powers and draconian laws to suppress the legitimate movement for self-determination, United Nation Security Council (UNSC) has provided them in 1948. India is denying their legal right and defaulter of the UNSC for 72 years.
The situation became worst, when India unilaterally annexed Jammu, Kashmir, and Ladakh, on the 5th of August 2019, revoking the Indian Constitution, the UN Charter, and bilateral Shimla Agreement. Changed the special autonomous status of the J&K and Ladakh and merged as a union territory.
There was widespread criticism inside India as well as globally. The intellectuals, Scholars, moderate politicians, and opposition political; parties criticized this decision as warned the severe consequences.
UN, International community, EU, US, and global NGOs also criticized and condemned the serious violations of Human Rights and Violations of freedom of religion. Kashmiris, around the world, are protesting and agitating against the Indian Government's action in Kashmir.
It is one of the longest and largest curfews in the known human history. Indian troops are killing, torturing, kidnapping, detain, and raping the unarmed civilians. Damaging their properties, destroying their business, burning their agriculture, forcing them to give up their legitimate demand for self-determination. UNSC resolutions are legally binding on India to implement, but till date, India is denying.
The 87% of the population in J&K is Muslims, if plebiscite happens, the Muslims will vote for a merger with Pakistan. India due to this fear is delaying the plebiscite. On the other hand, India is issuing domicile to Hindus from other parts of India to settle in Kashmir. Special incentives are offered to Hindus from other parts of India to shift to Kashmir and settle down. Lucrative jobs are offered to non-Kashmiris, business incentives are extended to non-Kashmiris, Property &Agri-land, are offered to non-Kashmiris on priority. India is using all dirty tricks to change the demography of J&K. India wanted to change the Muslim majority status of J&K.
Recently, under a conspiracy, the Indian government sent 60,000 well trained, well equipped RSS youths into J&K, intending to kill the Muslims. Indian troops are shifting the Kashmiri youths to detention camps, which is an advanced stage of genocide. The well trained and well equipped RSS-youth are tasked to conduct a genocide of Muslims in Kashmir.
The people of Kashmir are under siege for one year, and strict curfew has created a shortage of food, fuel, electricity, and medicines. People's lives are at stake, many are starving with hunger. Young kids are the worst-hit victims. Women are raped as a tool and weapon to humiliate and degrade them.
Indian has surpassed all records of Human Rights violations in the history of humankind. The Amnesty International, Human Rights Watch, and other NGOs have reported all such violations. Although, there is a complete cut-off of J&K from the rest of the world, as mobile phones and internet services are suspended. There is a travel ban on Media and foreigners to enter J&K. Yet, a fraction of information is leaked to World Media.
Pakistan is obliged to extend its moral, diplomatic and political support to suppressed people of Kashmir. Pakistan is raising the J&K issue at all platforms including the UN. International media is reporting the situation in Kashmir. Yet the International community is silent, is beyond our understanding. May be the International community is waiting till the genocide happened to them they rush for photo-session, making videos, and making reports.
It is strongly appealed to the International community and civilized world and individuals with human consciousness, to act now to rescue human lives in Kashmir. Prompt action is required urgently to save human lives in Kashmir. Any delay might make us repent later on.