UNHCR: Saudi woman seeking asylum in Thailand 'now in a secure place'
The UN refugee agency, UNHCR, said on Monday that 18-year-old Saudi national Rahaf Mohammed Al-qunun, who had been stranded at Bangkok airport after fleeing her family in Kuwait, saying that she would be killed if forced to return, was "now in a secure place".
In a statement earlier in the day, UNHCR said it had been following developments over the past 48 hours closely and immediately sought access from the Thai authorities to meet with her.
The young Saudi told human rights groups and the media over the weekend that she had been stopped at Bangkok airport in transit from Kuwait, where her passport was taken from her. She claims she was fleeing her family and was planning to head to Australia and seek asylum there.
On Sunday, Ms. Mohammed Al-qunun had barricaded herself in a hotel room to prevent the Thai authorities from deporting her back to Kuwait. According to news reports, the Thai authorities agreed to give UNHCR access to her on Monday, in order to assess her claim to asylum.
UNHCR consistently advocates for the principle of non-refoulement, which states that anyone confirmed or claiming to be in need of international protection cannot be returned to a territory where their life or freedom are threatened. This principle is recognized as customary international law and is also enshrined in Thailand's other treaty obligations, according to UNHCR.
Thailand is not a party to the 1951 UN Refugee Convention or its 1967 Protocol defining the status of refugees.
For reasons of confidentiality and protection, UNHCR has not released any information on the details of the meeting that took place at the Bangkok hotel with the Saudi woman.
"She's now in a secure place, out of the hotel," said Cécile Pouilly, Senior Communications Officer for UNHCR, in an interview with UN News. "She's now in a state of emotional distress after all she's gone through and she needs to be given a bit of breathing space, but in the coming days, we will keep on meeting with her to try to assess her protection needs," she explained.
Latin America and Caribbean region deadliest for journalists in 2019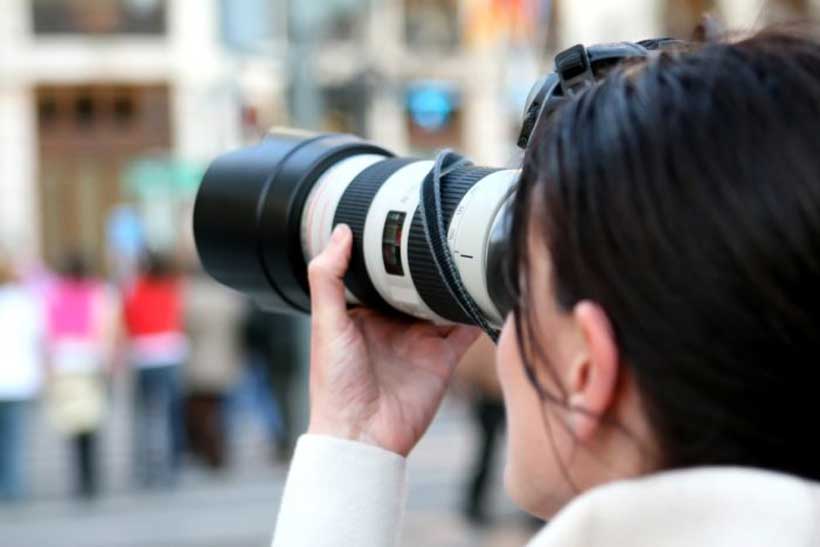 Twenty-two journalists were reported killed in the Latin America and Caribbean region in 2019, making it the deadliest part of the world for the press, followed by 15 in Asia-Pacific, and 10 in Arab States.
The figures come from the Observatory of Killed Journalists database, which is maintained by the UN Educational, Scientific and Cultural Organization (UNESCO). It shows that, over the last decade, 894 journalists were murdered, an average of almost 90 per year: journalist killings in 2019 dropped by almost half compared to 2018 (from 99 to 56), but members of the press still face extreme risks, in all regions of the world.
Local coverage more dangerous than war reporting
The UNESCO data shows that targeting local affairs, such as politics, corruption and crime, is more dangerous for journalists than covering war zones. Last year, almost two-thirds of cases occurred in countries not experiencing armed conflict, and the vast majority involved reporters covering their local patch.
In November 2019, on the International Day to End Impunity Against Journalists, UNESCO launched a campaign, #KeepTruthAlive, to draw attention to the dangers faced by journalists close to their homes, highlighting the fact that 93 per cent of those killed worked locally. The campaign featured an interactive map, providing a vivid demonstration of the scale and breadth of the dangers faced by journalists worldwide.
An attempt to silence criticism
In a statement released on Monday, UNESCO declared that attacks on journalists are an attempt to silence critical voices and restrict public access to information.
Aside from the risk of murder, journalists increasingly experience verbal and physical attacks in connection with their work. Over recent years, there has been a marked rise in imprisonment, kidnapping and physical violence, amid widespread rhetoric hostile to the media and journalists.
Women in the media are particular targets, says UNESCO: they are often targets of online harassment, and face threats of gender-based violence.
UNESCO is committed to improving the safety of journalists worldwide and ensure that crimes against them do not go unpunished.
A report published by the agency in November 2019 showed that only 10 per cent of attacks are prosecuted, and less than one in eight cases recorded by UNESCO since 2006 have been resolved.
Major humanitarian hub in north-east Nigeria burned in attack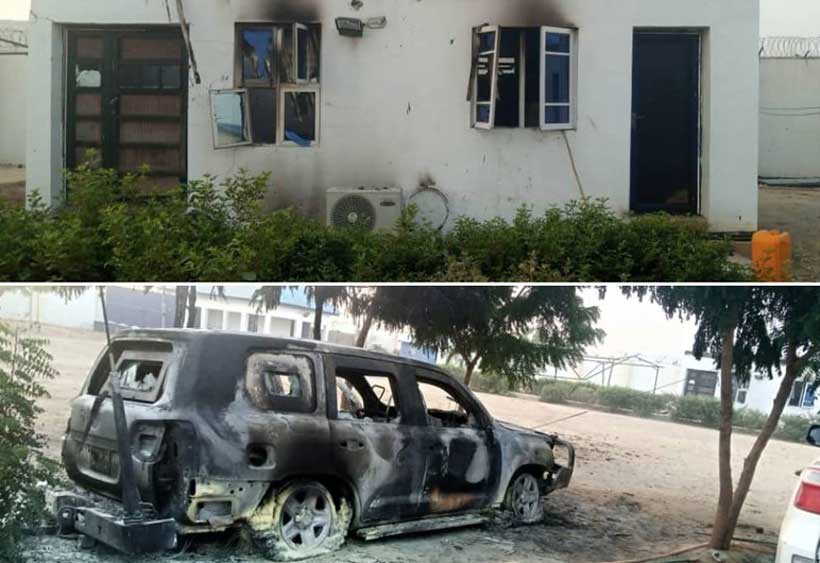 The top UN aid official in Nigeria has condemned a weekend attack against a major humanitarian facility in the north-east of the country.
Non-State armed groups targeted the humanitarian hub in Ngala, Borno state, on Saturday evening, burning an entire section of the facility as well as a vehicle used in aid deliveries.
Five UN staff were staying there at the time but escaped unharmed due to security measures in place.
Edward Kallon, UN Humanitarian Coordinator in Nigeria, expressed outrage over the incident.
"I am shocked by the violence and intensity of this attack, which is the latest of too many incidents directly targeting humanitarian actors and the assistance we provide," he said on Monday.
"I am relieved all staff is now safe and secure. Aid workers, humanitarian facilities and assets cannot be a target and must be protected and respected at all times."
Northern Nigeria has been in the grip of a Boko Haram insurgency for about a decade, which has led to widespread displacement.
Last year, more than 10,000 people arrived in Ngala, searching for security and basic services, the UN humanitarian affairs office, OCHA, reported.
'Disastrous effect' on vulnerable
Mr. Kallon said attacks against humanitarians have a "disastrous effect" on the vulnerable people they support.
"Many of them had already fled violence in their area of origin and were hoping to find safety and assistance in Ngala. This also jeopardizes the ability for aid workers to stay and deliver assistance to the people most in need in remote areas in Borno State," he said.
Overall, the UN and partners are bringing vital assistance to more than seven million people in three states affected by the crisis. Besides Borno, they also are operational in neighbouring Adamawa and Yobe states.
OCHA said aid workers in Nigeria are increasingly being targeted in attacks. Twelve were killed last year, which is double the number killed in 2018.
Meanwhile, the UN and its humanitarian partners continue to call for the safe release of two aid workers who remain in the hands of non-State armed groups after being abducted in separate incidents in Borno state.
Grace Taku, a staff member with Action Against Hunger, was abducted alongside five male colleagues near Damasak in July 2019. The men were all killed, according to media reports.
The other aid worker, Alice Loksha, a nurse and mother, was kidnapped during an attack in Rann in March 2018.
Syrian conflict has 'erased' children's dreams -new UN report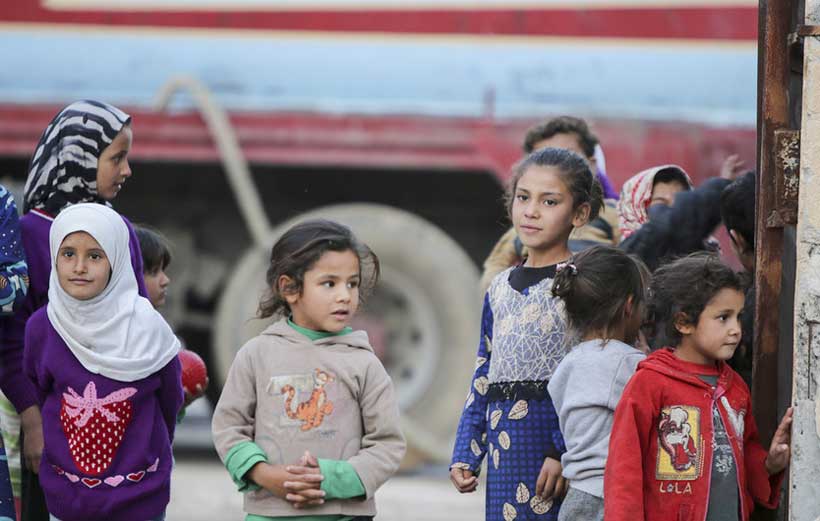 Nearly nine years of conflict in Syria have robbed boys and girls of their childhood and subjected them to "unabated violations of their rights", including being killed, maimed, displaced, forced to fight or subjected to torture, rape and sexual slavery.
The findings come in the latest report by the UN Commission of Inquiry on Syria, released on Thursday.
"I am appalled by the flagrant disregard for the laws of war and the Convention on the Rights of the Child by all parties involved in the conflict", said Commission chair Paulo Sérgio Pinheiro.
"While the Government of the Syrian Arab Republic has the primary responsibility for the protection of boys and girls in the country, all of the actors in this conflict must do more to protect children and preserve the country's future generation."
Dreams erased
The three-member Commission was appointed by the UN Human Rights Council to investigate and record all violations of international law related to the Syrian conflict, which began in March 2011.
Its latest report is entitled: They have erased the dreams of my children – a quote taken from a 2012 interview with a woman discussing attacks on her village in Idlib.
The study is based on approximately 5,000 interviews conducted between September 2011 and October 2019 with Syrian children, but also eyewitnesses, survivors, relatives of survivors, medical professionals, defectors, members of armed groups, healthcare professionals, lawyers and other affected communities.
The Commission said the use of cluster munitions, so-called thermobaric bombs and chemical weapons by pro-Government forces, have caused scores of child casualties.
Additionally, children's experiences in the conflict "have been deeply gendered."
Women and girls worst affected
Women and girls are "disproportionally affected" by sexual violence, and the threat of rape has led to restrictions in their movements. Girls have been confined to their homes, removed from school or faced obstacles to access health care.
Meanwhile, boys, particularly those 12 and over, have been arrested and kept in detention facilities, and targeted for recruitment by armed groups and militia.
"The younger ones are very good fighters. They fight with enthusiasm and are fearless. Fighters who are 14 -17 years old are on the frontline", a person associated with an armed group told the authors.
The war has also had an impact on access to education, with more than 2.1 million children not regularly attending classes of any form.
"Urgent efforts are required by the Syrian Government to support as many children as possible to return to education. Armed groups holding territory also need to act with haste to facilitate access to education," said Karen AbuZayd, one of the commissioners.
Commit to protecting children
The report also expresses concern over the severe impact the conflict has had on children's long-term physical and mental health.
Large numbers of young Syrians now have disabilities as well as devastating psychological and development issues. Additionally, fighting has displaced some five million children.
As the mother in Idlib stated: "They have erased the dreams of my children. They have destroyed what we have built during our whole life; my daughter was so depressed when she found out that our house was burnt down. My other child, a three-year-old boy, is traumatized by the crisis. He is continuously drawing tanks."
The Commission members called on all sides to "commit in writing" to granting children special protection during wartime, in line with international law.
Other recommendations include ending child recruitment and taking child rights into consideration during military planning.
They stressed that displaced children also require protection, which includes the obligation to repatriate children with family ties to ISIL extremist fighters.
"States have well defined obligations to protect children, including from statelessness. Failing to abide by such fundamental principles would be a clear derogation of duty," said Commissioner Hanny Megally.