Follow the Road Less Travelled to Um Qais
Steeped in history, Jordan has hosted some of the world's oldest civilisations. Home to ancient ruins, lush valleys, and dramatic desert landscapes, the country has a character all of its own and is renowned as a land of wonders. Four Seasons Hotel Amman offers a fresh range of individually tailored excursions that provide exclusive access to the many hidden gems this marvelous destination has to offer.
Connect with Jordan's Hidden Gems
Most visitors will be familiar with the ancient Nabataean site of Petra or the charms of the Dead Sea. But what of the more elusive experiences, known only to those who venture off the beaten track? Four Seasons works closely with local sustainable service provider Baraka Destinations to connect guests to the best and most authentic experiences around the historical town of Um Qais, which sits in close proximity to the ruins of Gadara and overlooks the Lake of Tiberias and the Yarmouk River gorge. The town is around two hours north from Four Seasons Hotel Amman, and the Hotel team can arrange a comfortable vehicle for the party to enjoy a leisurely trip through the scenic countryside.
Take in Breath-Taking Views of the Mountains and Sea
Located in the hills above the Jordan Valley, Um Qais offers an abundance of hiking, cycling and camping activities. Experience the magic of the great outdoors, complete with amazing views of the Lake of Tiberias, the Golan Heights, and Yarmouk Nature Reserve. Expert local guides Ahmad and Ala'a will accompany guests on a variety of hiking and biking trails, which range from leisurely strolls suitable for beginners to challenging routes aimed at more advanced skill levels. For the ultimate return to nature, Four Seasons can arrange a special camping getaway where guests will spend an unforgettable night under the stars.
Harvest Nature's Bounty
Cultivate a deeper connection to nature in the search for edible plants on the hills surrounding Um Qais. For seven months of the year, the fertile farmland yields olives, almonds, and many other wild ingredients. These include akkoub, a type of tumble thistle that tastes similar to artichoke, and loof, an indigenous plant with large green leaves and a long history for its medicine and food use in the Middle East. Foraging groups will learn more about the area's biodiversity with the help of Ahmad, a highly knowledgeable local guide. He will reveal how the act of foraging triggers a greater appreciation of one's surroundings, as guests take the time to slow down, pause, and take a look around. Once satisfied with the haul, guests can put the ingredients they have gathered to good use in a cooking class at Galsoum's Kitchen.
Learn the Art of Cooking Regional Dishes
Dine like a true Um Qaisawi with a cooking  class at Galsoum's Kitchen. Galsoum, also known as Um Sulaiman (or "mother of Sulaiman") invites Four Seasons guests to join her in the charming and informal surroundings of her home. Here, they will learn how to prepare unique local dishes, rich with the full-bodied flavours that only the freshest ingredients can bring. To fully experience a place and culture, it is important to engage all of the senses. In Um Qais, an afternoon spent cooking and sampling local flavours with Um Sulaiman is a perfect place to start. Northern Jordan has rich soil, and experiences more rain than other parts of the country. These environmental differences have led to the use of some unique ingredients. Guests can discover how to get the best out of these at Galsoum's Kitchen, and pick up some Arabic words along the way. Once home, guests can share their new culinary knowledge with friends and family.
Get a Buzz from Apiculture
Discover the true origin of the expression "busy as a bee" with a trip to a beekeeping site in Um Qais. Here, guests will meet Yousef, the local beekeeper, who will treat everyone to an exclusive peek into the world of a working beehive. Watch as the queen lays eggs, while her workers deliver the pollen and nectar necessary to create the honeycomb. To round off the visit, guests can enjoy the taste of all-natural honey, freshly created in this bustling hive of activity.
Crafting Unique Experiences
The Concierge team at Four Seasons Hotel Amman takes great pride in crafting highly personalised itineraries. Taleen Halaseh, Chef Concierge at the Hotel, says "At Four Seasons, we aim to offer our guests unique opportunities to enjoy authentic local experiences. These excursions provide travellers with a fascinating glimpse into daily life in rural Jordan, and capture the special atmosphere of the Um Qais area, where the community still retains a strong connection to their traditions and heritage. It is extremely rewarding to help prepare a guest's schedule, listening to their interests and anticipating that they're going to enjoy a truly memorable experience. Time and again we see guests return with smiling faces, and like all the team at the property, I'm delighted to play a small part in making their stay an unforgettable one."
Offering a True Taste of Local Character
This passion to showcase and preserve the local way of life is at the heart of Baraka Destinations' packages, according to Muna Haddad, Founder and Managing Director. "Baraka was created to partner with local communities in lesser-known tourism sites and work with them to develop experiences that introduce their hometown to curious visitors. You'll find us working in areas that are overlooked by most tourists; we aim to give people the opportunity to get to know these secret places, and connect with the people that call them home. We follow a sustainable tourism model, which leaves minimal impact on the environment and offers maximum benefits for local communities, while exceeding the expectations of today's discerning and adventurous travellers."
Contact the concierge team at Four Seasons Hotel Amman today to find out more about the exciting experiences that await in Um Qais. Stay tuned for details of more delightful excursions in nearby Pella, one of the ten historic Decapolis cities that were established during the Hellenistic period.
Four Seasons Hotel Mexico City Reveals Five of the City's Hidden Gems
The Concierge team at Four Seasons Hotel Mexico City, members of the Les Clefs d'Or international association, invites you to an exhilarating exploration of one of the world's most exciting hubs of art, architecture design and gastronomy. From the heart of the city to its surrounding areas, enrich your experience with its myriad offering of hidden treasures.
An Authentic Ancestral Culinary Experience in Xochimilco
Discover the secrets of the floating gardens of Xochimilco and learn about an ancient farming method handed down through generations from the pre-Hispanic era. Four Seasons Hotel Mexico City will guide you on this enriching experience and share the harvest of its chinampa in an exquisite lunch prepared especially for you by our Executive Chef Emiliano Rabia. Let a colourful trajinera lead you on this unique journey to the past, ready to conquer the present.
The Captivating Quietude of a Private Park: Parque Quetzalcoatl
Built by Mexico's top exponent of organic architectur, Javier Senosiain, this 5000 square-metre (54,000 square foot) park located on the fringes of the capital is a sight to behold. Senosian's reverence for nature and pride in Mexican culture inspired him to design this lost horizon exemplifying man's complete communion with nature.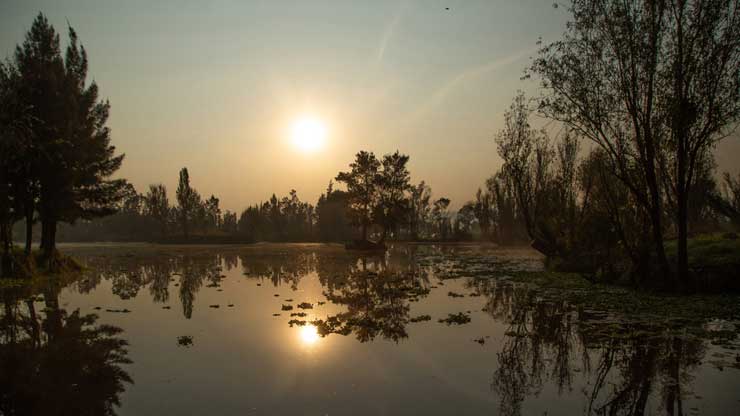 A Flight to Remember: Hot Air Balloon Ride at Teotihuacan Pyramids
Let a balloon take you high and see the Teotihuacan pyramids from the sk.! Get your day to an early start, and feel the thrill that will buck up your hear.! Combine your flight with a challenging climb to the top of the pyramids, and bask in the beauty and unsolved mysteries of these magnificent ancient temples.
Treasures in the Valley: Luís Barragán Masterpieces from the 20th Century
An enormous pink wall facing horses in a stable, nor a flight of stairs that seem to have no end. You just have to feel the way Luís Barragán did. That is what his architecture is all about: spirituality and emotion.
Muralism in a League All its Own: Rafael Cauduro at the Supreme Court of Justice
Within the walls of the Supreme Court of Justice are scintillating manifestations by various artists on justice in Mexico, and the most riveting of all are the murals painted by Rafael Cauduro. As beautiful as they are thought-provoking, Cauduro's murals capture Mexico's turbulent history in powerful images portraying the different faces of injustice on individuals – a stark contrast between the artist's dazzling visuals and the disturbing situations they depict.
Top 10 Reasons to Come Back to Tokyo
Rediscover Japan's captivating capital with these top 10 experiences, curated by the Concierge team at Four Seasons.
1. Stay at Four Seasons Hotel Tokyo at Otemachi. Experience next-generation luxury at Four Seasons, soaring high above the financial heart of Tokyo. With its breathitaking array of views, inventive gastronomy and carefully-crafted aesthetic, Four Seasons Hotel Tokyo at Otemachi takes guests on a sensory journey of discovery. Take in 360-degree panoramas of the Imperial Palace and its lush gardens, cityscapes punctuated by the Tokyo Skytree, and even Mount Fuji on clear days. Sky-high rooftop terraces offer the best seats in town to sublime seasonal landscapes, elevated by personalised service and a bevy of drinking and dining experiences. Tokyo's modern energy and honoured traditions come together seamlessly at this highly-anticipated urban retreat.
2. Celebrate an iconic matsuri (festival). Join the festivities of Kanda Matsuri, a kaleidoscopic parade of floats, mini-shrines, dancers, musicians and priests on horseback. Held over a weekend in mid-May, the vibrant procession begins at Kanda-jinja Shrine located near Four Seasons, then winds its way to Otemachi – all the while accompanied by resounding chants to the beat of taiko drums. Dating back to 1600, Kanda Matsuri has its origins in Tokugawa Ieyasu's victory in the Battle of Sekigahara, which cleared his path to the shogunate.
3. Watch a wondrous firework display. Marvel at a dramatic dance of light, colour and music at the Sumida River Fireworks Festival, a signature summer event in Tokyo. Join local residents for the revelry, many of whom come with loved ones to enjoy the "flowers in the sky." Observed by nearly one million people gathered along the riverside, in boats and on rooftops, the spectacular display lights up the night sky for over an hour and a half. Tokyo's pyrotechnic craftsmen are constantly experimenting with new shapes and colours – meaning you get to witness some truly creative fireworks.
4. Savour a starred epicurean adventure. Home to an astounding 226 Michelin-starred restaurants, Tokyo holds the title of Michelin capital of the world. Compared with its counterparts such as Paris and London, the city offers the chance to enjoy multiple award-winning meals without breaking the bank. Choose from an intriguing variety of venues and cuisines as you wine and dine your way across this foodies' paradise, from intimate tucked-away gems to dining establishments that love being in the spotlight. Get in touch with the Concierge at Four Seasons to tailor the perfect gastronomic itinerary.
5. Drink coffee like it's the 1920s. Long before Starbucks, Tokyoites got their caffeine fix at kissaten (old-school coffee shops). Born at a time when Japan was modernising, these social hubs welcomed everyone from salarymen to university students. Step into a world seeped with nostalgia at one of the many kissaten that still dot the city, from moody jazz cafés to literary establishments lined with books. At Café de l'Ambre in Ginza, you can sample single origin varieties aged for 10-20 years and brewed with a cloth filter, while Koffee Mameya in Omotesando stocks beans from great roasters around the world.
6. Soak in the spirit of Omotenashi. A quintessentially Japanese notion, Omotenashi refers to authentic local hospitality that anticipates the needs of others and values attention to detail. Notice the touches of Omotenashi sprinkled into everyday life in Tokyo – from the way staff bow their heads and greet you warmly when you enter a store, to how the taxi door opens automatically without you having to reach for it.
7. Zip through Japan in plush comfort. A ride on the Shinkansen bullet train is an adventure in itself. Famed for their smoothness and punctuality, these sleek marvels of Japanese engineering clock speeds of up to 200 miles (325 kilometres) per hour. Experience train travel like never before in the Gran Class, an exclusive car with ultra-spacious seating, gourmet meals and a dedicated host. Other luxury trains offer the feeling of a boutique hotel on wheels. Take in the majestic beauty of northern Japan from aboard the Royal Express by Tokyu Dentetsu, featuring observation decks, wood-panelled interiors and menus by a Michelin-starred chef.
8. Explore oh-so-Japanese stationery. For stationery connoisseurs, Tokyo is a land of endless delights. With every changing season, Japanese stationery companies release new line-ups of products – from sophisticated gadgets and writing instruments, to themed letter sets and journals. Stock up on your favourites at Maruzen Marunouchi bookstore, LoFT in Ginza or Shibuya, and Tokyu Hands in Shinjuku. A must-visit for artists, Pigment Tokyo in Shinagawa stocks an incredible range of art supplies, including pigments in 4,500 hues, 200 kinds of Sumi ink sticks, and 50 types of isinglass.
9. Immerse in inventive digital art. Discover a mind-bending world of artwork without borders, a museum without a map. Spread across 10,000 square feet (930 square metres), the teamLab Borderless Museum houses exhibits that transition through different spaces, intermingle with each other, and are influenced by the audience. Created by a group of ultra-technologists, these immersive pieces of art and music unlock new ways for the self to interact with the world. You are encouraged to participate through touch and movement, and create a new reality with others – no two visits are exactly the same.
10. Take a storied architectural journey. Experience Tokyo's fascinating evolution through its iconic buildings. Travel back to 1931 at KITTE, occupying the former premises of the Central Post Office – an early 1900s structure that was set to be replaced with a skyscraper until the then-communications minister stepped in to preserve its historic façade. Fast-forward to Japan's Metabolism movement at Yoyogi National Gymnasium, built for the 1964 Tokyo Olympics and featuring a swooping roof that recalls both a shrine and an upturned boat. Return to the present with a tour of buildings designed by Kengo Kuma, one of today's most influential Japanese architects, known for a fluid aesthetic that blends in with the surrounding environment.
7 Expert Tips for Wish List Travel without Breaking the Bank
Although most travelers were grounded since March 2020, their wanderlust continued to thrive. And now, as restrictions loosen in many areas, they are ready to embark on their dream excursions.
Three in four Americans plan to venture off to wish list locations on their next trip, according to a recent Hilton survey. Among their most desired destinations: the lush Hawaiian capital of Honolulu, the bright lights of Las Vegas and the bustling streets of New York City.
After a year of staying put, travelers are ready to splurge. Over half of the survey respondents (55%) said they plan to spend, on average, $2,100 more on their dream trip than they would have prior to the pandemic.
While the willingness is there, there is no need to break the bank. With a little budgeting and creativity, an affordable dream vacation is within reach. To help travelers plan the perfect trip for their wallet, Hilton has partnered with Patrice Washington, financial expert and author of "Redefine Wealth for Yourself." Here are her top tips:
Set a Budget: A wish list trip shouldn't send you into debt. Research costs associated with your dream vacation ahead of time — activities, meals, airfare, lodging and more — and from there, set and stick to a budget. Tracking your monthly expenses is a great way to determine where to cut back and how much money to set aside.
Join A Loyalty Program:
Tapping into a rewards program can also make travel more value-driven. Members of Hilton's guest loyalty program, Hilton Honors, have access to instant benefits and rewards, as well as hundreds of ways to earn and redeem Points, like special global promotions and free nights. With the Points Explorer tool, members can explore wish list destinations to see where their Points can take them, and they can also choose from nearly any combination of Points and money to book a stay. Additionally, elite members have the option to select a complimentary dining benefit during hotel stays at several Hilton brands, a Daily Food & Beverage Credit in the U.S. and Continental Breakfast elsewhere, allowing them to save — even if for one meal a day — on dining while traveling. Members can also take advantage of partnerships, including car rentals and ridesharing with Lyft to earn or redeem Hilton Honors Points.
Apply for a Travel Credit Card:
As travel rebounds, now is a great time to apply for a travel credit card to start earning on your trip expenses and everyday purchases. New card member incentives and offers for existing card members can earn you Hilton Honors Bonus Points on purchases that can help reach those dream destinations even faster.

For a limited time, eligible new Hilton Honors American Express Card Members who apply and are approved by August 25, 2021 can take advantage of two special offers. With the Hilton Honors American Express Card, new members can earn 100,000 Hilton Honors Bonus Points after spending $1,000 in purchases in the first 3 months, plus up to $100 statement credits on purchases at Hilton in the first 12 months. With the Hilton Honors American Express Surpass Card, new members can earn 130,000 Hilton Honors Bonus Points after spending $2,000 in purchases in the first 3 months, plus $0 introductory annual fee for the first year (thereafter the annual fee is $95). Plus, the Hilton Honors American Express Surpass Card offers Gold status with Hilton Honors, Free Night Certificates when you spend $15,000 on eligible purchases on your Card in a calendar year, and valuable Points on everyday purchases that you can put toward your wish list vacation. Terms apply.
Be Flexible with Travel Dates:
Making your vacation more affordable doesn't mean losing sight of your wish list destination. Being flexible with timing and open to off-peak seasons could inject added value into your trip. For the 20% of Americans who have Miami atop their wish lists, staying at Hilton Garden Inn Miami South Beach or nearby at Tru by Hilton Fort Lauderdale Downtown during the off-season still lets you enjoy the best of what South Florida has to offer without the crowds.
Think Beyond Resorts:
Accommodations are one of the biggest expenses on any vacation, but the money you save on lodging can be used toward memorable tours and excursions. With more than 2,200 hotels around the U.S., you're never more than 30 minutes away from a Hampton, and with the dual-brand Hampton by Hilton Las Vegas Convention Center and Home2 Suites by Hilton Las Vegas Convention Center, you don't have to look far to find the value-added amenities and hospitality Hilton is known for at a cost-conscious price point.
Go Big at Lunch:
Seeking out local cuisine is a great way to experience the flavor of a wish list destination. Prices at restaurants during the afternoon tend to be cheaper than dinner — and eating a substantial mid-day meal could fuel you up for an afternoon and evening of adventure.
Book a Room with a Kitchen:
Keeping it simple for a few meals is an easy way to cut back on spending. The spacious suites with fully-equipped kitchens at Homewood Suites by Hilton New Orleans French Quarter and kitchenettes at Embassy Suites by Hilton San Diego Bay Downtown give you the freedom to plan out and prepare meals or tropical cocktails in your room after a day of adventure.
At the end of the day, wish list travel is all about making unforgettable memories. As life begins to return to normal, following these budget-savvy tips will help prepare you for the trip you've always imagined. What are you waiting for? Start planning today!