Follow the Road Less Travelled to Um Qais
Steeped in history, Jordan has hosted some of the world's oldest civilisations. Home to ancient ruins, lush valleys, and dramatic desert landscapes, the country has a character all of its own and is renowned as a land of wonders. Four Seasons Hotel Amman offers a fresh range of individually tailored excursions that provide exclusive access to the many hidden gems this marvelous destination has to offer.
Connect with Jordan's Hidden Gems
Most visitors will be familiar with the ancient Nabataean site of Petra or the charms of the Dead Sea. But what of the more elusive experiences, known only to those who venture off the beaten track? Four Seasons works closely with local sustainable service provider Baraka Destinations to connect guests to the best and most authentic experiences around the historical town of Um Qais, which sits in close proximity to the ruins of Gadara and overlooks the Lake of Tiberias and the Yarmouk River gorge. The town is around two hours north from Four Seasons Hotel Amman, and the Hotel team can arrange a comfortable vehicle for the party to enjoy a leisurely trip through the scenic countryside.
Take in Breath-Taking Views of the Mountains and Sea
Located in the hills above the Jordan Valley, Um Qais offers an abundance of hiking, cycling and camping activities. Experience the magic of the great outdoors, complete with amazing views of the Lake of Tiberias, the Golan Heights, and Yarmouk Nature Reserve. Expert local guides Ahmad and Ala'a will accompany guests on a variety of hiking and biking trails, which range from leisurely strolls suitable for beginners to challenging routes aimed at more advanced skill levels. For the ultimate return to nature, Four Seasons can arrange a special camping getaway where guests will spend an unforgettable night under the stars.
Harvest Nature's Bounty
Cultivate a deeper connection to nature in the search for edible plants on the hills surrounding Um Qais. For seven months of the year, the fertile farmland yields olives, almonds, and many other wild ingredients. These include akkoub, a type of tumble thistle that tastes similar to artichoke, and loof, an indigenous plant with large green leaves and a long history for its medicine and food use in the Middle East. Foraging groups will learn more about the area's biodiversity with the help of Ahmad, a highly knowledgeable local guide. He will reveal how the act of foraging triggers a greater appreciation of one's surroundings, as guests take the time to slow down, pause, and take a look around. Once satisfied with the haul, guests can put the ingredients they have gathered to good use in a cooking class at Galsoum's Kitchen.
Learn the Art of Cooking Regional Dishes
Dine like a true Um Qaisawi with a cooking  class at Galsoum's Kitchen. Galsoum, also known as Um Sulaiman (or "mother of Sulaiman") invites Four Seasons guests to join her in the charming and informal surroundings of her home. Here, they will learn how to prepare unique local dishes, rich with the full-bodied flavours that only the freshest ingredients can bring. To fully experience a place and culture, it is important to engage all of the senses. In Um Qais, an afternoon spent cooking and sampling local flavours with Um Sulaiman is a perfect place to start. Northern Jordan has rich soil, and experiences more rain than other parts of the country. These environmental differences have led to the use of some unique ingredients. Guests can discover how to get the best out of these at Galsoum's Kitchen, and pick up some Arabic words along the way. Once home, guests can share their new culinary knowledge with friends and family.
Get a Buzz from Apiculture
Discover the true origin of the expression "busy as a bee" with a trip to a beekeeping site in Um Qais. Here, guests will meet Yousef, the local beekeeper, who will treat everyone to an exclusive peek into the world of a working beehive. Watch as the queen lays eggs, while her workers deliver the pollen and nectar necessary to create the honeycomb. To round off the visit, guests can enjoy the taste of all-natural honey, freshly created in this bustling hive of activity.
Crafting Unique Experiences
The Concierge team at Four Seasons Hotel Amman takes great pride in crafting highly personalised itineraries. Taleen Halaseh, Chef Concierge at the Hotel, says "At Four Seasons, we aim to offer our guests unique opportunities to enjoy authentic local experiences. These excursions provide travellers with a fascinating glimpse into daily life in rural Jordan, and capture the special atmosphere of the Um Qais area, where the community still retains a strong connection to their traditions and heritage. It is extremely rewarding to help prepare a guest's schedule, listening to their interests and anticipating that they're going to enjoy a truly memorable experience. Time and again we see guests return with smiling faces, and like all the team at the property, I'm delighted to play a small part in making their stay an unforgettable one."
Offering a True Taste of Local Character
This passion to showcase and preserve the local way of life is at the heart of Baraka Destinations' packages, according to Muna Haddad, Founder and Managing Director. "Baraka was created to partner with local communities in lesser-known tourism sites and work with them to develop experiences that introduce their hometown to curious visitors. You'll find us working in areas that are overlooked by most tourists; we aim to give people the opportunity to get to know these secret places, and connect with the people that call them home. We follow a sustainable tourism model, which leaves minimal impact on the environment and offers maximum benefits for local communities, while exceeding the expectations of today's discerning and adventurous travellers."
Contact the concierge team at Four Seasons Hotel Amman today to find out more about the exciting experiences that await in Um Qais. Stay tuned for details of more delightful excursions in nearby Pella, one of the ten historic Decapolis cities that were established during the Hellenistic period.
Top 4 Drives around Beverly Hills and L.A. to Experience in a 2019 Maserati Levante SUV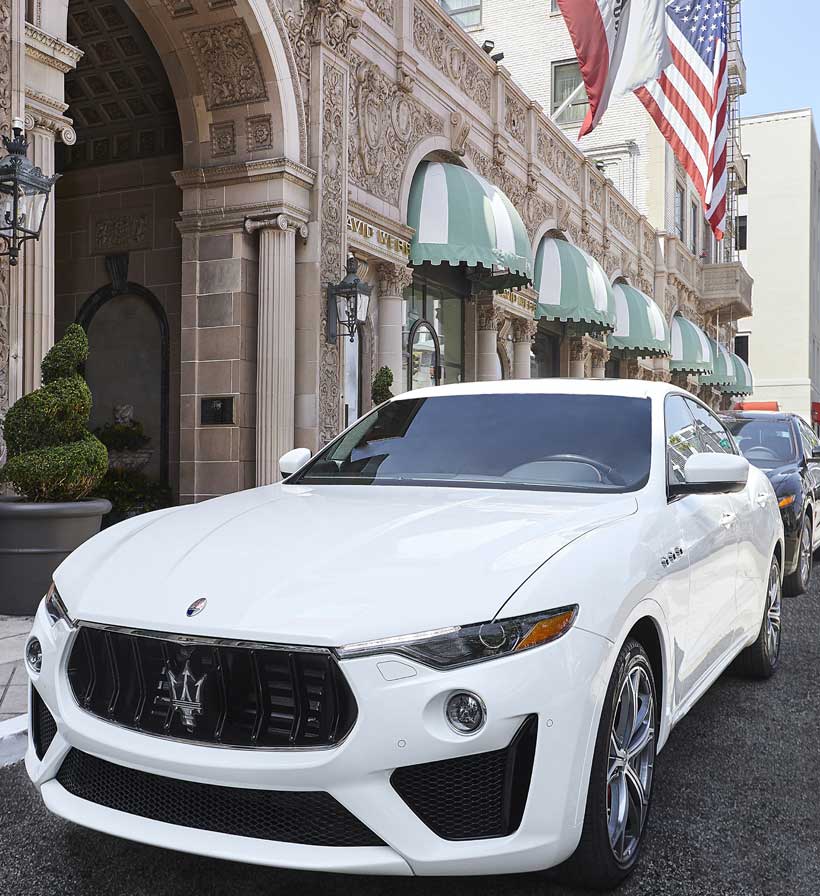 With a deep history of more than 100 years of Italian craftsmanship, Maserati's DNA is a balance of luxurious, sophisticated style paired with the soul of a race car. And as part of a new stay-and-drive package at Beverly Wilshire, A Four Seasons Hotel, the following driving tour suggestions will help guests experience the famed Maserati lifestyle and all that Beverly Hills and Los Angeles has to offer.
Rodeo Drive "Italian Craftsmanship" Loop
1 mile (1.6 kilometre) loop that takes approximately 10 minutes without traffic
Undeniably one of the most famous streets around the globe, experience luxury on this loop around the legendary Rodeo Drive. Expertly pairing Maserati's history of creating exquisite masterpieces with the storied history of Beverly Wilshire, A Four Seasons Hotel, car aficionados and enthusiasts will enjoy the best of Beverly Hills from a Maserati Levante.
Starting Point: Beverly Wilshire, A Four Seasons Hotel – 9500 Wilshire Blvd, Beverly Hills, California 90212
Depart Beverly Wilshire, A Four Seasons Hotel, originally built on the Beverly Auto Speedway. The then American board track, built in 1919, was home to speeding Model Ts and saw the likes of prominent race car drivers such as Jimmy Murphy and Harlan Fengler before the Hotel's opening in 1928.
Head west on Wilshire Blvd (0.1 miles).
Make a slight right onto N Camden Drive (0.3 miles).
Turn right at the 2nd cross street onto S Santa Monica Blvd (390 feet).
If you look to your left you will pass the Bang & Olufsen store, which is one of the brands that develops sound systems for Maserati.
Turn right onto Rodeo Drive.
On the right before you get to Brighton Way you will see BVLGARI at 401 N Rodeo Drive.  This legendary Italian jeweller creates one of a kind timepieces for Maserati owners.
Continue down Rodeo Drive and on your right you will see the Ermengildo Zegna store at 337 N. Rodeo Drive.  Zegna and Maserati are long standing partners and Zegna exclusively creates an optional silk interiors and soon to come in Spring 2020 a leather woven interiors for Maserati.
If you continue down Rodeo Drive to Wilshire Blvd you will be back at the renowned, Beverly Wilshire, A Four Seasons Hotel. Make a left on Wilshire Blvd, then a right on El Camino Drive, entering through the guard gates modelled after the Buckingham Palace gates.
End Point: Beverly Wilshire, A Four Seasons Hotel – 9500 Wilshire Blvd, Beverly Hills, California 90212
Mulholland Drive Scenic Overlook
6.2 miles (10 kilometres) that takes approximately 20 minutes without traffic
Pro Tip: Program 8591 Mulholland Drive, Los Angeles, California 90046 into your GPS
Best done in the daytime, stop at this popular overlook to see the city stretching into the distance beneath, complete with breath-taking views.
Starting Point: Beverly Wilshire, A Four Seasons Hotel – 9500 Wilshire Blvd, Beverly Hills, California 90212
Head east on Wilshire Blvd toward S El Camino Drive (479 feet).
Turn left onto N Beverly Drive (1.7 miles).
Stay left and continue  onto Coldwater Canyon Drive (2.8 miles).
Turn right onto Mulholland Drive.
Destination will be on the left.
End Point: Mulholland Scenic Overlook 8591 Mulholland Drive, Los Angeles, California 90046
Pacific Coast Highway to the Getty Villa
13.4 Miles (22 kilometres) that takes approximately 31 minutes without traffic
Pro Tip: The Getty Villa 17985 Pacific Coast Hwy, Pacific Palisades, California 90272 can be added to the GPS
Enjoy scenic coastal views as you travel on one of American's most scenic roadways, the Pacific Coast Highway to the esteemed Getty Villa. Offering an experience of ancient Greek and Roman art in a setting that recreates a first-century Roman villa, the museum is home to J. Paul Getty's antiquities collection. The two-floor museum displays art that spans the 7,000 years from the end of the Stone Age to the fall of the Roman Empire and is complemented by stunning fountains and gardens.
Starting Point: Beverly Wilshire, A Four Seasons Hotel – 9500 Wilshire Blvd, Beverly Hills, California 90212
Head south on S Rodeo Drive toward Charleville Blvd (0.5 miles).
Turn right onto W Olympic Blvd (1.8 miles).
Continue straight to stay on W Olympic Blvd (0.1 miles).
Turn left onto Overland Ave (1.1 miles).
Use the left 2 lanes to turn left to merge onto I-10 W (0.2 miles).
Follow I-10 W and CA-1 N to Getty Villa Drive 13 min (9.6 miles).
Merge onto I-10 W (2.8 miles).
Keep left to stay on I-10 W (1.7 miles).
Continue onto CA-1 N (5.1 miles).
Turn right onto Getty Villa Drive.
End Point: The Getty Villa 17985 Pacific Coast Hwy, Pacific Palisades, California 90272
Peterson Automotive Museum
2.3 miles (3.7 kilometres) that takes approximately 7 minutes without traffic
Pro Tip: Program 6060 Wilshire Blvd, Los Angeles, California 90036 to the GPS
Known as the entertainment capital of the world, Los Angeles not only invented the magic of movies and television, but in turn is recognised as the driver behind the nation's passion for vehicles due to Hollywood's influence on crafting captivating car movies throughout the years. To learn more about Hollywood's impact on the car culture, visit the Petersen Automotive Museum. Featuring more than 300 vehicles, make sure to visit the Made in Italy installation, which guides guests through the manufacturing process of the Maserati Levante, and the new Hollywood Dream Machines: Vehicles of Science Fiction and Fantasy, which explores the cult classic films and stories, bringing them to life through props, design drawings and physical vehicle models.
Starting Point: Beverly Wilshire, A Four Seasons Hotel – 9500 Wilshire Blvd, Beverly Hills, California 90212
Head east on Wilshire Blvd towards El Camino Drive (2.3 miles).
Turn right onto S Fairfax Ave (89 feet).
Turn left into Petersen Automotive Museum Parking.
End Point: Petersen Automotive Museum 6060 Wilshire Blvd, Los Angeles, California 90036
5 advantages of traveling on a small cruise ship
Close your eyes and imagine your perfect ocean voyage. Are you peaceful and serene, gently floating toward exciting ports? Do you imagine a leisurely trip, with a delightful itinerary and plenty of time to explore your ideal destinations?
If that's the picture of your dream cruise, chances are you're imagining a small ship. While the typical cruise may conjure the image of a huge, noisy, floating party, there are better options — with travelers like you in mind.
Here are five advantages of traveling on a small ship:
1. Unique and unusual ports
A smaller ship can bring you to more under-the-radar spots around the world, whose ports can't accommodate larger ships. Viking, for example, sails to remote Scandinavian ports including the stunning Lofoten Islands among jagged peaks of Norwegian mountains, or the picturesque fishing village of Skagen, Denmark's northernmost town. Smaller ships can also take you closer to the heart of your dream destinations such as the Sydney Harbor or the Thames River in London.
2. An intimate, relaxed journey
Ships with fewer than 1,000 passengers allow every traveler a more leisurely, intimate experience. You'll get to know your fellow passengers, the crew and the boat's amenities much better than on a large cruise ship. You'll spend less time just trying to find your way around a smaller vessel, allowing you to focus on what matters to you. Smaller ships also mean you'll experience much quicker and easier embarkation and disembarkation, with no long lines for anything onboard.
On Viking Sky and her sister ships, there are no more than 930 passengers. Each stateroom offers a private veranda, with no interior cabins. Viking hosts no children under 18, has no casinos and offers free access to the spa, creating a relaxed, peaceful ambiance so you can enjoy the journey as much as the exceptional destinations.
3. Culturally enriching experiences
Smaller ships allow for more fascinating tours, and savvy travelers can find the perfect itinerary to suit their tastes. Excursions on smaller ships afford more flexibility, often including interesting experiences larger ships wouldn't have time to offer. For example, Viking offers excursions that are designed to immerse guests in local cultures, including Local Life, Working World and Privileged Access experiences. Local Life excursions shine a light on everyday activities, such as a Viking Chef-hosted trip to a local farmers market, or tea at a home with local residents, while Working World excursions feature behind-the-scenes "making of" experiences like factory and farm visits highlighting local exports. Privileged Access excursions include unique experiences only available to Viking guests, such as an exclusive dinner in the Churchill War Rooms in London or a private cooking class in a Tuscan castle.
Travel experiences through Viking's ocean cruises are unique, such as the "Viking Homelands" itinerary, which includes Scandinavia and the Baltic, with overnights in Stockholm and scenic Bergen, plus the historic cities of Tallinn, Estonia, and Gdansk, Poland. If warmer climes entice you, the "West Indies Explorer" itinerary sails round trip from San Juan avoiding the long sea days from South Florida associated with most Caribbean cruises and allowing you more time to spend discovering the rich cultures of nine Caribbean islands over the 11-day sailing. You'll spend more time on shore, with at least one overnight stay on virtually every itinerary.
4. Unparalleled shipboard experiences
A smaller ship lets you choose the exact experiences you desire. Rather than aiming to please everyone, smaller cruise lines have the luxury of specializing in terms of not only itineraries, but the entire on-board experience. It's wise to research what amenities are included — or not included — on any ship before signing on to the journey.
5. Compelling value
Smaller ships can offer a greater variety of choices in terms of voyage length, types of accommodations, a better crew-to-passenger ratio (which means better service) and an overall experience that suits each passenger in a way that larger, one-size-fits-all cruises cannot. Search for the right experience for your dream voyage by listing your must-have amenities and destinations first — then don't settle for less.
Smaller cruise ships like Viking Sky and her sister ships offer luxurious amenities such as fine dining, complimentary beer and wine with lunch and dinner, free Wi-Fi and 24-hour room service. The onboard Spa draws on the holistic wellness philosophy of Nordic culture, so you can stimulate your circulatory system in the sauna, then be invigorated by the snow grotto, where snowflakes gently descend from the ceiling through chilled air. Viking even offers book collections thoughtfully curated by London's Heywood Hill throughout the ships.
If you yearn to travel by sea, consider options offered by smaller cruise ship lines, and look for your ideal experience. Your dream ocean voyage will reflect your interests, your travel style and the best experiences to suit your taste — so you'll enjoy the journey as much as the destinations.
23 Things to Do in Anguilla
A new to-do checklist at Four Seasons Resort Anguilla provides guests a way to ensure they know about, and can experience, some of the iconic, must-do activities on the island. While the island is known for its beautiful 33 beaches, there are plenty of other activities to keep guests coming back for more.
Anguilla has been named the #1 island in the Caribbean by the readers of Travel + Leisure magazine for the third consecutive year (2017, 2018, and 2019). While beaches were one of the reasons for the accolade, the readers were also asked to rate the islands according to their activities and sights, natural attractions, food, friendliness and overall value. Obviously, the readers agree that Anguilla has a lot to offer.
"There were so many great things to include on the list that it was nearly impossible to limit it to just 23, but we thought 100 was too many," laughed Melisha Maccow, manager of special events at Four Seasons Anguilla.
A few check list items include:
Jumping off the rock at Little Bay (many celebrities have done this and posted as an Instagrammable moment)
Eating a Johnny cake (or "journey" cake as they were known years ago)
Sailing/boat racing (the national sport of Anguilla)
Having a photo taken with music legend Bankie Banx
Learning to play dominos with the locals
The complete list can be viewed under the Services and Amenities section of the website. In addition to this list, guests can learn about Anguilla with programs offered at the resort including: island culinary traditions with hands-on cooking classes; cultural presentations by a local historian and parliamentarian; SOCA fitness classes; and more.
More Activities
Additionally, guests looking for an extraordinary vacation experience can visit the property's notable Sea Centre and Sports Pavilion for access to a variety of activities such as windsurfing, paddle boarding, pro tennis lessons and rock climbing, while little ones find adventures at Kids For All Seasons (KFAS). From art projects to local cooking classes, KFAS provides complimentary child care with skilled staff members, allowing Mom and Dad time to explore the Resort and its many offerings such as the luxury spa and wellness centre.
While the list of 23 items provides a good outline of activities, guests are encouraged to create their own list and discover what makes Anguilla truly special to them.