Rolex Oyster: The incarnation of the ideal watch
The Oyster is the embodiment of Rolex's world renowned prestige and know-how, a true watchmaking archetype. Today the collection consists of some 15 ranges: Classic watches like the Datejust, the Day-Date and the Sky-Dweller, as well as Professional watches, such as the Explorer, the Submariner and the GMT-Master II, designed for specific activities.
Beyond its legendary technical performance, the Oyster's aesthetic codes set it apart as a benchmark of universal and timeless style, a lifestyle icon. An Oyster watch constitutes a perfect alchemy of form and function and is recognizable at first glance.
The Oyster collection was built on the success of the original Oyster model, patented by Rolex and launched in 1926. As the first waterproof wristwatch in the world, it played a pioneering role in the development of the modern wristwatch. Over the years the Oyster became the proud bearer of many other innovations – such as self-winding by means of the Perpetual rotor – that defined the identity of the different models, forged Rolex's reputation for excellence and often went on to set watchmaking standards.
The identity   of the   Oyster   collection   is   based on four fundamental  characteristics:
Waterproofness
First and foremost, the Oyster is distinguished by the hermetic case invented by Rolex in 1926, from which its name is derived. It was the first waterproof wristwatch in the world thanks to an ingenious patented system combining a screw-down bezel, case back and winding crown. The Oyster thus provided a definitive solution to one of the inherent weaknesses of the wristwatch, which was more exposed to external hazards than the pocket watch.
Today, the Oyster case, entirely manufactured by Rolex, is waterproof to a minimum depth of 100 metres (330 feet) – 300 metres (1,000 feet) for the Submariner, and up to 3,900 metres (12,800 feet) for the Rolex Deepsea. Its middle case is crafted from a block of particularly corrosion- resistant 904L steel, 18 ct gold or 950 platinum. The case back with its characteristic fluting is hermetically screwed down with a special tool that allows only Rolex watchmakers to access the movement. The winding crown is fitted with a waterproofness system, either the Twinlock (double waterproofness system) or the Triplock (triple waterproofness system, notably on divers' models). It screws down securely against the middle case, ensuring watertight security akin to a submarine's hatch. The waterproof Oyster case provides the high-precision movement with optimal protection from water, dust, pressure and shocks.
Chronometric  precision
The Oyster is also characterized by its great precision. Each Oyster is certified as a Superlative Chronometer. This exclusive designation attests that it has successfully undergone a series of tests conducted by Rolex in its own laboratories and according to its own criteria, which exceed watchmaking norms and standards. These tests are carried out on the fully assembled watch, in order to guarantee its superlative performance on the wrist.
The precision of every movement – officially certified as a chronometer by COSC (Swiss Official Chronometer Testing Institute) – is, therefore, tested a second time by Rolex after being cased, to ensure that it meets criteria for precision that are far more exacting than those for an official chronometer. The tolerance for the average rate of a Rolex Superlative Chronometer after casing is of the order of −2/+2 seconds per day. Its precision is tested by Rolex using an exclusive methodology that simulates the conditions in which a watch is actually worn and is much more representative of real-life experience. This certification testing is carried out using state-of-the-art equipment specially developed by Rolex. The Superlative Chronometer status is symbolized by the green seal that comes with every Rolex watch and is coupled with an international five-year guarantee.
Self-winding
In 1931, Rolex invented a self-winding mechanism with a free rotor, called the Perpetual rotor, based on a patented principle that would later be adopted by the whole watchmaking industry. The Oyster became the Oyster Perpetual, and this designation appears today on the dials of all models in the collection – with the exception of certain decorated and gem-set dials – to indicate that they are waterproof and feature a self-winding movement. The Perpetual rotor consists of a half-moon shaped oscillating weight rotating freely on its axis in both directions under the impetus of the wearer's wrist movements. The rotor transmits energy to the mainspring, the motor of the watch.
Apart from increased comfort for the wearer, who is freed from winding the watch every day, the Perpetual rotor helps to reinforce the waterproofness of the Oyster by eliminating the need to regularly unscrew the crown, an operation which exposes the movement to dust and humidity. By continuously winding the mainspring, the rotor maintains a stable high-level supply of energy to the movement, ensuring greater regularity and enhancing the precision of the watch. Self-winding via the Rolex Perpetual rotor provides excellent winding power in both rotation directions of the weight.
Reliability
All watches in the Oyster collection are in a class of their own when it comes to the rigorous design that allows them to faithfully fulfil their functions over time and under any circumstances. This reliability is the fruit of the technical choices made by Rolex as well as the draconian reliability controls and tests imposed on the watch components to satisfy the brand's stringent standards.
For its watch cases and bracelets, Rolex uses only highly resistant noble materials: 18 ct gold cast and machined in its own foundry, 950 platinum, or particularly corrosion-resistant 904L steel. And for certain bezels or bezel inserts, non-fading, virtually scratchproof, corrosion-resistant ceramic. The Oyster case is a paragon of robustness and waterproofness. It provides the movement with optimal protection against external hazards. The reliability of Oyster watches also  includes the metal bracelets and clasps, designed and manufactured by Rolex to maximize wearing comfort and security.
The Perpetual movement – whose architecture is common to all models – is designed to ensure excellent long-term resistance to shocks, effects of gravity, magnetic interference and temperature variations that would affect accuracy. It also allows ease of maintenance for many years, anywhere in the world.
The Many Variations Of The Oyster
The Oyster is the incarnation of the ideal watch as conceived by the visionary genius Hans Wilsdorf, founder of Rolex: a precise, reliable and functional watch of timeless elegance, which can be worn in any circumstance. After it acquired its definitive form in the early 1940s, this archetypal wristwatch gradually evolved into a coherent collection of models integrating new functions and innovative technologies. It was nonetheless developed with continuity, strictly abiding by fundamental principles that embody its perfection. This explains why all the models in the Oyster collection share a very strong visual identity that makes them immediately recognizable. And also why their family relationship with the original model remains evident.
The model with the most direct line of descent is the Oyster Perpetual – still in the catalogue today– a particularly precise and reliable watch with three hands, characterized by its waterproof Oyster case  and  self-winding  Perpetual  movement.  The  Oyster  collection  has  developed  from  the Oyster Perpetual around two axes. Firstly, elegant and prestigious watches, with a calendar, like the Oyster Perpetual Datejust and the Oyster Perpetual Day-Date, launched in 1945 and 1956 respectively; and the Oyster Perpetual Sky-Dweller launched in 2012. Secondly, Professional watches, veritable tool-watches that take full advantage of their waterproofness, robustness and precision to offer dedicated functions for specific activities. This second category was inaugurated in 1953 with the simultaneous launch of the Oyster Perpetual Explorer, an extremely robust and legible model intended for explorers and mountaineers, and the Oyster Perpetual Submariner, the first watch waterproof to a depth of 100 metres (330 feet) and equipped with a rotatable graduated bezel, specially developed for deep-sea diving.
Over the decades, these two categories have expanded, adding numerous models, each with its own strong personality. The Oyster Perpetual Datejust has appeared in versions for ladies, allying aesthetic refinement and technical performance in smaller sizes, such as the Lady-Datejust and the graceful, divinely gem-set Pearlmaster models.
In the Professional watch category, new models have been developed to meet the particular demands and needs of aeroplane pilots (GMT-Master II), physicists (Milgauss), racing drivers (Cosmograph Daytona) and sailors (Yacht-Master and Yacht-Master II).
Today,  the main  representatives  of the  Oyster  collection are:
Oyster  Perpetual  Datejust
The Oyster Perpetual Datejust perfectly embodies the classic watch with timeless elegance. Launched in 1945, it was the first self-winding waterproof chronometer wristwatch to display the date in a window at 3 o'clock on the dial – hence its name. The ultimate modern watch, it consolidated all the major innovations that Rolex had contributed to the wristwatch until then – chronometric precision (first chronometer certificates granted to a wristwatch as of 1910), waterproofness (creation of the Oyster case in 1926), self-winding mechanism (Perpetual rotor patented from 1931) and the date in a window. A new, particularly elegant metallic bracelet with five-piece links – the Jubilee bracelet – was created specially for it. In 1953, the famous Cyclops lens was added on the crystal, magnifying the date for easy reading. Another innovation emerged in 1956: the date change at midnight became instantaneous. Today, the Datejust is available for men and women (Lady-Datejust), in sizes ranging from 28 to 41 mm and in different materials – 904L steel, Rolesor versions (steel and 18 ct gold), 18 ct gold, and 950 platinum – with a great variety of dials, bezels, bracelets and gem-set versions offering vast possibilities for personalization.
Oyster  Perpetual  Day-Date
The Day-Date is the most prestigious and exclusive watch in the Oyster Perpetual collection. At its launch in 1956, the Day-Date marked a world first: the first calendar wristwatch to indicate, in addition to the date, the day of the week spelt out in full in a window on the dial – a technical feat at the time.
With its standing as a watch of great prestige, available only in precious metals – 18 ct gold or 950 platinum – it quickly became the watch of influential people. The indication of the day of the week is available in a choice of 26 languages. The date display is magnified by a Cyclops lens on the crystal. The simultaneous day and date change takes place instantaneously within a few milliseconds at midnight.
The Day-Date is available in gem-set models and in two sizes – 36 and 40 mm. The President bracelet perfectly complements the model's aesthetics. This bracelet with three semi-circular solid links in precious metal is equipped with a concealed Crownclasp and offers the wearer unique comfort and elegance befitting the Day-Date's singular status.
Oyster  Perpetual  Sky-Dweller
A classic and elegant watch for world travellers, the Oyster Perpetual Sky-Dweller is a compelling timepiece of revolutionary design that blends to perfection technological sophistication and ease of use. A technological masterpiece protected by 11 patents, the Sky-Dweller provides, in an unprecedented and highly original way, the information global travellers need to easily keep track of time: a dual time zone, with local time read via centre hands and a reference time display in 24-hour format read via a rotating off-centre disc visible on the dial; a particularly innovative annual calendar named Saros – after the astronomical phenomenon of the same name – that requires only one date adjustment a year, when the month changes from February to March; and a month display by means of 12 apertures around the circumference of the dial. To set its functions quickly and easily, it is also equipped with a new patented interface: the rotatable Ring Command bezel.
Oyster  Perpetual  Explorer
Watch of daring exploits and mountaineering triumphs, the Oyster Perpetual Explorer embodies the Oyster Perpetual's spirit of robustness and resistance to extreme conditions. Born in 1953, a direct descendant of the first successful ascent of Everest by a British expedition equipped with Oyster Perpetual watches, it offers optimal legibility in any situation thanks to its contrasting black dial, its Chromalight (long-lasting luminescence) hands, hour markers and emblematic 3, 6 and 9 numerals. A timepiece for all achievers, the Explorer, with the timeless design of its 39 mm 904L steel case, pays homage to pioneers and exalts the spirit of adventure.
Oyster  Perpetual  Explorer  II
The Oyster Perpetual Explorer II perpetuates the spirit of adventure and the extreme robustness of the Explorer while incorporating new functions designed particularly for polar and subterranean  exploration. This model created in 1971 has a very legible dial and includes an additional hand indicating the time in 24-hour format on a fixed engraved bezel. The display enables the wearer to clearly distinguish daytime from night-time hours – an essential function for cavers who spend entire days without seeing daylight and for polar expeditions that have to contend with the midnight sun or continuous night. This additional display also allows the Explorer II to indicate two time zones. The conventional hour hand can be easily set to local time, "jumping" in hourly increments independently of the 24-hour hand. The Oyster Perpetual Explorer II, available with a white or black dial in a 42 mm 904L steel case, also features a date window magnified by a Cyclops lens on the crystal.
Oyster  Perpetual  Submariner
The waterproofness of the original Oyster Perpetual predestined it for underwater use. The first watch waterproof to a depth of 100 metres (330 feet), the Oyster Perpetual Submariner has been the quintessential divers' watch since its introduction in 1953. Rolex gave it a rotatable graduated bezel, allowing divers to monitor their immersion time, as well as a contrasting black dial with luminescent hands and hour markers. The Submariner's streamlined and functional design would soon become iconic. A legendary model among the Professional watches developed by Rolex, the Submariner gave a new dimension to underwater exploration and the conquest of the oceans before moving beyond marine depths to triumph on terra firma as the epitome of the watch of action. Today, waterproof to a depth of 300 metres (1,000 feet), this emblematic and powerfully seductive watch is offered in several versions: with or without date in a 40 mm case with a ceramic Cerachrom bezel insert.
Oyster  Perpetual  Sea-Dweller
In 1967, Rolex developed the Oyster Perpetual Sea-Dweller, waterproof to a depth of 610 metres (2,000 feet), fitted with a helium escape valve. This valve, patented by Rolex, allows the gases that infiltrate the watch during deep-sea saturation diving to escape without damaging the watch when they dilate during the decompression stages in hyperbaric chambers. The watch was chosen as part of the equipment for the divers of Comex, the pioneer and world leader in industrial deep-sea diving, based in Marseille, France. In 1978, the Sea-Dweller 4000 was guaranteed waterproof to a depth of 1,220 metres (4,000 feet).
In 2017, to mark the model's 50th anniversary, Rolex has introduced an updated version of this legendary divers' watch, featuring a larger, 43 mm case in 904L steel, and equipped with caliber 3235, a new-generation mechanical movement at the forefront of watchmaking technology.
Oyster  Perpetual  Rolex  Deepsea
Waterproof to an extreme depth of 3,900 metres (12,800 feet), the Oyster Perpetual Rolex Deepsea joined the family of the brand's prestigious divers' watches and illustrates the supremacy of Rolex in mastering waterproofness. Presented in 2008 in a 44 mm case, the Rolex Deepsea exceeds the most exacting demands of professional divers in terms of robustness, precision and reliability, while featuring the aesthetic codes and the fundamental characteristics of the Oyster Perpetual.
A new-generation divers' watch, the Rolex Deepsea benefits from exclusive technical innovations such as the Ringlock System. This new case architecture patented by Rolex – consisting of a central compression ring made of high-performance nitrogen-alloyed steel, a grade 5 titanium case back and a 5.5 mm-thick sapphire crystal – enables the watch to resist the colossal pressure exerted by water at a depth of 3,900 metres, equivalent to a weight of approximately three tonnes on the crystal. Manufactured in exceptionally corrosion-resistant 904L steel, the Rolex Deepsea is equipped with a unidirectional rotatable bezel with a ceramic Cerachrom insert and a Chromalight display with long- lasting luminescence.
Oyster  Perpetual  GMT-Master  II
Emblematic  traveller's  watch,  the  Oyster  Perpetual  GMT-Master  II  is  the  successor  to  the GMT-Master created in 1955 to meet the needs of airline pilots. It can show the time simultaneously in two time zones thanks to its 24-hour hand and rotatable 24-hour graduated bezel equipped with a ceramic Cerachrom insert. Robust and resistant in its 40 mm Oyster case, featuring an exceptionally legible Chromalight display (long-lasting luminescence), the GMT-Master II is a prized instrument for reading the time in the dimmed cockpit of a long-haul flight. It accompanies elegantly and with distinction all those who travel the world or whose activities span several time zones. In 2013, Rolex introduced single-piece Cerachrom bezel inserts in two colours on the GMT-Master II – a world first. Either blue and black, or red and blue, the two-colour Cerachrom bezels blend the technical performance of the Cerachrom bezel with the iconic aesthetics of the original GMT-Master.
Oyster  Perpetual  Air-King
The new Air-King epitomizes Rolex's privileged ties with the world of aviation during its golden age in the 1930s. It was a period when spectacular progress in aircraft performance constantly expanded humanity's capacity to conquer the skies, and led to the introduction of long-distance flights. One of the pioneers of this era, English aviator Charles Douglas Barnard, set a number of flight records. Of the Oyster, he said: "The peculiar qualities of this Rolex watch render it eminently suitable for flying purposes and I propose to use it on all my long-distance flights in the future".
In 1933, Oyster watches accompanied the Houston Expedition as it made the first-ever flight over Mount Everest at an altitude exceeding 10,000 metres (33,000 feet) in extreme weather conditions. In 1934, Owen Cathcart-Jones and Ken Waller made a return voyage from London to Melbourne (Australia) in record time with a twin-engine De Havilland Comet, using a Rolex Oyster as their on- board chronometer. Today's new Air-King pays tribute to the pioneers of flight and the Oyster's role in the epic story of aviation. It features a distinctive black dial with a combination of large 3, 6 and 9 numerals marking the hours and a prominent minutes scale for navigational time readings.
Oyster  Perpetual  Milgauss
A watch inspired by science, the Oyster Perpetual Milgauss was a pioneering watch in terms of resistance to magnetic fields, which are a major source of interference for mechanical watch movements. It was originally worn by scientists at the European Organization for Nuclear Research (CERN) in Geneva. Created in 1956 it was designed to resist up to 1,000 gauss (an old measurement of magnetic induction which corresponds to 80,000 A/m), thanks to a protective shield surrounding the movement. Relaunched in an updated version in 2007 in a 40 mm case with a hallmark seconds hand in the shape of an orange lightning bolt, the Milgauss is a reminder that science can sometimes outwit nature.
Oyster  Perpetual  Cosmograph  Daytona
A high-performance chronograph tailored for speed, the Oyster Perpetual Cosmograph Daytona was designed to meet the timing needs of professional endurance racing drivers. Rolex placed a high- precision mechanical chronograph movement in its robust Oyster case to allow the wearer to measure time intervals and determine average speeds up to 400 miles or kilometres per hour. These additional functions are activated by pushers that screw down like the Oyster case's characteristic winding crown, ensuring waterproofness to a depth of 100 metres (330 feet). A tachymetric scale is engraved on the bezel to free space on the dial and offer optimal legibility for all functions. The name of this chronograph created in 1963 proclaims its affinity with the Daytona International Speedway in Florida, home of the famous Rolex 24 At Daytona® endurance race.
Oyster  Perpetual  Yacht-Master
The robust and waterproof Oyster Perpetual is the ideal watch for water sports and sailing in particular. A vocation enthusiastically embraced by the Oyster Perpetual Yacht-Master. Waterproof to a depth of 100 metres (330 feet) thanks to its Oyster case with a screw-down case back and winding crown, the Yacht-Master sports a highly legible dial with date magnified by a Cyclops lens. A bidirectional rotatable 60-minute graduated bezel allows timing of a distance covered, for example the sailing time between two buoys. With its raised numerals and graduations, the rotatable bezel in 18 ct Everose   gold, in 950 platinum or in a technical ceramic (Cerachrom insert) makes the Yacht-Master immediately recognizable. Just as at home at sea on the deck of a sailboat as on land in port, or in the elegant atmosphere of a yacht club lounge, this model combining character and performance is the only Rolex Professional watch available in several sizes (37 and 40 mm).
Oyster  Perpetual  Yacht-Master  II
A revolutionary regatta chronograph and distillation of Rolex technology, the Oyster Perpetual Yacht- Master II, presented in 2007, is the world's first watch to offer a programmable countdown with a mechanical memory and with the capacity for on-the-fly synchronization. In the crucial preparation phase before the start of a sailing race, these features make the Yacht-Master II the instrument of choice for professional skippers and yachting enthusiasts. Clad in a 44 mm Oyster case waterproof to a depth of 100 metres (330 feet), the Yacht-Master II innovates with a rotatable Ring Command bezel, whose interaction with the movement allows the wearer to program the countdown duration. This unique function underlines the importance of Rolex's integrated approach, with command of the know-how involved in the manufacture of all the components of its watches, from the movement to the case, bracelet and clasp.
Bringing People Together with Easy to make Russian Comfort Food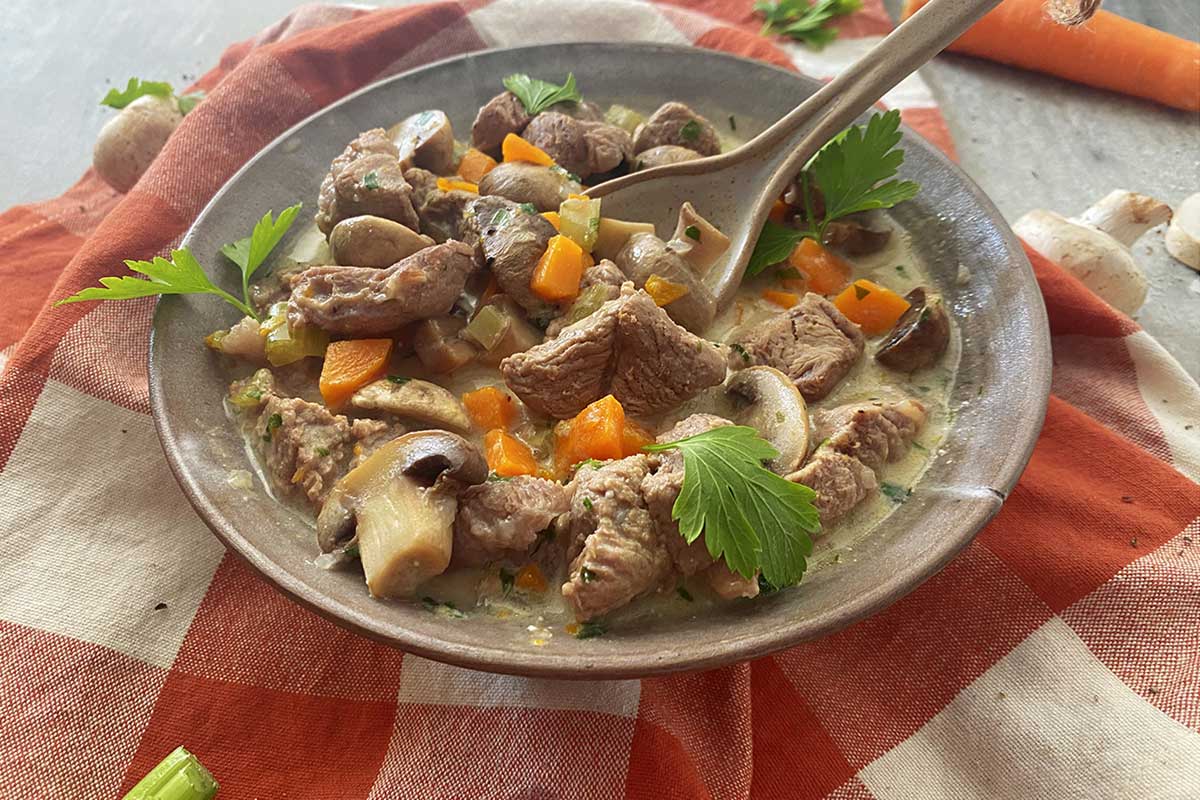 Russia has a long history of droughts and famines. Although there have been no famines since 1947, the former Soviet Union saw many food shortages. By the time the Soviet Union was about to collapse, many common items of food were being rationed.
Shelves held only rotten vegetables, butchers counters had pitiful scraps of bone and fat instead of sausages, chops, and joints. As recently as last year Russia halted exports of its wheat as fears of a shortage once again raised its head.
So it may seem a strange choice when it comes to discussing cuisine, comfort food, and cookery. But, the advent of the multi-cooker has made it easier than ever to try new recipes at home, and Russian food has much to recommend.
Why Russian food?
Because it is comforting, is the simplest answer to this question. Russian weather can at times be harsh, and some areas are bitterly cold. If you come from a country that enjoys a full spectrum of seasons then you will understand that when winter comes, sometimes all you want is some proper comfort food.
Russian cuisine can provide dishes that are full of carbs, fill up bellies, and generally satisfy and protect against the cold. If you were from England then you would probably describe some Russian food as the kind of meal that sticks to your ribs.
However, if the English think they eat a lot of potatoes, then they can think again, compared to the Russians. Mashed potato may well be the ultimate comfort food, and it is served everywhere in Russia. Ok, maybe not in a pizza restaurant or McDonald's. Actually, McD's did make a mashed potato burger but chose to market that in China instead of Russia.
But the truth is, Russian food can be very satisfying, and while it may not be diet-friendly, it can be heart-warming and is often about family and friends. Much of Russian food is home-cooked and shared with families. An interest in Russian culture and history could help to bring people together in all walks of life, especially if enjoyed with some pelmeni.
Why are people more interested in foreign cuisines now?
Last year saw the Covid pandemic arrive that is still currently ongoing. This resulted in lockdowns, self-isolation, and quarantines, not to mention far more serious consequences. The effects of Covid are still being felt through Europe and across the globe. It could be years before a return to a proper sense of normality happens.
Because of the restrictions that were put in place, people have been unable to visit restaurants, and they have also had travel plans curtailed. For many, this meant taking the problem into their own hands and finding a solution. The answer for some was to take up cooking as a hobby and try different recipes.
Cooking at home during lockdowns meant that a new hobby was found, time was used more usefully, and knowledge of other cultures could be explored through the medium of food. The success of one or two kitchen appliances has also helped.
What is a multi-cooker, and can they really help someone to cook?
A multi-cooker is an appliance that has various cooking modes and options. They may be able to sous-vide, saute, bake, and cook rice. They may also have options for slow-cooking which is great for tough cuts of meat. Plus they can pressure cook, to speed up recipes that traditionally take a long time.
Basically, a modern multi-cooker, such as the Instant Pot or Ninja Foodi, is similar to the older style pressure cookers, but with a lot more features. They have helped many amateur cooks to start to try different recipes as the cooker does most of the work, and the food is ready very quickly.
They might be a good option when put together with Russian comfort food, as the meals can be prepared and cooked with very little fuss.
So, what does Russian food consist of? Is it just lots of cabbage and potatoes?
Why do Russians eat so many potatoes?
Ok, so it is true that potatoes are popular, but part of this is for practical reasons. When it comes to serving up sustainable food and ingredients, potatoes are up there with the best.
Every country has its own main carbohydrate when it comes to staple dishes. This may be pasta (or noodles), rice, or potatoes. Obviously, bread is a factor too, but for the purposes of this article, the first three will be looked at as they form the basis of many meals across the world.
Between potatoes, rice, and pasta, the former is the most environmentally friendly option by far. Also, in the harsh winters suffered in parts of Russia, there is often a lack of fresh vegetables, and potatoes are always available.
Favourite food options for Russians will often include dishes with potato, however, for the national dish, this is swapped out for wheat.
What is the national dish of Russia?
Pelmeni is a kind of dumpling that is usually stuffed with meat. It can be served in soup, deep-fried, slathered in butter, and is highly popular. It is sometimes treated a little as convenience food but can make a hearty broth or soup with sour cream too.
It would be possible to make pelmeni in an Instant Pot, and there are plenty of recipes for similar dumplings on the internet. But, perhaps this particular part of Russian culture should be saved for traditional cooking methods.
Multi-cookers are often associated with healthy cooking, and it might be a shame to take away the joy of heavily buttered pelmeni, or deep-fried dumplings, by trying to turn them into a calorie-friendly option.
Other dishes that have been enjoyed over the centuries include borscht, blintzes, plov, kotleti, and of course beef stroganoff. There is also solyanka soup which is both sweet and sour and is believed to be the best hangover cure available.
Borscht is highly adaptable to the seasons as it can be eaten cold in warm weather, or hot when the winter nights draw in.
Making Russian dishes easily
So, assuming you have access to a multi-cooker or Instant Pot, then you may be able to pull off some authentic Russian dishes without too much trouble.
Beef stroganoff has been around since the 1800's when it first appeared and has been attributed to the Count Stroganoff of that period. Whatever the truth is, stroganoff is one meal from Russia that has spread to many other countries.
The problem with this dish is that many countries such as the UK and the US adopted it and switched out quality ingredients for convenient ones such as tinned mushroom soup. Fortunately, recipes from Corrie Cooks and other websites have now corrected this, and you can find much better versions.
Making the best beef stroganoff could mean a lot of slow cooking but a pressure cooker means that you can achieve the same results in 20 minutes. To make the best stroganoff use good ingredients. There are two schools of thought here though.
Many cooks will advocate the use of sirloin or rib-eye steak for beef stroganoff, but others will prefer a long slow cook with a cheaper, but tastier cut of meat. If you are using the Instant Pot for fast results then go for a quality piece of beef.
Summary
Russian food may not be popular in the way that Thai, Chinese, or Italian are. However, dishes from this country are made with love and they bring people together.
One could be more satisfying than producing a tasty stroganoff in just twenty minutes and serving it up to a table full of family on a cold winter's night?
Dongyu Zhou wears Constellation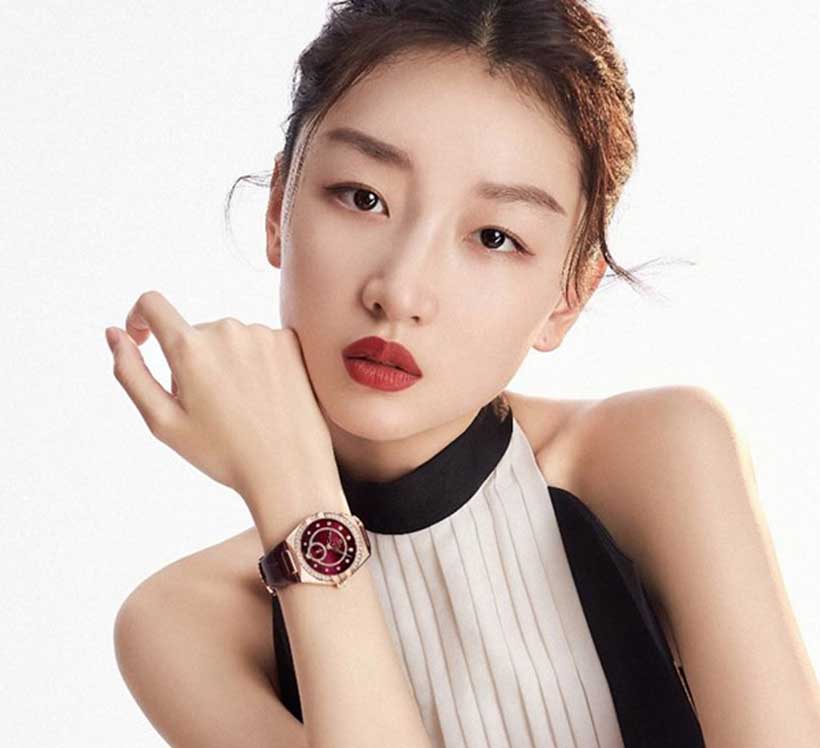 Award-winning Chinese actress Dongyu Zhou wears OMEGA's Constellation Small Seconds.
A winner of multiple domestic and foreign film awards, Dongyu Zhou is an accomplished actress capable of delivering convincing and critically acclaimed performances ranging in genres from crime thriller to romantic comedy.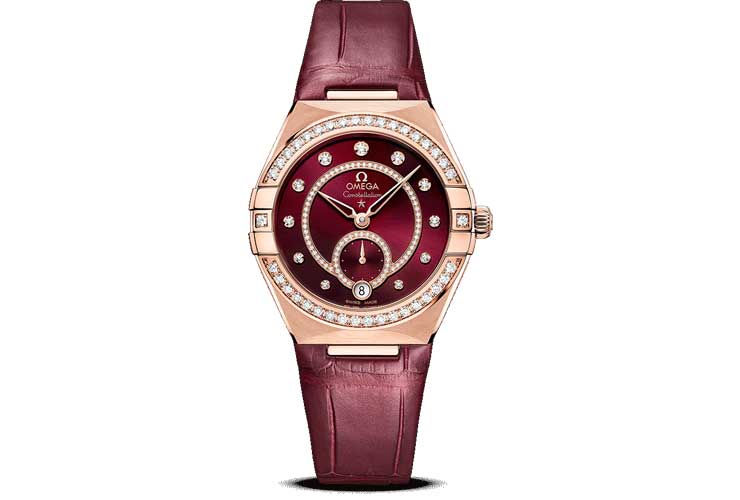 Her many accolades include the Best Actress award at the 53rd Golden Horse Awards in 2016 for her impressive performance in Soul Mate, and best actress for Better Days at the 39th Hong Kong Film Awards and 33rd Golden Rooster Awards.
As Dongyu Zhou is the youngest actress to have been honoured with the three most significant film accolades in the history of Chinese film, her choice of watch proves that the timeless OMEGA is never out of step with style.
A New Tribe Lands As An Icon Ascends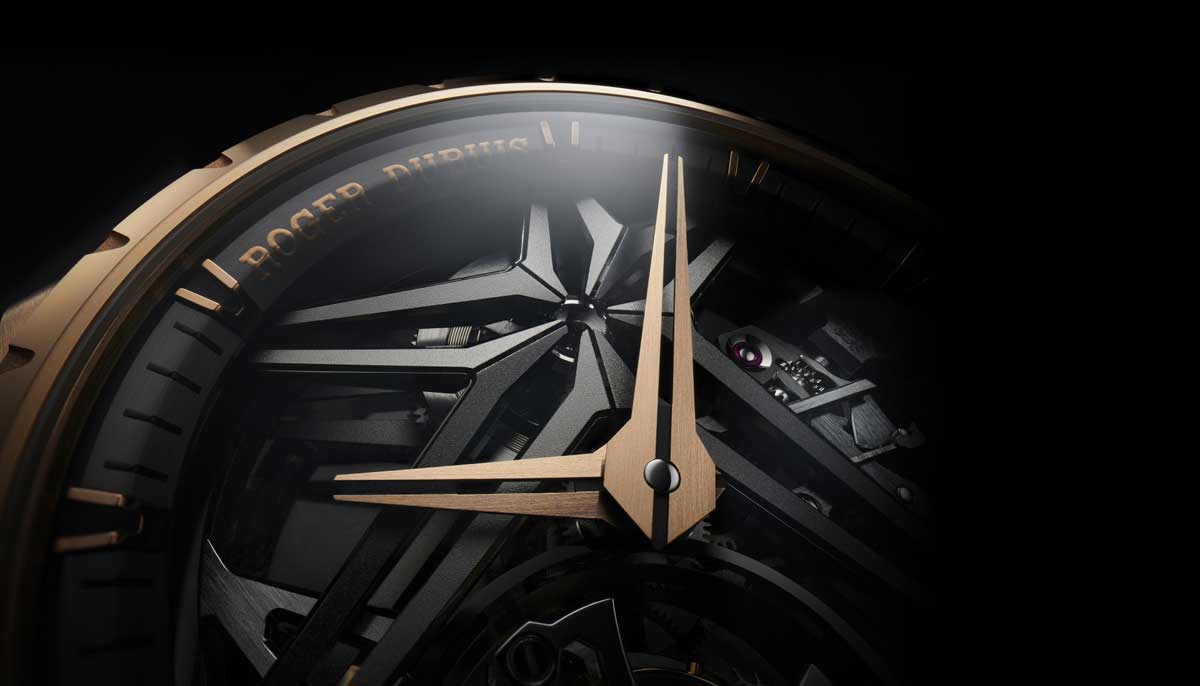 Roger Dubuis has consistently demonstrated a penchant for impertinence and extravagance. Sustained by an integrated manufacture, a flagrant disregard for convention is the backbone of its bold attitude. A true innovator, the luxury watchmaker is driven by an irrepressible willingness to come up with high-impact ideas, boundary-pushing technologies and unmistakable out-of-the-box designs. Living by the motto NO RULES, OUR GAME, the Maison proves once again it is the most exciting way to experience Hyper Horology with the launch of the new Excalibur Single Flying Tourbillon.
THE FUTURE OF HYPER HOROLOGY IS HERE
Extravagant, determined and disruptive, the bold and bright are the ones that stand out. Just like any star should. But a star doesn't just appear. It takes dedication. Innovation. Craftsmanship. Only then can an icon ascend…Introducing the Excalibur Single Flying Tourbillon: a star restyled for the new world. To mark the launch of the inimitable skeleton design reinterpreted with a contemporary touch, Roger Dubuis is set to celebrate modern art in all its shapes. Taking form in Hyper Horology with the Maison's most recent interpretation of the Excalibur Single Flying Tourbillon, this icon of watchmaking is brought to a whole new level; a masterpiece that cannot be ignored, just like its wearer.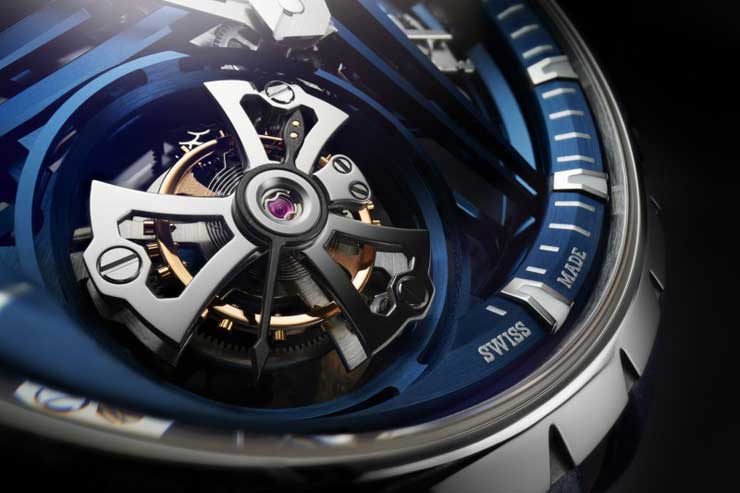 Finding kinship with those disruptive souls who dare to make a difference, the Maison partners with the URBAN ART TRIBE, world-famous urban culture artists that reflect Roger Dubuis' values: break the rules, showcase radical expertise and obsess daily over the design of the future.
THE EXCALIBUR SINGLE FLYING TOURBILLON: FROM A TIMEPIECE TO A MASTERPIECE
Roger Dubuis continues shaking up the world of haute horlogerie with the launch of the new Excalibur Single Flying Tourbillon. Enhanced with meticulous care, the timepiece is reinterpreted with sophistication and flair using modern and technical materials.
A contemporary masterpiece for the wrist, the new design showcases clean cut lines on both case and movement. Creating the impression of a thinner look and feel, while heightening the sense of transparency and depth, the calibre is rebuilt from bottom to top in an architectural feat that sees the Roger Dubuis star now levitate freely above the barrel. A strong visual identity is created with a signature two-line pattern – seen between the notch on the crown and bezel, the star's arms, the tourbillon's cage, the hour's marking on the flange, the hands – all of which cleverly appear as though they will meet but never do. This dynamic aesthetic is amplified by the Poinçon de Genève, the most demanding signature in fine watchmaking and one that requires the manual decoration of each and every component of the watch, as well as unexpected and antinomic decorations in modern haute horlogerie, such as circular-brushed top surfaces and polished angles that demonstrate Roger Dubuis' visionary approach.
Always keeping the wearer in mind, the new RD512SQ calibre is stunning in its technical prowess. Now with a titanium lower tourbillon cage – twice lighter than stainless steel – and a mirror-polished Cobalt Chrome upper tourbillon cage, the weight of the piece is reduced to optimum effect. All of which allows the power reserve to be radically optimised to 72 hours, providing the option of leaving the watch unworn over weekends without the worry of resetting come Monday. Proving no detail goes unconsidered, non-magnetic material is used inside the tourbillon to better serve the wearers and improve their experience.
Comfort is key, which is why a range of entirely new strap sizes have become available. With 5 sizes from 0 to 4, finding the perfect strap ensures the buckle is always centred on the wrist, as a Quick Release System offers ultimate flexibility. Underscored by rarity, the 42mm case is only available in eighty-eight pieces per colourway: Dark Grey DLC Titanium, Cobalt Chrome CarTech Micro-Melt BioDur CCMTM and the new EON GOLD, a pink gold shade that remains more stable thanks to non-tarnish technology. Reimagined for a contemporary era, an icon ascends in the shape of the Excalibur Single Flying Tourbillon.
THE ART OF GLOW
Showcasing the Maison's obsession with art, light and luminescence, in addition to our icons comes the Excalibur Glow Me Up, a world-premiere for Roger Dubuis limited to just eight timepieces.
By day, the new Single Flying Tourbillon calibre is elegantly adorned with 60 baguette-cut diamonds on the bezel. By night, it's a complete different version that comes to life through this vibrant timepiece with luminescent and dazzling diamonds, an achievement made possible thanks to an intricate two-part process. The first involves filling the grooves that hold the stones in place with Super-Luminova, a singular way to make the diamonds appear luminescent without altering them. Secondly, an additional patent enables Super-Luminova to be applied on the angles of the movement, as well as to the iconic star-shaped bridge. Because at Roger Dubuis less is never more.
ART IN THE MAKING
Roger Dubuis is a destination for the avant-garde. Committed to non-conformity, the Maison stands with those who choose to blaze their own trail. To show what happens when rules are rejected and creativity is unleashed, Roger Dubuis partners with the URBAN ART TRIBE, composed of two urban culture creatives – tattoo artist Dr. Woo and graffiti artist Gully. Rulebreakers in their own fields, they too shape the future by refusing to take 'no' for an answer. Brought together to unite a wider community of daring minds, Roger Dubuis and the URBAN ART TRIBE hope to encourage people to challenge the way things are, just as the Maison does when it comes to Hyper Horology, and Dr. Woo and Gully do in their industries.
A leading name among an influential elite who see tattoos, art and fashion as an indissociable whole, Dr. Woo's singular approach to needle style has shifted the paradigm for tattoos, taking them from subculture to broad popular appeal. Of the partnership he says: "I've taken this path because I don't know where it leads, and that is exactly why I'm here – to seek the unknown and go out of my comfort zone. Tattooing and watchmaking have that in common: the same attention to detail, a dot vs. a tiny component, assembled perfectly for you to see the bigger picture."
Gully, a well-known graffiti artist, chooses to work exclusively in his own atelier to maintain his anonymity. He uses a wide variety of mixed techniques and materials and explains his artistic concept as one based on conscious appropriation. Telling visual stories of children appearing in splendid settings, he reveals their enchantment with art and particularly with the paintings of the great masters. Speaking to the concept of the tribe, he comments: "Two worlds, a crossing path. I feel driven by the same energy and insatiable envy to come up with something we have never seen before. It comes as a bombshell, provokes surprise, and arouses interest. Bringing different worlds together is my trademark, so I can't wait to show you the Gully x Roger Dubuis mixture."
Generously opening the doors to their respective workshops, Dr. Woo and Gully will begin their long-term partnerships with Roger Dubuis by first sharing their creative processes at work. Initially set to reinterpret the brand's iconic astral signature, they will continue to co-create the future of Hyper Horology alongside the Maison.