This year, where will your journey take you?  Four Seasons Resort Oahu at Ko Olina, located on Hawaii's famed leeward coast, offers a new breed of bespoke Oahu experiences. Whether in search of wanderlust, adventure or relaxation, Four Seasons unveils the top 10 most coveted "must-do" experiences that global travellers can look forward to when visiting the Resort.
Arrive in Style – Four Seasons Luxury Fleet Airport Transfers: For an extraordinary arrival and departure experience, Four Seasons Luxury Fleet is available to transport guests to and from Honolulu International Airport.  The fleet includes a dedicated Four Seasons yacht, helicopter or vehicle of choice.
Four Seasons Private Yacht: As the first of its kind from a resort in Hawaii, Four Seasons guests have privileged access to a 75-foot (23 metre) luxury Four Seasons yacht.  Redefining the Oahu experience, set sail with Four Seasons and embark on an awe-inspiring day or evening excursion aboard the vessel.  Whether for a full day of adventure exploring secluded bays along Oahu's leeward coast, or dining al fresco under a blanketed starry sky, the private yacht experience includes a bespoke itinerary.
Ready, Set, Jet:  Experience the ease and thrill of island-hopping aboard Four Seasons Resort Oahu Private Jet Experience.  Designed with discerning guests in mind, the private jet offers an extraordinary customised journey around the Hawaiian Islands in the comfort of a luxurious eight-passenger jet.  Enjoy a day of discovery and embark upon Hawaii's natural wonders, cultural sites and thrill seeking locations.  Whether teeing off from The Challenge at Manele's famed 12th hole sea cliffs or visiting Molokai's historic Kalapaupa, the memories will be extraordinary.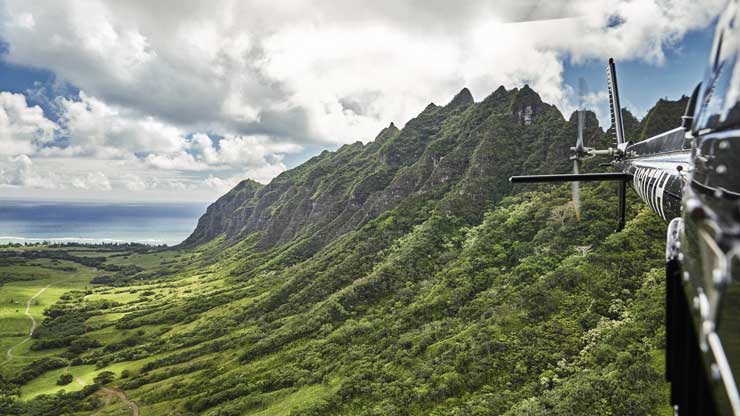 Suite Dreams: An incredible night's rest is guaranteed at Four Seasons, but now the Resort is taking it to a new level – or rather the stars, with the Dream Under the Stars specialty Suite Dreams amenity.  Located exclusively in the Presidential Suite on the 4th floor private Sky Terrace, a customised open-air bed is available to star gaze under a blanketed sky, followed by a dreamy night's rest in the Hawaiian outdoors.  Four Seasons turns dreams into reality.
Outer Known Palehua Experience: Embark on a spiritual and challenging journey to Palehua, one of Oahu's most sacred historical and cultural sites.  Located a mere three miles (4.8 kilometres) from the Resort, the awe-inspiring hike – which is closed to the public – is offered exclusively to Four Seasons guests and led by a renowned hui (group) of revered cultural practitioners.  Along the five-mile (8 kilometre) trek, guest will come upon wildlife, native Hawaiian fauna and breathtaking vistas of the Waianae coastline and neighbour islands including Maui, Lanai, Molokai and the Big Island, all the while learning about the ancient culture and traditions of this significant area.  Experience Hawaii's natural playground and discover where time stands still.
GoPro Adventure Hub: Be a hero with Four Seasons.  Inspired by Hawaii's pristine beauty and natural outdoor playground, the GoPro Adventure Hub is a vibrant artists' studio that allows guests to utilise Four Seasons dedicated GoPros and collaborate with the Resort's adventure photography team.  Share epic moments, be inspired, and most importantly, capture hero-worthy moments.
Farm to Fork:  Bring an appetite and allow renowned Chef Martin Knaubert to feed the soul.  As a pioneer in a new class of culinary artists who are breathing new life into the farm-to-table movement, Chef Martin showcases his innovative artisanal culinary approach throughout the Resort's five distinct outlets.  Guests can savour sustainable local cuisine influenced by the Hawaiian Islands – providing a captivating dining destination for all to enjoy.
Adults Only Pool and Beach: The Resort's Adult Pool offers a serene pool experience with an ideal westward-facing location, perfect for taking in the colourful sunsets famous on the leeward coast of Oahu. Just next to the pool is the adult-only beach, a calm, secluded area offering Four Seasons beach amenities.
Ko Olina Golf Club:  Get into the swing of island life with an 18-hole foray into the Hawaiian landscape at the stunning Ko Olina Golf Club. Designed by Ted Robinson, the course features exceptional water features, multi-tier greens and large landing areas.
Faces of Hawaii:  Oahu's western coastline is home to revered cultural storytellers and some of Hawaii's most fascinating living legends.  From watermen to kupuna, these kama'aina are the breath and life of Hawaii. The Faces of Hawaii program offers a rare glimpse and personal interaction into the lives of some of Hawaii's revered individuals, cultural traditions and historical knowledge.