10 Unique Oahu-Only Experiences
This year, where will your journey take you?  Four Seasons Resort Oahu at Ko Olina, located on Hawaii's famed leeward coast, offers a new breed of bespoke Oahu experiences. Whether in search of wanderlust, adventure or relaxation, Four Seasons unveils the top 10 most coveted "must-do" experiences that global travellers can look forward to when visiting the Resort.
Arrive in Style – Four Seasons Luxury Fleet Airport Transfers: For an extraordinary arrival and departure experience, Four Seasons Luxury Fleet is available to transport guests to and from Honolulu International Airport.  The fleet includes a dedicated Four Seasons yacht, helicopter or vehicle of choice.
Four Seasons Private Yacht: As the first of its kind from a resort in Hawaii, Four Seasons guests have privileged access to a 75-foot (23 metre) luxury Four Seasons yacht.  Redefining the Oahu experience, set sail with Four Seasons and embark on an awe-inspiring day or evening excursion aboard the vessel.  Whether for a full day of adventure exploring secluded bays along Oahu's leeward coast, or dining al fresco under a blanketed starry sky, the private yacht experience includes a bespoke itinerary.
Ready, Set, Jet:  Experience the ease and thrill of island-hopping aboard Four Seasons Resort Oahu Private Jet Experience.  Designed with discerning guests in mind, the private jet offers an extraordinary customised journey around the Hawaiian Islands in the comfort of a luxurious eight-passenger jet.  Enjoy a day of discovery and embark upon Hawaii's natural wonders, cultural sites and thrill seeking locations.  Whether teeing off from The Challenge at Manele's famed 12th hole sea cliffs or visiting Molokai's historic Kalapaupa, the memories will be extraordinary.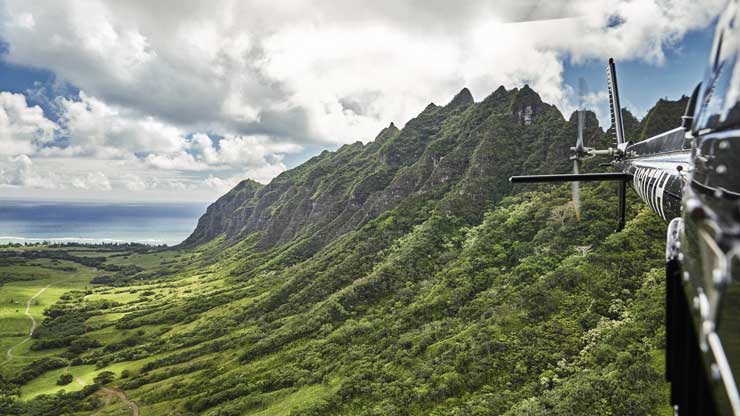 Suite Dreams: An incredible night's rest is guaranteed at Four Seasons, but now the Resort is taking it to a new level – or rather the stars, with the Dream Under the Stars specialty Suite Dreams amenity.  Located exclusively in the Presidential Suite on the 4th floor private Sky Terrace, a customised open-air bed is available to star gaze under a blanketed sky, followed by a dreamy night's rest in the Hawaiian outdoors.  Four Seasons turns dreams into reality.
Outer Known Palehua Experience: Embark on a spiritual and challenging journey to Palehua, one of Oahu's most sacred historical and cultural sites.  Located a mere three miles (4.8 kilometres) from the Resort, the awe-inspiring hike – which is closed to the public – is offered exclusively to Four Seasons guests and led by a renowned hui (group) of revered cultural practitioners.  Along the five-mile (8 kilometre) trek, guest will come upon wildlife, native Hawaiian fauna and breathtaking vistas of the Waianae coastline and neighbour islands including Maui, Lanai, Molokai and the Big Island, all the while learning about the ancient culture and traditions of this significant area.  Experience Hawaii's natural playground and discover where time stands still.
GoPro Adventure Hub: Be a hero with Four Seasons.  Inspired by Hawaii's pristine beauty and natural outdoor playground, the GoPro Adventure Hub is a vibrant artists' studio that allows guests to utilise Four Seasons dedicated GoPros and collaborate with the Resort's adventure photography team.  Share epic moments, be inspired, and most importantly, capture hero-worthy moments.
Farm to Fork:  Bring an appetite and allow renowned Chef Martin Knaubert to feed the soul.  As a pioneer in a new class of culinary artists who are breathing new life into the farm-to-table movement, Chef Martin showcases his innovative artisanal culinary approach throughout the Resort's five distinct outlets.  Guests can savour sustainable local cuisine influenced by the Hawaiian Islands – providing a captivating dining destination for all to enjoy.
Adults Only Pool and Beach: The Resort's Adult Pool offers a serene pool experience with an ideal westward-facing location, perfect for taking in the colourful sunsets famous on the leeward coast of Oahu. Just next to the pool is the adult-only beach, a calm, secluded area offering Four Seasons beach amenities.
Ko Olina Golf Club:  Get into the swing of island life with an 18-hole foray into the Hawaiian landscape at the stunning Ko Olina Golf Club. Designed by Ted Robinson, the course features exceptional water features, multi-tier greens and large landing areas.
Faces of Hawaii:  Oahu's western coastline is home to revered cultural storytellers and some of Hawaii's most fascinating living legends.  From watermen to kupuna, these kama'aina are the breath and life of Hawaii. The Faces of Hawaii program offers a rare glimpse and personal interaction into the lives of some of Hawaii's revered individuals, cultural traditions and historical knowledge.
Why Al Maryah Island? Everything about Abu Dhabi's newest business and lifestyle destination
Abu Dhabi, meaning Land of the Gazelle, has been at crossroads of commerce and culture for centuries. Today, the Emirate, is a modern, cosmopolitan hub for travellers from around the world to explore this growth. Al Maryah Island is the perfect vantage point for this. The new heart of the the capital offers visitors and residents exceptional business and lifestyle experiences. Here are our top three reasons to choose Four Seasons for your next visit to Abu Dhabi:

Location, location, location
Director of Rooms, Mark Syputa feels Four Seasons Hotel Abu Dhabi at Al Maryah Island is perfectly positioned to offer business and leisure travelers the best of the UAE's capital:
"What I love about Al Maryah Island is that you have all the conveniences of direct connections to downtown Abu Dhabi, with the added benefits of being able to walk to Abu Dhabi Global Market and the surrounding office towers. Add to that the close proximity to key cultural attractions (like Louvre Abu Dhabi, Sheikh Zayed Grand Mosque, Qasr al Watan, and Qasr al Hosn) and the highest density of amazing restaurants & bars in all of Abu Dhabi; I can't think of anywhere else I would rather live, work & play in our capital city."

World-class shopping and dining
Al Maryah Island has a wealth of world-class dining and shopping. Exotic flavors from near and far are the biggest attraction with over forty options including our very own award-winning restaurants Butcher & Still, and Cafe Milano; not to mention, Zuma, Coya, and Le Petit Maison. Guests can also shop until they drop in The Galleria, the city's most exclusive shopping experience filled with the luxury brands. This is only set to amplify with the city's latest mega-mall Al Maryah Central opening mid-2019 with over 400 retail outlets and 100 restaurants.

Health & Wellness focus
Health & Wellness is another key focus. The Island is fortunate to have one of the region's premier hospitals, Cleveland Clinic, which has some of the world's best doctors and highly personalized care. On property, Dahlia Spa in Four Seasons Hotel Abu Dhabi, encapsulates this holistic wellness approach by providing guests a results-driven approach through customised experiences crafted by an international team of spa experts.
A magical visit to Villa de Leyva, just hours from Bogota
Just a few hours from the bustling Colombian capital lies Villa de Leyva, a tranquil town littered with whitewashed stone houses dating back to the early 17th-century. The colonial-era town, northeast of Bogota and with a warmer climate, boasts winding cobbled streets situated around what's claimed to be the largest stone square in South America. A day trip to the town can be easily arranged with the assistance of Four Seasons Hotels Bogota or Four Seasons Hotel Casa Medina Bogota.
Visitors can explore the Pozos Azules, a series of bright blue artificial pools, which are situated only a five minute drive away from the central plaza. Other activities include a visit to architect Octavio Mendoza's 5,400-square-foot house, which is made entirely out of clay. The Casa Terracota is an abstract piece of art, which one could imagine Antoni Gaudí would be proud to call his home. The clay abode can be explored on by foot and is just a 30-minute walk from the central square. Mendoza refers to his work as the largest piece of pottery in the world.
Members of staff at Four Seasons Hotels Bogota can also assist guests in planning activities for the day trip to the town. Guests who are interested in adventure activities can rent mountain bikes and cycle around the mountainous and historical trails of the town. Cycling tours are also available, which stop off at all of the main points of interest, while some offer coffee and wine tasting.
The local people of Villa de Leyva offer a warm and hospitable welcome, and there are plenty of local family-run restaurants, bakeries, and shops. A few minutes walk from the main central plaza are winding cobbled streets lined with artisan gifts and crafts, which are made by locals. One shop, in particular, serves fresh home-made hummus.
The town, which is part of the Boyaca department of Colombia, is formerly a colony of Spain and gained independence in 1812. Visitors may also recognise the town from Gabriel García Marquez's novel Love in the Time of Cholera, as the main character Florentino Ariza spends part of his life in Villa de Leyva. As well as a rich historical significance, the place also has a strong scientific background. The valley in which it's located is rich in fossils and even has a paleontology museum dedicated to the hundreds of artifacts that have been discovered.
Paradise found: Saint Lucia preserving beauty through data and policy action
If ever an island justified the label "paradise" that tourist brochures liberally apply to destinations, it is Saint Lucia.
Shaped like a teardrop, this tiny Caribbean nation has everything. Crescent moon beaches of white sand. Jagged volcanic mountains jutting up from the azure waters. Eclectic biodiversity that manifests in a riot of colour, no more so than in the Saint Lucia Amazon, a spectacular parrot found only on the island.
Unfortunately, as is the case in so many places, human activity is endangering this beauty and the benefits it brings to humanity. The threats are many, including extreme weather events exacerbated by climate change, forest habitat loss from land-use change and over-exploitation of marine resources.
We can deal with these challenges, as the return of the Saint Lucia Amazon, or Amazona versicolor, shows. In the 1970s, only around 100 of these birds remained. Thanks to a conservation programme, the species is now on an upward trend. While still classed as "vulnerable" on the International Union for Conservation of Nature's Red List, the last census of the bird, carried out between 2007 and 2009, found a stable and viable population of 2,258 individuals.
The Government of Saint Lucia, with the support of UN Environment, is determined to repeat this success for all the island's natural resources while ensuring a better future for its estimated 180,000 residents.
The nation is signed up to global treaties, including the three Rio Conventions: the Convention on Biological Diversity, the United Nations Convention to Combat Desertification and the United Nations Framework Convention on Climate Change, under which the Paris Agreement falls.
In order to meet its obligations and to design and implement meaningful interventions, the government needs to have a clear picture of where it stands in terms of data and required policies.
"While we pursue on-the-ground initiatives that guarantee our survival, it is equally important to pursue the soft initiatives that will allow us to make sound decisions on the strategic interventions needed," said Annette Rattigan-Leo, Saint Lucia's Chief Sustainable Development and Environment Officer.
In August 2018, the island took a big step forward. Working with UN Environment on a Global Environment Facility-funded project, the Saint Lucian government launched its first national environmental information system. Information on the three big treaties is available to ministries, the private sector, academia, multilateral environmental treaty focal points and the public. For each convention, indicators related to broader policy goals and objectives are being integrated to support reporting and translate data into useful and actionable information.
"This is certainly an encouraging endeavour, as it will allow Saint Lucia to work closely with UN Environment," said Gale Rigobert, Minister for Education, Innovation, Gender Relations and Sustainable Development. "We acknowledge the crucial role environmental information continues to play in helping us meet our national and multilateral environmental agreement obligations."
As part of the project, 17 major environmental data providers signed an agreement to cooperate on the development and use of the system, ensuring that the bigger picture will be as complete as possible. Meanwhile, the project developed a set of core sustainable development and environmental indicators for the Rio conventions, which all derive directly from the 1992 Earth Summit. According to Teshia Jn Baptiste, who managed the project, the system and associated common data storage facility have "significantly improved collaboration among the public and private sectors".
Those who work on the ground are hopeful that the new system will help Saint Lucia meet its commitments and so improve the health of its ecosystems.
"If we reach our targets, the livelihoods of fishermen and others depending on marine resources will be protected in the face of climate change impacts," said Allena Joseph, Fisheries Biologist in Saint Lucia's Department of Fisheries. "We can do this through better-informed decisions in areas relating to biodiversity conservation and resilience building."
The government has previously called for an end to illegal logging, which has led to habitat loss and landslides. Karl Augustine, a research officer in the Forestry Department, believes that the new system will help claw back some of the damage.
"We see a positive impact on human and wildlife cohabitation and a transition to forest in areas historically affected by land degradation," he said.
For species such as the Amazona versicolor and the people of Saint Lucia, this can only be good news.