10 Unique Oahu-Only Experiences
This year, where will your journey take you?  Four Seasons Resort Oahu at Ko Olina, located on Hawaii's famed leeward coast, offers a new breed of bespoke Oahu experiences. Whether in search of wanderlust, adventure or relaxation, Four Seasons unveils the top 10 most coveted "must-do" experiences that global travellers can look forward to when visiting the Resort.
Arrive in Style – Four Seasons Luxury Fleet Airport Transfers: For an extraordinary arrival and departure experience, Four Seasons Luxury Fleet is available to transport guests to and from Honolulu International Airport.  The fleet includes a dedicated Four Seasons yacht, helicopter or vehicle of choice.
Four Seasons Private Yacht: As the first of its kind from a resort in Hawaii, Four Seasons guests have privileged access to a 75-foot (23 metre) luxury Four Seasons yacht.  Redefining the Oahu experience, set sail with Four Seasons and embark on an awe-inspiring day or evening excursion aboard the vessel.  Whether for a full day of adventure exploring secluded bays along Oahu's leeward coast, or dining al fresco under a blanketed starry sky, the private yacht experience includes a bespoke itinerary.
Ready, Set, Jet:  Experience the ease and thrill of island-hopping aboard Four Seasons Resort Oahu Private Jet Experience.  Designed with discerning guests in mind, the private jet offers an extraordinary customised journey around the Hawaiian Islands in the comfort of a luxurious eight-passenger jet.  Enjoy a day of discovery and embark upon Hawaii's natural wonders, cultural sites and thrill seeking locations.  Whether teeing off from The Challenge at Manele's famed 12th hole sea cliffs or visiting Molokai's historic Kalapaupa, the memories will be extraordinary.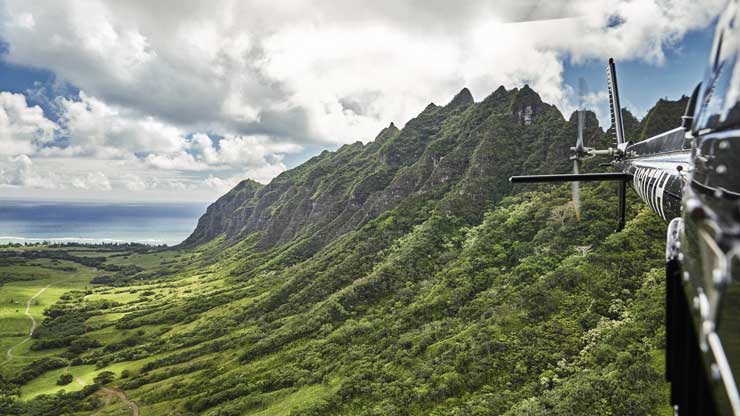 Suite Dreams: An incredible night's rest is guaranteed at Four Seasons, but now the Resort is taking it to a new level – or rather the stars, with the Dream Under the Stars specialty Suite Dreams amenity.  Located exclusively in the Presidential Suite on the 4th floor private Sky Terrace, a customised open-air bed is available to star gaze under a blanketed sky, followed by a dreamy night's rest in the Hawaiian outdoors.  Four Seasons turns dreams into reality.
Outer Known Palehua Experience: Embark on a spiritual and challenging journey to Palehua, one of Oahu's most sacred historical and cultural sites.  Located a mere three miles (4.8 kilometres) from the Resort, the awe-inspiring hike – which is closed to the public – is offered exclusively to Four Seasons guests and led by a renowned hui (group) of revered cultural practitioners.  Along the five-mile (8 kilometre) trek, guest will come upon wildlife, native Hawaiian fauna and breathtaking vistas of the Waianae coastline and neighbour islands including Maui, Lanai, Molokai and the Big Island, all the while learning about the ancient culture and traditions of this significant area.  Experience Hawaii's natural playground and discover where time stands still.
GoPro Adventure Hub: Be a hero with Four Seasons.  Inspired by Hawaii's pristine beauty and natural outdoor playground, the GoPro Adventure Hub is a vibrant artists' studio that allows guests to utilise Four Seasons dedicated GoPros and collaborate with the Resort's adventure photography team.  Share epic moments, be inspired, and most importantly, capture hero-worthy moments.
Farm to Fork:  Bring an appetite and allow renowned Chef Martin Knaubert to feed the soul.  As a pioneer in a new class of culinary artists who are breathing new life into the farm-to-table movement, Chef Martin showcases his innovative artisanal culinary approach throughout the Resort's five distinct outlets.  Guests can savour sustainable local cuisine influenced by the Hawaiian Islands – providing a captivating dining destination for all to enjoy.
Adults Only Pool and Beach: The Resort's Adult Pool offers a serene pool experience with an ideal westward-facing location, perfect for taking in the colourful sunsets famous on the leeward coast of Oahu. Just next to the pool is the adult-only beach, a calm, secluded area offering Four Seasons beach amenities.
Ko Olina Golf Club:  Get into the swing of island life with an 18-hole foray into the Hawaiian landscape at the stunning Ko Olina Golf Club. Designed by Ted Robinson, the course features exceptional water features, multi-tier greens and large landing areas.
Faces of Hawaii:  Oahu's western coastline is home to revered cultural storytellers and some of Hawaii's most fascinating living legends.  From watermen to kupuna, these kama'aina are the breath and life of Hawaii. The Faces of Hawaii program offers a rare glimpse and personal interaction into the lives of some of Hawaii's revered individuals, cultural traditions and historical knowledge.
The Green Trip List: 5 Eco-friendly Destinations for the Green-minded Traveler
Traveling is one of life's greatest pleasures and definitely a luxury we should not take for granted. This June, as we commemorate World Environment Day and World Oceans Day, it is the perfect opportunity to take a step back and consider the impact we have on Mother Earth. As we embark on our adventures around the world, we should be conscious of making responsible decisions that are sustainable – so we can minimize our carbon footprint and preserve the natural and cultural landscapes for many more years to come.
While it may be hard to cut down on our travels altogether, we can take the first step and practice being a more green, conscious traveler. For a start, here are some eco-friendly destinations and activities you can consider for your next trip! Not only do these locations offer initiatives for guests to actively take part in, but they also play a big behind-the-scenes role in contributing to a healthier, greener earth.
Take an eco-friendly bath at Hilton Lake Taupo, New Zealand
At Hilton Lake Taupo, you can experience nature at its best. Nestled amidst picturesque rolling mountains, the hotel not only boasts breathtaking views of New Zealand's largest lake, but also keeps its carbon footprint low by leveraging natural resources around it. The neighboring Onekenek Thermal Valley is an excellent source of natural gases and is exactly what the property harnesses to heat up its pool, showers and spa in its Heritage Wing. Be sure to take a dip, and pamper yourself in this man-made hot spring!
Cut down on your food waste at Hilton Sydney, Australia

Located in the heart of the bustling metropolis, Hilton Sydney offers the best in comfort and convenience. While enjoying the luxurious amenities, you'll be heartened to know that the hotel really goes the extra mile to remain sustainable, even when no one's looking! Aside from initiatives like introducing biodegradable cutlery and installing LED lights in the lobby and ballroom, it is also a champion of food waste minimization. The hotel has partnered with the World Wildlife Fund (WWF) to track its food waste and adopt new methods to reduce it further. In addition, it regularly donates food surplus to charity organizations, so these high-nutrient, quality foods don't go to waste.
Keep the beaches clean with Conrad Bali Resort & Spa and Hilton Bali Resort, Indonesia
Honestly, who doesn't love Bali? With its endless coasts, sunny weather and relaxed atmosphere, there's no doubt it's the perfect beach destination. However, even this paradise can get sullied, with tourists leaving behind plastic waste that washes up on the beachfront. To combat this and prevent further pollution, Conrad Bali Resort and Spa, alongside Hilton Bali Resort, took part in an island-wide clean up initiative which cleared more than 30 tons of plastic waste! The beaches have never been so pristine. If you are lucky, you may be able to take part in one of these clean ups on your next trip and play your part in helping the environment as well. Of course, be sure not to leave your own trash behind!
Support sustainable dining at Hilton Singapore, Singapore
Foodies unite! We all know that food is a big part of the travel experience, but it can be difficult to find quality dishes that are sourced and produced sustainably. In the food haven of Singapore, head right on down to Verde Kitchen at Hilton Singapore for an authentic farm-to-table experience. All ingredients have been certified sustainable and some are even grown at the property's very own vertical garden! In conjunction with World Oceans Day, the Verde Kitchen is running a special "Pick the Right Catch" promotion from now until 30 September. It promotes sustainable seafood dining that is full of natural flavors – featuring refreshing options like sesame-crusted MSC-certified U.S. scallops, almond-crusted ASC-certified salmon and MSC-certified Nonya-style New Zealand rockling fish, among others. You definitely won't be disappointed.
Go #plasticfree at Hilton Manila, Philippines
The #nostraws movement is going strong, but Hilton Manila has taken it one step further with its mission to cut down on all plastic! Aside from eliminating all plastic straws, complimentary drinking water in guest rooms is packaged in reusable glass bottles, and there are no plastic wrappings on slippers and laundry. These are just a few examples of ways Hilton Manila is going #plasticfree. It's certainly a good step forward and a sobering reminder that we really don't need to use that much plastic in our daily lives.
The next time you plan a trip, be sure to do your research and pick destinations that align with your values. You can definitely have the holiday of your dreams while still being responsible and sustainable at the same time. Have a great, green trip!
The Rothschild Family's Art de Vivre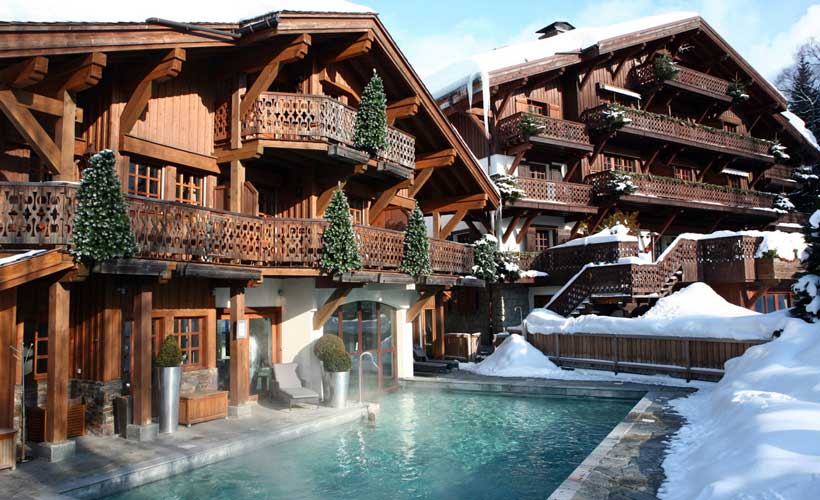 At the end of WWI, Noémie de Rothschild, wife of Baron Maurice de Rothschild decided to spend some time in St. Moritz, Switzerland. There, she dreamt of creating a similar ski resort in France, one with an exclusive atmosphere and a distinctly French character. On the advice of her ski instructor Try Smith, she discovered Megève, a small village dating back to the 13th century. She was immediately captivated by its charming character, as well as the splendid panoramic views from the Mont d'Arbois plateau above the village.
The Baroness was convinced that this picturesque site could easily rival St. Moritz, and decided to move forward with the creation of a ski resort at the Domaine du Mont d'Arbois. In 1920, construction began on her first hotel, Le Palace des Neiges (no longer in existence). With the Baroness's support, Megève quickly became a favourite with the aristocracy and other celebrities as well as famous names from the world of business and finance.
Gradually, more infrastructures and facilities were built in order to ensure the resort's long-term success. The first ski lifts and an airfield were constructed under the Baroness's watchful eye. A few golf holes were created in the 1920s, but her son, the Baron Edmond de Rothschild, was the real golf enthusiast and went on to create the Mont d'Arbois Golf Course in 1964, entrusting the layout to British golf champion Sir Henry Cotton.
Les Chalets du Mont d'Arbois, Megève, A Four Seasons Hotel
Only a two-minute drive from the Mont D'Arbois ski slopes, in the upper part of Megève, and only two kilometres from the existing Four Seasons Hotel Megève, Les Chalets du Mont d'Arbois are named after Benjamin and Ariane de Rothschild's first three daughters. The main chalet, renamed Chalet Eve, was bought by Edmond de Rothschild in 1960 to host select guests from an exclusive 100-hour party celebrating the newly renovated Palace des Neiges. Chalet Eve also features the restaurant Prima by Chef Nicolas Hensinger, which now boasts one Michelin Star, a stellar addition to the exceptional dining experiences available in Megève.
Chalet Noémie was built in 1927 for Baroness Noémie de Rothschild by the French architect Henry Jacques Le Même, and was initially the family's private chalet. Its location offers ultimate privacy, yet features large windows from which to enjoy the idyllic forest surroundings. The chalet has all the charm of an old farmhouse with a modern twist.
Chalet Alice, built in 2005 as an extension to Chalet Noémie, is the most recent of the three chalets. It includes a common living room, with a dining table and kitchen, as well as a private spa with hammam and 2 treatment rooms. The overall decor is bohemian and chic featuring pieces of modern art.
Both Chalet Noémie and Chalet Alice can be fully privatized, and are the perfect option for those travelling with their family or a larger group of friends. In fact, each addition, every detail, contributes to the rise of Megève as an elegant, stylish and authentic resort, embracing the history and local traditions the Baroness cherished.
From generation to generation, the Rothschild family's role in the development of Megève has never wavered. This personal involvement is now taken on by the Baron and Baroness Benjamin de Rothschild, who remain great connoisseurs of Megève.
Today, the Domaine du Mont d'Arbois extends over some 450 hectares (1,112 acres) and includes hotels, restaurants, the golf course and ski facilities. Ariane de Rothschild has personally assisted with the interior design of Les Chalets du Mont d'Arbois, Megève, A Four Seasons Hotel and Four Seasons Hotel Megève, to ensure that both Hotels reflect the family's long heritage and art de vivre.
7 Must Visit Sites in Chiang Rai
"Chiang Rai is steeped in culture and tradition, with so much to explore and a lot to be discovered," says Tobias Emmer, Camp Manager at Four Seasons Tented Camp Golden Triangle, "Don't leave Chiang Rai without seeing these sites!" These seven must-do experiences journey through the culture, tradition and rich history of this region.
Hall of Opium: Located close to the very fields where millions of poppies once bloomed, the Hall of Opium museum offers a comprehensive look at the historical opium trade in the region, the characters involved, and the lives of addicts. "The dark reality of this period in Chiang Rai's history and revival is brought alive through modern interactive displays and multimedia presentations," explains Tobias.
Royal Legacy Tour: Home to the Princess Mother's Royal Villa, these beautiful grounds are a horticultural masterpiece, with over 70 species of cool-climate flowers flourishing alongside native plants and trees. The garden blooms all year round, forming a splendid hillside tapestry that changes with the seasons. With the recent addition of the Tree Top Walk, guests can stroll along a 30 metre (90 feet) high walkway, bordered by lush treetops and exceptional views.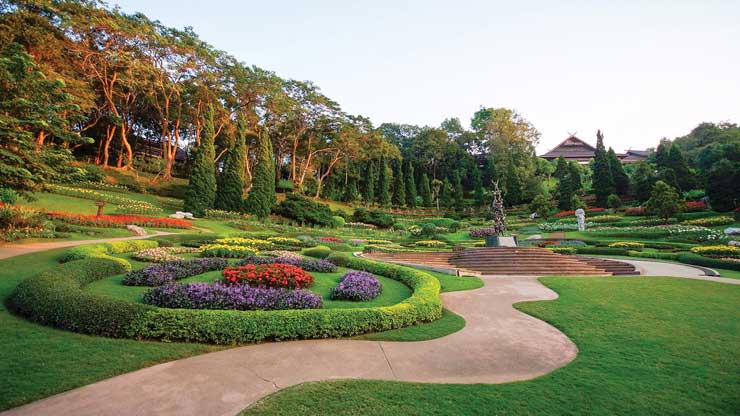 Golden Triangle Excursion: This experience begins with a cruise down the majestic Mekong River on-board a traditional, custom-designed long-tail boat. Making its way to the heart of Golden Triangle, where Thailand, Myanmar, and Laos converge, the spectacular view that encompasses three different countries are unmatched. "Guests can soak in the sights and sounds of the Golden Triangle, as they get from one place to another like a local, hopping onto a 'songtaew,' followed by a tuk-tuk, to visit a vibrant local market and a revered ancient temple, Chedi Luang. Our Camp Guides are very knowledgeable and will relate fascinating stories and interesting facts along the way," says Tobias.
Colour of Chiang Rai: A curated experience by Four Seasons Tented Camp Golden Triangle, guests can explore the vibrant culture of Chiang Rai through its most striking sights. "We recommend to start your journey at the Chinese Temple (Wat Huay Pla Kung), a dragon-flanked staircase leads you to a nine-storey golden pagoda, while a massive white statue of the Buddha offers blessings," he shares. Next, guests can discover the bizarre beauty of the White Temple (Wat Rong Khun), designed by renowned Thai visual artist, Chalermchai Kositpipat. "This is one of the most visited temples in Chiang Rai!" confirms Tobias. At Singha Park, lush greenery takes center stage: guests can stroll through tropical gardens and rolling plantations, while enjoying a cup of coffee. Before returning to the Camp, witness three countries coming together on the banks of Mekong River and enjoy the view of the Golden Triangle.
Doi Mae Salong Chinese Village & Tea Plantation: The Mandarin speaking residents have preserved their cherished customs for generations, such as the cultivation of 'high mountain oolong tea' – perfectly suited to the high altitude and cool climate of their village. "Your Camp Guide will reveal the fascinating political history of the region as you drive through the gorgeous mountain scenery that gives this areas its other name 'Little Switzerland'," explains Tobias.
Chiang Rai Kaleidoscope: Besides vividly-coloured temples, this curated itinerary includes other intriguing spots. "Guests can marvel at the Blue Temple (Wat Rong Suea Ten), an intricate masterpiece wrought in blue and gold which remains hidden from most tourists," says Tobias. Guests can then take a tour of the Black House (Baan Dam Museum), a cluster of 40 black 'houses' showcasing a private collection of provocative art. At Doi Din Dang Pottery, guests get a up-close-and-personal experience with potters at work, while browsing their lovely wares, made from the red clay, native to this region.
Craft Route: For an immersion into Northern Thailand's rich crafts heritage – including textiles, weavings, carvings, silverwork and paper-making – Tobias recommends a visit to Doi Tung Cottage Industries Centre. "This is a Royal Project initiative, where artisans make mulberry paper and roast locally-grown coffee on site." At the Doi Dung Daeng Centre, guests can witness the creation of stunning ceramics, "We'll take you to an excellent local shop, renewed for its high-quality antique textiles, hilltribe artifacts, beadwork and carvings," smiles Tobias.