Three Reasons Why Your Family Will Love Desroches Island
Finding a holiday to suit the whole brood can seem daunting, but you'll get all the family right when you choose to take them to Four Seasons Resort Seychelles at Desroches Island. Whether your family is large or small, you'll find the perfect accommodation options to suit your needs, and a whole island to occupy your days.
Your Home Away From Home
For families requiring multiple bedrooms and a bit more space, Desroches Island's private residence villas offer the ideal solution. Ranging from two to five bedrooms, each family member will enjoy their own private patch of paradise, with direct beach access, a vast lawn garden and inviting open air living spaces to play host to those memorable holiday moments. "There is ample room to enjoy time together and apart, making them the perfect fit for larger families or friends travelling together," comments Nick Solomon, Resort Manager
Kids For All Seasons
On Desroches Island, the kids' club is not confined to just one building or area. Instead, children of all ages are guided through island experiences designed to broaden their horizons and encourage carefree playtimes. The Resort's dedicated team of attendants are on hand to organise activities for all age groups, from learning to snorkel with a WiseOceans Marine Educator to embarking upon a discovery quest to find the island's largest and oldest inhabitant, George the Aldabra giant tortoise.
A Whole Island to Explore
If 14 kilometres (8.7 miles) of untouched beaches wrapped around a 6 kilometre (3.7 mile) long island weren't enough to keep the family occupied, there are also endless opportunities for adventure in the ocean that lies beyond. The Resort's Blue Safari team offer a range of diving and fishing experiences for every age group and ability, so that you can take the whole family on an ocean adventure. Found at the Castaway Centre, the team there can assist with planning boat trips and ocean excursions, while the neighbouring Discovery Centre is home to the island's own WiseOceans Marine Educator who is on hand to provide insight about many marine creatures you may find.
Rokeby Manor springs right from a fiction book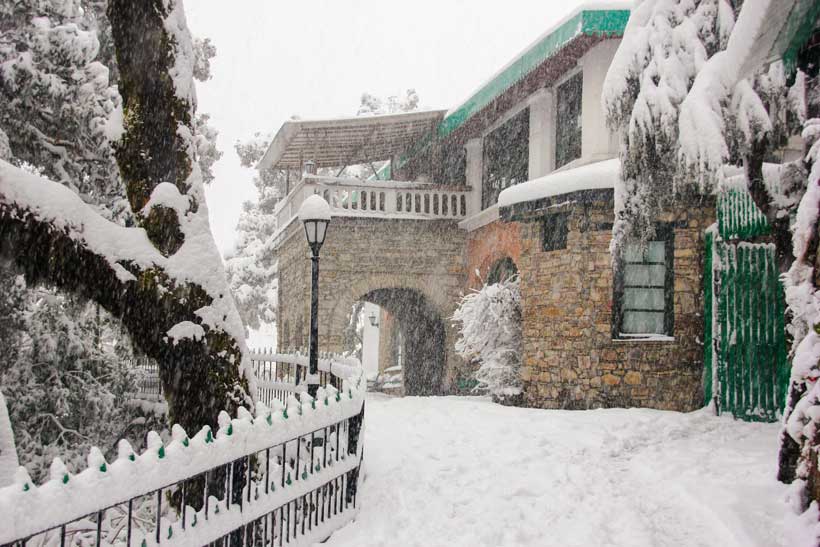 I visited Rokeby Manor in Mussoorie earlier this year. The property springs right out from a fiction book. Each room is uniquely designed by Ms. Rachna Narang has its own appeal. From the starry night room, it is easy to look at the walls which have a beautiful night sky painted on them and feel like you are a part of something larger. The room also has a small opening in the ceiling which can be opened right out whenever someone wants to glance at the night sky.
The Landour bakehouse is actually a landmark destination in Mussoorie. Landour gets many travellers, hippies and tourists who have driven 2 hours just to try the treats at the bakehouse. Rumours say that the bakehouse has come to life from a cookbook which was created by a woman in Mussoorie centuries ago. The vivid imagination is brought to life as a dog named Chu Chu always guards the entry to the bakehouse. A broken delivery van is placed outside the bakehouse creating an almost mysterious feel making travellers realise that they have come to a place with remarkable history.
Mussoorie is a place which I visit almost twice a year, just to feel more close to myself within. The place never fails to show a new side to me each time. Glancing at Dehradun city lights, the valley view and pine trees from Cafe Ivy, and the wondrous sunset from the Tea Garden at Rokeby Manor feels like a great grande break from the city life. It's the pause one often needs in their life. The mere feeling of going back to a destination which one somehow finds their heart comes back to life.
Emily's the classic restaurant at the manor boasts Italian food far better than anything you find in the city. The cheese at Emily's is sourced from the local shop Prakash stores which has nailed the art of cheesemaking over several decades. Overall, Emily's is one place where people come to feel like they belong again. Facing the valley and Himalayas, one can enjoy their lopchu (mild flavoured tea) and some fantastic baked potatoes with cheese. Their ratatouille is out of the world as they decorate each dish beautifully.
Mussoorie is the quaint destination where you find yourself bumping into locals who make great conversation. I met people working at WWF on my recent trip as they were trying to work on the Jabarkhet Nature Reserve to preserve the beauty of the place. Walking in Jabarkhet and trekking along the forest line made me feel like I was closer to nature. The stupendous view of the Himalayas with occasional views of Dehradun city made me feel grand.
As I walked around Char Dukan, I saw various sayings which were stuck on the walls around. I realised that Mussoorie was indeed the hidden wonderland which few people even knew the insides of. "The network is weak here but connections are strong", said one saying which was pinned to a tree. Right when I was reading the saying and taking a casual evening walk, the Himalayan view opened up to me with snow capped peaks. I realised that the view of the Himalayas was so profound that I may just stay there forever.
I was walking around mall road, the market street the next day and I ended up at Cambridge Bookstores. Casual chirp and mountain gossip later, the bookstore owner told me that he could arrange a signed copy from Ruskin Bond. I was delighted and decided to buy it for my father. What better gift than a book of mountain reflections from Mr. Bond himself.
There's a local village called Sainji around 40 mins away from Rokeby Manor. I learned that the property had played an important role in preserving the village and I decided to pay the place a visit. It was a fantastic experience travelling and exploring the village houses with corn adorned outside them. I felt delighted to stay at Rokeby because I saw that they are playing an important role in preserving the local cultural heritage. I was proud of choosing to stay with a place which was deeply vested in the community.
After hiring a scooter from the manor, I whistled away in the woods and glanced at the valley view. Mussoorie is a place where I have made so many memories and I am certain that there are many more to come. I may just stay there forever. The mountain gossip, evening tea, valley views and delicious food truly have my heart.
Shivya Nath: A bold solo traveler who is breaking gender stereotypes
In a majorly patriarchal Indian society, Shivya Nath found it in her to be a bold solo traveller. She leads a nomadic lifestyle, travelling across the world with her backpack. Shivya is the author of a best selling book, "The shooting star", in which she highlights more about her life and experiences travelling. The book is an inspiration to women who are staying at home, craving a free lifestyle, and want to travel the world solo.
In this interview with Modern Diplomacy, Shivya tells us more about her life experiences journeying the world. She tells us what it takes to travel the world as a solo woman and narrates her experiences both bitter and sweet.
You have travelled so much and seen the world so intricately that you might as well be a nomad. The most obvious question – what convinced you to travel the world?
I grew up in a protective Indian family in Dehradun, a valley at the base of the Himalayas, and spent my childhood wondering what lay beyond the mountains I could see from my rooftop. Upon finishing high school, I went to Singapore to study, with big dreams and a big student loan. As luck would have it, I graduated in the middle of the financial recession of 2009, when most companies I wanted to work with had ceased hiring. I landed a job with the Singapore Tourism Board, where my experiments with social media began, and I first began following the journey of travel writers / bloggers around the world. It was impossible to tame my restless cubicle-bound soul, so in 2011, I took a 2 month unpaid sabbatical from work. I went flash-packing across Western Europe with a friend, and volunteer-travelled by myself in the high Himalayas of India. In those two months, I saw, experienced and lived more than I ever had before. Within a week of my return to work, I decided to quit my first and only corporate job with a dream of travelling the world on my own terms.
Your new project, Voices of Rural India is picking up steam and picking accolades for telling the most unlikeliest of stories. How do you envision it forward?
Voices of Rural India is an effort to turn this unprecedented pandemic into an opportunity to create alternate livelihoods by upgrading digital skills in rural India, while also preserving grassroots knowledge that is slowly disappearing. Voices of Rural India is a not-for-profit digital initiative that hopes to revolutionize storytelling, by hosting curated stories by rural storytellers – in written, photo or video format. Unlike most existing online platforms, the stories of rural India are told directly by local storytellers. In the short-term, Voices of Rural India is creating a revenue stream for affected communities through digital journalism. In the long run, it aims to develop digital storytelling skills at the grassroots level, along with becoming a repository of local culture and knowledge, documented in local voices. We are currently working with rural communities in Ladakh, Himachal Pradesh, Uttarakhand, Kerala, Maharashtra and Gujarat, through on-ground community-based tourism organisations like Global Himalayan Expedition, Himalayan Ecotourism, Himalayan Ark, Spiti Ecosphere and Grassroutes Journeys. The initiative is supported by the Digital Empowerment Foundation. We're eagerly looking forward to a post-Covid world, where we can physically travel to visit the communities we're virtually working with, conduct digital storytelling workshops, identify local talent and hopefully bridge some of the gaping urban-rural digital divide.
Your favourite place so far? You can give multiple answers of course.
There's so much to love about so many places! I love my home country India, because despite its challenges, nowhere comes close to the diversity of natural beauty, food and culture it offers. It's perhaps one of the few places in the world where strangers are the quickest to become friends. Other than that, I feel a deep connection to Guatemala, Bhutan, Georgia and Iran.
Your passion for environmental protection and climate change issues is also noteworthy. What do you think should be the biggest change that can make mankind save itself?
Unlearning.
The more I slow travel around the world, the more I unlearn conventional ways of doing things. And that's exactly what we need on a massive scale – politically, economically and individually.
We need to unlearn our reliance on fossil fuels, the issues based on which we elect our leaders, the way we treat some animals as friends and others as food (speciesism), the way we measure development and so on.
A deep unlearning will (hopefully) allow us to re-establish a world driven by mindfulness and compassion, rather than money.
Your book 'A Shooting Star' is a bestseller. Along with the travelogue, it is also about a spiritual journey one undertakes. Do you thus agree with the phrase that humans can better understand oneself and another with more communication and a better experience of diversity?
The Shooting Star charts my battles and adventures from the cubicle to the road, and from small-town India to remote corners of the globe. I write candidly about my struggles of transitioning from an average Indian girl to a free soul, who wanted to live on her own terms, explore the world meaningfully and smash stereotypes along the way. I write about my relationships, battles, triumphs and life-changing encounters, and how I tried to conquer my deepest fears.
There's no doubt that travelling is as much an inner journey as a physical one.
Tell us about a time when you were travelling alone and felt challenged?
After traveling safely and adventurously through some of Central America's more notorious countries (like Honduras, labelled 'the most violent place on earth'), I had pretty much let my guard down in Costa Rica. On a hurriedly hailed cab ride to the airport to impulsively catch a flight to the Pacific Coast, the cabbie and I chatted like long lost friends. Closer to the airport, he told me we'd get stuck in traffic so it's better to drop off a street before and walk; I agreed without thinking twice. When we arrived, I paid him and got off the cab, only to see him grabbing my small bag – the one with my passport, laptop and everything precious – asking for more money or he'd take off with it. I had the equivalent of 50$ in my pocket and gave it to him, shivering at the idea of being left alone without my valuables. In retrospect, there were a lot of hints I didn't catch; he asked me if I had family in the country, or if I had a local SIM card – pointed questions that should have made me wary. I felt shaken up for days, refused to trust anyone else I met along the way, and found solace in places crowded with other tourists, much unlike my usual travel style. It really wasn't about the money I lost, but the trust I lost, and it took me months to rebuild it.
What has been your biggest achievement till date? The most satisfying moment in your career?
There have been many satisfying moments on this journey: Publishing my first book and seeing it become a national bestseller in just over a month of release; recognition, awards and international features for my work to promote responsible, immersive travel; launching a clothing collection inspired by The Shooting Star that raises funds to grow forests in my home state Uttarakhand; and most recently, co-founding Voices of Rural India to challenge the way digital storytelling is typically done in India. But I think I feel the deepest satisfaction when a reader reaches out to me to share how my work has played a role in inspiring them to make different life or travel choices.
Travelling, that too alone is still considered a taboo for women in large parts of India. What do you think will change that?
As more of us choose to travel solo and share our stories online or offline, change is bound to happen. While female solo travellers are still considered an anomaly in some parts of India and the world, there's a lot more chatter, acceptance and encouragement online now.
Neatly tucked away on the sparkling Turkish Riviera, the utterly luxurious Dalyan Resort is a dreamy coastal cocoon that one never wishes to leave. Once a sleepy fishing village, the seaside town of Dalyanon Turkey's glittering coastline has, in recent years, become something of a playground for the jet-setters seeking respite from city life and her pernicious tendencies. The unique medley of beautiful red bricked cottages and ancient ruins run into an alluring elegance.
With its status as a burgeoning tourist hotspot there has been a slew of luxury hotels and resorts, all jostling for the patronage of beautifully bronzed, well-heeled holidaymakers. Establishing itself as one of the area's most comforting boltholes, Dalyan Hotels run by the utterly charming, Yucel Okutur and his wife, Fulia. The seaside property promises a blend of style, serenity and comfort. Oh and how well it delivers. The magnificence is made clear from the very second one steps into the resort's cosy lobby. A sweeping look from the sleek marble-panelled arrival deck across the sea and towards the property's pristine private deck begs no question as to why this corner of the world is a secret so well kept. One cannot help but saunter around corners past slivers of glittering sea interspersed with bursts of pink oleander. A private sun-drenched armchair from which can embrace the nature enjoy the nourishment whilst flipping through the fables of Marco Polo, an apt companion an inspiration for and of travels.
The clever integration of spaces indoor and outdoor extends throughout the property inspiring a sense of oneness with nature. The classic yet contemporary interiors are best illustrated in the spa. Gazing at the marbled paintings, one reminds one of the four seasons, much like Vivaldi. The use of light, domes, marble tiling, high ceilings and open plan spaces generates a refreshing airiness and palatial spaciousness- a very special Turkish delight. Locally crafted fabrics, furniture and art are tastefully displayed alongside modern décor. No stuffiness or over-the-top excessiveness provides a veritable feeling of ease and comfort abounds, giving the sense that these are spaces designed to be lived in and moved through.
Moreover, travel brings out the best in men like myself who get dressed every evening feeling a bit like Napoleon: ready to conquer the world. There is a spring in our step and a smile on our faces. When we reach to our pre-booked table near the Riviera, we tend to soak in the ambience. There is a romance to every evening. We tend to find ourselves in the laps of fine company and an eclectic state of mind. Just like most things, travel for men like myself is not a liberator, rather, is the elixir of our being. After feasting well into the night with Kebabs and what not, one may feel inclined to forgo breakfast, but the extensive buffet is too enticing to refuse. One sets up for the day with freshly-baked bread and Turkish pastries, organic juices, a huge array of cooked dishes and plenty of fresh fruits and cereals. There is an overwhelming sense of calm in the entire hotel, which is more like home. Unbridled bliss is the name of the game it becomes impossible not to leave feeling utterly rejuvenated. The bespoke service of its staff, who are friendly and attentive without being bother some.I am inclined to believe, this' true luxury.