The 'abuse of food relief in Yemen' must end now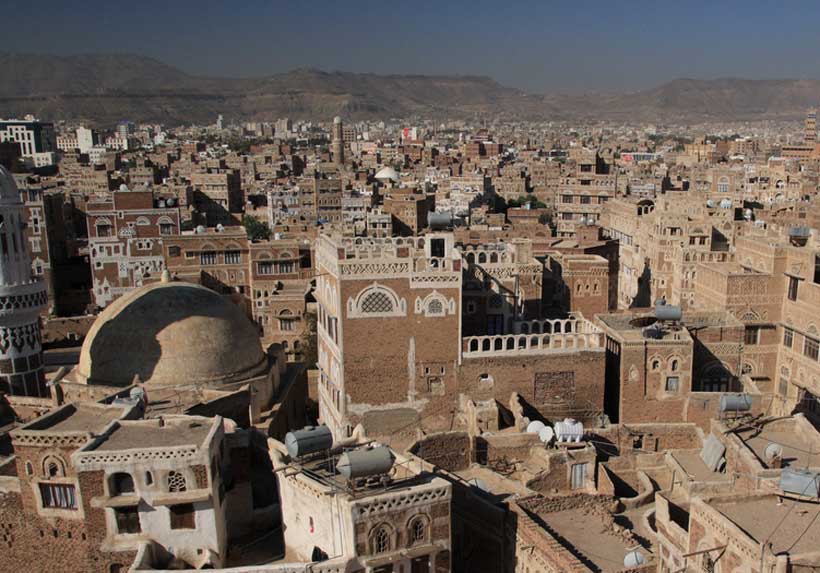 On Friday, the United Nations' World Food Programme (WFP) demanded that the stealing of food by warring factions in Yemen must stop immediately; and welcomed a statement from Houthi rebel leaders saying that the situation was now under investigation.
WFP's demands were issued in a letter to the Houthi leadership as well as in a news release on New Year's Eve.
"This is an issue that affects not just WFP but all aid agencies working in Yemen and indeed in war zones everywhere and no-one can say for certain how widespread this problem is", said WFP spokesperson Hervé Verhoosel, noting that humanitarian food assistance was being diverted in Houthi-controlled areas, including the capital of Sana'a, and, to a lesser extent, in the Government-controlled areas as well.
According to news reports, factions and militias on both sides of the conflict have blocked food aid from reaching groups suspected of disloyalty, diverting it instead to front-line combat units or selling it for a profit on the black market.
The UN agency has learned that many desperately poor people have taken to selling part of their food rations for education, medicines and rent.
An ounce of prevention worth a ton of cure
The Yemen Government gave WFP permission to biometrically register beneficiaries, by identifying and authenticating each individual based on person-specific data.
So far, WFP monitoring has identified seven centres in Sana'a city where an estimated 1,200 metric tons of food was diverted in August and September, equivalent to about one per cent of the food provided nationally each month.
"It is our monitoring systems that detected there was a problem", Mr. Verhoosel explained. "We are committed to ensuring our food assistance reaches those who most need it."
As the local partner organization involved in the abuse has at the same time helped provide food assistance to three million people, WFP underscored that the authorities must investigate and dismiss those responsible, regardless of whether the corruption was carried out by the Government or non-governmental organizations.
"To improve the support to beneficiaries, we have been looking into the introduction of cash-based transfers in some areas", said Mr. Verhoosel. "However, given the risk of corruption, we have made it clear to the de facto authorities that we will not introduce cash-based transfers unless we are authorized to implement a biometric identification system that uses personal data, including iris scans and ten-finger prints".
WFP is tackling the issue by tracking and monitoring suspected locations and closely inspecting distribution centres.
"The de facto authorities in Sana'a have a responsibility to take action against those involved in stealing from the beneficiaries and in trading of food aid," he stressed. "They should allow an independent beneficiary selection process and a biometric-based registration system."
Mr. Verhoosel said that the biometric identification system had been rolled out in Government-controlled areas and that authorities in Sana'a had yet to agree to implement the system.
UN Special Envoy to pay a visit
Meanwhile, Martin Griffiths, the UN Special Envoy for the country, is set to visit Yemen and Saudi Arabia on Saturday in his latest round of consultations with the warring parties, where a fragile truce has been holding in the key port city of Hudaydah, since 18 December.
According to the UN in Geneva, Mr. Griffiths is expected to meet with the Ansarallah leadership, (the official name of the Houthi movement), as well as with the head of the UN-convened Committee monitoring the Hudaydah ceasefire, General Patrick Cammaert; as well as UN Humanitarian Coordinator Lise Grande in Sana'a. He will then meet the President of Yemen, Abdrabbuh Mansur Hadi, and other officials in Riyadh.
Assange arrest exposes him to risk of serious human rights violations
Independent UN rights experts on Thursday said the arrest of Wikileaks co-founder Julian Assange by police in the United Kingdom, after the Ecuadorian Government decided to stop granting him asylum in their London embassy, exposed him to "the risk of serious human rights violations", if extradited to the United States.
Special Rapporteur on extra-judicial executions, Agnes Callamard, tweeted that in "expelling Assange from the Embassy" and allowing his arrest, it had taken Mr. Assange "one step closer to extradition". She added that the UK had now arbitrarily-detained the controversial anti-secrecy journalist and campaigner, "possibly endangering his life".
Mr. Assange took refuge inside the embassy in 2012, to avoid extradition to Sweden by the UK authorities where he faced charges, since dropped, of sexual assault. But he also faces US federal conspiracy charges, relating to the leak of a vast number of Government documents to his Wikileaks website, by the former US intelligence analyst, Chelsea Manning. The US argues that publication by the investigative site, endangered the lives of its citizens working overseas.
According to reports, the UK will now assess whether to extradite the Australian national to the US, where he faces up to five years in prison. The UK has reportedly given assurances in writing to the Ecuadorian Government that Mr. Assange will not be extradited to a country where he could face torture, or the death penalty.
After appearing in a central London courtroom on Thursday, Mr. Assange was found guilty of failing to surrender to the court in 2012, and now faces up to 12 months in prison.
The UN independent expert on the right to privacy, Joe Cannataci, issued a statement following the arrest, saying that "this will not stop my efforts to assess Mr. Assange's claims that his privacy has been violated. All it means is that, instead of visiting Mr Assange and speaking to him at the Embassy…I intend to visit him and speak to him wherever he may be detained."
In a statement last Friday, Special Rapporteur on torture, Nils Melzer, said he was alarmed by reports that an arrest was imminent, and that if extradited, Mr. Assange could be exposed to "a real risk of serious violations of his human rights, including his freedom of expression, his right to a fair trial, and the prohibition of cruel, inhuman or degrading treatment or punishment."
UK urged to 'abide by international obligations'
Last December, the UN Working Group on Arbitrary Detention, urged the UK to "abide by its international obligations" and allow Mr. Assange safe passage out of the embassy.
"States that are based upon, and promote the rule of law, do not like to be confronted with their own violations of the law, that is understandable. But when they honestly admit these violations, they do honour the very spirit of the rule of law, earn enhanced respect for doing so, and set worldwide commendable examples," said a statement released by the Working Group.
In December 2015, the Working Group concluded in its opinion No. 54/2015 that Mr. Assange – who at the time had a European arrest warrant issued against him for an allegation of crimes committed in Sweden ‑ was being arbitrarily deprived of his freedom and demanded that he be released.
"Under international law, pre-trial detention must be only imposed in limited instances. Detention during investigations must be even more limited, especially in the absence of any charge" said the experts. "The Swedish investigations have been closed for over 18 months now, and the only ground remaining for Mr. Assange's continued deprivation of liberty is a bail violation in the UK, which is, objectively, a minor offense that cannot post facto justify the more than 6 years confinement that he has been subjected to since he sought asylum in the Embassy of Ecuador."
"Mr. Assange should be able to exercise his right to freedom of movement in an unhindered manner, in accordance with the human rights conventions the UK has ratified," the experts added.
Research Team in Jordan Awarded for Innovation in Addressing Gender-Based Violence
A research team from University of Jordan, Jordanian Hashemite Fund for Human Development, and Harvard T.H. Chan School of Public Health has won funding to study ways to reduce gender-based violence in Jordan, the World Bank Group and the Sexual Violence Research Initiative announced today.
The 2019 Development Marketplace: Innovations to Address Gender-Based Violence award will enable the researchers to understand how social interactions among youth influence attitudes related to gender and to sexual- and gender-based violence. The research will take place among 1,000 youths aged 18-24 living in East Amman. The researchers will use these insights to promote evidence-based recommendations for further research and interventions.
"Gender-based violence is harmful to women and constrains the economy," said Saroj Kumar Jha, Regional Director for the Mashreq, World Bank Group. "It's often caused by attitudes that support gaps between men and women. I am very pleased to congratulate the researchers on this award, which will explore how social interactions among youth can shape these attitudes and help the country further down the path towards eliminating gender-based violence The World Bank also commends the Government of Jordan's commitment to increase female labor force participation, in alignment with the Jordan Vision 2025, and to change attitudes towards women's work and economic participation."
The World Health Organization (WHO) estimates that 35 percent of women worldwide have experienced physical or sexual partner violence or non-partner sexual violence in their lifetime. Studies show that in addition to causing direct harm to women and men, gender-based violence can cost economies up to 3.7 percent of GDP due to lost productivity.
"Although we know the costs and inter-generational effects of gender-based violence are significant, the evidence on how to prevent it remains relatively limited," said Caren Grown, Senior Director, Gender, World Bank Group. "This award helps researchers to build the knowledge needed for effective approaches to reduce violence. We know the World Bank Group has an important role to play in sparking innovation through funding research, as well as in implementing important lessons it provides."
The Development Marketplace is an annual, global competition for researchers to find innovative solutions that can help individuals, communities, and nations prevent and respond to gender-based violence.
"Along with rigorous research to give policy-makers needed information on what works to prevent and respond to violence, we also need to ensure there are implementable, scalable and cost-effective solutions," said Claudia Garcia-Moreno, SVRI Founder and Coordinating Group member.
Over three years, $4.5 million has been awarded by the Bank Group and SVRI to more than 40 research projects in 28 low- and middle-income economies. The Development Marketplace: Innovations to Address Gender-Based Violence is held in memory of Hannah Graham, daughter of a longtime World Bank Group employee.
This year, Development Marketplace awards will support researchers in Bangladesh, Democratic Republic of Congo, India, Jordan, Kenya, Kyrgyz Republic, Mexico, Nigeria, Papua New Guinea, and Peru. For the first time a private sector award is being given, with support from the International Finance Corporation (IFC).
SVRI is one of the largest global research networks focused on violence against women. SVRI's 6th global conference on violence against women, SVRI Forum 2019, is in Cape Town in October 2019.
25 years on from genocide against the Tutsi
In a message to commemorate the 25-year anniversary of the genocide against the Tutsi, during which Hutu and others who opposed the genocide were also killed, UN chief António Guterres has warned of dangerous trends of rising xenophobia, racism and intolerance in many parts of the world.
April 7 marks the start of the 1994 genocide, which saw over 800,000 Tutsis, moderate Hutu and others who opposed the genocide, systematically killed in less than three months. Mr. Guterres said that the anniversary is an opportunity to honour those who were murdered, and reflect on the suffering and resilience of those who survived.
One of those survivors is Libérée Kayumba. Today, she works for the World Food Programme (WFP) in Rwanda, helping refugees from other countries to meet their basic needs and survive the challenging conditions they face in the camps. But 25 years ago she was in their shoes, one of the many Rwandans forced to flee the genocide, after seeing her parents and brothers killed before her eyes.
Her understanding of what refugees go through has, she says, given her a deeper understanding of their plight, and the memories of the genocide have motivated her to work for the WFP and do what she can to help people in need. Nevertheless, she says that coming back from that has not been easy, either for her or her sisters.
Libérée is an example of the reconciliation that, in his message, Mr. Guterres says all societies are capable of, and urged peoples and countries to work together to build a harmonious future for all. The UN Secretary-General called on all political, religious and civil society leaders to reject hate speech and discrimination, which he described as an affront to our values, and threats to human rights, social stability and peace, and to "work vigorously to address and mitigate the root causes that undermine social cohesion, and create conditions for hatred and intolerance."
The United Nations is commemorating the International Day of Reflection on the 1994 Genocide Against the Tutsi in Rwanda with events around the world, including a memorial ceremony at the Palais des Nations in Geneva, and an event at the General Assembly Hall at UN Headquarters in New York, organized in collaboration with the Permanent Mission of Rwanda to the United Nations, which can be watched live on UN Web TV.