How to Eat Like a Local in El Salvador
Foodies with adventurous palates might be tempted to vacation in El Salvador just to enjoy its array of delectable local dishes.
Of course, the green and lushly tropical country called "Land of Jewels" by the locals has much to offer beyond cuisine. Visitors can enjoy volcanoes, beaches, archaeological sites, artisan communities and culturally rich villages along the country's nine established tourist routes.
Follow these tips for experiencing the destination's top attractions – and eating like a local along the way.
The capital of San Salvador
Start your trip in the capital exploring a range of stylish restaurants. Fusion-focused cuisine representing Spanish, Mediterranean and American dishes is served at trendy restaurants like Lobby, Oleos and Hacienda Real. The city is also home to historical monuments, theaters, museums and street markets where visitors can order traditional favorites such as pupusas, the national dish. Visitors to San Salvador the second Sunday of November each year can experience the country's largest National Pupusa Day festival, celebrating with the locals by feasting on the savory corn or rice pancake stuffed with pumpkin, beans, pork crackling, jalapeΓ±os, and/or cheese.
Joya de CerΓ©n
A visit to El Salvador's UNESCO World Heritage archaeological park offers travelers a history lesson on Salvadoran culture and cuisine. In studying the city buried intact under lava circa 600 A.D., archaeologists learned its ancient Mayan residents consumed the same basic foods of today's Salvadorans. Tried-and-true favorites include the flavorful shellfish stew mariscada; the traditional breakfast "plato tipico" (fried egg, refried beans, corn tortillas, cheese and fried plantains); yucca fritters; empanadas and the sweet-and-salty snacks totopostes (sweet, charred corn tortilla chips).
The Flowers Route
El Salvador's Flowers Route guides visitors through the Apaneca-llamatepec mountains, showcasing culturally rich artisan towns including Nahuizalco, Salcoatitan, Juayua, Apaneca, Concepcion de Ataco and Ahuachapan. Catch the weekend food festival in Juayua, where vendors from across the country serve up traditional fare such as tamales, soups and filled corn tortillas. Afterward, hike to Los Chorros de la Calera to view waterfalls and take a refreshing swim. Tour coffee plantations in Apaneca and Ahuachapan, stopping for a cup of locally grown java complemented perfectly by native sweets featuring coconut, molasses, toffee, caramel, sweet nance, tamarind or panela. Another must-try? El Salvador's take on the quesadilla, a rich dessert cake that also pairs well with coffee.
The colonial city of Suchitoto
The nation's cultural capital boasts well-preserved colonial architecture and cobblestone roads dating to the 15th century. Gourmands can dine at the many restaurants or cafes, sample local cuisine at weekend food festivals, and learn to prepare their own pupusas during interactive workshops at area pupuserΓ­as. Visit Santa LucΓ­a church, learn ancient indigo dying techniques through workshops at Arte AΓ±il, or hike to nearby waterfalls, caves and Lake SuchitlΓ'n while observing the area's 200 bird species.
La Libertad Coast
This internationally known surfing destination is also a favorite among seafood connoisseurs who feast on fresh fish, shrimp, octopus and ceviche at top eateries such as Beto's Restaurante and CafΓ© Sunzal. Visit La Libertad Pier for an up-close view of how the local fishing industry thrives. Another not-to-be-missed dining experience is at Acantilados, the newest luxury hotel to open along the country's Pacific coastline. On-site restaurant FAUSTO puts seafood center stage and is popular for its sushi and tropical beverages.
For more information on El Salvador's attractions, including its many culinary offerings, visit www.elsalvador.travel
Do and Don't Tips When Going Traveling by Backpacking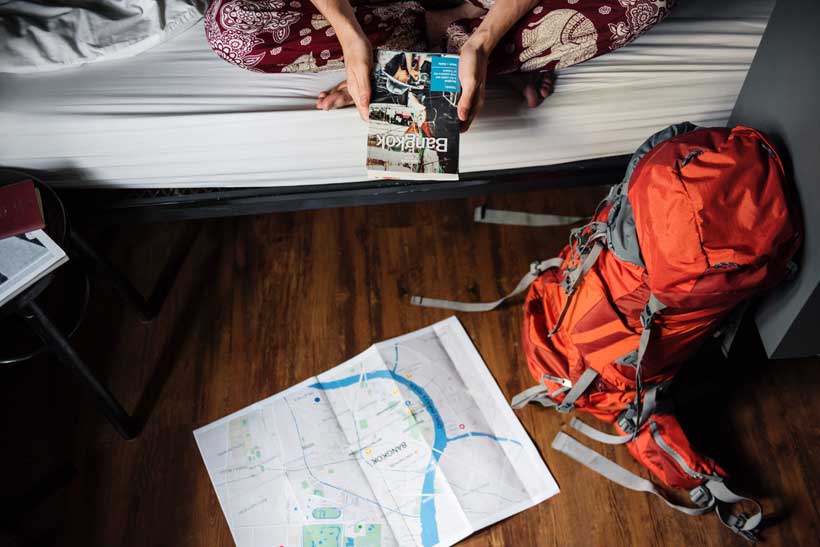 There are many ways that tourists can enjoy a tour. For some people who like activities with clear plans, they can travel together with tour guides or travel packages, but for those who prefer activities without a schedule and more free, they can travel by backpacker way. Both are equally used to enjoy travel, only the method and process is different. If you use tour guides & travel packages, they are usually more time bound and need extra costs to pay for tour guides/buy travel packages at a predetermined price. Meanwhile, for backpackers, it is a tour that is carried out without the use of a tour guide. Usually individually or in small groups of 2-4 people. Backpacker can also be interpreted as someone who travels on a limited budget. So that in doing this trip usually many unexpected conditions can occur. However, backpacker travel has many advantages such as being able to feel the essence of travel more, getting to know many new people during the trip, practicing independence, and being able to more freely manage time and costs during the trip. In addition, because backpacking is carried out without a tour guide, there are usually infinite obstacles that can occur.
To minimize risks and problems that are not expected to be able to make some preparations before going backpacking. Here are 6 tips that can be do before traveling the backpacker way:
Do a detailed calculation before leaving. Before leaving for a backpacker, make sure your financial condition is sufficient so that the traveling process can be carried out calmly and comfortably without fear of running out of money. Try to detail any expenses that might occur so that we will not spend money carelessly and can keep costs down. So that travel planning is the first step that must be done to make the trip easier.
Conduct a survey by looking for information related to the places we will visit. This survey was carried out as a whole, namely tourist locations, lodging places, transportation that can be used and the normal range of food prices and transportation costs. This needs to be done in order to make it easier for us to do backpacking and avoid the possibility of being cheated by people or being priced more expensively. Because usually foreign tourists will get prices more expensive if they are not good at bargaining prices or if they don't know the original price
Limit the items to be brought. This is done to avoid wasting space on the backpack that we use. Because later we will be traveling with a backpack, it is necessary to carry not too many items so that we are more free to travel and not be bothered with too many items.
Bring the important stuff. Important items that must be carried when doing this backpacking include: medicine needs to be carried because it makes it easier for us when sick or in a condition that requires temporary treatment so as to avoid bad things, then there are security devices, just in case it is necessary to bring at least one safety device that small and can be stored in a place that is easily accessible by hand, this is important in case something is dangerous. This safety device can be in the form of pepper spray, electric shock or etc. Then the next item that must be brought is money and cash. Carrying cash in small denominations is also important to make the payment process more effective and fast.
Use promos. When traveling to reduce costs, always check the promos available in various applications, be it promos for travel tickets, promos when buying food, hotel or other promos. As long as the promo can be used, it must be used as much as possible.
Make sure you have a healthy and optimal body condition. Health is one of the important things that must be taken care of before becoming a backpacker because if we travel with an unhealthy body condition, it is feared that we will fall ill at tourist sites so that we cannot enjoy vacation time. This is of course very unfortunate and not expected to happen.
While the above are tips that can be done before backpacking, there are also some things that should not be done when going on a backpacker trip. Some tips that should don't or even avoided when backpacking include:
Don't trust people easily. When traveling we must increase our anxiety and be more sensitive to conditions that we can experience at any time. Because crime sometimes arises because of our opportunities and carelessness. So that at any time when we are careless we can be deceived by bad people. Therefore, do not easily believe in suspicious offers and gifts from strangers.
Don't do things that are not polite and litter when we go on a backpacker trip, both during the trip and when we arrive at our destination. We must be polite and courteous. So that we can travel comfortably without causing problems with other people.
Don't want to be forced to buy an item, on a backpacker trip to a tourist spot there will be many traders who offer their wares and even tend to be pushy. But if you really don't want to buy and don't really need it, don't buy the item even if you are forced to, this is important to save expenses. Because it would be better if we spend money to buy goods according to our wishes and according to initial planning.
By implementing do and don't tips when traveling by backpacking, it is hoped that it can reduce problems that arise when backpacking. So that the tour can be enjoyed comfortably if no problems arise and enjoy the holiday according to their respective goals. Because everyone's vacation goals can vary, some want to get to know new cultures, relax their minds, heal and rest in new places they have never visited.
Kopi Luwak and Black Ivory Coffee: The Most Expensive Types of Coffee in The World
In this world there are so many unique foods and drinks that come from every country. The uniqueness of this food and drink is often an attraction for other countries to visit to see the process of making and its unique taste. Because of this, many countries are competing to create unique food and beverage product innovations that can be recognized by people from other countries. Including in the field of coffee. Coffee itself is familiar to everyone and has become a universal drink in every country in the world. The original coffee taste has a bitter taste, but now there have been many modifications to the coffee blend, so there is also coffee that has a sweet and slightly sour taste. With a unique taste and distinctive aroma, coffee connoisseurs are increasing every year and as coffee connoisseurs increase, many coffee shops have sprung up. So the demand for coffee beans is also increasing rapidly. At first people enjoyed coffee with the aim of reducing drowsiness, but nowadays the purpose of people enjoying coffee is wider, such as starting activities, drinking with friends while relaxing and doing work to make them more concentrated and some people even make drinking coffee a lifestyle. This, of course, has to be seen from both sides, the positive side is that more coffee connoisseurs can increase sales and create more jobs. But the negative side of consuming too much coffee can be bad for health. Some diseases that can arise when consuming coffee exceeds the body's tolerance limit, including insomnia, digestive problems, palpitations and headaches. Even though it has side effects, if you don't consume too much coffee, it can be a drink that makes the mind relax.
There are many types of coffee in the world and they come from various countries. And for coffee lovers they will always want to taste the famous taste of coffee from each country to get personal satisfaction. Because usually people who like coffee have a tongue that is more sensitive and sensitive to the taste of coffee so they can give an assessment of whether the coffee tastes good or not. No wonder if a coffee can be priced very expensive if it is judged to have a uniqueness in terms of aroma, taste and manufacturing process. Among some of the most expensive types of coffee in the world, there are 2 types of coffee that come from animal waste and managed to become the most expensive coffee in the world. The meaning of animal waste here is that the animal is fed coffee and then it will be digested in the animal's stomach and when the animal poops, the coffee beans will come out along with the animal waste, but the coffee beans are still intact or not crushed so they must be cleaned with special techniques to separates coffee beans from animal waste, before being processed into coffee that can be enjoyed. The 2 types of coffee that come from animal waste are black ivory coffee from Thailand and kopi luwak from Indonesia.
The first is black ivory coffee which is a type of arabica coffee. The price for this coffee is around $1000 per pound. Crowned as the most expensive coffee in the world because the process is quite complicated and unique, this is because this coffee comes from elephant dung. With the high price, this coffee can only be found in exclusive places. The reason why coffee is so expensive is because elephants have ineffective digestion. Of the approximately 33 kg of coffee beans that are fed, only 1 kg remains which can be further processed. In addition, the process of making coffee is quite long because elephants take about 15 hours (Joe Chang, 2017). For its own taste, this coffee has a unique taste and is not too bitter. This taste is created from the manufacturing process where elephant digestive enzymes can reduce the protein in coffee beans. Protein has a role to make coffee taste bitter. So the less protein in coffee, the lower the bitter taste. With a taste like this, elephant coffee can be combined with additional flavors or enjoyed with its original taste so that it makes the coffee taste even more delicious.
The second is kopi luwak. Kopi itself comes from Indonesian which means coffee, while luwak is civet. So this kopi luwak means coffee that comes from civet droppings. In the country of origin, kopi luwak comes from Java and Sumatra. kopi luwak costs around $160 per pound. The reason for the high cost of this coffee is because the process is quite complicated and its availability is not much. Civet has a unique habit of eating coffee, he only wants to eat coffee that is good quality so that the civet will choose good quality beans for himself. The fruit that is eaten will be digested by these animals, strangely the digestion of these animals cannot destroy the layer of coffee, only the flesh and skin of the fruit. Furthermore, the seeds will undergo a fermentation process (Sasame Coffee, nd). For its own taste, this coffee has a subtle and not too sour taste with a delicious distinctive aroma. This coffee has been exported to many countries and many coffee lovers like the taste of this kopi luwak. But there are also some who don't like it because they can't tolerate the process of making civet coffee. Like coffee that comes from elephant dung, civet coffee is also processed by repeated washing processes to ensure its cleanliness so that it is safe for consumption.
Black ivory coffee and kopi luwak are two proud products of their country of origin. Because the type of coffee that has become worldwide and managed to become the most expensive coffee in the world helped raise the names of the two countries, namely Thailand and Indonesia. There are still many unique and delicious types of coffee that we may not know about. In the future, it is undeniable that other unique coffees from various countries will appear following the culture of that country. Given the rapid advances in technology nowadays, it is possible to create new products resulting from the innovation of scientists that can be processed by entrepreneurs and marketed widely.
A moment of peace in Jaipur, Rajasthan
What made everything even better for me was the food curated by Executive chef Raj Singh. For every meal, there was a different set up in a different area.The first meal we had was in the outdoors candle lit area overlooking the rest of Kukas. This was during the wedding season so we saw firecrackers light up the sky. It was a beautiful ambience for dinner. The next day, we had breakfast by the pool where a specially curated breakfast menu was presented to us. Their pool side has many peacocks and I could spot them from my breakfast table. It was an Instagram worthy spot for food. Next up, I also had lunch on the balcony of my tented room. It was a great experience in itself.
Being a Rajasthani myself, I have often found myself wondering where I can try the best Marwari food. And not surprisingly, I have always found it in Rajasthan. The aloo dum, paneer masala, dal, batti, churma has unnervingly been the best in Rajasthan. By far, I can also vouch for having tried the best pastas, pizzas and desserts in Rajasthan considering it is now the hub of destination weddings in India. My stay at Rajasthali Resort and Spa was no less and the food was culturally representative of the heritage that I also carry within myself. Speaking of the Marwari community, I am working on a book titled, "The Culture Trap" focusing on Rajasthani culture and the Marwari community. The book should be out later in 2022. It is a great read for everyone planning to visit Rajasthan, especially those who want to know more about local culture and folklore.
Traditional architecture
Another thing I loved about Rajasthali Resort and Spa is their grand entrance gate. As soon as I reached the palace, I felt like I was entering like Rajasthani royalty itself. The grand gates and small sculptures on the way to the gate were mesmerizing. I felt teleported to another century and time. Most people don't know this but Rajasthan has had many wars in the past, hence it has numerous forts like Nahargarh in the city. During wars, most Kings would live in tents with the best facilities, special chefs, great food, leopard skins, grand mirrors, chandeliers and everything their palace would have. Even now, the tent theme is popular at some hotels in Rajasthan and provides an exotic getaway escapade. Rajasthali Resort and Spa also has tent shaped rooms where people can stay among other properties in the region.
I also experienced some traditional architecture at City Palace and Hawa Mahal in Jaipur, perhaps the two most common spots for travelers in the region. One really needs to keep their stuff safe while on a visit. Pickpockets are common and even more common are overcharging shops selling local handicrafts. Rajasthani hospitality is otherwise one of the best things anyone could ever experience.
Things to do in Jaipur
A famous activity in Rajasthan is leopard sighting. This is increasingly famous in the JAWAI regions of Jaipur. To my dismay, the safari was fully booked when I was there. I would definitely recommend you to book it in advance to avoid missing out on the experience. If you are up for visiting a monkey temple, you can even explore Galtaji Temple on the outskirts of Jaipur. It is a unique experience to be climbing on steps to get a view of a holy lake with monkeys following you around. Just don't make eye contact. They might steal your phone or sunglasses, anything on the loose. I once lost my milk bottle as a baby and the monkeys never gave it back. Holidays indeed make up for stories of a lifetime. Rajasthali Resort and Spa, where I stayed, had some beautiful cycling tracks around. I cycled amidst nature and viewed peacocks at sunset. It was one of the most mesmerizing and detoxing experiences of my life. For all those who care, peacocks are my favorite birds. They're magnificent, colorful and beautiful. You might even choose to venture out for a swim and trust me, it will be worth it. Swimming in the pink city with the sun soaking on your body can be more relaxing than even the best spa in the city. Being a Mumbai girl, I need some peace and quiet and gladly I found my spot in Jaipur.
Finding myself
What holidays are about most of all is finding ourselves. I was glad to get a moment of peace from my fast paced life in Mumbai. All I needed was a break and I finally got it close to my native town. Rajasthan is my home. It runs through my veins. "Padharo Mhare Des." If you know, you know.