Where's my flying car? 5 futuristic concepts drivers want most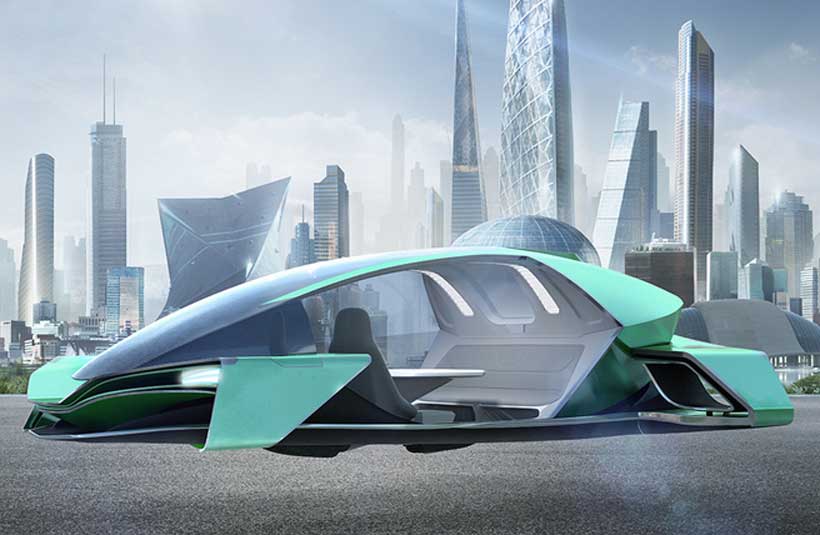 Do you remember being a child, sitting in front of a glowing television? Eyes wide, legs crossed and a little bowl of marshmallow-filled breakfast cereal in front of you? The familiar theme song would play, color would fill the screen and there they'd be — that futuristic family in a flying cartoon car. It was an incredible sight, one that filled us with wonder and excitement, and the hope of having our very own airborne automobile by 2020.
Sixty-eight percent of Americans believed that dream would turn into reality, according to Hankook Tire's Gauge Index Survey. And while we wait for that innovation to come to mass-market fruition, the reality of putting your car on autopilot from A to B is right around the corner.
Here are five more futuristic expectations drivers have set as they look down the road:
1. Expectation: Tires that never go flat.
According to the Gauge, more than one third (35 percent) of Americans consider the run-flat tire to be the biggest tire technology achievement in recent history. Another 44 percent are looking to see self-repairing tires as an imminent innovation. The reality is, as automotive technology continues to drive forward, tire technology is rolling along right beside it. Tire manufacturers are looking to improve performance and sustainability through inventive designs like the Hankook Kinergy AS EV, engineered to accommodate the complexities of modern electric vehicles.
2. Expectation: A distraction-less drive.
There has been plenty of advancement in tools to downplay distracted driving — think Bluetooth, "Do Not Disturb" and similar functions for our mobile devices. It's too bad there hasn't been a way to keep our eyes off the other drivers. More than half (58 percent) say that other people's bad driving is their top distraction on the road. Autonomous technology such as lane keep assistance and automatic emergency braking help compensate for those distractions.
3. Expectation: Cars that can take care of themselves.
Nearly half of Americans (48 percent) would love to see their cars equipped with self-maintenance capabilities. In reality, today's maintenance technology is sophisticated and can predict things like how far you can go until your next oil change. And of course, there's an app for everything. Now just imagine … how easy would it be if your car couldn't just tell you it's time to take it in, but get the job done for you?
4. Expectation: Driverless vehicles for everyone.
Autonomous vehicle technology is certainly speeding forward, and there are some who argue it will help create a safer drive down the road. The survey found that men are nearly twice as likely to opt for self-driving capabilities as women (40 percent versus 24 percent). Those who aren't looking for cars to drive themselves may like their vehicle to be smart in other ways — like when it comes to their coffee order. Millennials, for example, are significantly more interested in seeing cars be able to automatically order their morning coffee than other age groups (15 percent).
5. Expectation: Lots and lots of legroom.
As we look toward the future of car autonomy, it's clear that Americans would love to kick back and occupy themselves when driving is no longer a responsibility. According to the Gauge, would-be drivers would spend their commutes sightseeing (39 percent), taking a phone call (33 percent) or eating (28 percent). So while today's reality might not include a table in the car itself, futuristic concepts may include just that!
There's no telling how long it will take to get us to a flying future, or even a fully self-driving one. But there's also no denying that vehicle and tire technology has come a long way from the days of the horseless buggy and wooden tires, and we can expect some fascinating futuristic tech to come.
Huawei case: The HiFi Geostrategic Gambit
In a general, comprehensive, strategic outline of the global scenario we can see that China is being harassed on several fronts by the US: commercial pressures, diplomatic maneuvers to block the progress of infrastructure projects (OBOR/New Silk Road), at technological level, the boycott/ restrictions against Huawei. These are some of the current modalities of strategic competition between great powers, without involving the direct use of hard / military power, which we could well consider a Cold War 2.0.
Analyzing the factors and interests at stake, the events in full development during the last months are not surprising, as the advances of the US government against the Chinese technological giant Huawei. Since the arrest of its CFO, Meng Wanzhou, daughter of the founder of the company, to accusations of espionage, boycotts and diplomatic pressure to annul Huawei's advances in several countries.
Huawei is the flagship, the spearhead of the Chinese technological advance. This onslaught is not a coincidence. While formally not having direct links with the Chinese government, Huawei has a prominent role in the Chinese strategic technological plan "Made in China 2025", because of its development and implementation of 5G networks, key part of the plan, which are estimated to be available around soon.
The strategic approach is to change the Chinese productive matrix towards a "High Tech" economy, of design and innovation, to position China in the forefront in the technological advanced sectors of the modern economy (artificial intelligence, biotechnology, robotics, automation, the internet of things, telecommunications, software, renewable energies, and the element that is in the most interest for us to analyze, the 5G). In Washington, they do not feel comfortable with Chinese advances.
The Eurasia Group consulting firm argues that the installation of 5G networks will involve one of the biggest changes in our time, comparing its appearance with major breaks in the technological history such as electricity. Some specialists, websites and the press have coined the term "Sputnik" moment, by comparing the potential impact of competition for the development of 5G technologies with the space race in the Cold War at the time.
The 5G will allow the use of faster network data, as well as the widespread and coordinated use of advanced technologies such as artificial intelligence, the internet of things, smart cities, automation, improvements in health, and in the military field.
The US has put pressure on several of its allies (Australia, New Zealand, Germany, Great Britain, and Canada to name some) to block Huawei's advances in services and investments in their countries, while restricting the purchase of Huawei's products and services on North American soil.
While it is true that several countries could give in from the pressure from Washington to "encircle" Huawei and restrict its services and products, so is the fact that many other countries, especially the many that have China as their main trading partner, in addition to all the pleiad of emerging and developing countries that are being seduced by the economic possibilities, and in this specific case, technology offered by China and its companies. What it would imply, a worldwide competition between American diplomatic muscle and Chinese sweet money.
And also in commercial terms, the progress of Huawei into the top of the tech companies is remarkable, due to its production methods and its business model, having surpassed, for example, APPLE among the largest companies that sells mobile phones being only second to Samsung.
Does anyone remember free trade? Competition? What's up with that? Or was it just a trick? It seems that in the global economic game, the US throws the chessboard away when it loses, and uses the geopolitical muscle, without any problem, following the Groucho's Marx doctrine: "Those are my principles, and if you don't like them… well, I have others."
The fears about Huawei's technology are hiding a power struggle, a hegemonic dispute over technology. So far the accusations of espionage against this corporation perhaps are valid in theoretical sense, but unprovable in facts, what left them as mere speculations. The accusations by the US against Huawei, through the speech of "the threat of espionage" are unbelievable, and hypocritical in some sense, and the speech is marked by a double standard… Who represents the threat?
is the same US that nowadays "advises" its allies and other countries to "protect" themselves against the "threat" of Huawei's espionage in favor of its government, the same country that spied on its own allies in a wicked way, if we remember the cases that Assange and Snowden brought to light.
We can also highlight recently the Cambridge Analytica scandal – much of which has been well predicted by prof. Anis H. Bajrektarevic in his influential manifesto about the McFB world of tomorrow. The Cambridge Analytica fiasco plainly showed the unholy relations between the big technological "independent" corporations like Facebook and Google with the political power in the West.
Conclusions
Technological competition is another chessboard of this new multilevel and multidimensional XXI Century Great Game, where the great actors move their pieces.
5G is the focal point for a global rush to dominate the next wave of technological development – a race many policymakers worry the U.S. is already losing, and that's why they act in this aggressive way. The strategic competition for advanced, high technologies such as 5G, and innovations in the fourth industrial revolution, will mark the "podium" of the great powers of the 21st century.
The technological new cold war between the two largest economies and powers in the world shows no signs of diminishing, either the strategic competition.
Who will win this Great Game on the chessboards? The patience / precaution and forecast of the game of Go, or the strong bets and bluffs of poker.
The geostrategic chessboard is already deployed. Players already have their cards in hand, and have moved their tokens. Prestige is to come.
Youth in the Global South Must Join Forces for Their Future of Work
I believe that the developing world is full of opportunities for young people because many of us have the energy and eagerness to make a difference in the world. In many cases the solutions to problems in communities are simpler than they appear. It just needs someone to push. I know from first-hand experience that there is nothing more rewarding than creating a venture or project that has an impact.
In 2001 I witnessed a foot-and-mouth disease outbreak among cattle that severely damaged the economy of Uruguay, as well as other countries' in the region. Many years later, in 2012, after graduating as an electrical engineer and working with small satellites, I heard about a competition for young innovators organized by the International Telecommunication Union. They were looking for technological inventions that could solve a problem in a particular region. I immediately thought about the foot and mouth disease outbreak and used my knowledge of space technology to create a system that could monitor anomalies in cattle remotely. I submitted the idea and some months later found out I had won the competition! With the cash prize I founded Chipsafer, a monitoring platform that analyses cattle behaviour using data transmitted from trackers installed in their collars. Besides detecting anomalies in cattle behaviour and combating cattle theft, Chipsafer can also help improve the decisions farmers make relating to the production process.
Countries from the Global South should join forces to surf on the wave of technological revolution and benefit from innovative solutions like these to overcome challenges and to achieve a better and more sustainable future. That's what we mean by South-South cooperation.
Young people – students, entrepreneurs, professionals, activists – need to play a part in this too because they are drivers of change. Yet, with 65 million young people unemployed globally, they still face many challenges.
In a few weeks I will be part of a panel at an ILO event in Argentina on the future of work for youth, with a focus on developing countries. It will take place on the sidelines of the Second High-level United Nations Conference on South-South cooperation (BAPA+40).
My fellow panellists will include Rebeca Grynspan, who was a member of the ILO Global Commission on the Future of Work, as well as workers' and employers' representatives. We'll look at the issue from three angles; policies for skills development, green jobs, and social dialogue. The aim of the session is to provide recommendations for BAPA+40 participants on the effective integration of youth employment policies into South-South and triangular cooperation (where developed countries or multilateral organizations support South-South cooperation).
I plan to talk about the challenges for youth in the context of the future world of work and discuss the impact of South-South cooperation in promoting decent jobs for youth.
Technology is revolutionising the world, and the world of work is no exception. I believe all stakeholders, whether they are international institutions, governments, employers' or workers' organizations, must accept responsibility and take collective action to build the future of work that we want. South-South and triangular cooperation must be part of the answer.
Artificial Intelligence in Knowledge Societies: A ROAM Approach – Open Data and AI
The session "Open Data and AI" organized within the framework of "Principles for AI: Towards a Humanistic Approach?" on 5 March 2019 requested UNESCO to continue leveraging its convening power to increase awareness around artificial intelligence and big data, support development of inclusive policy on Open Data and support upstream and downstream capacity enhancement.
The workshop noted Data as an essential element for the development of artificial intelligence. The availability of large amounts of user data through services on mobile phones and internet of things among other sources, has led to a variety of AI applications and services. However, there remain many challenges. These challenges encompass issues of access, privacy, discrimination and openness. Several of these challenges are within UNESCO's mandate of building inclusive knowledge societies for peace and sustainable development.
Ms Dorothy Gordon, Chair of the Information for All Programme at UNESCO pointed out that "despite the fact that we have a huge interest from many donors, we do not seem to have done very much systematically to prepare African countries to have useful data … [and] in a searchable format that can be combined with other sources to … yield something [beneficial]". She stressed the need to bridge gaps in terms of the availability of legacy data, setting policy standards, and enhancing capabilities of people to work with local data sets.
Ms Constance Bommelaer, Senior Director of Global Internet Policy and International Organizations at The Internet Society underlined 'data commons' as an interesting solution to explore but one that needs a nuanced discussion around ownership and privacy. She highlighted the need to challenge existing notion of competition and a need for "reconsideration of market values and monopolies". Stressing the importance of access, she shared the findings of a joint study carried out by ISOC and UNESCO that showed how a combination of local language content and better access policies results in immediate economic benefits at the local level.
As a government representative, Ms Veronika Bošković Pohar, Deputy Permanent Delegate of the Republic of Slovenia to UNESCO discussed 'regulatory sandboxes' as a means to provide controlled environment for AI. She hoped that Slovenia's proposed Category 2 Centre on Artificial Intelligence would be able to make several informed decisions, provide insights into technology and societal interface and create mechanisms for continuous monitoring and reporting to reduce risks posed by AI to vulnerable groups.
Speaking as a panelist representing a knowledge organization, Prof. Maria Fasli, UNESCO Chair in Analytics and Big Data at University of Essex noted the lack of understanding on AI and Big Data and expressed concerns for the difficulty faced by the academic community in accessing data collected by large technology firms for research purpose. She further highlighted the need for high quality representative data to ensure that algorithms are not biased.
Given their experience in tracking innovation trends across the world. Mr Marcus Goddard, Vice President of Intelligence at Netexplo Observatory underlined that "access to data is a necessary but not sufficient condition for innovation. Pointing out the general trends in openness, he mentioned that openness is not Silicon Valley's top priority and convenience seems to be the norm when it comes to launch of new products and services. He highlighted that even as data is being used in smart cities to improve access and sustainability, it is also increasing the threat of surveillance.
Mr Philippe Petitpont, Co-founder of Newsbridge, a Paris based AI and Media startup, presented the scale of the data problem that the media faces today. He remarked that media companies are gathering 30 million hours of video content every year, a number that does not include social media videos. In this situation, extracting useful insights from these videos is a cumbersome task albeit one that can be performed by AI. They try to leverage AI to help journalists process large amounts of data at lower costs.
The session brought the viewpoints of multiple stakeholders to the discussion table and some of the key concerns included were:
Urgent need to increase awareness around artificial intelligence and big data;
Developing strategies to strengthen access to data for training machine learning algorithms;
Supporting both upstream and downstream capacity enhancement to leverage data for benefit;
Involving private sector actors in the discussion around access to data and data monopolies; and
Creating systems for addressing discrimination and biases originating through data and algorithms.
The panel members congratulated UNESCO for facilitating important discussions around issues of rights, openness, access and multistakeholder participation in the governance of data and hoped to engage with the organization for further development of issues around Open Data and AI.