The Rolex Cellini collection: The eternal elegance
The Rolex Cellini collection celebrates the eternal elegance of traditional timepieces with a contemporary touch. Consisting of classically inspired models, it combines Rolex's know-how and high standards of perfection in an approach that heightens watchmaking heritage in its most timeless form.
The lines of the Cellini models are sober and refined, the materials noble, the finishings luxurious: every detail respects the codes of the art of watchmaking. But this collection is not suspended in an idealized past. Like the Italian Renaissance – one of whose most admired artists, Benvenuto Cellini, goldsmith and sculptor to the popes, inspired the name of the collection – the Rolex Cellini models mark a return to the sources of classicism, reinterpreting it in perfect harmony with their time. These watches, born of Rolex watchmaking tradition, evoke the finest examples of contemporary monumental architecture, where grandiose proportions and clean lines are accompanied by a strikingly modern reading of space and light. The Cellini watches are freed of the formal constraints of their heritage, fully assuming their role as refined guardians of time, symbols of luxury steeped in values that reveal an authentic art de vivre.
THE NEW CELLINI  COLLECTION
The new Cellini collection, presented in 2014, has its own distinctive aesthetic codes. The round shape, classic 39 mm diameter, and the cases available exclusively in 18 ct gold – cast by Rolex in its own foundry – are marks of tradition, while the Cellini's refined lugs, the polished finish and the double bezel – one domed and the second delicately fluted – add a touch of distinction. An emblematic Rolex feature, this fluting is also present on the case back, serving to screw it down. The case back is domed as in bygone eras. The flared shape of the screw-down crown highlights the refined aesthetics of the Cellini. The dials also bear witness to know-how and tradition: adorned with gold applique hour markers, they are either lacquered, or embellished with a classic "rayon flammé de la gloire" guilloche motif.
All models in the new Cellini collection feature a high-precision self-winding mechanical movement entirely manufactured by Rolex.
SUPERLATIVE CHRONOMETERS
Each Cellini Time, Date, Dual Time and Moonphase is certified as a Superlative Chronometer. This exclusive designation attests that it has successfully undergone a series of tests conducted by Rolex in its own laboratories and according to its own criteria, which exceed watchmaking norms and standards. These tests are carried out on the fully assembled watch, in order to guarantee superlative performance on the wrist.
The precision of every movement – officially certified as a chronometer by COSC (Swiss Official Chronometer Testing Institute) – is, therefore, tested a second time by Rolex after being cased, to ensure that it meets criteria for precision that are far more exacting than those for an official chronometer. The tolerance for the average rate of a Rolex Superlative Chronometer after casing is of the order of −2/+2 seconds per day. Its precision is tested by Rolex using an exclusive methodology that simulates the conditions in which a watch is actually worn and is much more representative of real-life experience. The certification testing is carried out using state-of-the-art equipment specially developed by Rolex. The entirely automated series of tests also checks the waterproofness, the self-winding capacity and the power reserve of 100 per cent of Rolex watches. These tests systematically complement the qualification testing upstream during development and production that ensures the watches' reliability, robustness, and resistance to magnetic fields and shocks.
The unique way in which Rolex watches are designed, manufactured and tested, together with the exclusive innovations from which they benefit, push back the limits of performance for mechanical watches   and   make   Rolex  the   benchmark   for   watchmaking   excellence.   The   Superlative Chronometer status is symbolized by the green seal that comes with every Rolex watch and is coupled with an international five-year guarantee.
THE CELLINI  TIME:  THE ESSENCE OF A  TIMELESS CLASSIC
Hours, minutes and seconds form the essence of time. The Cellini Time captures the present as if nothing else were of importance; nothing but the magic of the moment. Its simple, clear dial pays tribute to the timeless codes of classic watchmaking, while reinterpreting them with an elegant modernity. The extended applique hour markers are divided by a minute track, moved towards the centre of the dial closer to the tips of the hands. The hands count off each second, each minute and each hour with the full precision of a Rolex Superlative Chronometer.
THE CELLINI  DATE: ELEGANCE, DAY IN,  DAY OUT
The days go by in an infinite cycle: yesterday, today, tomorrow. Each day that passes is different, each day is essential. The Cellini Date model adds another function to the indication of hours, minutes and seconds: a date display suffused with elegance, tradition and poetry. Located at 3 o'clock, a small gold-rimmed sub-dial with a guilloche motif at its centre shows the full sequence of the dates of the month. Day after day, a small gold hand indicates the current date, as on timepieces of yesteryear. A splendid instrument to project the wearer into time, this calendar displays on a single dial the days gone by and days to come.
THE CELLINI  DUAL TIME: TIME  HERE AND TIME THERE
The Cellini Dual Time model grants its wearers the gift of temporal ubiquity. With a quick glance at the dial, travellers are simultaneously aware of the time here and the time elsewhere. The small gold-rimmed sub-dial at 6 o'clock shows the minutes and hours in a faraway part of the world. To differentiate daytime hours from night-time hours, a sun or moon symbol transits the aperture at
9 o'clock on the sub-dial. The large centre hands, shaped like two-edged swords, accompany the wearers on their journey. The hour hand can be set independently by successive "jumps" to adjust to  a  new  local  time  zone,  without  disturbing  the  functioning  or  the  precision  of  the  Rolex Superlative Chronometer movement.
THE CELLINI  MOONPHASE: POETRY IN  THE LUNAR CYCLE
The  white lacquer  dial  of  the  Cellini  Moonphase  bears  aa  blue  enamelled  disc  at  6  o'clock displaying the full moon and the new moon, the former depicted by a meteorite applique and the latter by a silver ring. The moonphase is read via the indicator located at 12 o'clock on the subdial, as the full moon and new moon rotate through the lunar cycle.
The Cellini Moonphase is also bestowed with an elegant date display around the circumference of the dial, via a centre hand with a crescent moon at its tip. This new model is driven by a self- winding  mechanical  movement  entirely  manufactured  by  Rolex,  whose  patented  moonphase module is astronomically accurate for 122 years.
Tips on How to Get the Most from a Sunroom
If you have decided to add a sunroom to your patio, you want to get the most from it, right? And it's possible. You only need to consider these tips:
Ensure the sunroom is facing the right direction
Everything begins here, as there is no way you will enjoy the sunroom if it's facing the wrong side. Don't get it wrong. There is no right or wrong location to build your sunroom.
You only need to ensure the unit is facing the direction that meets the needs you are looking to achieve. Some of the directions you can install the sunroom include:
North facing: A sunroom facing the north receives low sun levels and partial shade throughout the day. Patio contractors recommend north-facing sunrooms as the best sunrooms to install, but you should be ready to put on the heating system to use the sunroom in the winter.
South facing: South facing sunrooms are the most aesthetically pleasing sunrooms you can have, and they allow plenty of sunlight to get in during the day. Although they are beautiful, you may need a cooling system installed especially if living in the south.
Eastern facing: An eastern-facing sunroom is best if you love taking your breakfast in the sunroom or you love the sight of the sun early in the morning. This is because the sun gets in the sunroom early in the morning, while it's all shade in the afternoons and evenings.
Western facing: Are you at home mostly in the evening and love watching the sunset? This is the right sunroom to go for. If you live in hot areas, you may need to invest in shades and a cooling system to keep you comfortable.
Ensure that the sunroom is comfortable
Unless you are using the sunroom as the exercise room, you will have to sit, and you need to be comfortable to enjoy the sunsets, have quality time with family, or simply enjoy your creation.
If you visit many sunrooms, you will find most of them packed with wire furniture and uncomfortable wicker. This is because homeowners have the impression that a sunroom is an outdoor unit, so it should be furnished with outdoor furniture. This is wrong.
To be an exception and ensure you are as comfortable as possible, take the sunroom as part of the main house. Like the rest of your house, have plush pillows, upholstered seating, throws, and other pieces that will ensure that you are comfortable.
You also should throw in a side table and coffee tables to have a place to set down your drinks or a book.
The sunroom is a place to relax, and you can also use it to get some work done when the weather is right, so ask an electrician to install electrical outlets to plug in your laptop.
For optimum comfort, take the sunroom as a second living room and furnish it with all the comfortable pieces of furniture you can.
Although it's crucial to keep your patio sunrooms comfortable, watch out that you don't waste money on adornments and furnishings that you won't use or don't need.
You need to find a balance between comfort and use. If you don't frequently use a certain piece of furniture or adornment, there is no point in buying or keeping it.
Use the right glass for the window.
The glass you choose for your sunroom has a significant impact on the performance, feel, and allure of the sunroom, so be ultra-cautious when buying it. There are three main glass types for sunrooms you can choose from:
Single glazed glass: This is a basic window glass that features little insulation or UV properties.
Double glazed glass: These are two glass layers with gas or air trapped in between. As you can guess, this glass provides better insulation.
Triple glazed glass: It's the most expensive glass of the three and provides the highest level of insulation.
When you choose the best glass for your windows, pay attention to the insulating properties of the glass. Of course, you want the glass providing you with the best insulation. After all, you don't want to be baked in your sunroom as you are enjoying a sunset, do you?
Sunroom experts agree that the minimum glass you should install in the sunroom is double glazed.
Another factor to consider the Low-E coating. An ideal sunroom window glass should have a soft coat Low-E that allows light but reflects the heat. When properly installed, this glass ensures a room is cooler in summer and warm in winter.
The final factor to pay attention to is glass safety. You should go with tampered glass that crumbles when it breaks instead of one that falls off in dangerous shards.
The key to buying the right glass window hinges on extensive research. You should consult with building materials experts and even your local department of building and safety, and they will recommend the best one to go for.
Ensure the space is large enough
The whole point of spending money on a sunroom is to have space you can spend time. If you live alone or have a small family, you can get away with a small sunroom, but if you entertain a lot, your guests will feel cramped and crowded in a small room, and this will prevent them from having a good time.
At the very least, ensure that your sunroom is at least ten feet square. This space is enough for a small grill and a standard outdoor table and chairs.
Upgrade your sunroom to a solarium
Many homeowners believe that a sunroom and a solarium are the same thing, but this isn't the case. A solarium is completely enclosed in glass (including the ceiling) with the sole intent of trapping in as much light as possible while at the same time blocking the outdoor weather elements.
On the other hand, a sunroom is what architects and designers use to describe any room with large windows (usually running from floor to ceiling).
A solarium is more aesthetically appealing and more comfortable. Unfortunately, it's pricey to build. Luckily, if you don't have the budget for it, you can install a skylight instead. The skylight will be cheaper, but it will accomplish the same feat.
Angelus U30 Black Titanium: The one-of-a-kind mean machine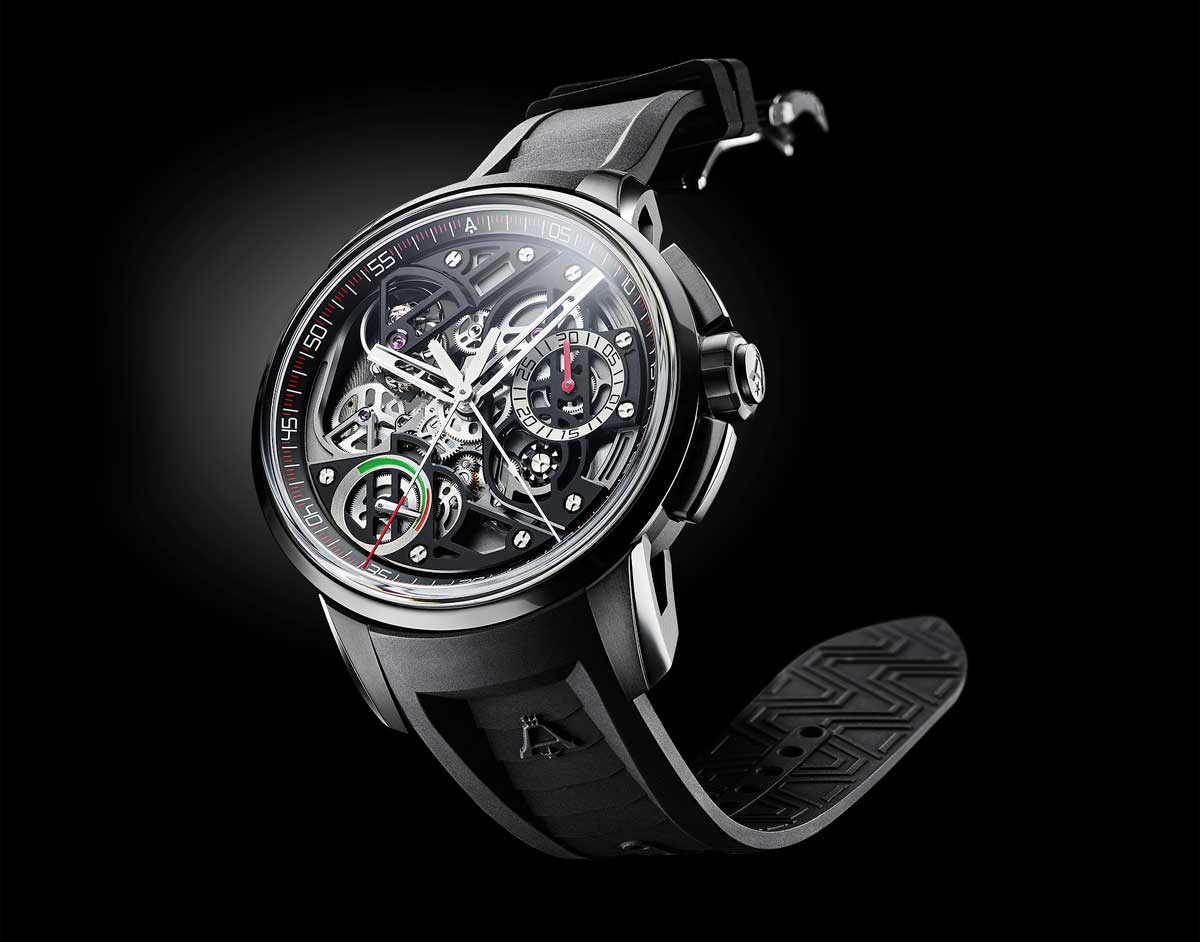 Offered up on the altar of the grande complication, the U30 is a piece like no other. Ultra-light and ultra-sporty, the incredible Angelus design unites a variety of prestigious complications: a tourbillon, flyback and split-second chronograph. The 47mm black DLC titanium case with openworked edges houses one of the most complex automatic skeletonized movements in the world. In the U30, nothing has been sacrificed in the expression of Angelus' extreme watchmaking approach.
The U30 is a beast in the etymological sense. If it is held up as an examplar, it is because it is one-of-a-kind – pointed out to stress its exceptional complexity. The U30 is a talking point, because this skeletonized, automatic tourbillon, flyback and split-second chronograph with power reserve indicator is quite simply unique. Angelus has not shied away from any technical challenges. 100% independently manufactured, the result is a watch that defies categorisation.
Distinctive
The U30 is also a beast in a figurative sense. It is a mythical creature, a mean machine: an exceptional piece both in performance and design. The spacious skeletonized structure encompasses the case, movement and hands. The case, 47mm in diameter and 15mm thick, is made of black DLC titanium. The lugs and case middle are marked in the centre with a recess that extends the skeletizing of the movement. The openworked movement has 350 components in total, is treated with black DLC and accentuated in grey. The design is an expression of Angelus' own brand of hyper-technicality; it is the supreme sportiness of an ultra-light split-second chronograph. One-of-a-kind mean machine.
Functional
The split-second function allows the central chronograph second hand to be split in two, allowing two events starting together to be timed. At any moment, the same pusher can bring the two hands back together to the same point. A flyback also allows you to reset and restart timing with a single press, without having to stop and reset the hands. This exceptional feature does not compromise the lines of the U30: the split-second pusher is integrated into the crown at three o'clock, barely protruding from the case. Similarly, the chronograph's start and reset pushers are very discreet, integrated into the overall line of the U30's black titanium case middle. The pushers have a short trajectory, requiring up-front design work and adjustment to a degree rarely achieved in watchmaking.
Uncompromising
It is hard to imagine a complication as sophisticated as the split-second function. The movements capable of achieving this complication can be counted on the fingers of two hands–and for the skeletonized version,far fewer. Angelus has built its modern identity on openworked pieces integrated into spacious structures that bring the surface area down to the absolute minimum. Here, the A-150 calibre has depth. The hand fitting, bridges, cog and column wheels, patina and rotor create a rich texture of levels for the eye to get lost in.
Unique
Chronograph calibres are rarely integrated. They are often made up of a basic calibre and an additional functional module. But Angelus does not subscribe to this approach, instead developing its calibres as a unified system. Split-second chronographs are often manual. The U30prefers a sportier, active, technical approach for this extremely rare complication, opting instead for self-winding by a large rotor. Split-second chronographs are hardly ever matched with a flyback. Such a combination is so complex that the watchmaking community is often unaware that it is even possible. The A-150 calibre is capable of such a feat.
Dual
Few chronographs also have a power reserve indicator. The traditional display layout leaves little room for an additional gauge. Angelus has placed the indicator at half past seven on the dial, using a subtle asymmetric layout. Tourbillon chronographs are anomalies, and tourbillon rattrapantes are even more unique. But for Angelus, integrating a rotary regulating organ into the dense and intense A-150 calibre has posed no problem. In fact, combining chronometer and chronograph, measuring precision times and short times is a logical choice for the U30.
Refined
When it comes to theU30's design, structure, decoration, functionality and complications, all of these choices are based on an almost unparalleled level of expertise and independence. The A-150 calibre has been entirely developed, machined, decorated, assembled, adjusted and fitted on the Angelus manufacturing site in La Chaux-de-Fonds. This exclusive movement has been designed with exceptional mechanical and graphic detail in mind. The structure and functions form a coherent whole, highlighting the complications and design of their components. In turn, these high-precision micromechanical watchmaking parts have been integrated into a watch with the powerful design of a thoroughbred designated as an exemplar.
5 things you should know before buying a vintage car
Vintage cars belong in a class of their own, rivaling many modern vehiclesregarding style and attractiveness. But there's more to owning a vintage car than just the aesthetics, as we'll soon see. Here are five things to know before even consideringbuying a vintage model.
You may not be able to drive it in your state
Vintage cars are from a different era, and many things have changed since they were first manufactured. One significant difference is carbon emission laws. The clean air act, for example, aims to increase the air quality in the U.S. Since vehicle emissions make up most of the air pollution, there are restrictions on the use of certain kinds of cars.
Vintage cars tend to have older engines with more abundant carbon emissions. As a result, many states limit how much you can drive the car within a given year. It's best to refer to your state's regulations for guidelines.
It's worth mentioning that car companies like Tesla have leaped into the limelight majorly because of their minimal carbon footprint. Carbon emissions have also forced manufacturers like Toyota, Audi, and BMW to manufacture electric cars. Even though vintage cars have greater appeal, they may also have more restrictions.
They are difficult to drive
It's also important to remember that the technology for traction control, cruise control, and power steering wasn't available when cars like the ford shelby gt350 were manufactured. Some owners even describe the experience as learning to drive all over again. The experience is more intense if you're not used to driving cars with manual transmission.
Some collectors love the challenge of driving. The logic is that driving a classic car should feel like one. But if you prefer the aesthetics with none of the driving difficulty, you can easily add upgrades. For example, you could get an electronic dashboard, touch screen radio, or a whole new transmission if you can afford it.
One thing to keep in mind is that modernizing your vintage car can reduce its resale value. Collectors prefer to get the whole package, and upgrading it can make the car less appealing.
Classic cars aren't like real estate
Some cars, like the ford mustang, are likely to stay valuable for the next few decades. However, this isn't the case for many classic cars. Some vehicles generate a loyal fan base that grows as the years go by, while others become increasingly less appealing.
To gain some perspective on this matter, consider that not all vintage ford vehicles are desirable. For example, the Ford Edsel was a massive flop in its time and will probably stay that way. The lesson here is that vintage cars aren't as easy to "flip" as real estate. They may increase or decrease in value over time depending on a host of factors.
Interestingly, the rarer a classic car, the harder it may be to sell. In this case, it's so rare that only a few people are willing to go through the trouble of buying it. Since there's no guarantee that your vintage car will be worth more tomorrow, it's best to consider buying one simply for the pleasure of ownership. That way, you'll always be proud of your purchase.
They have specific storage needs
This comes back to the fact that vintage cars were manufactured in a different era. With a regular Honda or BMW, you can park it in your driveway, regardless of the weather. Classic cars require a more delicate approach. They are highly prone to rust and weather damage, and should only be kept in a clean, dark, and dry space.
If you're planning to store the vehicle for an extended period, the requirements also change. For example, you can't park the car in a barn because the dirt floor and light exposure can rapidly age the vehicle. A home garage may not be such a great idea either because constant access can expose the car to the elements.
All vintage car owners know that they require a lot of attention and care. Everything from the soap you use to the tire pressure needs to be on-point to preserve the car's value.
They are as great as people say
Vintage cars have a special place in people's minds, whether they are car enthusiasts or regular folk. Owning one of these anachronisms will get you a few glances as you drive by.
And since most people don't know much about vintage cars, the mere appearance is often enough to get you the street credibility. This is whether you're driving a '66 Mustang GT convertible or something less iconic.
Classic cars are also incredibly fun to drive. They are more or less life-sized toys that thrill you every time you change gears, rev it up, or zoom past a group of people. The engine sounds combined with the attractive paint jobs and old-school interior are enough to make even the most mundane errands fun.
Tips for caring for your vintage car
By now, you realize that caring for a vintage car isn't' like any regular car. Here are some tips to help you take proper care of the vehicle.
Pay attention to oil changes
Unlike a regular vehicle, you should not overfill your vintage car. Topping the oil all the way could cause excess crankcase pressure, leading to oil leaks and eventually engine problems. Instead, fill as much oil as you need for the ride.
Vintage cars aren't designed for long drives, so you often won't have to worry about not having enough oil. A smart idea is to change your oil every month or so, keeping a close eye on the levels. Be sure to consult with your mechanic for more information.
Keep your gas tank full
Classic cars have metal tanks that are prone to corrosion. When empty, moisture can find a way into the tank, which isn't something you want. Keeping a full gas tank can solve this problem.
It's also a good idea to get premium gasoline and a gas stabilizer. Regular gas has ethanol which tends to attract moisture. This usually isn't a problem for modern cars because the gas tanks are sealed. But vintage cars have vented tanks that are vulnerable to corrosion. A gas stabilizer is an easy fix to this issue.