The Rolex Cellini collection: The eternal elegance
The Rolex Cellini collection celebrates the eternal elegance of traditional timepieces with a contemporary touch. Consisting of classically inspired models, it combines Rolex's know-how and high standards of perfection in an approach that heightens watchmaking heritage in its most timeless form.
The lines of the Cellini models are sober and refined, the materials noble, the finishings luxurious: every detail respects the codes of the art of watchmaking. But this collection is not suspended in an idealized past. Like the Italian Renaissance – one of whose most admired artists, Benvenuto Cellini, goldsmith and sculptor to the popes, inspired the name of the collection – the Rolex Cellini models mark a return to the sources of classicism, reinterpreting it in perfect harmony with their time. These watches, born of Rolex watchmaking tradition, evoke the finest examples of contemporary monumental architecture, where grandiose proportions and clean lines are accompanied by a strikingly modern reading of space and light. The Cellini watches are freed of the formal constraints of their heritage, fully assuming their role as refined guardians of time, symbols of luxury steeped in values that reveal an authentic art de vivre.
THE NEW CELLINI  COLLECTION
The new Cellini collection, presented in 2014, has its own distinctive aesthetic codes. The round shape, classic 39 mm diameter, and the cases available exclusively in 18 ct gold – cast by Rolex in its own foundry – are marks of tradition, while the Cellini's refined lugs, the polished finish and the double bezel – one domed and the second delicately fluted – add a touch of distinction. An emblematic Rolex feature, this fluting is also present on the case back, serving to screw it down. The case back is domed as in bygone eras. The flared shape of the screw-down crown highlights the refined aesthetics of the Cellini. The dials also bear witness to know-how and tradition: adorned with gold applique hour markers, they are either lacquered, or embellished with a classic "rayon flammé de la gloire" guilloche motif.
All models in the new Cellini collection feature a high-precision self-winding mechanical movement entirely manufactured by Rolex.
SUPERLATIVE CHRONOMETERS
Each Cellini Time, Date, Dual Time and Moonphase is certified as a Superlative Chronometer. This exclusive designation attests that it has successfully undergone a series of tests conducted by Rolex in its own laboratories and according to its own criteria, which exceed watchmaking norms and standards. These tests are carried out on the fully assembled watch, in order to guarantee superlative performance on the wrist.
The precision of every movement – officially certified as a chronometer by COSC (Swiss Official Chronometer Testing Institute) – is, therefore, tested a second time by Rolex after being cased, to ensure that it meets criteria for precision that are far more exacting than those for an official chronometer. The tolerance for the average rate of a Rolex Superlative Chronometer after casing is of the order of −2/+2 seconds per day. Its precision is tested by Rolex using an exclusive methodology that simulates the conditions in which a watch is actually worn and is much more representative of real-life experience. The certification testing is carried out using state-of-the-art equipment specially developed by Rolex. The entirely automated series of tests also checks the waterproofness, the self-winding capacity and the power reserve of 100 per cent of Rolex watches. These tests systematically complement the qualification testing upstream during development and production that ensures the watches' reliability, robustness, and resistance to magnetic fields and shocks.
The unique way in which Rolex watches are designed, manufactured and tested, together with the exclusive innovations from which they benefit, push back the limits of performance for mechanical watches   and   make   Rolex  the   benchmark   for   watchmaking   excellence.   The   Superlative Chronometer status is symbolized by the green seal that comes with every Rolex watch and is coupled with an international five-year guarantee.
THE CELLINI  TIME:  THE ESSENCE OF A  TIMELESS CLASSIC
Hours, minutes and seconds form the essence of time. The Cellini Time captures the present as if nothing else were of importance; nothing but the magic of the moment. Its simple, clear dial pays tribute to the timeless codes of classic watchmaking, while reinterpreting them with an elegant modernity. The extended applique hour markers are divided by a minute track, moved towards the centre of the dial closer to the tips of the hands. The hands count off each second, each minute and each hour with the full precision of a Rolex Superlative Chronometer.
THE CELLINI  DATE: ELEGANCE, DAY IN,  DAY OUT
The days go by in an infinite cycle: yesterday, today, tomorrow. Each day that passes is different, each day is essential. The Cellini Date model adds another function to the indication of hours, minutes and seconds: a date display suffused with elegance, tradition and poetry. Located at 3 o'clock, a small gold-rimmed sub-dial with a guilloche motif at its centre shows the full sequence of the dates of the month. Day after day, a small gold hand indicates the current date, as on timepieces of yesteryear. A splendid instrument to project the wearer into time, this calendar displays on a single dial the days gone by and days to come.
THE CELLINI  DUAL TIME: TIME  HERE AND TIME THERE
The Cellini Dual Time model grants its wearers the gift of temporal ubiquity. With a quick glance at the dial, travellers are simultaneously aware of the time here and the time elsewhere. The small gold-rimmed sub-dial at 6 o'clock shows the minutes and hours in a faraway part of the world. To differentiate daytime hours from night-time hours, a sun or moon symbol transits the aperture at
9 o'clock on the sub-dial. The large centre hands, shaped like two-edged swords, accompany the wearers on their journey. The hour hand can be set independently by successive "jumps" to adjust to  a  new  local  time  zone,  without  disturbing  the  functioning  or  the  precision  of  the  Rolex Superlative Chronometer movement.
THE CELLINI  MOONPHASE: POETRY IN  THE LUNAR CYCLE
The  white lacquer  dial  of  the  Cellini  Moonphase  bears  aa  blue  enamelled  disc  at  6  o'clock displaying the full moon and the new moon, the former depicted by a meteorite applique and the latter by a silver ring. The moonphase is read via the indicator located at 12 o'clock on the subdial, as the full moon and new moon rotate through the lunar cycle.
The Cellini Moonphase is also bestowed with an elegant date display around the circumference of the dial, via a centre hand with a crescent moon at its tip. This new model is driven by a self- winding  mechanical  movement  entirely  manufactured  by  Rolex,  whose  patented  moonphase module is astronomically accurate for 122 years.
A Pioneer Of Women's Liberation
Gabrielle Bonheur "Coco" Chanel is a creative icon who has freed the 'new' woman from the millennium of dictated dress codes, stereotypical behaviors and clichéd sexual and status simplification. The little black dress has become synonymous of sophistication, to the femininity she gave the character flavor of relaxation and empowered women with timeless clothing pieces and equipped them with inspiring pieces of jewelry, distinctive decorative accessories and bold fragrances. Since then, with the Chanel fashion women were able to step sovereignly and freely aside of male. Coco resisted the reservation of clothing and decorative pieces and fabrics as exclusively masculine in order to help revolutionary women on their journey to a more a more useful elegance and a more noticeable fatality. Without any doubt she succeeded. She gave the new woman what she could not have before: practicality, youthfulness, timelessness and freedom, which was often scandalous at the time of her creation. But it has paid off with a revolution in the clothing industry and, more importantly, with a historic step in liberating the modern woman.
***
The more we discover the veils of narratives and records of strong, penetrating, and generally socially engaged women throughout human history, the more we find that their legacy has decisively influenced the development and emergence of society and culture, including modern ones. Gabrielle Bonheur "Coco" Chanel is certainly among the creative icons that has freed woman from millennia of dictated dress codes, archetypal patterns of behavior, and clichéd sexual and status simplification. The little black dress became synonymous with sophistication, gave femininity the character of relaxation, and empowered the woman with timeless pieces of clothing and equipped it with inspiring pieces of jewelry, recognizable decorative accessories and bold fragrances. "Fashion passes, style remains,"[1] she said. In her oeuvre, she did not forget about theater and film.
Here and now, we try to deliberately avoid discussing Coco Chanel's supposedly controversial life trials, such as flirting with military ideology or unconventionality in dealing with partnerships and family relationships, or encroaching on illicit substances, although they undoubtedly left visible traces on her creative excesses. We prefer to focus on its most important socio-cultural contribution. On the line of historical development, Coco Chanel took place at a time of social upheaval, in the post-world war I period at the beginning of the sexual revolution, which later included the free choice of marriage, greater economic independence, legalization of divorce and free lifestyles, which were expressed primarily by dressing. Time provided an opportunity to shape one's own individualism when the externally mediated biography characteristic of traditional society begins to withdraw the internal, self-reflexively shaped one characteristic of modern society. Coco knew how to equip them with pioneering and cult fashion for a bolder and more relaxed, and especially liberated women of the 20th century.
Modern society is a society of the fashion industry in which fashion is a mass social phenomenon. "Women certainly have the greatest credit for the development of fashion, especially with the democratization of the masses of the 20th century, as women play an important role in modern consumption" (Koenig 1967: 131). But even this Koenig's classic sociological definition Coco Chanel managed to take to its own mill, as it persuaded potentially increasingly free women to spend on timeless and character trends, otherwise away from the shapeless democratized masses as a result of the industrial revolution. If we had to use only one definition for her fashion, it would be consistent enough with the original French naming – the phrase facon de parler, which means "way of expression, communication" (Barnard 1996: 7-10). And if there was a fashion designer that knew in details how to communicate with fashion creations because it came from her originality, spontaneity, experience, independence and vision, it was definitely Coco.
Self-assertion reflection
As an orphan from the convent, Gabrielle Bonheur Chanel first had to experience herself in patching up her own torn life story, which was filled with contradictions and intrigues.[2] But fortunately all was overshadowed by the great creative talent she displayed. A strict and frugal life with nuns who taught Gabrielle sewing – a skill that she perfected and gave her a new impetus for the creative path. With everything she did,[3] she created her own lifestyle and began to understand the female soul in relation to the man she was constantly and everywhere trying to get into her own job. At a very young age, she set herself a clear goal: a dignified life and assertion in high society. She took care of both of them on her own with a great deal of determination, a fearless character, an uncompromising struggle for empowerment, innovative creativity and motivation in relation to all of her successful men[4] (Chaney 2011: 48–72).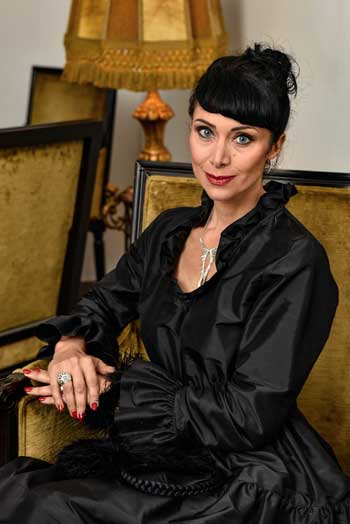 For Coco Chanel, connecting with the then elite and socially influential individuals was crucial. After difficult beginnings, male admirers helped her to develop the business in the 1920s and soon afterwards she opened fashion boutiques in elite coastal resorts.[5] Inspired by men's fashion, she began experimenting with women's jersey clothing and softer, free-falling fabrics. For the visionary for the fashion liberation of women as she was, by 1919 the business in Paris was booming.
At the same time, the fashion and later the global world was marked by the CC monogram, which was designed by the visibly already established Coco.[6] Coco self-reflexively offered the woman everything she could not have before: relaxation, practicality, youth, timelessness and freedom. She made a range of casual sweaters and knit jackets, simple business blouses and short skirts. Evening dresses were more glamorous, but did not deviate from the basic stylistic simplicity. Chanel fashion became synonymous with usability when the costume got a sophisticatedly placed horizontal pocket and a round-cut collar, by which it is still today, without exception easily recognizable. Clothing pieces were a notion of youthful effortless wear, but equipped with higher price tags, as Coco targeted primarily the conscious and liberated members of the wealthier classes (Hennessy 2012: 249).
The Coco Chanel lifestyle also suggested a specific and recognizable choice of colors. With her collections of clothing and fashion accessories, she most often promoted a palette of shades of gray, black and white, navy blue, and remained an enthusiast of beige. All the colors expressed a determined woman who could sovereignly and free-spiritedly step alongside male challengers. Coco was a master of accessories with which she maintained femininity and sophistication with femininity. Gold-plated buttons and bags with a gold-plated chain were also among the invigorating accessories. Costume jewelry for women who admired Chanel's style, however, was not only acceptable, but even highly desirable. Her pioneering role in empowering women was joined by innovation in combining real gemstones and artificial stones – famous pearls were her favorites (ibid. 2012). Wearing these along with a skirt suit and the famous Chanel jacket with a cropped collar was popularized even in the 60s by the US First Lady Jackie Onassis, as she was a big fan of style for the liberated new woman. If not sooner, in the second half of her creative life, it became clear that Gabrielle Bonheur Coco Chanel, with her stylistic purity, precision and innovativeness, had established herself as the fashion icon of the century.
Liberation of gender identity
"Men act, woman appear" is Berger's famous thought, which illustrates the asymmetry of gender identity due to the activity of men and the passivity of women. The role of the man is to observe and explore the opposite sex, while the role of the woman is to allow herself to be observed and explored by the opposite sex (Berger 1982: 13). Dressing has played an important role in this throughout history. Barnard went even further, as according to him "… a man should wear trousers, a woman a skirt, a man's color should be blue, and a woman's pink" (Barnard 1996: 110-119). At the same time, he tried to europocentrically define that 'feminine' is synonymous with shyness, diligence and politeness, and 'masculine' is synonymous with aggression, domination and employment outside the home (ibid.).
But if fashion has always been primarily a way to constitute, signal and reproduce femininity or masculinity, Coco Chanel has decided to take the ingrained codes of gender identity into her own hands. She gave to the individualistic understanding of the world an advantage over sexual identification, when the identity of an individual is no longer part of the natural and predetermined, but a reflection of a personal and a free decision. As Descamps would conclude, it is only that liberated we govern our psycho-social appearance and influence the broader social perception of ourselves as individual and equal beings (Descamps 1979). Coco therefore resisted the reticence of some key clothing and decorative items as exclusively male, in order to revolutionize women on the path towards more comfortable femininity, more useful sophistication, and more noticeable fatality. She definitely did it. She has succeeded given of all of Chanel's iconic pieces, that have survived decades of fashion trends and seasonal collections, as they remain inscribed in stylistic timelessness.
Because the struggle for gender rights and freedoms has a long and important history, dressing along with language as expressive codes on this path has been of paramount importance. Dresses appear as "words that we combine into sentences with our image." With them, the individual communicates with the environment (Lurie 1981: 5). With her clothing expressiveness, Coco helped women on the path of such communication and the widest possible social liberation.
Within the pluralistic conception of culture, we come to understand fashion as a specific way of life that satisfies the need to change cultural activities and living standards. "Fashion and clothing mark and herald social and cultural realities. They act as artifacts, practices and institutions that constitute social consciousness, values, ideas and experiences" (Barnard 1996: 36). With Chanel's clothing culture that was eventually institutionalized, social consciousness has changed in understanding a new woman, strong and independent, with new values, ideas and desires, a woman looking into the future.
As only rare fashion designers have succeeded, among them the famous Frenchman Jean Patou, Coco Chanel has freed women from formalistic clothing for the next centuries. Although Coco was marked by creating in the post-war spirit, she was the originator of the creation of the modernist woman and influenced later many fashion trends. Before the First World War, in 1910, she opened the first hat shop in Paris, which attracted many unconventional women, and representatives of the social elite also began to flirt with her fashion. In the 1920s and 1930s, she developed a recognizable clothing line that, with clever simplifications hitherto seen only in men's fashion, followed the sober and collected usability of post-war clothing (Cosgrave 2012: 18).
The women took courage and literally adopted the relaxed Chanel jersey and tweed suits, until then reserved for sailors, as well as the later rational shift to relaxed shirts and wide-bottomed pants, until then reserved for men. The arrival of the little black dress, until then reserved for mourning, resonated for decades to come, more casual shorter skirts were snatched, Slavic lines of women's costume and costume jewelry, until then reserved for the wealthiest, and fashion accessories – jewelry, handbags and perfumes – they have become a trademark of the new woman of the 20th century. Chanel's fashion pieces brought a timelessness of relaxed appeal and for decades remained a reflection of the airy youthfulness and effortless charm embodied by Coco Chanel. Not surprisingly, Coco Chanel is the only fashion icon to be listed by Time magazine as one of the 100 most influential people of the 20th century and was ranked among the 50 greatest women who have historically changed the world[7] (Horton 2007: 103).
Cults of attractive relaxation
For Coco Chanel, fashion was more than just a commandment living in clothing: "Fashion is in the sky, on the street, fashion is related to ideas, the way we live, what happens around us" (Hennessy 2012: 248). Because she came mainly from her boyish figure, Chanel introduced a wide-ranging approach to fashion with the commandments of otherwise "masculine" comfort and ease of wearing, which marked the "new" woman. Her own way of life and appearance embodied modernist ideals, supported by strong publicity, which then and forever gave her a solid and iconic status. With her creations, Coco Chanel has forever changed the way women understand themselves and "how they behave". And she unwaveringly believed in a transformation so that even the poor could be worn as millionaires with her creations (Pendergast 2004: 792).
A tight corset just because it's socially acceptable? But not with Coco. Due to Chanel fashion, women were no longer a decorative object and a wealth of men, but on the right path towards independence. With her unique, rebellious attitude and recognizable clothing, decorative accessories and fragrances, she demonstrated to women that they can be free in every way – if they are willing to pay the price for freedom. Despite many social criticisms, Chanel has always defended her fashion and view of things, which was often scandalous during her creation, but ultimately paid off with a revolution in the clothing industry and, more importantly, with a historic step in liberation of a modern women.
Jersey
Coco was the first fashion designer to use a fabric reserved for men's underwear for women's daywear. Jersey was, in her view, simple, practical, and comfortable, and in her final Chanel creation the perfect antithesis of what women's clothing used to be: complex, exaggerated, and designed around an uncomfortable corset. The choice of material was also subject to the time, as there was a great shortage of more expensive fabrics due to the war, which Coco could not afford at the beginning of her career. In her simplified creations, the women looked more androgenic, boyish, as the jersey was free-falling, but the freedom they felt while wearing was irreplaceable and unstoppable. The revolution for women's freedom was already on the march.
Costume
As we note, Coco was among the first to look for inspiration in men's clothing to create women's iconic fashion. One of the most recognizable creations is the Chanel tweed costume. The jacket has a round-cut collar with knitted linings, three-quarter sleeves, and is adorned with metal buttons, with an accompanying flat-cut and tight-fitting skirt over the knees. Such a costume would be the perfect choice for a post-war woman looking to build a career in a male-dominated workplace. Chanel's costume was favored by many celebrities and cult women, such as Audrey Hepburn and Grace Kelly, and it went down in history forever when it was worn by Jackie Kennedy on the day of her husband's murder. Of course, there were some other useful versions of Chanel costumes that were combined with other garments and adorned with typical Chanel jewelry[8] (Laver 1995: 272–275).
Pants for women
Coco loosened the belts of the dresses, shortening the skirts to make them more useful. And then came the moment to revalue the hitherto male piece of clothing – trousers. Although women often had to wear trousers during the war when performing traditional men's chores, Chanel played a large role in promoting their popularity as a women's piece of fashion clothing. It started on the beach of Deauville resort when she didn't want to be exposed and decided to wear sailor pants instead of a swimsuit. The style spread rapidly as she was imitated by many female followers. She borrowed masculine relaxation and sovereignty to modernize women's fashion by wearing pants and introducing functional sportswear. She later publicly regretted that her decision influenced the course of fashion history, as today too many women wear them even to a gala dinner (ibid. 1995).
Little black dress
Chanel once said of her fashionable hats and loose-fitting clothes, the design of which was influenced primarily by her life desires: "Luxury must be comfortable, otherwise it is not a luxury."[9] And soon a new item of clothing appeared, which did not give her peace of mind and she tackled it. At the time, the fashionable rainbow blues worn by her classmates upset her quite a bit: "These colors are impossible, women, I will dress you in black!" (Montalembert 2011: 63) Today, it is hard to imagine a world without black as flawless elegance in choosing a dress, but before Chanel, black was reserved for funerals and mourning widows. Coco revived the black dress in a new image, so that the little black dress (PRN – petite robe noire, LBD – little black dress) became a modern cocktail dress and a cult piece of the next century. She also added the famous wardrobe clasp, which was published in 1926 in Vogue magazine with a sketch of a simple black dress and labeled it "a ray that would be worn all over the world" (Pendergast 2004).
Jewelry
French designer Paul Poiret (1879-1944) was among the first to use costume jewelry in his collections. But the real trend happened with Chanel jewelry when Coco presented a match of counterfeit large pearls along with precious stones. The decorative extravagance was the perfect accompaniment to her minimalist clothing. The fashion guru thought it was best to have a bunch of fake gems and one or two real ones, with all of her wealthy and petite clients agreeing. Although the counterfeit jewelry market existed before, it was reserved for those who could not afford a real gemstone. With Chanel jewelry has been different ever since.
'Suntan'
In the early 20th century, pale skin that was occasionally and partially tanned was associated with the lower strata. In 1923, however, Coco Chanel made the sun a real fashion hit when she returned from a cruise on the French Riviera to Paris completely tanned. Everyone admired her darker complexion and hurried to follow this natural 'disguise'. 'Suntan' has become a sign of wealth and beauty, a trend with lasting effects. So, Coco can also be thanked for the popularity of summer tanned skin.
Perfume
The 1920s were important for liberating a woman with a bold inspiration carried by new fragrances. Until then, they were made from pure extracts of individual flowers, so Chanel perfume became a concept of a unique fragrance that combined and blended two different scents in creating perfume number 5. In 1920,[10] Coco created Chanel No. 5, the first odor that deliberately smelled artificial. It was also made from unnatural ingredients, unlike regular perfumes that were created with floral ingredients. Although the aforementioned Paul Poiret was the first fashion house with its own perfume scent, the designer missed out on the move when he declined his name on the bottle. Chanel was a visionary with the soul of a free modern woman, so she imaginatively put her name on perfume number 5 and Chanel Nº 5 rapidly expanded into new markets. To this day, the Chanel perfume line has maintained a reputation for cult scents that are hard to overpower (ibid. 2004).
"You notice a dress when a woman is poorly dressed, when she is dressed flawlessly, you notice a woman," (Cosgrave 2012: 138) is a thought that catapulted Coco Chanel to one of the greatest creative icons in human history. And her legacy therefore remains with us.
Bibliography
BARNARD, Malcolm (1996): Fashion as Communication. London; Routledge.
BARNES, Ruth / EICHER, Joanne B. (ed.) (1992): Dress and Gender: Making and Meaning. Providence; Oxford: Berg.
BERGER, John (1982): Ways of Seeing. London; Harmondsworth: Penguin Books.
CHANEY, Lisa (2011): Chanel: An Intimate Life. London: Penguin Books.
CHARLES-ROUX, Edmonde (2005): Coco Chanel. Ein Leben. Frankfurt am Main: Fischer Taschenbuch Verlag.
CLICK, Calvy (2019): "Do You Know the Story behind Chanel's Interlocking C Logo?" In: Who What Where. https://www.whowhatwear.co.uk/the-story-behind-chanel-logo/slide18 (quoted on March 1st 2020).
COSGRAVE, Bronwyn (2012): Vogue on Coco Chanel. London: Quadrille Publishing.
DESCAMPS, Marc-Alain (1979): Psychosociologie de la mode. Paris: Presses Univeritaries de France.
HENNESSY, Kathryn (ed.) (2012): Fashion: The Definitive History of Costume and Style. New York: Smithsonian.
HORTON, Ros / SIMMONS, Sally (2007): Women Who Changed the World. London: Quercus.
KONIG, Rene (1967): Kleider und Leute zur Sociologie der Mode. Frankfurt am Main: Fischer Bucherei.
LAVER, James (1995): Costume and Fashion. London: Thames and Hudson.
LURIE, Alison (1981): The Language of Clothes. London: Random House.
MONTALEMBERT, Catherine de (2011): Coco – Facetten einer Ikone. München: Knesebeck G.m.b.G. & Co. Verlag KG.
PENDERGAST, Tom; Sarah (2004): Fashion, Costume and Culture. Farmington Hills: Thomson Gale.
TILAR, J. Mazzeo (2012): Chanel Nº5. Hamburg: Hoffmann und Campe Verlag.
---
[1] La mode se démode, le style jamais. Fashion passes, style remains. Coco Chanel's statement on the ephemerality of fashion can be found in a number of publications (Cosgrave 2012: 155).
[2] Chanel was the second daughter of a washerwoman and travel saleswoman. She had four surviving siblings. When the father hired two sons to work on the farm, he left his daughters Gabrielle, Julie and Antoinette in the orphanage of the convent in Moulins after the death of their mother in 1895 (Charles-Rous 2005: 50–60).
[3] At 18, she left an orphanage and worked as a seamstress in a shop during the day. At night, she sang at a local nightclub to make a living, where she earned the nickname "Coco," which is an abbreviation of the French word 'cocotte' and means 'detained woman' (ibid.: 88).
[4] Financial independence and self-awareness of her early life trials encouraged her to have relationships with high-profile, influential, but at the same time controversial men. Among them were Picasso, Cocteau, and Stravinsky. She had more intimate relationships with the seven and is said to have directly influenced her inspiration and business success.
[5] Fashion boutiques along the coastal cities of Deauville and Biarritz encouraged Coco to create from different materials, to stylistically transfer from a free man to a free woman, so she moved with her business to Paris on Rue 31 Cambon, where Chanel still lives today.
[6] It is not entirely clear where Coco Chanel got its inspiration for its double C logo. The same logo is located in the stained glass window of the Château de Crémat in Nice (France), which Coco Chanel has visited several times (Click 2019).
[7] Other women who have marked human history include Cleopatra, Mary Magdalene, Catherine the Great, Elizabeth I, Emmeline Pankhurst, Jane Austen, Amelia Earhart, Marie Curie, Florence Nightingale, Mother Theresa, Virginia Woolf, Eleanor Roosevelt, Helen Keller, Anne Frank, Katharine Hepburn, Simone de Beauvoir, Rosa Parks, Eva Peron, Margaret Thatcher, Marilyn Monroe, Germaine Greer, Billie Jean King, Oprah Winfrey, Madonna and Princess Diana.
[8] The classic Chanel costume jacket had four pockets with a straight neckline at hip height. It could be worn open, with a longer chain at chest height or even up to the waist, usually on a single clasp with a metal button or a simple zipper. The lining of the jacket should match the outer fabric or blouse. With a classic Chanel costume, a pastel-colored blouse with a silk collar was most often worn.
[9] Le luxe doit être confortable, sinon ce n'est pas du luxe.
[10] The origin of the perfume dates back to 1920, while distribution began in 1921 (Tilar 2012: 97).
How coronavirus could change wedding culture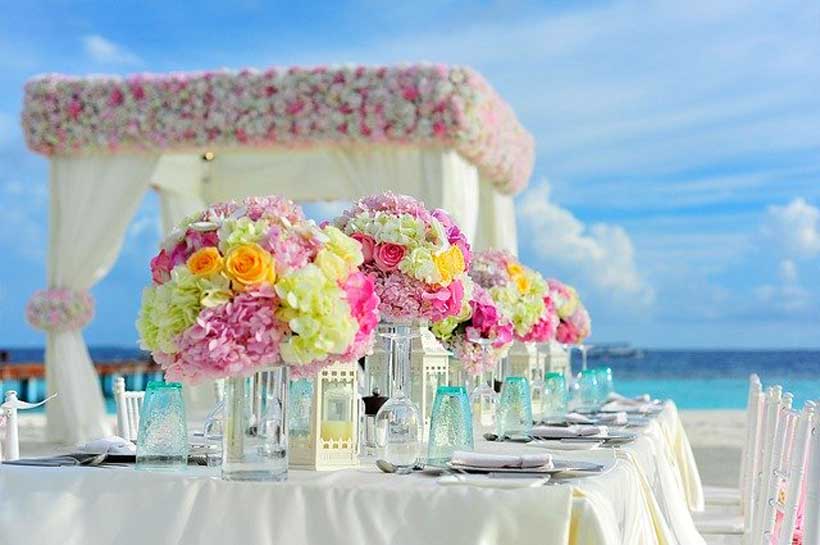 It goes without saying that the new coronavirus has utterly transformed people's lives, but probably one of the most significant blasts has been to the wedding industry. Millions of couples around the world have eagerly anticipated their big day to tie their everlasting love, but when the outbreak emerged their wedding dreams have been completely shattered in a blink of an eye. Many have rescheduled their wedding day, others have postponed or canceled it, nevertheless, the question now lies – how might this virus change the upcoming wedding culture?
A "minimony" ceremony
As many weddings are usually held in spring, summer, or late autumn, the speedy spread of the coronavirus, unfortunately, forced most couples to cancel the ceremony. Since the gathering of numerous people is not allowed in order to protect the overall health, a big wedding reception is out of the question. However, there were still some couples who decided to go through their wedding plan but on the "micro" level. A minimony wedding ceremony includes the loved ones, the witnesses, and an officiant. A wedding without guests, music, and cake might sound strange, but this is one way to say "I do" if you strive to make a family and continue with your lives.
A change in wedding amenities
Wedding planning is also a thrilling and daunting process that every bride lovingly awaits. When the coronavirus impeded that from happening, many brides and vendors as well faced an enormous problem. Now, as the guest list is utterly limited, there is no need to order large amounts of drinks and food, a band is not a safe option, and decoration is reduced to a minimalist option. The only thing a bride can do is take a look at what Moon Magic offers and look forward to having meticulous wedding jewelry pieces.
A new venue outlook
Since most newlyweds have already spent thousands on nonrefundable deposits, a high percentage of couples desire to hold the ceremony even at different rules. Here is where the wedding industry faces a significant challenge. The vast measurements need to be taken to prevent coronavirus from spreading; this includes the venue revamp. The venue must be thoroughly sanitized and disinfected, it is advisable to have large windows for fresh air to flow, thus the use of air conditioning is banned since it spreads the virus particles faster. All waiters must wear face shields and gloves.
An alteration to your "perfect day"
The day when you get married has always been magical and flabbergasting even to cherish for a year, and once that notion has been scattered, couples wonder how their "dream" day would look like. In future, due to the novel pandemic, you won't spend months or years searching for the perfect dress, vendors, caterer, but on the contrary, weddings will be booked on much shorter notice, the focus on petite details will be narrowed or ruled out, the guest will be downsized, and you won't even bother to panic beforehand as wedding ceremony would be more private and secluded.
An escape from reality
To get married, let's face it, you only need an officiant or a priest, best man, maid of honor, loving friends, and family, which does comply with a list of up to 20-30 people. Even though coronavirus has taken over the entire globe, there is still hope for couples wanting to have a remote wedding in a beautiful destination. The budget you have had for a 500-guest-list could be used to travel to a tropical destination (free of coronavirus), avoid big ceremonies, aim for a simpler and gorgeous reception, and have a laid-back, easy-to-plan day to remember for eternity.
We can only wait and see what the future holds newly-weds, but wedding trends will undoubtedly change. Coronavirus will reshape wedding culture, but new ways, solutions and alterations will emerge as well.
Fashionable Clothes for Baby Girls 2020-2021: Summer Trends and Styles
Nowadays, not only adult women but also very small beauties want to look stylish. Trendy clothes for girls 2020-2021 will allow young ladies to look incredible among their peers. This small overview of the most relevant toddler trends will give you several ideas on how to make your girl look fashionable.
Fashionable Trends 2020-2021
Toddlers fashion has recently begun to combine adult trends with children's stylistic ideas, getting successful styles and models of clothes to appear. Since clothes for girls should be primarily comfortable, designers offer plenty of relevant options for girls in informal, sport, casual styles, as well as holiday toddler clothing as it appears on https://thetrendytoddlers.com/.
This year, in addition to pink, white, blue, green, navy, turquoise clothes will appear burgundy, purple, emerald, coral, pastel, gray, and mustard tones. As for cutting and sewing, designers have returned to simpler clothing models that do not constrain movements, repeating the graceful styles of adult fashion, and making it possible to combine different toddler styles.
Toddler Items for Her 2020 Summer Wardrobe
Undoubtedly, a children's wardrobe should be multifunctional, allowing the child to feel great on a walk, at home, or on vacation. Here are 5 items that should be paid attention this season:
1) Shorts of the medium length
In summer, little beauties will be able to appreciate the convenience of medium length shorts. Toddlers could wear them almost everywhere: in the park or supermarket, on the playground or at home.
2) A-silhouette dress
The summer dress is a must-have in the wardrobe of every little girl. This season, toddlers can wear various prints, including stripes, flowers, or animals. Dresses from chiffon, cotton, and other light materials will be especially relevant.
3) Rompers
In recent years, rompers have won the attention of adults, but this clothing is always relevant for children. By the way, fashionable rompers for girls can be made not only of jeans but also repeat adult models from beautiful, airy, summer fabrics.
4) Miniskirts
Skirts always make girls look cuter and more lovely. This is especially true for young ladies in flower miniskirts or midi jeans items. You can combine them with panda t-shirts, or bright tops to make a finished look.
5) Bright denim
Jeans clothing is always in trend: jackets, dresses, vests, jeans, caps of various designs will make your toddler's wardrobe complete. You can also pay attention to the jeans shoes. All these items are also available with prints, embroideries, and appliques.
When selecting clothes for children, first of all, it is important to focus on their comfort. Children should feel comfortable and free no matter if they wear trendy clothes or not. Being relaxed and confident for toddlers is the main prerequisite to wear modern and stylish things.