The Truth About Russia And Africa: Interview with Prof. Vladimir Shubin
Professor Vladimir Shubin, the Deputy Director of the Institute for African Studies [IAS], Russian Academy of Sciences in Moscow, has raised some serious issues in Russian-African relations that need careful consideration. In the first place, inside Africa there is clear evidence that most of the political leaders are now reacting to post-Soviet politics and emerging economic possibilities in Russia. President Vladimir Putin and the Kremlin authorities have also moved progressively with a new phase in consolidating political ties at the state levels with Africa. In order to maintain this relationship, African countries have to pay high attention to and take significant steps in promoting their achievements and highlighting their most development needs.
Professor Shubin's interview on political relations between Russia and Africa as well as the economic cooperation will attract more and more practically academic discussions. Such scholarly contributions, in essence, help deepen understanding of the problems that mitigate in building solid relationship or partnership with Russia. In the past, the emphasis was strongly put on political ideology, but now, that has largely changed and it's obvious that increased economic cooperation is the main determining factor especially in the fields of mining, transportation, infrastructure construction, industry, agriculture and tourism.
These have to be placed [step by step] on a new basis of mutual interests. What is abundantly clear is how to stimulate African governments into exploring investment opportunities in Russia and Russian investors into Africa within some framework of mutual-cooperation. It is also worthy to say that Russia has played roles in Africa and Africans have to work towards good governance, adopt good development strategies and seek an improved welfare for the population. Equally interesting is Asian States are moving faster than Africa and consequently the development gap is widening.
As correctly pointed out by Professor Vladimir Shubin in wide-ranging interview discussion with Kester Kenn Klomegah, certain developments and approaches, however, provide basis for criticisms and for pessimistic views as to what extent, these ideas can be realised for Africa. The world continues watching developments.
In the cold war era, Africa was an ideological playing field for the United States and the then Soviet Union, but all these have changed after the Soviet collapse. What are your comments relating to the relationship between Russia and Africa?
Indeed, the style of work and its intensity are quite different in the case of the first president Boris Yeltsin and his successor Vladimir Putin. I would not attribute the reasons of the marked changes just to personalities. One should not look at Russia today as something "monolithic" tightly directed from the Kremlin, as the USSR used to be at some stage. There are different political forces competing for the power in the country or, at least, for the influence over it. These forces represent interests of various diverse political and social groups that also need to be carefully analysed within a particular context.
This is true for the foreign policy as well, even if according to "Yeltsin's Constitution" of 1993, the President determines the main foreign policy directions. In respect to Africa, there are significant forces in Russia, which stand for further development of bilateral relations and a stronger economic cooperation. They include not only traditional friends of Africa on the left side of the political spectrum, but take Russian industrialists who are interested in exporting their manufactured goods to African countries or in exploring its mineral resources.
Does Kremlin have an agenda for Africa? How would you defend the affirmative position, citing examples?
That is quite interesting. I have never heard about a special Moscow's "agenda" for Africa, but one should proceed from the "Concept of the Foreign Policy of the Russian Federation" approved by Putin soon after his election to the post. Africa occupies a decent, albeit modest place. Putin several times spoke about Russia's involvement in African affairs. Putin said: "As to Russia, traditionally with the African continent, we've got very good relations. We subtly feel all the problems of the African continent…I must say Russia's contribution is very noticeable in dealing with the problems of Africa."
Among other things related to the writing off part of the debts of African countries, Russia makes very great contributions: we take part in humanitarian programmes and, in particular, in the health programmes for fighting AIDS. We grant African countries a considerable amount of scholarships for studying in higher educational institutions in Russia and plan to carry on this programme in future. Russia's assistance to African countries is multi-pronged and we are convinced that this activity ultimately meets the national interests of the Russian Federation.
What would you like to suggest if you were to advice Kremlin administration's policy approach towards African countries? And, your opinions about the future of Russian-African relations?
Africa has a great potential for our bilateral relationships. Truly and firstly, in the political sphere there are hardly any sharp controversies between Russia and African countries. Agreeably, the relations in other spheres, especially in economic cooperation, are lagging behind. Thus, the bilateral trade is many times less than that of China, India and many foreign countries with Africa.
I am not sure that "Kremlin administrators" often ask for advice from the academic community. But some steps are evidently overdue, such as Putin's working visit to Africa, south of the Sahara. Russian banks are making initial steps in operating in Africa, while the lack of credit facilities has been the major obstacle to successful development of economic ties. However, Russia needs genuine and objective information about modern Africa, and here both state and private mass media linger a lot.
Has Russia identified its role in any of African regional organisation's programme aimed towards the development goals of Africa?
One should always remember that Moscow feels the problems of the African continent, perhaps better than some other "developed countries" – both because of its history of cooperation with African countries and because it often faces similar development problems. However, with these trends, I am not sure that the African diplomacy pays enough attention to Russia. Moreover, I think that a considerably good part of it is under the influence of the Western propaganda, does it best to portray Moscow as backyard of Europe. On the other hand, Moscow's capacity to carry out practical steps in cooperation with African countries is limited by its own internal economic problems
Nevertheless, we can mention Russia's continuous active involvement practically in all UN peace-keeping missions in Africa, Russia's significant contributions to the international fund on combating HIV/AIDS, Tuberculosis, Malaria and other diseases as Russia's indication of interest in Africa, but we also want African leaders to show, with clarity, their interests in Russia. It should not be just one-way traffic.
In your critical assessment, what African leaders be seen doing if really they want to get out of their multiple problems and practically get integrated into the global community?
It is not for a Russian academic to give an advice to African governments. However, some things look obvious. Africa can play an important and fair role in the "globalising world" only if the continent really "globalise" itself, first by effectively strengthening its continental and regional cooperation to be able to speak in one voice. All true friends of Africa welcomed the creation of the African Union, but it remains to be seen how practically effective this organisation will be.
Unfortunately, some of the recent events and developments there and the African Union's political approach do not allow us to be too optimistic. There are a lot of pessimism about how far the African Union idea can go and what it can achieve for the continent. This depends largely on the political attitudes of the people themselves. The funniest thing is that whenever there are problems in Africa, the leaders fly to Europe in search of assistance.
Do the African politicians realised that they have or must help Africa to develop? For example, even after the establishment of the African Union there were appeals for outside forces to solve intra-African conflicts. Even more disturbing is a lack of consistency in the approach to the most crucial international issues. Africans have to acknowledge the fact that the world has progressively changed and they must be seen changing with the similar positive pace. It's about time Africans have to take development issues seriously and work progressively towards establishing good governance and drastically seek improvement in the welfare for its large impoverished population.
Relations are supposed to be a two-way road [street]. Do you think some African political leaders are also not up to expectations in their relations with Russia? What should they be seen doing in order to raise friendly ties with Russia?
I cannot say that African leaders do their best in developing bilateral relations. Truly and passionately, they come to Russia more often than ten years ago, but a lot still have to be done. Perhaps, one of the reasons why some African leaders "written off" Russia is the lack of information about Russia, or rather plenty of distorted information they have received from the Western media coverage of Russia. Moreover, some of foreign journalists writing from here for African media cause damage to the bilateral relations.
Now and then, speaking to African diplomats in Moscow, I often joke: "Some of you are accredited not to Russia, but to the African diplomatic corps" in Moscow. Definitely, it is a bitter joke, but it reflects the reality. While some of the embassies are actively promoting their countries and are winning friends for Africa, others are hardly visible, even for African scholars here.
Russia, Africa and the SPIEF'19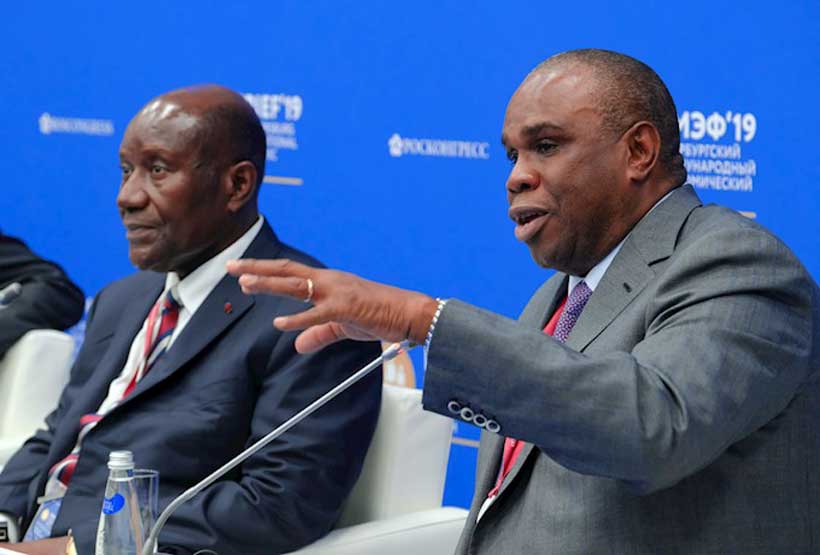 In 2019, four African countries – Côte d'Ivoire, Lesotho, Niger and Somalia – for the first time attend the St Petersburg International Economic Forum (SPIEF'19) held on June 6-8 under theme "Creating a Sustainable Development Agenda" in Saint Petersburg, Russia.
The Forum brought together a record-breaking number of participants: over 19,000 people from 145 countries, with 1,300 guests representing heads of companies. The sheer number of business community participants, variety of thematic events, and level of representation on both national and international levels underscore the status of SPIEF as a truly global economic forum.
Over the years, SPIEF has become an open platform to exchange best practices and key competences in the interest of providing sustainable development.
The main event was the plenary session, with the participation of President of the Russian Federation Vladimir Putin, President of the People's Republic of China Xi Jinping, President of the Republic of Bulgaria Rumen Radev, Prime Minister of the Republic of Armenia Nikol Pashinyan, Prime Minister of the Slovak Republic Peter Pellegrini, and Secretary-General of the United Nations António Guterres.
During his address to the participants of the Forum, Vladimir Putin talked about the tasks the country is facing, as well as about the importance of national projects as a driver of economic growth in Russia.
The overall budget for the implementation of proposed development projects of Russia is about US$400 billion. The priorities are healthcare, education, research and development, and support for entrepreneurship. And, considerable funds will also be allocated to develop major infrastructure, transport and the energy industry.
During the four days of the Forum, over 1,300 speakers and moderators, including Russian and international experts, took part in discussions. They shared their knowledge, experiences and best practices with the participants of the Forum. There was special zone of the area that hosted interviews with politicians, government officials, representatives of big business.
On the sidelines, there were business dialogues between Russia and other countries, for example Russia–Africa, were very popular this year. President of the Senate of the Parliament of the Republic of Zimbabwe, Mabel Chinomona, was one of the African participants. State officials came from Botswana, Egypt, Zimbabwe, Côte d'Ivoire, Lesotho, Mauritius, Niger, Sierra Leone and Uganda.
The Russia-Africa session featured Mikhail Bogdanov, Deputy Minister of Foreign Affairs of the Russian Federation; Special Presidential Representative for the Middle East and Africa; Amani Abou-Zeid, Commissioner for Infrastructure and Energy, African Union Commission and Tatyana Valovaya, Member of the Board – Minister in Charge of Integration and Macroeconomics, Eurasian Economic Commission.
Isabel Jose dos Santos, Chairman, Unitel SA; Daniel Kablan Duncan, Vice President of the Republic of Cote d'Ivoire; Dmitry Konyaev, Deputy Chairman of the Board of Directors, URALCHEM JSC and Benedict Okey Oramah, President, Chairman of the Board of Director, The African Export Import Bank.
Sylvie Baipo-Temon, Minister of Foreign Affairs and Central Africans Abroad of the Central African Republic; Nikita Gusakov, General Director, EXIAR; Boris Ivanov, Managing Director, GPB Global Resources and Nataliya Zaiser, Chair of the Board, Africa Business Initiative UNION; Executive Secretary, Russian National Committee, World Energy Council (WEC).
The participants noted that 2019 should be a historic year in the development of Russian-African relations. The summit of heads of state in October should take place amidst record growth in Russian exports to Africa. Russia is interested in new markets and international alliances more than ever before, while Africa has solidified its position as one of the centres of global economic growth in recent years.
In this context, the countries need to rethink the approaches, mechanisms, and tools they use for cooperation in order to take their relations to the next level as their significance grows in the new conditions of world politics and economics. What steps are needed to give a new impetus to bilateral economic relations? What are the key initiatives and competencies that can create a deeper strategic partnership between Russia and African states?
These are among the key questions on the meeting agenda for the upcoming Russia-Africa Summit planned for October in Sochi under the co-chairmanship of President of the Russian Federation Vladimir Putin and President of the Arab Republic of Egypt Abdel Fattah el-Sisi, Chairperson of the African Union.
*Kester Kenn Klomegah writes frequently about Russia, Africa and BRICS.
Russia joins Gulf states in coaching Sudan's military
Russia has emerged as Saudi Arabia and the United Arab Emirates' silent partner in assisting the Sudanese military's efforts to weaken, if not defeat a months-long popular revolt that has already toppled president Omar al-Bashir.
Documents leaked to The Guardian and MHK Media, a Russian-language news website, by the London-based Dossier Centre, an investigative group funded by exiled Russian businessman Mikhail Khodorkovsky, disclosed Russia's hitherto behind-the-scenes role in Sudan.
Laying out plans to bolster Russia's position across Africa by building relations with rulers, striking military deals, and grooming a new generation of leaders and undercover agents, the documents included details of a campaign to smear anti-government protesters in Sudan.
The plan for the campaign appeared to have been copy-pasted from proposals to counter opposition in Russia to president Vladimir Putin with references to Russia mistakenly not having been replaced with Sudan in one document.
Russia advised the Sudanese military to use fake news and videos to portray demonstrators as anti-Islamic, pro-Israeli and pro-LGBT. The plan also suggested increasing the price of newsprint to make it harder for critics to get their message out and to discover "foreigners" at anti-government rallies.
Yevgeny Prigozhin, a St. Petersburg-based businessman and close associate of Mr. Putin, complained in a letter to Mr. Bashir before he was overthrown that the president was not following his advice.
Mr. Prigozhin, who was indicted by US special counsel Robert Mueller for operating a troll factory that ran an extensive social media campaign that favoured of Donald J. Trump's 2016 presidential campaign, was according to the documents a key player in efforts to enhance Russian influence in Africa.
Mr. Prigozhin accused Mr. Bashir and his government of not being active enough and adopting an "extremely cautious position."
If a visit this week to Sudan by foreign journalists at the invitation of the military to show them medical facilities that had allegedly been ransacked by protesters and demonstrate that hospitals that had been attacked by notorious paramilitary forces associated with Sudanese army were returning to normal, is anything to go by, Mr. Prigozhin's criticism may have merit.
"It must have seemed like a good idea to somebody, although I cannot imagine why. The plan was to show us how terribly the protesters had behaved. If the world could see what they were really like they would understand that the regime had no choice but to send in the militia. Except from the moment we arrived at the first medical facility things started to go wrong," said the BBC's Africa editor, Fergal Keane.
To Mr. Keane, the omnipresence of paramilitaries of the Rapid Support Forces (RSF) made the paramilitary headed by General Mohamed Hamdan Dagalo aka Hemedti, believed to be a Saudi and UAE favourite because his troops fought in Yemen and his reputation for ruthlessness, look "more like an army of occupation than an internal security force."
Widely viewed as ambitious and power hungry, General Dagalo resembles in the eyes of protesters Abdel Fattah al-Sisi, the autocratic general-turned-president who in 2013 staged a Saudi-UAE-backed military coup that toppled Egypt's first and only democratically elected president.
Defending the UAE's contacts with the military council, Emirati minister of state for foreign affairs Anwar Gargash said his country's "credibility is our means to contribute to enhancing peaceful transition in a way that preserves the state and its institutions."
Human Rights Watch this week called on the United Nations Security Council to halt the withdrawal of peacekeepers from Darfur, noting that the Rapid Support Forces "have a long track record of abuse. They carried out highly abusive counter-insurgency campaigns in Darfur, and the Southern Kordofan and Blue Nile regions over the past five years, in which they attacked villages, killed and raped civilians, and burned and looted homes."
Witnesses outside a medical facility and a hospital that Mr. Keane visited countered the military's tale, describing how troops stormed the buildings and looted and destroyed facilities. ""The international community has to intervene. There is no peace here in Sudan. People are suffering a lot… I am frightened for my country," said a man as he drove by Omdurman Hospital.
The failed public relations tour, the crackdown, the Russian guidance and stalled talks between protesters and the military fits a Saudi-UAE promoted pattern that has evolved across the Middle East and North Africa since the 2011 popular Arab revolts. It's a pattern that aims to defeat popular protest at whatever cost.
The Sudanese protest movement has emerged from the crackdown that doctors said killed at least 118 people and efforts to delegitimize it battered, divided and potentially weakened but still standing.
A general strike declared at the beginning of this week initially paralyzed the capital Khartoum but within a day or two appeared to be weakening.
Ethiopian mediator Mahmoud Dirir said on Tuesday that the protesters had agreed to end the strike while the governing Transitional Military Council (TMC), headed by officers with close ties to Saudi Arabia and the UAE, was ready to release political prisoners, one of several key demands of the protesters.
Mr. Dirir said the two sides had also agreed to "soon" resume talks to resolve the crisis even if they were nowhere near narrowing differences of returning Sudan to civilian rule. It was not clear what soon meant.
"Negotiation – even if it happens soon – will circle back to the same issue: will the military cede power to a civilian government? Nothing about the generals' actions has indicated that this is an imminent possibility. The fear is that they will use any negotiations to try to divide the opposition while security pressure is maintained on the streets," Mr. Keane said.
Review: Africa At The SPIEF'19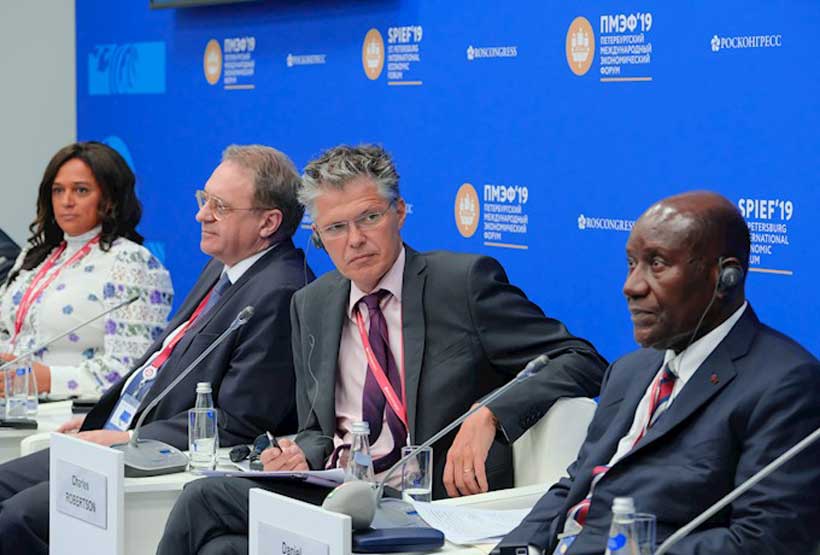 Foreign Minister Sergey Lavrov has held series of diplomatic discussions with a number of high-level African delegations who attended the St Petersburg International Economic Forum (SPIEF) from June 6 to 8, reaffirmed Russia's preparedness to strengthen cooperation in socio-economic spheres, provide the necessary military-technical logistics for enforcing stability and continue training specialists in Russian educational institutions.
Traditionally, SPIEF is a meeting platform for world business leaders, government officials, experts and media representatives to discuss and jointly search for solutions to the most pressing issues in the Russian and global economies.
The key theme of this year's forum, Creating a Sustainable Development Agenda, included discussions on the current state of and prospects for the sustainable development of the global economy. The business programme comprised four themed blocks: The Global Economy in Search of a Balance; The Russian Economy: Achieving National Development Goals; Technologies Shaping the Future; and People First.
As planned, Sergey Lavrov held several separate bilateral meetings. He attended a trilateral meeting with the Foreign Minister Somalia. On June 6, held meetings with Kenyan Secretary for Foreign Affairs Monica Juma, Foreign Minister of Botswana, Unity Dow and Central African Republic Foreign Minister, Sylvie Baipo-Temon among others.
With Minister Unity Dow, referring to an agreement signed between the Government of the Russian Federation and the Government of the Republic of Botswana, on waiving visa requirements for citizens of the Russian Federation and of the Republic of Botswana, Lavrov said that the agreement would ensure frequent exchanges of peoples and business community members. He further said it would provide "more comfortable conditions for interacting with each other."
During the meeting with Foreign Minister of the Central African Republic Sylvie Baipo-Temon, Lavrov stressed that Russia and CAR would be able to find more areas for trade and economic cooperation.
"We have long-standing friendly relations. This helps us to cooperate in a way that is beneficial for the development of and the efforts to normalise the situation in the Central African Republic," he told CAR Foreign Minister.
"The meeting between Russian President Vladimir Putin and President of the Central African Republic Faustin-Archange Touadera in St Petersburg in May 2018 and my prior talks with President Touadera in Sochi in October 2017 have proven useful for the efforts to implement the fundamental agreements which have been reached. We will work to achieve this," concluded Lavrov.
Adviser to the President of the Russian Federation, Anton Kobyakov, also met with Vice-President of the Republic of Cote d'Ivoire Daniel Kablan Duncan at the 2019 St. Petersburg International Economic Forum. Kobyakov noted that Russia attaches great importance to deepening cooperation with its African partners in trade and investment that includes the involvement of Russian companies in the implementation of projects in various sectors.
"In 2018, trade between the Russian Federation and Africa increased from US$17.4 billion to US$20.4 billion, domestic exports grew by 18.1%, and imports to Russia from the continent grew by 11.1%. Key Russian trading partners include such North African countries as Egypt, Algeria, Morocco, and Tunisia, as well as the Republic of South Africa, located on the other end of the continent. Egypt, Algeria, Morocco, Nigeria, and Tunisia accounted for the lion's share of Russian exports in 2018, while South Africa, Morocco, Egypt, Côte d'Ivoire, and Tunisia dominated imports," Kobyakov said.
Vice-President of the Republic of Côte d'Ivoire, Daniel Kablan Duncan, underlined the strengthening of bilateral relations between Russia and Côte d'Ivoire: "2017 marked a half-century since the establishment of diplomatic relations between our countries. We enjoy friendly relations that encompass many areas of interaction, including political dialogue, security, trade, economic and technical military ties, energy, and scientific, cultural, and cultural exchanges."
Cote d'Ivoire is one of Russia's largest trading partners in sub-Saharan Africa, and the beginning of 2019 has been marked by a significant increase in mutual trade. The outlook for cooperation in energy seems promising. The processing of agricultural products could also be included in a list of key areas of trade and investment cooperation with Russia.
Besides bilateral meetings, there were other related business programmes where Africans participated. Support of the Russian export to African countries can grow twofold and reach the level of US$1 bln this year, Chief Executive of the Russian Export Insurance Company EXIAR, Nikita Gusakov informed the Russia-Africa plenary session at the St. Petersburg International Economic Forum (SPIEF).
"There is quite a lot of projects. We supported exports to Africa with an amount of US$0.5 bln last year. Regarding sectors, these are railways, pipeline infrastructure, everything linked to food security and fertilizer suppliers," Gusakov said. There is no exact forecast of export support for Africa in 2019 but "the amount should be doubled at the least," he added.
During the plenary session, the key speakers and participants agreed that 2019 should be a historic year in the development of Russian-African relations. The Summit of Heads of State in October should take place amidst record growth in Russian exports to Africa. The first event in the history of Russian-African relations to invite the heads of all African states along with the leaders of major sub-regional associations and organizations.
Russia is interested in new markets and international alliances more than ever before, while Africa has solidified its position as one of the centres of global economic growth in recent years.
In this context, the countries need to rethink the approaches, mechanisms, and tools to use for cooperation in order to take their relations to the next level as their significance grows in the new conditions of world politics and economics. What steps are needed to give a new impetus to bilateral economic relations? What are the key initiatives and competencies that can create a deeper strategic partnership between Russia and African states?
These are among the key questions on the meeting agenda for the upcoming Russia-Africa Summit planned for October in Sochi under the co-chairmanship of President of the Russian Federation Vladimir Putin and President of the Arab Republic of Egypt Abdel Fattah el-Sisi, Chairperson of the African Union. The first event in the history of Russian-African relations to invite the heads of all African states along with the leaders of major sub-regional associations and organizations.