Trump's New Africa Strategy to Counter China
On December 13, 2018 US National Security Advisor, John Bolton while speaking at the Heritage Foundation highlighted the key aims and objectives of 'Prosper Africa' which shall probably be announced at a later date. The emphasis of this policy according to Bolton, would be on countering China's exploitative economics unleashed by the Belt and Road Initiative, which leads to accumulation of massive debts, and has been dubbed as 'Debt Trap Diplomacy'. A report published by the Centre for Global Development (CGD) (2018) examined this phenomenon while looking at instances from Asia as well as Africa.
During the course of his speech, Bolton launched a scathing attack on China for its approach towards Africa. Said the US NSA:  "bribes, opaque agreements and the strategic use of debt to hold states in Africa captive to Beijing's wishes and demands".
Bolton apart from attacking China, accused Russia of trying to buy votes at the United Nations, through the sale of arms and energy.
Bolton also alluded to the need for US financial assistance for Africa, being more efficient, so as to ensure effective utilization of the US tax payers money.
The BUILD
It would be pertinent to point out, that the Trump administration while realizing increasing Chinese influence in Africa set up the US IDFC (International Development Finance Corporation) which will facilitate US financing for infrastructural projects in emerging market economies (with an emphasis on Africa) . IDFC has been allocated a substantial budget — 60 Billion USD. In October 2018, Trump had signed the BUILD (Better Utilization of Investments leading to Development) because he along with many members of the administration, felt that the OPIC (Overseas Private Investment Corporation) was not working effectively, and had failed to further US economic and strategic interests . Here it would be pertinent to mention, that a number of  US policy makers, as well as members of the strategic community had been arguing for a fresh US policy towards Africa.
Two key features of IDFC which distinguish it from OPIC are; Firstly deals and loans can be provided in the local currency so as to defend investors from currency exchange risk. Second, investments in infrastructure projects in emerging markets can be made in debt and equity.
There is absolutely no doubt, that some African countries have very high debts. Members of the Trump administration including Former Secretary of State, Rex Tillerson had also raised the red flag with regard to the pitfalls of China's unsustainable economic policies and the 'Debt Trap'.
According to Jubilee Debt Campaign, the total debt of Africa is well over 400 Billion USD. Nearly 20 percent of external debt is owed to China. Three countries which face a serious threat of debt distress are Zambia, Republic of Congo and Djibouti. The CGD report had also flagged the precarious economic situation of certain African countries such as Djibouti and Ethiopia.
US policy makers need to keep in mind a few points:
Firstly, Beijing has also made efforts to send out a message that BRI is not exploitative in nature, and that China was willing to address the concerns of African countries. Chinese President Xi Jinping while delivering his key note address at the China-Africa Summit in September 2018, laid emphasis on the need for projects being beneficial for both sides, and expressed his country's openness to course correction where necessary. While committing 60 Billion USD assistance for Africa, the Chinese President laid emphasis on the need for a 'win-win' for both sides.
African countries themselves have not taken kindly to US references to debt caused as a result of China. While Bolton stated, that Zambia's debt is to the tune of 6 Billion USD an aide to the Zambian President contradicted the US NSA, stating that Zambia's debt was a little over 3 Billion USD.
At the China Zhejiang-Ethiopia Trade and Investment Symposium held in November 2018, Ethiopian State Minister of Foreign Affairs Aklilu Hailemichae made the point, that Chinese investments in Ethiopia have helped in creating jobs and that the relationship between China and Ethiopia has been based on 'mutual respect'.   The Minister also expressed the view that Ethiopia would also benefit from the Belt and Road Initiative.
During the course of the  Forum of China-Africa cooperation in September 2018, South African President, Cyril Ramaphosa had also disagreed with the assertion, that China was indulging in predatory economics and this was leading to a 'New Colonialism ' as had been argued Malaysian PM, Mahathir Mohammad during his visit to China in August 2018.
Washington DC needs to understand the fact, that Beijing will always have an advantage given the fact, that there are no strings attached to it's financial assistance. To over come this, it needs to have a cohesive strategy, and play to it's strengths . Significantly, US was ahead of China in terms of FDI in Africa in 2017 (US was invested in 130 projects as of 2017, while China was invested in 54 projects). Apart from this, Africa has also benefitted from the AGOA program (Africa Growth and Opportunity Act) which grants 40 African countries duty free access to over 6000 products.
Yet, under Trump, US adopts a transactionalist approach even towards serious foreign policy issues(the latest example being the decision to withdraw US troops from Syria) and there is no continuity and consistency
 US can explore joint partnership with allies
In such a situation, it would be tough to counter China, unless it joins hands with Japan, which has also managed to make impressive inroads into Africa, in terms of investments, and has also been providing financial assistance, though it is more cautious than China and has been closely watching the region's increasing debts. Japan and India  are already seeking to work jointly for promoting growth and connectivity in Africa through the Africa-Asia Growth Corridor. US is working with Japan and India for promoting a free and open Indo-Pacific, and can work with both countries for bolstering the 'Prosper Africa' project.
Perhaps, Trump should pay heed to Defence Secretary Jim Mattis' (who will be quitting in February 2019) advice where he has spoken about the relevance of US alliances for promoting its own strategic interests.
There are off course those who argue, that US should find common ground with China for the development of Africa, and not adopt a 'zero-sum' approach. In the past both sides have sought to work jointly.
Conclusion
African countries will ultimately see their own interests, mere criticism of China's economic policies, and the BRI project, and indirectly questioning the judgment of African countries, does not make for strategic thinking on the part of the US. The key is to provide a feasible alternative to China, along with other US allies, or to find common ground with Beijing. Expecting nuance and a long term vision from the Trump Administration however is a tall order.
Does the Regime change in Algeria and Sudan signals the advent of "Arab Spring 2.0"?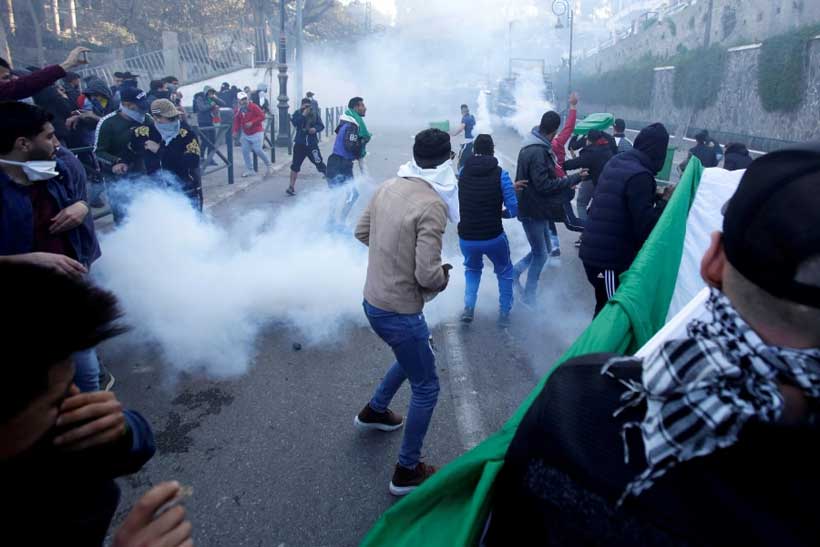 With the ouster of Abdelaziz Bouteflika as the president of Algeria and removal of Omar al-Bashir, as the president of Sudan – some scholars are arguing that the world is about to witness a new phase of change or the "Arab Spring 2.0" that might impact the political stability in the whole Middle East region. On April 2, 2019, months-long public protests forced the exit of president Bouteflika, and on April 11, 2019, Sudan's president al-Bashir was ousted from power by the military. The fall of longstanding regimes in Algeria and Sudan has generated anxiety among the other authoritarian regimes in the region – fearing how the protests and sudden regime change in two important member countries of "Arab League" would impact the wider Arab-world or the Middle East region.
The original "Arab Spring" was a series of mass level anti-government protests and uprising that first started in Tunisia in December 2010. Later on, the uprising in Tunisia ignited protests against the authoritarian regimes in many Arab countries. Effective use social media platforms and large-scale participation of the youth – with men and women playing equal part was one of the the salient features of original "Arab Spring". Similarly, in Algeria and in Sudan – youth – both men and women have effectively used social media in spreading the message and motivating people to come out for participating in the protests. Particularly, women have played a pivotal role in bringing the people to the streets. The key role of women protestors in the ouster of Bouteflika and al-Bashir is a massively exciting and stimulating moment which could open a window of opportunity for women to play more active role in the domestic politics of Arab countries. Moreover, youth's persistent demand for the change of entire political leadership in Algeria and in Sudan might trigger a chain reaction in the neighbouring Arab countries to unleash the "Arab Spring 2.0". However, this factor could also push the authoritarian regimes of the region; Saudi Arabia or Egypt or Iran – to take more strict or punitive measures against any kind of political protests to ensure that no more leaders would be forced to leave the office.
The original or first "Arab Spring" was met with a heavy-handed response and a massive crackdown against the protests was started in many Arab countries which resulted in the arrests and prisons of large numbers of protestors. After almost a decade, the tendency to suppress the opposition through oppressive means is still a key tool of various authoritarian regimes in the Arab/Middle East countries – whether it is Saudi Arabia showing an intent to reform but contradicting its claims by killing the journalists like Jamal Khashoggi and by arresting women rights activists like Samar Badawi, or Egypt which continues to arrest journalists and civil society activists like Esraa Abdelfattahh or Ibrahim Al-Husseini or Iran which is crushing the opposing voices and protests with the methods of repression.
Nearly a decade after the first "Arab Spring", a whole new generation is coming of age in the Arab/Middle East countries. With the memories of protests and uprisings in Tunisia, Egypt, Libya, Bahrain and Syria are still fresh in their minds a key question is facing them; will the mass civil society uprising that toppled the oppressive and authoritarian regimes of Bouteflika and al-Bashir inspire this new generation in the Arab/Middle East countries to stage similar popular uprisings against the authoritarian rulers in their own countries? Looking at the chaos and instability in Libya, Syria and Yemen that followed by the Arab Spring, the majority answer to this question might be negative.
Although the people of Algeria and Sudan deserve huge appreciation but the events and happenings in both countries indicate that the regime change has only resulted in the change of faces and there has been no headway made to bring the real democracy. In Algeria, Abdelkadar Bensalah a longtime ally of Bouteflika and the Senate speaker has been brought in to oversee an interim government for 90 days, and in Sudan – Vice President Lieutenant General Awad ibn Auf seized the power with a promise to hold the elections after two years. On Saturday 13 April, bending to public pressure Gen. ibn Auf reversed his decision to head the Sudan military council and named Lt. Gen. Abdel Fattah Abdelrahman Burhan as his successor but the military stated that it will stay in power for two years.
Governments and people in the Arab-world have learned the lessons from the first "Arab Spring" and they are looking at the recent developments through the lens of firstuprising to shape their policy and response. Accordingly, it is more likely that the developments in Algeria and Sudan may not spark a similar kind of chain reaction which was triggered bythe popular uprisings in Tunisia, Egypt or Libya. A key reason whythe developments in Algeria and Sudan might have less impact in the Middle East region is that the majority of international community which supported the first "Arab Spring" in a misperceived sense of "democratic triumphalism", is now much more cautious in its response towards the current uprisings. A careful response of international community shows that they have also learned the lessons from the events of Syria, Libya, Yemen and Egypt. Moreover, international community encouraged the uprisings in Egypt and Libya because both countries were important centers of power in the Middle East and North Africa. Historically, Egypt has remained a traditional centre of power in the Middle East and Libya being a leading Arab country and an important member of African Union has remained a regional power in North Africa. Although, the people have forced the regime change in both countries but these changes are controlled or "pacted transitions" which are brokered by the real power holders of both countries therefore the chances for a second phase of Arab uprising are very low.
From an external perspective, key international actors are carefully observing and monitoring the changes and developments caused by the fall of Bouteflika and al-Bashir regimes. France and Italy are concerned that the exit of Bouteflika might generate instability in the whole region of North Africa. A key reason for their anxiety is the fear that a prolonged political instability in Algeria might bring a rise in the "cross-Mediterranean" migration to Europe. The ouster of al-Bashir could engender some instability in "Horn of Africa". This is true in the sense that Sudan is part of region which is equally important for Egypt, Saudi Arabia, Turkey and also for Iran and Israel.
Russia is also keeping a close eye on what is happening Algeria and Sudan as it might have some short-term geopolitical consequences for Moscow which is very keen to develop military and political ties with both countries. In 2006, Russian president Vladimir Putin visited Algeria. During Putin's visit Russia signed major arms deal with Algeria. In July 2018, Russian ambassador to Algeria revealed that Algeria purchases almost 50 per cent of Russia's total arms sales to Africa. On March 19, 2019, Russia's Foreign Minister Sergei Lavrov expressed Russia's concerns over the mass protests in Algeria, declaring the situation as an attempt to undermine the political stability of Algeria. Similarly, on 16 March, 2019, Deputy Foreign Minister of Russia and Special Presidential Envoy for the Middle East and Africa, Mikhail Bogdanov during his visit to Sudan stressed Russia's confidence in Al-Bashir's leadership and stated that Russia has strong desire to strengthen its economic, political and military ties with Sudan.
Although the longstanding regimes have been removed from Algeria and Sudan but the situation both countries is still critical and precarious. The protestors are still out in the streets of Algiers and Khartoum fearing that the people in the new administrations are longtime allies of both Bouteflika and al-Bashir. The interim administration in both countries insist that they do not wish to stay in power for long time and the future of the countries will be decided by the people. But at the same, the military leaders of both countries have warned the people that they will not allow anyone to undermine the national security. This shows that the real power is still in the hands of the influential military leadership of both countries and they still holds the key to broke any agreement that will decide the future political setup in Algeria and Sudan.
Libya: Will the U.N. Appeal for a halt to the March on Tripoli be heard?
With the administrative-political situation in Libya badly stalemated and a meeting for negotiations to be held 14-16 April unlikely to make progress, on Thursday 4 April 2019, General Khalifa Hafter, one of the key players in the drama decided to start a "March on Tripoli" and to take overall power by force.
Most of the significant buildings in Libyan cities were built by Italians during the Fascist period when Libya was an Italian colony. Thus, General Hafter has patterned himself on Mussolini's 1922 "March on Rome". In 1922, the diplomats of most States looked away when Mussolini marched or the diplomats took it as a domestic affair.
liby01In 2019, the "March on Tripoli" has drawn more international attention and concern. The U.N. Secretary-General Antonio Guterres met with Hafter a few hours before the March began. Guterres was in Libya to facilitate the 14-16 April meeting on which his Special Representative Ghassan Salomé has been working for some time in the hope of drawing a road map for long-delayed elections. On Friday 5 April, the U.N. Security Council held a closed-door emergency meeting. The Security Council called for a halt to the March on Tripoli and the deescalation of the growing armed conflict.
The Security Council recognized the real possibilities of broader armed conflict and its consequences on the civilian population. In the recent past the Libyan armed factions have violated the laws of war and have a sad record of abuses against civilians.
We will now have to see if Khalifa Hafter is more open to international appeals than was Benito Mussolini. My impression is that the goal of holding overall power is stronger than the respect of international law. However, even a successful "March on Tripoli" will not create the conditions for an administration of a culturally and geographically-diverse country. New and appropriate constitutional structures must be developed.
There cannot be a return to the earlier Italian colonial structures, nor to the forms of government at independence developed by King Idris al Sanussi which depended largely on his role as a religious leader using religious orders, nor the complicated pattern of "direct democracy" developed by Muammar al Qadhafi. The Association of World Citizens has proposed the possibility of con-federal structures.
The post 2011 Libyan society faces large and complex issues. Resolving the institutional, economic and political issues is urgent and cannot be settled by elections alone. There are three distinct regions which must have some degree of autonomy: Tripolitania and Cyrenaica both bordering the Mediterranean and Fezzan in the southern Sahara. Within each of the three regions there are differing and often rival tribal societies which are in practice more kinship lines than organized tribes. [1] There are differing economic interests and there are differing ideologies ranging from "Arab Socialism" to the Islamist ideology of the Islamic State which has spread from its Syrian-Iraqi base.
The situation is critical, and the next few days may be crucial for the future of the country.
[1] See J. Davis. Libyan Politics, Tribes and Revolution (London: I.B. Tauris, 1987)
Russia and Angola: Stuck Between Diplomatic Rhetoric and Business Reality
Russian President Vladimir Putin held talks at the Kremlin with President of Angola leader João Lourenço on strengthening cooperation in trade, the economy and culture, as well as current international and regional matters.

"Angola is a reliable and old partner. We need to consider what we need to do, without delay, to stimulate our trade and economic ties. There are interesting fields of activity, such as the diamond industry, fisheries and space exploration. There are also cultural spheres, such as education and the training of personnel," Putin told the Angolan President at the meeting.

On his part, the Angolan leader João Lourenço added: "We have come to Russia on an official visit to strengthen our ties and cooperation and, if possible, to promote interaction between our countries. Russia is doing splendidly in the spheres of mineral resources, education, healthcare and defence. But we would like to know about Russia's potential in other fields so we can promote cooperation in these areas of the Angolan economy."

He informed further that his opening speech at the Angola-Russia Forum in Moscow was designed to attract the interest of Russian business people to investing in the Angolan economy, and finally added "many countries are doing this, and we are confident that Russia can help with economic diversification."

Putin and Lourenço signed a joint communique after their consultations. The number of bilateral documents signed included the intergovernmental agreements on the peaceful exploration and use of space, and on fishery and aquaculture, as well as documents on cooperation in diamond mining and processing.

Consultations continue on draft agreements on cooperation in the peaceful use of outer space and nuclear energy, commercial shipping, mutual protection of classified information, simplified access to Angola's ports for Russian warships, as well as agreements involving Russia's Justice Ministry, Ministry of Industry and Trade and Communications Ministry, according to the Kremlin Press Service.

Before their final departure from the Kremlin, João Lourenço presented Vladimir Putin with a high Angolan award – the Order of Agostinho Neto, the first President of Angola – as a sign of gratitude for the years of support for the Republic of Angola.

Agostinho Neto Order is the highest distinction of the Angolan State with a single degree, granted to nationals and foreigners, in particular Heads of State and Government, political leaders and other heavyweight individuals.

Earlier at the Angolan-Russian Forum, the Angolan leader said that political and diplomatic relations with Russia were "excellent and privileged" but asked for more Russian private investment.

In his objective assessment about economic engagement by foreign players, only few Russian companies are comparatively operating in the Angolan market and limited solely to the exploration and production of diamonds, to the financial system and to the construction of hydroelectric dams.

"Angola wants to change that scenario through public-private partnerships or by creating Angolan-Russian companies with a focus on the manufacturing industry, agro-industry, fishing, energy, tourism, geology and mining, among other sectors," he added.

Lourenço, however, recalled the long-lasting tradition of "friendship and solidarity" between the two countries, which have remained firm and strong despite the great changes the world has seen in the last decades. Angola counts with Russia's solidarity and support at a time when it must guarantee economic cooperation and sustainable development, the president said.

Russia-Angolan interaction in the Kremlin has attracted attention of a former Russian diplomat. "Angola is a priority area of Russia's cooperation in Africa. To begin with, that was the case since the time when Angola fought for its independence. Secondly, this is due to Angola's huge economic potential," explained Sergei Nenashev, who served as Russia's Ambassador to Angola from 2007-2012.

"Now the country lives off oil, gas and, partially, diamonds. On the other hand, Angola has vast resources. Today, Russia and Angola maintain ties in all areas of interstate relations, including culture, education, personnel training, military-technical, financial and economic cooperation." the former Ambassador told the Kommersant daily newspaper.

Russians like historical references. As expected, the local Russian media were awashed with articles highlighting Russia's historical contributions to the independence of Angola, the development and strengthening of friendly relations with the country during the Soviet era. That Russia has promoted political dialogue, including the exchange of visits at the high levels, as well as trade and economic cooperation and cultural relations between the two countries.

Media reports offered a number of examples of many areas of cooperation. But Russian companies, at least over the past ten years, have made little results or impact on development of the country. Alrosa is involved in diamond mining in Angola's largest Catoka deposit. Global Resources is involved in geological prospecting. Rosneft has won a tender for working in Angola. Russia and Angolan companies are cooperating on high technology.

Itar-Tass reported that Russian truck-maker Kamaz may organize assembly of trucks in Angola and Russian Railways may participate in upgrading the rail infrastructure in this country. Russian Railways (RZD) in restoring and upgrading the railroad infrastructure are among looking-forward cooperation projects.

But, Professors Vladimir Shubin and Alexandra Archangelskaya from the Russian Academy of Sciences' Institute for African Studies, have argued that "both Russia and Angola still need to be more strategic in aligning their interests, and more proactive in carving out efficient bilateral instruments and mechanisms in order to promote economic exchanges and reap the benefits of a fully-fledged partnership."

Cooperation between Angola and Russia date back to 1976, when the two countries signed a treaty of friendship and cooperation. But official figures are still staggering, trade between the two countries stood at US$500 million in 2016, 15 times higher than that of 2012 (US$25 million).

Angola has diamonds, oil, gold, copper and a rich wildlife, forest and fossil fuels. Since independence, oil and diamonds have been the most important economic resource. It's a member of the Southern African Development Community, an inter-governmental organization that has made its goal to further socio-economic cooperation and integration as well as political and security cooperation among 16 Southern African States.
The Republic of Angola is a country in south-central Africa, the seventh largest by territorial size and bordered by Namibia to the south, Democratic Republic of Congo to the north and Zambia to the east, and on the west the South Atlantic Ocean.