Situation of Women in Afghanistan: From Queen Soraya Tarzi to Rula Ghani
Today's Afghan women bear the huge and heavy burden of four decades war and conflicts. Early at the beginning of the twentieth century, Afghan women, as a result of the first constitutional movement under the leadership of King Amanullah, Khan succeeded in gaining some of their human rights and freedoms. King Amanullah Khan's democratic plans included the elimination of hijab of women, access to education and active participation of women in the social, economic, political and cultural processes in the society. But unfortunately, after the fall of Soviet-backed governments of Kabul and their subsequent regimes – Mujahidin and Taliban, all those values were buried soon.
The First Steps for Afghan Women Liberation
In late 1927, King Amanullah Khan and his wife, Queen Soraya Tarzi, visited Europe. On this trip, they were honored and feted. This was an era when other Muslim nations, like Turkey and Egypt, were also on the path to modernization. Upon returning from his tour to Europe, King Amanullah Khan let his wife appear without a veil in public. He also prepared a progressive and democratic plan for modernizing his country. One of the key elements of this plan was the elimination of hijab of women, access to education and active participation of women in the social, economic, political and cultural processes in the society. However, the time was not right, and his plan was more progressive than the context of Afghanistan of 1928. Soon after the declaration of his reformist move, religious and traditional local elders revolted against his modernization program. This demonstration effectuated into a tribal rebellion and forced King Amanullah Khan to abdicate. As a result, his reformist programs were defeated.
After the era of King Amanullah Khan, the kingdoms of Afghanistan slowly continued his reforms. But the era of socialist and communist governments in Afghanistan, which is especially important for women, seems to be the root of many political events in recent years. Because, although during this period, especially with regard to women, important advances have been made. But what happened during the Taliban era against women, can be an exact response to the previous governments' policies regarding women issues. But it is argued that after the first bold step of King Amanullah Khan toward women liberation and giving them the basic human rights, various reforms have taken placed regarding the women issues in Afghanistan – such as the abolition of forced marriage practices, raising the maturity of girls up to 16 years of age, access to education, and women's right to vote.
During the reformist period of Soviet-backed governments of Kabul, Afghanistan witnessed the massive immigration of those who did not want a forced revolution from top to down. Many families immigrated to Pakistan, Iran and other Islamic countries to escape from girls' forced education because they considered it as a shame for themselves. Applying contingency and command policies, the Soviet-affiliated states faced with such resilience that in some cases obliged them to stop enforcing their reformist policies. For example, though co-education was compulsory to some extent, girls and boys were educated in separate schools.
We can argue that the Soviet-dependent regimes in Afghanistan wanted to impose their modernization projects through a group of government elites. It is estimated that out of a population of 17 million Afghans in this period, 85 percent were rural. The reformist programs were focused on large cities, while the villages were mostly governed by tribal practices. The central government was not able to compete with local sovereignty.
The reformist projects of the Leftist government in Afghanistan during the Democratic Republic of Afghanistan were largely limited to reforms that were enacted in three legislative enactments. These legislative enactments abolished girls' sale by the peasants. Women's freedom of marriage was also selected on the basis of these decrees. But these laws were met with severe traditionalist reactions.
To deal with the women issues, the Democratic Republic of Afghanistan launched an organization called "Afghan Women's Democratic Organization (AWDO)". Its main activity was to fight with the illiteracy of women in cities and villages and women's expulsion from home. As the literacy cadres of AWDO forced villagers, even with the use of physical violence, to satisfy the presence of girls in classes, the literacy program for community girls faced the most resistance by local villagers. Many of these literacy cadres were expelled from villages or killed by villagers. Since these projects were designed to bring a profound transformation in people's lives in a short time, which was hard and challenging, they were faced with completely opposing reactions of the local communities.
Soviet Invasion; the beginning of Dark Era for Afghan Women
The Soviet military invasion of Afghanistan for a period of 10 years from 1979 to 1989 was followed by a massive civil war, which ultimately led to the Soviet withdrawal from Afghanistan at the beginning of 1989 due to the failure of the Russians to contain it. The most reactive to the reforms of the Leftist government of Kabul, especially in relation to women, was projected by the Islamist organization, gradually known as the "Mujahideen". These groups were supported by a set of regional states and Western powers, each of whom did not tolerate leftist rule in an Islamic country for a variety of political reasons, including fear of Soviet influence.
The period of Soviet military presence in Afghanistan brought about a period of freedom for women in the context of Soviet patriarchal policies, and a period of relative liberties in which a small percentage of Afghan women benefited from it. But this period led not only to the widespread conflict between women in the country but also to the rise and mobilization of traditionalist responses. The consequences of this invasion were painful and bitter for all Afghans and particularly for women.
With the fall of Najibullah's government, the second phase of the internal wars began from 1992 to 1998. This time the war was between a set of Afghanistan's political factions that ended only after the victory of the Taliban and the overthrow of most of Afghanistan's soil. The Taliban came to power, many of whom were former members of the Mojahedin (Iacopino, 1998).
While many in the West and Islamic countries favored the Mojahedin, the situation of Afghan women was forgotten during this period. In the first stages of the war during the confrontation between the mujahideen and the Soviet forces, many women were denied access to education, classrooms were closed, and women's organizations were shut down and some of their activists were killed, including Mina, who founded the Women's Revolutionary Association of Afghanistan in 1977.
The emergence of extremist Islamic movements in the post-communist era, as well as the rise of the Taliban government, can be attributed largely to the policies applied during the occupation of the Soviet Union in Afghanistan. Indeed, much of the violence against women was in response to intimidation and threats that were introduced during the period of leftist rule. Somehow, Afghanistan experienced a very difficult period in the late 20th century. However, the experience of the Mujahideen and Taliban era in comparison with the experience of the communist regime for women was a far worse experience.
The current military presence of the United States in Afghanistan, like the Soviet policy, allows the women to experience a period of relative calm and security. Though the current government of Afghanistan, as a weak state, is virtually incapable of supporting women, there are not any legal restrictions for women's political, social and economic activities as they experienced prior to King Amanullah Khan's regime, Mujahedin and Taliban's era.
Afghan Women and 2004 Constitutional Law of Afghanistan
The new constitution of Afghanistan, formulated in the last half and a decade, has recognized women's rights in a fundamental and indelible way. As per the current Constitutional Law of Afghanistan, men and women have equal human rights and human dignity. Compared to the past constitutional laws, the current constitution law addresses the grounds for the provision of women's citizenship rights at the level of men. It is said that the current constitutional law of Afghanistan is the best laws in the region. Article 33 states that "All the citizens of Afghanistan have the right to choose and be elected …" (The Constitutional Law of Afghanistan, 2004, p. 10). And Article four holds that national sovereignty in Afghanistan belongs to the nation directly or through its agents, and the people of Afghanistan are all those who have the nationality of Afghanistan (The Constitutional Law of Afghanistan, 2004).
In Article 22 of Afghanistan's Constitution Law, the right to equality and gender and humanity are reflected in clearly and emphatically that any discrimination and privilege is prohibited between the citizens of Afghanistan. The citizens of Afghanistan, including men and women, are equated with the law with equal rights and obligations. Women as the fabric of families are protected by the Constitutional Law of Afghanistan amended in 2004.
Article 58 of Afghanistan's Constitutional Law articulates that the government takes the necessary measures to ensure the physical and psychological well-being of the family, especially the child and the mother. The government should eliminate any kinds of customs that are against women's dignity and also contrary to the holy religion of Islam (The Constitutional Law of Afghanistan, 2004).
Afghanistan's 2004 Constitutional Law has a special focus on women's education. As per article 44, the government is required to plan and implement effective programs to provide education for women. Moreover, as per Afghanistan's 2004 Constitutional Law, women can be nominated and elected at the highest political-managerial level of the country, presidential. It clearly echoes that there is no legal ceiling against the promotion of women to high positions.
Despite taking substantial strides regarding women's promotion, liberation, and rights by the kingdoms and governments of Afghanistan from King  Amanullah Khan to the current president of Afghanistan, Ashraf Ghani, still, Afghan women face myriad challenges. For example, confronting with traditional patriarchal structures. And most importantly, struggling with the challenges on the path to tradition and modernity. So, to pave the way for Afghan women so that they can participate in the political, social, cultural, educational, and economic spheres equally with their male counterparts, this paper suggests that the government of Afghanistan and other related national and international organizations should take the following measures.
Recommendations for Policy Implications
First, a significant issue in political and social participation is political socialization. Political socialization is a continuous learning process in which individuals through acquainting themselves with the political system, learn from their rights and roles in society through information and experiences. This process helps women adapt to the accepted forms of organized social life, and teaches them the talents, essential social desires, and in particular the social roles that they must play in society. Ultimately, it helps women attend various social fields. So, the government of Afghanistan as the responsible political entity should pave the way for Afghan women to experience political socialization in the society.
Second, social education is the most important element of political and social participation and, ultimately, the development of a community. And, the most important element in the development of a community is the people of that society – men and women, who must have cultural and political awareness and knowledge. Emile Durkheim, the French sociologist argues that Education is a process in which a woman learns through practices that are functional in a community. So, the government of Afghanistan and other responsible institutions must carry out the necessary social education through K-12 education and higher education. Doing so, Afghan women learn the pre-requisites for social and political activities in their childhood and adolescence.
Third, the communities, government, and other social organizations should have a rational and reasonable approach toward the character of girls and women, and let them taste the importance of ownership, thought and creativity. If women are provided with opportunities to explore their talents, enhance their self-confidence, think about their own fate, the entire society will benefit from this process. Adapting a non-biased and non- patriarchal approach toward women by the society and men will provide better opportunities for women's political and social participation in the society.
Last but not the least, creating suitable opportunities for female participation in various scientific and practical scenes, such as universities, research centers, factories and other social activities can provide the motivation for increasing women's political and social participation. Hence, we can conclude that increasing the political and social participation of Afghan women means increasing their contribution to the development of society.
Major Challenges for Pakistan in 2022
Pakistan has been facing sever challenges since 1980s, after the former USSR's invasion of Afghanistan. The history is full of challenges, but, being a most resilient nation, Pakistan has faced some of them bravely and overcome successfully. Yet, few are rather too big for Pakistan and still struggling to overcome in the near future.
Some of the challenges are domestic or internal, which can be addressed conveniently. But, some of them are part of geopolitics and rather beyond control of Pakistan itself. Such challenges need to pay more attention and need to be smarter and address them wisely.
Few key areas will be the main focus of Pakistan in the year ahead. Relations with China and the US while navigating the Sino-US confrontation, dealing with Afghanistan's uncertainties, managing the adversarial relationship with India and balancing ties between strategic ally Saudi Arabia and neighbor Iran.
Pakistan has to pursue its diplomatic goals in an unsettled global and regional environment marked by several key features. They include rising East-West tensions, increasing preoccupation of big powers with domestic challenges, ongoing trade and technology wars overlying the strategic competition between China and the US, a fraying rules-based international order and attempts by regional and other powers to reshape the rules of the game in their neighborhood.
Understanding the dynamics of an unpredictable world is important especially as unilateral actions by big powers and populist leaders, which mark their foreign policy, have implications for Pakistan's diplomacy. In evolving its foreign policy strategy Pakistan has to match its goals to its diplomatic resources and capital. No strategy is effective unless ends and means are aligned.
Pakistan's relations with China will remain its overriding priority. While a solid economic dimension has been added to long-standing strategic ties, it needs sustained high-level engagement and consultation to keep relations on a positive trajectory. CPEC is on track, timely and smoothly progress is crucial to reinforce Beijing's interest in strengthening Pakistan, economically and strategically. Close coordination with Beijing on key issues remains important.
Pakistan wants to improve ties with the US. But relations will inevitably be affected by Washington's ongoing confrontation with Beijing, which American officials declare has an adversarial dimension while China attributes a cold war mindset to the US. Islamabad seeks to avoid being sucked into this big power rivalry. But this is easier said than done. So long as US-China relations remain unsteady it will have a direct bearing on Pakistan's effort to reset ties with the US especially as containing China is a top American priority. Pakistan desires to keep good relations with the US, but, not at the cost of China. In past, Pakistan was keeping excellent relations with US, while simultaneously very close with China. When the US imposed economic blockade against China and launched anti-communism drive during the cold war, Pakistan was close ally with the US and yet, keeping excellent relations with China. Pakistan played vital role in bring China and the US to establish diplomatic relations in 1970s. Yet, Pakistan possesses the capability to narrow down the hostility between China and the US.
Pakistan was close ally with the US during cold war, anti-communism threat, war against USSR's invasion of Afghanistan in 1980s, and war on terror, etc. Pakistan might be a small country, but, possesses strategic importance. As long as, the US was cooperating with Pakistan, Pakistan looked after the US interest in the whole region. In fact, Pakistan ensured that the US has achieved its all strategic goals in the region. Since, the US kept distance from Pakistan, is facing failure after another failure consecutively. The importance of Pakistan is well recognized by the deep state in the US.
US thinks that withdrawal from Afghanistan has diminished Pakistan's importance for now. For almost two decades Afghanistan was the principal basis for engagement in their frequently turbulent ties, marked by both cooperation and mistrust. As Pakistan tries to turn a new page with the US the challenge is to find a new basis for a relationship largely shorn of substantive bilateral content. Islamabad's desire to expand trade ties is in any case contingent on building a stronger export base.
Complicating this is Washington's growing strategic and economic relations with India, its partner of choice in the region in its strategy to project India as a counterweight to China. The implications for Pakistan of US-India entente are more than evident from Washington turning a blind eye to the grim situation in occupied Kashmir and its strengthening of India's military and strategic capabilities. Closer US-India ties will intensify the strategic imbalance in the region magnifying Pakistan's security challenge.
Multiple dimensions of Pakistan's relations with Afghanistan will preoccupy Islamabad, which spent much of 2021 engaged with tumultuous developments there. While Pakistan will continue to help Afghanistan avert a humanitarian and economic collapse it should not underestimate the problems that may arise with an erstwhile ally. For one, the TTP continues to be based in Afghanistan and conduct attacks from there. The border fencing issue is another source of unsettled discord. Careful calibration of ties will be needed — assisting Afghanistan but avoiding overstretch, and acknowledging that the interests of the Taliban and Pakistan are far from identical. Moreover, in efforts to mobilize international help for Afghanistan, Islamabad must not exhaust its diplomatic capital, which is finite and Pakistan has other foreign policy goals to pursue.
Managing relations with India will be a difficult challenge especially as the Modi government is continuing its repressive policy in occupied Kashmir and pressing ahead with demographic changes there, rejecting Pakistan's protests. The hope in establishment circles that last year's backchannel between the two countries would yield a thaw or even rapprochement, turned to disappointment when no headway was made on any front beyond the re-commitment by both neighbors to observe a ceasefire on the Line of Control.
Working level diplomatic engagement will continue on practical issues such as release of civilian prisoners. But prospects of formal dialogue resuming are slim in view of Delhi's refusal to discuss Kashmir. This is unlikely to change unless Islamabad raises the diplomatic costs for Delhi of its intransigent policy. Islamabad's focus on Afghanistan last year meant its diplomatic campaign on Kashmir sagged and was limited to issuing tough statements. Unless Islamabad renews and sustains its international efforts with commitment and imagination, India will feel no pressure on an issue that remains among Pakistan's core foreign policy goals.
With normalization of ties a remote possibility, quiet diplomacy by the two countries is expected to focus on managing tensions to prevent them from spinning out of control. Given the impasse on Kashmir, an uneasy state of no war, no peace is likely to continue warranting Pakistan's sustained attention.
In balancing ties with Saudi Arabia and Iran, Pakistan should consider how to leverage possible easing of tensions between the long-standing rivals — of which there are some tentative signs. With Crown Prince Mohammed bin Salman keen to use economic power to expand his country's diplomatic clout by making strategic overseas investments, Pakistan should use its political ties with Riyadh to attract Saudi investment through a coherent strategy. Relations with Iran too should be strengthened with close consultation on regional issues especially Afghanistan. The recent barter agreement is a step in the right direction.
In an increasingly multipolar world, Pakistan also needs to raise its diplomatic efforts by vigorous outreach to other key countries and actors beyond governments to secure its national interests and goals.
Afghanistan: UN launches largest single country aid appeal ever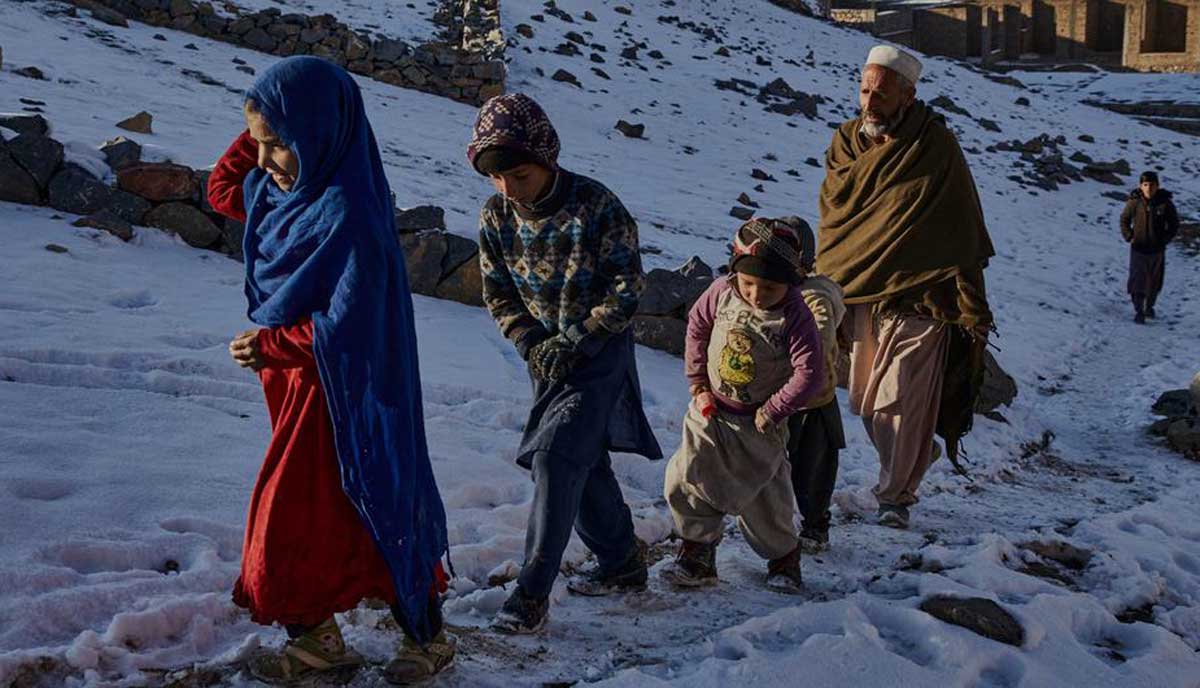 The UN and partners launched a more than $5 billion funding appeal for Afghanistan on Tuesday, in the hope of shoring up collapsing basic services there, which have left 22 million in need of assistance inside the country, and 5.7 million people requiring help beyond its borders.
Speaking in Geneva, UN Emergency Relief Coordinator Martin Griffiths said that $4.4 billion was needed for the Afghanistan Humanitarian Response Plan alone, "to pay direct" to health workers and others, not the de facto authorities.
UN High Commissioner for Refugees Filippo Grandi called for $623 million, to support refugees and host communities in five neighbouring countries, for the Afghanistan Situation Regional Refugee Response Plan.
"Today we are launching an appeal for $4.4 billion for Afghanistan itself for 2022," said Mr. Griffiths. "This is the largest ever appeal for a single country for humanitarian assistance and it is three times the amount needed, and actually fundraised in 2021."
Needs could double
The scale of need is already enormous, both UN officials stressed, warning that if insufficient action is taken now to support the Afghanistan and regional response plans, "next year we'll be asking for $10 billion".
Mr. Griffiths added: "This is a stop-gap, an absolutely essential stop-gap measure that we are putting in front of the international community today. Without this being funded, there won't be a future, we need this to be done, otherwise there will be outflow, there will be suffering."
Rejecting questions that the funding would be used to support the Taliban's grip on de facto government, Mr. Griffiths insisted that it would go directly into the pockets of "nurses and health officials in the field" so that these services can continue, not as support for State structures.
UN aid agencies describe Afghanistan's plight as one of the world's most rapidly growing humanitarian crises.
According to UN humanitarian coordination office OCHA, half the population now faces acute hunger, over nine million people have been displaced and millions of children are out of school.
Youngsters' plight
Asked to describe what might happen if sufficient support was not forthcoming, the UN emergency relief chief replied that he was particularly concerned for one million children now facing severe acute malnutrition. "A million children – figures are so hard so grasp when they're this kind of size – but a million children at risk of that kind of malnutrition if these things don't happen, is a shocking one."
But humanitarian agencies and their partners who will receive the requested funding directly can only do so much, Mr. Griffiths explained, before reiterating his support for the 22 December UN Security Council resolution that cleared the way for aid to reach Afghans, while preventing funds from falling into the hands of the Taliban.
"Humanitarian agencies inside Afghanistan can only operate if there's cash in the economy which can be used to pay officials, salaries, costs, fuel and so-forth," he said. "So, liquidity in its first phase is a humanitarian issue, it's not just a bigger economic issue."
Stave off disease, hunger
He added: "My message is urgent: don't shut the door on the people of Afghanistan. Humanitarian partners are on the ground, and they are delivering, despite the challenges. Help us scale up and stave off wide-spread hunger, disease, malnutrition and ultimately death by supporting the humanitarian plans we are launching today."
Highlighting the need to avoid a wider regional crisis emanating from Afghanistan, UNHCR chief Grandi, insisted that what was needed most, was "to stabilize the situation inside Afghanistan, including that of displaced people who are displaced inside their country. Also, to prevent a larger refugee crisis, a larger crisis of external displacement."
Nonetheless, Afghanistan's immediate neighbours had sheltered vulnerable Afghans for decades, Mr. Grandi explained, as he appealed for $623 million in funding for 40 organizations working in protection, health and nutrition, food security, shelter and non-food items, water and sanitation, livelihoods and resilience, education, and logistics and telecoms.
Decades of shelter
No-one should forget "that there is a regional dimension to this crisis, represented by the Afghan refugees but also Afghans with many other 'stay' arrangements in neighbouring countries in particular," Mr. Grandi said, "especially in Pakistan and Iran that have hosted Afghans for more than 40 years, but also Central Asian States."
Since the Taliban takeover last August, women's and girls' rights have continued to come under attack, OCHA noted in a statement, "while farmers and herders are struggling amid the worst drought in decades and the economy is in freefall".
Rights reminder
On the issue of protecting fundamental rights, Mr. Griffiths underlined the fact that UN humanitarians were continuing to hold "conversations" with Afghanistan's de facto authorities at a national and sub-national level, on issues such as aid and education access for all.
Echoing that message, UN refugee chief Mr. Grandi noted that humanitarians on the ground were well aware of the importance of stressing the need to protect the rights of minorities and other vulnerable Afghans.
"Our colleagues are there every day, and that's what they talk about every day; they certainly talk about access, and delivery and needs, but they also talk about women at work, women in school – girls in school – rights of minorities, but it's that space that we need to preserve."
India's constitution calls upon its citizens to imbibe the spirit of "scientific inquiry" and humanism". Oblivious of their constitutional duty, India is still wedded to dogmas. This fact is obvious from the recent calendar "invented' by the Indian Institute of Technology, Kharagpur. The calendar is intended to play to the tune of Hindutva ideologues, Bharatiya Janata party and the Rashtriya Swayamsevak Sangh (RSS).
This calendar claims that the invasion of the Aryan race is a myth. They were a "race indigenous to India".
The BJP and RSS consider the Aryans to have been indigenous to India and long opposed the dominant 'Aryan invasion' theory. The calendar disbelieves that the Aryans came along with the Vedic culture from the Central Asia. That they introduced this culture to the aboriginals, predominantly the dark -skinned Dravidian race. That the Harappa-Mohenjo-daro civilisations did not predate the Vedic era. Vedic Culture and the Indus Valley Civilisation (7000 BCE – 1500 BCE) were synonymous.
The BJP-led Union government is trying to rewrite India's history textbooks and "saffronise" education. Hindu right wing claims that the creators of the Vedas always belonged to India. Muslims and Christians are 'invader' races with respect to India, as opposed to the supposedly indigenous Aryans.
Similar myths
Museum renamed after Shiva
Yogi Adityanath often showed abhorrence to Moghul icons. He mocks the expenditure of such monuments. He vowed not to spend a penny on even Muslim graveyards, and by corollary, even mosques. India's Supreme Court y ruled that a mosque is not necessary for the Muslim mode of worship. He renamed the upcoming "Mughal Museum" in Agra after Chhatrapati Shivaji Maharaj. Yogi believes that he himself is a scion of the Maratha warriors.
Yogi says "how can Mughal be our heroes?" Thus he is up against 396 of its 1 lakh-plus villages and towns bearing the names of the Mughals. What about
Bihar with 97, Maharashtra 50, and Haryana 39 villages named after the Moghul?
About 50 percent of the villages bear standalone names such as Akbarpur, Aurangabad, Humayunpur and Babarpur. In addition, there are also syncretic names such as Akbar Nivas Khandrika and Damodarpur Shahjahan.
The most common name is Akbarpur of which there are nearly 70 across the country, followed by Aurangabad, which is the name of 63 places.
Since coming to power in 2017, Yogi has renamed several places in the state including railway junction Mughalsarai renamed as Pandit Deen Dayal Upadhyaya Nagar, Allahabad as Prayagraj, and Faizabad as Ayodhya. The renaming falls in line with the Sangh Parivar's ideological commitment to reclaiming the "original" lost glory of India in pre-Islamic times.*
Hyderabad or Bhagyanagar
Hindutva lobby, as led by Yogi, wants to rename Hyderabad as Bhagyanagar, Taj Mahal as "Ram Mahal, Krishna Mahal, or even Rashtrabhakt (patriot) Mahal". They want to rename Delhi as "Indraprastha", Lucknow as "Lakhanpur", and Victoria Palace in Kolkata as Janaki Palace
Gyanvapi mosque
A Varanasi court ordered Archeological Survey of India to conduct a survey of the Gyanvapi Mosque compound adjacent to the Kashi Vishwanath Temple to find out whether it was a "superimposition, alteration or addition or there is structural overlapping of any kind, with or over, any other religious structure".
The decision is preposterous as no evidence was produced before the court to infer that there was a prior existing temple at the site of the mosque.
Ayodhia
Even in the Ayodhya judgment, the ASI excavation was ultimately of no use. The ASI did not find proof that the Babri Masjid was built upon demolition of a temple. No evidence was produced before the court to suggest that there was a prior existing temple at the site of the mosque.
The Kashi Vishwanath Dam project
This dam is the biggest attempt at India's civilisational restoration since the rebuilding of the Somnath temple.
Why emphasis on Arthashastra by the IIT, Kharagpur?
India wants to promote teaching of Arthashastra (Chanakya) through prestigious institutes as Chanakya postulates unethical, no-holds barred wars. India trained mukti bahini so-called freedom fighters) and attacked erstwhile East Pakistan when Pakistan least expected it.
The Ramayanas and the Mahabharata wars elucidate various types of yuddha (wars). In ancient India there were three schools of war. Bhishma's school of warfare belonged to dharma yuddha (ethical or just war). Two other schools, Brihaspati and Krishna's school of warfare belonged to koota yuddha (all-out war) or maya yuddha (war by tricks or stratagems). There is too much of negative publicity about Islamic jihad (struggle). But, there is little limelight on koota yuddha in India's history.
Bhishma stressed chivalry and ruled out surprise and deception. But Brihaspati recommended that the king should attack an enemy only if the enemy's strength is one-third of his own (`Udyog Parva'). He suggested that the king should never trust the enemy or spare him, no matter how old or virtuous he may be.
Keynote of Krishna's military philosophy was `end justifies the means.' He laid great stress on deception. `Truth may often have to be sacrificed in pursuit of victory' (Karma Parva). He advocated use of force to defeat the enemy if he was superior in strength or capability (Shalya Parva). Opportunity once wasted never returns (`Shanti Parva').
Even the enlightened Hindu and the military writers believe that India's prosperity during various periods of history, for example during the Maurya and the Gupta periods, rose or fell pari passu with rise or fall of military leadership.
Since partition, the Hindu leaders have put a tab on their innate desire to expose their urge for koota yuddha with Pakistan because of political expediency. India's confidence-building measures did not contribute to the solution of the Kashmir, or Sir Creek issues. They were dilly-dallying tactics to evade a plebiscite in disputed Kashmir.
Pakistani leaders, including previous prime-ministers and prime-ministers-to-be should take off their blinkers and try to understand how India, through koota yuddha, with like minded countries, is trying to wreck Pakistan's economy and country.
Concluding remarks
Obviously India wants to erase non-Hindu history. It wants to glorify Hindu warriors to prepare India for a war against its neighbours