Which Nations Are State Sponsors of Terrorism?
On 30 December 2009, U.S. Secretary of State Hillary Clinton sent a cable (subsequently released to the public by WikiLeaks) to America's Ambassadors in Saudi Arabia, Qatar, UAE, Kuwait, and Pakistan, headlined, "Terrorist Finance: Action Request for Senior Level Engagement on Terrorism Finance."
"Terrorism finance" is what's generally referred-to by the official phrase "state sponsorship of terrorism." This cable from Clinton contained the U.S. Government's confidential list of state sponsors of terrorism. Her cable discussed exactly how bad the situation was in each of those countries. The supply of money to jihadists is what makes a government a "state sponsor of terrorism." Supplying money to jihadists is illegal in almost every country, including the United States. And very little even of private money is paid from Americans to jihadists. However, the U.S. Government hides its own quite substantial supply of weapons to jihadists. Here are some examples of that: On 24 March 2013, the New York Times bannered "Arms Airlift to Syria Rebels Expands, With Aid From C.I.A.", and reported that "From offices at secret locations, American intelligence officers have helped the Arab governments shop for weapons," and that "'A conservative estimate of the payload of these flights would be 3,500 tons of military equipment,' said Hugh Griffiths, of the Stockholm International Peace Research Institute, who monitors illicit arms transfers." The U.S. Government tried to hide its involvement in this, by doing it through allied "Arab governments," which were named in this news-report: "Qatar and Saudi Arabia had been shipping military materials via Turkey," and all four of these Governments (U.S., Sauds, Turkey, and Qatar) were trying to overthrow Syria's Government. Then, on 8 September 2014, AFP headlined "Islamic State fighters using US arms: study", and they reported that the U.S. Government was supplying ISIS. On 1 September 2017, Russian Television reported that the U.S. Government was secretly supplying weapons to ISIS and that an anti-Assad fighter had even quit the CIA-backed New Syrian Army because of that.
However, these supplies were only weapons, not money. For example: the study cited by AFP "documented weapons seized by Kurdish forces from militants in Iraq and Syria over a 10-day period in July." "Militants" were also called "rebels," and they had U.S. weapons, which were seized by U.S.-backed "Kurdish forces," whom the U.S. Government called "rebels," but who thought that "rebels" didn't include ISIS, and that ISIS wasn't also being armed by the U.S. Government. They were mistaken. In fact, on 2 July 2017, the great investigative journalist Dilyana Geytandzhieva headlined "350 diplomatic flights carry weapons for terrorists Azerbaijan's Silk Way Airlines transports weapons with diplomatic clearance for Syria, Iraq, Afghanistan, Pakistan, Congo." Bills of lading, etc., were presented as documentation, for the CIA's secret operation to arm the jihadist groups that were trying to overthrow and replace Syria's Government.
However, these were not supplies of money to the 'rebels.' Only the supply of money is what makes a government a "state sponsor of terrorism." And that was her cable's topic.
Secretary of State Clinton told those Ambassadors to those Muslim-majority lands, to make clear to the given nation's aristocrats, that, under the new U.S. President, Barack Obama, there would no longer be any allowance for continuation of their donations to Al Qaeda and other jihadist groups that attack the United States.
Her cable opened, "This is an action request cable," meaning that the operations of the local U.S. Embassy in the given nation would be monitored for compliance with the Secretary of State's "request."
Clinton's focus was:
on disrupting illicit finance activities in Afghanistan and Pakistan and the external financial/logistical support networks of terrorist groups that operate there, such as al-Qa'ida, the Taliban, and Lashkar e-Tayyiba (LeT). The IFTF's [Interagency Illicit Finance Task Force] activities are a vital component of the USG's [U.S. Government's] Afghanistan and Pakistan (Af/Pak) strategy dedicated to disrupting illicit finance flows between the Gulf countries and Afghanistan and Pakistan. The IFTF has created a diplomatic engagement strategy to assist in the accomplishment of this objective. The strategy focuses on senior-level USG engagement with Gulf countries and Pakistan to communicate USG counterterrorism priorities and to generate the political will necessary to address the problem. The IFTF has drafted talking points for use by all USG officials in their interactions with Gulf and Pakistani interlocutors. These points focus on funding for terrorist groups threatening stability in Afghanistan and Pakistan and targeting coalition soldiers. These points have been cleared through the relevant Washington agencies.
Although the named concern was "groups threatening stability in Afghanistan and Pakistan," the U.S. Secretary of State was actually telling her agents (the Ambassadors) to warn the local aristocracy to stop funding the groups that pose a terrorist threat to the United States as well.
She was listing the actual countries that are State Sponsors of Terrorism and threaten the people of the United States and of other countries.
These confidentially listed State Sponsors of Terrorism were being listed as of 2009, which was 8 years after 9/11; and so, after eight years of George W, Bush's being in the U.S. White House, these were the nations that still were leading the world in the financing of the Sunni fundamentalist group Al Qaeda and other terrorist organizations, which were doing such attacks.
This cable reviewed the existing situation regarding each one of the governments, and it included separate instructions to each of the Embassies:
Concerning Saudi Arabia:
While the Kingdom of Saudi Arabia (KSA) takes seriously the threat of terrorism within Saudi Arabia, it has been an ongoing challenge to persuade Saudi officials to treat terrorist financing emanating from Saudi Arabia as a strategic priority. …
Donors in Saudi Arabia constitute the most significant source of funding to Sunni terrorist groups worldwide. …
Saudi Arabia remains a critical financial support base for al-Qa'ida, the Taliban, LeT, and other terrorist groups, including Hamas, which probably raise millions of dollars annually from Saudi sources. …
She noted that, In 2002, the Saudi government promised to set up a Charities Committee that would address this issue, but has yet to do so. 
She instructed the U.S. Ambassador there to:
encourage the Saudi government to take more steps to stem the flow of funds from Saudi Arabia-based sources to terrorists and extremists worldwide, and to, encourage the Saudi government to take more steps to stem the flow of funds from Saudi Arabia-based sources to terrorists and extremists worldwide.
Concerning Qatar:
Qatar's overall level of CT [Counter Terrorist] cooperation with the U.S. is considered the worst in the region. Al-Qaida, the Taliban, UN-1267 listed LeT, and other terrorist groups exploit Qatar as a fundraising locale.  Although Qatar's security services have the capability to deal with direct threats and occasionally have put that capability to use, they have been hesitant to act against known terrorists out of concern for appearing to be aligned with the U.S. and provoking reprisals. …
However, given the current focus of U.S. engagement with the GOQ [Government of Qatar] on terror finance related to Hamas, it would be counter-productive for Embassy Doha to engage the GOQ at this time on disrupting financial support of terrorist groups operating in Afghanistan and Pakistan. [No explanation of that was provided, but one interpretation of it might be: Protecting Israel from Hamas was more important to the Obama Administration than was "disrupting financial support of terrorist groups operating in Afghanistan and Pakistan."]
Concerning Kuwait:
Kuwait … has been less inclined to take action against Kuwait-based financiers and facilitators plotting attacks outside of Kuwait. Al-Qa'ida and other groups continue to exploit Kuwait both as a source of funds and as a key transit point. …
Clinton noted that though
Kuwait's law prohibits efforts to undermine or attack Arab neighbors, … the GOK [Government of Kuwait] faces an uphill battle to implement comprehensive terror finance legislation due to a lack of parliamentary support. 
In other words: Kuwait's aristocracy refused to donate to jihadist groups that attack themselves or the aristocracies of other "Arab" countries, but did contribute to jihadist groups which attacked non-Arab countries. Furthermore, the official reason why they did was that the parliament, which consists of people who are elected by the public, supported jihadists who attacked non-Arab countries. (Actually, when they supported jihadists trying to take over Syria, they were violating that rule, but only because those Sunni jihadists would be replacing a Shiite leader, Bashar al-Assad, who was, to them, even worse: he's a non-sectarian Shiite, whose political party, the Ba'athist Party, is committed to a separation between church-and-state.)
The Washington Post's Karen DeYoung headlined on 25 April 2014, "Kuwait, ally on Syria, is also the leading funder of extremist rebels." She reported that, "Last month, the administration decided to go public with its concerns. … Such fundraising was not illegal in Kuwait until last year, when the government took advantage of an unrelated parliamentary boycott to push through a new law. Disappointingly, since then there has not been much vigor shown in implementing a ban on terrorist financing."
DeYoung went on: "Unlike other monarchies and autocracies in the region, Kuwait's politics are relatively open and combative. The executive branch, headed by Emir Sabah Ahmed al-Sabah, frequently clashes with a feisty parliament composed of warring political groups within both the Sunni majority and the Shiite minority. Unlike other Gulf countries, Kuwait allows broad freedom of association for its 2.7 million citizens, and Sabah's rule is characterized more by political incorporation than confrontation."
Secretary of State Clinton's cable continued:
A particular point of difference between the U.S. and concerns Revival of Islamic Heritage Society (RIHS). … providing financial and material support to al-Qa'ida. … In Kuwait, RIHS enjoys broad public support as a charitable entity. The GOK to date has not taken significant action to address or shut down RIHS's headquarters or its branches.
So: whereas the Sabah family had been saved by America's 1991 war against Saddam Hussein's invasion and attempted takeover there, they didn't crack down against Al Qaeda; they didn't stop the funding to Al Qaeda. They "took advantage of an unrelated parliamentary boycott to push through a new law," but, after the boycott ended, didn't enforce the new law.
Concerning UAE:
UAE-based donors have provided financial support to a variety of terrorist groups, including al-Qa'ida, the Taliban, LeT and other terrorist groups, including Hamas. 
Concerning Pakistan:
Pakistan's intermittent support to terrorist groups and militant organizations threatens to undermine regional security and endanger U.S. national security objectives in Afghanistan and Pakistan.  Although Pakistani senior officials have publicly disavowed support for these groups, some officials from the Pakistan's Inter-Services Intelligence Directorate (ISI) continue to maintain ties with a wide array of extremist organizations, in particular the Taliban, LeT and other extremist organizations.  These extremist organizations continue to find refuge in Pakistan and exploit Pakistan's extensive network of charities, NGOs, and madrassas.  This network of social service institutions readily provides extremist organizations with recruits, funding and infrastructure for planning new attacks.
Those were the countries that, in private, the U.S. Government recognized as being State Sponsors of Terrorism. All of them were being identified as funders of fundamentalist-Sunni groups who perpetrate terrorism upon the U.S. and other countries.
The United States Government has an official list of "State Sponsors of Terrorism", and only four governments are on it: Syria (as of 1979),  Iran (as of 1984), Sudan (as of 1993), and North Korea (as of 2017). None of them is a fundamentalist-Sunni-led nation, and none of them has ever attacked, nor even threatened to attack, the United States of America. By contrast, fundamentalist-Sunni terrorist groups such as Al Qaeda, which are primarily funded by the actual State Sponsors of Terrorism (mainly Saudi Arabia), have attacked the U.S. Furthermore, on 6 September 2016, Asia News headlined "Conference in Grozny: Wahhabism exclusion from the Sunni community provokes Riyadh's wrath" and reported that at the international Islamic conference in Grozny, jihadist sects were condemned by all Governments except Saudi Arabia's, and that the only Government continuing to support the most extremist sect, Wahhabism, was Saudi Crown Prince Salman, the American regime's closest ally.
Furthermore, in a secret 2014 court case in the United States, the financial bagman who had personally collected tens of millions of dollars for Al Qaeda during the years prior to Saudi Arabia's 9/11 attacks, said there, under oath, that, "without the money of the — of the Saudi, you will have nothing" of Al Qaeda. And, yet, Saudi Arabia wasn't even on the official list of "State Sponsors of Terrorism," not at all. The U.S. Government continues, to this day, to protect the royal Saud family, who own and control Saudi Arabia and its Government and who were the chief funder of the 9/11 attacks.
Consequently: On whose side is the Government of the United States of America? Is it on the side of countries such as Saudi Arabia and Qatar; or is it on the side of countries such as Iran and Syria — countries that the Sauds want to take over? And why does it lie (deceive), so much, calling "State Sponsors of Terrorism" countries such as Syria and Iran that are instead the chief enemies of the actual state sponsors of terrorism?
As I have previously documented, the only country that has any authentic reason to worry about terrorism that comes from Shiites, such as in (or that are backed by) Iran, is Israel. But is the U.S. Government supposed to be representing and protecting the people in Israel, or instead to be representing and protecting the people in the United States of America? What's actually behind the U.S. Government's systematic lying, against Shiites, and for Sunnis (especially Wahhabist ones) and Israel? And why is this U.S. Government lying bipartisan — not Republican or Democratic, but both — at the very top of the U.S. regime: the people who actually control both of America's political Parties? Or, do the American people actually not control the American Government? If not, then what should be done to the American Government, and why are such questions not being publicly debated and discussed, especially in the American press and among the American people? Is the U.S. lockdown that complete? (This commentary is being submitted to all U.S. newsmedia for publication, to get that essential public conversation in America started.)
Author's note: first published in strategic-culture.org
Tackling the Illicit Drug Trade: Perspectives From Russia
The Afghan drug trade supplying the Russian market has fuelled conflict, corruption, and instability in the region, provided financial support to terrorist organisations and led to a devastating addiction and HIV epidemic in Russia. How can this fight be won? While strengthening cooperation with its Central Asian neighbours will be crucial to stemming the flow of drugs, Russia needs to complement law enforcement with a softer approach for the demand side of the drug trade at home.
"The Afghan drug threat is one of the worst problems for Russia's national security," said Alexei Rogov, deputy director of the new challenges and threats department of the Russian foreign ministry on November 26, 2019. He thus effectively captured Russia's persistent drug problem since the collapse of the Soviet Union. Accounting for one-fifth of the world's opium market estimated at USD 65 billion, Russia is the world's largest heroin consumer, all of it flowing from Afghanistan through Central Asia.
The Afghan drug trade supplying the Russian market has fuelled conflict, corruption, and instability in the region, provided financial support to terrorist organisations and led to a devastating addiction and HIV epidemic in Russia. Russia has around four to six million drug addicts and a drug-related mortality rate of 10.2 per 100 000 persons. This far surpasses the rate of its European neighbours. The UK, despite being Europe's largest cocaine consumer, has a drug-related mortality rate of 3.7 per 100 000 persons. With a death toll of around 30 000 per year, it is no wonder Russia has marked the drug trade as a major national security threat.
How can this fight be won? The words of Alexei Rogov perfectly illustrate Russia's heavily securitised approach to the problem. Russia's response has focused primarily on the security aspect of the drug trade, such as policing and border control. While regional cooperation is crucial to stemming the flow of drugs, initiatives between Russia and its Central Asian neighbours are short-term and poorly coordinated. Regional organisations' anti-drug potential could be further exploited, as could cooperation with the EU, which is also affected by the Afghan drug trade. At home, the high mortality rates are explained by the draconian legislation on drug consumption and the lack of comprehensive drug policies. Faced with increasing drug-related mortality, complementing law enforcement and regional initiatives with a softer approach at home is the next logical step.
A Threat to National and Human Security: Developments and Continuities in the Afghan Drug Trade
Drug trafficking in Russia is far from being a recent problem. The drastic rise of organised crime in the tumultuous years that followed the fall of the USSR, as well as the newly opened and poorly controlled borders with former Soviet states, has facilitated the transnational smuggling of opium produced in Afghanistan (which accounts for 90 per cent of the world's heroin output). Travelling through the Northern route, the drugs are smuggled to Russia through Tajikistan, Kyrgyzstan, and Uzbekistan. While Afghanistan might be the Colombia of Central Asia, the Central Asian drug market presents different characteristics from its well-known Latin American counterpart. It is not organised in mega-cartels with the power of a small state, but in smaller more disparate criminal groups. These groups can extend their influence in the region more thanks to poor border security, lack of transnational cooperation, and rampant corruption among law enforcement and local officials than to their own strengths and ingenuity.
Pointing fingers at borders and even at the Eurasian Economic Union (EEU), which saw Kazakhstan and Kyrgyzstan integrated into a free trade zone with Russia in 2015, is highly misleading. While greater connectivity and opened borders make the region an ideal transit route for illicit trade, it is complicity and impunity that explain why less than 5 per cent of the drugs passing through Tajikistan are seized. The widespread corruption and poverty that lead many to resort to drug trafficking are the root causes of the drug trade in Central Asia.
Regarding Afghanistan, the ongoing conflict (2001-2020) and political instability make it a breeding ground for drug trafficking. The drug trade has led to many disagreements between the U.S. and Russia, with the two parties failing to reach a coherent anti-drug strategy. The possibility of a NATO-Russia cooperation was briefly evoked but has been eliminated by U.S. withdrawal from the country following the U.S.-Taliban peace agreement signed on February 29, 2020. This recent development will risk affecting the anti-drug fight. With 61 per cent of the Afghan population deriving its income from agriculture, the impossibility of cultivating traditional crops amidst conflict, and a new power vacuum, Russia will need to step up to make sure drug production does not explode. Moreover, Afghanistan's new dabble into the mass production of synthetic drugs, notably methamphetamines, which is cheaper than heroin, is increasingly worrying. A booming market largely driven by the rise of the Russian Hydra darknet, the quantities of synthetic drugs seized by Russian authorities have multiplied by twenty over the 2008-2018 period.
Given the growing availability and affordability of drugs on the Russian market, the security dimension of the Central Asian drug trade naturally dominates the drug discourse and, to some extent, justifies Russia's militarised approach. With a 7 644 km-long shared border with Kazakhstan and hundreds of tonnes of drugs flowing in each year, drug trafficking has severe implications beyond the social costs of addiction and directly threatens Russia's security. This is all the more worrying considering that Islamic terrorist groups like the Taliban use the drug trade to finance their operations. The crime and terrorism nexus operating in the region thus makes Central Asia a priority for Russian policy.
The War on Drugs at the Regional Level: Results and Future Perspectives
A relentlessly creative and adaptable market, with a myriad of new ways to conceal and smuggle narcotics every year, the illicit drug trade is truly a transnational problem and requires intense cooperation between the affected states. However, the anti-drug potential of regional organisations such as the Shanghai Cooperation Organisation (SCO), the Sino-Russian led security alliance, or the Collective Security Treaty Organisation (CSTO), is not fully exploited and is limited in terms of capacity and political will.
Russia has been promoting collective security with its Central Asian neighbours through the Shanghai Cooperation Organisation. Created in 2001 and composed of eight member-states (India, Kazakhstan, China, Kyrgyzstan, Pakistan, Russia, Tajikistan, and Uzbekistan), it plays a major role in stemming the Afghan drug trade. The SCO's 2018-2023 anti-drug strategy marks the creation of an effective anti-drug mechanism within the organisation. The SCO often collaborates with the Collective Security Treaty Organisation, a military alliance between six former Soviet states (Russia, Armenia, Kazakhstan, Kyrgyzstan, Tajikistan, and Uzbekistan), and the Central Asian Regional Information and Coordination Centre for combating the illicit trafficking of narcotics (CARICC).
Most of Russia's effort in the region has focused on strengthening the governments in place, such as investing in the state structure or their military. Russia has maintained a steady military presence in the region, one likely to increase after U.S. withdrawal. However, regional cooperation has mainly focused on short-termed joint operations and border security, such as operation spider web in July 2019, which led to the seizure of 6 422 kg of narcotic drugs and 3 241 arrests. The porous borders, explained in part by the geographical difficulty of border control in such mountainous terrain, the lack of training and equipment of security forces are certainly worth paying attention to, but they are also short-term solutions to a much more endemic problem. 6 422 kg might seem like a big win, but it is nothing compared to the hundreds of tonnes of heroin crossing the border each year. This purely militarised and short-term response, both from Russia's part and in its engagement with its neighbours, is necessary but insufficient. Fighting the illicit drug trade will require a long-term strategy and a much greater political will to tackle its systemic causes. At the moment, the drug trade is 30 per cent of Tajikistan's GDP, with an increasing amount of people turning to drug trafficking to survive. Fighting corruption, implementing institutional reforms and providing economic benefits to the region are as crucial as border policing.
In light of this, international assistance could prove useful, notably from the EU. While Central Asia is not a priority for Brussels, there is still a strong case for cooperation here. Afghan heroin and meth production is not only Russia's problem. The drug trade in Central Asia might not be a security issue for Europe in the way it is for Russia, but opium trafficking along the Northern and the Balkan route also reaches Europe and the black sea route via Turkey is rapidly emerging as a prominent smuggling corridor. In July 2019, Ukraine intercepted 930 kg of Afghan heroin destined for Western Europe. Europe's role in Central Asia is limited compared to Russia's, and its focus on democracy promotion tends to clash with Russia's priority of supporting the regimes in place to strengthen their capacity to fight the drug trade. But overcoming those differences and finding ground for cooperation would be a positive step towards fighting the drug trade.
The War at Home: the Grim Reality of Drug Addiction in Russia
Draconian legislation criminalising drug use has characterised Russia's domestic war on drugs for the past three decades. While the dominance of the security discourse in Russia's anti-drug strategy is somewhat justified, tackling the illicit drug trade purely from a national security perspective does not diminish the social threat posed by drug consumption. Drug use is a pervasive domestic issue, but it has yet to become a policy issue. Underdeveloped drug policies and politicians' refusal to address it largely explain the high mortality rate.
With 100 000 jailed in 2018 (one in three convicts), Russia has the highest number of people per capita imprisoned for drug crimes in Europe, most of them convicted under Article 228 of the Russian penal code which treats drug possession as a criminal offence. Such harsh legislation not only leads to more risky forms of drug use (the use of dirty needles for drug injection has directly contributed to the HIV epidemic currently affecting 1.16 million people in Russia, one of the fastest-growing HIV rates in the world), but prevents access to treatment. With such large fines and lengthy prison sentences, (for possession of 2.5 grams of meth, users can go to jail for up to ten years) as well as the social taboo around drugs and HIV, users do not seek treatment and are further marginalised.
This addiction and HIV crisis in Russia is largely homegrown and will reach endemic levels in the next few years if it continues to be swept under the rug. The peculiarity and pervasiveness of the drug trade is its creation of a steady base of consumers and addicts. Criminalisation has not and will not diminish the demand for drugs, hence the need to work on demand much as supply reduction. While the legalisation of soft drugs is unlikely to appear as a convincing solution anytime soon in Russia, a softer approach to drug use is needed. At the moment, no long-term treatment or harm reductions services are available, and opioid substitution therapy remains forbidden.
Conclusion
Drug trafficking is a complex issue that must be fought on multiple fronts. Russia's drug policy needs to involve a wider concept of security that not only encompasses the threat to national security, but also the human and social threat of drugs. Intense cooperation with Central Asia and Afghanistan through the SCO and CSTO is essential, as is strict border policing and law enforcement. Nonetheless, this no-tolerance policy for the supply side of the drug trade needs to be complemented with a softer approach for the demand side at home. To dwell on the social and economic consequences of drug use would be a truism, and Russia has every interest in decreasing the influence of drug trafficking on its population's health and security. Developing more robust social policies seems at the moment more feasible than tackling the systemic causes of the drug trade in Central Asia. The latter will require a solid long-term strategy that goes beyond anti-drug operations and border control. Russia must step up its fight both at home and abroad.
From our partner RIAC
Central Asian Jihadists' Use of Cryptocurrencies in Bitcoin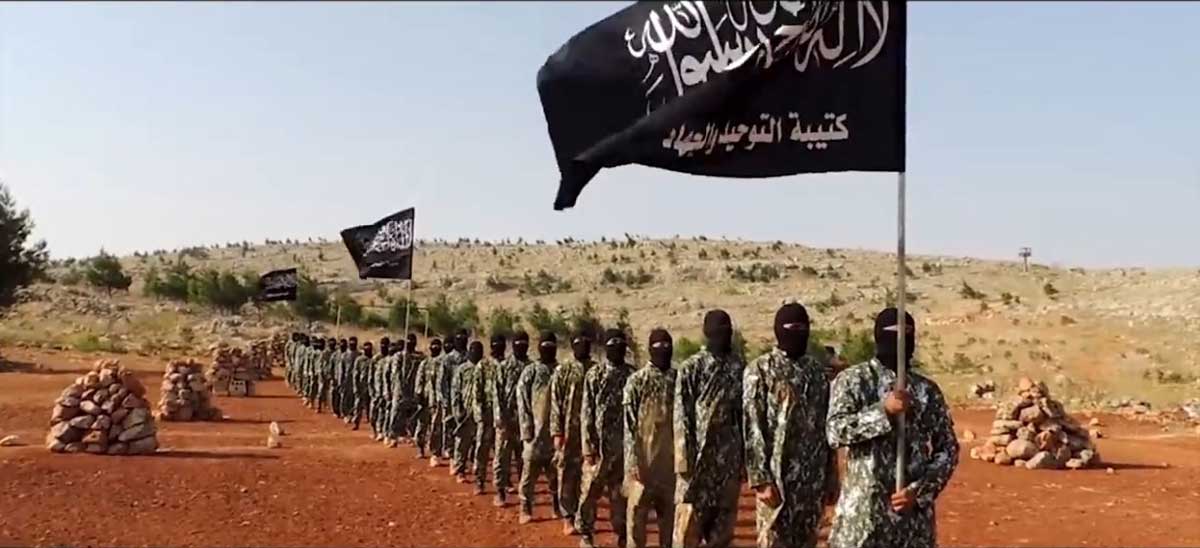 On August 13, 2020, the US Justice Department announced that it seized $2 million in Bitcoin and other types of cryptocurrency from accounts of three Salafi-Jihadi extremist groups, including al Qaeda and the Islamic State, relied on to finance their organizations and violent plots. According to their statement, the U.S. authorities seized over 300 cryptocurrency accounts, four websites, and four Facebook pages all related to Sunni-Jihadi militant organizations. Indeed, the disclosed criminal case documents indicate that this was the largest-ever seizure of cryptocurrency by US intelligence agencies in the context of terrorism.
US counterterrorism agents analyzed transactions of cryptocurrency on the blockchain, a secure form of public ledger for the online funds, and employed undercover operations as well as search warrants on email accounts to establish a money trail of Sunni terror groups that was detailed in an 87-pages of the Washington DC federal court report
The revealed papers indicate, in some instances, al Qaeda and its affiliated terrorist groups in Syria acted under the cover of charities 'Al Sadaqah' and 'Reminder for Syria'. In this regard, it should be noted that some al Qaeda-linked Central Asian Salafi-Jihadi groups also have frequently acted under the umbrella of the charity 'Al Sadaqah' for bitcoin money laundering and have solicited cryptocurrency donations via Telegram channels to further their terrorist goals.
But that doesn't mean that Islamist terrorist groups from the post-Soviet space raised funds precisely through this charity 'Al Sadaqah' of al Qaeda, whose accounts were seized by the US Justice Department. It has become a tradition in the Islamic world that charity organizations and foundations widely give to themselves the names 'Al Sadaqah' and 'Zakat', as the Quranic meaning of these words (Quran 2:43; 63:10;9:103)exactly corresponds to the purposes of "voluntary charity". Analysis of the finance campaigns of al Qaeda-affiliated Central Asian militant groups demonstrates that they frequently raised cryptocurrency donations through charities called 'Al Sadaqah' and 'Zakat'.
In order to explore the scale of the Central Asian Salafi-Jihadi Jamaats' crowdfunding campaigns, we analyzed their social media activities where they raised Bitcoins, dollars, Russian rubles and Turkish lira over the past two years.The methods and sources of the Uzbek and Uighur Islamist militants' crowdfunding campaigns in bitcoins are about the same as those of their parent organizations, the global Sunni terrorist groups ISIS and al Qaeda.Due to the inclusion in the list of terrorist groups, they carry out sophisticated cyber-operations for solicitation of cryptocurrency donations.
Before "mastering" the complex technology of cyber-tools in order to raise bitcoin funds in cyberspace, Central Asian jihadists used the simple 'hawala' money transfer system (informal remittance system via money brokers).Sometimes they have resorted to conventional 'hand-to-hand' cash transfer channels, where trust, family relationships or regional affiliations play an important role.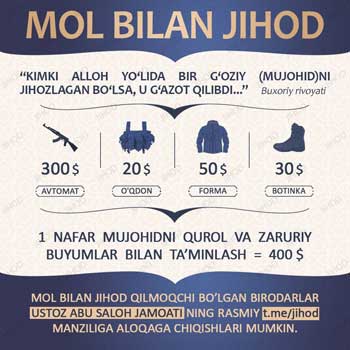 According to a UN report, Central Asian Salafi-Jihadi terrorist group Katibat Tawhid wal Jihad (KTJ), Katibat Imam al Bukhari (KIB) and the Islamic Jihad Group (IJG) leading jihad in Syrian Idlib province have close financial ties with its cells in Afghanistan. The UN Security Council's Sanctions Monitoring Team states that "regular monthly payments of about $ 30,000 are made to Afghanistan through the hawala system for KTJ."
The UN report asserts that "similarly to KTJ, KIB sends financial assistance, from its cell in Istanbul, through the hawala system to Afghanistan. Funds are brought in by informal money exchangers for Jumaboi from Maymana, the capital of Faryab. The original source of this income is the smuggling of fuel, food and medicine from neighboring Turkmenistan."According to the UN report, "suffering material losses, the Islamic Movement of Uzbekistan (IMU)and Tajik militant group JamaatAnsarullah (JA) are forced to engage in criminal activity, including transportation of drugs along the northern route in Afghanistan."For the Uighur jihadists of Turkestan Islamist Party (TIP) from China's Xinjiang province operating under the umbrella of Hayat Tahrir al-Sham (HTS) in northern Syria, "funding comes primarily from the Uighur diaspora" in Turkey, Central and Southeast Asia.
Dark Web & Bitcoin: New Endeavor of Central Asian Terrorists
With the development of digital cryptocurrencies as Bitcoin, Central Asian jihadists actively began to exploit this innovative financial transaction system to support their attacks and other terrorist activities. It is known that al Qaeda-backed Salafi-Jihadi groups of the post-Soviet space are seeking to purify Islam of any innovations (Bid'ah) and strictly following the Sharia law. They live similarly to how the Islamic prophet Muhammad and his companions lived in the seventh-century and always oppose any form of Bid'ah, considering it to be shirk and heresy. However, the Uzbek and Uighur Wahhabis did not shy away from using bitcoin innovation.
The first advertisements of Central Asian terrorist groups crowdfunding campaigns accepting bitcoin for Jihadi purposes in Syria appeared on the Telegram channel in 2017. In November of that year, a self-proclaimed charity group al-Sadaqah began a fundraising campaign on the internet from Western supporters to help the Malhama Tactical, the first private military contractor team from Central Asia working exclusively for jihadist groups in Syria.Al-Sadaqah in English on Telegram, explicitly relying on the English-speaking western sponsors, called on them to make bitcoin donations to finance the Malhama Tactical and the Mujahedeen fighting against the Assad regime in northeastern Syria.
As we have previously analyzed, Malhama Tactical is a private jihadi contractor operating in the Idlib-Aleppo region of Syria. The group, founded by an Uzbek jihadist Abu Salman (his real name is Sukhrob Baltabaev) from Osh City of Southern Kyrgyzstan in May 2016, is closely allied with Hayat Tahrir al-Sham (HTS), the strongest militant factions in northern Syria. The Malhama Tactical is known to have regularly conducted military training for jihadists of HTS, Ahrar al-Sham, Ajnad al Kavkaz and the Turkistan Islamic Party.After the death of Abu Salman in August 2019, Ali Ash-Shishani, the native of Russia's North Caucasus became the new leader of Malhama Tactical.
In 2017-18, al-Sadaqah charity on Telegram called on followers to donate via a "Bitcoin wallet anonymously and safely for the Mujahedeen brothers of Malhama Tactical". The charity group urged potential cryptocurrency contributions to benefit from "the ability to confuse the trail and keep anonymity".
We do not know how much bitcoin money al-Sadaqah managed to raise for the activities of the Central Asian Muhajireen. But according to Malhama Tactical's report on the internet, crowdfunding has been "fruitful." In an effort to explain how donations were spent, Malhama Tactical has advertised extensively to followers on 17 October 2018, in a video posted on Telegram, that a new training camp had been built and purchased airsoft rifles, night vision devices and other modern ammunitions.
Since 2018, Uzbek and Uighur militant groups KTJ, KIB and TIP have begun an agitation campaign to fundraising bitcoin money on the Internet. Judging by the widespread call for Bitcoin donation online, their need for anonymous, secure, and hassle-free funding streams have made cryptocurrencies of some potential value to them. These properties are the anonymity of fundraising, the usability of remittance and transfer of funds, the security of attack funding, acceptance of funds, reliability, and volume of web money.
And every time they announced a crowdfunding campaign, they clearly declared for what purpose the collected bitcoins would be used. For example, al Qaeda-linked KTJ's most recent call for bitcoin appeared on Telegram in May 2020 as a banner that asks to "Equip a jihadist". The poster showed a masked jihadist and the exploitation of the Quran's Hadith in Uzbek, calling on the believers to prepare and equip a fighter going on a raid for the sake of Allah.
Another picture shows a jihadist with a Kalashnikov AK-74 in his hand, over whose head enemy planes and helicopters fly. The picture gives a symbolic meaning about the empty-handed jihadists in Syria, fighting against the Russian and Syrian powerful military aircraft to protect the Islamic Ummah. Then goes on with KTJ's call to make donations in bitcoins and rubles to purchasing equipment and ammunition for the Central Asian Mujahedeen in Syria. On the bottom it was displayed the long address of the virtual wallet for Bitcoin donations along with KTJ's Telegram and web contacts promising the anonymity of potential donors.
On June 18, 2020, KTJ militants published the opinion of the well-known ideologue of modern jihadism Abu Qatada al-Falastini in Telegram from whom they asked whether the crowdfunding campaign of Bitcoin for the purposes of Jihad contradicts Islam. As it is known, there are still ongoing disputes among the world's top Islamic scholars about whether cryptocurrencies, such as Bitcoin, are deemed Sharia-compliant.
Abu Qatada from a religious point of view justified the acceptability of using Bitcoin to protect the Islamic Ummah and wage holy Jihad, but at the same time warned against full confidence in Bitcoin. In his opinion, the enemies of Islam can destroy this cryptocurrency in the future, and if it loses its current value, and then the devout Muslims who have invested their savings in Bitcoin could go bankrupt. Abu Qatada al Falastini is a greatly respected Salafi thinker among Central Asian jihadists and he gave a pep talk to KTJ when it pledged bayat (Oath of Allegiance) to al Qaeda leader Ayman al Zawahiri in 2015.
On June 25, 2020, KTJ posted another Crypto Crowdfunding campaign announcement on its Telegram channel to provide Uzbek jihadists with modern military gear and equipment. For clarity, the group published a picture entitled "Perform jihad with your property" in Uzbek, which indicates the prices for military clothing and weapons. For example, the AK-47 Kalashnikov assault rifle costs $300, unloading vest for AK-47 cartridges – $20, Field Jacket – $50, Military Combat Boots – $30.In total, $400 will be needed on the full provision of one Mujahid with weapons and uniforms. On the upper side of the picture is a Hadith quote about "He who equips a fighter in Allah's path has taken part in the fighting."
A month later, the group's Telegram channel reported that it had managed to raise $4,000, for which 8 sets of weapons and uniforms were purchased for the Uzbek Mujahedeen. Also, KTJ's media representative announced that the group is stopping the fundraising campaign for this project.
Other projects of the Central Asian Salafi-Jihadi groups were the Bitcoin crowdfunding campaign for the purchase of motorcycles for Inghimasi fighters (shock troops who penetrate into the enemy's line with no intent to come back alive), cameras, portable radios, sniper rifles and night vision devices. For each project, a separate closed account was opened on the website of jihadist groups in Telegram, after which the Bitcoin and Monero accounts, as well as contact information, were closed.
Another crowdfunding project posted on January 29, 2020, in Telegram, called 'Helping captive Muslim sisters' and claims to raise money to free Kyrgyz, Tajik and Uzbek ISIS women hold in the al-Hol refugee camp in northeast Syria controlled by the US-backed Syrian Democratic Forces. The KTJ jihadists posted pictures of Central Asian women with their children holding posters "We need help" in Kyrgyz, and asked the fellow Muslim believers to raise money to ransom them from the captivity of the Kurdish communists. It was not clear to us how much money was raised as a result of the crowdfunding campaign since this channel was later blocked by the Telegram administrator.
The annual largest crowdfunding project for the Central Asian Salafi-Jihadi groups is being implemented on the eve of the Muslim holidays of Eid al-Fitr and Eid al-Adha, during which believers pay Zakat (obligatory tax) and Sadaqah (voluntary alms).According to the Quran, recipients of the Zakat and the Sadaqah include the poor and needy, debtors, volunteers in jihad, and pilgrims.
The websites of the Central Asian Jihadist Jamaats revealed that their crowdfunding campaign to raise funds for the jihad was particularly active during Ramadan. Ramadan is known as a holy and generous month, but this year was especially generous to notorious al Qaeda-linked Central Asian extremist groups. KTJ, KIB, Uighur's TIP and Russian-speaking North Caucasian militant group Liwa al Muhajireen wal Ansar (LMA), that pledged allegiance to HTS, have boosted their military budget during Ramadan.
To avoid the risk of being blocked or tracked, they created a temporary mirror group called 'Zakat', where the donation money was received. Zakat's wallet received donations from Central Asian labor migrants in Russia in the amount of $150 to $220 each time to purchase livestock, which was then slaughtered in sacrificial prayer on behalf of the donors. After Ramadan and the holidays of Eid al-Fitr and Eid al-Adha, the 'Zakat' mirror group in Telegram was closed.
The Central Asian Islamist extremist groups have asked their supporters to make Bitcoin donations mainly at the following two virtual wallet addresses:
– 3HoWzYwaBbTg7sKGtHz3pAZxdHZoXUJRvG;
– 12SxsxvrE8zrtRveSeFJYA6sgbJZbyHDGk.
Our analysis confirmed that multiple transactions were made to these bitcoin addresses. In addition, other transactions were made in digital currencies, the addresses of which were blocked on Telegram.
Conclusion
In conclusion, the significance of the crowdfunding campaigns in bitcoin should not be given exaggerated importance, even though they have improved the position of the Central Asian Salafi-Jihadi groups in Syria and Afghanistan, and boosted their budget. Central Asian Salafi-Jihadi terrorist groups' technical abilities are not currently suited to bypass the financial controls of international counterterrorism organizations and discreetly conduct money laundering.
The history of their activities has shown that small Uzbek, Uighur and Russian-speaking Islamist extremist groups from the post-Soviet space and China have been assimilated with more powerful global Sunni terrorist organizations such as ISIS, al Qaeda and HTS. And accordingly, their potential for crowdfunding campaigns in bitcoin should be viewed through the prism of their global parent organizations.
In any case, the governments of Central Asia and Russia do not have sufficient mechanisms and leverage to combat illegal cryptocurrency transactions on the dark web by global Salafi-Jihadi movements waging jihad in the Middle East. As noted at the beginning of this article, such opportunities to monitor and investigate jihadist crowdfunding activities are available to the US government and financial institutions. For example, the U.S. Treasury" has access to unique financial data about flows of funds within the international financial and commercial system," which is invaluable for tracking illicit flows of money.
Consequently, Central Asian governments must rely not only on Moscow but also actively cooperate with Western counter-terrorism and financial institutions to disrupt the Salafi-Jihadi group's external crypto crowdfunding sources.
The Afghan intelligence services
Still today the Afghan Intelligence Services' ability to collect information is definitively scarce. This is mainly due to the limited specific training of staff and the very scarce and even improper use of the most recent technologies.
The Afghan Intelligence Services collect information mainly in major cities and in the areas most controlled by the government and this often leads the decision-makers who use this "complacent" or rhetorical intelligence to make severe evaluation errors.
The National Directorate of Security (NDS) does not correctly disseminate its news in the traditional "information cycle" of a Service and therefore it leaves decision-makers with scarce, incomplete and often inaccurate information. Established in 2001 and heavily supported by the United States, the NDS is based in Kabul but is strongly supported by Germany, GBritain and obviously the United States. It should be noted that its first Director was Mohammed Arif Sarwari, one of the leaders of the United Islamic Front for the Salvation of Afghanistan, i.e. the old "Northern Alliance".
It was precisely the NDS that in 2015 caused the fall of Kunduz into the hands of the Taliban, who were, indeed, a full invention of the Pakistani Intelligence Services, which were in search of an Afghanistan that could only play the role of "depth area" for a possible nuclear or even conventional confrontation with India. Ironically, it is from the Pakistani Intelligence Services that the United States received the largest or almost total amount of news and information precisely, or apparently, against the Taliban. Quos Deus lose vult, dementat.
Moreover, the current relations between the NDS, the National Security Agency of Afghanistan (NSA), i.e. another Intelligence Service in Kabul, the Defence Ministry and the Interior Ministry show a very poor ability of communication and exchange of news between them, which makes them often be late in their operations or even useless.
Or sometimes voluntary collaborators of what Westerners would call the "enemy", but for some operatives or executives of the NDS or of the other Afghan Intelligence Services could also be an "Islamic brother". Sometimes it has happened.
In the case of Kunduz, the very evident and aggressive Taliban operations were deemed ineffective or irrelevant. Nobody took seriously the news coming from the most reliable "sources" among the rebels. No agency of the Afghan Service took seriously or even studied the Taliban operations in Kunduz.
The NDS, however, was established mainly with the support of the American CIA.
But there is a strategic and conceptual problem that should not be overlooked at all: all NATO countries that participated or still participate in military operations in Afghanistan have very different ideas about their role in the war against the "rebels" and in the country.
The Resolute Support Mission, composed of about 13,000-16,000 soldiers from 39 NATO countries and from other countries, operates from Kabul, Mazar-i-Sharif, Herat, Kandahar and Laghman, and focuses mainly on the training of Afghan forces, as well as on military consultancy and assistance, hoping that the local Afghan forces will reach a level capable of ensuring at least fictitious national independence.
At least until 2014, akey year for the new relationship between NATO and the Afghan government, the Italians – who are still training the Afghan police very well – went there especially not to displease the usual U.S. Big Father that the Italian strategic system still sees as unquestionable and unassailable.
This participation "to bring democracy" has led to some positive effects for Italy, especially on the technological-intelligence level. But it has never been enough.
Nevertheless, the silly servility and sycophancy of Italian politicians, who closely resemble the character of Nando Mericoni played by Alberto Sordi in the movie An American in Rome, is still largely widespread. Italian politicians – even starting from the text of the Constitution – do not know or do not want to understand the eternal rules of foreign policy and strategic thinking, of which they know nothing yet.
Certainly you cannot obtain votes, additional funding and small favours from foreign policy. This is the level of Italian politicians, especially in current times more than in the past.
France, as long as it stayed in Afghanistan, interpreted its presence in Kabul as a way to control Asia's intermediate axis so as to avoid Indian, Pakistani, Chinese, Iranian and even American expansion.
The Brits went to Afghanistan to fight against a "terrorism" of which – like everyone in the West-they do not know the organizational and doctrinal roots or even the purposes, but see as the maximum destabilization of their unreasonably "multi-ethnic" and hence inevitably "multipolitical" societies.
This is the terrible case of a propaganda that stifles even the ruling classes that should be immune to it.
Certainly this was not even true in Afghanistan because the bad guy, namely Osama bin Laden, was often elsewhere. He was considered the only mastermind of the aforementioned "radical Islamic terrorism" – or whatever can be defined with this rather rough terminology – and hence to be killed, like a horse thief in the Far West. As has precisely happened, the killing of Osama bin Laden did not change anything.
He had to be killed because he had killed American citizens. True, right. But foreign policy is never the extension of any country's domestic criminal law.
There was even Germany present in Afghanistan to contemplate its military decline, but above all to show – even eighty years later – that it was no longer a Nazi country. As Marx would have said, le mort saisit le vif.
In short, the varied presence of NATO and of the initial coalitions of the willing in the War on Terror had no clear ideas and probably did not even know where it really was.
Meanwhile, since 2014 – the year of the actual withdrawal from Afghanistan by the United States and its attack forces (after rigged elections, but in any case, whenever the United States participate in operations abroad, it always has acoitus interruptus)– the Taliban have started their great and real campaign to conquer the territory and, above all, the Afghan "souls".
In 2015 NATO and the United States had planned to keep 13,000 military plus 9,800 U.S. soldiers for counter-terrorism activities. Later, however, the withdrawal from the Afghan territory – coincidentally after the great Battle for Kunduz – ended in December 2016, but leaving alive and operational as many as 8,400 soldiers on the ground.
Currently as in the past, the real problem for Afghanistan is Pakistan. General Musharraf, the former Pakistani President from June 20, 2001 to 18 August 18, 2008 (note the dates) and perpetrator of the 1999 military coup, clearly stated that the Inter Service Intelligence (ISI), i.e. the Pakistan single intelligence structure, supported and trained all terrorist groups in Pakistan so as to later send them to Afghanistan, with a view to carrying out "terrorist" attacks on NATO, Western and Afghan targets.
In 2015 -a key year for Afghanistan – in an interview with The Guardian, Musharraf clearly said that the ISI had always "cultivated" the Taliban mainly to destabilize the government led by Karzai (a man also linked to India) but, in particular, to carry out harsh actions against India.
Pakistan keeps on supporting terrorist groups operating in Afghanistan and in other parts of the world – not only the Taliban, but also the other groups.
Rahmatullah Nabil, the Chief of the NDS -i.e. the new Intelligence Service affiliated to CIA but entirely Afghan – also officially showed documents proving that the funds long granted by the United States to Pakistan to "fight terrorism" shifted to the Pakistani Service ISI, precisely to train, recruit and support terrorism.
Hence the forgetfulness – so to speak – of the Afghan governments with regard to intelligence comes from far away.
At the time of the Soviet invasion, the KGB and the GRU created their two local counterparts, namely the Khadamar e-Aetela'at Al-Dawlati (KHaD) and the Wazeelat e-Amniat-e-Daulati (WAD), respectively.
The two agencies disappeared when Najibullah's government fell in 1992, pending the great Russian crisis. As a result, however, also the Afghan State in all its forms collapsed. Therefore also the two agencies linked to the Soviet intelligence Services evaporated.
What there was, anyway, in the Afghan Intelligence Services before the Soviet invasion?
The first governments that had just come to power, after Russia's arrival, organized four agencies: Kargarano Amniyati Mu'asasa (KAM), i.e. the "Workers' Intelligence Service";Da Afghanistan da Gato de Satalo Adara (AGDA), i.e. the "Agency for Safeguarding Afghan Interests", Amin's real longa manus, and the aforementioned WAD and KhAD.
The President of the time, Noor Tarakai, had little power, while Hafizullah Amin made sure that both the Communist Party (or, more precisely, the Afghan People's Democratic Party) and the Agencies were divided in two, always following the policy line of the Khalq and Parcham factions.
The Khalq (meaning "masses" or "people") was directly supported by the USSR. It was largely made up of Pashtuns and was particularly popular among the working classes.
The very superficial Marxism shown by the faction was often only a way to defend the Pashto world from the pressures of other ethnic groups.
The Parcham (meaning "flag") was the most widespread faction of the party in the urban classes and in the middle and upper classes.
Eternal separation between rural and urban areas, a typically Maoist and classic crux of every practical and extra-Western interpretation of Marxism-Leninism.
The Parcham reunited laboriously with the Khalq faction during the 1978 Revolution, but it really came to power only after the Soviet operation, the local coup, i.e. Operation Tempest 333 of December 27, 1979, when the Alpha divisions of the KGB quickly took the Tajbeg palace and assassinated Hafizullah Amin.
Meanwhile, it was Amin himself who had ordered the assassination of his predecessor, Mohammed Taraki.
In the intermediate phase of his regime, Amin also had many Afghans assassinated – and not only his known opponents.
A possible, future "Cambodian" twist of Afghan Communism? Probably so.
At that juncture the USSR intervened since it did not want ideological deviations or Afghan approaches to Chinese Communism, as practiced in Vietnam or, precisely, in Khmer Rouge's Cambodia. Hence Operation Shtorm 333 was carried out which, apart from Amin's assassination, lasted approximately three months, to definitively "settle" the remaining issues.
With specific reference to the Afghan intelligence services, Hafizullah Amin mainly used the AGSA, but also the KAM, only to settle his scores. The two agencies, however, received technical assistance and training from East Germany and the USSR.
Nevertheless, the shift between the different ethnic groups is precisely the key to understanding the Afghan intelligence services prior to the U.S. and NATO operations. I believe that, in any case, ethnic factionalism – probably dating back to the old political-tribal faith – was the key to the functioning of the new Afghan Intelligence Services, even during the naive Western administration.
In January 1980 the KHaD fully replaced the KAM.
Furthermore, the KHaD was placed outside the administration of the Interior Ministry, dominated by the Khalq and then immediately transferred to the office of the Prime Minister, who later also became National Security Minister.
The Directors of the Afghan Intelligence Services always reported directly to the KGB and, in 1987, the standard situation was that the Afghan Intelligence Service employed almost 30,000 operatives and officials and over 100,000 paid informants.
Each element of the Afghan Intelligence Service had at least one KGB "advisor" behind them. As also shown in Syria, Russia paid but did not trust it too much.
Between 1983 and 1993, the Pakistani Intelligence Service ISI -established by a British officer – trained, with the support of CIA, almost 90,000 Mujahideen to send them fighting the USSR in Afghanistan.
The KHaD had also the statutory obligation to "defend the Communist regime" and "unite all Afghan ethnic groups under one single political system", especially in collaboration with the Ministry of Borders and Tribal Affairs.
Again in the 1980s, the KHaD always had both East German and Soviet instructors and numerous secret mass executions took place.
About 60,000 Afghans were sent to the USSR between 1980 and 1984.
Again in those years, as many as 10,000 KHaD officers received special training from the KGB.
In an old confidential document, CIA also estimated that the total cost of the Soviet engagement in Afghanistan was over 15 billion roubles, plus additional 3 billion roubles for the period when it did not directly occupy Kabul.
Since currently the 1979 rouble is still worth 22.26 Euros, in principle we can calculate a Russian occupation expenditure of 233 billion and 930 million, plus the extra three billion roubles.
The KHaD also created tribal militias on the borders, while the KGB organized the internal tribes on its own, mainly for sabotage and to spread dezinformatsjia.
After the USSR's final collapse and the arrival of the United States, however, a new Afghan Service, the NDS, was immediately created.
It was made up mainly of former KHaD agents and Mujahideen. Indeed, there was no other population available.
The Service, however, was known to be bad or even very bad: its operatives and analysts were selected only on a tribal level or by simple political affiliation.
They never went to school for education and training. They had no serious training centres and they did not professionally check their networks of informants.
Even the United States, however, spent a lot of money in Afghanistan: the Congressional Research Office has calculated a 1.6 trillion dollar spending in Afghanistan and Iraq only for the "War on Terror".
The Afghan Service costs the USA 6.4 billion dollars every two years.
And spending always tends to increase, regardless of the poor results reached.
What about China? First of all, China wants the political stability of Afghanistan, which is a neighbouring and Islamic country. In particular, it controls Kabul to prevent Uyghur jihadism from finding a safe and secure place there. It prevents the Uyghurs from having contacts with the Taliban. It has already happened.
Everything will happen when the United States definitively leaves Afghanistan, since China now regards that country as an essential pawn in its relationship with India, while – through Pakistan – China strengthens its relations with the Taliban, which the Chinese view as the next and inevitable masters of Kabul. This forecast is really easy to make.
Moreover, China provided 70 million per year to the Afghan government to support its counter-terrorism efforts, while there have long been Chinese soldiers in Badakhstan and, above all, in the Wakhan Corridor, where it is said that China has already created a military base and has even already deployed a brigade of the People's Liberation Army.
China has also put pressures on Kabul for Afghanistan to accept its satellite positioning system, instead of the GPS developed and managed by the United States.
Some Chinese troops, however, have also been stationing in Tajikistan for long time, again to protect the Wakhan Corridor.
Since his rise to power in 2014, however, also Ashraf Ghanihas thought to immediately improve his relations with China so as to use, first of all, China's influence on Pakistan to avoid the Pakistani support to the Taliban – which is unlikely – as well as ensure that China begins to invest significantly in Afghanistan, now that the civil and international war is on the wane.
The China-Pakistan Corridor, one of the first axes of the Chinese Belt & Road Initiative, is now worth 62 billion U.S. dollars of costs alone.
There is also a new railway line leaving from the port of Gwadar, the axis of China's projection, and arriving in the Pakistani province of Baluchistan and beyond.
In 2016 China also signed an agreement with Afghanistan for the Belt & Road Initiative, with the promise of 100 million U.S. dollars for infrastructure projects in Afghanistan, which have not been provided yet.
Trade between Afghanistan and China is fully asymmetric and, until Afghanistan is completely pacified – certainly by others and not by China -we believe that that the issue will not be very relevant, at least for China.
And until the triangulation between the Taliban, Pakistan and China – which has still many doubts about the reliability of the Pakistani "students" operating in Afghanistan (precisely, the Taliban) -is not even clear, the Afghan economic revival – if at China's expense – will be slow or unlikely.