IEA holds first ever Energy Efficiency in Emerging Economies Training Week for India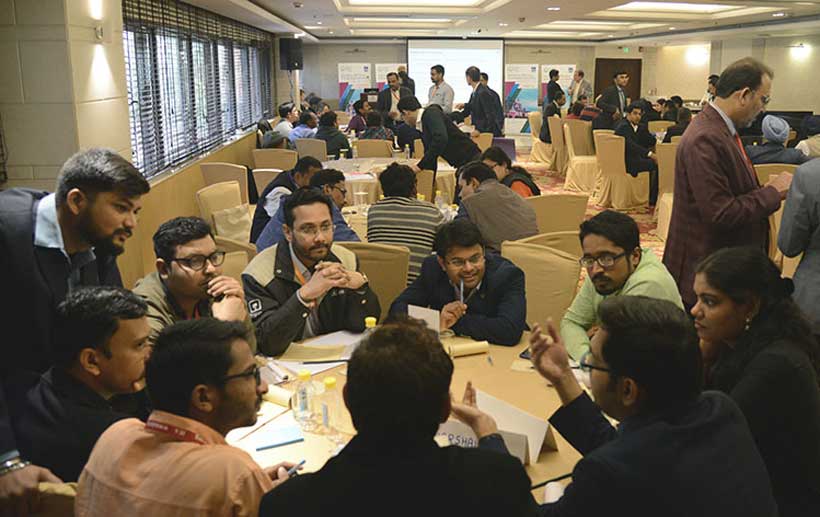 The International Energy Agency and the Bureau of Energy Efficiency (BEE) of the Government of India co-hosted the first ever Energy Efficiency Training Week for India, from 10 to 13 December in New Delhi. The event, which coincided with India's 28th National Energy Conservation Day on 14 December, brought together over 100 energy efficiency professionals from government institutions and supporting organisations across all levels of government in India.
National Energy Conservation Day is an annual event led by the Bureau of Energy Efficiency under the Ministry of Power, intended to raise awareness about energy efficiency and celebrate achievements in this field. For example, the National Energy Conservation Awards reward leaders from industry and government for their pioneering work, urging all to strive for greater improvements.
Officials and industry professionals from over 20 Indian states participated in the IEA Training Week programme, exchanging best practices, expanding their knowledge of energy efficiency and expanding professional networks.
The Training Week consisted of four parallel courses on energy efficiency policy in buildings, appliances and equipment, industry, and municipal and utility services. Each course offered a mix of lectures, interactive discussions and practical exercises. Participants also had the opportunity to explore energy efficiency from creative perspectives, including through a photo competition intended to make energy efficiency more 'visible'. The presentations and training materials can be accessed here.
The specific country on India focus allowed deep engagement with stakeholders from all levels of government, including at state and municipal levels, all of whom have critical roles in the design and implementation of energy efficiency policy.
"There is a lot of scope and room for improvements in energy intensity as India grows," said BEE Director General Abhay Bakre in his opening address, "all of this is possible if we put in place an effective regime, using energy efficiency measures".
Melanie Slade, IEA Senior Programme Manage for the Energy Efficiency in Emerging Economies Programmed, noted that "we have to be in this for the long term". She emphasised that engagement with stakeholders from both national and subnational levels of government will be key to success.
IRENA to Present Innovation Pathway to Renewable Energy Growth at G20
The G20 group of countries, whose members represent nearly 80 per cent of global energy consumption and hold 75 per cent of global renewables deployment potential by 2030, are well positioned to lead the global energy transformation.
The group has shown a growing commitment to collaborate on climate and energy issues, and to address challenges regarding energy security and productivity, environmental protection, and economic growth underpinned by the transition to renewables.
To further support and accelerate the shift, IRENA's Director-General Francesco La Camera will present G20 ministers with a series of innovation-led solutions to integrate higher shares of renewable energy into power systems. During its 'Ministerial Meeting on Energy Transitions and Global Environment for Sustainable Growth' in Karuizawa, Nagano Prefecture, Japan on June 15-16 IRENA will build on its well established position as an important contributor to the G20 decarbonisation discussion, by further championing the growing environmental and economic cases for the widespread adoption of renewable energy, a sector which now employs over 11 million people globally.
In a keynote address to the meeting's discussion on 'Energy Innovation and Cross-Cutting Issues – Energy Innovation / Energy Security / Energy Access and Affordability', IRENA Director-General Francesco La Camera will highlight that the case for renewable energy has never been stronger. IRENA's new cost data shows that by next year, onshore wind and solar PV will be a less expensive source of new electricity than the cheapest fossil fuel alternative.
The Director-General will outline to G20 ministers that renewables, together with energy efficiency, can deliver 90 per cent of energy related emissions reductions needed to keep global temperature increases well below 2° Celsius in line with the Paris Climate Agreement goals. To do so, electricity must become the dominate energy carrier Mr. La Camera will stress, highlighting that electricity must supply half of total final energy by 2050. Renewable electricity accounting for 86 per cent of that.
IRENA's Solutions to Integrate High Shares of Variable Renewable Energy report, published and presented at the request of this year's G20 president, highlights key action areas to scale up variable renewable energy power generation in G20 countries. Three key areas include the need for:
Enabling frameworks for long-term energy system planning, holistic policy-making, and co-ordinated approaches across sectors and countries.
Fostering systemic innovation, both in technologies, and market design, operational practices and business models.
Unlocking investments and strengthening partnerships with the private sector.
Increasing cooperation
In cooperation with the previous G20 presidencies of Turkey, China, Germany and Argentina during the last four years, IRENA has provided targeted analysis and recommendations for the group's energy discussions. At the first G20 Energy Ministers Meeting in October 2015, ministers adopted the G20 Toolkit of Voluntary Options for Renewable Energy Deployment, which presented a set of voluntary options for G20 countries to accelerate the scale-up of renewable energy. IRENA was a central coordinator of the Toolkit's implementation, in co-operation with other international organisations.
In June 2016, progress on work completed under the toolkit was reviewed with the aim to mobilise more finance, reduce costs and chart renewable potential.
In the context of Argentina's G20 Presidency last year, IRENA was asked to elaborate opportunities for the accelerated deployment of renewables, using a systemic and holistic approach, and to present relevant lessons learnt from implementing policy and investment frameworks. Building on this work, IRENA developed an overview of Opportunities to Accelerate Energy Transitions through Enhanced Deployment of Renewables.
11 Million People Employed in Renewable Energy Worldwide in 2018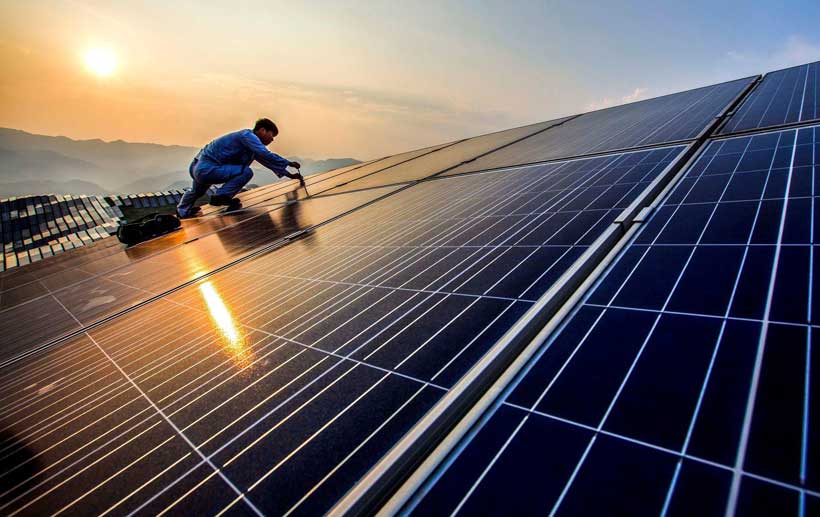 Eleven million people were employed in renewable energy worldwide in 2018 according to the latest analysis by the International Renewable Energy Agency (IRENA). This compares with 10.3 million in 2017 . As more and more countries manufacture, trade and install renewable energy technologies, the latest Renewable Energy and Jobs – Annual Review finds that renewables jobs grew to their highest level despite slower growth in key renewable energy markets including China.
The diversification of the renewable energy supply chain is changing the sector's geographic footprint. Until now, renewable energy industries have remained relatively concentrated in a handful of major markets, such as China, the United States and the European Union. Increasingly, however, East and Southeast Asian countries have emerged alongside China as key exporters of solar photovoltaic (PV) panels. Countries including Malaysia, Thailand and Viet Nam were responsible for a greater share of growth in renewables jobs last year, which allowed Asia to maintain a 60 per cent share of renewable energy jobs worldwide.
"Beyond climate goals, governments are prioritising renewables as a driver of low-carbon economic growth in recognition of the numerous employment opportunities created by the transition to renewables," said Francesco La Camera, Director-General of IRENA. "Renewables deliver on all main pillars of sustainable development – environmental, economic and social. As the global energy transformation gains momentum, this employment dimension reinforces the social aspect of sustainable development and provides yet another reason for countries to commit to renewables."
Solar photovoltaic (PV) and wind remain the most dynamic of all renewable energy industries. Accounting for one-third of the total renewable energy workflow, solar PV retains the top spot in 2018, ahead of liquid biofuels, hydropower, and wind power. Geographically, Asia hosts over three million PV jobs, nearly nine-tenths of the global total.
Most of the wind industry's activity still occurs on land and is responsible for the bulk of the sector's 1.2 million jobs. China alone accounts for 44 per cent of global wind employment, followed by Germany and the United States. Offshore wind could be an especially attractive option for leveraging domestic capacity and exploiting synergies with the oil and gas industry. Renewable energy jobs highlights:
The solar PV industry retains the top spot, with a third of the total renewable energy workforce. In 2018, PV employment expanded in India, Southeast Asia and Brazil, while China, the United States, Japan and the European Union lost jobs.
Rising output pushed biofuel jobs up 6% to 2.1 million. Brazil, Colombia, and Southeast Asia have labour-intensive supply chains where informal work is prominent, whereas operations in the United States and the European Union are far more mechanised.
Employment in wind power supports 1.2 million jobs. Onshore projects predominate, but the offshore segment is gaining traction and could build on expertise and infrastructure in the offshore oil and gas sector.
Hydropower has the largest installed capacity of all renewables but is now expanding slowly. The sector employs 2.1 million people directly, three quarters of whom are in operations and maintenance.
World Bank to Help China Develop Renewable Energy with Battery Storage
The World Bank's Board of Executive Directors have approved a US$300 million loan for the China Renewable Energy and Battery Storage Promotion Project to increase the integration and utilization of renewable energy by deploying battery storage systems at scale.
Despite having the largest installed electricity generation capacity of wind and solar power, China is unable to operate and utilize these resources fully due to technical constraints in the transmission networks and gaps in the regulatory framework for electricity trade between provinces. This project will help address these constraints and support China's overarching energy transition goals. These include a shift away from coal and increasing the share of non-fossil fuels in the primary energy consumption from the current 14.3% to 20% by 2030, and to over 50% by 2050.
"This project will help accelerate the on-going clean energy transition in China and contribute to the country's emission reduction targets," said Martin Raiser, World Bank Country Director for China. "By providing financing for battery storage and distributed renewable energy applications, the project will reduce curtailment of renewable energy capacity and thus encourage further investments into changing China's energy mix. Parallel technical assistance will help improve the policy and regulatory framework for green energy technologies, thereby reducing risks and encouraging private investment."
The Renewable Energy and Battery Storage Promotion Project will be implemented by Hua Xia Bank, a publicly listed commercial bank in China. Hua Xia Bank will provide co-financing of at least $450 million to achieve the development goals of the project. Technical assistance for policy and regulatory reforms, shaping appropriate technology and safety standards, and developing institutional capabilities will be financed by the Global Environmental Facility (GEF) and the Energy Sector Management Assistance Program (ESMAP).
"Hua Xia Bank has been a strong partner of the World Bank in expanding commercial financing for, and wider adoption of, clean energy technologies in China. We look forward to working with them to support small and medium-enterprises to implement financially and technically well-structured battery storage projects with due regard to environmental and safety considerations," said Peng Ximing, World Bank Senior Energy Specialist and project team leader.
This project is part of the World Bank Group's September 2018 commitment to significantly scale up support to battery storage solutions globally through a $1 billion battery storage investment program. The World Bank Group has just established a new international partnership – the Energy Storage Partnership (ESP) – that fosters international cooperation on battery storage solutions. The ESP will be a platform to share lessons and experiences from China's deployment of batteries in power systems with other developed and developing country stakeholders.