Does Trump Lie to Say 'We have defeated ISIS in Syria'?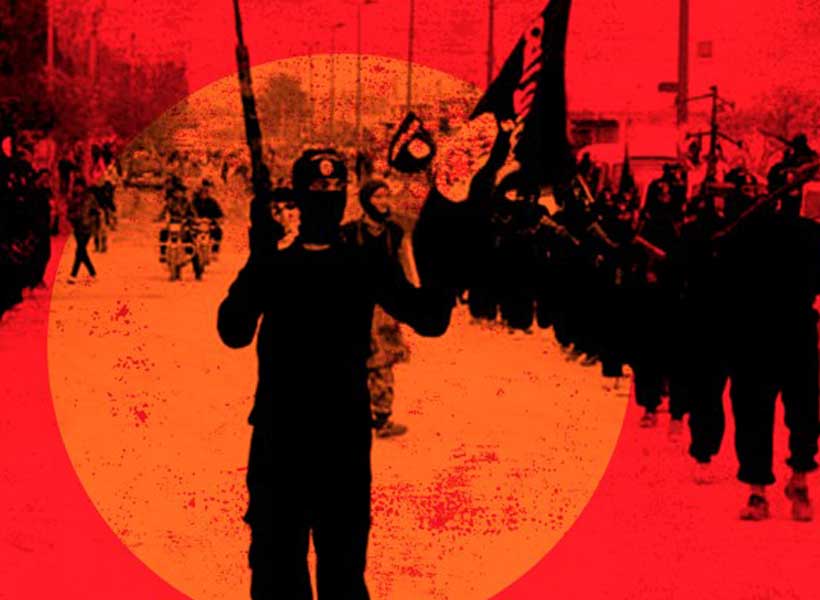 At 11:52AM on Wednesday, December 19th, CBS News headlined "White House orders Pentagon to pull troops from Syria immediately" and reported that, "Rep. Adam Kinzinger, a veteran of the U.S. Air Force who served in Iraq and Afghanistan and now serves on the House Foreign Affairs Committee, said it's 'simply not true' [which Trump, had said there, that] ISIS is defeated in Syria." CBS News didn't indicate which political Party Kinzinger represents, but he is a Republican, and he represents the rural Illinois 16th Congressional District, where Donald Trump had beaten Hillary Clinton by a 17% margin in 2016. So, Kinzinger is an anti-Trump Republican on this matter. He's credible about that, not partisan about it.
Who is telling the truth, Trump's "We have defeated ISIS in Syria" or Kinzinger's contrary, and what explains the contradiction between the accounts by Trump and Kinzinger?
As the CBS News report says, "Two weeks ago, Special Envoy Brett McGurk said the end of ISIS will be a long-term initiative, and "nobody is declaring mission accomplished." CBS's report, however, fails to note that McGurk is an Obama appointee and has been consistently dedicated to America's defeating Russia and replacing the leadership in all nations that are allied with (or even friendly toward) Russia, including, most especially, Syria and Iran.
At a deeper level, the question is: Which nations are primarily the cause of the considerable reduction in ISIS forces in Syria? If ISIS has been defeated in Syria, then, nonetheless, is it true for Trump to claim, "We have defeated ISIS in Syria," or is the United States not even the main force which has done that?
On 30 September 2015, CNN headlined "Russia launches first airstrikes in Syria" and reported that, "Claiming to target ISIS, Russia conducted its first airstrikes in Syria, while U.S. officials expressed serious doubts Wednesday about what the true intentions behind the move may be." The next day, on October 1st, PBS bannered "Mike Morell, former deputy director of the CIA, talks about why Russia deployed airstrikes in Syria", and Morell, who had always been speaking and writing against Russia and against any Government that is at all allied with Russia, said: "President Putin believes that if President Assad were to depart the scene, there would be even more instability in Syria and, with that greater instability, ISIS would have more running room, and you could actually end up with ISIS in Damascus. So that is the primary reason he's doing what he is doing. Now, the question is why doesn't he just attack [only] ISIS then because President Assad is under attack from a variety of different groups? ISIS is one, al-Nusra [Al Qaeda in Syria] is one, and the moderate opposition is another. So in order to prop up Assad to keep him in control, to make sure you don't have more instability, he wants to attack all of those groups, right. But his fundamental focus is on ISIS." But, then, he argued for U.S. President Barack Obama's position, against Russia's bombing campaign in Syria: "If we were to have a transition from Assad to another government that everybody can agree on, then we're actually going to have more stability in Syria. And I think the President probably argued that as long as Assad is around, he is a magnet for fighters to join ISIS, to join al-Nusra to fight Assad. And you can't ultimately defeat ISIS and defeat al-Nusra without getting rid of President Assad in the process." So: Morell acknowledged that Putin's main target was ISIS, but Morell said that Obama was correct to oppose Russia's bombing campaign there, because "you can't ultimately defeat ISIS and defeat al-Nusra without getting rid of President Assad in the process." Then, he said, of Putin, "this guy is a thug. This guy is a bully." But he said that, unfortunately, America must deal with that "bully": "first thing we have to convince the Russians of is that you can't successfully deal with ISIS and al-Nusra without Assad going away. We have to be able to convince them of that. We really believe that. We really believe that. We really believe that he is a magnet for drawing people to ISIS and to al-Nusra." He was saying that Assad had caused ISIS, which was trying to overthrow and replace him.
Then, on 9 October 2015, investigative journalist Tony Cartalucci bannered "The Mystery of ISIS' Toyota Army Solved" and he documented that ISIS had gotten its Toyota pickup trucks from the U.S.-backed Free Syrian Army, whom Obama called moderate rebels. Whether the FSA had ever had those trucks wasn't known.
Then, on 14 October 2015, the Financial Times bannered "Isis Inc: how oil fuels the jihadi terrorists" and reported that, "Oil is the black gold that funds Isis' black flag — it fuels its war machine, provides electricity and gives the fanatical jihadis critical leverage against their neighbours. … Selling crude is Isis' biggest single source of revenue. … While al-Qaeda, the global terrorist network, depended on donations from wealthy foreign sponsors, Isis has derived its financial strength from its status as monopoly producer of an essential commodity consumed in vast quantities throughout the area it controls."
Then, on 16 November 2015, the New York Times bannered "U.S. Warplanes Strike ISIS Oil Trucks in Syria" and reported that, "United States warplanes for the first time attacked hundreds of trucks on Monday that the extremist group [ISIS] has been using to smuggle the crude oil it has been producing in Syria, American officials said. … Until Monday, the United States refrained from striking the fleet used to transport oil, believed to include more than 1,000 tanker trucks."
Two days later, on November 18th, the Pentagon said at a press conference, that "This is our first strike against tanker trucks" of ISIS.
Moreover, on November 24th, Zero Hedge bannered "'Get Out Of Your Trucks And Run Away': US Gives ISIS 45 Minute Warning On Oil Tanker Strikes" and reported that the U.S. Government were doing this oil-tanker-truck bombing only for show, because Russia had actually started the serious effort to conquer ISIS in Syria, and so the U.S. needed to do something, for PR purposes.
Yet, further evidence also exists that the U.S. Government supported ISIS against Syria's Government:
On 24 March 2013, the New York Times bannered "Arms Airlift to Syria Rebels Expands, With Aid From C.I.A.", and reported that "From offices at secret locations, American intelligence officers have helped the Arab governments shop for weapons," and that "'A conservative estimate of the payload of these flights would be 3,500 tons of military equipment,' said Hugh Griffiths, of the Stockholm International Peace Research Institute, who monitors illicit arms transfers." The U.S. Government tried to hide its involvement in this, by doing it through allied "Arab governments," which were named in this news-report: "Qatar and Saudi Arabia had been shipping military materials via Turkey," and all four of these Governments (U.S., Sauds, Turkey, and Qatar) were trying to overthrow Syria's Government. Then, on 8 September 2014, AFP headlined "Islamic State fighters using US arms: study", and they reported that the U.S. Government was supplying ISIS. On 1 September 2017, Russian Television reported that the U.S. Government was secretly supplying weapons to ISIS and that an anti-Assad fighter had even quit the CIA-backed New Syrian Army because of that.
U.S. President Barack Obama started the U.S. policy to arm ISIS, and it was continued under the current U.S. President.
There is considerable other evidence that the U.S. Government has invaded, and been occupying, parts of Syria, solely in order to replace Syria's Government by one that would be controlled by the Saud family, who own Saudi Arabia.
It is definitely a lie for Trump to say: "We have defeated ISIS in Syria."
A big turn in these events had been the failed 15 July 2015 coup-attempt, to overthrow Turkey's Government, and which Turkey's President, Tayyip Erdogan, says was engineered by the Gulen organization headquartered in the U.S., which is connected to and protected by the CIA. After July 15th, Turkey increasingly has allied with Russia's Government, against America's Government.
Later on December 19th, Reuters headlined "U.S. State Department personnel being evacuated from Syria — U.S. official" and reported that, "All U.S. State Department personnel are being evacuated from Syria within 24 hours, a U.S. official told Reuters."
The present withdrawal of the U.S. Government from Syria is actually due to the success of Vladimir Putin's and Tayyip Erdogan's plan (which I described on 10 September 2018, and which they jointly announced a week later, on September 17th) for Turkey to handle the military task of conquering the jihadists in Syria's Idlib province and of Turkey's forces then moving eastward from Idlib to compel the U.S. Government to end its occupation of northeastern Syria — that nation's crucial oil-producing region. If Russia's troops, instead of Turkey's, were to do that task, killing U.S. troops, it would risk bringing on a U.S.-Russia war, but, since Turkey is still in NATO, that danger doesn't exist when Turkish troops and armor (backed by Russian air-power) do that highly sensitive job. Turkey's forces would likely have needed to kill at least some U.S. troops if Trump didn't take this decision now to evacuate them; so, he did what he had to do, in order to avoid an extremely embarrassing U.S. military defeat.
Instead of "We have defeated ISIS in Syria," the truth, from the U.S. Government, would be "We have been defeated in Syria," or (more precisely) "We have surrendered in Syria." However, Putin (and Erdogan, and maybe even Assad) will not be crowing about their victory. (Erdogan, however, already is.) In any case, Syria's Government has successfully resisted the U.S. Government's effort, since 2009, to replace Syria's Government by one that would be controlled by the Sauds. When Russia entered that war on 30 September 2015, at the invitation of Syria's Government, in order to kill ISIS and all of the other jihadist forces in Syria (including al-Nusra and America's other proxy-forces who were America's boots-on-the-ground fighters killing and dying there), Obama's dream, of handing Syria as a vassal-state to the Sauds, was doomed to failure. Trump's effort to win what Obama could not, has now likewise finally failed.
Controversial Israeli soccer club may be litmus test for UAE soft power ploy
An Emirati offer to invest in Israel's most controversial soccer club could serve as a figurative litmus test of hopes that Arab recognition of the Jewish state may persuade it to be more empathetic towards Palestinian national aspirations.
It was not immediately clear whether the offer was to acquire or co-invest in Beitar Jerusalem, notorious for its links to the ruling Likud party and the Israeli far-right as well as racist anti-Arab, anti-Muslim sentiments among an influential segment of its fan base.
Israeli sources suggested that the offer was made by a businessman with close ties to the Abu Dhabi United Group for Development and Investment (ADUG).
ADUG, owned by UAE deputy prime minister Sheikh Mansour bin Zayed Al Nahyan, a half-brother of Crown Prince Mohammed bin Zayed, has a majority stake in Football City Group that controls soccer clubs on four continents, including Manchester City FC.
Israeli media reports said that the offer was made to club owner Moshe Hogeg.
Mr. Hogeg has been struggling to confront La Familia, a militant hard right fan group that has stopped Beitar from hiring Israeli Palestinian players, denounced the contracting of Muslims, and regularly chants 'Death to Arabs' and 'Death to Muslims' during matches.
Mr. Hogeg last year faced down La Familia who demanded that a new hire, Ali Mohamed, change his Muslim name, even though he is a Nigerian Christian.
UAE officials have argued that establishment of diplomatic relations with Israel stopped the government of Prime Minister Binyamin Netanyahu from annexing parts of the West Bank, occupied since Israel conquered it in the 1967 Middle East war.
Mr. Netanyahu said he had suspended, not cancelled his annexation plans.
A UAE stake in Beitar would take the Gulf state's soft power ploy to an arena that is both the Likud's heartland as well as football that evokes deep-seated passion in a soccer-crazy country.
Founded during the period of the British mandate in Palestine to create the 'New Jew' who would be able to build and defend the Jewish state, Beitar initially drew many of its players and fans from Irgun, an extreme nationalist, para-military Jewish underground group.
Among the club's fans were throughout the years right-wing Israeli leaders. Today, they include Mr. Netanyahu and multiple members of his government.
In interviews with Israeli media, the Emirati businessmen hinted at the soft power aspect of the UAE initiative.
"Fanaticism is rooted in ignorance and fear of the other. If there is a spirit of tolerance, we can create an atmosphere of pure friendship between us and others. Sports is an international language graced with the ability to promote tolerance and peace between nations and people," Israeli tv channel Sports 5 quoted him as saying.
The businessman made no explicit reference to the Israeli-Palestinian conflict, but his remarks appeared to refer to it.
Emiratis appear to hope that a UAE stake in Beitar will boost the club's more moderate fans, weaken its more militant fan base, and help shape a public opinion that is more willing to compromise with the Palestinians.
They count on fans like Yitzhak Megamadov who told Al-Monitor in response to the UAE bid: "I tell our fans to open their hearts and minds and receive them with open arms. They are our cousins. They want real peace and solidarity. We have gotten used to knowing about Palestinian Arabs through terrorist attacks and war. … We need to educate ourselves and change our perspectives."
It's an approach that worked when Sheikh Mansour bought Manchester City in 2008 in what critics described as a reputation laundering operation. The English club's fans embraced its new cash-flush owners, rejecting human rights activists' concerns about the UAE's regular abuse of human rights.
Winning over fans is likely to prove a lot easier than changing Israeli policies, something more powerful players like the United States and Europe have unsuccessfully tried.
The Knesset, Israel's parliament, voted down an amendment that would have added equality for minorities to a controversial law defining Israel's Jewish character just days after Israel signed agreements establishing diplomatic relations with the UAE and Bahrain at the White House.
In other words, there is little reason to believe that the businessman and the UAE together with Bahrain can achieve what others did not.
Fact of the matter is that the carrot of recognition has not helped solve the Palestinian problem or fundamentally change Israeli policy in the 18 years since Saudi Arabia first unveiled an Arab peace plan that offered recognition in exchange for land.
Neither did the earlier peace treaties between Israel, Egypt, and Jordan, two states that, unlike the UAE and Bahrain, had and still have a direct stake in the Israel-Palestine conflict.
Nor did it stop US President Donald J. Trump from accepting the legitimacy of annexation of occupied Palestinian land. Mr. Trump has endorsed Israeli annexation of East Jerusalem as well as the Golan Heights, captured from Syria in 1967.
What an Emirati stake or acquisition in Beitar will do is enhance Israeli empathy for the UAE.
Without a tangible political fallout beneficial to Palestinians, It will also reinforce critics' assertion that the UAE is using the Palestinian issue as a fig leaf for a move that serves Emirati issues with no Palestinian dividend.
The Emiratis may find that time does not work in their favour. They appear to be playing a long game on an unstable board that could prove incapable of sustaining it.
The Forgotten African Slaves of Lebanon
In April 2020, authorities in Lebanon arrested one Wael Jerro after posting an advertisement to sell a Nigerian lady, Peace Busari, for a $1,000 on a popular 'Buy & Sell in Lebanon' Facebook group. In the post which had a screenshot of the 30-year-old lady's international passport, Wael described Peace as "…very active and very neat." He was subsequently charged to court for human trafficking while his victim was repatriated by the Nigerian authority.
Peace may be considered a lucky soul if her case is compared to other African migrants, who mainly work as maids, in the gulf country. For instance, back in March 2020, 23-year-old Faustina Tay from Ghana committed suicide after weeks of sending out several voice notes complaining of being molested by her employers. Her body was found in a car park in her employers' storey building in Beruit. Faustina's search for the proverbial greener pastures to Lebanon only lasted 10months during which she shared pictures of her bruised face and audios of her ordeal with family members back home. In an investigation by media outfit Aljazeera, her employer, Hussein Dia, whom Faustina had accused of beating her, refuted such claims. Ali Kamal, the man whose recruitment agency facilitated Faustina's journey to Lebanon, also denied the lady was ever physically abused.
In 2018, the body of a 26-year-old Ethiopian was discovered drowned in a swimming pool within the premises of her agent in the town of Dweir only days after a baby delivered of her died due to birth complications. These cases represent a fraction of what many of the estimated quarter of a million Migrant Domestic Workers (MDWs) in Lebanon often experience and the story may, unfortunately, not change for the better anytime soon as highlighted by recent happenings.
Social Media to the Rescue
One of the incidents pushed to the front burner in the aftermath of the August 4 massive explosion which claimed 200 lives at a Beirut seaport storage facility is the maltreatment of foreign maids. According to the International Organization for Migration (IOM), an approximate eight percent of the 300,000 people affected by the incident are MDWs. Before the cataclysmic occurrence, the 6million Lebanese population had come under severe living conditions occasioned by a strained economy (with an estimated 25% inflation rate) compounded by the stringent measures of the Covid-19 pandemic. The dire situation is said to have equally taken a toll on employers of MDWs many of whom were reportedly sent parking from their temporary homes with nowhere to go. Reports claim many of the stranded aliens resorted to passing the nights on the sidewalks in the Lebanese capital.
Kafala System
One of the 5,000 wounded in the devastating blast is Nkiru Obasi from Ebonyi in Nigeria. While getting ready to be evacuated to Nigeria alongside others on August 12, she and four others were stopped from embarking on a Lagos-bound airplane after her 'madam' interjected unmindful of the fact that the young lady was nursing wounds. The demeaning lifestyle of most migrant workers in Lebanon is bundled into an archaic tradition known as the 'Kafala' system that allows a domestic worker's wholesome subjugation by his/her 'masters.' The practice is traced to the era of slave trading in many parts of Arab land, and – perhaps – explains the reason why it is largely sustained till date in Middle Eastern nations like Saudi Arabia, Yemen, the United Arab Emirates (U.A.E.), and so on. Human rights abuses such as sexual molestation, denial of movement, working long hours, and physical assaults are some of the trademarks of the physical-cum-psychological trauma which foreign domestic employees are subjected to by their employers with no legal reprieve. It is a system that has continued to consume generations of young, unsuspecting souls from Sub-Sahara Africa – and parts of Asia – lured with the prospect of a non-existing rosy life far beyond their abode.
Bureaucratic Impediments
For most non-Lebanese migrant workers, the harrowing experience of suffering neglect, abuse, and ill-treatment by unsympathetic employers is rather endured if the other available option of approaching the authority is taken into consideration. Amnesty International says in trying to enforce the extant laws of the land, undocumented MDWs are intermittently rounded up and herded into detention by Lebanese General Security. Few days before the ratification of the UN's Adoption of the Global Compact on Migration in November 2018, the Lebanese government released 35 foreigners from prolonged detention for lack of residency papers. This is the treatment likely to be faced by any daring migrant worker who attempts to unilaterally exit his/her Lebanese employer as he/she may lose the legal residency status which makes their stay valid in the first instance. The Human Rights Watch (HRW), in a September 2020 report titled "Without Protection: How the Lebanese Justice System Fails Migrant Domestic Workers," criticized the exemption of MDWs from Lebanese labor law despite the huge economic importance of these individuals to their original and host societies. While calling for the abolishment of the kafala system, the HRW reveals that more than $90million was sent overseas by MDWs from Lebanon in the first six months of 2009, hence the imperative of providing legal cover for these individuals.
The First Bold Step Towards a Lasting Reform?
Despite the ongoing social unrest on the local scene since August 4 which had forced the political leadership in the country to resign its appointment, the implication of the plight of MDWs in Lebanon on the image of the country abroad seems not lost on Beirut and its government is responding to the challenge.
In what is seen as a cheering development, the Lebanese Caretaker Labour Minister, Lamine Yammine, recently announced the launch of a new standard unified labour law which "enshrines the rights" of foreign employees in the country. Yammine adds that, with the new contract law, MDWs would be able to "obtain all their contractual rights and benefit from the broadest social protections." Similarly, while hosting top officials from the Nigerians in Diaspora Commission (NIDCOM) last June, in Abuja, the Lebanese Ambassador to Nigeria, Houssam Diab, claims that his government has suspended the issuance of working visas to Nigerians seeking to work as domestic workers in Lebanon to rid the current system of exploitation and abuse.
However, many activists accused the government of cheery picking and opine that the new labour law appears to have fallen short of expected cancellation of the Kafala system which they view as the major stack against the MDWs. Nonetheless, one can applaud the initiative as a positive step (albeit trifling) towards guaranteeing a better future for foreigners working as domestic employees in Lebanon.
Going forward, one key area which authority should not overlook is the role being played by recruiting agents like Ali Kamal who told Aljazeera that his firm accounts for the entrance of 1,000 foreign workers into Lebanon, each year. A constant searchlight must be beamed into the activities of such companies if the life of the enrollees is, indeed, fancied beyond lip service as worth more than that of mere 'slaves'.
Israel and its Image After the 1967 War
The war of 1967, or the Six Day War as it has come to be known, was a war which came with immense, geo-strategic and political consequences. The Middle East, was the arena where it played out and fifty years later the reverberations continue to be felt in the region and beyond. This is reflected in the words of, the then Israeli Prime Minister, Levi Eshkol, who said, "Nothing will be settled by a military victory. The Arabs will still be here" (Colonel Stephen S. Evans, 2008 ). His words have proved to be prophetic, for Israel has metamorphosed in this timespan, and the Arabs are still there though they are a house divided and peace is still elusive. The conflict between, Arab and Jewish identities over Palestinian land now has a regional as well as an international dimension. In this rite of passage, Israel's relations with many nation-states have matured from nascency to maturity and much of this finds its origins in the aftermath of the 1967 war between Israel and the three states of Egypt, Syria and Jordan. It is this transformation in Israel's stature in International Relations, that is to be examined.
In the run up to the war of 1967, the events were moving in a manner that can best be described as fast and furious. With the Syrians being routed by the Israelis in April 1967, Nasser was under pressure to restore Arab prestige, when he was warned by the Soviets in May, that Israel was planning to invade Syria. In spite of having half his forces entrenched in a conflict with Yemen, Nasser reacted by asking UN peacekeepers to leave the Sinai Peninsula, and began massing troops in to the Sinai Desert. With no Israeli reaction forthcoming, Nasser then closed the Straits of Tiran to Israeli shipping, on May 22, and challenged Israel to engage in conflict. The Iraqi President Abdel Rahman joined this tirade of threats against Israel and it was under these extenuating circumstances, Israel launched a pre-emptive strike on the morning of June 5, 1967, with 'Operation Focus'. It simply had no choice but to do so.
Six days later, Israel emerged victorious, against the defence forces of Egypt, Jordan and Syria, and surprisingly enough, its territorial gains included, the Sinai Peninsula, the Gaza Strip, the West Bank of the Jordan River (including East Jerusalem) and the Golan Heights. Clearly, this was not an act of pre-meditation as this operation was supposed to be have been a "48-hour surgical strike" to neutralise Egypt and nothing more(Oren, 2005). Israel's geographic spread now, was three times what it was before the war. Both Israel and Egypt were quick to approach the UN in quick succession, at the outbreak of the war and UN Resolution 242 resulted many weeks after the war, in November. In the aftermath of the war, it is really not possible to analyse Israel's international relations in a linear manner as events and relationships tend to dovetail, converge and diverge at the same time. Clearly, Israel as a country went through a transformative experience from within and without after this war. It transcended the stage from where it was struggling to maintain it its territorial integrity in 1948, to a stage where it had won a decisive victory, albeit with American aid and French armaments. With control over the Sinai Peninsula, which overlooked the Suez Canal, and the Soviets stepping in reinforce their support to the Egyptians, Israel, now unwittingly became a player in the Cold War. In this context, from being in a situation where it was viewed as a burden by the U.S., Israel had now became an "imperative significant asset"(Kardo Karim Rached Mohammad, The Six-Day War and Its Impact on Arab and Israeli Conflict, 2017). Having proven its military might, U.S.-Israeli relations underwent a sea change, for now this relationship was of potential benefit. This was a far cry from 1956 when America had called Israel an aggressor when it had attacked Egypt as part of a secret pact with Britain and France.
The symbiotic relationship between the U.S. and Israel, consequently assumed an overall upward trajectory with some periods of lull. Even the retributive oil embargo against the west, by the Arab world after the Yom Kippur war, did not derail this relationship and Reagan named Israel as a strategic asset, in 1979. Israel was now the beneficiary of considerable military supplies and treated as a proxy for the U.S. in the region. After the end of the Cold War, Israel was no longer a U.S. proxy but a strategic partner nevertheless and a "democratic anchor". Since then, starting with the Clinton Administration, support for Israel has been unequivocal, with Trump's presidency going beyond mere re-affirmation. One noteworthy, pattern till now, is the implicit understanding of faith between the two countries, that Israel's nuclear armament cache would never be a subject of discussion and there would not be any talk of signing the Non- Proliferation Treaty(Entous, 2018).
Another key relationship affecting Israel's very existence, in the same time frame, was one of extreme challenges and continues to be so, till now. At the time of the 1967 war, sponsored by the Arab League, the Palestinian Liberation Organisation was already in existence, and destruction of Israel, was one of its goals. After the war, Yasser Arafat and the Fatah, gained dominance within the PLO and led attacks against Israel which were to turn more and more violent over the years. It was only in1993, with the Oslo Accord, that PLO recognized Israel's right to exist and accepted, UN resolutions 242 and 338, Israel in turn was to withdraw from key territories and PLO was to govern parts of Gaza, Jericho and the West Bank. The fragility of this peace process gave rise to the Second Intifada and Hamas now came to control the Gaza strip in 2007, leaving Fatah with the West Bank. Though the Fatah and Hamas have since reconciled, Israel views Hamas as a "hostile entity" for its acts of terror (Encyclopedia Britannica , n.d.). As a corollary, there is the issue of continuing build-up of Israeli settlements on the West bank which have been deemed illegal by the United Nations (UNSC 446). This notion of "creeping annexation" in the West Bank, is in defiance of all international laws and opinion (Cohen, 2019). Clearly, this was a manner of securing Israel's boundaries, leaving the Palestinians, subjects, of an occupying force. There are an estimated,141 Jewish settlements, in the West Bank and upwards of 300,000 Palestinians are said to have been displaced. President Rivlin, in this context, even said belligerently, "it was their land that they were building" (Remnick, 2014).Undoubtedly, Palestine's inability to eschew violence and its inability to embrace the two state solution, have repeatedly made peace elusive. Matters have now come to a head and the Palestinian President, Mahmoud Abbas, has rendered all agreements with the U.S. and Israel, void, in view of the threatened West Bank annexation, by Israel. Clearly, this may be another chapter in this uneasy relationship (Holmes, 2020).
In this entire flow of events, the paradoxical endurance of UNSC 242, as a "pivotal point of reference", at first looks, is puzzling and intriguing at the same time (Mazur, 2012). Israel was seen to accept the resolution because it called upon the Arab states to acknowledge Israel's right to live in peace within secure and recognized boundaries free from threats or acts of force. Egypt, Jordan (from the outset) and the other Arab states (eventually) accepted it because it had a clause which called upon Israel to withdraw from territories occupied in the recent conflict. With this UN resolution, the equation had changed overnight, Israel became an 'occupying force', with the burden of withdrawal subject to its being able to attain "secure and recognized boundaries" (United Nations , 1967). Deliberately incorporated phraseology, by Lord Caradon, meant that Israel would not be required to vacate all territories. Palestinians were just a refugee problem to be resolved, with no status of nationality or nationhood being discussed, they were left to be 'generic' refugees.
With the passing of years after UN 242, Israel and the Arabs, clashed repeatedly, including the War of Attrition and the Yom Kippur War, but it was as if the Arabs were coming off weaker, each time. Egypt was the first to make peace with Israel in 1979 under the land for peace initiative, and the return of the Sinai Peninsula was the key deal maker. This was followed long after with the Jordan peace settlement in 1994, wherein, the international boundary was delimited and waters from Jordan River and Yarmouk River were now to be allocated between the two countries. Thereafter, the Arab League has been rendered increasingly ineffectual due its own internal contradictions and issues like the Hamas are no more than a thorn in Israel's flesh, while its engagements with Syria have been no more than border skirmishes. Palestine, the biggest loser in this development, stands marginalised by both.
Interestingly enough, in this changed Arab-Israeli equation, as a first responder, Israel under Netanyahu is now moving bilaterally within the Arab states, in a bid to find "peace out of strength" (TOI STAFF, The Times of Israel ). Clearly this strikes a common chord with the Arab states whose needs for Israel's offerings of security and surveillance platforms align with the overriding need for security in the region due to America's fading hegemony. So much so, Saudi Crown Prince Mohammed bin Salman in the recent past has been quoted as saying, "Palestinians and the Israelis have the right to have their own land" (Goldberg, 2018). Until now this is one threshold, which had not been crossed by Saudi Arabia, the second largest Arab nation. The reason is not far to seek, as the Crown Prince and Prime Minister Benjamin Netanyahu have a common enemy in Iran and of just as much importance, are the common security interests that are shared by the trio of, Israel, U.S. and the Arab States. In fact, recently Bahrain's Foreign Minister, admittedly said, "We do believe that Israel is a country to stay, and we want better relations with it, and we want peace with it" (Ragson, 2019). On the other hand, the opening of new synagogues in Dubai and Abu Dhabi is another indicator of this 'Arab Thaw', if one were to invent a phrase. Interestingly, an added dimension to these initiatives, is the pursuit of public diplomacy by Israel, where the Foreign Ministry is using digital platforms to connect with Arabs, the goal being to showcase the shared common values and similarities, of two ancient cultures (Eglash, 2019 ).
Moving back to matters of nation states, Israel has all along been moving ahead in affairs of political economy and knitting ties, which are strategic, political, military and economic. With its expertise in high technology extending even beyond conventional areas to armaments, Israel is globally the eighth largest exporter of armaments and its ties with India have deepened measurably, as it has contributed to India's military modernisation needs, especially in times of conflict. On the other hand, Israel's ties with its largest trading partner, EU, are a mixed bag, as Europe is wary of its Palestine policies. With Anti -Semitism rearing its head in Europe, EU is trying to ensure that its funds do not reach the 'settlement areas' and has threatened to escalate diplomatic initiatives if Israel goes ahead with its West Bank takeover initiatives. In parallel, Israel is constantly exploring new relationships, and recently it has tied up an energy partnership with Greece and Cyprus, for the 'Energy Triangle', in a bid for ensuring Energy Security. From the kibbutz configured economy in 1967, Israel is now avowedly, a technological powerhouse for the world, where GDP per capita is twice that of the Saudi Arabia. Even with China, Israel enjoys a significantly strong economic relationship, though differences have started to surface off late.
In conclusion, it may be said that, many have spoken of this briefest of wars as a pivot or a turning point but it might be more correct and accurate to term it as a fulcrum, for it is Israel which now forms the lever that turns the geo-politics of the region that it inhabits. Even as Israel preserves the geo-strategic strengths of its gains from the Six Day War, the Arabs are disempowered in this Arab-Israeli conflict and the Palestinians are dis-enfranchised, like never before. As a nation it has worked like a true realist, giving credence to the realist credo that, "it is important not only to have a substantial amount of power, but also to make sure that no other state sharply shifts the balance of power in its favour"(Mearsheimer, 2013). Clearly, Israel has succeeded, in this objective.