Clean energy transition in Ukraine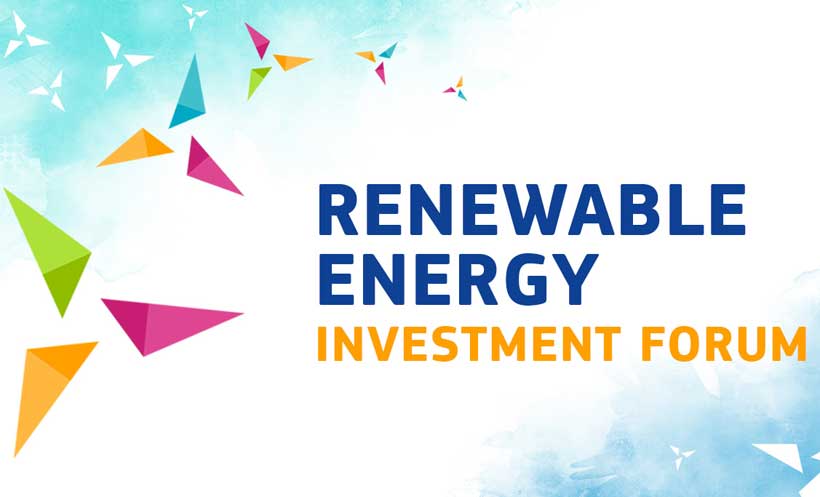 On 18 December 2018, the EU-Ukraine Renewable Energy Investment Forum takes place in Kyiv, co-organised by the European Commission's Directorate-General for Energy, Ukraine's Parliament's (Verkhovna Rada) Energy Committee, the Ukrainian State Agency on Energy Efficiency and Energy Saving, and Ukraine's energy think-tank, Dixi Group.
The forum's aim is to showcase the EU's best practices on its uptake of renewable energy sources and discuss policy measures to boost the market and increase the share of renewables in Ukraine by 2020. The EU is leading the way in the global clean energy transition, in the process becoming the world number one in renewables. By agreeing in 2018 on ambitious renewable energy and energy efficiency targets and a new supporting regulatory framework, the EU is keeping its leadership role in the fight against climate change, and upholding its commitments under the Paris Agreement. In addition, the EU has now put on the table its long-term vision for 2050, aiming to become the world's first major economy to go climate neutral by mid-century.
As Ukraine reforms its energy policy in line with the EU energy acquis, provided for in the EU-Ukraine Association Agreement and undertaken by Ukraine in the Energy Community Treaty, the Renewables Investment Forum is an excellent opportunity to discuss and share best practices from the EU as well as from other parts of the world. The event will gather some 200 key Ukrainian and European stakeholders working on energy policy and renewable energy policy in particular, as well as members of the international community active on renewable energy policy in Ukraine.
Speaking before the start of the forum, the European Commission Director-General for Energy, Dominique Ristori, said: "The EU's vision to put Europe at the forefront of clean and renewable energy production and the fight against climate change is now becoming a reality. Our policies are accelerating public and private investment in renewables, creating jobs and growth, and enabling citizens to benefit from the transition to a modern and clean economy. Our Ukrainian partners have also come a long way in this path, and it is solid proof of the European commitment of the Ukrainian nation. I believe this event will be a catalyst to unlock all the potential Ukraine has in the field of renewable energy sources. In particular I hope the discussions will focus on innovative approaches on renewable energy and the use of cutting-edge technology."
Head of the EU Delegation to Ukraine, Ambassador Hugues Mingarelli added: "Renewable energy will contribute to the establishment of a more competitive and sustainable electricity market in Ukraine. It will help reducing emissions and air pollution, and it will facilitate the integration with the EU electricity system. The European Union will continue to support the development of a sustainable electricity market in Ukraine, and I am convinced that this forum can make a very useful contribution on this way."
On Ukrainian side, the Acting Head of Ukraine's Parliament's Energy Committee Oleksandr Dombrovskyi commenting on legislative initiatives aimed at boosting RES development in Ukraine noted: "Introduction of auction system will reduce the cost of "green" energy for consumers and will create the conditions for effective competition. Today, renewable energy sector in Ukraine is developing rapidly, especially this is relevant for solar and wind electricity generation. So, installed capacity of solar power stations at the end of the III quarter 2018 reached approximately 1100 MW, while at the end of 2014 it was at the level of 411 MW. Recently,   the cost of electricity generated from RES has been reduced in the world considerably as active development of technologies in this area contributes to making equipment cheaper. Therefore, the need in changing the approaches in support of RES generation in Ukraine has appeared. We have to define the new strategic horizons for planning and perspectives for Ukrainian and foreign investors. New support system, proposed in the text of our revised draft law shall balance the interests of electricity consumers and other market participants by providing further development of renewable energy sector and by reducing the growth of financial pressure on the end electricity price. The electricity price will be defined in the process of competition – from introduction of auctions the consumers, the participants of competitive market and investors will win".
Head of the State Agency for Energy Efficiency and Energy Saving of Ukraine Sergiy Savchuk speaking about renewable energy status and results informed that: "Over the past 4 years, about 1.5 billion euros have been invested in new renewable energy projects in Ukraine. In particular, 1 billion euros are invested in more than 1000 MW of new renewable power generation and 460 million euros – in 2000 MW of new biomass-to-heat generation capacities.  It is a great contribution into energy independence and economic development of Ukrainian communities. Today, we continue improving the legislation with the aim to create favourable conditions for renewable energy development, attracting the best European experience".
Among the main participants on the Ukrainian side were Vsevolod Kovalchuk, Acting CEO of Ukrenergo, and on the EU side, Gerassimos Thomas, Deputy Director-General, DG ENER.
Deloitte: Energy Management – Paused by Pandemic, but Poised to Prevail
Since Deloitte began conducting its annual survey tracking clean energy attitudes and actions a decade ago, the percentage of residential consumers concerned about climate change and personal carbon footprints has risen steadily from about half to a consistent 68%, putting increasing pressure on businesses to do more. The year 2020 appeared to be the tipping point, but when COVID-19 hit, many questioned whether the momentum had been derailed as companies focused on survival.
Deloitte's 2020 Resources Study, "Energy Management: Paused by Pandemic, but Poised to Prevail," found that despite the pandemic — and maybe in part because of it — progress in efforts to manage energy use, reduce carbon emissions and address climate change will likely continue and even potentially accelerate in the longer term. The study is based on survey data collected from 1,531 residential consumers and 602 business decision-makers.
Consumer concern about climate change is rising, but looking to others to solve
Consumer sentiment about climate change has steadily increased over the past decade. Sixty-eight percent of residential consumers surveyed said they were "extremely or very concerned" about climate change and their personal carbon footprint and 65% said they saw greater renewable energy development as boosting the national economy, the highest level since 2014. While the benefits of clean energy are clear, most consumers (80%) surveyed expect others, such as the government and corporations, to address climate change issues. And about a third of respondents expect action from their employers.
Millennials are a driving force for corporate sustainability
Further emphasizing the corporate role, more than a third of respondents who identified as full- or part-time employees, students and/or job seekers said it's extremely or very important to work for a company with sustainability and/or climate-risk goals, and this sentiment rose to nearly 50% among millennials. "Employee motivations" has consistently been one of the top three drivers of corporate energy management programs, selected by at least a quarter of business respondents each year. But in 2020, that rose to a third, the highest level ever in our surveys. Employees are becoming more vocal about climate change, and this may be due to the growing influence of millennials in the workplace.
Businesses are feeling increasing stakeholder pressure to address climate risk
In line with rising consumer sentiment, nearly 60% of businesses surveyed feel increased pressure from stakeholders to develop and disclose plans to demonstrate how they're addressing climate risk. The stakeholders seen as most active are employees (49%), followed by board members (42%), customers (41%) and shareholders (37%). Of those businesses feeling increased pressure, nearly 90% have reviewed or changed their climate-risk disclosure procedures and developed plans to address climate-related risks.
Importantly, although businesses are feeling pressure, they also increasingly see procuring clean energy as doing the "right thing." In fact, 75% of those surveyed said recent global climate change reports have caused them to focus more on energy management. And almost 90% of respondents now see energy procurement as "not simply a cost to the company, but an opportunity to reduce risk, improve resilience, and create new value."
Convergence of cost and clean means more green
Over the past 10 years, the "cost" versus "clean" motivations for utilizing cleaner energy resources have been steadily converging as renewable energy costs have declined. This greater affordability is allowing businesses and residential consumers to prioritize clean energy without making bottom-line sacrifices.
Businesses are procuring more renewables through more channels:
Sixty-three percent of businesses surveyed have increased emission reduction goals.
Three-quarters of business respondents said customers are asking them to procure renewable energy.
More than half (51%) of businesses said they're working to procure more electricity from renewables.
Of the 60% of businesses citing having onsite generation, the highest share of electricity supply was generated with cogeneration (15%) and renewables (13%).
Microgrids also appear to be growing in popularity with 44% of business respondents saying they've considered a microgrid, a spike of 9 points over 2019.
Residential consumers still cost-conscious but putting environment first:
For the first time in five years, "utilizing clean energy sources to be better stewards of the environment" was cited ahead of "keeping my total energy bills affordable" as one of the top three most important energy issues to residential consumers.
More than half (53%) of respondents said it's "extremely" or "very" important that part of their electricity supply comes from renewable energy.
Thirty-two percent of respondents said they were "very" or "extremely" interested in installing solar panels and 51% of those who don't already have them on their primary residence, expressed interest if combined with battery storage.
Among respondents who had already installed rooftop solar, "clean" beat out saving money for the first time as the primary motivator.
Renewables are gaining ground as a reason for respondents to switch providers versus lower electricity costs as renewables rose 3 points in 2020 to take second place from "better service," while "lower electricity costs" stayed steady in first place.
ADB, IEA Renew Agreement to Collaborate on Energy Sector Sustainability and Resilience
The Asian Development Bank (ADB) has renewed a memorandum of understanding (MOU) with the International Energy Agency (IEA) to scale up collaboration and advance progress on sustainability with increased focus on energy sector resilience in Asia and the Pacific.
"The energy sector is a key driver of growth and human development, especially during recovery from the impacts of the coronavirus disease (COVID-19) pandemic," said ADB President Masatsugu Asakawa. "We are pleased to renew our agreement with IEA, which builds on our successful collaboration to date, and we look forward to advancing our shared objective of achieving a more sustainable and resilient energy future in Asia and the Pacific."
Under the 3-year agreement, the two organizations will share knowledge and best practice in energy sector data and analysis, on-the-ground engagement, capacity building, technology, and innovation, among other areas. This will help to overcome critical knowledge and experience gaps blocking the development of sustainable energy systems in ADB's developing member countries and enhance IEA's data collection and capacity building efforts in Asia and the Pacific.
ADB first signed a 3-year MOU with IEA in March 2017 to facilitate knowledge and analytical work to advance clean energy development in ADB's developing member countries. As part of this, ADB worked with IEA to study power system flexibility in India to integrate more solar and wind energy in the grids.
The renewal agreement was signed on the occasion of IEA's Clean Energy Transitions Summit, where Mr. Asakawa gave a speech at the plenary session to an audience of over 50 energy ministers and energy sector leaders. Last month, IEA Executive Director Fatih Birol delivered the keynote address at ADB's 15th Asia Clean Energy Forum 2020. IEA is a knowledge partner of ADB's leading annual energy forum.
ADB invested more than $23 billion in clean energy, including both sovereign and nonsovereign initiatives from 2008 to 2019. Last year, ADB's climate financing reached a record $6.56 billion, meeting its target of doubling its annual climate investments from 2014 one year ahead of schedule.
Under Strategy 2030, ADB is targeting $80 billion in cumulative climate financing from its own resources by 2030 and for at least 75% of its country operations to feature climate adaptation and mitigation initiatives.
40 Ministers from around the world gather to address the world's energy and climate challenges
Ministers from dozens of countries accounting for over 80% of the world economy today took part in the International Energy Agency's first Clean Energy Transitions Summit, discussing how to bring about a sustainable and resilient recovery from the Covid-19 crisis and achieve a definitive peak in global carbon emissions.
Ministers participating in the Summit included those from the world's largest energy consumers: Minister Zhang Jinhua of China, Secretary Dan Brouillette of the United States, Commissioner Kadri Simson of the European Union, Minister R.K. Singh of India, Minister Kajiyama Hiroshi of Japan, Minister Kwasi Kwarteng of the United Kingdom, Minister Bento Albuquerque of Brazil, Minister Seamus O'Regan of Canada, Minister Sergio Costa of Italy, Minister Gwede Mantashe of South Africa, Secretary Rocío Nahle of Mexico, Minister Arifin Tasrif of Indonesia, and Deputy Prime Minister Ribera of Spain.
Speakers also included United Nations Secretary-General Antonio Guterres, CEOs from across the energy sector, top investors, heads of regional development banks and other key international organisations, past and present COP Presidents – including Secretary of State Alok Sharma of the United Kingdom – and leaders from civil society. The full list of participants is available below.
Participants highlighted the impacts of the Covid-19 pandemic on their energy systems, underscoring the importance of finding ways to support clean energy transitions despite the current challenges. Key themes includes the need for greater innovation in areas such as hydrogen, the importance of inclusive and equitable recoveries, and how to make the electricity sector more resilient and sustainable.
"This Summit proves that international dialogue and collaboration can bring great value. It was an opportunity to inform, support and inspire each other. Now, it is time for all of us to get to work – building back our economies, bringing our citizens back to work, ensuring that 2019 was the definitive peak in emissions and building towards the resilient and sustainable energy systems of the future," said Dr Fatih Birol, the IEA's Executive Director who chaired the Summit. "What I see clearly is momentum – momentum behind sustainable recovery and momentum behind clean energy transitions."