Yemen talks: Truce agreed over key port city of Hudaydah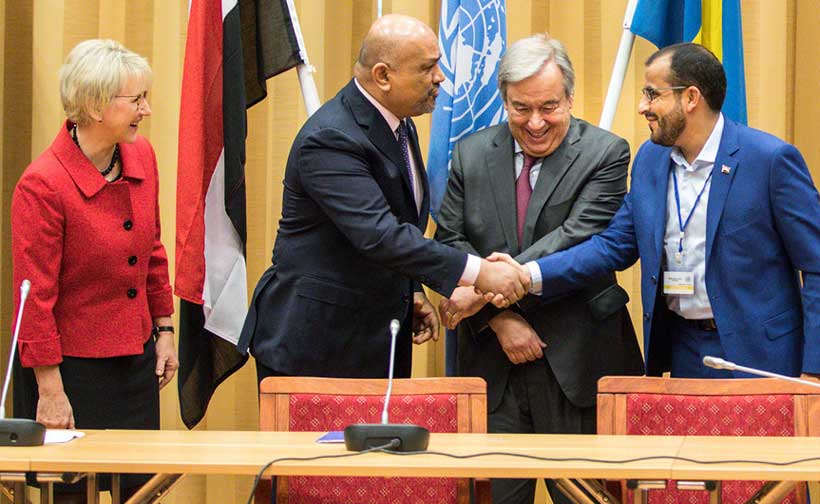 The announcement of a ceasefire between Yemen's warring parties in and around the key port of Hudaydah, was hailed by UN Secretary-General António Guterres on Thursday as a deal which would improve the lives of millions of people.
Speaking on the last day of UN-led talks in Sweden to decide the future of the war-torn country, where its people are in the grip of the world's worst humanitarian crisis, Mr. Guterres told those present that they had "the future of Yemen" in their hands.
"You have reached an agreement on Hudaydah port and city, which will see a mutual re-deployment of forces from the port and the city, and the establishment of a Governorate-wide ceasefire," he said, noting that the UN would play "a leading role" in the port.
"This will facilitate the humanitarian access and the flow of goods to the civilian population. It will improve the living conditions for millions of Yemenis," he insisted.
Nearly four years after fighting escalated between the Government of Yemen and Houthi opposition movement, known officially as Ansar Allah, more than 24 million people – three-quarters of the population – need some form of assistance and protection.
Some 20 million are food insecure and 10 million of these people do not know how they will obtain their next meal.
While noting that "pending issues" have yet to be resolved, the UN chief said that representatives from the internationally-recognised Government of Yemen and the opposition had made "real progress" which had yielded "several important results".
These included a "mutual understanding to ease the situation in Taizz", Mr Guterres said, in reference to the country's third largest city.
"We hope this will lead to the opening of humanitarian corridors and the facilitation of demining," he added.
On the previously-agreed issue of a mass exchange of prisoners, the UN Secretary-General noted that both delegations had drawn up a timeline and provided further details on when it might happen.
This would allow "thousands – I repeat, thousands – of Yemenis to be reunited with their families," Mr Guterres said, with UN Special Envoy for Yemen, Martin Griffiths, at his side.
Breakthrough over talks framework
Looking ahead to a new meeting between both parties in the new year, the UN chief insisted that another "very important step for the peace process" had been agreed, namely a willingness to discuss a framework for negotiations.
"You have agreed to meet again to continue to discuss this further at the end of January during the next round of negotiations," Mr. Guterres said, adding that it was a "critical element" of a future political settlement to end the conflict.
"We have a better understanding of the positions of the parties," he added, noting their "constructive engagement", while also crediting the Governments of Saudi Arabia, Oman and Kuwait for their "concrete support" in making the meeting happen.
Welcoming the announcement on the Hudaydah ceasefire, the World Food Programme (WFP) underlined that the Red Sea port was "key" to importing some 70 per cent of Yemen's humanitarian and 90 per cent of its commercial needs.
"Any progress towards peace is good progress, as long as it helps the Yemeni people who have suffered so much in this conflict," said WFP Executive Director David Beasley, noting that what Yemen needed most was lasting peace.
"Today's announcement gives us hope that the World Food Programme's work to feed 12 million severely hungry Yemenis may be made easier in the coming weeks and months."
Owing to the conflict, in recent weeks imports have decreased by about half at Hudaydah's docks, WFP spokesperson Herve Verhoosel said.
"In November, our target in Hodeidah Governorate was to reach 800 000 people in need of food assistance. This ceasefire will of course help us in our daily activities as the region is one of WFPs priorities."
Norwegian scientists finally find good news from Norilsk Nickel
The state of the environment in the border areas is the main topic of the «Pasvikseminaret 2021», organized by the public administrator in Troms county and Finnmark in cooperation with the municipality of Sør-Varanger municipality.
The purpose of the annual Pasvik seminar is to provide the local population and local politicians all information about the environmental situation in the border area Norway – Russia. Program focused on pollution from the Nickel Plant and monitoring of the environment in the border area.
The activities of Norilsk Nickel have been the main focus of the workshop for many years.
For the first time in many years, Norwegian scientists have found only positive news from Russia.
Tore Flatlandsmo Berglen, a researcher at the Norwegian Institute for Atmospheric Research (NILU), noted a significant improvement in air quality in the border area. Berglen remembered the 70-80s of the last century, when one of the divisions of Norilsk Nickel "Pechenganikel" annually emitted 400 thousand tons of sulfur dioxide into the atmosphere, in the 90s this figure dropped to 100 thousand tons. After the closure plant in Nikel in December 2020, the content of sulfur dioxide and heavy metals in the atmosphere at the border between Norway and the Murmansk region meets all international requirements.
"And I know that these emissions from the Kola MMC will continue to decline. Compared to 2015, this figure will be 85 percent. This is very positive news. Air quality issues are being addressed in the right direction. We have been talking about this for many years and finally the problem has been resolved, emissions significantly reduced. This is the most excellent presentation I have ever make! " – said Tore Berglen.
Earlier it was reported that Russia's Norilsk Nickel, the world's largest producer of nickel and palladium, closed its smelter in the city of Nickel in northern Russia at the end of 2020. Kola is a subsidiary of Norilsk Nickel on the Kola Peninsula with mines, processing plants and pellets in Zapolyarny, as well as metallurgical plants in Monchegorsk and a plant in Nikel, which closed at the end of December 2020.
The Norwegian environmentalists who participated in the workshop also noticed positive changes.
"The smelter is closed and Norilsk Nickel is working hard to become a 'green' metallurgical company – it reduces emissions, uses advanced technology and cooperates with Pasvik nature reserve which is our good partner in Russia. Today, a lot of interesting things are happening in the border areas. We have many common interests and there is a certain key to ensuring that everything works out for us – this is good coordination, cooperation, a large knowledge base," said the representative of the environmental center NIBIO Svanhovd.
Other studies examining water resources, fish, berries, also prove that nature in the border area is recovering. All this testifies to the work of ecologists who care about the environment.
"We see examples of what has already been done. And this allows us to plan with confidence our future joint work, projects," says senior adviser representative Anne Fløgstad Smeland at the county governor in Finnmark.
World Adds Record New Renewable Energy Capacity in 2020
Global renewable energy capacity additions in 2020 beat earlier estimates and all previous records despite the economic slowdown that resulted from the COVID-19 pandemic. According to data released today by the International Renewable Energy Agency (IRENA) the world added more than 260 gigawatts (GW) of renewable energy capacity last year, exceeding expansion in 2019 by close to 50 per cent.
IRENA's annual Renewable Capacity Statistics 2021 shows that renewable energy's share of all new generating capacity rose considerably for the second year in a row. More than 80 per cent of all new electricity capacity added last year was renewable, with solar and wind accounting for 91 per cent of new renewables.
Renewables' rising share of the total is partly attributable to net decommissioning of fossil fuel power generation in Europe, North America and for the first time across Eurasia (Armenia, Azerbaijan, Georgia, Russian Federation and Turkey). Total fossil fuel additions fell to 60 GW in 2020 from 64 GW the previous year highlighting a continued downward trend of fossil fuel expansion.
"These numbers tell a remarkable story of resilience and hope. Despite the challenges and the uncertainty of 2020, renewable energy emerged as a source of undeniable optimism for a better, more equitable, resilient, clean and just future," said IRENA Director-General Francesco La Camera. "The great reset offered a moment of reflection and chance to align our trajectory with the path to inclusive prosperity, and there are signs we are grasping it.
"Despite the difficult period, as we predicted, 2020 marks the start of the decade of renewables," continued Mr. La Camera. "Costs are falling, clean tech markets are growing and never before have the benefits of the energy transition been so clear. This trend is unstoppable, but as the review of our World Energy Transitions Outlook highlights, there is a huge amount to be done. Our 1.5 degree outlook shows significant planned energy investments must be redirected to support the transition if we are to achieve 2050 goals. In this critical decade of action, the international community must look to this trend as a source of inspiration to go further," he concluded.
The 10.3 per cent rise in installed capacity represents expansion that beats long-term trends of more modest growth year on year. At the end of 2020, global renewable generation capacity amounted to 2 799 GW with hydropower still accounting for the largest share (1 211 GW) although solar and wind are catching up fast. The two variable sources of renewables dominated capacity expansion in 2020 with 127 GW and 111 GW of new installations for solar and wind respectively.
China and the United States of America were the two outstanding growth markets from 2020. China, already the world's largest market for renewables added 136 GW last year with the bulk coming from 72 GW of wind and 49 GW of solar. The United States of America installed 29 GW of renewables last year, nearly 80 per cent more than in 2019, including 15 GW of solar and around 14 GW of wind. Africa continued to expand steadily with an increase of 2.6 GW, slightly more than in 2019, while Oceania remained the fastest growing region (+18.4%), although its share of global capacity is small and almost all expansion occurred in Australia.
Highlights by technology:
Hydropower: Growth in hydro recovered in 2020, with the commissioning of several large projects delayed in 2019. China added 12 GW of capacity, followed by Turkey with 2.5 GW.
Wind energy: Wind expansion almost doubled in 2020 compared to 2019 (111 GW compared to 58 GW last year). China added 72 GW of new capacity, followed by the United States of America (14 GW). Ten other countries increased wind capacity by more than 1 GW in 2020. Offshore wind increased to reach around 5% of total wind capacity in 2020.
Solar energy: Total solar capacity has now reached about the same level as wind capacity thanks largely to expansion in Asia (78 GW) in 2020. Major capacity increases in China (49 GW) and Viet Nam (11 GW). Japan also added over 5 GW and India and Republic of Korea both expanded solar capacity by more than 4 GW. The United States of America added 15 GW.
Bioenergy: Net capacity expansion fell by half in 2020 (2.5 GW compared to 6.4 GW in 2019). Bioenergy capacity in China expanded by over 2 GW. Europe the only other region with significant expansion in 2020, adding 1.2 GW of bioenergy capacity, a similar to 2019.
Geothermal energy: Very little capacity added in 2020. Turkey increased capacity by 99 MW and small expansions occurred in New Zealand, the United States of America and Italy.
Off-grid electricity: Off-grid capacity grew by 365 MW in 2020 (2%) to reach 10.6 GW. Solar expanded by 250 MW to reach 4.3 GW and hydro remained almost unchanged at about 1.8 GW.
New project to help 30 developing countries tackle marine litter scourge
A UN-backed initiative aims to turn the tide on marine litter, in line with the global development goal on conserving and sustainably using the oceans, seas and marine resources.
The GloLitter Partnerships Project will support 30 developing countries in preventing and reducing marine litter from the maritime transport and fisheries sectors, which includes plastic litter such as lost or discarded fishing gear.
The project was launched on Thursday by the Food and Agriculture Organization (FAO) and the International Maritime Organization (IMO), with initial funding from Norway.
Protecting oceans and livelihoods
"Plastic litter has a devastating impact on marine life and human health", said Manuel Barange, FAO's Director of Fisheries and Aquaculture. "This initiative is an important step in tackling the issue and will help protect the ocean ecosystem as well as the livelihoods of those who depend on it."
Protecting the marine environment is the objective of Sustainable Development Goal 14, part of the 2030 Agenda to create a more just and equitable future for all people and the planet.
The GloLitter project will help countries apply best practices for the prevention and reduction of marine plastic litter, in an effort to safeguard the world's coastal and marine resources.
Actions will include encouraging fishing gear to be marked so that it can be traced if lost or discarded at sea. Another focus will be on the availability and adequacy of port reception facilities and their connection to national waste management systems.
"Marine litter is a scourge on the oceans and on the planet", said Jose Matheickal, Head of the IMO's Department for Partnerships and Projects. "I am delighted that we have more than 30 countries committed to this initiative and working with IMO and FAO to address this issue."
Five regions represented
The nations taking part in the GloLitter project are in Asia, Africa, the Caribbean, Latin America and the Pacific.
They will also receive technical assistance and training, as well as guidance documents and other tools to help enforce existing regulations.
The project will promote compliance with relevant international instruments, including the Voluntary Guidelines for the Marking of Fishing Gear, and the International Convention for the Prevention of Pollution from Ships (MARPOL), which contains regulations against discharging plastics into the sea.