Vietnam's economy grows robustly, but risks intensify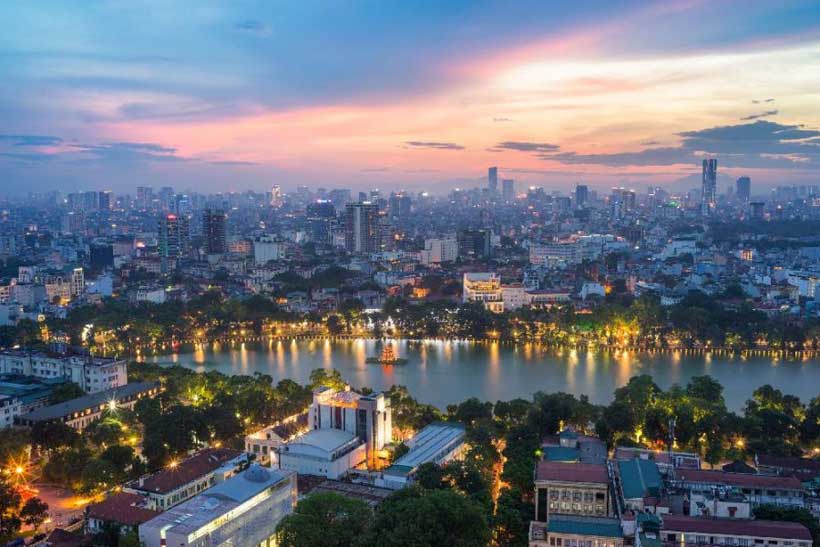 Economic growth in Vietnam has proven resilient despite weakening external conditions, driven mainly by strong domestic demand and a dynamic export-oriented manufacturing sector.
According to Taking Stock, the World Bank's bi-annual economic report on Vietnam released today, the pace of expansion is forecast to remain at 6.8 percent this year, higher than the projected figure of 6.3 percent for emerging markets in the East Asia and the Pacific.
Over the medium term, in line with the global trend, Vietnam will see a slower pace – 6.6 and 6.5 percent in 2019 and 2020, respectively. Inflation will remain muted at 4 percent as the result of tightening monetary policies.
"Despite a challenging global context, Vietnam continues to achieve robust growth accompanied by moderate inflation and a relatively stable exchange rate" said Ousmane Dione, the World Bank Country Director for Vietnam. "Policy makers should take advantage of the still favorable growth dynamics to advance structural reforms to enhance private sector driven investment and growth, along with improving efficiency in public sector investment."
Risks to the outlook have intensified and are titled to the downside, highlights the report. Given its high trade openness and limited fiscal and monetary policy buffers, Vietnam remains susceptible to external volatilities. Escalating global trade tensions could cause a falloff in export demands while tightening global liquidity could reduce capital inflows and foreign investment. Domestically, a slowdown in reforming state-owned enterprise and banking sectors could undermine growth prospects and create public sector liabilities.
"Slower global growth, ongoing trade tensions and heightened financial volatility cloud on the global outlook," said Sebastian Eckardt, the World Bank Lead Economist for Vietnam. "As an open economy, Vietnam needs to maintain a responsive monetary policy, exchange rate flexibility and low fiscal deficits to enhance its resilience against potential shocks."
In light of the recently ratified Comprehensive and Progressive Agreement for Trans-Pacific Partnership (CPTPP) and the EU-Vietnam Free Trade Agreement (EVFTA), the special section of this Taking Stock edition focuses on streamlining non-tariff measures to help boost Vietnam's export competitiveness. This timely analytical work is a product of the Second Australia-World Bank Group Strategic Partnership in Vietnam (ABP2).
The report observes that while tariffs are rapidly declining, the number of non-tariff measures (NTM) is increasing. Vietnam's average preferential tariffs have fallen from 13.1 percent in 2003 to 6.3 percent in 2015. In contrast, the number of NTMs has increased by more than 20-fold during the same period. International experiences show that poorly designed and implemented NTM could restrict trade, distort prices, and erode national competitiveness.
According to this report's assessment, the NTM system in Vietnam remains complicated, opaque, and costly, resulting in high cost of compliance. One study estimates that the equivalent tariff rate that sanitary and phytosanitary measures Vietnam are imposing on imported goods is 16.6 percent compared to the average level of 8.3 percent for ASEAN countries.
Vietnam's Development Strategy for Next Decade Must Put Productivity Growth Front and Center
A productivity-driven development model–combining innovation with balanced development and allocation of private, public, human and natural capital–will be key for Vietnam to achieve its goal of becoming a high-income economy by 2045, a new World Bank report suggests.
The "Vibrant Vietnam: Forging the Foundation of a High-Income Economy" report, launched today, comes as the Government of Vietnam is preparing its socio-economic development strategy for 2021-30 and a socio-economic development plan for 2021-25. The report recommends policy options to help Vietnam to maintain quality growth through more dynamic firms, more efficient infrastructure, skills, and a move toward a greener economy.
"Vietnam is one of the greatest development success stories of our time. The country, however, is now at a turning point where some of its traditional drivers of growth are gradually weakening," said Ousmane Dione, World Bank Country Director for Vietnam. "To achieve its ambition to become a high-income economy by 2045, Vietnam must put productivity growth front and center of its economic model. In other words, it needs to grow not only faster but also better".
"Vietnam's commitment to bold economic reform has been a major contributor to its remarkable economic success," said H.E. Robyn Mudie, Australian Ambassador to Vietnam. "Australia is proud to have supported this report, which provides clear recommendations on how Vietnam can harness productivity enhancing reforms to improve both the quality and equity of its future economic development".
Some of the forces that have propelled Vietnam's growth are now slowing. The country's demographic dividend is fading, and global trade is declining, while other challenges – such as pollution and the rise of automation, are growing. The ongoing COVID-19 crisis could be an accelerator of these trends.
The reportargues that to thrive in such changing environment, Vietnam needs to strengthen its productive assets, with priority given to four following areas:
Dynamic firms: Encouraging competition and easing firm entry and exit ensures the flow of resources to the most innovative and productive firms. This can only happen in a supportive business environment that ensures access to finance, transparent regulations and legal protections.
Efficient infrastructure: Vietnam has built up a large stock of infrastructure. It now needs to improve the efficiency and sustainability of infrastructure services, including financing, and operations and maintenance.
Skilled workers and opportunities for all: The country scores well on basic education, but it will need to promote university and vocational-technical skills that are becoming even more important for a productivity- led growth model. Those facing barriers entering the labor market, including ethnic minorities, should be provided with greater opportunities—to boost both social equity and economic growth as the population ages and the labor force shrinks.
Green economy: Sustainable development requires more effective management of renewable natural resources such as land, forest and water; stricter pollution controls, including in major urban centers; and mitigation of and adaptation to the inevitable growing impacts of climate change.
The report is a product of the Second Australia – World Bank Group Strategic Partnership in Vietnam (ABP2), with financial contribution from the Korean Global Facility on Growth for Development Trust Fund.
The Covid-19 crisis is causing the biggest fall in global energy investment in history
The Covid-19 pandemic has set in motion the largest drop in global energy investment in history, with spending expected to plunge in every major sector this year – from fossil fuels to renewables and efficiency – the International Energy Agency said in a new report released today.
The unparalleled decline is staggering in both its scale and swiftness, with serious potential implications for energy security and clean energy transitions. At the start of 2020, global energy investment was on track for growth of around 2%, which would have been the largest annual rise in spending in six years. But after the Covid-19 crisis brought large swathes of the world economy to a standstill in a matter of months, global investment is now expected to plummet by 20%, or almost $400 billion, compared with last year, according to the IEA's World Energy Investment 2020 report.
"The historic plunge in global energy investment is deeply troubling for many reasons," said Dr Fatih Birol, the IEA's Executive Director. "It means lost jobs and economic opportunities today, as well as lost energy supply that we might well need tomorrow once the economy recovers. The slowdown in spending on key clean energy technologies also risks undermining the much-needed transition to more resilient and sustainable energy systems."
The World Energy Investment 2020 report's assessment of trends so far this year is based on the latest available investment data and announcements by governments and companies as of mid-May, tracking of progress on individual projects, interviews with leading industry figures and investors, and the most recent analysis from across the IEA. The estimates for 2020 then quantify the possible implications for full-year spending, based on assumptions about the duration of lockdowns and the shape of the eventual recovery.
A combination of falling demand, lower prices and a rise in cases of non-payment of bills means that energy revenues going to governments and industry are set to fall by well over $1 trillion in 2020, according to the report. Oil accounts for most of this decline as, for the first time, global consumer spending on oil is set to fall below the amount spent on electricity.
Companies with weakened balance sheets and more uncertain demand outlooks are cutting back on investment while projects are also being hampered by lockdowns and disrupted supply chains. In the longer-term, a post-crisis legacy of higher debt will present lasting risks to investment. This could be particularly detrimental to the outlook in some developing countries, where financing options and the range of investors can be more limited. New analysis in this year's report highlights that state-owned enterprises account for well over half of energy investments in developing economies.
Global investment in oil and gas is expected to fall by almost one-third in 2020. The shale industry was already under pressure, and investor confidence and access to capital has now dried up: investment in shale is anticipated to fall by 50% in 2020. At the same time, many national oil companies are now desperately short of funding. For oil markets, if investment stays at 2020 levels then this would reduce the previously-expected level of supply in 2025 by almost 9 million barrels a day, creating a clear risk of tighter markets if demand starts to move back towards its pre-crisis trajectory.
Power sector spending is on course to decrease by 10% in 2020, with worrying signals for the development of more secure and sustainable power systems. Renewables investment has been more resilient during the crisis than fossil fuels, but spending on rooftop solar installations by households and businesses has been strongly affected and final investment decisions in the first quarter of 2020 for new utility-scale wind and solar projects fell back to the levels of three years ago. An expected 9% decline in investment in electricity networks this year compounds a large fall in 2019, and spending on important sources of power system flexibility has also stalled, with investment in natural gas plants stagnating and spending on battery storage levelling off.
"Electricity grids have been a vital underpinning of the emergency response to the health crisis – and of economic and social activities that have been able to continue under lockdown," Dr Birol said. "These networks have to be resilient and smart to ward against future shocks but also to accommodate rising shares of wind and solar power. Today's investment trends are clear warning signs for future electricity security."
Energy efficiency, another central pillar of clean energy transitions, is suffering too. Estimated investment in efficiency and end-use applications is set to fall by an estimated 10-15% as vehicle sales and construction activity weaken and spending on more efficient appliances and equipment is dialled back.
The overall share of global energy spending that goes to clean energy technologies – including renewables, efficiency, nuclear and carbon capture, utilisation and storage – has been stuck at around one-third in recent years. In 2020, it will jump towards 40%, but only because fossil fuels are taking such a heavy hit. In absolute terms, it remains far below the levels that would be required to accelerate energy transitions.
"The crisis has brought lower emissions but for all the wrong reasons. If we are to achieve a lasting reduction in global emissions, then we will need to see a rapid increase in clean energy investment," said Dr Birol. "The response of policy makers – and the extent to which energy and sustainability concerns are integrated into their recovery strategies – will be critical. The IEA's upcoming World Energy Outlook Special Report on Sustainable Recovery will provide clear recommendations for how governments can quickly create jobs and spur economic activity by building cleaner and more resilient energy systems that will benefit their countries for decades to come."
The Covid-19 crisis is hurting the coal industry – with investment in coal supply set to fall by one-quarter this year – but does not pose an existential threat. Although decisions to go ahead with new coal-fired plants have come down by more than 80% since 2015, the global coal fleet continues to grow. Based on available data and announced projects, approvals of new coal plants in the first quarter of 2020, mainly in China, were running at twice the rate observed over 2019 as a whole.
More than one in six young people out of work due to COVID-19
More than one in six young people have stopped working since the onset of the COVID-19 pandemic while those who remain employed have seen their working hours cut by 23 per cent, says the International Labour Organization (ILO).

According to the ILO Monitor: COVID-19 and the world of work. 4th edition , youth are being disproportionately affected by the pandemic, and the substantial and rapid increase in youth unemployment seen since February is affecting young women more than young men.

The pandemic is inflicting a triple shock on young people. Not only is it destroying their employment, but it is also disrupting education and training, and placing major obstacles in the way of those seeking to enter the labour market or to move between jobs.
At 13.6 per cent, the youth unemployment rate in 2019 was already higher than for any other group. There were around 267 million young people not in employment, education or training (NEET) worldwide. Those 15-24 year olds who were employed were also more likely to be in forms of work that leave them vulnerable, such as low paid occupations, informal sector work, or as migrant workers.

"The COVID-19 economic crisis is hitting young people – especially women – harder and faster than any other group. If we do not take significant and immediate action to improve their situation, the legacy of the virus could be with us for decades. If their talent and energy is side-lined by a lack of opportunity or skills it will damage all our futures and make it much more difficult to re-build a better, post-COVID economy," said ILO Director-General, Guy Ryder.

The Monitor calls for urgent, large-scale and targeted policy responses to support youth, including broad-based employment/training guarantee programmes in developed countries, and employment-intensive programmes and guarantees in low- and middle-income economies.
Testing and tracing pays off
The 4th edition of the Monitor also looks at measures to create a safe environment for returning to work. It says that rigorous testing and tracing (TT) of COVID-19 infections, "is strongly related to lower labour market disruption… [and] substantially smaller social disruptions than confinement and lockdown measures."

In countries with strong testing and tracing, the average fall in working hours is reduced by as much as 50 per cent. There are three reasons for this: TT reduces reliance on strict confinement measures; promotes the public confidence and so encourages consumption and supports employment; and helps minimize operational disruption at the workplace.

In addition, testing and tracing can itself create new jobs, even if temporary, which can be targeted towards youth and other priority groups.

The Monitor highlights the importance of managing data privacy concerns. Cost is also a factor, but the benefit-to-cost ratio of TT is "highly favourable".

"Creating an employment-rich recovery that also promotes equity and sustainability means getting people and enterprises working again as soon as possible, in safe conditions," said Ryder. "Testing and tracing can be an important part of the policy package if we are to fight fear, reduce risk and get our economies and societies moving again quickly."
Loss of working hours
The Monitor also updates the estimate for the decline in working hours in the first and second quarters of 2020, compared with the fourth quarter of 2019. An estimated 4.8 per cent of working hours were lost during Q1 2020 (equivalent to approximately 135 million full-time jobs, assuming a 48-hour working week). This represents a slight upward revision of around 7 million jobs since the third edition of the Monitor. The estimated number of jobs lost in Q2 remain unchanged at 305 million.

From a regional perspective, the Americas (13.1 per cent), and Europe and Central Asia (12.9 per cent) present the largest losses in hours worked in Q2.

The Monitor reiterates its call for immediate and urgent measures to support workers and enterprises along the ILO's four-pillar strategy: stimulating the economy and employment; supporting enterprises, jobs and incomes; protecting workers in the workplace; relying on social dialogue for solutions.