Key elements of the EU-Japan Economic Partnership Agreement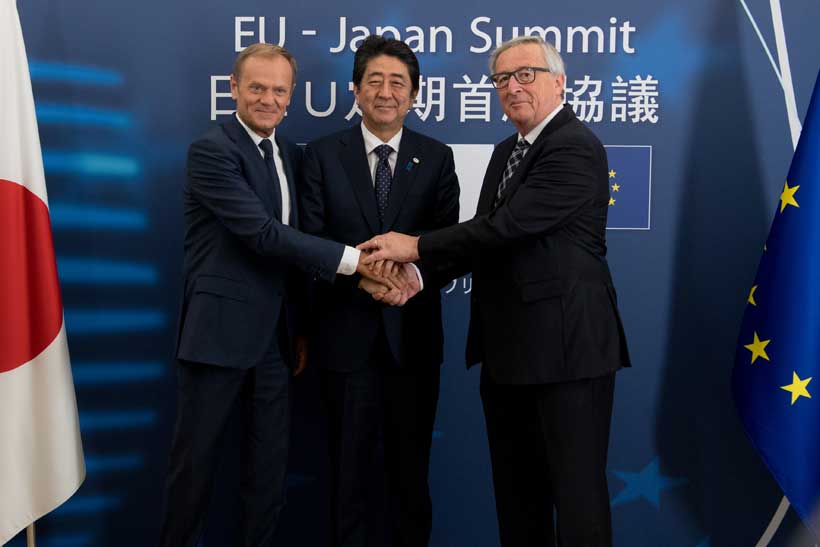 The EU-Japan Economic Partnership Agreement will boost trade in goods and services as well as create opportunities for investment.
The agreement will further improve the position of EU exporters and investors on Japan's large market, while including strong guarantees for the protection of EU standards and values. It will help cement Europe's leadership in setting global trade rules and send a powerful signal that cooperation, not protectionism, is the way to tackle global challenges.
This Agreement, as other agreements concluded recently by the EU, goes beyond trade issues only. It represents a significant strengthening of our partnership with Japan, as reflected in the name of the agreement.
What is the Economic Partnership Agreement about?
Elimination of customs duties – more than 90% of the EU's exports to Japan will be duty free at entry into force of the agreement. Once the agreement is fully implemented, Japan will have scrapped customs duties on 97% of goods imported from the EU (in tariff lines), with the remaining tariff lines being subject to partial liberalisation through tariff rate quotas or tariff reductions. This, in turn, will save EU exporters around €1 billion in customs duties per year.
Agriculture and food products – Japan is a highly valuable export market for European farmers and food producers. With annual exports worth over €5.7 billion, Japan is already the EU's fourth biggest market for agricultural exports. Over time around 85% of EU agri- food products (in tariff lines) will be allowed to enter Japan entirely duty-free. This corresponds to 87% of current agri-food exports by value.
The agreement will eliminate or sharply reduce duties on agricultural products in which the EU has a major export interest, such as pork, the EU's main agricultural export to Japan, ensuring duty-free trade with processed pork meat and almost duty-free trade for fresh pork meat exports. Tariffs on beef will be cut from 38.5% to 9% over 15 years for a significant volume of beef products.
EU wine exports to Japan are already worth around €1 billion and represent the EU's second biggest agricultural export to Japan by value. The 15% tariff on wine will be scrapped from day one, as will tariffs for other alcoholic drinks.
As regards cheese exports, where the EU is already the main player on the Japanese market, high duties on many hard cheeses such as Gouda and Cheddar (which currently are at 29.8%) will be eliminated, and a duty-free quota will be established for fresh cheeses such as Mozzarella. The EU-Japan agreement will also scrap today's customs duties (with a transitional period) for processed agricultural products such as pasta, chocolates, cocoa powder, candies, confectionary, biscuits, starch derivatives, prepared tomatoes and tomato sauce. There will also be significant quotas for EU exports (duty-free or with reduced duty) of malt, potato starch, skimmed milk powder, butter and whey.
Geographical Indications – the EU-Japan agreement recognises the special status and offers protection on the Japanese market to more than 200 European agricultural products from a specific European geographical origin, known as Geographical Indications (GIs) – for instance Roquefort, Aceto Balsamico di Modena, Prosecco, Jambon d'Ardenne, Tiroler Speck, Polska Wódka, Queso Manchego, Lübecker Marzipan and Irish Whiskey. These products will be given the same level of protection in Japan as they experience in the EU today.
Industrial products – tariffs on industrial products will be fully abolished, for instance in sectors where the EU is very competitive, such as chemicals, plastics, cosmetics as well as textiles and clothing. For leather and shoes, the existing quota system that has been significantly hampering EU exports will be abolished at the agreement's entry into force. Tariffs on shoes will go down from 30% to 21% at entry into force, with the rest of the duties being eliminated over 10 years. Tariffs on EU exports of leather products, such as handbags, will go down to zero over 10 years, as will be those on products that are traditionally highly protected by Japan, such as sports shoes and ski boots.
Fisheries – import quotas will no longer be applied and all tariffs will be eliminated on both sides, meaning better prices for EU consumers and big export opportunities for EU industry.
Forestry – tariffs on all wood products will be fully eliminated, with seven years staging for the most important priorities. Most tariffs on wood products will be dropped immediately, with some less important tariff lines being scrapped after 10 years.
Non-tariff barriers – The EU-Japan negotiations addressed many non-tariff measures that had constituted a concern for EU companies, as some Japanese technical requirements and certification procedures often make it difficult to export safe European products to Japan. The agreement will make it easier for EU companies to access the highly regulated Japanese market. Examples of such barriers addressed include:
Motor vehicles – the agreement ensures that both Japan and the EU will fully align themselves to the same international standards on product safety and the protection of the environment, meaning that European cars will be subject to the same requirements in the EU and Japan, and will not need to be tested and certified again when exported to Japan. With Japan now committing itself to international car standards, EU exports of cars to Japan will become significantly simpler. This also paves the way for even stronger cooperation between the EU and Japan in international standard setting fora. It includes an accelerated dispute settlement between the two sides specifically for motor vehicles, similar to the one agreed under the EU-South Korea trade agreement. It also includes a safeguard and a clause allowing the EU to reintroduce tariffs in the event that Japan would (re)introduce non-tariff barriers to EU exports of vehicles. The agreement will also mean that hydrogen-fuelled cars that approved in the EU can be exported to Japan without further alterations.
Medical devices – In November 2014, Japan adopted the international standard on quality management systems (QMS), on which the EU QMS system for medical devices is based. This reduces the costs of certification of European products exported to Japan considerably.
Textiles labelling – In March 2015, Japan adopted the international textiles labelling system similar to the one used in the EU. Textiles labels therefore do no longer need to be changed on every single garment exported to Japan, as was the case before.
"Quasi drugs", medical devices and cosmetics – a complicated and duplicative notification system that hampered the marketing of many European pharmaceuticals, medical devices and cosmetics in Japan was finally abolished on 1 January 2016.
Beer – From 2018 onwards, European beers can be exported as beers and not as "alcoholic soft drinks". This will also lead to similar taxation, thus doing away with differences between different beers.
In addition, the Economic Partnership Agreement also contains general rules on certain types of non-tariff barriers, which will help level the playing field for European products exported to Japan, and increase transparency and predictability:
Technical barriers to trade – the agreement puts the focus on Japan and the EU's mutual commitment to ensure that their standards and technical regulations are based on international standards to the greatest possible extent. Combined with the provisions on non-tariff measures, this is good news for European exporters of electronics, pharmaceuticals, textiles and chemicals. For instance, reliance on international standards will be helpful for easier and less costly compliance of food products with Japanese labelling rules.
Sanitary and phytosanitary measures – the agreement creates a more predictable regulatory environment for EU products exported to Japan. The EU and Japan have agreed to simplify approval and clearance processes and that import procedures are completed without undue delays, making sure that undue bureaucracy does not put a spanner in the works for exporters. The agreement will not lower safety standards or require parties to change their domestic policy choices on matters such as the use of hormones or genetically modified organisms (GMOs).
Trade in services
The EU exports some €28 billion of services to Japan each year. The agreement will make it easier for EU firms to provide services on the highly lucrative Japanese market. The agreement contains a number of provisions that apply horizontally to all trade in services, such as a provision to reaffirm the Parties' right to regulate. It maintains the right of EU Member States' authorities to keep public services public and it will not force governments to privatise or deregulate any public service at national or local level. Likewise, Member States' authorities retain the right to bring back to the public sector any privately provided services. Europeans will continue to decide for themselves how they want, for example, their healthcare, education and water delivered.
Postal and courier services – the agreement includes provisions on universal service obligations, border procedures, licences and the independence of the regulators. The agreement will also ensure a level-playing field between EU suppliers of postal and courier services and their Japanese competitors, such as Japan Post.
Telecommunications – the agreement includes provisions focused on establishing a level playing field for telecommunications services providers and on issues such as universal service obligations, number portability, mobile roaming and confidentiality of communications.
International maritime transport services – the agreement contains obligations to maintain open and non-discriminatory access to international maritime services (transport and related services) as well as access to ports and port services.
Financial services – the agreement contains specific definitions, exceptions and disciplines on new financial services, self-regulating organisations, payment and clearing systems and transparency, and rules on insurance services provided by postal entities. Many of these are based on rules developed under the World Trade Organisation, while addressing specificities of the financial services sector.
Temporary movement of company personnel – the agreement includes the most advanced provisions on movement of people for business purposes (otherwise known as "mode 4") that the EU has negotiated so far. They cover all traditional categories such as intra-corporate transferees, business visitors for investment purposes, contractual service suppliers, and independent professionals, as well as newer categories such as short-term business visitors and investors. The EU and Japan have also agreed to allow spouses and children to accompany those who are either service suppliers or who work for a service supplier (covered by "mode 4" provisions). This will, in turn, support investment in both directions.
State owned enterprises – state-owned enterprises will not be allowed to treat EU companies, services or products differently to their Japanese counterparts when buying and selling on commercial markets.
Public procurement – EU companies will be able to participate on an equal footing with Japanese companies in bids for procurement tenders in the 54 so-called 'core cities' of Japan (i.e. cities with around 300.000 to 500.00 inhabitants or more). The agreement also removes existing obstacles to procurement in the railway sector.
Investment – The agreement aims to promote investment between the EU and Japan. At the same time, the text explicitly reaffirms the right of each party to regulate to pursue legitimate policy objectives, highlighted in a non- exhaustive list. The agreement does not cover the protection of investment, on which negotiations are ongoing between the two sides for a potential agreement on the protection of investments. The EU has also tabled to Japan its reformed proposal on the Investment Court System. For the EU, it is clear that there can be no return to the old-style Investor to State Dispute Settlement System (ISDS).
Intellectual Property Rights (IPR) – the agreement builds on and reinforces the commitments that both sides have taken in the World Trade Organization (WTO), in line with the EU's own rules. The agreement sets out provisions on protection of trade secrets, trademarks, copyright protection, patents, minimum common rules for regulatory test data protection for pharmaceuticals, and civil enforcement provisions.
Data protection – Data protection is a fundamental right in the European Union and is not up for negotiation. Privacy is not a commodity to be traded. Since January 2017, the European Union and Japan engaged in a dialogue to facilitate the transfers of personal data for commercial exchanges, while ensuring the highest level of data protection. With the EU General Data Protection Regulation that entered into force last year and the new Japanese privacy law that entered into force in May, the EU and Japan have modernised and strengthened their respective data protection regimes. In July 2018, the Commission and the Japanese government reached a satisfactory conclusion on the robustness each other's data protection rules, and hence they intend to move forward with the adoption of a so-called "mutual adequacy" arrangement, which will create the world's largest area of safe transfers of data based on a high level of protection for personal data.
Sustainable development – the agreement includes all the key elements of the EU approach on sustainable development and is in line with other recent EU trade agreements. The EU and Japan commit themselves to implementing the core labour standards of the International Labour Organisation (ILO) and international environmental agreements, including the UN Framework Convention on Climate Change, as well as the Paris climate agreement. The EU and Japan commit not to lower domestic labour and environmental laws to attract trade and investment. The parties also commit to the conservation and sustainable management of natural resources, and to addressing biodiversity, forestry, and fisheries issues. The parties agree to promote Corporate Social Responsibility and other trade and investment practices supporting sustainable development. The agreement sets up mechanisms for giving civil society oversight over commitments taken in the field of Trade and Sustainable Development. The agreement will have a dedicated, binding mechanism for resolving disputes in this area, which includes governmental consultations and recourse to an independent panel of experts.
Whaling and illegal logging – The EU has banned all imports of whale products for more than 35 years, and this will not change with the Economic Partnership Agreement. The EU and its Member States are committed to the conservation and protection of whales and have consistently expressed strong reservations about whaling for scientific purposes. Whales receive special protection under EU law and the EU strictly enforces the ban on trade under the Convention on Trade in Endangered Species (CITES). The EU addresses whaling by all third countries, including Japan, both in bilateral relations and in the international fora that are best suited to deal with this issue – for example, at the International Whaling Commission, where we work with like-minded partners to address whaling with Japan. The sustainable development chapter of the EU-Japan economic partnership agreement will provide an additional platform to foster dialogue and joint work between the EU and Japan on environmental issues of relevance in a trade context.
The EU and Japan share a common commitment to combat illegal logging and related trade. Trade in illegal timber is not an issue between the EU and Japan. The EU has a very clear legislation on illegal logging, just like Japan, which applies to imports from any country of origin. Both partners have surveillance and certification systems in place to prevent the import of illegal timber. The two partners also work closely with third countries to support them in setting up efficient mechanisms to address the problem. The agreement includes a legal provision committing both partners to the prevention of illegal logging and related trade.
Corporate governance – for the first time in an EU trade agreement, there will be a specific chapter on corporate governance. It is based on the G20/OECD's Principles on Corporate Governance and reflects the EU's and Japan's best practices and rules in this area. The EU and Japan commit themselves to adhere to key principles and objectives, such as transparency and disclosure of information on publicly listed companies; accountability of the management towards shareholders; responsible decision-making based on an objective and independent standpoint; effective and fair exercise of shareholders' rights; and transparency and fairness in takeover transactions.
Competition – the agreement contains important principles that ensure that both sides commit themselves to maintaining comprehensive competition rules and implementing these rules in a transparent and non-discriminatory manner.
State-to-State dispute settlement mechanism – the agreement ensures that rights and obligations under the agreement are fully observed. It provides an effective, efficient and transparent mechanism with a pre-established list of qualified and experienced panellists for avoiding and solving disputes between the EU and Japan.
Anti-Fraud – The EU and Japan will include an anti-fraud clause in the economic partnership agreement. The anti-fraud clause is a condition for the EU to grant tariff preferences to any third country. It makes it possible for the EU to withdraw tariff preferences in cases of fraud and refusal to co-operate, while ensuring that legitimate traders are not adversely affected. The aim is to prevent abuse of preferential tariff treatment.
At the same time, negotiations with Japan continue on investment protection standards and investment protection dispute resolution.
How to build your entrepreneurial mindset today
An entrepreneurial mindset is a way of life. Even if you aren't starting your own business, an entrepreneurial mindset teaches you that no problem is insurmountable: you can overcome challenges through perseverance and resilience.
Here are five things you can remember to build an entrepreneurial mindset today. If you're aged between 18-30, why not start by applying to be a Young Champion of the Earth in 2019? Stay tuned—the competition is opening soon!
Transform problems into opportunities
There are so many clues in everyday life. Is there anything that you experience daily that frustrates you? Perhaps it is the prominence of unsustainable materials in your local shop and restaurants, such as plastic straws or unnecessary food packaging? Often, alternatives to problems do exist, but no one has thought of connecting them in specific circumstances. A good example is supplying restaurants and bars with paper straws. Entrepreneurial mindsets apply a lens which identifies problems not as negative issues but as opportunities to be solved, towards creating value in our economy.
Dare to dream and believe in yourself
If you can dream it and believe it, you are halfway there. How big you can dream is a component of your potential for success. Everyone has ideas—but daring to dream big, and then believing in yourself to apply an entrepreneurial mindset and bring them to reality, takes effort. This year, why not push yourself to think creatively? You could come up with a problem once a week, and each week, come up with one matching solution, for example. The key is to think outside the box, to think of a problem as a potential solution.
Know yourself and discover what you are passionate about
Solving problems, especially those associated with the environment, can be daunting. You will constantly be faced with challenges in your journey to change the world. Some environmental challenges feel so large—like those brought about by climate change. But helping to break down large issues into smaller ones which everyone can take steps to solve, is part of the entrepreneurial journey. Remember that you are capable. Find problems that you are passionate about solving and connect with others passionate about solving them too. This will help you through the tough times to stay motivated.
Go for it and don't take no for an answer
We all have the foundations of an entrepreneurial mindset. We can all identify problems and think up ideas about how to solve them. Being an entrepreneur pushes you to go out there and take actions to achieve them. Often, this process forces you to think through a specific problem in more detail. It helps you to truly understand pathways towards a solution which others might not have thought about. An idea does not have application in the real world if it is not hammered out in real situations. Part of being an entrepreneur requires following this process, identifying real experiences which can be made better or more efficient, and talking with other people who experience similar challenges to find solutions. Using the resources you have at your disposal will force you to be creative. Keep improving your solution. As you go on, you will eventually gain traction and interest. From there, the possibilities are endless.
Learn, embrace uncertainty and accept failure
Eric Ries from the lean startup says that entrepreneurship is "management under conditions of extreme uncertainty". Forging your own path to solve a problem that no one has solved before is scary—things change constantly. There will be many obstacles and there will be failure. But an entrepreneurial mindset teaches you that failures are opportunities to learn in disguise. An entrepreneurial mindset embraces uncertainty and learning, to leverage the opportunities that emerge from the space between them.
Iran's oil market facing the new sanctions era: What to expect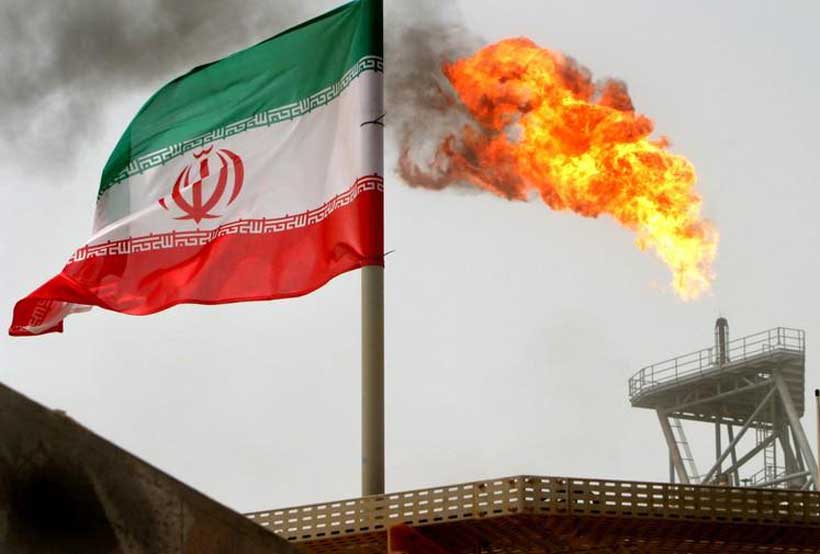 After an expected hiatus in Iran's oil exports to some of the country's main customers following the reimposition of the US sanctions, once again the country's old buyers are coming back to take advantage of the 180-day window which has been presented by the waivers granted in November.
Although it took some of these buyers more than a month to make necessary arrangements or to contemplate on the matter, it seems that finally the convenience of buying oil from Iran has outweighed the skepticism overshadowing Iranian oil industry.
With the customers coming back everything was seemed to be, once again, in favor of Iran's oil industry, however the US government's disappointing comments last weekend could change all the equations for Iran's oil market in the months to come.
"The United States is not looking to grant more waivers for Iranian oil imports after the reimposition of US sanctions." Brian Hook, the US special representative for Iran, told an industry conference in the United Arab Emirates capital Abu Dhabi.
Considering this new stand, the immediate question which comes to mind is what would become Iran's oil market after the 180-day period is over? To answer this question two main aspects should be taken into account, one is the consideration of Iran's ability to bypass the sanctions and the second is the possibility of Iranian oil customers being pushed away in the wake of difficulties resulted from the sanctions.
Iran's capabilities
Even though at first the markets were almost certain about the severe impact of Trump's plans on Iranian oil industry, but the surprising decision on granting eight countries waivers to continue buying Iranian oil significantly mitigated the harsh outlook.
Now, nearly three months after the reimpostion of the US sanctions on Iran, the market has witnessed that the Iranian oil exports are not plunged as much as expected.
Although due to the confidentiality of Iran's crude oil sales data, especially in the sanctions era, there is not an exact report for the level of the country's oil exports in recent months, however based on the estimations presented by institutes which track Iranian oil vessels, the country's oil exports stood at near 1.1 to 1.3 million barrels per day in November and December.
Furthermore, considering the exempted countries which are going to resume their oil purchasers from January, and the new approaches which Iran is taking to sell its oil like offering oil at energy exchanges or finding new customers, the country can definitely maintain an even higher level of exports in the months to come.
According to a FGE report, Iran will ship 1.08 million barrels per day in January and exports 1.115 million barrels per day in February.
We should not also forget Iran's experience in bypassing sanctions to sale its oil. As I mentioned before, Iran has acquired certain ways to bypass sanctions and sell its oil even during the sanctions.
Iranian oil buyers
Nearly two months after the US granted eight countries waivers to continue purchasing oil from Iran, recently some of the Asian buyers have signaled willingness for resuming oil imports from the country.
China, India and South Korea have placed orders for loadings in January or February and Japanese refineries have also expressed hope to resume shipping in Iranian oil as from late January provided that some final clearance and paperwork were made.
As reported by S&P Global, the presidents of Japan's JXTG Holdings and Cosmo Oil stated that they aim to load Iranian barrels at the end of January upon making some final clearances.
"Cosmo Oil aims to load around 1.8 million barrels of Iranian crude at the end of this month" the report read.
Last week, head of South Korea's SK Innovation, which owns South Korea's biggest oil refiner SK Energy also told Reuters that South Korean oil buyers are expected to restart Iranian oil imports in late January or early February.
India's Ministry of External Affairs has also stated recently that the Asian country will continue importing Iranian oil. According to data provided by FACTS Global Energy Group (FGE), four Indian refineries namely, Indian Oil, Bharat Petroleum, HMEL and HPCL have placed orders for 321,000 barrels of Iranian oil in February.
Regarding Greece, Italy, and Taiwan which were exempted from the US sanctions, no news has been officially out since November.
Even though Europe opposed Trump's actions, and have reassured Iran's government that they want the nuclear deal to continue, refiners in the green continent have had little choice but to comply with sanctions. The US can cut off access to their financial system for any company judged to be doing business with Iran.
The customer preferences
With all that said, there are still other considerations which should be taken into account to have a rather clear view of what to expect for the future of Iranian oil.
The fact that it took near two months for some of the Asian buyers of Iranian oil to make necessary arrangements to come back to Iran's market, is an indication of the hardships that the customers of Iranian oil will be facing in trade with Iran.
The heavy bureaucratic process which the exempted countries have to go through in order to buy Iranian oil, could push some of the more cautious customers like Japan and even South Korea away from Iran.
Most Asian customers of Iranian oil are very sensitive and conservative in their relations with the United States, and this is likely to be a barrier in the way of their energy relations with Iran.
Japan is a clear example of this situation; despite being granted sanction waiver the Japanese refineries have conditioned the resumption of their purchases upon "making some final clearances".
Regarding Iranian oil buyers' future decisions, yet another fact that should be taken into account is the reality that with Saudi Arabia, Russia and US producing almost at their peak, and with prices hovering near $60 there is currently a lot of cheap oil in the market.
In such a market, it is natural that some of the Iranian oil customers prefer to purchase their oil from other oil suppliers instead of exposing themselves to the consequences of breaching the US sanctions.
So in the end, it all comes to the incentives which Iranian government is willing to provide to make its oil attractive enough to worth the risk.
It seems that the country has taken some steps in this regard, since earlier this month, the Iranian Deputy Oil Minister for International Affairs and Trading Amir-Hossein Zamaninia said despite the US. sanctions more oil buyers have approached the country for negotiations.
"Despite US pressures on Iranian oil market, the number of potential buyers of Iranian oil has significantly increased due to a competitive market, greed and pursuit of more profit." Zamaninia said.
Mentioning "pursuit of more profit" indicates that Iran is probably going to provide its customers with remarkable discounts or provide them with long-term payment plans which considering the current situation in the market seems to be the best decision at the moment.
First published in our partner MNA
Iran: Currency reconversion not a turning point in economic reformation
One of Iran's main economic policies, under the framework of the sixth five-year development plan, is modification of banking system and reformation of monetary policies, moving forward toward which the Rouhani administration put forward the plan to shift the national currency from Rial to Toman earlier in December 2016 by eliminating specific number of zeroes.
However, the administration decided to postpone implementation of currency reconversion policy in 2016 due to some reasons including the expressed concerns about the time unfitting economic conditions which would ignite inflation and economic instability.
The policy basically seeks to facilitate monetary transactions among the Iranians and match the currency being transcribed in official documents and banking bills (rial) with the one utilized in real daily lives of Iranians (toman). Rial has practically been replaced by Toman in daily transactions as the result of the cumulative inflation over the recent years.
On Saturday, the Central Bank of Iran (CBI) submitted the bill on lopping off four zeroes of the national currency to the cabinet, the act which drew public attention to the issue again, forming a chorus of criticism and speculations.
Through its proposed bill, the CBI seems primarily able to re-empower the depreciated national currency, tangibly decrease the ever-increasing liquidity volume, and make a nominal reduction in prices of goods and services in the country.
The most remarkable achievements of implementing the bill, however, would be a psychological one among the society.  Shifting from rial, the free market exchange rate of which is presently about 110,000 against the U.S. dollar, by cutting four zeroes to toman may cover the psychological aspects of the inflationary impacts of rial devaluation, which has unprecedentedly increased prices in Iran. It is said to be able to recover national currency's value against U.S. dollar to some extent and cool down the inflated prices, as well.
Omitting zeroes from the national currency would surely facilitate calculations and money transfers in daily transactions and would seemingly retaliate for the sharp recent rial devaluation but it should not be expected to improve Iranians purchasing power at all.
It would not have any specific impact on economic indices, inflation, investments, job creation or demand and supply, either.
As a matter of fact, economic stability and single-digit inflation rate are the most significant prerequisites of implementing currency reconversion while Iran is experiencing none of the named factors.
Currency reconversion per se would have an inflationary effect. To curb its inflationary impact, it must be done simultaneous with taking contractionary measures and modifications in monetary policies.
In addition, printing new banknotes and injecting them to the market would impose an amount of costs on the shoulder of the central bank.
Addressing the issue in an interview with the Tehran Times, the Iranian economist and President of Iran World Trade Center Mohammad Reza Sabzalipour said that "the government aims to hit several targets with one shot."
"It seeks to control money and liquidity volume in the society i.e. cutting four zeroes would change the present 17 quadrillion rials (about $404 billion) of liquidity down to 1.7 trillion rials (about $40.4 million) overnight," he explained, "but the zeroes will incrementally come back and liquidity will be increased over time, in case CBI continues printing fiat money."
"The act would appease the public opinion just for a short time when they see the price numbers of the goods and services are decreased but after a while when their income also comes with lower zeroes, they will find out that what has happened has not improved their commonwealth," he added.
"There is no reason for us to consider a national currency with less zeroes a more valuable one," Sabzalipour said, "having a strong economy is not necessary related to having a national currency with low number of zeroes but to positive trade balance and high quality of the nation's livelihood."
"The decided monetary reconversion is mere a political and a psychological move," he underscored.
What the government is getting prepared to do should not be expected as a revolutionary step in Iran's economic and banking reformations, that would bring the nation a better livelihood and a more prosperous economy.
It is a postponed measure that has not been implemented in previous years due to lack of proper economic conditions and it is being done under the circumstances that the country is experiencing the toughest economic conditions in its history thanks to the U.S.-led draconian sanctions and when a rampant inflation rate is expected for the upcoming Iranian year.
The costly currency reconversion would, for sure, facilitate money transfer and calculations in daily transactions and also reduce the volume of exchanged paper money and etc., but its effect would be neutralized and the omitted zeroes would snap back one after the other in the long-run, in case of monetary mismanagement or any other unpredicted international, political or economic event which would threaten the economy.
First published in our partner Tehran Times