Preparing teachers for the future we want
At its annual meeting in Montego Bay, Jamaica, from 5-9 November, the International Task Force on Teachers for Education 2030 adopted a declaration focused on ensuring that teacher issues stay at the centre of the global education agenda.
Through this declaration, the Teacher Task Force reinforces its vision that at the heart of the right to education is a highly valued, qualified, and well-trained teaching profession. It therefore recommends that:
International partners should intensify efforts to develop robust definitions and classifications of qualified and trained teachers and strengthen cooperation and reporting mechanisms to ensure full monitoring of Sustainable Development Goal target 4c.
Governments should ensure adequate financing for all public goods, including the teacher workforce, and this should be achieved primarily through domestic resource mobilization based on socially just fiscal policies, rigorous measures against corruption and illegal financial flows, efficient and effective teacher policies and deployment practices, developed with the full involvement of teachers and their organisations, and continued focus on external resource mobilization to complement domestic resources for countries.
Moreover, the dual focus of the Education 2030 agenda on equity and learning puts teachers at the heart of policy responses that should foster equal participation and learning globally. Teachers can be an impactful equalizing force to overcome unequal life chances from birth. The massive recruitment of new teachers, particularly in least develop countries, with little or no training is a real cause for concern.
The Teacher Task Force also expressed its concern over the fact that teacher education has not kept pace with preparing new teachers to face the rapid changes in globalization, migration, demographic change, and technological advances that will mark the future of education.
Furthermore, teacher education in this increasing complex world must be forward-looking and prepare teachers who are continuous learners themselves. It must enable teachers to think about the kind of education that is meaningful and relevant to young people's needs in the different 21st century's learning environment.
The Teacher Task Force acknowledges the ever-growing importance of Information and Communication Technologies in education. However, technology should be treated as a supportive tool for teachers and not a replacement. Teacher education should therefore empower teachers to use technologies to support learning within a holistic and human-centred educational framework.
The Teacher Task Force also called attention to the fact that teacher education needs to be seen as career-long education and special attention should be paid to the nature of teachers' professional development, competency frameworks, curriculum development and professional learning communities/communities of practice. As teaching is a knowledge-based profession, teachers and trainers should be supported to continually update their knowledge base.
Through this declaration, the Teacher Task Force advocates for a teacher education that allows teachers to prepare learners to manage change and to be able to shape a just and equitable future, leaving no one behind.
This declaration reflects UNESCO's belief that the right to education cannot be fulfilled without trained and qualified teachers. Teachers are one of the most influential factors to the improvement of learning outcomes and UNESCO has for long been an advocate of better training for teachers to ensure inclusive and quality education for all.
UNESCO, which is one of the founding members of the International Task Force on Teachers for Education 2030, has supported its work since its creation in 2008 and hosts the Teacher Task Force Secretariat.
Libya: €2 million in humanitarian assistance to cover basic needs
As many continue to suffer from the ongoing conflict in Libya, the European Commission has announced today €2 million in additional humanitarian aid to help those most in need. The assistance will cover emergency health care services, food, livelihood support and protection services.
"The EU is committed to supporting the most vulnerable in Libya who have now suffered years of conflict. This additional funding will help our humanitarian partners to continue to deliver aid in hard-to-reach areas. It is crucial that parties to the conflict respect International Humanitarian Law, and allow humanitarian workers full access to help those in need and save lives," said Commissioner for Humanitarian Aid and Crisis Management, Christos Stylianides.
EU humanitarian aid supports access to essential healthcare for victims of the conflict, including emergency war surgery, physical rehabilitation, provision of essential medicines as well as prosthesis and psychosocial support. This assistance helps to restore primary healthcare services in conflict-affected areas, as well as providing education for children.
The EU funding will be closely monitored and channelled through international non-governmental organizations and the International Committee of the Red Cross.
Background
Since 2014, the European Union has allocated more than €46 million in humanitarian aid to respond to the most pressing needs in Libya. EU humanitarian funding amounted to €9 million in 2018 and €8 million in 2019. Humanitarian aid is part of the EU's broader support for Libya to address the ongoing crisis in the country. The EU has also allocated around € 367.7 million under the North of Africa window of the EU Emergency Trust Fund for Africa and bilateral assistance for protection and assistance of migrants, refuges and internally displaced people.
Through its partners, the EU also provides protection services, emergency food and other supplies to support conflict affected populations. We also provide education in emergencies to crisis-affected children. The EU provides aid to all vulnerable people, including forcibly displaced and vulnerable host populations, migrants, refugees and asylum seekers, regardless of their status and solely based on needs. The EU is providing assistance across all geographic areas in Libya, including in the Southern and Eastern part of the country.
UNIDO supports Budapest Appeal to prevent and manage looming water crises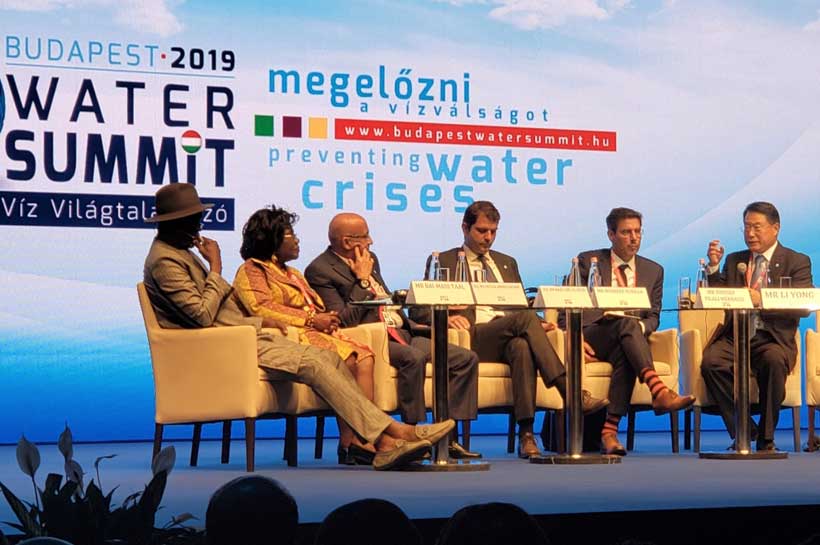 LI Yong, the Director General of the United Nations Industrial Development Organization (UNIDO) acted as a panelist during the opening session of Budapest Water Summit 2019, which was convened under the motto 'Preventing Water Crises' and which aimed at promoting solutions to tackle the emerging water crises.
"Industries can be instrumental to prevent any kind of water crisis: in situations where water is scarce, the application of resource efficient and cleaner production allows industries to drastically reduce their own water consumption", said LI Yong. "In situations where water is too polluted, green industries can offer solutions for the cost and energy effective treatment of municipal, agricultural and industrial waste water. Even in situations where abundant water results in floods, industries can engage as water stewards and drive the collaborative process of restoring water regulating eco-system services".
The UNIDO Director General further emphasized the need for pro-active cooperation, dedicated and well-concerted efforts as well as considerable resources. At the same time, and given the importance of water for sustainable development, Li urged not to underestimate the importance of these efforts.
"The United Nations Industrial Development Organization will continue its efforts to support industries to become environmentally friendly", said LI Yong. "In this way, industries will play an active role to prevent water crises, in terms of water becoming too little, too much or too polluted".
During the closing session of the Summit, the Budapest Appeal was presented that formulates messages and guidelines for the international community to prevent and manage the looming water crises. In addition, the Appeal provides a comprehensive summary of findings and recommendations from the Summit and introduces the preliminary online consultation process.
The Summit gathered over 2,200 participants from 117 countries in Budapest, including Hungarian President János Áder and Cambodian Prime Minister Samdech Techo Hun Sen as well as numerous ministers, secretaries of state, representatives of United Nations organizations and heads of multilateral financial institutions.
OECD and European Commission join forces to further support structural reforms in European countries
The OECD and the European Commission's Structural Reform Support Service (SRSS) sealed a new agreement today in Paris that will see the OECD provide wide-ranging policy support to advance structural reforms in European countries.
OECD Chief of Staff, Gabriela Ramos, and Director General of the SRSS, Maarten Verwey, concluded an agreement on 34 reform projects, to be conducted over the next 12 to 18 months, in 18 EU countries under the umbrella of the Structural Reform Support Programme of the European Commission.
The OECD SRSS agreement comes at a time of a slowdown in global growth, rising inequalities and higher environmental degradation, which threaten people's well-being. The OECD, with its extensive knowledge base and expertise, is supporting governments to tackle these issues head on and considers the cooperation with the SRSS to be an excellent opportunity to further leverage its expertise to deliver better policies for better lives.
The action will see the OECD working closely with the SRSS to provide policy advice and working directly with governments to advance structural reform in various policy areas, including education, labour markets, tax, governance, environment and transport infrastructure. These projects respond to the reform priorities identified by the respective EU Member States and will for example help governments develop sustainable development strategies, establish frameworks for circular economies, improve housing affordability in cities, or improve the provision of labour market services. The OECD will capitalize on the digital transformation and also deliver on skills strategies. In a nutshell, it will redouble efforts to support European countries, Members and Partners, in their goal to build strong, inclusive and sustainable economies.
The Structural Reform Support Service offers tailor-made support to all EU Member States for the preparation, design and implementation of growth-enhancing reforms. The support is provided on the request of EU Member States, requires no co-financing and mobilises experts from all over Europe and beyond, from both the public and the private sector.
The new OECD – SRSS agreement allows the SRSS to leverage OECD's expertise on best policy practices and structural reforms in the EU Member States. Such co-operation will deliver value added impact, carried out with efficiency, for the benefit of all countries.