Modern Russian Defense Doctrine
On December 26, 2014, Russian President Vladimir Putin signed a new military doctrine for the Russian armed forces. The document identifies the expansion of NATO and efforts to destabilize Russia and neighboring countries as the biggest security threats. This doctrine somehow is Continuation Russia's military doctrine previous in the years 1993 – 2000- 2010.
In the Tsarist, Soviet, and Russian military tradition, doctrine plays a particularly important role. The state's defense or military doctrine possesses a normative and even, often a juridical quality that should be binding on relevant state agencies, or at least so its adherents would like to claim. Doctrine is supposed to represent an official view or views about the character of contemporary war, the threats to Russia, and what policies the government and armed forces will initiate and implement to meet those challenges. Thus beyond being a normative or at least guiding policy document, defense doctrine should also represent an elite consensus about threats, the character of contemporary war and the policies needed to confront those threats and challenges.
Since 2002 President Vladimir Putin has regularly called for and stated that a new doctrine, to meet the challenges of the post September 11 strategic environment will soon appear. However, no such doctrine has yet appeared or is in sight. In 2003 the Defense Ministry published a kind of white paper that foreign observers then called an Ivanov doctrine after Defense Minister Sergei Ivanov. But no Russian authority has followed suit. This document argued that the Russian forces must be ready for every sort of contingency from counterterrorism to large-scale conventional theater war and even nuclear war. Ivanov and the General Staff also argue that the forces can and must be able to handle two simultaneous regional or local wars. This guidance also evidently follows Putin's direction that the armed forces must be able to wage any kind of contingency across this spectrum of conflict even though he apparently had ordered a shift in priorities from war against NATO to counter-terrorist and localized actions in 2002-03.
Within this spectrum of conflict, most published official and unofficial writing about the nature of threats to Russia repeatedly states that terrorism is the most immediate and urgent threat to Russia, that Russia has no plans to wage a war with NATO, i.e. a large-scale conventional or even nuclear war, and that Russia sees no visible threat from NATO or of this kind of war on the horizon. Indeed, Russian officials like Putin and Chief of Staff, Colonel-General Yuri N. Baluyevsky have recently renounced the quest for nuclear and conventional parity with NATO and America, a quest whose abandonment was signified in the Moscow Treaty on Nuclear Weapons in 2002. Yet the absence of doctrine suggests an ongoing lack of consensus on these issues. And this discord is particularly dangerous at a time when Russian leaders perceive that "there has been a steady trend toward broadening the use of armed forces" and that "conflicts are spreading to larger areas, including the sphere of Russia's vital interests," because they may be tempted to follow suit or react forcefully to real or imaginary challenges."
Indeed, if one looks carefully at Russian procurement policies and exercises, both of which have increased in quantity and intensified in quality under Putin due to economic recovery, we still find that large-scale operations, including first-strike nuclear operations using either ICBM's or tactical (or so called non-strategic) nuclear weapons (TNW) predominate, even when counterinsurgency and counter-terrorist exercises are included. In other words, the military-political establishment, rhetoric to the contrary notwithstanding, still believes that large-scale war, even with NATO or China is a real possibility. Ivanov's speech to the Academy of Military Sciences on January 24, 2004 excoriated the General Staff for insufficient study of contemporary wars and for fixating on Chechnya. Blaming it for this fixation, he said that,
"We must admit that as of the present time military science has not defined a clear generalized type of modern war and armed conflict. Therefore the RF Armed Forces and supreme command and control entities must be prepared to participate in any kind of military conflict. Based on this, we have to answer the question of how to make the military command and control system most flexible and most capable of reacting to any threats to Russia's military security that may arise in the modern world."
Ivanov had earlier observed that Military preparedness, operational planning, and maintenance need to be as flexible as possible because in recent years no single type of armed conflict has dominated. The Russian armed forces will be prepared for regular and anti-guerrilla warfare, the struggle against different types of terrorism, and peacekeeping operations.
Baluevsky has also since argued that any war, even a localized armed conflict, could lead the world to the brink of global nuclear war, therefore Russian forces must train and be ready for everything. These remarks reflect the continuing preference for major theater and even intercontinental nuclear wars against America and NATO over anti-terrorist missions.
Neither are they alone. In 2003, former Deputy Chief of Staff, General (RET.) V.L. Manilov, then First Deputy Chairman of the Federation Council Defense and Security Committee, told an interviewer that,
Let's take, for example, the possible development of the geopolitical and military-strategic situation around Russia. We don't even have precisely specified definitions of national interests and national security, and there isn't even the methodology itself of coming up with decisions concerning Russia's fate. But without this it's impossible to ensure the country's progressive development. … It also should be noted that a systems analysis and the monitoring of the geostrategic situation around Russia requires the consolidation of all national resources and the involvement of state and public structures and organizations. At the same time, one has a clear sense of the shortage of intellectual potential in the centers where this problem should be handled in a qualified manner.
Since Russian planners cannot develop a truly credible hierarchy of threats or adequately define them or Russia's national interests they inevitably see threats everywhere while lacking the conceptual means for categorizing them coherently. Lacking a priority form of war or threat for which they must train, the troops must perform traditional tasks and priority missions like defending Russia's territorial boundaries, i.e. Soviet territorial boundaries, preventing and deterring attacks on Russia, and maintaining strategic stability. They also must participate directly in achieving Russia's economic and political interests and conduct peacetime operations, including UN or CIS sanctioned peace operations. Consequently coherent planning and policy-making are still bedeviled by multiple threats that haunt senior military leaders. In 2003, Baluevsky said that,
In order to conduct joint maneuvers (with NATO-author), you have to determine who your enemy actually is. We still do not know. After the Warsaw pact disappeared; there was confusion in the general staffs of the world's armies. But who was the enemy? Well, no enemy emerged. Therefore the first question is: Against whom will we fight?
But the campaign against terrorism does not require massive armies. And NATO's massive armies have not disappeared at all. No one says "We do not need divisions, we do not need ships, and we do not need hundreds of thousands of aircraft and tanks …" The Russian military are accused of still thinking in World War II categories. Although we, incidentally realized long before the Americans that the mad race to produce thousands and thousands of nuclear warheads should be stopped!
Thus the General Staff and for that matter the Ministry have abdicated their critical task of forecasting the nature or character of today's wars.
Today, if anything, we see a continuing inclination to turn back the strategic clock towards quasi-Cold war postures and strategies. Much evidence suggests that various political forces in Russia, particularly in the military community, are urging withdrawal from arms control treaties, not least because of NATO enlargement towards the CIS and U.S. foreign and military policy in those areas. In March, 2005 Ivanov raised the question of withdrawal from the INF Treaty with the Pentagon. Since then Russian general Vladimir Vasilenko has raised it again more recently though it is difficult to see what Russia gains from withdrawal from that treaty. Indeed, withdrawal from the INF treaty makes no sense unless one believes that Russia is threatened by NATO and especially the U.S.' superior conventional military power and cannot meet that threat except by returning to the classical Cold War strategy of holding Europe hostage to nuclear attack to deter Washington and NATO. Apparently at least some of the interest in withdrawing from the INF treaty also stems from the fact that Vasilenko also stated that western missile defenses would determine the nature and number of future Russian missile defense systems even though admittedly it could only defend against a few missiles at a time. Thus he argued that,
Russia should give priority to high-survivable mobile ground and naval missile systems when planning the development of the force in the near and far future. … The quality of the Strategic nuclear forces of Russia will have to be significantly improved in terms of adding to their capability of penetrating [missile defense] barriers and increasing the survivability of combat elements and enhancing the properties of surveillance and control systems.
But then, Russia's government and military are thereby postulating an inherent East-West enmity buttressed by mutual deterrence that makes no sense in today's strategic climate, especially when virtually every Russian military leader proclaims that no plan for war with NATO is under consideration and that the main threat to Russia is terrorism, not NATO and not America. Nonetheless Russian generals do not raise the issue of withdrawal from the INF treaty unless directed to do so. As of 2003 the General Staff made clear its opposition to joint Russian-NATO exercises allegedly on the grounds of NATO enlargement and the improvement of missiles. In fact, the military's enmity to NATO is due to the fact of its existence. As the so called Ivanov doctrine of October, 2003, stated,
Russia … expects NATO member states to put a complete end to direct and indirect elements of its anti-Russian policy, both form of the military planning and the political declarations of NATO member states. … Should NATO remain a military alliance with its current offensive military doctrine, a fundamental reassessment of Russia's military planning and arms procurement is needed, including a change in Russia's nuclear strategy.
Alexander Golts, one of Russia's most prominent defense commentators, observes that the military must continue to have NATO as a 'primordial enemy'. Otherwise their ability to mobilize millions of men and huge amounts of Russian material resources would be exposed as unjustified. Similarly Western observers have noted the resistance of the military to a genuine military reform, even though the forces are being reorganized. The problem here is well known to the Russian military. Genuine reform is a precondition for effective partnership with NATO. Therefore resistance to reform, in particular, democratization of defense policy, inhibits cooperation with NATO and is therefore deliberately created from within the military and political system. Evidently Russian leaders no longer perceive democratization as a mere ritual for the White House, as in the past, but as a threat to the foundations of Russian statehood, including a threat to the structure of the armed forces and its top command organizations.
This hostility to NATO as such also appears in the growing opposition to continuing to observe the CFE treaty. Since the bilateral partnership with NATO began, Russian officials openly stated that if the Baltic States remained outside the treaty then its future would be at issue along with Europe's overall security of which it is a key part. Ivanov frequently says that Russia has fundamental differences with NATO over the CFE Treaty and that NATO's insistence upon Russia withdrawing from Moldovan and Georgian bases as promised in 1999 at the OSCE's Istanbul summit is a "farfetched" pretext for not ratifying the treaty or forcing the Baltic States to sign it. Thus the Baltic States form "a gray zone" with regard to arms control agreements that could in the future serve as a basis for first-strikes, mainly by air, upon nearby Russian targets. This sums up many of Moscow's military arguments against the CFE treaty.
Ivanov and other officials, like former Deputy Foreign Minister, linked the CFE to the realignment of U.S. forces and bases in Europe. Likewise, speaking of the connection between the CFE treaty and enlargement, Lt. General Alexander Voronin wrote in the General Staff's journal VoyennayaMysl©(Military Thought) that,"Russia's opposition to CIS members' joining NATO is immutable and that NATO's failure to take Russia's interests into account here is very troubling. Russia should fully take into account the alliance's strategy of spreading its influence to countries neighboring Russia in the west, south, and southeast, uphold its interests, show strong will, make no concessions, and pursue a pragmatic and effective foreign policy. This raises a number of questions: First, why do we have to cooperate with NATO at all? Second, what could be the practical payoff from this interaction? And finally in what areas is it expedient to develop military cooperation with the alliance?"
Voronin's answer to these rhetorical questions is that it all depends on how soon NATO overcomes Cold War inertia to meet new challenges and threats. In this respect his approach merely confirms earlier military arguments against the CFE treaty.
In 2004 Baluevsky raised the issue that the Baltic States' membership in NATO would doom the CFE treaty. In 2005 Colonel-General Anatoly Mazurkevich, Chief of the Main Directorate of International Military Cooperation in the Russian Ministry of Defense complained that the CFE treaty has been ignored since it was revised in 1999 and that it is slowly 'expiring'. Allegedly the CFE treaty can no longer uphold the interests of the parties or stability in Europe and now in a strategic region adjacent to Russia and under NATO's full responsibility — the Baltic — the region is absolutely free of all treaty restrictions.
Yet since they are critical elements of any democratic reform, the failure to reach a coherent defense doctrine is a critical sign of the failure of Russia's democratic project. This failure to devise a coherent doctrine that realistically assesses Russia's capabilities and prospects, is not just a failure to achieve democracy, it also represents an enduring threat to Russia itself, its neighbors and interlocutors.
Author's note: This article first published in Iran Review
A few days ago, Jens Stoltenberg, NATO Secretary-General, announced the expulsion of several diplomats from the Permanent Mission of the Russian Federation to the Organization. The only justification NATO could muster up for this was the traditional rhetoric of Russia's alleged "malign activities" in NATO member states. As it so usually happens, no evidence or illustrations of such activities were ever provided. It is almost as if NATO's leadership is consistently trying to destroy everything that Moscow and Brussels have built to bolster European security architecture through joint efforts during the last two decades.
Russia launched its Permanent Mission to NATO in 2003 following the establishment of the NATO–Russia Council (NRC) on May 28, 2002 in Rome. Prior to that, Russia's ambassador to Belgium had also acted as the nation's non-resident ambassador to the Organization. The establishment of the NATO–Russia Council was a momentous event, which is evident by the fact that the heads of state and government of all NATO member states as well as the president of the Russian Federation gathered in Rome to sign the Declaration on "NATO–Russia Relations: a New Quality" at an official ceremony.
I happened to be present at that ceremony in Rome. The atmosphere was very spirited, and the leaders were quite optimistic about the prospects of the new mode of cooperation between Russia and the West. Those present at that memorable event unanimously welcomed the new mechanism, while U.S. President George W. Bush stressed that should Russia be left behind the alliance would fail in resolving the issues facing the world in the new century and responding to the new security challenges in the Euro-Atlantic region and beyond. Jean Chrétien, Prime Minister of Canada, noted that NATO was "opening a new chapter in strengthening our ties with Russia," emphasizing that the surest way of responding to the challenges of the 21st century would be to coordinate the efforts of the international community at large. He concluded, "It was high time that Russia be involved in the process."
For his part, President Vladimir Putin said that Russia expected "the Rome Declaration to be a sound solution to work in a cooperative and constructive spirit rather than a mere statement of intentions." He went on to say that Russia and NATO have a fraught history—however, the two had made real headway, shifting the paradigm "from opposition to dialogue, from confrontation to cooperation." The Rome Declaration, Russia's leader argued, was only to mark the beginning of the endeavours to arrive at fundamentally different relations.
While the reason why the two parties agreed two decades ago to establish the NATO–Russia Council and the extent to which the new joint mechanism indeed proved an agent of change for the military and political situation in the Euro-Atlantic (and globally) remain subject of persistent speculation, I believe it would be hard to refute the idea that the old shibboleths of the Cold War needed to be revised amid the evolving circumstances at the dawn of the new millennium. First and foremost, this had to do with security issues. By that time, sober-minded politicians in the West came to realize that Russia was far from what posed threats to world peace and international security. The foreground now featured a new set of global challenges, such as terrorism, WMD proliferation risks, illegal migration and regional crises, with no nation—even the largest and most powerful among the powers that be—able to counter them on their own. Russia was the first to face the challenge of global terrorism. Following hard on Russia's heels, this threat engulfed the United States and other countries in its most cruel and dramatic form.
In accordance with the Rome Declaration, Russia and NATO member states committed to cooperating as equals in areas of mutual interest. The members of the Council, acting in their national capacities and in a manner consistent with their collective commitments and obligations, agreed to take joint decisions and bear equal responsibility, individually and collectively, for the decisions to be implemented. The Council saw some 25 working groups and committees established to foster meaningful cooperation in critical areas.
Following a meeting with NATO Secretary-General George Robertson in November 2002, President Vladimir Putin offered the following vision of Russia's relations with NATO, "Never before have we raised the question of our full-fledged participation in NATO. Nor do we raise that matter today. Should our relationship, should our cooperation develop as positively as is the case now… And if NATO as an alliance transforms in implementing institutional reforms… And as long as our cooperation is in line with Russia's national interests, meaning that we'll see that this framework could serve a tool to pursue our own interests… Then our cooperation with NATO will surely be changing to encompass a broader involvement and participation."
It has been some 20 years since the NATO–Russia Council was established. Can we deem this experiment to be a success? Both a "yes" and a "no." On the one hand, we all could see for ourselves that dialogue and cooperation were, in fact, possible. Over the years, joint working groups were offering decisions whose implementation was in line with the fundamental interests of both parties. These included combatting terrorism, engaging on the Afghanistan dossier, enhancing military and technical cooperation, addressing arms control in Europe as well as other issues.
On the other hand, we also discovered that the old stereotypes were deeply entrenched in the minds of some strategists in the West who still believe Russia to be the principal and indispensable factor to cement "Western solidarity." Otherwise, how can we account for the fact that NATO's leadership chose to freeze all the Council's proceedings and contacts with Russia contrary to what is stipulated in the Rome Declaration that provides for an urgent session of the NATO–Russia Council in the events such as brutal conflicts in South Ossetia or Ukraine?
NATO's only approach to Moscow as of today is to expel as much staff as they can from Russia's mission in Brussels. The purpose of all this is not hard to guess. NATO is busily getting ready for its next Summit, which is due to be held in 2022 in Madrid. At that summit, NATO plans to approve a new strategy for the alliance to make it "even stronger."
This will not be an easy task in the wake of the alliance's disastrous withdrawal from Afghanistan, which is why it has been taking strides to shift attention and search for an adversary whose presence would justify the organization's continued existence as well as another hike in military budgets of its members. Individual statements make it clear that the new conceptual framework should bring NATO back to its former rhetoric of approaching Russia (and China) as a threat.
Apparently, the alliance would rather wave a final goodbye to the NATO–Russia Council by the time of the upcoming summit. This explains why they are trying to elicit a response from Moscow, which will definitely happen in the near future, likely to affect both Russia's mission to NATO in Brussels and NATO's Information Office in Moscow. It seems to be obvious that the only way an international organization can be effective is if this is indeed what all the parties want—in deeds rather than in words. If NATO has for whatever reason decided that it no longer needs the NATO–Russia Council, NATO should then be responsible for dismantling it.
However short-sighted and dangerous such a step on the part of NATO could be, this does not erase from the agenda the question of what the Euro-Atlantic security architecture would look like in the future. New challenges and threats continue to undermine the entire system of international security. Therefore, the feat of building a full-fledged and equal dialogue between Moscow and the West on a whole range of strategic stability issues is more relevant than ever. Under the current circumstances, such a dialogue being absent is fraught with risks that are too high for all the parties. These problems can surely be covered up and left to fester beneath the surface. For how long, though?
From our partner RIAC
Iran in the SCO: a Forced "Look East" Strategy and an Alternative World Order
On September 17, a package of several dozen documents was signed in Dushanbe at the summit of the Shanghai Cooperation Organisation (SCO). The highlight of the meeting was the decision taken by the Heads of State Council of the SCO on launching the procedure of granting SCO membership to the Islamic Republic of Iran.
Technically, this decision does not turn Tehran into a full-fledged SCO member, launching the accession process only. Granting full membership involves a number of agreements signed, which usually takes about two years. However, a proactive decision has de facto been made, and the Islamic Republic of Iran can already be considered a member of the Organization.
Moscow played a key role in granting SCO membership to Iran. It was after a telephone talk on August 11 with Nikolai Patrushev, Secretary of Russia's Security Council, that Ali Shamkhani, Secretary of the Supreme National Security Council of Iran, announced that the political obstacles to Iran's membership in the SCO had been removed so that Iran's SCO membership could be finalized. Besides, throughout this year, Russia has repeatedly urged to endorse Iran's bid for SCO membership.
Intrinsic Motivation
Endorsing Tehran's bid for SCO membership was the first significant victory for the new ultra-conservative Iranian president Ebrahim Raisi's foreign policy. One of the key tasks for the Islamic Republic's new head of government is to demonstrate his own achievements as opposed to the failures of his predecessor, the reformist Hassan Rouhani. The latter has repeatedly advocated for expanding cooperation with the SCO; however, Tehran did not manage to join the Organization during his presidency.
One of the reasons for this was Rouhani's team pursuing the Western vector of Iran's foreign policy. The nuclear deal with the leading world powers, including the United States, as well as the subsequent prospects of large-scale investments from Europe, clearly exceeded what other international projects could offer. Therefore, other integration initiatives were temporarily set aside. While this looked rather reasonable at that point, the subsequent failure of this plan because of the inconsistencies in the U.S. foreign policy raised the burning issue of exploring the alternatives.
Yet, Hassan Rouhani never completely abandoned the non-Western vector. There have been at least two remarkable achievements here during his tenure. On May 17, 2018, the Eurasian Economic Union and Iran signed a provisional free trade zone agreement, which entered into force on October 27, 2019, for a period of three years. Then, late into Rouhani's presidency, China and Iran signed a 25-year cooperation agreement on March 27, 2021, to comprehensively enhance the bilateral relations.
Ebrahim Raisi is largely trying to prove himself as polar opposite to Hassan Rouhani, whose recent years have been one of the most proving times for Iran's economy. First and foremost, Ebrahim Raisi needs to live up to the confidence placed in him, while the new president's decisive victory in June 2021 was overshadowed by the extreme political apathy demonstrated by large segments of the country's population, resulting in a record low voter turnout in Iran's history.
Domestically, the fight against COVID-19 is still serving this purpose. Lockdown restrictions are consistently lifted in Iran amid reports of high vaccination rates. This stands in sharp contrast with Rouhani's administration, when the epidemic was only growing, with the authorities resorting to closures of businesses and public institutions as well as to movement restrictions, and with Tehran constantly having problems with vaccines import.
Iran's accession into the SCO demonstrates another good start for Raisi—this time, in terms of foreign policy. This is especially important amid stalled negotiations on restoring the nuclear deal. Technically, reviving the JCPOA remains valuable for Tehran and Washington, which both sides confirm every now and then. However, trust between the parties is so low after Donald Trump's demarche that the prospects for new agreements are increasingly elusive.
All the more so since Iran is demanding security guarantees from the U.S. so that the incident does not recur and that the new U.S. elections do not destroy any previous agreements. However, Washington cannot guarantee this due to the very nature of the American political system. At the same time, Joe Biden, in fearing domestic criticism, has not yet made any concessions that could give Tehran at least some confidence in the intentions of the U.S. president. Washington could well have announced its unilateral return to the JCPOA without the sanctions lifted. However, the White House did not do this, which means a U.S. delegation cannot sit at the negotiating table on the nuclear deal in Vienna, with the JCPOA dialogue with the U.S. held separately.
There are still chances for the JCPOA to be revived and the sanctions against Tehran to be lifted. Even if this is case, however, there is no quick positive outcome for Raisi—which is why the SCO membership has gained momentum for his image within the country. It is no coincidence that his participation in the SCO Summit in Dushanbe was the first international trip made by the Iranian president in the wake of the elections.
Looking East
At the turn of the 2010s, the demand for better relations with the West grew so strong in Iran that both the legislative and the executive were taken over by Westerners amid the struggle for power, with President Rouhani becoming the epitome of the process. This turn may seem paradoxical to the casual observer since the ideology of the Islamic Republic of Iran is anti-Western at its core. However, pro-Western forces were rather strong in Iran of the 1990s. President Hashemi Rafsanjani (1989–1997) was the first who cautiously spoke out for the normalization of relations with the United States and Europe to be then succeeded by Mohammad Khatami (1997–2005), an open advocate for dialogue.
Therefore, of the last four presidents in Iran, Mahmoud Ahmadinejad (2005–2013) was the only who proved a consistent opponent of the West. Hassan Rouhani seemed right for establishing the dialogue. The United States under Obama's administration and the European countries seemed to have weighed all the possibilities in embarking on the path of normalizing the relations with Tehran. However, the Collective West found itself hostage to the twists and turns of the U.S. domestic policy.
Donald Trump's hasty withdrawal from the JCPOA was carried out in spite of no violations of the deal's terms on the Iranian side, the position of the UN Security Council, or the opinion of U.S. allies in Europe. This became a critical point for the Iran's "pivot West." The political elite of the Islamic Republic of Iran saw once again that treaties with the U.S. and assurances from the U.S. are not worth anything. However, this does not mean that the West has lost Iran forever. In theory, there might be a new chance in the long run—for the foreseeable future, this is out of the question, though.
For Iran, joining the SCO symbolizes a consolidation of its foreign policy's Eastern dimension. Even a prospective return to the nuclear deal under Raisi will not change this trend. This may look like a victory for the "Look East" strategy promoted earlier on by Ahmadinejad as the basic tenet of his foreign policy. Moreover, it was right during his presidential term that Iran attained observer status with the SCO in 2005 and made two failed attempts to become a full member.
While this was a deliberate choice made by Iranian conservatives under President Ahmadinejad who sought to hinder relations with the West with their own hands, today's Iran is taking such a step as a desperate measure. The West has closed off the path to normalization, doing so for no good reason, whose rationale would be shared by the majority of the players, but because one of them is in the grip of political instability domestically.
Reassessing the Image
The nuclear deal, coupled with the desire to cooperate with the outside world and the attempts to break the isolation, have borne some fruit for Iran. Iran's image as a collective threat has consistently been blurred by Tehran's efforts. The Islamic Republic is increasingly perceived as a rational actor on the international arena, if in pursuit of its specific goals.
Thus, Iran's failed attempt to attain SCO membership was largely due to the fact that the Central Asian nations had been rather wary of Iranian Islamism and its proneness to ideological expansion. However, the following years have shown that Tehran is ready for constructive cooperation with secular forces. Realistic considerations increasingly prevail over Islamic motivation, while the expansionism is limited to certain regions in the Middle East. Moreover, Iran's anti-terrorist aspirations tend to overlap with the vision of other countries. Iran's fight against the Islamic State (ISIS, a terrorist group banned in Russia) and its meaningful interaction with Russia and Turkey in Syria are another important indicator.
Another obstacle to Iran's membership in the SCO was its pronounced and unrelenting anti-Americanism, especially characteristic of Ahmadinejad's years in power. China, remaining one of the key economic partners of the United States in the 2000s and 2010s, did not want the SCO to become a platform for anti-American rhetoric. Russia, too, had expectations to normalize relations with Washington at that time.
However, Tehran showed again that pragmatism, rather than ideology, is the highlight of its foreign policy, proving that Iran can even negotiate the nuclear deal with the "Great Satan". The failure of the JCPOA framework should be attributed to the inconsistency of the United States rather than to the stance professed by Iran. Besides, anti-Americanism no longer seems to be an issue today. The relations between Moscow and Washington have progressively been degrading all this time, while China has turned from a stable partner of the U.S. into the main threat to it as a leading world power. In other words, Iranian anti-Americanism now looks much more acceptable to the founding members of the SCO than was the case 10 or 15 years ago.
Tehran's general vector, pursuing an end to the isolation and aiming to legitimize the state around the world, has yielded certain results, and the SCO membership is one of them. At the same time, this was facilitated by the broader shifts in the international situation as much as by ideology having lesser sway in the foreign policy of the Islamic Republic.
An Alternative World Order
Iran's accession into the SCO is taking place amidst the growing demand from the organization's member states for new mechanisms of interaction. For a significant part of its history, the Shanghai Cooperation Organization looked like a showcase alternative to the Western order—today, in a number of dimensions, this "alternativeness" is not just an option but a need.
The most striking example is Afghanistan. In resolving security threats emanating from Afghanistan, including terrorism and drugs, the SCO member states have no one else to rely on, except for themselves, following the withdrawal of the U.S. forces. Against this background, Iran's accession at this moment seems to be of significance, as an effective Afghan settlement seems hardly possible without Tehran.
Establishing alternative (to the Western) financial mechanisms and looking for new ways of handling economic activity is another challenge. And Iran's example confirms the need for such an alternative. The U.S. withdrawal from the nuclear deal, all other participants being against it, threatened the very existence of the Agreement. First of all, this happened due to the dominant influence of Washington on the global economy. Despite all attempts, Europe, China and Russia have failed to neutralize the consequences of U.S. secondary sanctions against Tehran.
At the same time, the sanctions policy has become a very popular instrument in international relations. Restrictions imposed by Western governments are becoming less and less predictable each year, since the internal political situation is the key factor. In the future, China, Russia and other countries may face similar pressure measures that are now used against Iran.
In this regard, Tehran is in the "vanguard", exploring new pilot approaches. So far, circumventing sanctions has proved difficult and time-consuming, although there has been some progress in this area.
Finally, the key prospect for the SCO is its transformation into a dialogue platform for politically diverse states in order to agree on new approaches. The Organization's extremely broad mandate allows it to tackle a huge range of issues and unlock the potential to coordinate efforts of different international actors.
In this vein, Iran turns out to be a unique test case for the entire structure. A country with a completely different worldview and specific goals will be forced to talk and negotiate on a regular basis with the largest states of the macro-region. From now on, Tehran as a full member cannot simply observe the course of meetings, it will have to adopt a position on the SCO agenda issues.
As far as the interest of Iran goes, the Organization is quite in line with its political objectives in the short term. Promoting trade ties is mostly based on bilateral agreements between the countries, while the role of the SCO as an economic driver is still at its early stage. This institution will primarily contribute to Tehran's cooperation in the field of security and political rapprochement; however, closer economic cooperation may come as a by-product of this.
In any case, Iran's membership in the SCO can be called an important stage in the SCO's maturing into a solid international institution. Until now, the Organization has focused on combating terrorism, separatism and extremism, although its mandate allows it to tackle a much broader range of issues. The expansion of the membership increases the legitimacy of the SCO—but, at the same time, expectations from the organization as a global powerbroker are growing. To justify them, the SCO must take on greater responsibility, looking beyond security issues.
From our partner RIAC
US military presence in the Middle East: The less the better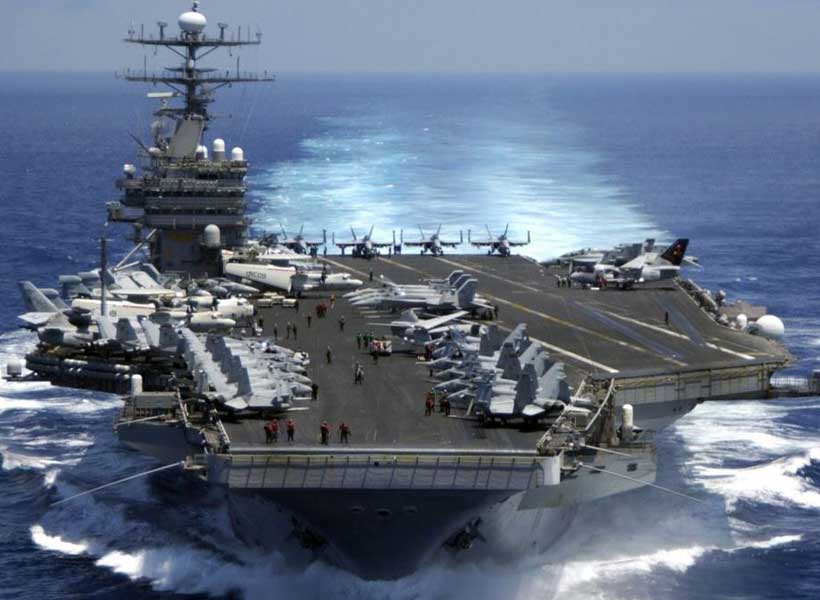 It may not have been planned or coordinated but efforts by Middle Eastern states to dial down tensions serve as an example of what happens when big power interests coincide.
It also provides evidence of the potentially positive fallout of a lower US profile in the region.
Afghanistan, the United States' chaotic withdrawal notwithstanding, could emerge as another example of the positive impact when global interests coincide. That is if the Taliban prove willing and capable of policing militant groups to ensure that they don't strike beyond the Central Asian nation's borders or at embassies and other foreign targets in the country.
Analysts credit the coming to office of US President Joe Biden with a focus on Asia rather than the Middle East and growing uncertainty about his commitment to the security of the Gulf for efforts to reduce tensions by Saudi Arabia, the United Arab Emirate and Egypt on the one hand and on the other, Turkey, Iran, and Qatar. Those efforts resulted in the lifting, early this year, of the Saudi-UAE-Egyptian-led economic and diplomatic boycott of Qatar.
Doubts about the United States' commitment also played an important role in efforts to shore up or formalise alliances like the establishment of diplomatic relations with Israel by the UAE and Bahrain.
For its part, Saudi Arabia has de facto acknowledged its ties with the Jewish state even if Riyadh is not about to formally establish relations. In a sign of the times, that did not stop then Prime Minister Benyamin Netanyahu from last year visiting the kingdom.
To be sure, changes in Washington's priorities impact regional defence strategies and postures given that the United States has a significant military presence in the Middle East and serves as its sole security guarantor.
Yet, what rings alarm bells in Gulf capitals also sparks concerns in Beijing, which depends to a significant degree on the flow of its trade and energy from and through Middle Eastern waters, and Moscow with its own security concerns and geopolitical aspirations.
Little surprise that Russia and China, each in their own way and independent of the United States, over the last year echoed the United States' message that the Middle East needs to get its act together.
Eager to change rather than reform the world order, Russia proposed an all-new regional security architecture modelled on the Organization for Security and Co-operation in Europe (OSCE) adding not only Russia but also China, India, and Europe to the mix.
China, determined to secure its proper place in the new world order rather than fundamentally altering it, sent smoke signals through its academics and analysts that conveyed a double-barrelled message. On the one hand, China suggested that the Middle East did not rank high on its agenda. In other words, the Middle East would have to act to climb Beijing's totem pole.
"For China, the Middle East is always on the very distant back burner of China's strategic global strategies," Niu Xinchun, director of Middle East Studies at China Institutes of Contemporary International Relations (CICIR), China's most prestigious think tank, told a webinar last year.
Prominent Chinese scholars Sun Degang and Wu Sike provided months later a carrot to accompany Mr. Niu's stick. Taking the opposite tack, they argued that the Middle East was a "key region in big power diplomacy with Chinese characteristics in a new era."
Chinese characteristics, they said, would involve "seeking common ground while reserving differences," a formula that implies conflict management rather than conflict resolution.
On that basis, the two scholars suggest, Chinese engagement in Middle Eastern security would seek to build an inclusive and shared regional collective security mechanism based on fairness, justice, multilateralism, comprehensive governance, and the containment of differences.
In the final analysis, Chinese and Russian signalling that there was an unspoken big power consensus likely reinforced American messaging and gave Middle Eastern states a further nudge to change course and demonstrate a willingness to control tensions and differences.
Implicit in the unspoken big power consensus was not only the need to dial down tensions but also the projection of a reduced, not an eliminated, US presence in the Middle East.
While there has been little real on-the-ground reduction of US forces, just talking about it seemingly opened pathways. It altered the US' weighting in the equation.
"The U.S. has a habit of seeing itself as indispensable to regional stability around the world, when in fact its intervention can be very destabilizing because it becomes part of the local equation rather than sitting above it," noted Raad Alkadiri, an international risk consultant.
While important, the United States' willingness to get out of the way is no guarantee that talks will do anything more than at best avert conflicts spinning out of control.
Saudi and Iranian leaders and officials have sought to put a positive spin on several rounds of direct and indirect talks between the two rivals.
Yet, more important than the talk of progress, expressions of willingness to bury hatchets, and toning down of rhetoric is Saudi King Salman's insistence in remarks last month to the United Nations General Assembly on the need to build trust.
The monarch suggested that could be achieved by Iran ceasing "all types of support" for armed groups in the region, including the Houthis in Yemen, Hezbollah in Lebanon, and pro-Iranian militias in Iraq.
The potential monkey wrench is not just the improbability of Iran making meaningful concessions to improve relations but also the fact that the chances are fading for a revival of the 2015 international agreement that curbed Iran's nuclear program.
"We have to prepare for a world where Iran doesn't have constraints on its nuclear program and we have to consider options for dealing with that. This is what we are doing while we hope they do go back to the deal," said US negotiator Rob Malley.
Already, Israeli politicians, unhappy with the original nuclear deal and the Biden administration's effort to revive it, are taking a more alarmist view than may be prevalent in their intelligence services.
In Washington this week, Foreign Minister Yair Lapid told US National Security Advisor Jake Sullivan that Iran was "becoming a nuclear threshold state." Back home Yossi Cohen, a close confidante of Mr. Netanyahu, who stepped down in June as head of the Mossad, asserted at the same time that Iran was "no closer than before" to obtaining a nuclear weapon.
There is no doubt, however that both men agree that Israel retains the option of a military strike against Iran. "Israel reserves the right to act at any moment in any way," Mr. Lapid told his American interlocutors as they sought to resolve differences of how to deal with Iran if a revival of the agreement proves elusive.
Meanwhile, a foreplay of the fallout of a potential failure to put a nuclear deal in place is playing out on multiple fronts. Tension have been rising along the border between Iran and Azerbaijan.
Iran sees closer Azerbaijani-Israeli relations as part of an effort to encircle it and fears that the Caucasian state would be a staging ground for Israeli operations against the Islamic republic. Iran and Azerbaijan agreed this week to hold talks to reduce the friction.
At the same time, Iran, Turkey and Israel have been engaged in a shadow boxing match in predominantly Kurdish northern Iraq while a poll showed half of Israeli Jews believe that attacking Iran early on rather than negotiating a deal would have been a better approach.
Taken together, these factors cast a shadow over optimism that the Middle East is pulling back from the brink. They suggest that coordinated big power leadership is what could make the difference as the Middle East balances between forging a path towards stability and waging a continuous covert war and potentially an overt one.
A Johns Hopkins University Iran research program suggested that a US return to the nuclear deal may be the catalyst for cooperation with Europe, China, and Russia.
"Should the United States refuse to re-join the agreement following sufficient attempts by Iran to demonstrate flexibility in their negotiating posture, Russia and China will ramp up their economic and security cooperation with Iran in a manner fundamentally opposed to US interests," the program warned.
Iranian Foreign Ministry spokesman Saeed Khatibzadeh announced this week that Russia and Iran were finalizing a 'Global Agreement for Cooperation between Iran and Russia' along the lines of a similar 25-year agreement between China and the Islamic republic last year that has yet to get legs.
Even so, Iran scored an important victory when the Shanghai Cooperation Organization (SCO) in which China and Russia loom large last month agreed to process Iran's application for membership.