The Sea Ranch: Architecture, Environment, and Idealism
One hundred miles north of San Francisco, perched on the edge of 10 miles of rugged, wind-swept California coast, is a touchstone of 20th-century architectural history — The Sea Ranch. Conceived in 1964 by developer Al Boeke and a group of Bay Area architects, landscape architects and graphic designers including Charles Moore, Joseph Esherick, William Turnbull, Lawrence Halprin and Barbara Stauffacher Solomon, this development was founded as the antithesis of suburban sprawl. With the open-minded optimism of 1960s California as a jumping-off point, The Sea Ranch was designed as a modern model community combining affordable living with exemplary architecture and a shared commitment to "live lightly on the land."
On December 22, 2018, the San Francisco Museum of Modern Art (SFMOMA) will open The Sea Ranch: Architecture, Environment, and Idealism, an exhibition devoted to exploring the early concepts and plans of this seminal Northern California Modern development. The exhibition will feature archival and contemporary photographs, original drawings and sketches from the project's designers and a full-scale architectural replica.
"In mid-20th century California, Modern architecture represented social progress. It signaled a shirking of tradition and bold new models for living. The Sea Ranch was envisioned as a place to embrace the land, a particularly moody and memorable land, that could expand California's existing indoor-outdoor lifestyle beyond cloudless skies and manicured golf courses," said Jennifer Dunlop Fletcher, Helen Hilton Raiser Curator of Architecture and Design. "The exhibition at SFMOMA revisits the earliest designs and concepts for The Sea Ranch, which embodied the progressive ideals of the initial team who designed for higher environmental standards and architectural excellence."
The Vision + Design Team
In the years after World War II, when real estate expansion created vast, identical suburbs for the burgeoning middle class, several California developers had a different idea. They sought to break this mold through financially viable projects that linked progressive values with modern architecture. One developer, Alfred "Al" Boeke, acquired a 10-mile by one-mile parcel of coastal California property bisected by a two-lane highway. Situated on a craggy shoreline above the Pacific Ocean, the site consisted of a series of meadows bordered by rows of Monterey cypress trees and, across the highway, a dense forest backed by the Gualala River. Formerly home to the indigenous Pomo Indians, loggers and a sheep ranch, it was now the site for a radical experiment in modern architecture.
Boeke's vision was to create a two-phase development plan, first offering affordable homes for weekenders to establish the project's financial stability and then, in phase two, creating a small town with amenities for full-time residents. Boeke enlisted the landscape architect Lawrence Halprin and land, wind and water experts to study the rugged terrain before creating a masterplan. Where Boeke saw financial opportunity, Halprin saw something else — social and environmental possibilities. Halprin, who had experienced the shared purpose of communal living while on a kibbutz in Israel, incorporated those values into the project, as well as his learnings from camping on The Sea Ranch site. His master plan prioritized large swaths of shared meadow and specified that 50 percent of The Sea Ranch land be set aside as common "open space." Ideas included capturing water from the Gualala River in wells to support the community, mitigating the gale-level oceanic wind through thoughtful tree planting and thinning the looming forest to bring in sunlight. "I realized that it was this character that I hoped we might achieve at The Sea Ranch, a feeling of overall place, a feeling of a community, in which the whole was more important and more dominant than its parts. If we could achieve that — if the whole could link buildings and nature into an organized whole rather than just a group of pretty houses — then we could feel we had created something worthwhile which did not destroy, but rather enhanced the natural beauty we had been given," explained Halprin.
Boeke assembled a group of Bay Area architects tasked with designing different parts of the community. Established San Francisco architect Joseph Esherick would create the iconic marker building, a general store and restaurant, and a series of single-family homes within the hedgerows. The young, Berkeley-based upstart team of Charles Moore, Donlyn Lyndon, William Turnbull and Richard Whitaker (MLTW) was engaged to design condominiums and a recreation center. Understanding that marketing the community would be key to the project's success, Halprin enlisted graphic designer Barbara Stauffacher Solomon to create the project's distinctive branding and graphic identity as well as interior supergraphics in the common buildings.
"The Sea Ranch signaled a new era in building that attempted to hold countercultural impulses and developer-driven financial imperatives in a sympathetic balance. The initial phase of The Sea Ranch development was so transformative that it set off a wave of inspiration in form and typology, radiating well beyond Northern California. It set in place a system for the sensitive occupation of a precious landscape that acknowledged the past while operating from a distinctly modern perspective," said Joseph Becker, associate curator of architecture and design.
Architecture
The Sea Ranch's proposition foregrounded stewardship of the land, a shared system of values and design rules and the use of forms and materials inspired by Northern California's vernacular. Using the visual language of the region's barns, sheds and other agricultural buildings as inspiration, Joseph Esherick's six "Hedgerow Houses" demonstrated how designing with minimal impact on the environment could also be contemporary, spacious and beautiful. His designs reduced visual clutter to avoid catching the ever-present wind and their sloping roofs mimicked nearby Cypress trees. "We deliberately took the windiest place. If we could provide a comfortable environment for people in this hostile environment, then I thought we were home free," explained Esherick. Key to the design decisions for all of The Sea Ranch was the mandate to keep structures unpainted and sided with wood native to the project to enable them to blend into the environment. A Design Review Committee codified a design language and created processes to ensure conformity among the built projects and restrain visual distractions such as flowerbeds, parked cars and reflective surfaces.
MLTW was engaged to design a new type of housing structure consisting of 10 units around a central courtyard within a single footprint. This project, Condominium One, encouraged communal living, limited environmental impact and provided low cost units for buyers from a variety of income levels. "We wanted the units to be organized together, compact and big and in the landscape, like barns and farm clusters, rather than simply sprinkled across it, to open up more lands for commons but also to bring attention to the larger landscape. The kinds of materials we used were also to be of the place, allowing the landscape to be the dominant influences," said Donlyn Lyndon. In Condominium One, MLTW took a "saddlebags" approach, where a simple core structure holds the central mass of the building and additional volumes are "hung" off this space to serve multiple purposes. "The idea is you draw a relatively simply shaped building and then add forms to it to make special places. For example, a corner window bay that captures the view, a bed nook, or a projecting stair. The 'saddlebag' forms are not pure but respond to the particularity of their site," described Mary Griffin, wife of the late Bill Turnbull. Condominium One's design memo included rough-hewn timber, exposed posts and beams, unfinished siding and a signature, raised loft known as an aedicule that functioned as a bedroom.
"With the strict adhesion to unfinished redwood and cypress siding, a massing of simple volumes, and shed roofs that mimicked the agricultural barn while acting responsively to mitigate the prevailing winds, The Sea Ranch was an evolution of the Bay Area regional styles into something new," added Joseph Becker.
Graphics
As impactful as the architecture and landscape design of The Sea Ranch were, so too were its graphics. Halprin hired Barbara "Bobbie" Stauffacher Solomon to create a logo, marketing materials and the signature interior murals in the development's communal spaces. Using the now classically modern Helvetica font, a clear departure from the swirly '60s typefaces being used in the Bay Area at the time, and incorporating motifs riffing off the site's history as a sheep ranch, Stauffacher created a graphic system that was immediately identifiable with this project. At The Sea Ranch's Moonraker Athletic Center, Stauffacher had free rein to add color to the whitewashed plywood interior. Her now-iconic supergraphics exploded with colorful visual impact in the restrained spaces, and launched a movement within graphic design that was recognized with the cover of Global Architecture magazine in 1966.
Postscript
The Sea Ranch opened in 1964 with a completed nine-unit condominium, a set of small demonstration homes, a restaurant and general store, and a small pool and tennis recreation center. In its first decade, it seemed that the owners who believed in the original concept both realized and supported The Sea Ranch vision. Yet in the early 1970s, controversy arose when inland residents, fearing that coastal development would limit public access, filed a lawsuit resulting in a 10-year construction moratorium at The Sea Ranch. This suspension shifted the priorities of the developers, who needed to recoup the financial losses incurred over a decade of inaction. Phase two of The Sea Ranch — the town for year-round residents — was never constructed and development was instead recalibrated to continue to focus on weekenders. Yet the spirit of the founders lives on — current owners at The Sea Ranch are actively discussing its future as a collective. The environmentally attentive design philosophies along with the now-iconic graphics resonated globally and still influence architecture and design today. Over 50 years later, The Sea Ranch continues to be a model for 21st-century progressive living.
Organization
The Sea Ranch: Architecture, Environment, and Idealism is organized by the San Francisco Museum of Modern Art. Jennifer Dunlop Fletcher, Helen Hilton Raiser Curator of Architecture and Design, and Joseph Becker, associate curator of architecture and design, are co-curators.
UNGA76: Giant eco-friendly artwork set to inspire world leaders
A new 11,000 square metre 'ephemeral fresco' created by Swiss artist Saype, has set the stage at UN Headquarters in New York, to welcome world leaders for the General Assembly High Level Week. It shows two children building the world of the future using origami, highlighting the participation of young people.
"World in Progress II is perfectly suited to our time and place. First, it is, in all senses, a big picture. Both its execution and its subject are monumental and ambitious. We have to take several steps back, just to view it in its entirety. Then we understand that it shows two children, designing their ideal world together", said on Saturday UN Secretary General during the unveiling ceremony.
Antonio Guterres explained that, just like the artwork, the United Nations' mission extends far beyond what we can see around us. "Most of it lies out of our view. Our work is multilateral, and multi-generational. And each of us plays an essential part in creating the whole", he added.
Earth-friendly art
Guillaume Legros, or "Saype", an artist name inspired by the contraction of the words "say" and "peace", is famous for its invention of an eco-friendly painting process. His special technique allows him to create huge frescoes directly on the grass.
"In two weeks, there will be nothing left due to the regrowth of the grass. This makes the work disappear, even more than the rain", he explained to UN News, adding that he spent more than a year finding the right pigments for his ephemeral art.
Saype had already shared one of his creations at UN premises before. Last year, World in Progress I was unveiled during the commemoration of the UN's 75th anniversary in Geneva, Switzerland.
"In the centre, there is a dove that symbolizes peace. The basic idea is that on the one hand when talking about children, we ask ourselves what responsibility we have towards them. But, on the other hand, they are the ones who will have the world of tomorrow in their hands. This means that we must really learn to live together in a world that is also hyper-connected", he said.
A call to world leaders
For the UN chief, the children depicted in World in Progress II are designing our shared future.
"This year's General Debate will take up this theme, focusing on the world we are building together. My recent report on Our Common Agenda recommends new ways for today's decision-makers to better serve both young people, and future generations".
Mr. Guterres said he was hopeful that world leaders will take inspiration from Saype's art to consider how "we can look beyond our immediate surroundings, while respecting nature and our planet".
Bengal's Thriving Cotton Handloom Tant Textile Crafts Looming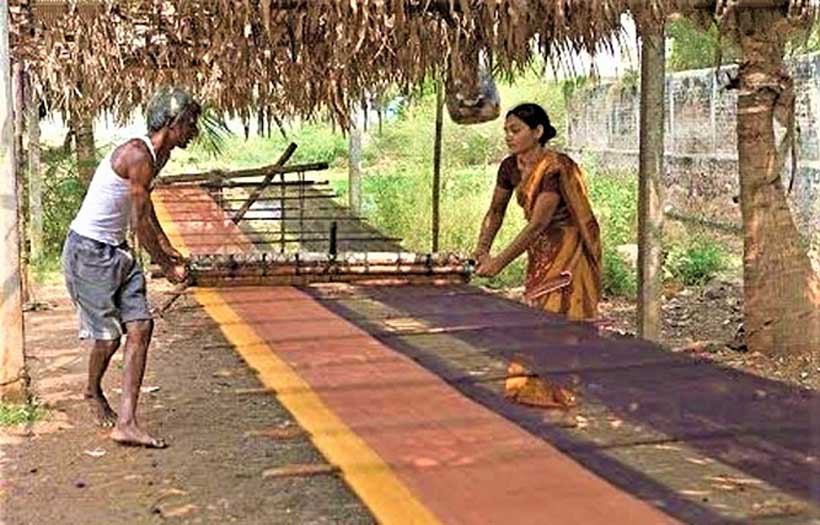 India being a diverse nation endorses and nourishes indigenous ethnic crafts. Every region of India has to offer thriving cultural heritages, a few of those receiving the attention of the mainstream population, while several are failing to do so. Once glorified Bengal's Handloom Tant Textile Crafts falls into the second category, as it's lost the place to be under the spotlight. Even though "Every Handloom Tant Textile Crafts has a unique story to tell—as it is inheriting one of the finest and ancient weaving mechanisms that sprouted in nowhere other than Bengal. Dating back to the 15th century and leaving remarkably earliest trace from Nadia District of West Bengal Handloom Tant Textile Crafts received Royal patronage and retained popularity throughout centuries. Its uniqueness lies in design which mostly includes the depiction of ancient Bengali cultural influences and reflection of Bengali flair. In that sense, Handloom Tant Textile Crafts are very much connected to the soil of Bengal and utterly reflects sustainable, indigenous initiative within the millennials weavers of Bengal, who still feel connected to the ancient essence.
Origins
The word 'Tant' indicates the cotton-based Handloom Textile Crafts, includes Handloom weaved Textiles including Saris, Cloth pieces, Dupattas, Bed Sheets etc.
Shantipur of undivided Bengal, now in Nadia district of West Bengal having earliest record of Handloom Tant Crafts weaving back to 15th century. It remained dominant cultural tradition from 16th to the 18th century and received extensive royal patronage along with the world-famous Muslin and Jamdani Sari of the same genre. In 1947 after the partition of Bengal, a hefty number of weavers migrated especially from Tangail Bangladesh to India and received rehabilitation in different regions including Phulia, Shantipur. Weavers bore their lineal Handloom Tant Textile weaving Crafts with them. Residual weaver communities got settled in the Hooghly and Bardhaman regions of West Bengal. Since then, each region has developed its signature style.
The weaving Technique
Handloom Tant Textile Craftsare woven with locally produced Bengal cotton. The kind of fine handspun yarn being used for Weaving of Handloom Tant Textile Crafts once applied in weaving soft, feather-light Muslin and Mulmul textiles that have been exported and adored globally for ages. The fineness of weaved cotton depends on the yarn quality and it is on the yarn that the textile is fine (combed cotton) or coarser (regular cotton).
Cotton being deftly woven to the thread is further being woven by craftsmen to Tant Textile. It is customary to use shuttles. Though nowadays handlooms have largely been replaced by power looms to weave Tant Textiles, which compromising the quality of Tant Textiles pushing environment-friendly, electricity-saving Handloom on the verge of extinction.
Popular motifs in use
The most popular Handloom Tant Textile Crafts product is Sari. The handloom Tant Textile crafts products other than Sari also depict motifs like Sari. A quintessential six-yard Tant Sari is distinguished by a thick two-to-four-inch border and a decorative Aanchal. Weavers use fine cotton yarn to manifest a variety of floral, paisley, and artistic motifs, attached to the culture of Bengal. Some of the most adored time-honoured motifs of West Bengal's Handloom Tant include bhomra (bumblebee), tabij (amulet), rajmahal (a royal palace), ardha Chandra (half-moon), chandmala (garland of moons), ansh (fish scales), hathi (elephant), nilambari (blue sky), ratan chokh (gem-eyed), benki (spiral), tara (star), kalka (paisley) and phool (flowers), etc. Apart from these regional trends are being followed.
Why Handloom Tant Textile Crafts losing the interest of the mainstream population and what are the way forward?
Because of the advertisement and marketing industry the youth generations are mainly inclined towards high-shine clothing, heavy silks and zari, ignoring or being unaware of clothing science and technology. Handloom Tant Textiles, in comparison, is a modest, soothing clothing based on environment-friendly technique which add real charm to Tant. Elderly people are not even aware of the positive aspects of Handloom Tant Textile Crafts, due to no such promotion leading the Crafts to evade.
What is in particular in Tant to rethink its revival?
Handloom Tant Crafts comes under the range of heritage textiles of West Bengal. Sari-loving Indian women would certainly like to acquire collection of handloom saris from across India. While Handloom Tant Textile Sari would certainly give the blended feeling of heritage and comfort. Most of the Sari-wearing Indian women find themselves particularly attached to Bengal's Handloom Tant and Jamdani Sari. Jamdani Sari belongs to the same genre of Handloom Tant. Tant Jamdani from Dhaka and Shantipur is exceptionally lightweight, characterized by intricately designed motifs that seem to float on the surface of the translucent ultra-fine textile, giving it an almost mystical grace in appearance.
Moreover, Handloom Tant Textile Crafts are comfortable to wear in tropical climatic zones of the world. Tropical, subtropical climates of the Indian subcontinent are exceptionally fine to wear and use such textiles. While most of the raw material being used and the technology being followed in Handloom Tant Textile Crafts is nature friendly and indigenous for the subcontinent. Revival, then on the restoration of the lost glory of Handloom Tant Textile Crafts of Bengal will certainly promote environment-friendly sustainable textile technology basing on the growth of the home-based cottage industry of West Bengal. Employing Indian youth in the process may revamp the initiative in the way Handloom Tant Textile Crafts would get a modern outlook and that will generate youth entrepreneurs to promote indigenous industries and a lot more positive things would happen in this row.
How important the present time is to preserve Handloom Tant Crafts? what could be the way forward?
As an economic industrial activity, the 'Tantshilpa/Tant Crafts' (the art of weaving handloom Textiles) is second only to agriculture in providing a livelihood to the people of certain regions of West Bengal. Ravaging the hope of business in Bengali New Year on April 14, 2020 the ongoing pandemic and ensuing lockdown have led to insurmountable losses to Textile Industry. Handloom Tant Textiles also facing a tremendous challenge for decades losing the interest of younger generations owing to its traditionalism and maintenance cost. The need of the hour is to activate retail for existing stock using e-commerce and involving youth to regenerate the work chain and boost business. The genesis of interest towards such heritage and endangered craft like Handloom Tant Textiles can restore the sentiment and attachment of weavers' communities.
Organizing regular workshops with the weavers offering creative concept and textile design expertise in developing an ongoing collection of modern Tant saris and textiles that can bring the Handloom Tant Industry on-trend. While Tant is a versatile and comfortable fabric especially suited in the climate of India and considerable places of the world and also lends itself well to soft furnishings home decors cum comfortable garments.
Classified Handloom Tant Textile Crafts are being picked by authentic celebrities, dignified women. To revive the Indian Economy in the post-pandemic global crisis, promotion of indigenous Industries based on the authentic handmade, handloom, and traditional crafts are the way out, which is also environment friendly. 'Make in India' and 'buy local' is more relevant now than ever before, as each locally-made purchase directly supports indigenous industry, regional to global work circle, in turn, funds its makers, that is, the craftsmen/women in every level.
The hands that nourish tradition, indigenous crafts need to be celebrated. Direct connection of remote areas Handloom Tant Textiles weavers with well-structuredHandloom Tant Textile Craftswork chain is the way forward that less known regions areas of West Bengal like Santipur, Phulia, Nadia, and Dhaniakhali get counted in the global map of Textile industry representing the glorious Handloom Tant Textile Crafts of Bengal.
Copenhagen named UNESCO-UIA World Capital of Architecture for 2023
The city of Copenhagen has been officially designated as World Capital of Architecture for 2023 by the Director-General of UNESCO, Audrey Azoulay, on the recommendation of the General Assembly of the International Union of Architects (UIA).
This decision is in keeping with the partnership agreement established between UNESCO and the UIA in 2018, through which UNESCO designates the host cities of UIA's World Congress as World Capitals of Architecture. "We are very happy to see the torch of the World Capital of Architecture title pass to Copenhagen from Rio de Janeiro," Audrey Azoulay said. "The inaugural World Capital of Architecture in Rio was a real success, underlining the important role of urban planning, notably in the pandemic context", she noted, adding that "Copenhagen will build upon Rio's achievements, by continuing to show the way in which architecture and culture can respond to the challenges of our time, especially in the environmental field."
UNESCO and the UIA launched the World Capital of Architecture initiative to highlight the key role of architecture, city planning, and culture in shaping urban identity and sustainable urban development. Every three years, the city designated as World Capital of Architecture becomes a global forum at the forefront of discussions on contemporary urban planning and architectural issues.
As the World Capital of Architecture for 2023, Copenhagen will host a series of major events and programmes on the theme "Sustainable Futures – Leave No One Behind." In cooperation with the Danish Association of Architects and various Nordic professional bodies, the municipality will examine how architecture and urban design contribute to meeting the 17 United Nations Sustainable Development Goals.
From 18 to 22 July 2021, Rio de Janeiro will host the World Congress of Architects online. Following Copenhagen in 2023, Barcelona and Beijing are the two contenders looking to claim the World Capital of Architecture title in 2026 and host the next World Congress. The official decision will be made later this year.