The Sea Ranch: Architecture, Environment, and Idealism
One hundred miles north of San Francisco, perched on the edge of 10 miles of rugged, wind-swept California coast, is a touchstone of 20th-century architectural history — The Sea Ranch. Conceived in 1964 by developer Al Boeke and a group of Bay Area architects, landscape architects and graphic designers including Charles Moore, Joseph Esherick, William Turnbull, Lawrence Halprin and Barbara Stauffacher Solomon, this development was founded as the antithesis of suburban sprawl. With the open-minded optimism of 1960s California as a jumping-off point, The Sea Ranch was designed as a modern model community combining affordable living with exemplary architecture and a shared commitment to "live lightly on the land."
On December 22, 2018, the San Francisco Museum of Modern Art (SFMOMA) will open The Sea Ranch: Architecture, Environment, and Idealism, an exhibition devoted to exploring the early concepts and plans of this seminal Northern California Modern development. The exhibition will feature archival and contemporary photographs, original drawings and sketches from the project's designers and a full-scale architectural replica.
"In mid-20th century California, Modern architecture represented social progress. It signaled a shirking of tradition and bold new models for living. The Sea Ranch was envisioned as a place to embrace the land, a particularly moody and memorable land, that could expand California's existing indoor-outdoor lifestyle beyond cloudless skies and manicured golf courses," said Jennifer Dunlop Fletcher, Helen Hilton Raiser Curator of Architecture and Design. "The exhibition at SFMOMA revisits the earliest designs and concepts for The Sea Ranch, which embodied the progressive ideals of the initial team who designed for higher environmental standards and architectural excellence."
The Vision + Design Team
In the years after World War II, when real estate expansion created vast, identical suburbs for the burgeoning middle class, several California developers had a different idea. They sought to break this mold through financially viable projects that linked progressive values with modern architecture. One developer, Alfred "Al" Boeke, acquired a 10-mile by one-mile parcel of coastal California property bisected by a two-lane highway. Situated on a craggy shoreline above the Pacific Ocean, the site consisted of a series of meadows bordered by rows of Monterey cypress trees and, across the highway, a dense forest backed by the Gualala River. Formerly home to the indigenous Pomo Indians, loggers and a sheep ranch, it was now the site for a radical experiment in modern architecture.
Boeke's vision was to create a two-phase development plan, first offering affordable homes for weekenders to establish the project's financial stability and then, in phase two, creating a small town with amenities for full-time residents. Boeke enlisted the landscape architect Lawrence Halprin and land, wind and water experts to study the rugged terrain before creating a masterplan. Where Boeke saw financial opportunity, Halprin saw something else — social and environmental possibilities. Halprin, who had experienced the shared purpose of communal living while on a kibbutz in Israel, incorporated those values into the project, as well as his learnings from camping on The Sea Ranch site. His master plan prioritized large swaths of shared meadow and specified that 50 percent of The Sea Ranch land be set aside as common "open space." Ideas included capturing water from the Gualala River in wells to support the community, mitigating the gale-level oceanic wind through thoughtful tree planting and thinning the looming forest to bring in sunlight. "I realized that it was this character that I hoped we might achieve at The Sea Ranch, a feeling of overall place, a feeling of a community, in which the whole was more important and more dominant than its parts. If we could achieve that — if the whole could link buildings and nature into an organized whole rather than just a group of pretty houses — then we could feel we had created something worthwhile which did not destroy, but rather enhanced the natural beauty we had been given," explained Halprin.
Boeke assembled a group of Bay Area architects tasked with designing different parts of the community. Established San Francisco architect Joseph Esherick would create the iconic marker building, a general store and restaurant, and a series of single-family homes within the hedgerows. The young, Berkeley-based upstart team of Charles Moore, Donlyn Lyndon, William Turnbull and Richard Whitaker (MLTW) was engaged to design condominiums and a recreation center. Understanding that marketing the community would be key to the project's success, Halprin enlisted graphic designer Barbara Stauffacher Solomon to create the project's distinctive branding and graphic identity as well as interior supergraphics in the common buildings.
"The Sea Ranch signaled a new era in building that attempted to hold countercultural impulses and developer-driven financial imperatives in a sympathetic balance. The initial phase of The Sea Ranch development was so transformative that it set off a wave of inspiration in form and typology, radiating well beyond Northern California. It set in place a system for the sensitive occupation of a precious landscape that acknowledged the past while operating from a distinctly modern perspective," said Joseph Becker, associate curator of architecture and design.
Architecture
The Sea Ranch's proposition foregrounded stewardship of the land, a shared system of values and design rules and the use of forms and materials inspired by Northern California's vernacular. Using the visual language of the region's barns, sheds and other agricultural buildings as inspiration, Joseph Esherick's six "Hedgerow Houses" demonstrated how designing with minimal impact on the environment could also be contemporary, spacious and beautiful. His designs reduced visual clutter to avoid catching the ever-present wind and their sloping roofs mimicked nearby Cypress trees. "We deliberately took the windiest place. If we could provide a comfortable environment for people in this hostile environment, then I thought we were home free," explained Esherick. Key to the design decisions for all of The Sea Ranch was the mandate to keep structures unpainted and sided with wood native to the project to enable them to blend into the environment. A Design Review Committee codified a design language and created processes to ensure conformity among the built projects and restrain visual distractions such as flowerbeds, parked cars and reflective surfaces.
MLTW was engaged to design a new type of housing structure consisting of 10 units around a central courtyard within a single footprint. This project, Condominium One, encouraged communal living, limited environmental impact and provided low cost units for buyers from a variety of income levels. "We wanted the units to be organized together, compact and big and in the landscape, like barns and farm clusters, rather than simply sprinkled across it, to open up more lands for commons but also to bring attention to the larger landscape. The kinds of materials we used were also to be of the place, allowing the landscape to be the dominant influences," said Donlyn Lyndon. In Condominium One, MLTW took a "saddlebags" approach, where a simple core structure holds the central mass of the building and additional volumes are "hung" off this space to serve multiple purposes. "The idea is you draw a relatively simply shaped building and then add forms to it to make special places. For example, a corner window bay that captures the view, a bed nook, or a projecting stair. The 'saddlebag' forms are not pure but respond to the particularity of their site," described Mary Griffin, wife of the late Bill Turnbull. Condominium One's design memo included rough-hewn timber, exposed posts and beams, unfinished siding and a signature, raised loft known as an aedicule that functioned as a bedroom.
"With the strict adhesion to unfinished redwood and cypress siding, a massing of simple volumes, and shed roofs that mimicked the agricultural barn while acting responsively to mitigate the prevailing winds, The Sea Ranch was an evolution of the Bay Area regional styles into something new," added Joseph Becker.
Graphics
As impactful as the architecture and landscape design of The Sea Ranch were, so too were its graphics. Halprin hired Barbara "Bobbie" Stauffacher Solomon to create a logo, marketing materials and the signature interior murals in the development's communal spaces. Using the now classically modern Helvetica font, a clear departure from the swirly '60s typefaces being used in the Bay Area at the time, and incorporating motifs riffing off the site's history as a sheep ranch, Stauffacher created a graphic system that was immediately identifiable with this project. At The Sea Ranch's Moonraker Athletic Center, Stauffacher had free rein to add color to the whitewashed plywood interior. Her now-iconic supergraphics exploded with colorful visual impact in the restrained spaces, and launched a movement within graphic design that was recognized with the cover of Global Architecture magazine in 1966.
Postscript
The Sea Ranch opened in 1964 with a completed nine-unit condominium, a set of small demonstration homes, a restaurant and general store, and a small pool and tennis recreation center. In its first decade, it seemed that the owners who believed in the original concept both realized and supported The Sea Ranch vision. Yet in the early 1970s, controversy arose when inland residents, fearing that coastal development would limit public access, filed a lawsuit resulting in a 10-year construction moratorium at The Sea Ranch. This suspension shifted the priorities of the developers, who needed to recoup the financial losses incurred over a decade of inaction. Phase two of The Sea Ranch — the town for year-round residents — was never constructed and development was instead recalibrated to continue to focus on weekenders. Yet the spirit of the founders lives on — current owners at The Sea Ranch are actively discussing its future as a collective. The environmentally attentive design philosophies along with the now-iconic graphics resonated globally and still influence architecture and design today. Over 50 years later, The Sea Ranch continues to be a model for 21st-century progressive living.
Organization
The Sea Ranch: Architecture, Environment, and Idealism is organized by the San Francisco Museum of Modern Art. Jennifer Dunlop Fletcher, Helen Hilton Raiser Curator of Architecture and Design, and Joseph Becker, associate curator of architecture and design, are co-curators.
Squid Game, Style influence and Sustainable consumption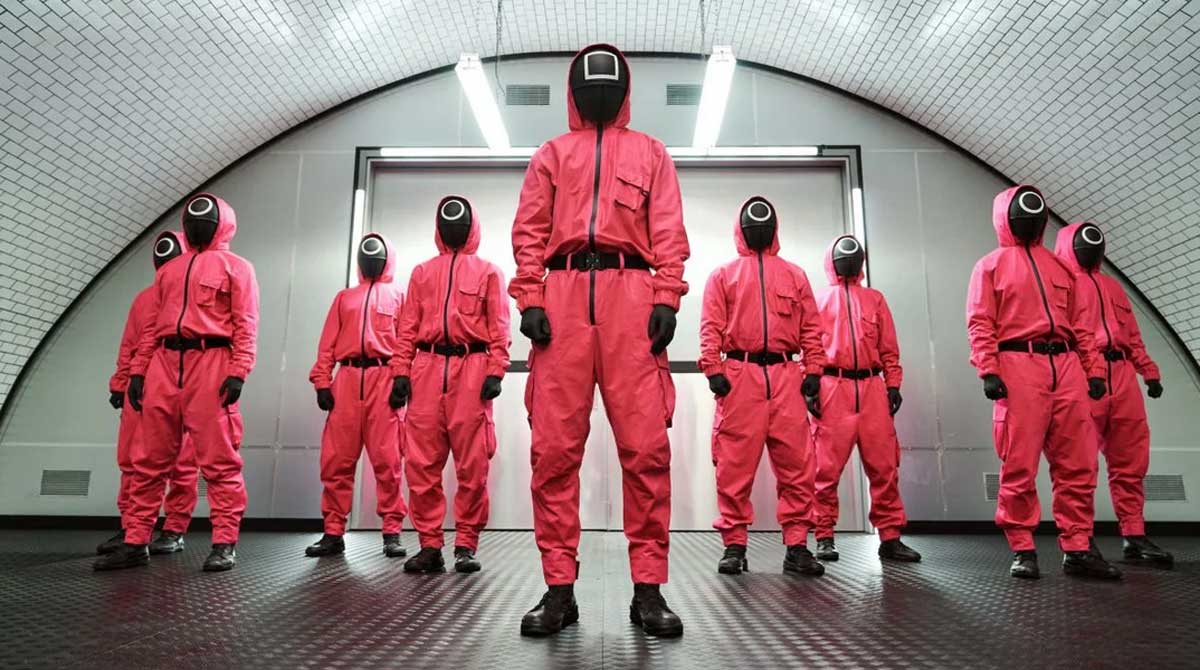 Have you heard about the recent South Korean drama blockbuster named Squid Game yet? It was released on Netflix on Sept. 17, 2021, and has quickly earned a worldwide audience. Since debuting, it has been viewed by more than 100 million people and has become the no. 1 trending in top 10 lists in 94 countries around the world.
Not only topped the list, but the South Korean drama has also created a trend that has influenced fashion style around the world and dominated the online platforms such as Google, Facebook, Instagram, and several online shopping websites: Amazon, eBay, Shoppee, and so on. On Google.com, you will find more than 223,000,000 results in only 0.53 seconds; on Amazon.com, the term "Squid Game costume" has also become a top finding, even when you have just typed only two characters "sq", the full term "Squid Game costume" will appear and you can find more than a thousand of results about this kind of clothes. 6,150 results for Squid Game costume appear when searching on eBay. On Instagram and Facebook, the hashtag #SquidGameCostume has recently become the most popular key hashtag and could be the influent style this winter.
Unlike trending superhero movies like Captain American, Avengers, with characters wearing specialized and inconvenient costumes for daily use, "Squid Game" is full of players wearing banal teal-green tracksuits. And this style of wearing tracksuits has been promoted by luxury fashion brands such as Louis Vuitton and Channel in recent years, because of its convenience and full of fashion, suitable for almost everyone from children, young people, and adults. That's why the seemingly simple tracksuits in "Squid Game" turned out to be more trending.
The green tracksuit will likely become popular because of its convenience and ease of production, but it's not the only known outfit, one that's probably even more sought-after is the set of hot pink boiler suits and black masks watch the spectacle. Halloween is just around the corner, this type of costume has the potentiality to become another "red jumpsuits and Salvador Dalí masks" – a phenomenon that comes from the previous hit Money Heist. Clearly, Squid Game costume could be a perfect choice for the one who is looking for the new and trending Halloween costume, and fashion influencers may have to queue in line after Squid Game this Halloween and winter.
With marketing strategies in all aspects that an ordinary person can reach just by picking up the smartphone, it is not difficult for "Squid Game" to be accessible through advertisements, and finding a way to win in marketing could be more easily for fashion companies and even companies that are not engaged in the fashion industry. Netflix even sells Squid Game t-shirts and hoodies on its website, and it seems that marketing the products of trending movies will become the marketing trend in the future.
However, from the environmentalist or sustainable consumption supporters' perspective, the influences of the fads can go against what they're pursuing. Sustainable consumption is the use of services and related products, which responds to basic needs and brings a better quality of life while minimizing the use of natural resources and toxic materials as well as the emissions of waste and pollutants over the life cycle of the service or product so as not to jeopardize the needs of future generations. Sustainable consumption is closely related to sustainable production and sustainable lifestyles. When thinking about the relationship of a hot trend like Squid Game and its influence, we could see the 4M plus model (4M +) including Mass media marketing -Mass outfit obsession – Mass production – Mass consumption, and the plus could be the Mass damage for the environment. It may seem to be not a kind of mass production if it only happens once in a blue moon and only happens for one movie/show, but in fact, it is an unstoppable game that every director wants to win. Fashion's influence could be a tool to reach the top trending show of the year and also be a push for the fashion industry and consumption later.
So, is the top trending show doing well in marketing and promoting fashion consumption by creating style influence, definitely Yes, but is it promoting sustainable consumption? I am not sure.
The winner of the All About Photo Magazine contest is a picture of a happy Nenets family
The work of the Russian photographer Yulia Nevskaya "Tundra People" – a photograph of a happy woman from the Russian northern region of Taimyr surrounded by three children won first prize in the All About Photo Magazine travel photography competition. This photograph's victory is particularly noteworthy for the UNESCO-announced Decade of Indigenous Languages (2022–2032), which will focus on the rights of native speakers of indigenous languages.
All About Photo is a free and independent magazine that has become one of the most vibrant portals of photography on the web. Moreover, All About Photo result is one of the most far-reaching online magazines where you can find everything related to photography.
Nevskaya worked a lot in the north of Russia, including with small peoples: the Nenets and the Sami. She took many photographs in one of the most interesting and northern cities of Russia – Norilsk.
This is how she described her trip.
"Norilsk is an industrial city, there are many industries that are harmful to the environment. This city was a revelation for me. I expected to see a smoky sky and an oppressive atmosphere. But the city turned out to be full of light, a combination of shades of white and blue against the background of the silence of the Arctic, "Nevskaya said.
The main enterprise of the city – Norilsk Nickel – has been actively cooperating with the indigenous people of the region for a long time.
The Taymyr Peninsula is a peninsula in the Far North of Russia, in the Siberian Federal District, that forms the northernmost part of the mainland of Eurasia. Administratively it is part of the Krasnoyarsk Krai Federal subject of Russia.
Nornickel has been cooperating with the Indigenous Minorities of the North for more than 30 years.
The photo shows Angelina Wanga with her children Denis, Linda and Dima. The picture was taken at the end of April. Snow in the tundra will melt only at the beginning of summer.
In July, at the UNESCO headquarters in Paris, with the support of Norilsk Nickel, the exhibition "The World in the Faces" of the famous Russian photographer Alexander Khimushin was held. The author personally presented a collection of more than 170 artistic photographic portraits of representatives of different peoples of the world, shot in authentic national costumes in places of residence. The exhibition was dedicated to the upcoming International Decade of the World's Indigenous People and Their Languages. It is a celebration of multiculturalism and our incredible ethnic diversity at its best.
In 2018, Khimushin went to the Russian Arctic – Taimyr. The result was a series of portraits of the region's indigenous inhabitants – Dolgans, Nganasans, Enets, Nenets, Evenks.
Khimushin became the first Russian photographer to have an exhibition at the UN headquarters in New York. Works from The World in Faces project were exhibited at the University of Lille in France, and for six months were broadcast on the screen of the world's largest digital art center in Bordeaux.
Landmark report highlights untapped potential of Africa's film industry
Africa's film and audiovisual industries could create over 20 million jobs and contribute $20 billion to the continent's combined Gross Domestic Product (GDP), the UN cultural agency, UNESCO, said on Tuesday in a new report highlighting this untapped potential.
The African Film Industry: Trends, Challenges and Opportunities for Growth is the first-ever mapping of the sector, which currently employs some five million people and accounts for $5 billion in GDP across Africa.
Making creativity viable
Audrey Azoulay, the UNESCO Director-General, presented the report in Paris alongside esteemed filmmakers Abderrahmane Sissako and Mati Diop.
"This landmark publication reflects on the importance of strengthening international cooperation to enable all countries, in particular developing countries, to develop cultural and creative industries that are viable and competitive both nationally and internationally," she said.
The report aims to help the African film industry, and decision-makers, to take stock of the current landscape and plan strategically for future growth.
Africa's potential as a film powerhouse remains largely untapped, despite a significant growth in production across the continent, the report argues. Nigeria alone produces around 2,500 films a year.
Even though affordable digital film equipment and online platforms allow direct distribution to consumers, opening new avenues for content creators, Africa is the most underserved continent in terms of movie theatres. Currently, there is only one cinema screen per 787,402 people.
Lights, camera, piracy
The film industry also faces the significant problem of piracy. The UNESCO report estimates that 50 per cent to over 75 per cent of revenue is lost to piracy, though precise data does not exist. Additionally, just 19 out of 54 African countries offer financial support to filmmakers.
The report outlines further challenges, including limitations on freedom of expression, as well as education, training and internet connectivity.
Films as 'public goods'
This year marks two decades since the adoption of a UNESCO Declaration that upholds cultural diversity as being as necessary to humanity as biodiversity is to nature.
Ms. Azoulay said in commemorating the anniversary, "we must raise our voice to reaffirm that films are indeed 'public goods' that require public support and investment to ensure equal access to creation, production, distribution, dissemination and consumption."