India and Pakistan bid for NSG Membership
48 years journey of India and Pakistan resulted in them getting the de-facto Nuclear Weapons Status. Since the last 20 years, both rivals have developed their arsenals in accordance with Credible Minimum Deterrence to meet the demands of nuclear strategy and security environment.
Henceforth, with the modification of global dynamics, India and Pakistan bid for the membership of Nuclear Suppliers Group. They aspire to enter into a legitimate Nuclear Regime to gain global recognition, power, prestige, and security.
India's bid for NSG membership is backed with powerful states in disguise as Nuclear Weapon States, playing their Great Game to control the power politics of the Asia Pacific Region. India's real motive is to have access to Nuclear technology from International markets, admission in the international arena of nuclear commerce, get more Uranium for Nuclear Reactors and fulfil their demand for thermonuclear weapons, Import Nuclear weapons (Russia-France), and easy to produce missile capabilities. The aggressive aims are undermining the guidelines of NSG and are a grave threat to regional stability.
In addition to that, India's Strategic ambitions are eminent to its recent Strategic collaborations with France and Russia. It shows that their future plans are not just confined to the peaceful use of Nuclear Technology. Moreover, India is acquiring Igla-S system, Vshorad missiles, S-400 Triumf, Eurofighter Typhoon, LCA-Tejas MK 1A, Mig-21s, Su-30 MKI, Rafale, AK-103 assault rifles, Nuclear Submarines from different defence deals. The existence of India's secret nuclear city Challakere highlights India's ambitions to become a regional power. Their stance to match the nuclear arsenal of China and Pakistan is a big bluff.
India is using all its resources to avail the NSG membership. They are lobbying with close friendly states to work with other members to get India acknowledged in the NSG. India is also addressing concerns of some member countries over India's non-NPT status. India is stressing that admission must be 'merit-based', and not 'criteria-based', as advocated by China, and that being a member of groupings like the Australia Group, Missile Technology Control Regime, and Wassenaar Arrangement, boosts its credentials.
Moreover, President Obama explicitly committed himself to facilitate India's entry into the four components of the international export control regime, namely the MTCR, the Australia Group, the Wassenaar, and the NSG. India has recently been granted the STA-1 status and can avail new strategic opportunities under a 2+2 Framework which can open the doors of international nuclear commerce for India. It is an open threat to regional stability and violation of NPT Regime.
Alice Wells, the Principal Deputy Assistant Secretary of State for South Asia and Central Asia said that we moved ahead with an STA-1 authorization and we certainly believe that India meets all of the qualifications of the Nuclear Suppliers group and will endure to actively advocate on behalf of India's membership.
Beijing backed a two-step approach which demanded that the NSG members first need to arrive at a set of principles for the admission of non-NPT states into the NSG and then move forward with the negotiations. Talks between the Indian and Chinese officials on the subject were "forward-looking". Apart from China, there are others factor that are a hurdle for India to achieve NSG status, including India's refusal to sign the CTBT and the Fissile Material Cut-Off Treaty.
NSG member nations are typically nuclear nations that come together as a global control regime for trade in nuclear materials, equipment, and technology. India's bid for membership violates the rules and regulations of NSG.
If India does get the membership, it will not support Pakistan's membership and it will sabotage Pakistan's sovereignty. Pakistan wants global recognition, as the country's defence policies will be in danger due to the US' and India's aggressive aims. The US exempts India from rules and regulations for civilian nuclear trade and facilitates it with a legal right for the sake of playing their own Great Game in the Asia Pacific Region. The Indian government has accelerated its diplomatic efforts to participate on the NSG's high tables as a full-fledged member.
Out of the 48, 43 members are with India while China, Ireland, New Zealand, Austria have objections to exceptionalism and insistence on development of a uniform criteria for the entry of all non-NPT nuclear states. Hence, it is vital to strengthen the criteria and norm-based approach and revisit multilateral approaches to strengthen the Proliferation Regime. Moreover, criteria Based Approach will benefit Pakistan's security concerns.
On contrary, Pakistan has defensive Nuclear Posture which had maintained Full Spectrum deterrence to counter Indian Cold Start Doctrine and Pakistan Nuclear policy is not aggressive/ offensive to obtain more fissile material for nuclear weapons. The reality of Nuclear South Asia is that whatsoever, the Nuclear Treaty, Group or Agreement have to be signed, India and Pakistan evaluate their Strategic calculations with each other to keep their National Security foremost.
Pakistan must strengthen its diplomatic lobbying skills to collaborate with others states to defend Pakistan so that it can get the MTCR, Wasanaar, Australia Group and NSG membership. Tasnim Aslam, head of the UN desk at the Foreign Office stated that "Pakistan has the expertise, manpower, infrastructure and the ability to supply NSG controlled items, goods, and services for a full range of nuclear applications for peaceful uses".
Presently, there is a need for dialogue to discuss the issue. The role of the US and Russia in this regard cannot be negated and they should motivate regional states towards peace.  India's policy of isolating Pakistan and its hostile attitude towards Pakistan is hazardous for South Asian Strategic Stability.
Changing Regional Security Paradigm: A Challenge to Kashmir and Options for Pakistan
The post-cold war world has witnessed shifts in international and regional security paradigms. Due to globalization, easy migrations, advanced technologies, changing geopolitical scenarios, and social resources the world today is more vulnerable to diversified threats. In this regard, traditional conflict resolution tactics are not enough or influential. New strategies and options are needed to gain interest without being in direct war and confrontations. One such old conflict which has been there for more than 70 years despite 3 major wars between India and Pakistan is Kashmir Issue. While Pakistan is struggling economically and politically, India on the other side is increasing its soft power projection within the region and beyond, posing a serious threat to the traditional tactics of Pakistan towards the Kashmir cause.
The 4 major factors that boosted the strategies of the Indian state are identity, security, prosperity, and soft power. Along with defense, India was focused on its economy, diplomacy, and identity so much from the past few years. It is one of the key drivers of the global economic market, making up about 15% of the world's economic output. Soon India will become the world's largest country by Population, accounting for maximum youth, meaning it is offering incentives, consumer markets, and youth force to other countries. Moreover, India has become the third largest producer of steel (producer with Arcelor- Mittal), enhancing the credibility and reliability of MADE IN INDIA across the globe. It is considered an IT giant. Many IT companies from India entered Fortune 500-group that has opened doors of businesses and jobs for the Indian youth.
Furthermore, along with being a major partner in trade and commerce in the international market, regionally India provides aid and acts as an advocate of welfare for many developing countries in Asia. Along with that, it is also looking towards opportunities to gain the interest of Afghanistan which is an internationally isolated state. Internationally, it has become a major geo-strategic and geo-economic partner of many western states like the US and UK, as it has the potential to counter the Chinese Rise. It is part of various geopolitical alliances initiated for the containment of China such as QUAD and middle eastern alliances i.e., I2U2. Moreover, India also has a settled Middle Eastern policy to benefit from all major actors instead of choosing blocs. Thus, India has worked on its economy, over the years to bring prosperity and self-sufficiency within the country. It has provided markets and incentives to other countries thereby increasing its lobbying power. Through its strong diplomacy, it has become a major actor that also promoted its values and identity.
Lastly one can't deny that the hegemonic capabilities of India have challenged the Kashmiris and their freedom movements. India is now integrating into Kashmir not only militarily but also diplomatically, politically, and economically. It has incentivized the Kashmir issue as well. After India revoked articles 370 and 35A It is working on Kashmir's demographic changes. India also opened doors for tourism and international investments in Kashmir. If someone starts investing there, that will normalize that Kashmir is part of India. Yet India didn't receive any backlash, nor it is isolated or being sanctioned. The reason is simple, India has good ties with many western states. It provides incentives and fulfills the economic and political interests of the west.
For Pakistan, which is a party to the conflict, instead of normative a more realistic approach is required now. Though Pakistan has emotional attachments with Kashmir but it's not enough to just talk about morals and injustice at international forums. If Pakistan wants to support the Kashmiris it should enhance its intellectual power, academia, and soft power projection. Literature and academia help export the actual ideologies and narratives to the rest of the world. The Kashmiri diaspora within Pakistan and abroad should be supported for that. In addition, Pakistan needs to increase its influence to counter India not only in the military sector but also in the economic and political domains. The defense ratio between Pakistan and India is 1/8 while on the other hand in the economy it is 1/20. Though the importance of defense can't be ignored in the balance of power, but international politics has evolved, and power is not limited to military only. One can look at the two recent world events where there was the use of force and weapons to gain interests i.e., Afghanistan and the Ukraine-Russian war. Afghanistan is now internationally isolated while Russia is being sanctioned and criticized. So, direct confrontations and wars are not accepted and supported by states at broad levels. Thus, with the changing global political and strategic environment it is important to work on spheres of academia, research, soft power, and diplomacy.
The Taliban and the current Afghanistan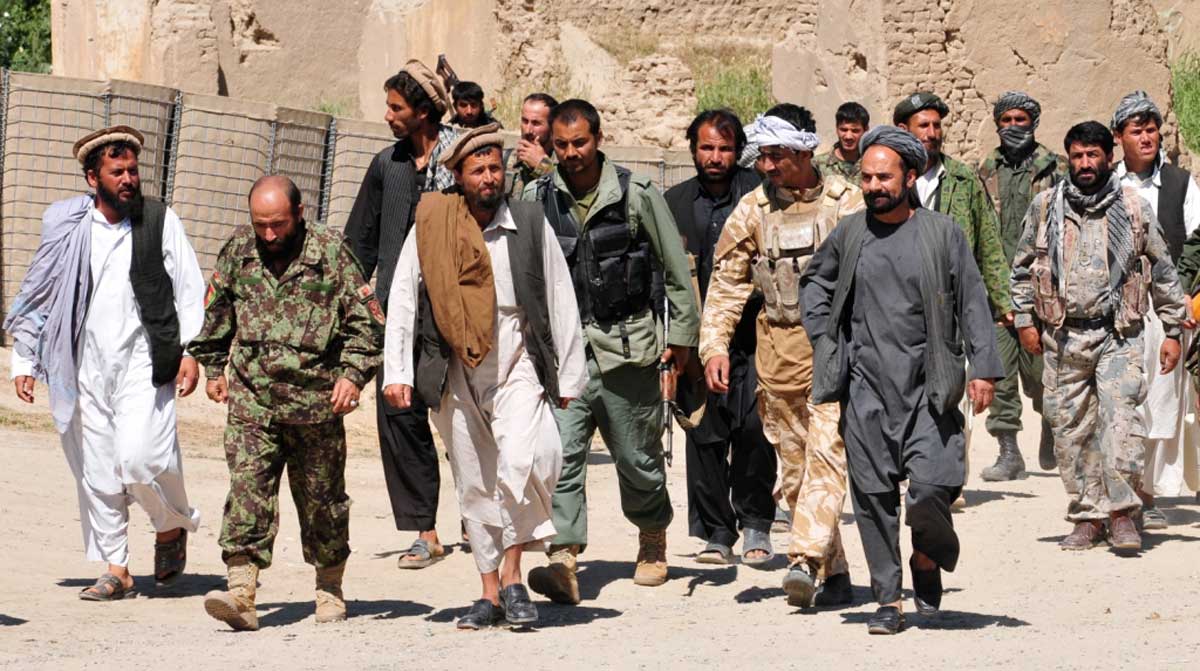 After the Taliban seized power in Afghanistan, the Afghan state and the public rapidly declined. The country's territories have become the source of international terrorism and many global problems.
August 15 is the first anniversary since the power in Afghanistan was seized by the Kabul Taliban, and the ex-president of the Afghan state, Ashraf Ghani fled. After a year of the Taliban's power, their power has not yet been recognized by any state in the world.
According to the UN International Labor Organization, the Taliban's ascension to power in Afghanistan has led to rapid growth in the unemployment rate among the population. Based on the data of the UN, such a situation in the Afghan labor market was caused by the economic crisis and the prohibition on work for the female population. Over five hundred thousand people in Afghanistan lost their jobs during the first month of the Taliban rule. "The crisis has affected women the most. Thus, their employment level, already extremely low by world standards, decreased by 16% in the third quarter of last year. By mid—2022, it is projected to fall to 28%," the UN investigation states.
In addition to the economic decline, there has been a rise in drug production in Afghanistan. Drugs are one of the Taliban's main income zones, and their power has re-activated the production and export of opium and heroin. However, the drug business was also active under the former Afghan authorities. According to the UN, in 2021, Afghanistan's income from drug exports amounted from 1.8 billion to 2.7 billion US dollars. This profit is from 6 to 11% of the GDP of the Afghan state. As before, the main drug export channels pass through Pakistan. The leader of the Taliban, Haibatullah Akhundzada, issued a fatwa in 2022 to ban the production and distribution of opium and other drug substances in Afghanistan. However, there have been no significant changes in this situation. Nevertheless, the Taliban repeatedly make statements about the cessation of drug production, but they also confirm that the prohibition on opium production will lead to the loss of the only way of earning for peasants, leading to an uprising.
Pakistan acts as the main partner country for Afghanistan. Bypassing sanctions, weapons are coming from Pakistan to Afghanistan. And the majority of Afghan drugs are exported through Pakistan's western provinces – the southern route. The main patron and sponsor of the Taliban is also the Pakistani military leadership. With the help of Pakistani support, the radicals seized power in Afghanistan and persecuted other alternatives to power.
The Taliban's first financial income was provided by transportation fees that the militants took from truck drivers on the border of Afghanistan and the state's territory. The Taliban's seizure of power in Afghanistan concentrated its forces on extracting natural resources. In February 2022, the Afghan media reported on the negotiations of the new Afghan government with China on the development of copper and lithium by Chinese companies. But even though China, along with Pakistan, is a vital partner of the Taliban regime, mineral development has not yet begun. Without the support and diplomatic assistance of China and Pakistan, the Taliban would not have been able to establish their authority over Afghanistan. However, Beijing still has not officially recognized their power.
Also, summing up the results of the year of Taliban rule in Afghanistan, we can definitely say that the new regime fails to solve the economic and social problems of the state. According to UN research, Afghanistan is on the verge of famine and humanitarian collapse. It is worth noting that during the presence of the United States and NATO in the country, there was no such catastrophic situation. Also, during the period of the Taliban regime in Afghanistan, the position of terrorist organizations such as al Qaeda and the Islamic State has strengthened. The Taliban does not intend to start the fight with the presence of these organizations.
Also, in June 2022, an earthquake with colossal consequences occurred on the border of Afghanistan and Pakistan. The death toll during the disaster was more than 1.5 people, and more than two thousand were injured. The UN has recorded that Afghanistan's government cannot cope with the threats that the Afghan society is forced to cope with alone.
UNICEF and the World Food Program note the catastrophic situation of Afghan children, and organizations make statements about the high level of undernutrition and that over 3.5 million children urgently need treatment. The UN website says, "Hospital wards are full of malnourished children: many one-year-olds weigh as much as a six-month-old baby would weigh in a developed country, and some are so weak that they cannot move."
The new government of Afghanistan carries out mass executions, severe human rights violations, and forced disappearances of citizens and previous security forces employees. This is recorded by the United Nations Assistance Organization in Afghanistan. To a large extent, the repression is carried out by two Talib departments – the Ministry of Propaganda of Virtue and Prevention of Vice and the General Directorate of Intelligence. Both organizations are under the auspices of Pakistani security agencies.
UNAMA experts report "arbitrary arrests and detentions of journalists, human rights defenders and protesters." There were 160 extrajudicial executions, 178 unjustified arrests and 56 cases of torture of former Afghan military and Government employees. In addition, 2106 victims were registered among ethnic and religious minorities (700 killed, 1406 wounded).
After a year, the Taliban authorities, according to international organizations, destroyed the essential state structures in Afghanistan responsible for solving social issues such as jobs and the state's humanitarian condition. The Afghan Independent Human Rights Commission premises were also seized, and the Ministry of Women's Affairs was closed. Afghan women are deprived of the right to work. Except for some professions, they are not allowed to travel more than 72 km unaccompanied by men and cannot appear on the street with an open face. Responsibility for all violations of the rules of a woman is borne by her father or another close male relative. The punishment is dismissal from work or imprisonment.
Freedom of speech was also seriously impaired. The international human rights organization Reporters Without Borders (RSF) reports that there are half as many media in Afghanistan as a result of the year-long run of the Taliban. During the year, 219 organizations out of 547 media were closed. Before the Taliban came to power, there were 11,857 journalists in the country. Today only 4,759 of them remain. Female journalists took the first impact. Almost all of them were left without their job.
The Taliban sees the UN's message about human rights in Afghanistan as propaganda. On July 21, Taliban official Zabiullah Mujahid posted on social media: "There are no arbitrary killings or arrests in the country. If someone kills or arbitrarily arrests, that person is considered a criminal and will be brought before Sharia law."
In sum, a few conclusions about the power of the Taliban must be noted. The Taliban is characterized by a lack of qualification in the country's rule, and the leadership cannot organize public service. Also, the Taliban does not fulfil its duties to combat terrorist organizations, which has ensured the strengthening of the position of existing banned groups. The female population of Afghanistan and various social minorities suffered. The Taliban are building strong relationships with authoritarian countries such as Pakistan, China and Russia. Islamabad carries out the actual control of the Taliban and also uses the Taliban in the South Asian region for its geopolitical purposes.
Every charter of Human Rights provides a framework for the basic individual rights. Under these civil liberties, all humans are entitled to revel in those privileges. Sikh community residing around the globe is facing heinous behavior from the India's Modi regime as it is a home for many Sikhs. The episode of unlawful arrest of the UK-based Sikh activist named Jagtar Singh Johal in 2017 with the help of UK government ignited a huge number of protests across the world. According to his lawyers from Scotland, he has been tortured and falsely accused to whom British PM Boris John acknowledged while showing his concern. Most recently, the murder of Sidhu Moosewala who was an active supporter of Sikh rights is an example of India's unjust activities. Provision of security was denied by BJP government before his murder. In support of Sidhu and separate homeland for Sikhs, more than 17,000 Sikhs voted for Khalistan Referendum in Rome, Italy. Similarly, UK having one of the highest ratio of Sikh diaspora, organized a campaign under the active advocates of Sikh rights "Sikhs for Justice (SFJ)" in which 30,000 British Sikhs voted for referendum on 31st October 2021. Series of Sikh referendums are lined up and SFJ declared that after completing this voting series, it will be a decision of 120,000 Sikhs showing the desire for separate land under the rule and law provided them by International Justice System. A huge referendum is planned for the Sikhs of Punjab on 26th January 2023.
The roots of these referendum are enrooted into the event of Operation Blue Star happened in 1984. Under this operation, Indian army attached on the holiest place of Sikhs, "Golden Temple" to capture Sikhs whom Indian Army declared as terrorists and claimed that they are hiding weapons inside the temple as well. Many innocent Sikhs lost their lives. The level of brutality not only stopped at killing innocents but also disrespected the sentiments of the followers of this particular religion. A homeland that ought to be safe place for its residents became a threatening region. That's why a huge number of Indian Sikhs migrated to other states like UK, Canada, Italy and US to seek a safe residence. The fight for the cause of Sikh's rights is still going on, as there is a referendum on 18th September 2022, Toronto, Canada, in which high ratio of Sikh voters are expected to participate.
Massive genocide and extra-Judicial killings are the major tools of Modi regime against the Sikh community. To deal with all these unlawful activities, Sikh diaspora has organized itself into groups like "Sikhs for Justice (SFJ)" who are arranging referendum, holding protests and advocating Sikhs right at all possible platforms. Specifically for the Khalistan Referendum, Punjab Referendum Commission (PRC) has been designed to have free and fair voting for the basic demand. Through such representation, Sikhs are asking for a legal demand from India's Modi regime. These organizational setup shows that Sikh community is well aware of its rights, and using the peaceful means to convey their message to the world.
If India is real democracy and wants to be seen as democratic country, it should accept Sikh referendum results. The result of referendum can always be leveraged in "Law fare domain" to ask India to hold an official referendum for the purpose. Democracies are torch holder of freedom, human rights and their liberties. This behavior of India is not acceptable to be an example for the rest of aspiring democratic states where the Modi Regime is having genocidal designs against the specific communities. Khalistan Movement with the aspirations of a separate homeland is the legitimate demand of Sikh community. By overturning these movements and referendums, India is suppressing its minorities and violating their right to self-determination through peaceful means.