Impactful Reformists of India: Karunanidhi and Jayalalithaa made a difference in Tamil Nadu politics
Authors: Srimal Fernando and Harini Jayaraman
For over half a century the politics of the Indian state Tamil Nadu was dominated by the popular figures Muthuvel Karunanidhi and Jayalalithaa Jayaram .What kept this political scenario unchanged for so long was the dominance of their respective parties Dravida Munnetra Kazhagam (DMK) and All India Anna Dravida Munnetra Kazhagam (AIADMK). In this context the whole hearted acceptance of Karunanidhi's and Jayalalithaa's policies for progression by the vast majority of  the people created a favourable political atmosphere over the years. These leaders' populist reformist policies swept across the state impacting the narrowing down of inequalities. There has been a re-alignment in the political identity of state due to the influence of policies implemented by these leaders. They had a distinct rural flavour. Since the inception of Indian Independence in 1947,minimal attention has been given towards state upliftment in Tamil Nadu. Tamilians' strong sense of state identity and affiliation is what has helped them overcome these challenges. In the recent past Tamil Nadu moved up to the fourth position in Human Development Index(HDI) ranking in 2011 and being first among Indian states in economic development in 2015 reflects on the work carried out by the populist leaders over the years.
Looking back on the political history after the demise of Annadurai, one of the founding members of DMK it was clear that  Karunanidhi had to fulfilled the visionary policies of his mentor during  his political  journey. The  veteran leader first came to power as the chief minister in 1969 . One of his political missions centred around socio-economic reforms  through the implementation of welfare schemes. During his tenure, he gave the underprivileged sections of the society an access to state sponsored homes and introduced schemes where they could gain free access to commodities. Another milestone in his welfare policies was called the 'Nalamana Tamizhagam' that was mandated to educate people on ways to prevent non-communicable diseases. In addition , crores of rupees was allocated to provide financial aid to pregnant women from the poorer strata of the society during his previous chief ministership. Hence, de-regulating the farmers' market helped eliminate middle men and get fairer prices for farmer's products raised the profitability of the agricultural sector. However, improvements in the irrigation facilities boosted the domestic agrarian sector. This resulted Karunanidhi getting  elected as chief minister of Tamil Nadu five times between 1971to 2018.
By mid 1980s after MG Ramachandran's death the loyalist faction headed by Jayalalithaa was recognized by AIADMK. In 1990s,in contrast to the DMKs party positioning AIADMK under the leadership of Jayalalithaa started to create in-roads into state politics. For the first time in 1991 when AIADMK  came to power Jayalalithaa's party received more than 225 seats in the Tamil Nadu elections. In fact five  years  later the  two time chief minister Karunanidhi did particularly well in Tamil Nadu politics receiving 221 seats. Under the leadership of Jayalalithaa she performed three main functions in the political process from 1984-2016.Jayalalithaa first became the chief minister in 1991.Jayalalithaa created history in Tamil Nadu politics by emerging the winner of two elections in a row; once in 2011 and once in 2014.Firstly,she implemented poverty alleviation schemes as well as infrastructural measures .Secondly, as a chief minister her welfare schemes provided laptops for students and canteens with subsidized food which was known as 'Brand Amma'. Thirdly, state provisions of 300 units of free electricity for villages was a success and reduction of power cuts was a praiseworthy initiative launched during her tenure. Hence  closing down of liquor taverns across the state and introducing 'the cradle baby scheme' were highly admirable social justice programmes that was carried out during the veteran leader's period. Therefore , the launching of 2300 projects costing an estimated amount of Rs 5000 crores contributed to the state level economic growth.
The two individuals have clashed in several lively debates in state assemblies. Both have earned praise for implementation of successful state centric policies. These leaders represented a period of dynamic change. The competition between both their parties for political power has continued over a period of three decades. Jayalalitha and Karunanidhi believed the change for socially and economically backward sections of the society in the state could come only if they were helped by powerful reforms programmes to achieve change within a system. These charismatic leaders left behind a legacy that cannot be easly  matched by other  state level political  leaders  in the  modern history of Tamil Nadu politics. They created a revolution that completely transformed states  political, economic and social landscape. Their sad demise has shaken the Tamil  Nadu society. Karunanidhi and Jayalalithaa have left a void in state politics and also in  national  politics . Hence, it is expected in the near future that this voice left by these political leaders can only be filled in by Tamil Nadu politicians  with strong  impactful visions who follow the principles ,the values and the policies laid down by Karunanidhi and Jayalalithaa.
* Harini Jayaraman, a scholar of Masters in Diplomacy, Law, Business at Jindal School of International Affairs, India and has attained a Bachelor of Science degree in Psychology from University of Madras.
Will Pakistan go to IMF finally?
International Monetary Fund (IMF) was created just after World War II (WWII) in 1945. It was the time of re-organization of the world order after massive destruction of WWII. UN and its organizations were establishing and whole world was passing through reforms. The IMF is an organization of 189 countries, working to foster global monetary cooperation, secure financial stability, facilitate international trade, promote high employment and sustainable economic growth, and reduce poverty around the world.
The beneficiary of WWII was US, and emerged as leader of World. IMF and World Bank like other UN and International organizations were depending on US funding to some extend and US has been utilizing in expand its economic, political and military influence around the world, frequently. US was involved in appointing head of such organizations directly or indirectly.  I leave it to my readers to judge that if IMF and other organizations have achieved its objectives or not?
Pakistan have been knocking doors of IMF since 1958, and it has been 21 agreement with IMF. Generally, IMF provides loans at very low interest rates, and provides programmes of better governance and monitoring too. But for last 6 decades, Pakistan has suffered a lot, in term of good governance. Especially last 2 decades, corruption, nepotism, poor planning, bribery, weakening of institution, de-moralization of society, etc were witnessed. We may not blame IMF for all such evils, but must complain that IMF failed to deliver, what was expected. Of course, it is our country, we are responsible for all evils, and wrong doings happened to us. We have to act smartly and should have made right decision and on right times.
In fact, beneficiary of corruption, is west, and in some of the cases, west has inspired or protected the corrupt politicians and bureaucrats in the developing nation and Pakistan is no exception to it. At least, IMF failed to monitor the utilization of funds provided.
IMF also dictates its terms and condition or programmes like: devaluation of local currencies, which causes inflation and hike in prices, cut or draw-back of subsidies on basic utilities like fuel, gas, electricity etc, which causes cost of life rather higher for local people, cut on development expenditures like education, health, infrastructure, and social development etc, which pushes the country backward.
Pakistan was no exception to it in the history of our relations with IMF. Last couple of decades, we could not develop our infrastructure, as a result we are back ward and could not take off economically, could not built Dams and suffering from Power shortage and water crisis, Education, health and social sector was ignored and pushed us rather backward.
In past, whenever we approached IMF, US administration was favoring us, but this time, it was witnessed that US may create hurdles or resistance in the form of additional conditions etc.
Based on experience of 6 decades, Government of Pakistan (GoP) have to make decision, weather to go to IMF or not? It is very serious issue and very sensitive decision. GoP is very serious and in close consultations with various experts from within the government and out side the government. There is a group in Pakistan, lobbying for IMF, as it is cheapest and more structured. Pro-IMF lobbies are more close to PM Imran Khan. While, there are experts who are against IMF and feels in past, if IMF was not helpful for Pakistan, then why to go again for the same tested organization. It is worth mentioning that, Pakistan is a diversified nation, and freedom of expression is ensured by constitution of Pakistan, so many controversial opinions are expected – we enjoy the highest degree of freedom. .
In past, politicians were rather easy to coerce and IMF was successful in their missions. But, today, Pakistan is in safe hands and current leadership is honest, loyal and sincere with Pakistan. The PM Imran Khan is a strong man and will take decision based on principles in the best interest of nation.  Sources close to him, feels that till date he is not convince yet, but will take a firm decision soon. His decision will be based on expert advice, national interest and purely merit-based.
However, all other option may be explored and taped, like friendly nations have already extended a hand of financial assistance. Like Saudi Arabia, Arab Emirates, Qatar, Turkey, Malaysia and China. Which has lessen the need of going to IMF to a great extent. It will provide an edge to Pakistan, while negotiating with IMF.
Whatever will be his decision, people of Pakistan trust him and will stand behind him. His decision will be considered the decision of 220 million of Pakistan. Pakistan has a history of "No Default" in last 7 decades to any one of our international obligation or agreement. Pakistan is a civilized, disciplined and matured & resilient nation. We have passed many harsh tests, in last 4 decades and learnt many lessons.
Pakistan Securing Its Maritime Interest and CPEC
The IOR is a major sea route that unites the Middle East, Africa, and East Asia with Europe and America. The excessive economic growth of littoral states of Indian Ocean obliges them to protect their energy needs and interests in order to endure their purchasing power. This has great security implications for the sea line of communication of the littoral states of IOR like Pakistan.
Continuing to Pakistan's interests in IOR the China-Pakistan Economic Corridor has great potential to transmute Pakistan into a central trade platform, which would undeniably gushed the enemies, particularly India, to halt it. The development of Gwadar sea-ports as part of BRI in general  and that of CPEC in particular has amplified India's concerns' and aimed for more sophisticated and advanced naval build-up. Furthermore, India perceives the Gawadar port (that is considered as crown jewel of CPEC) as a hazard to its contesting interests in Central Asia countries.  The reason being, India can access Afghanistan, Iran and Central Asian Republics (CARs) only through Cahabahar by passing Pakistan and Gawadar  a deep water sea port that is easily accessible to these land locked states then Chahabahr. A couple of days back on 24th December 2018 India has formally over taken the operational control of Iran's Cahabahar port – only (0 Km away from Gawadar port. India's aspirations to become blue water navy in the IOR raise serious concerns among Pakistan's maritime security. CPEC would lead toward increased maritime politics and contestations not only between Pakistan and India but would also involve China and US.
In such turbulent circumstances Pakistan is required to prepare its sea based defense to secure its sea lines.   Islamabad needs to carefully evaluate its options and develop its strategic response accordingly, involving but not limited to continuous development of its naval capability and an even closer maritime cooperation with China. In view of the prevailing power dynamics in Indian Ocean Pakistan Navyin order to secure its interest in IOR inked a contract with China's State Shipbuilding Corporation (CSSC)in June 2018 for two, Type 054AP frigates. The agreement is an extension of a previously signed agreement in 2017. Recently on December 19, 2018 steel-cutting ceremony for the second Type 054A frigate for the Pakistan Navy was held at the Hudong-Zhonghua shipyard in Shanghai. The type 054 AP warship frigates will be equipped with modern detection-state of art sensor and Guided Missiles weapon systems; capable of anti-ship, anti-submarine and air-defense operations. According to the report of China Daily report added that the "Type 054A is the best frigate in service with the PLAN".
It is pertinent to mention here that maritime security is linked with the Economic security and vice versa. Gawader port is one of the most important projects of the CPEC where Pakistan and China are very hopeful that in future this shipping port will generate the revenue for Pakistan's economy.  There is a big chunk of fishery industry through which Pakistan can earn a lot. It will stimulate business and trade activities at state level and across the region.  The 054 AP frigates ""Will be one of the largest and most technologically advanced platforms of the Pakistani Navy and strengthen the country's capability to respond to future challenges, maintain peace and stability and the balance of power in the Indian Ocean region" a report on 2nd January 2019 released by  Chinese state owned media said.
In some, to deal with all these existing defies Pakistan Navy (PN) has espoused to a multi divided line of action for safeguarding the port in more effective manners. It conducts security patrolling h and coastal exercises from time to time. Furthermore, previously in 2013 it has inaugurated its Joint Maritime Information Coordination Center (JMICC) in Karachi to provide with an effective mechanism of Maritime Domain Awareness (MDA).  After receiving these 054 AP frigates warship Pakistan will definitely in far more better position to counter India's vested interests in Indian Ocean region. It will also help secure the Gwadar port which is the chief component of Pakistan maritime trade activities. China has always been an al weather strategic partner of Pakistan. Although India always tries to propagate that CPEC is military agreement instead of an economic one however, securing the economic interests with an advanced mechanism does not mean at all that it's planning something militarily. Pakistan has always adopted a defensive policy and it is the right of every sovereign state to secure its interests even if they are economic as there is no morality in international politics, still CPEC is an economic project which welcomes every state of the region for economic cooperation  even if it is India as well.
2018 was the deadliest year in the history of Kashmir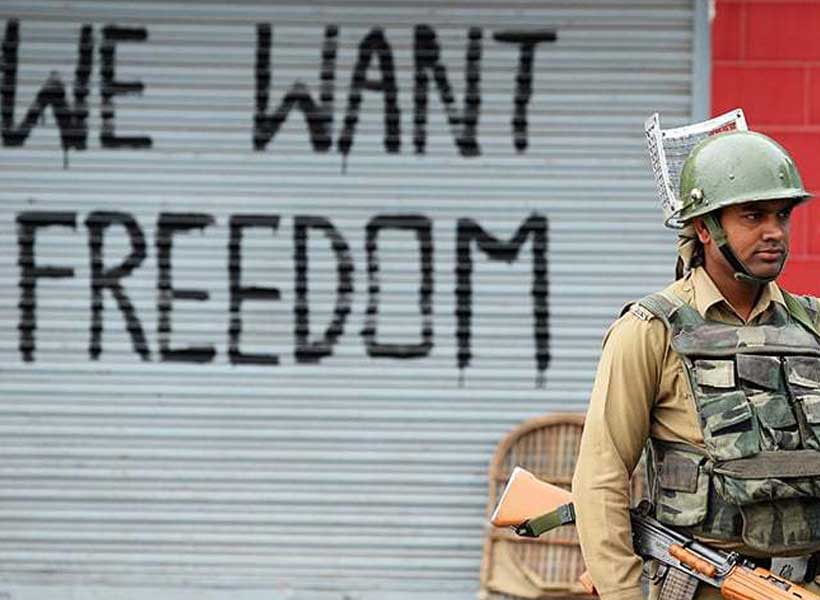 Kashmir is natural paradise and gorgeous valley located between Pakistan, India, Afghanistan, China and with a small strip of 27 miles with Tajikistan and Kyrgyzstan. But it is still a disputed region since partition of United India into India and Pakistan (also Bangladesh in 1971) in 1947.
The history of the freedom of Kashmir dates to 1931 when the people, both Hindus and Muslims, initiated a freedom movement against the then Maharaja (ruler) to have their own indigenous rule. The resentment of the people led to the 'Quit Kashmir' campaign against the Maharaja in 1946. Faced with the insurgency of his people, the Maharaja fled the capital, Srinagar, on October 25, 1947 and arranged that India send its army to help him crush the rebellion. India, coveting the territory, set the condition that Maharaja must sign an 'Instrument of Accession' to India. At the same time, India had to attach another condition that accession was made subject to 'reference to the people.' On India's showing, therefore, the accession has a provisional character.
Then India brought the dispute to the United Nations where the Security Council discussed the question exhaustively from January to April 1948. Then both India and Pakistan and approved by the international community that the dispute over the status of Jammu and Kashmir can be settled only in accordance with the will of the people which can be ascertained through the democratic method of a free and impartial Kashmiri citizens vote.
The people of Kashmir, despite of being injured since long could not lost their hope. They believe in United Nation(UN), assuming it will advocate choice of freedom for them. During the July-August 2018, people from entire Srinagar and other towns, were protesting government of India's violation of Article 35-A of Indian's constitution. 35-A, assure special rights to the state of Jammu and Kashmir.
Whenever, there is peaceful demonstration from them, then they must suffer basic human rights violation, fear and state of starvation as response of Indian government. In 2018, 111 civilians are killed which is double to the previous year recorded 40 killing by the Indian forces. India has some 500,000 troops deployed in Kashmir. Popular unrest has been rising since 2016 when a charismatic young Kashmiri leader, Burhan Wani, was shot dead by Indian forces.
Pakistan always has been bolstering the way of peaceful talk with India over the issue. Last year, in October, Prime Minister Imran Khan, repeated Pakistan's stance that the solution to the region's dispute laid in dialogue. He said,"It is time India realised that it must move to resolve the Kashmir dispute through dialogue in accordance with the UN SC resolutions and the wishes of the Kashmiri people".
Kashmiri leader Mirwaiz Umar Farooq, in response to PM Khan said we welcomed "Pakistan's concern" but called for Pakistan to "do much more" to "put an end to the appalling grind of repression and human rights abuse that Kashmiris are suffering at the hands of Indian state.
Happily, UN has issued human right report on Kashmir in June 2018. The report of 49 pages strongly emphasis on human right violation and abuses and delivering justice for all Kashmiris. UN High Commissioner for Human Rights Zeid Ra'ad Al Hussein remarked "The political dimensions of the dispute between India and Pakistan have long been centre-stage, but this is not a conflict frozen in time. It is a conflict that has robbed millions of their basic human rights and continues to this day to inflict untold suffering. Therefore, any resolution of the political situation in Kashmir must entail a commitment to end the cycles of violence and ensure accountability for past and current violations and abuses by all parties and provide redress for victims".
2018 was the deadliest year in the history of Kashmir. Hope so, Pakistan and India sandwiched by UN would resolve the issue based on Kashmir people's choice of freedom so that human violation could be ceased.