Impactful Reformists of India: Karunanidhi and Jayalalithaa made a difference in Tamil Nadu politics
Authors: Srimal Fernando and Harini Jayaraman
For over half a century the politics of the Indian state Tamil Nadu was dominated by the popular figures Muthuvel Karunanidhi and Jayalalithaa Jayaram .What kept this political scenario unchanged for so long was the dominance of their respective parties Dravida Munnetra Kazhagam (DMK) and All India Anna Dravida Munnetra Kazhagam (AIADMK). In this context the whole hearted acceptance of Karunanidhi's and Jayalalithaa's policies for progression by the vast majority of  the people created a favourable political atmosphere over the years. These leaders' populist reformist policies swept across the state impacting the narrowing down of inequalities. There has been a re-alignment in the political identity of state due to the influence of policies implemented by these leaders. They had a distinct rural flavour. Since the inception of Indian Independence in 1947,minimal attention has been given towards state upliftment in Tamil Nadu. Tamilians' strong sense of state identity and affiliation is what has helped them overcome these challenges. In the recent past Tamil Nadu moved up to the fourth position in Human Development Index(HDI) ranking in 2011 and being first among Indian states in economic development in 2015 reflects on the work carried out by the populist leaders over the years.
Looking back on the political history after the demise of Annadurai, one of the founding members of DMK it was clear that  Karunanidhi had to fulfilled the visionary policies of his mentor during  his political  journey. The  veteran leader first came to power as the chief minister in 1969 . One of his political missions centred around socio-economic reforms  through the implementation of welfare schemes. During his tenure, he gave the underprivileged sections of the society an access to state sponsored homes and introduced schemes where they could gain free access to commodities. Another milestone in his welfare policies was called the 'Nalamana Tamizhagam' that was mandated to educate people on ways to prevent non-communicable diseases. In addition , crores of rupees was allocated to provide financial aid to pregnant women from the poorer strata of the society during his previous chief ministership. Hence, de-regulating the farmers' market helped eliminate middle men and get fairer prices for farmer's products raised the profitability of the agricultural sector. However, improvements in the irrigation facilities boosted the domestic agrarian sector. This resulted Karunanidhi getting  elected as chief minister of Tamil Nadu five times between 1971to 2018.
By mid 1980s after MG Ramachandran's death the loyalist faction headed by Jayalalithaa was recognized by AIADMK. In 1990s,in contrast to the DMKs party positioning AIADMK under the leadership of Jayalalithaa started to create in-roads into state politics. For the first time in 1991 when AIADMK  came to power Jayalalithaa's party received more than 225 seats in the Tamil Nadu elections. In fact five  years  later the  two time chief minister Karunanidhi did particularly well in Tamil Nadu politics receiving 221 seats. Under the leadership of Jayalalithaa she performed three main functions in the political process from 1984-2016.Jayalalithaa first became the chief minister in 1991.Jayalalithaa created history in Tamil Nadu politics by emerging the winner of two elections in a row; once in 2011 and once in 2014.Firstly,she implemented poverty alleviation schemes as well as infrastructural measures .Secondly, as a chief minister her welfare schemes provided laptops for students and canteens with subsidized food which was known as 'Brand Amma'. Thirdly, state provisions of 300 units of free electricity for villages was a success and reduction of power cuts was a praiseworthy initiative launched during her tenure. Hence  closing down of liquor taverns across the state and introducing 'the cradle baby scheme' were highly admirable social justice programmes that was carried out during the veteran leader's period. Therefore , the launching of 2300 projects costing an estimated amount of Rs 5000 crores contributed to the state level economic growth.
The two individuals have clashed in several lively debates in state assemblies. Both have earned praise for implementation of successful state centric policies. These leaders represented a period of dynamic change. The competition between both their parties for political power has continued over a period of three decades. Jayalalitha and Karunanidhi believed the change for socially and economically backward sections of the society in the state could come only if they were helped by powerful reforms programmes to achieve change within a system. These charismatic leaders left behind a legacy that cannot be easly  matched by other  state level political  leaders  in the  modern history of Tamil Nadu politics. They created a revolution that completely transformed states  political, economic and social landscape. Their sad demise has shaken the Tamil  Nadu society. Karunanidhi and Jayalalithaa have left a void in state politics and also in  national  politics . Hence, it is expected in the near future that this voice left by these political leaders can only be filled in by Tamil Nadu politicians  with strong  impactful visions who follow the principles ,the values and the policies laid down by Karunanidhi and Jayalalithaa.
* Harini Jayaraman, a scholar of Masters in Diplomacy, Law, Business at Jindal School of International Affairs, India and has attained a Bachelor of Science degree in Psychology from University of Madras.
Kashmir Once Again Playing out as Diplomatic Theatre at the United Nations
Friday's closed-door meeting of the UN Security Council on Jammu and Kashmir marked the first time in over 50 years since the issue was discussed at the world's foremost diplomatic forum. This issue which has long remained at the center of India Pakistan tensions recently received fresh impetus following India's unilateral decision to withdraw the special status awarded to the region. This was followed by a widespread clampdown in the form of an indefinite curfew as well as a media and communications blackout that is currently in its second week.
Consequently, the above mentioned UNSC meeting on Kashmir forms a key component of Pakistan's diplomatic offensive following India's actions. As such, it represents a highly interesting case of diplomatic theatre where the anticipation of possibly resolving or bringing about at least some semblance of positivity to a long-festering conflict has generated considerable interest the world over. This includes interest from both the international media as well as several observers and diplomats as a possible precedent for a consensus driven approach to conflict resolution in general.
However, the lack of any meaningful outcome or even a joint statement directly arising out of this meeting has led to an almost perverse battle of sorts over optics and narrative between key stakeholders, which aims to leverage the UN's significance as a platform for international consensus. Especially with a view towards placating an international audience's expectations of what is just or right, the absence of a joint statement following this meeting has led to a vacuum that has resulted in even greater discord regarding this issue. Thus, instead of a collective decision or stance taken on the issue by the UNSCC, what was instead witnessed was China and Pakistan presenting their cases for international mediation at one end, and India insisting on the issue remaining an internal matter at the other. This for instance was clear in the press statements given by each of these countries' representatives following the end of the UNSC meeting.
Against a backdrop of the UN Security Council and speaking in a microphone carrying the white on blue letters of the 'UN', Chinese ambassador Zhang Jun was the first to state that all the UNSC members were gravely concerned at the human rights situation in Kashmir and that there was general agreement that all parties concerned should refrain from taking any unilateral action that might aggravate the situation further. He went on to state that as per China's stance on the Jammu and Kashmir dispute, the status of Kashmir was still undecided and that it should be resolved via peaceful means in accordance with the UN charter, the relevant UN Security Council Resolutions as well as the bilateral resolutions pertaining to it.
Pakistan's representative to the UN, Maleeha Lodhi whose remarks closely followed the Chinese Ambassador thanked China for lending assistance in her country's request for calling the UNSC meeting. She pointed out that the fact that the meeting was held was itself a major diplomatic victory and that the voice of the Kashmiri people, despite all attempts to silence it was heard at the world's highest diplomatic forum. She stated that this meeting was the first step taken as part of a protracted and drawn out struggle for justice for the Kashmiri people which Pakistan remained fully and vociferously committed to.
Considering how both the Chinese and Pakistani ambassadors while speaking in quick succession nearly echoed each other's policy stances on this issue, it was as if they might as well have written each other's statements themselves. Many observers in the media had later pointed out that the statement given by the Chinese ambassador was in fact a version of a potential joint statement that was to be ideally given by the president of the UNSC. However, since other P5 members had raised reservations regarding its wording and assumptions of the UN's role in mediating the conflict, it was presented instead by Ambassador Jung as China's position on the matter, to which Ambassador Lodhi had voiced her approval.
Both their stances however stood poles apart from the statement given by India's permanent representative to the UN, Mr. Syed Akbaruddin. Given after a brief interlude to the previous two statements, Mr. Akbaruddin explained how following China and Pakistan's statements he was self-admittedly compelled to present his own country's stance on the matter. The gist of it was that India's move to revoke Jammu and Kashmir's Special Status was wholly an internal matter. That it remained committed to resolving its issues with other countries bilaterally and that it was saddened by Pakistan's approach of using violent jihad and terrorism as a precursor to any potential negotiations. In a characteristic show of one-upmanship that has remained a hallmark of India and Pakistan's interactions at the UN, Mr. Akbaruddin also made a flamboyant point of taking questions from Pakistani journalists with whom he at one point even came forward and shook hands with as a gesture of his country's willingness to engage with Pakistan. All while repeating India's decade old stance that Pakistan stop terror in order to initiate talks.
Yet, considering the stage, setting and timing of the situation at hand, what the audience of journalists was in the end left with was a shrewd and knowing diplomat presenting a clear denial of the spirit of the UN. While employing his best smoke and mirrors it was evident that the press conference was being used by Mr. Akbaruddin as an opportunity to distract, disguise and deflect international opinion from the issue at hand. In essence, it presented another example of one of the many slick PR driven spectacles that are passed on for diplomacy at the UN these days. Yet, considering the lack of unity from the UNSC, and China and Pakistan having already attempted to leverage the stage and setting, can one really blame him?
For an organization that once embodied upholding the ideals of peace, justice and equality as its very raison d'être, it is extremely disappointing to see the UN's own inaction and passivity reducing it to being nothing more than mere spectacle. Especially during a time where the world is increasingly plagued by strife and discord, seeing Kashmir being reduced to just another metaphor for such issues speaks volumes of the lack of direction and principles guiding global leadership in our world today.
Abrogation of Article 370 and Indian Plan for Plebiscite in Jammu & Kashmir
Since 2014 India is being ruled by a Hindu ultra-nationalist party of Bhartiya Jannta Party (BJP) and extremist Narendra Modi has transformed the political and social fabric of the country. The minority groups especially the Muslims and low caste Hindus (Dalits) are victims of Hindutva terrorism. Armed mobs charged with Hindu nationalism frequently attacked on minority groups and batten them to death. The BJP once again secured the sweeping victory in Indian national election of 2019 with a promise to revoke the Article 370 and 35A of the Indian Constitution. The Article 370 came into effect in 1949 giving special status to Jammu and Kashmir for making laws to govern the entity except foreign relations, defense, finance, and communications.
Yet, before taking into consideration the implications of revoking of Article 370 and 35A, it is important to trace the genesis of Kashmir dispute and its special status. The World War II brought an end to Western imperialism around the globe and an era of modern sovereign statehood began. Consequently, Pakistan and India emerged as sovereign states on 14th and 15th August 1947. The partition plan was devised by Lord Louis Mountbatten on 3rd June 1947 dividing Indian subcontinent into two separate sovereign states and giving special right to peripheral autonomous princely states to join either India or Pakistan. The annexation plan was followed by the rule of religious, linguistic, geographic and cultural proximity. The Jammu & Kashmir is a Muslim majority state having geostrategic importance for India and Pakistan. Being a Muslim majority state having close geographic, cultural, religious and economic affinity, it was considered to become part of Pakistan, but Maharaja Harri Singh, a Hindu ruler acceded the territory with New Delhi without paying due attention to wishes of indigenous peoples. The decision was rejected by the local masses and a movement was started for independence and annexation with Pakistan. When the Maharaja used brutal force against liberation forces asking help from New Delhi after signing the Instrument of Accession, Pakistan became the party of this dispute and first Indo-Pak war broke out.
Consequently, the seeds of perpetual enmity sowed in South Asia over the dispute of Jammu & Kashmir, which is still a nuclear threshold putting billions of lives in danger. After losing grounds in Jammu & Kashmir, India brought the issue into the United Nations Security Council for reconciliation, and with the help of UN a cease fire agreement was enforced between two states on 1st January 1949. The UNSC resolution of 21st April 1948, one of the Principal UN resolutions on Kashmir stated that "both India and Pakistan desire that the question of the accession of Jammu and Kashmir to India or Pakistan should be decided through the democratic method of a free and impartial plebiscite". The resolutions of UN affirms that India and Pakistan has accepted the UN role as a mediator and agreed to resolve it through the wishes of peoples of Jammu & Kashmir. Since then, Pakistan has frequently reiterated its commitment for a free and impartial plebiscite, but India always rejected the notion by claiming Kashmir an integral part of Indian Union.
The article 370 was the basis of Jammu & Kashmir accession to Indian Union which explicitly noted that New Delhi has accepted the provisional accession of Jammu & Kashmir, while the final decision would be taken after a democratic rule of impartial plebiscite. The article came into effect in 1949, exempts Kashmir from Indian Constitution. It allows the Indian-administered region jurisdiction to make its own laws in all matters except finance, defense, foreign affairs and communications. It also established a separate constitution and a separate flag and denied property rights in the region to the outsiders.
Now the BJP under ultra nationalist Narendra Modi has made a controversial move and abolished the special status of Jammu & Kashmir through revoking the Article 370. The presidential decree has sparked the widespread anxiety in the state and local inhabitants are of view that Narendra Modi wants to fully integrate the state with Indian Union. The peoples of Jammu & Kashmir bluntly rejected the Indian decision and asked international community to intervene. Pakistan, being a party of dispute has also expressed the grave concerns over Indian act and initiated various measures to reverse the Indian decision. The Prime Minister of AJ&K government and Pakistan stated that we do not accept the unilateral decision taken by government of India and stand by the Peoples of Indian occupied Kashmir.
There are two possible scenarios after abrogation of Article 370. First, to reverse the Indian decision and to save Kashmiri's.
This objective can be achieved with an effective diplomatic efforts. It is primary responsibility of Pakistan and international community to intervene in the matter and put pressure on India to reverse its decision. The international community need to realize that Kashmir is a disputed territory and a unilateral action of India has changed the status quo, which is largely rejected by the Kashmiri masses. United Nations, being an international body to maintain international peace and security must play its role in this critical time and save Kashmiri's from persecution. It is indeed a much success that UNSC has discussed the issue in its meeting on 16th August, but it is also alarming that it refused to deliver a joint statement. It is high time for Pakistani diplomacy to convince the P5 members of UNSC (China, Russia, United States, France and UK) about the gravity of Kashmir issue and threat of nuclear war. These members have power to put pressure on India to reverse the decision, otherwise a chance of nuclear war cannot be ruled out in South Asia.
Second scenario is the UN plebiscite in Kashmir after successful demographic transformation in Jammu & Kashmir.
The abrogation of Article 370 exposed that India has made its mind to hold the long awaited plebiscite in the state after ensuring feasible conditions. The presidential order has enabled Indian parliament to make laws for Kashmir and opened the doors for non-state residents to settle and purchase land in Kashmir. The decision is a blue print of Indian government's plan of large scale demographic change and ethnic cleansing of Muslims. Under the Hindutva doctrine, the Indian government has launched the operation of ethnic cleansing and mass murder of Muslims, which ultimately transform them into minority group. Meanwhile, the BJP government will construct special enclaves for Hindu extremists and help them to settle in the state. The Indian troops will kill thousands of Kashmiri Muslims in the name of law and order maintenance and major leaders of Muslim community will also be target of Indian brutality.
Kashmir is a territorial dispute between Pakistan and India. Pakistan time and again reiterates for free and impartial plebiscite under the UN auspices. Now the Indian government under Prime Minister Modi is also preparing grounds for plebiscite. The abrogation of Article 370 is a one step forward. Once, India settled the winnable majority of Hindus in Kashmir, then it will request the UN to arrange a plebiscite for a permanent solution. Therefore, the Hindu majority voters in the UN plebiscite will provide a legal cover to Indian illegal occupation of Kashmir. Ultimately, India will legalize it occupation and the matter will be solved once for all and there will be no international intervention in the internal matters of India.
The Likely Outcome of Narendra Modi's Unconstitutional Seizure of Kashmir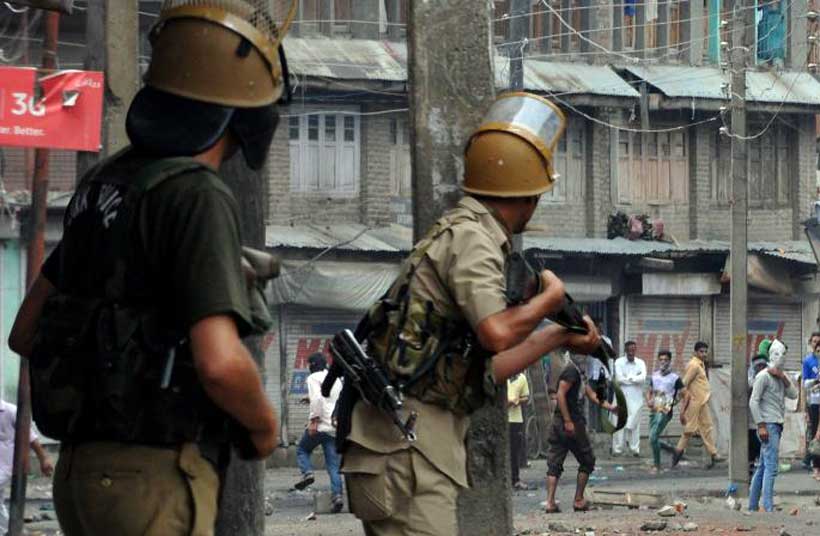 An independent fact-finding mission into the now military-ruled constitutionally autonomous Indian state of Jammu-Kashmir (commonly referred to simply as "Kashmir") reports that "The whole of Kashmir is, at the moment, a prison, under military control." That's not on account of any rebellion which had occurred there (none did); it is instead simply because of an unprovoked blitz unconstitutional invasion, on August 5th, of virtually only Hindu Indian troops, into the now Hindu-totalitarian-run nation of India's, only majority-Muslim state, so as to conquer that state totally, and thus to now turn India itself into an apartheid-supremacist regime, much like Israel is over Palestine. Kashmir has suddenly been turned into India's own Palestine. That land was suddenly grabbed and turned into a huge prison for Muslims.
The longer any Constitution is, the more unmanageable and less just the country or other state tends to be, and India unfortunately has one of the world's two longest Constitutions. Wikipedia says that "The Indian constitution is the world's longest for a sovereign nation.[b][3][4][5] At its enactment, it had 395 articles in 22 parts and 8 schedules.[16] At about 145,000 words, it is the second-longest active constitution – after the Constitution of Alabama [that's the American state of Alabama] – in the world.[34]"
When Narendra Modi suddenly announced on August 5th that the Constitutionally guaranteed autonomy of India's only majority-Muslim state, Kashmir-Jammu, or "J&K," is now past history, no longer in effect, the brilliant "Moon of Alabama" blogger immediately headlined — and explained why — "India Will Come To Regret Today's Annexation Of Jammu And Kashmir". He provided this historical background:
In July 1949, Sheikh Abdullah and three colleagues joined the Indian Constituent Assembly and negotiated the special status of J&K, leading to the adoption of Article 370. This article limited the Union's legislative power over Kashmir to the three subjects in the Instrument of Accession. If the Union government wanted to extend other provisions of the Indian Constitution, it would have to issue a Presidential Order under Article 370. The state government would have to give prior concurrence to this order. Moreover, the constituent assembly of J&K would have to accept these provisions and incorporate them in the state's constitution. Once Kashmir's constitution was framed, there could be no further extension of the Union's legislative power to the state. This secured J&K's autonomy.
Incidentally, this was the reason for listing the provisions of Article 370 as "temporary" in the Indian Constitution: the final contours of the state's constitutional relationship with the Union were to be determined by the constituent assembly of J&K.
Today Amit Shah, the leader of India's Upper House, announced the unilateral revocation of Article 370 (and the related Article 35a).
Shah did this by calling Article 370 "temporary" and ignoring that that appellation ("temporary") had referred only to its being temporary until J&K would officially concur in it, which J&K quickly did. Ever since then, it has been, and remains, permanent (according to the Supreme Court of India ruling on 16 December 2016, reaffirming that same Court's earlier ruling, on 10 October 1968). Therefore, it is clear that only by means of amending India's Constitution can J&K's autonomy be undone.
That anonymous blogger (whom I consider to be one of the world's greatest investigative journalists) then continued:
It is inevitable that the actions today will lead [to] a new insurgency in J&K and beyond. Even if Pakistan's Prime Minister Imran Khan does not want to support a new guerilla army in J&K, the military and other nationalist Pakistanis will push to supply it with everything that is needed [in order to support such an army].
So: at least unless and until India's Constitution is amended, Modi's grab for Kashmir not only is unConstitutional, but if this military occupation continues, then it is likely to spark a war in Kashmir, which could quickly become a war between Hindu-majority India and Muslim-majority Pakistan, next door to India.
How likely is India's Constitution to be amended so as to allow this military occupation to continue indefinitely?
Wikipedia says:The procedure [to amend] is detailed in Article 368. An amendment bill must be passed by each house of Parliament by a two-thirds majority of its total membership when at least two-thirds are present and vote. Certain amendments pertaining to the constitution's federal nature must also be ratified by a majority of state legislatures.
Whether all of that can be done is highly questionable. So: not only is Modi's action unConstitutional, but it could remain so — and produce a huge war.
No matter how bad India's Constitution might be, Modi is far worse, because he is violating it by means of this brutal and entirely unjustifiable military crackdown.
On the same day as the crackdown, Indian Hindus in other parts of the country announced online that they now planned to relocate to Kashmir. The expectation is that the Muslims in Kashmir will be driven out and replaced by Hindus. This is widely believed to be the Indian Government's plan, and the reason for this crackdown: an ethnic-cleansing of J&K for the benefit of India's Hindus.
On August 10th, the New York Times detailed how horrific the crackdown is. Headlining "Inside Kashmir, Cut Off From the World: 'A Living Hell' of Anger and Fear", they reported, from the city of Srinagar in Kashmir, that:
A sense of coiled menace hung over the locked-down city and the wider region on Saturday, a day after a huge protest erupted into clashes between Kashmiris and Indian security forces.
Shops were shut. A.T.M.s had run dry. Just about all lines to the outside world — internet, mobile phones, even landlines — remained severed, rendering millions of people incommunicado.
The New York Times gained one of the first inside views by a news organization of life under lockdown in Kashmir and found a population that felt besieged, confused, frightened and furious by the seismic events of this week. …
Tens of thousands of troops from the Indian Army, the Central Reserve Police Force (a paramilitary unit) and the Kashmiri State police have been deployed in just about every corner of the valley. In some villages, even remote ones, a soldier was posted outside the gate of each family's home. …
Mr. Modi has said the new status will make Kashmir more peaceful and prosperous. In a televised speech on Thursday, which most Kashmiris could not watch because their television service had also been cut, he insisted that turning Kashmir into a federal territory would eliminate corruption, attract investment and move it "forward with new hopes.''
Narendra Modi had risen to power in India by imposing a 3-day anti-Muslim "pogrom" or "ethnic cleansing" in the state of Gujarat, from 27 February through 1 March of 2002, during which, approximately 150,000 people were driven to refugee camps. So, there is clear reason for India's 15% Muslim minority to fear the country's 80% Hindu majority, who, in 2014, elected this bigot, Modi, to lead India. And, now since August 5th, that bigot has an iron grip on India's only Muslim-majority state, J&K.
The pressure upon Pakistan's leader, Imran Khan, to respond militarily, against the Modi-led bigots, can only rise, as long as Modi's unConstitutional aggression, perhaps amounting to an even bigger ethnic cleansing, now against the residents in J&K, continues. A mass-exodus of Muslims from J&K is likely and expected, especially into adjoining Pakistan. As those refugees accumulate there, the pressure on Khan can only rise even further. Already on August 11th, Khan tweeted that "Attempt is to change demography of Kashmir through ethnic cleansing. Question is: Will the world watch & appease as they did Hitler at Munich?"
As of yet, there is no actual discussion in the now totalitarian Indian media, regarding a Constitutional Amendment, in order to legalize Modi's August 5th action. His Government's official position is:
Whatever its legal or historical status, the time has come to amend, if not end Article 370. We must not forget that the continuance of Article 370 is the biggest hurdle to a lasting solution to the Kashmir conundrum. As such, it is the other side of the Pulwama massacre. Strikes across the border are only one way to avenge or redress the latter. But the internal rectification required is the full and complete integration of Jammu and Kashmir with the rest of India. In order to accomplish this, Article 370 must go.
So, they aren't actually saying that Article 370 "is gone," but that it "must go." They are, right at the start, setting up the possibility for an Amendment-resolution, by asserting that "the time has come to amend, if not end Article 370." They are not actually saying Article 370 has ended. This lacuna is their existing policy's escape-valve. The regime's goal is to act as if Article 370 is already simply gone, until the public overwhelmingly assumes that it has somehow been Constitutionally removed — even though it hasn't. The regime's control over its press is sufficient to exclude, for now, any public debate about that central issue — it is a non-issue, currently. It is an issue that's thus being held in abeyance.
But, also, the official position asserts that, come what may, Article 370, and 35A both must no longer continue in force; and specific condemnations of the Muslim faith and of Muslim traditions are prominent in this part of the Government's official position, such as:
abrogation of laws like Article 370 and 35A will be opposed by vested interests. It has taken decades to rid the Muslim daughters of India of the evil and ignominy of tripletalaaq — a pernicious custom whereby a Muslim male could divorce his wife by a simple rendering of the word talaaq, three times, by any means. Here too, the Muslim clergy, all male dominated, termed such a judgement by the apex court as an assault on their faith, conveniently forgetting that Muslim countries such as Pakistan have already enacted such laws decades ago. It is, thus, time for India to move on and not be held hostage to blackmail and threats from religious power brokers.
So: the Hindu regime is now officially damning Islam, and calling Muslim clergy "religious power brokers." This is blatantly in violation of India's 471-page Constitution. Here is from the Constitution's Table of Contents:
PART III
FUNDAMENTAL RIGHTS
General
12. Definition …………………………………………………………………. 6
13. Laws inconsistent with or in derogation of the fundamental rights. … 6
Right to Equality
14. Equality before law ………………………………………………………………….. 6
15. Prohibition of discrimination on grounds of religion, race, caste, sex or place of birth … 7
Among the reasons for the Constitution's extraordinary length are its many exceptions, such as, for example, Article 371A, which says that nothing in the Constitution "shall apply to the State of Nagaland unless the Legislative Assembly of Nagaland by a resolution so decides."
However, what will happen if the Government's promise that its August 5th action will bring 'peace' to Kashmir turns out to become too blatantly false in order for that lie to be able to be successfully continued? Perhaps the 'news'-media will then receive changed instructions, so as to allow a public debate about whether, maybe, there ought to be a Parliamentary initiative to put forth such an Amendment to the Constitution, for consideration. And, if the Government by then has decided to cancel the August 5th action, that failed initiative would be the best possible excuse for doing this: the failure of the initiative to revise Article 370 would become the excuse for cancelling the August 5th action. And, then, the peace-negotiations, could begin, between the J&K state, and the Indian Government. Modi has not locked that exit-door from his policy; and, if he walks through it, he'll be able to blame the legislature, for failing to remove Article 370.
Every dictatorship thrives on the continuing inability of the public to examine and analyze reality in the way that a scientist does in the practice of his/her particular profession; and that's the reason why these intellectual skills, the most basic ones of all — thinking in the way that a scientist does — are not being taught in all of public education, but instead the popular myths are taught to children, and are being reinforced in India and other dictatorships. That makes the public controllable, by the dictators. And so it is, in India today.
As regards the Constitutionality of the measure that the Modi regime is applying so as to impose this theft of control over J&K from J&K's majority-Muslim residents, that measure is Presidential Order C.O. 272, which was issued on August 5th. The chief blog of India's Constitutional lawyers, "Indian Constitutional Law and Philosophy", headlined on August 13th "Guest Post: Article 370: The Constitutional challenge", and the author, "Nivedhitha K.", opened that "The Presidential Order C.O. 272 … is the genesis of the subsequent events," and closed that "the Presidential Order C.O. 272 and all the subsequent activities that have … genesis in the presidential order are unconstitutional." The logical process between the opening and ending was flawless; and, so, there can be no honest legal question about the unConstitutionality of what Modi has been doing to J&K ever since August 5th — Modi's traitorism to India's Constitution, and thus to all Indians. The only real question is instead whether India's 'news'-media will start to publicize this important fact. Meanwhile, the Government races forward with its rape of India's Constitution, in the hope that enough J&K Muslims will evacuate that land so as to enable Hindus 'democratically' to impose some sort of apartheid anti-Muslim regime there. It's simply a race against time, all in clear violation of Indian law, to achieve Hindu control there. Modi seems to be as bold as Hitler was. Fascists everywhere are traitors to their country, and this is now being made manifestly clear in India. No nation where the Constitution is unenforced can be a democracy — not even if the Constitution itself might be thought, by some people, to be, itself, democratic.