Launch of the SDG 4 Data Digest: Tools to Improve Learning Globally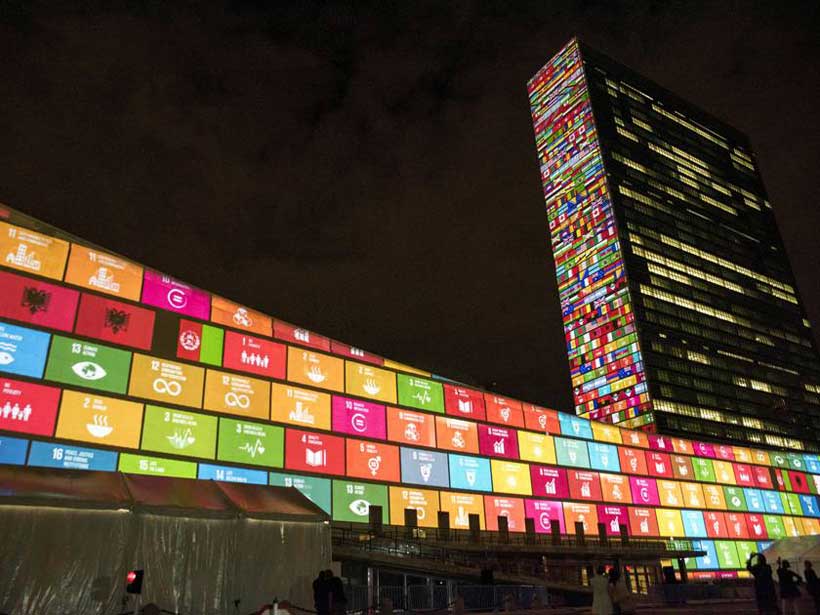 The UNESCO Institute for Statistics (UIS) is launching today, 3 December, the SDG 4 Data Digest 2018: Data to Nurture Learning, which demonstrates how data can contribute to improve learning, as ministers and policymakers gather at the Global Education Meeting in Brussels to take stock of progress towards Sustainable Development Goal 4 (SDG 4) on quality education for all .
Inequality in education is high on the agenda in Brussels but, as the UIS points out, it cannot be tackled without robust monitoring to track whether children, adolescents and adults are gaining the skills they need. This monitoring is vital, given that six out of ten children and adolescents worldwide are still unable to read a simple sentence or handle a basic mathematics calculation, according to UIS data.
"Inequality lies at the heart of the global learning crisis that stunts the lives of 617 million children and adolescents," says Silvia Montoya, UIS Director. "Inequalities in learning are seen and felt not only at the individual level but across countries and communities, with entire societies held back by poor education and skills gaps."
The Digest is blunt about the scale of the task ahead. One-third of the children and adolescents without basic literacy and numeracy skills are out of school and urgently need access to the education that is their right. But two-thirds of these children and adolescents are actually in school.
"Far from being hidden away or hard to reach, they are sitting in classrooms, in schools that are unable to provide them with the quality education they have been promised," says Montoya. "That promise has been broken far too often."
This matters, given the critical importance of learning for the achievement of all SDGs, from reducing poverty to tackling gender discrimination and building healthy, peaceful societies. The Digest voices concern about how these goals can be reached by the 2030 deadline if significant numbers of people continue to lack basic skills.
The Digest explores the internationally-comparable data needed to reduce inequalities and ensure the lifelong learning envisaged by SDG 4. It covers a wide range of assessment initiatives from early childhood education to adult literacy programmes. It also presents a series of tools to help countries make informed decisions about the types of assessments that will meet their specific needs, as well as guidance on participation in assessments and building the essential human capacity to improve learning outcomes through the effective use of data.
Making a strong case for investment in evaluation, the Digest argues for a shift in perspectives about the perceived costs of learning assessments by donors and governments. Participation in major international or regional assessments can cost each country roughly $500,000 every four years, which seems like a major expense for a smaller economy. However, it is minor when set against the overall cost of providing schooling, and the even greater economic consequences of inadequate education. The UIS estimates that solid data on learning to gauge whether approaches are working or whether reforms are needed could improve education spending efficiency by 5%, saving an average of $30 million per year in per country, which would pay for the cost assessments hundreds of times over.
70 years on, landmark UN human rights document as important as ever
The Universal Declaration of Human Rights reaches its 70th anniversary on Monday, a chance to highlight the many important breakthroughs brought about by the landmark UN document, and to remind the world that the human rights of millions are still being violated on a daily basis.
Thanks to the Declaration, and States' commitments to its principles, the dignity of millions has been uplifted, untold human suffering prevented and the foundations for a most just world have been laid.
High Commissioner hails continued relevance of Declaration
Michelle Bachelet, the UN High Commissioner for Human Rights, said in a statement released on Wednesday that the document has gone from being an "aspirational treatise" to a set of standards that has "permeated virtually every area of international law."
The Declaration has shown itself to be as relevant today, as it has always been, and is applicable to situations and scenarios that could not have been foreseen at its inception, such as the need to govern artificial intelligence and the digital world, and to counter the effects of climate change on people.
Ms. Bachelet said the she remains convinced that the human rights ideal, laid down in the Declaration, has been one of the most constructive advances of ideas in human history, as well as one of the most successful.
The human rights chief pointed out that women played a prominent role in drafting the document: Eleanor Roosevelt chaired the drafting committee, and women from Denmark, Pakistan, the Communist bloc and other countries around the world also made crucial contributions. Consequently, the document is, for its time, remarkably free from sexist language, almost always referring to "everyone," "all" or "no one" throughout its 30 Articles.
Human rights violations perpetrated 'on a daily basis'
Celebrating the resilience of the human rights system, and the contributions of the Declaration to advancing human progress, peace and development, a team of independent experts appointed by the UN Human Rights Council, in a statement published on Friday, echoed Ms. Bachelet's comments, noting that the "protection provided by the international human rights system has increased including by addressing new and emerging human rights issues and demonstrating its capacity to evolve and respond to people's needs and expectations."
However, the experts detailed some of the many violations of international law and human dignity that are perpetrated on a daily basis in many countries: "Recent memory is replete with multiple examples of genocide, war crimes and crimes against humanity. Impunity reigns supreme in many countries undergoing conflicts or political upheavals, encouraged by narrow national objectives, geopolitics and political impasse at the United Nations Security Council."
They also said that the upsurge of nationalism and xenophobia seen in countries of asylum, at a time of rising forced-migration, is "reversing the gains of international humanitarian cooperation of the last 70 years."
This year is the 70th anniversary of the Universal Declaration of Human Rights, adopted by the UN on 10 December 1948. The Universal Declaration – translated into a world record 500 languages – is rooted in the principle that "all human beings are born free and equal in dignity and rights." It remains relevant to everyone, every day.
In honour of the 70th anniversary of this extraordinarily influential document, and to prevent its vital principles from being eroded, the UN is urging people everywhere to "Stand Up for Human Rights": www.standup4humanrights.org.
Preparing teachers for the future we want
At its annual meeting in Montego Bay, Jamaica, from 5-9 November, the International Task Force on Teachers for Education 2030 adopted a declaration focused on ensuring that teacher issues stay at the centre of the global education agenda.
Through this declaration, the Teacher Task Force reinforces its vision that at the heart of the right to education is a highly valued, qualified, and well-trained teaching profession. It therefore recommends that:
International partners should intensify efforts to develop robust definitions and classifications of qualified and trained teachers and strengthen cooperation and reporting mechanisms to ensure full monitoring of Sustainable Development Goal target 4c.
Governments should ensure adequate financing for all public goods, including the teacher workforce, and this should be achieved primarily through domestic resource mobilization based on socially just fiscal policies, rigorous measures against corruption and illegal financial flows, efficient and effective teacher policies and deployment practices, developed with the full involvement of teachers and their organisations, and continued focus on external resource mobilization to complement domestic resources for countries.
Moreover, the dual focus of the Education 2030 agenda on equity and learning puts teachers at the heart of policy responses that should foster equal participation and learning globally. Teachers can be an impactful equalizing force to overcome unequal life chances from birth. The massive recruitment of new teachers, particularly in least develop countries, with little or no training is a real cause for concern.
The Teacher Task Force also expressed its concern over the fact that teacher education has not kept pace with preparing new teachers to face the rapid changes in globalization, migration, demographic change, and technological advances that will mark the future of education.
Furthermore, teacher education in this increasing complex world must be forward-looking and prepare teachers who are continuous learners themselves. It must enable teachers to think about the kind of education that is meaningful and relevant to young people's needs in the different 21st century's learning environment.
The Teacher Task Force acknowledges the ever-growing importance of Information and Communication Technologies in education. However, technology should be treated as a supportive tool for teachers and not a replacement. Teacher education should therefore empower teachers to use technologies to support learning within a holistic and human-centred educational framework.
The Teacher Task Force also called attention to the fact that teacher education needs to be seen as career-long education and special attention should be paid to the nature of teachers' professional development, competency frameworks, curriculum development and professional learning communities/communities of practice. As teaching is a knowledge-based profession, teachers and trainers should be supported to continually update their knowledge base.
Through this declaration, the Teacher Task Force advocates for a teacher education that allows teachers to prepare learners to manage change and to be able to shape a just and equitable future, leaving no one behind.
This declaration reflects UNESCO's belief that the right to education cannot be fulfilled without trained and qualified teachers. Teachers are one of the most influential factors to the improvement of learning outcomes and UNESCO has for long been an advocate of better training for teachers to ensure inclusive and quality education for all.
UNESCO, which is one of the founding members of the International Task Force on Teachers for Education 2030, has supported its work since its creation in 2008 and hosts the Teacher Task Force Secretariat.
ADB to Partner on New $4 Million Facility to Help Asia Meet Climate Commitments
The Asian Development Bank (ADB) today announced the launch of the Article 6 Support Facility, a $4 million initiative to help developing member countries (DMCs) in Asia and the Pacific combat climate change through a key provision of the Paris Agreement.
Funded by ADB, the Government of Germany, and the Swedish Energy Agency, the facility will provide technical, capacity building, and policy development support to help the DMCs meet Article 6 of the Paris Agreement, in which countries have voluntarily committed to lower their carbon emissions.
The ultimate goal of the Article 6 Support Facility is for DMCs to achieve critical expertise on Article 6, draw lessons from pilot activities, and enhance their preparedness for participation in carbon markets beyond 2020, while contributing to international negotiations.
The Paris Agreement will go into effect on 1 January, 2020 and aims to limit the increase in the global average temperature to below 2°C.
"This new facility will play an important role in the implementation of the Paris Agreement and we are delighted to be establishing it at this very critical time," says ADB Sustainable Development and Climate Change Department Director General Mr. Woochong Um.
"Climate change is a challenge that must be met on a global level and we are confident that this facility will help deliver the critical practical experience, innovation, and learning necessary for our developing member countries to meet their emissions targets."
The facility is another step by ADB toward meeting its commitment to address climate change, a core part of its long-term strategy, Strategy 2030. The strategy commits ADB to scaling up support to address climate change, climate and disaster risks, and environmental degradation as one of seven operational priorities.