Launch of the SDG 4 Data Digest: Tools to Improve Learning Globally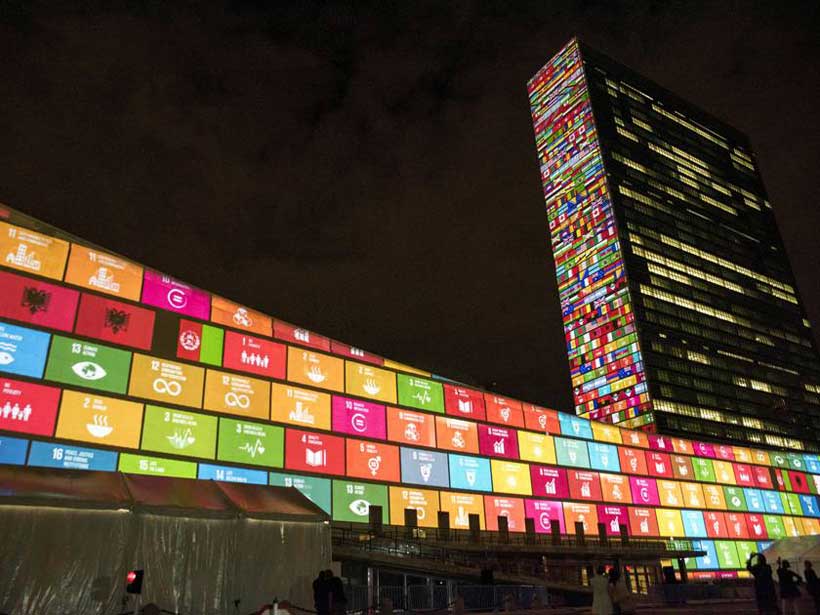 The UNESCO Institute for Statistics (UIS) is launching today, 3 December, the SDG 4 Data Digest 2018: Data to Nurture Learning, which demonstrates how data can contribute to improve learning, as ministers and policymakers gather at the Global Education Meeting in Brussels to take stock of progress towards Sustainable Development Goal 4 (SDG 4) on quality education for all .
Inequality in education is high on the agenda in Brussels but, as the UIS points out, it cannot be tackled without robust monitoring to track whether children, adolescents and adults are gaining the skills they need. This monitoring is vital, given that six out of ten children and adolescents worldwide are still unable to read a simple sentence or handle a basic mathematics calculation, according to UIS data.
"Inequality lies at the heart of the global learning crisis that stunts the lives of 617 million children and adolescents," says Silvia Montoya, UIS Director. "Inequalities in learning are seen and felt not only at the individual level but across countries and communities, with entire societies held back by poor education and skills gaps."
The Digest is blunt about the scale of the task ahead. One-third of the children and adolescents without basic literacy and numeracy skills are out of school and urgently need access to the education that is their right. But two-thirds of these children and adolescents are actually in school.
"Far from being hidden away or hard to reach, they are sitting in classrooms, in schools that are unable to provide them with the quality education they have been promised," says Montoya. "That promise has been broken far too often."
This matters, given the critical importance of learning for the achievement of all SDGs, from reducing poverty to tackling gender discrimination and building healthy, peaceful societies. The Digest voices concern about how these goals can be reached by the 2030 deadline if significant numbers of people continue to lack basic skills.
The Digest explores the internationally-comparable data needed to reduce inequalities and ensure the lifelong learning envisaged by SDG 4. It covers a wide range of assessment initiatives from early childhood education to adult literacy programmes. It also presents a series of tools to help countries make informed decisions about the types of assessments that will meet their specific needs, as well as guidance on participation in assessments and building the essential human capacity to improve learning outcomes through the effective use of data.
Making a strong case for investment in evaluation, the Digest argues for a shift in perspectives about the perceived costs of learning assessments by donors and governments. Participation in major international or regional assessments can cost each country roughly $500,000 every four years, which seems like a major expense for a smaller economy. However, it is minor when set against the overall cost of providing schooling, and the even greater economic consequences of inadequate education. The UIS estimates that solid data on learning to gauge whether approaches are working or whether reforms are needed could improve education spending efficiency by 5%, saving an average of $30 million per year in per country, which would pay for the cost assessments hundreds of times over.
Madagascar: Severe drought could spur world's first climate change famine
More than one million people in southern Madagascar are struggling to get enough to eat, due to what could become the first famine caused by climate change, according to the World Food Programme (WFP).
The region has been hit hard by successive years of severe drought, forcing families in rural communities to resort to desperate measures just to survive.
Madagascar, the fourth largest island in the world, has a unique ecosystem which includes animals and plants found nowhere else on the planet. The country experiences a dry season, usually from May to October, and a rainy season that starts in November.
Daily life disrupted
However, climate change has disrupted the cycle, affecting smallholder farmers and their neighbours, said Alice Rahmoun, WFP Communications Officer in the capital, Antananarivo, speaking to UN News on Thursday.
"There is of course less rain, so when there is the first rain, they can maybe have hope and sow some seeds. But one little rain is not a proper rainy season," she said.
"So, what we can say is that the impacts of climate change are really stronger and stronger….so harvests fail constantly, so people don't have anything to harvest and anything to renew their food stocks."
Varying impacts
Ms. Rahmoun was recently in southern Madagascar, where WFP and partners are supporting hundreds of thousands of people through short and long-term assistance.
The impact of the drought varies from place to place, she said. While some communities have not had a proper rainy season for three years, the situation might be even worse 100 kilometres away.
She recalled seeing villages surrounded by dried-out fields, and tomato plants which were "completely yellow, or even brown", from lack of water.
Surviving on locusts
"In some areas they are still able to plant something, but it's not easy at all, so they are trying to grow sweet potatoes. But in some other areas, absolutely nothing is growing right now, so people are just surviving only eating locusts, eating fruits and cactus leaves," said Ms. Rahmoun.
"And, just as an example, cactus leaves are usually for cattle; it is not for human consumption."
The situation is even more dire because, she added, "even the cactus are dying from the drought, from the lack of rain and the lack of water, so it's really, really worrying".
Families barely coping
The plight of families is also deeply troubling. "People have already started to develop coping mechanisms to survive," she said.
"And that means that they are selling cattle, for example, to get money to be able to buy food, when before, they were able to get food and feed themselves from their own field production, so it's really changing the daily life for people."
Valuable assets such as fields, or even houses, are also put up for sale. Some families have even pulled their children out of school.
"It's also a strategy right now to gather the family's forces on finding income-generating activities involving children, so this has obviously a direct impact on education," Ms. Rahmoun said.
Providing life-saving aid
WFP is collaborating with humanitarian partners, and the Malagasy Government, to provide two types of response to the crisis. Some 700,000 people are receiving life-saving food aid, including supplementary products to prevent malnutrition.
"The second one is more long-term response to allow local communities to be able to prepare for, respond to and recover from climate shocks better," said Ms. Rahmoun. "So, this includes resilience projects such as water projects. We're doing irrigation canals, reforestation and even microinsurance to help smallholder farmers to recover from a lost harvest, for example."
WFP ultimately aims to support up to one million people between now and April, and is seeking nearly $70 million to fund operations. "But we are also involving more partners to find and fund climate change solutions for the community to adapt to the impacts of climate change in southern Madagascar."
COP26: Prioritize adaptation
In just over a week, world leaders will gather in Glasgow, Scotland, for the COP26 UN climate change conference, which UN Secretary-General António Guterres has called the last chance to "literally turn the tide" on an ailing planet.
Ms. Rahmoun said WFP wants to use the conference to shift the focus from crisis response, to risk management.
Countries must be prepared for climate shocks, and they must act together to reduce severe impacts on the world's most vulnerable people, which includes the villagers of southern Madagascar.
"COP26 is also an opportunity for us to ask governments and donors to prioritize funding relating to climate adaptation programmes, to help countries to build a better risk management system, and even in Madagascar, because if nothing is done, hunger will increase exponentially in the coming years because of climate change," she said, adding: "not only in Madagascar, but in other countries."
Albania Has Opportunity to Build a More Sustainable Growth Model
Albania's economy, like other countries in the region, is recovering faster than expected after the historic recession created by the COVID-19 pandemic. Following the contraction of the economy by 4 percent in 2020, GDP growth is projected to reach 7.2 percent in 2021, one of the highest among Western Balkans countries, says the latest edition of the Western Balkans Regular Economic Report, Greening the Recovery.
The strong recovery is supported by consumption, tourism, and construction. Going forward, growth is expected to moderate at 3.8 percent in 2022 and 3.7 percent in 2023.
Albania's poverty rate is projected to fall below its pre-pandemic level by end-2021. Employment and labor force participation is also recovering, albeit with a lag, and real wages are increasing.
The recovery is contributing to fiscal revenue collection. Macroeconomic policies have supported the recovery, but higher spending has led to a further rise in the debt-to-GDP ratio. Economic uncertainty remains high, as the COVID-19 pandemic continues worldwide.
"The Albanian economy has shown encouraging signs of recovery in 2021," said Emanuel Salinas, World Bank Country Manager for Albania. "As growth rebounds, Albania has the opportunity to strengthen the sustainability of its economic model and implement reforms that further support sustainable and shared growth, while preserving macroeconomic stability."
The report shows that the Western Balkans region has improved significantly, with GDP growth now projected to reach 5.9 percent in 2021, after a 3.1 percent contraction in 2020. Growth in the region is projected at 4.1 percent in 2022 and 3.8 percent in 2023.
The poverty rate for the region is projected to resume its pre-pandemic downward trend and fall by around 1 percentage point to 20.3 percent, close to its 2019 level.
The regionwide recovery is due to strength in both domestic and external demand. A sharp rebound in domestic consumption and in travel across Europe helped boost remittances as well as tourism inflows during the 2021 peak summer season. A strong recovery in advanced economies also provided a boost to demand for the region's exports.
However, the recovery remains fragile. Early warning signals from the labor market call for close policy attention. Job losses from the recession and its aftermath have disproportionately affected women and youth, which may set back efforts to raise the region's perennially low rates of labor force participation. Youth unemployment in the region rose to 37.7 percent in 2021, up 5.4 percentage points from June 2020, further worsening youth employment prospects.
"As the Western Balkans countries look to a post-pandemic future, their policy approach will need to focus on addressing key impediments to job creation and economic transformation, including green transition," said Linda Van Gelder, World Bank Country Director for the Western Balkans. "All six countries would benefit from reforms in the business environment, governance, and digitalization, which would contribute to growth and close the gap with EU countries."
The report also looks at the macro-fiscal challenges and drivers of greening the region's growth. The Western Balkans now find themselves at a key decision point regarding the impending green transition.
Global strides toward climate action are causing fundamental changes in society. Consumer and investor preferences are shifting, green technologies and new business models are disrupting more markets, and green policies are reshaping economic landscapes. As such, greening a country's economy is becoming a decisive factor in international competitiveness and the ability to attract international finance and investments.
The Western Balkans are no exception. Still characterized by a development model tilted toward familiar brown industries, moving toward a green growth pathway is far from easy, especially in the short term. Yet, the green transition offers significant opportunities for the Western Balkans – including closer integration into Euro-centric global value chains and access to significant EU resources to help fund a green transition.
Effectively managing this green transition, including the many policy tradeoffs, will need to be a core focus of policy attention for the Western Balkans in the years ahead.
Only 'real equality' can end vicious cycle of poverty
Although poverty and privilege "continue to reproduce themselves in vicious cycles", it is possible to break the chain and shift the paradigm, an independent UN human rights expert told the General Assembly on Wednesday.
Presenting his report, The persistence of poverty: how real equality can break the vicious cycle, Special Rapporteur on extreme poverty and human rights, Olivier De Shutter, said that "with political will", it is possible to end centuries of entrenched inequality and "move from fate to opportunity".
Early investment
"Investing in early childhood, promoting inclusive education, given young adults a basic income financed through inheritance taxes, and combating anti-poor discrimination are the key ingredients needed to break the cycles of advantage and disadvantage", Mr. De Shutter said in his statement.  
Acknowledging that many countries pride themselves on ensuring high levels of social mobility, the human rights expert stated that "the truth is that the persistence of privilege at the top, and deprivation at the bottom, are all too commonplace." 
"The top 10 percent of people living in OECD countries control 52 percent of total net wealth, while the bottom 60 percent own just over 12 percent, condemning the poor to a lifetime of poverty", he said. According to the report, based on data from countries which are part of the Organization for Economic Cooperation and Development (OECD), it takes four to five generations for children in low-income households to reach the mean income in their country. In emerging countries such as Brazil, Colombia or South Africa, it can take up to nine or even more generations.  
Tougher with time
Observing that children born in disadvantaged families were denied equal opportunity, the Special Rapporteur examined the channels through which poverty is perpetuated, in the areas of health, housing, education and employment. 
"Children born in poor families have less access to healthcare, decent housing, quality education and employment than those in better-off households", De Shutter said. "This dramatically reduces their chances of breaking free from the poverty trap".
Describing the outcomes as "appalling", the Rapporteur added that children born in a family experiencing poverty are more than three times as likely to be poor, aged 30, than those who were never poor. 
Poverty costs
The UN rights expert reminded that child poverty is not only "morally unconscionable and a human rights violation", but also expensive. "In the United States, child poverty costs over one trillion dollars annually, or 5.4% of its GDP, but for each dollar invested on reducing it, seven dollars would be saved," said the expert.
Calling for and end to the myth that inequality is an incentive that encourages people to work harder, Mr. De Shutter said that the facts point to the exact opposite: "Inequality lowers social mobility and entrenches advantage and disadvantage over decades. When we fetishize merit, we stigmatize those in poverty or with low incomes, and blame them for their own condition".  
Call for action
Stressing that "no child should be penalized for being born in poverty" in mind, and stating that, in fact, "poverty is a failure not of the individual, but of society", Mr. De Shutter called on governments to act now, "before another generation is condemned to the same fate as their parents".