Americans' Self-Contradictory Views of Socialized Healthcare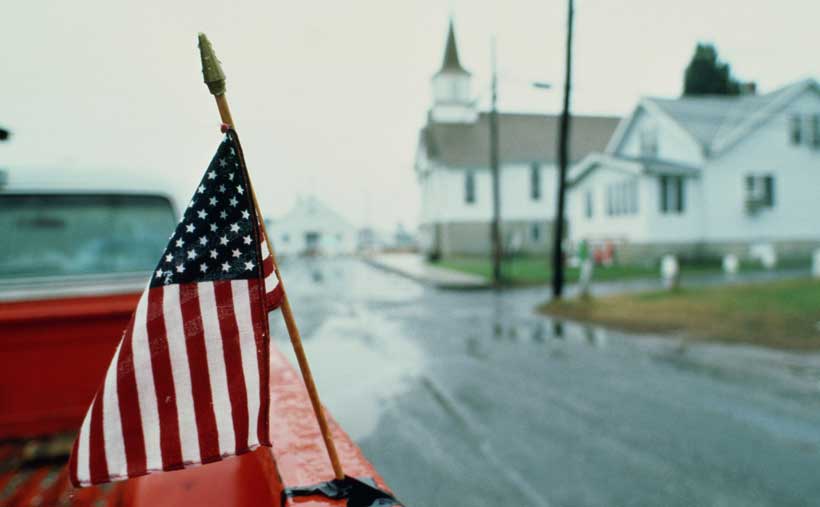 On December 3rd, Gallup bannered "Government Favored to Ensure Healthcare, but Not Deliver It" and reported that 57% of Americans say "It is government's responsibility to see that all have healthcare" but only 40% of Americans want a "government-run" healthcare system to be available to everyone who wants it. In other words: many Americans want other Americans to be forced into corporate and non-profit — privately run — healthcare. Lots of Americans are irrationally rabid against any sort of socialism, even the democratic types of socialism that exist in many European countries such as Sweden, where the quality of healthcare has been proven in international studies to be superior to America's, and where the per-person cost of healthcare is around half as high as in America. The healthcare industry and its executives and its lobbies and its paid-off politicians have plenty of libertarian fools in America who, by their political participation, make life worse for all other Americans by effectively blocking socialization of the healthcare function. Gallup's December 3rd poll also found this mental illness, libertarianism, to be especially common among Republicans: Whereas 65% of Democrats endorse universal availability of a government-run healthcare system, just 13% of Republicans do. So, Republican voters are terrific for the drug companies and the rest of the 'health'care (actually sickness) industries.
Gallup has polled Americans on many questions about healthcare policy. One poll they published 16 May 2016, titled "Majority in U.S. Support Idea of Fed-Funded Healthcare System", reported that 58% of Americans wanted "Replacing the ACA [Obamacare] with a federally funded healthcare program providing insurance for all Americans." Only 37% opposed it. A tiny 5% had no opinion. Perhaps that was a high-water mark for the American public's support of socialization of the healthcare function in America.
On 20 November 2014, Gallup headlined "Majority Say Not Gov't Duty to Provide Healthcare for All" and reported that, "For the third consecutive year, a majority of Americans (52%) agree with the position that it is not the federal government's responsibility to ensure that all Americans have healthcare coverage. Prior to the start of Barack Obama's presidency in 2009, a majority of Americans consistently took the opposite view" (that it's not government's responsibility to see that all have healthcare). But if it's "not the federal government's responsibility to ensure that all Americans have healthcare coverage" (presumably meaning for all basic healthcare, but not for vanity medical services such as "tucks" and other non-health-related medical services), then even life-saving medical care, and also essential preventive care (which lowers overall medical costs), will be available only to people who can pay for it; other people will just have to die, unless they can find someone (perhaps a relative) who is willing to pay. Of course, this type of system — the "Greed is good" system — will also mean that people die young and that disability-rates, and associated incapacity at work, will be high, and all of this will lower economic productivity. Welcome to the United States! (Of course, it's lots better than places such as Honduras.)
Is it likely that majorities really do want single-payer, but not from the government? Hardly: a gratuitous addition of stockholders' profits into the costs for providing essential and economic-productivity-enhancing healthcare services that everyone should have access to if it's really needed (lawfully prescribed etc.) won't just distort the incentives to medical-services providers (and so reduce both health and economic productivity), but it will also waste the money of medical consumers (government or otherwise). But what about having 'non-profit' firms provide the single-payer services, instead of the democratically accountable government doing that? Non-profits cut out profits, and so eliminate the distortions that stockholders' wants introduce into the providing of any services (wants such as stockbrokers have, who pump the investments that pay them the highest commissions, which necessarily harms their investors). However, the top executives even of 'non-profit' firms can pay themselves whatever their friends who sit on their board of trustees will approve; and so a 'non-profit' provider, too, can be, at least to that extent, a scam. (And, of course, in an entirely free market, there is no regulation, and therefore scams will be routine; so, only crooks would want that, anyway. But all the propaganda in the U.S. praises "a free market.")
These are reasons why the countries that have the highest life-expectancies, and therefore the best health-outcomes, are the same as the countries that have socialized basic healthcare services, paid for normally entirely through taxes and provided to all citizens as a basic human right instead of as a privilege that's available only to individuals who can afford it. (Of course, "tucks" and such get charged extra to the patient.) The United States has by far the costliest health care in terms of not only what Americans pay for it but in terms of healthcare costs as a percentage of GDP, and yet the U.S. has the lowest life-expectancy of all OECD countries; the U.S. has the most-free-market healthcare, and also the worst healthcare, among all of the economically developed countries — all (except the U.S.) of which provide guaranteed basic healthcare services to all citizens: essential services free as a right, not charged as a privilege. America's combination of the worst healthcare plus the by-far-costliest healthcare is no coincidence; and healthcare profits in America are the world's highest; so, the present American system is terrific for those stockholders (whose firms hire the lobbyists and their politicians who write America's healthcare-laws). Because basic healthcare in the United States is a privilege instead of a right, the U.S. is the only economically developed nation that does not have universal coverage, health insurance for 100% of its citizenry, healthcare as a guaranteed right instead of dependent upon the patient's ability-to-pay. When Barack Obama entered the White House, the uninsured rate was 14.6%; when he left office it was 10.9%; the insured rate when he started was 85.4%, and it was 89.1% when he left office. His repeated promises of "universal coverage" were blatant lies. His plan was in no way designed for "universal coverage"; that promise was a lie from the very outset.
In the OECD's "Health at a Glance 2015" (which covers 44 nations), the United States scored at or near the bottom for almost all indicators of healthcare-quality, including: Life expectancy, Access to care, Quality of care, Doctors per capita, and Hospital beds per capita. We were by far the highest on Pharmaceutical expenditure per capita. Oddly, three nations, Czech Republic, Slovakia, and Hungary, were exceptionally high in both their heart-disease death-rates and their cancer death-rates; plus their life-expectancies were even lower than America's, and their most carefully medically calculated measured "Quality of care" rankings were also generally as bad as the United States. However, in the latest calculated year, which is shown there, which was 2013, "Health expenditure per capita" (p. 165) was U.S. $8,713; Switzerland $6,325; UK $3,235; Czech Republic $2,040, Slovak Republic $2,010; and Hungary $1,719. So, America's was over four times as high as the healthcare costs of some of the other countries in its class — i.e. in the overall worst class. Generally the top-performing nations were: Japan, Finland, Norway, Sweden, Italy, and Switzerland. Switzerland was the second-highest in cost-of-care ($6,325), right below the United States. Norway was third-costliest, $5,862. Sweden was fifth-costliest, $4,904. Japan was 14th-costliest, $3,713. Finland was 17th-costliest, $3,442. Italy was twentieth-costliest, $3,077. The average OECD cost for all the 44 nations was $3,453, which was less than half of America's obscene $8,713. Whether Obamacare changes any of those U.S. rankings is too early to tell. However, the U.S. is such an extreme "outlier" so that our healthcare system would need to be replaced root-and-branch in order to be competitive with any other nation's in terms of delivering value-for-the-money, instead of rip-off (which is its existing outlier status — unparalleled by any other country's, for delivering lousy value). It is so bottom-of-the-barrel, that it is below the barrel. This is by far the world's most-free-market healthcare system, but our government spends more per-capita on it than do other nations' governments that pay almost all of their citizens' healthcare costs. Wow! In fact, as shown in the chart "9.3. Health expenditure as a share of GDP, 2013 (or nearest year)" on page 167 of that OECD report, the U.S. is the only country where the private sector pays more of the nation's healthcare costs than does the public sector, the government. America is a libertarian's paradise. No other nation comes anywhere close to that degree of non-governmental providing of the healthcare function. Every other nation has socialized the healthcare-function to a vastly higher extent than the U.S. has. That's how corrupt America is.
Lots of other countries are more corrupt in the pettier forms of corruption such as bribery, but perhaps few match America's higher-level, and far more complex, systemic corruption. It benefits only the super-rich, and their lobbyists and other agents.
Russia Or China: Is Biden Right To Target Russia?
No one can disagree with President Joe Biden when he wants to overhaul infrastructure — although a single-minded concentration on one aspect is likely to be longer lasting and a legacy. Consider, for example, a high-speed rail link between New York and Los Angeles, True high-speed, that is, and truly modern like the new lines in China with a design speed up to 350 km/h (220 mph), or preferably higher by the time the rails are constructed in the US. It would make overnight coast to coast (3,000 miles) railroad trips a reality.
What is more difficult to fathom is Biden's foreign policy. He appears to have identified Russia as an adversary or worse, starting with calling Vladimir Putin a killer and exposing several Russian companies that possibly support its intelligence services. Do American companies ever provide cover for the CIA? That is the obvious question coming to mind with an obvious answer. Have western intelligence services including the CIA ever carried out assassinations? If so, would the US president be called a killer?
At the same time, Russia is not the country with a stated goal of becoming the world's leader in its economy, technology and military. No, that's China. Russia only wants closer ties with the west but is being driven into the arms of China.
Given China's stated goals and its progress towards them, it is transparent that its aims require the displacement of the US from its leadership position. Any prospect of thwarting China's ambitions would impel the US to cordon the country to some extent or at the very least attempt to challenge its influence. Instead, China is signing treaties with neighbors. It is in Iran and it announced that it might send its own troops to Afghanistan to maintain its "peace" after the US departs. Afghanistan, by the way, is rich in minerals and rare earth elements.
So far Mr. Biden's foreign policy initiatives appear tactical with a kind of tit-for-tat approach that is absent a coordinated (with allies) strategic plan to prepare the US for a confrontation politically and economically — not militarily, although as the US ramps up pressure, a skirmish here and there on the high seas could be a possibility.
A string of Chinese bases now ring the Persian Gulf extending west to East Africa and east along the Iran and Pakistan coast to Sri Lanka, across to Burma and then south to the western end of Indonesia. The recent treaty with Russia allows convenient Eurasian access while the new closeness with Iran permits an overland route to its oil riches. East of Iran is Pakistan which is a Chinese client state of long standing and where it has built the Gwadar port.
Given the circumstances, the US is obliged to reassess Iran from a geostrategic perspective but also Pakistan, a country that has been on the frontlines of the Afghan war since the beginning. Pakistan is also a key to long term peace in Afghanistan as its own Pashtun population is connected to Pashtuns there through family ties and a traditionally porous border. They also command a plurality as the largest ethnic group in Afghanistan.
Further east China is increasing its influence in Sri Lanka, and is by far Burma's largest trading partner. The recent coup in Burma is its own story and an oft-reported tale in that country without noting China's silence.
Despite the local politics, the US can ill afford to surrender such a vast region to China without counter moves to ensure some freedom of movement within China's tight embrace.
Playing Politics in Times of Covid: AMLO's Whimsical Inoculation Programme
Andrés Manuel López Obrador (AMLO) has capriciously modified Mexico's inoculation programme as he sees fit. He has followed an improvised strategy along the way that follow no logical approach.
The initial vaccination schedule was set up in 5 stages that placed frontline and essential workers as priority sectors; the rest of the population would be divided up by age ranges and inoculated accordingly. However, last January, AMLO announced the creation of 10,000 brigades who would oversee the vaccination programme. Each brigade is made up 12 people majority of whose are active members of the president's political party MORENA. They also were prioritised for vaccination, even ahead, some key workers. This process alone took up 120,000 vaccines that otherwise would have gone directly to frontline workers or the elderly.
As of mid April, Mexico, with a population of 117 million people, has only vaccinated over 10 million people, roughly 8.5% of the population. Only 2.6 million have received the second shot, only 2.2%. The government also announced that it was prioritising the poorest citizens and indigenous communities. In a more recent announcement, he declared teachers would be also bumped up for priority vaccination ahead of the elderly. This again demonstrates the arbitrary standards of his vaccination schedule.
The government's decision to inoculate teachers ahead of even health workers does not come as a surprise: they're a key voting bloc. Mexico is holding mid-term elections this coming July, and vaccinating teachers so close to voting time is the latest evidence that the president is playing politics with the vaccinations. Just like in old times under the hegemonic party, unionised teachers are crucial for AMLO's political party to win the most votes in the next elections.
Using certain sectors of the population to mobilise voters in favour of political party is not something new in Mexican politics. In Mexico, just like in many other unconsolidated democracies, political parties and candidates themselves can turn to political agents to ensure victory in elections through the use of patronage systems or vote-buying strategies.
To fully understand the role of the Teachers' Union (SNTE and CNTE) as a political machine, it is essential to understand its history and role in elections over the last decades. The SNTE has more than 1.6 million members nationally, while the CNTE has over 100,000 members, it was founded in 1980 and has considerably less influence than the SNTE.
The SNTE was founded in 1949, and since then they served as a satellite organisation of the hegemonic party, PRI. Up until 1992, it was mandatory for all Union members to register as active party members. Therefore, throughout these years, the PRI, regularly received electoral support from the Union. The alliance between the hegemonic party and the SNTE strengthened in 1989 when Elba Esther Gordillo was appointed as the new leader of the Union.
What was behind the motivation of the SNTE in becoming an electoral agent? For many years, the Union received monetary incentives and access to political posts. Under this arrangement, political parties and even candidates may monitor the performance of such agents to make sure they are still aligned to those of the government, political party or candidate. As long as the interests of both sides are aligned, the electoral agent is expected to work efficiently to deliver the expected results either on election day or throughout the length of the administration.
In 2005, Elba Esther Gordillo was expelled from the PRI, ending the alliance between the SNTE and the hegemonic party. The leader of the Union founded her own political party, PANAL, and participated in the 2016 federal elections. However, due to the number of voters the newly created party attracted, it was only limited to proportional representation positions. Although PANAL, presented its own candidate for the presidency, Elba Esther offered the votes of the Union in the presidential elections to other political parties with greater possibilities of winning.
The SNTE supported Felipe Calderón, the PAN candidate in 2006 and in 2012 they backed the PRI candidate, Enrique Peña Nieto. The SNTE's geographical outreach and the role of teachers as community and educational leaders facilitate their role as electoral agents. They're able to influence informally the vote of others as well as the opinions and voting decisions of students and their parents.
In many democracies, it is not unusual for teachers to have strong ties to political parties and their candidates, and this is critical when it comes to explaining their effectiveness as electoral agents. It is not uncommon also for teachers to be appointed as voting stations representatives. The combination of these institutional characteristics opens the door for teachers to continue to influence voters through either legal or illegal.
AMLO's courting of the Teachers' Union dates to his electoral campaign in 2018. José Alfredo González, son in law of Elba Esther Gordillo, was seen in a presidential campaign event to support AMLO's candidacy. He is also an active member of Redes Sociales Progresistas, a newly created party with links to Elba Esther Gordillo. Soon after AMLO's inauguration in 2018, AMLO set to dismantle the education reform that has been approved by Enrique Peña Nieto in 2012. This was well received by the 2 Teachers' Trade Unions. In 2020, the SNTE expressed its support for the president, and they also ratified its adherence to the political programme of the president. AMLO also publicly asked Elba Esther Gordillo to talk openly about the (alleged) fraud of 2006. AMLO's intentions in doing this are very clear: He wants the former leader of the Union to enter the political game by talking about the issue and taking a stance that would not be antagonistic towards the incumbent party.
There is no doubt that the president has an underlying agenda in prioritising the vaccination of teachers when mid-term elections will be held in less than 2 months in Mexico. The president has chosen CanSino as the vaccination to be used to inoculate teachers across Mexico to allow schools to reopen by the end of May in some states. Now, with only less proven vaccine options, CanSino has an efficacy rate of less than 65%, questions undoubtedly arise as to how effective the inoculation of Mexicans will be with the use of these vaccines over the already proven ones.
United States must rebalance its relationship with Russia
Hours after signing an executive order, on April 15, 2021, which imposed sanctions on Russia, US President Joe Biden stated that the door for diplomacy and engagement with Moscow was far from closed. Said the US President:
'Throughout our long history of competition, our two countries have been able to find ways to manage tensions and to keep them from escalating out of control.'
Days before the imposition of sanctions, Biden had spoken to Russian President Vladimir Putin. During the conversation with Putin, Biden had indicated that he would be taking action against Russia for interference in the 2020 US Presidential election (a US intelligence report had pointed to Iranian and Russian meddling in the 2020 election), as well as cyber attacks against the US government. While emphatically stating that the US would firmly safeguard its interests and not refrain from strong retaliation in response to any provocative actions by Russia, Biden also proposed a summit with Putin in Europe.
Significantly during his conversation with Putin, Biden according to a White House release:
'discussed a number of regional and global issues, including the intent of the United States and Russia to pursue a strategic stability dialogue on a range of arms control and emerging security issues, building on the extension of the New START Treaty.
Soon after the Biden administration had taken over it had been decided to extend the treaty which came into force on February 5, 2011 and would have ended February 5, 2021. The treaty limits the number of deployed strategic nuclear warheads to 1,550 and deployed missiles and bombers to 700 for each country.
Sanctions imposed by Biden Administration
The sanctions imposed by the Biden Administration on April 15thinclude; expulsion of 10 Russian diplomats stationed in Washington DC, sanctions on six Russian technology companies which allegedly provided support to Russian hacking operations during US elections, barring US financial institutions from participating in the primary market for rouble and non-rouble-denominated sovereign bonds, from June 14, 2021 and individuals and entities associated with Moscow's actions in Crimea.
Significantly, Biden's predecessor Trump had defended Russia against allegations of interference in the US Presidential election of 2016.
Russia's response to US sanctions
Russia responded to the imposition of US sanctions by expelling US diplomats, imposed sanctions on 8 US officials, and would put an end to the activities of US NGOs in Russia, since they interfered in Russia's politics. Russian Foreign Minister Sergey Lavrov warned the US that Moscow would be compelled to take strong measures against Washington, if the latter adopts a 'confrontational course'.
US Sanctions measured
According to many observers, the sanctions imposed by the US on Russia were not particularly harsh and underscore the point, that the Biden Administration while seeking to sending out a strong message to Russia, also realizes that it can not permit the bilateral relationship to slide down any further for a myriad of reasons. First, US needs to cooperate with Russia on a number of global issues, such as jointly battling the covid 19 pandemic, confronting challenges posed by climate change, working together to resolve the Iran and North Korea issue.
Second, it needs to prevent Moscow from moving closer to Beijing. Last month after Biden's strong attack on Putin, Foreign Ministers of Russia, Sergey Lavrov and China Wang Yi, had held a summit in China in March, days after Biden had attacked Russian President Vladimir Putin in an interview. The Russian Foreign Minister criticised US for its role in 'underming the world order' and both sides also proposed the need for reducing their dependence upon the US dollar.
An anonymous paper published by the Atlantic Council had emphasised on the need for a pragmatic policy vis-à-vis Russia, and also to prevent Moscow from moving closer to Beijing. Said the paper titled the Longer Telegram:
'..United States must rebalance its relationship with Russia whether it likes it or not.. Allowing Russia to drift fully into China's strategic embrace over the last decade will go down as the single greatest geostrategic error of successive US administrations'
Third, a number of US allies have strong ties with Moscow, and the US can not expect them to make clear choices (this is an important point made by a large number of US commentators)
In conclusion, Biden's approach vis-à-vis Russia so far has been a blend of diplomacy and firm measures. His focus on dialogue and finding common ground on important bilateral security issues and global issues is significant. Washington while giving precedence to its own interests needs to adapt to the changing geopolitical situation especially the increasing proximity between Moscow and Beijing.