World Bank Group Announces $200 billion over Five Years for Climate Action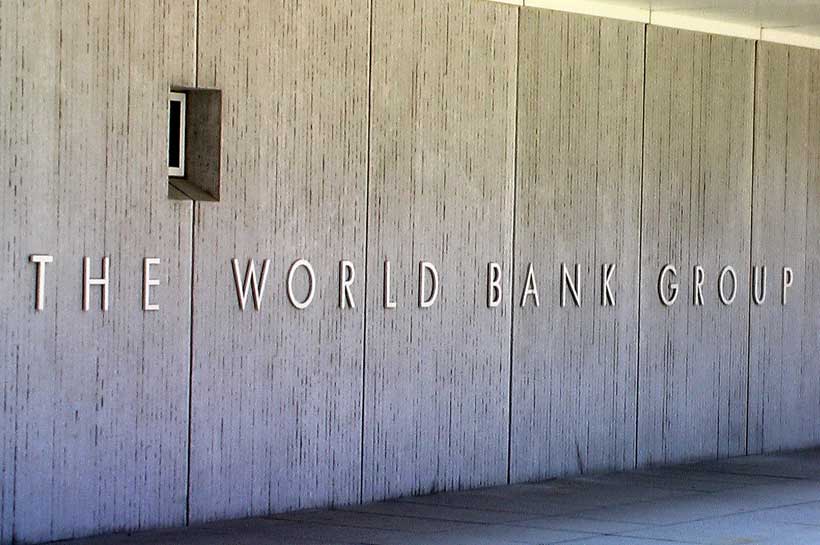 The World Bank Group today announced a major new set of climate targets for 2021-2025, doubling its current 5-year investments to around $200 billion in support for countries to take ambitious climate action. The new plan significantly boosts support for adaptation and resilience, recognizing mounting climate change impacts on lives and livelihoods, especially in the world's poorest countries. The plan also represents significantly ramped up ambition from the World Bank Group, sending an important signal to the wider global community to do the same.
"Climate change is an existential threat to the world's poorest and most vulnerable. These new targets demonstrate how seriously we are taking this issue, investing and mobilizing $200 billion over five years to combat climate change," World Bank Group President, Jim Yong Kim said. "We are pushing ourselves to do more and to go faster on climate and we call on the global community to do the same. This is about putting countries and communities in charge of building a safer, more climate-resilient future."
The $200 billion across the Group is made up of approximately $100 billion in direct finance from the World Bank (IBRD/IDA), and approximately $100 billion of combined direct finance from the International Finance Corporation (IFC) and the Multilateral Investment Guarantee Agency (MIGA) and private capital mobilized by the World Bank Group.
A key priority is boosting support for climate adaptation, recognizing that millions of people across the world are already facing the severe consequences of more extreme weather events. By ramping up direct adaptation finance to reach around $50 billion over FY21-25, the World Bank will, for the first time, give this equal emphasis alongside investments that reduce emissions.
"People are losing their lives and livelihoods because of the disastrous effects of climate change. We must fight the causes, but also adapt to the consequences that are often most dramatic for the world's poorest people," said World Bank Chief Executive Officer, Kristalina Georgieva. "This is why we at the World Bank commit to step up climate finance to $100 billion, half of which will go to build better adapted homes, schools and infrastructure, and invest in climate smart agriculture, sustainable water management and responsive social safety nets."
The new financing will ensure that adaptation is undertaken in a systematic fashion, and the World Bank will develop a new rating system to track and incentivize global progress. Actions will include supporting higher-quality forecasts, early warning systems and climate information services to better prepare 250 million people in 30 developing countries for climate risks. In addition, the expected investments will build more climate-responsive social protection systems in 40 countries, and finance climate smart agriculture investments in 20 countries.
"There are literally trillions of dollars of opportunities for the private sector to invest in projects that will help save the planet," said IFC CEO Philippe Le Houérou. "Our job is to go out and proactively find those opportunities, use our de-risking tools, and crowd in private sector investment. We will do much more in helping finance renewable energy, green buildings, climate-smart agribusiness, urban transportation, water, and urban waste management."
The new targets build on the World Bank Group's 2016 Climate Change Action Plan. In 2018, the World Bank Group provided a record-breaking $20.5 billion in finance for climate action: doubling delivery from the year before the Paris Agreement and meeting its 2020 target two years ahead of schedule.
The World Bank Group will continue to integrate climate considerations into its work, including screening projects for climate risks and building in appropriate risk mitigation measures, disclosing both gross and net greenhouse gas emissions, and applying a shadow carbon price for all material investments.
To increase system-wide impact for countries, the World Bank Group will support the integration of climate considerations in policy planning, investment design, implementation and evaluation. It will also support at least 20 countries implement and update Nationally Determined Contributions and increase engagement with Ministries of Finance in the design and implementation of transformative low-carbon policies.
In key sectors, efforts will include:
In Energy: Support the generation, integration, and enabling infrastructure for 36 GW of renewable energy and support 1.5 million GWh equivalent of energy savings through efficiency improvement;
In Cities: Help 100 cities achieve low-carbon and resilient urban planning and transit-oriented development;
In Food and Land-Use: Increase integrated landscape management in up to 50 countries, covering up to120 million hectares of forests.
How to preserve biodiversity: EU policy
In order to preserve endangered species, the EU wants to improve and preserve biodiversity on the continent.
In January, Parliament called for an ambitious EU 2030 Biodiversity Strategy to address the main drivers of biodiversity loss, and set legally binding targets, including conservation of at least 30% of natural areas and 10% of the long-term budget devoted to biodiversity
In response, and as part of the Green Deal, the European Commission presented the new 2030 strategy in May 2020.
MEP chair Pascal Canfin, chair of Parliament's environment committee, welcomed the commitment to cut pesticide use with 50% and for 25% of farm products to be organic by 2030 as well as the 30% conservation target, but said the strategies must be transformed into EU law and implemented.
What has been done to safeguard biodiversity and endangered species in Europe?
EU efforts to improve biodiversity are ongoing under the 2020 Biodiversity Strategy, which was introduced in 2010.
The EU's 2020 Biodiversity Strategy
Additionally, the European Life programme brought for example the Iberian Lynx and the Bulgarian lesser kestrel back from near extinction.
The final assessment of the 2020 strategy has yet to be concluded, but according to the midterm assessment, approved by Parliament, the targets to protect species and habitats, maintain and restore ecosystems and make seas healthier were making progress, but had to speed up.
The objective to combat the invasion of alien species was well on track. In strong contrast, the contribution of agriculture and forestry to maintain and enhance biodiversity had made little progress.
The Natura 2000 network of protected nature areas in Europe has increased significantly over the past decade and now covers more than 18% of the EU land area.
Between 2008 and 2018, the marine Natura 2000 network grew more than fourfold to cover 360,000 km2. Many bird species have recorded increases in population and the status of many other species and habitats has significantly improved.
Despite its successes, the scale of these initiatives is insufficient to offset the negative trend. The main drivers of biodiversity loss – loss and degradation of habitat, pollution, climate change and invasive alien species – persist and many are on the increase, requiring a much greater effort.
The EU's 2030 Biodiversity Strategy
An important part of Commission President Ursula von der Leyen's Green Deal commitments, the Commission launched the 2030 Biodiversity Strategy, to go hand in hand with the Farm to Fork Strategy.
For the next 10 years, the EU will focus on an EU-wide network of protected areas on land and at sea, concrete commitments to restore degraded systems, enable change by making the measures workable and binding and take the lead in tackling biodiversity on a global level.
The new strategy outlining the EU ambition for the post-2020 global biodiversity framework was due to be adopted at the 15th UN Convention on Biological Diversity in October 2020 in China, which has been postponed.
Once adopted, the Commission plans to make concrete proposals by 2021.
As the world's forests continue to shrink, urgent action is needed to safeguard their biodiversity
Urgent action is needed to safeguard the biodiversity of the world's forests amid alarming rates of deforestation and degradation, according to the latest edition of The State of the World's Forests released today.
Published on the International Day for Biological Diversity (22 May), the report shows that the conservation of the world's biodiversity is utterly dependent on the way in which we interact with and use the world's forests.
The report was produced by the Food and Agriculture Organization of the United Nations (FAO) in partnership, for the first time, with the United Nations Environment Programme (UNEP), and technical input from the UN Environment Programme World Conservation Monitoring Centre (UNEP-WCMC).
It highlights that some 420 million hectares of forest have been lost through conversion to other land uses since 1990, although the rate of deforestation has decreased over the past three decades.
The COVID-19 crisis has thrown into sharp focus the importance of conserving and sustainably using nature, recognizing that people's health is linked to ecosystem health.
Protecting forests is key to this, as they harbour most of the Earth's terrestrial biodiversity. This report shows that forests contain 60,000 different tree species, 80 percent of amphibian species, 75 percent of bird species, and 68 percent of the Earth's mammal species.
FAO's Global Forest Resources Assessment 2020, noted in the report, found that despite a slowing of the rate of deforestation in the last decade, some 10 million hectares are still being lost each year through conversion to agriculture and other land uses.
"Deforestation and forest degradation continue to take place at alarming rates, which contributes significantly to the ongoing loss of biodiversity," FAO Director-General, QU Dongyu, and the Executive Director of UNEP, Inger Andersen, said in the foreword.
The report presents a comprehensive overview of forest biodiversity, including world maps revealing where forests still hold rich communities of fauna and flora, such as the northern Andes and parts of the Congo Basin, and where they have been lost.
Conservation and sustainable use:
In this report, a special study from the Joint Research Centre of the European Commission and the US Forest Service found 34.8 million patches of forests in the world, ranging in size from 1 hectare to 680 million hectares. Greater restoration efforts to reconnect forest fragments are urgently needed.
As FAO and UNEP prepare to lead the United Nations Decade on Ecosystem Restoration from 2021 and as countries consider a Global Biodiversity Framework for the future, Qu and Andersen both expressed their commitment for increased global cooperation to restore degraded and damaged ecosystems, combat climate change and safeguard biodiversity.
"To turn the tide on deforestation and the loss of biodiversity, we need transformational change in the way in which we produce and consume food," said QU and Andersen. "We also need to conserve and manage forests and trees within an integrated landscape approach and we need to repair the damage done through forest restoration efforts."
The report notes that the Aichi Biodiversity Target to protect at least 17 percent of the Earth's terrestrial areas by 2020 has been achieved for forests, although progress is still required to ensure the representativeness and effectiveness of such protection.
A study conducted by UNEP-WCMC for this report shows that the largest increase in protected forest areas occurred in broadleaved evergreen forests – such as those typically found in the tropics. Furthermore, over 30 percent of all tropical rainforests, subtropical dry forests and temperate oceanic forests are now located within protected areas.
Jobs and livelihoods:
Millions of people around the world depend on forests for their food security and livelihoods.
Forests provide more than 86 million green jobs. Of those living in extreme poverty, over 90 percent are dependent on forests for wild food, firewood or part of their livelihoods. This number includes eight million extremely poor, forest-dependent people in Latin America alone.
Virtual Ocean Dialogues to Fast-track Action, Innovation and Resilience
A healthy and resilient ocean can help tackle climate change while providing sustainable food sources and jobs around the world. Half of the world's GDP is dependent on nature, according to the World Economic Forum, and more than 3 billion people rely on the ocean for their livelihoods. As countries begin to manage the economic and social impact of COVID-19, the ocean can be part of the solution.
To fast-track the innovations necessary for a healthy ocean, the Friends of Ocean Action, with the World Economic Forum, will convene the first Virtual Ocean Dialogues. From 1-5 June, Heads of State and Government, leaders from business, members of civil society and scientific communities will gather at a virtual summit to share innovation and solutions. It will give participants the opportunity to share and scale projects worldwide, accelerating their benefits. The event will be open to the public. Registration details can be found here.
"We need an all-hands-on-deck approach to achieve action for a healthy ocean, and with the Virtual Ocean Dialogues we are creating the opportunity to involve more people than ever before. No matter where you live and work in the world you can participate in these Dialogues – all you need is an interest in the future of two-thirds of our planet," said Kristian Teleki, Director of Friends of Ocean Action, World Economic Forum.
Boosting ocean protection, tackling marine pollution, financing a sustainable blue economy and prioritizing data and science to feed billions will feature across the programme. The Dialogues have been designed for communities around the world to connect and exchange ideas.
During the event, finalists will be announced from the UpLink Ocean Solutions Sprint – a competition to unearth great ideas to solve the critical challenges of illegal fishing and plastic pollution. UpLink is a digital platform to crowdsource innovations to accelerate delivery of the UN Sustainable Development Goals (SDGs). It is an open platform designed to engage anyone who wants to contribute to the global public good.
"The global community needs ideas and leadership to maintain action for a healthy ocean. I am delighted to support the Virtual Ocean Dialogues and invite anyone with a concern for the ocean to participate in these critical discussions. All of our lives depend on a thriving ocean, and on fast-tracking solutions to rebuild a resilient global community. The health of our ocean underpins the oxygen we breathe, provides food and job security for billions, and is our greatest ally in tackling climate change. We must prioritize the ocean, and that is what this event aims to achieve," said Isabella Lövin, Deputy Prime Minister and Minister for the Environment and Climate for Sweden, and Co-Chair of Friends of Ocean Action.
"The UN Ocean Conference has been postponed, but will be held in Lisbon as soon as conditions allow. To fill the gap in the calendar left by this postponement, the World Economic Forum and the Friends of Ocean Action have organized the Virtual Ocean Dialogues on 1-5 June. I have big expectations as to the quality and outcomes of these high-level, expert dialogues, and in the build-up to the UN Ocean Conference will ensure their findings are made available to all. In support of the implementation of SDG 14, I'm confident the Virtual Ocean Dialogues will play a very constructive role in maintaining the momentum to conserve and sustainably use the ocean's resources," said Peter Thomson, UN Secretary-General's Special Envoy for the Ocean, and Co-Chair of Friends of Ocean Action.
"The World Economic Forum is mainstreaming innovations to unlock solutions to key challenges, that in turn will improve the state of the world. The first focus of UpLink is the ocean and the Sustainable Development Goal for life below water, SDG 14. By connecting leaders and innovators across the public and private sectors and beyond, and pooling ideas and resources, we can facilitate significant positive change for the ocean and people," said Dominic Waughray, Head of the Platform for Global Public Goods and Managing Director, World Economic Forum.
The Friends of Ocean Action is a coalition of 58 ocean leaders who are fast-tracking solutions to the most pressing challenges facing the ocean. Its members come from business, civil society, international organizations, science and technology. It is hosted by the World Economic Forum in collaboration with the World Resources Institute.