UN climate change conference in Katowice: Questions and Answers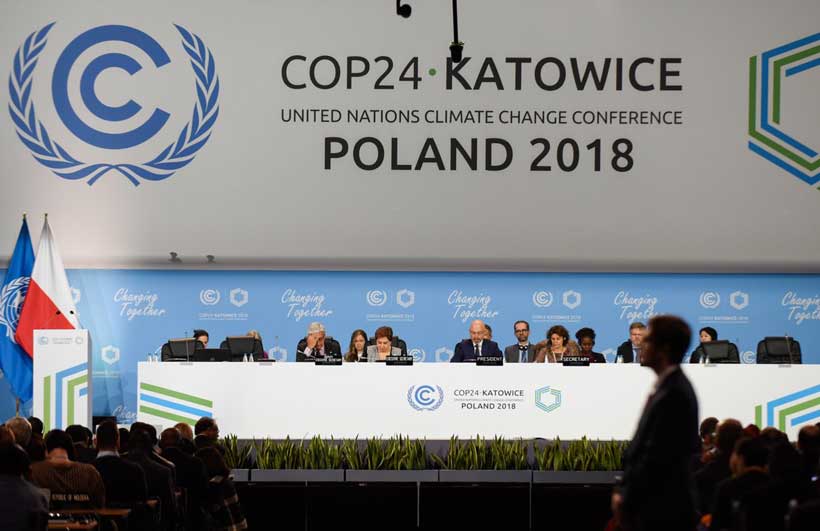 What will happen at COP24?
This year's annual conference of the Parties to the UN Framework Convention on Climate Change (UNFCCC) will be a crucial moment for the implementation of the Paris Agreement on climate change, as Parties are aiming to finalise a detailed set of rules and guidelines – the so-called Paris 'work programme' or 'rule book' – which will enable the landmark accord to be put into practice all around the world.
The conference, will take place from 2-14 December in Katowice, Poland, and will be presided over by the Government of Poland. It is officially the UNFCCC's 24th Conference of the Parties which is where it gets its name 'COP24' from; the Kyoto Protocol's 14th Conference of the Parties serving as the Meeting of the Parties (CMP 14) and the third part of the first session of the Conference of the Parties serving as the meeting of the Parties to the Paris Agreement (CMA 1.3).
The Paris Agreement, adopted in December 2015, sets out a global action plan to put the world on track to avoid dangerous climate change by limiting global warming to well below 2°C above pre-industrial levels and pursuing efforts to limit the temperature rise to 1.5°C. It entered into force on 4 November 2016. 195 UNFCCC Parties have signed the Agreement and 184 have now ratified it.
What are the EU's expectations for COP24?
In December 2015, Parties to the Paris Agreement agreed to finalise a detailed set of rules and guidelines – a 'work programme' or 'rulebook' – for implementing the accord by the end of 2018. Adopting a clear and comprehensive work programme consistent with what was agreed in Paris is necessary for putting the Agreement into practice. It will enable and encourage climate action at all levels worldwide and will demonstrate the global commitment to ambition.
Adopting a strong Paris work programme, with clear provisions on all key issues including transparency, finance, mitigation and adaptation, is the EU's top priority for COP24. The outcome must preserve the spirit of the Paris Agreement, be applicable to all Parties, take into account different national circumstances and reflect the highest possible ambition over time. Clear rules and guidelines will also serve Parties' own policy-making, by providing a robust underpinning for policies and reflection on enhancing ambition over time.
In the build-up to the conference, EU Climate Action and Energy Commissioner Miguel Arias Cañete has conducted extensive outreach with global counterparts in order to ensure a successful outcome in Katowice. This includes the second Ministerial on Climate Action in Brussels co-hosted with counterparts from China and Canada, the Global Climate Action Summit in California, and a recent visit to Beijing where climate priorities were discussed with Chinese authorities. Additionally, the EU has also undertaken wide outreach at officials level with a view to moving towards landing zones on the key political issues related to the Paris rulebook. Party groupings reached out to include progressive developed and developing countries, the G77 and major economies including South Africa.
The political phase of the Talanoa dialogue should send a strong message to the world, in support of the implementation of the Paris Agreement to spur momentum for action. The EU expects all Parties to share evidence of their action and progress on their nationally determined contribution (NDC), as part of a collective global conversation on how to enhance ambition.
Ahead of COP24, the European Commission presented a strategic vision on how the EU could achieve climate neutrality – i.e. become a net zero emission economy – by 2050 (see point 4).
Alongside the formal negotiations, COP24 will have a strong focus on keeping up the political momentum for continued climate action by a wide range of stakeholders before 2020. It will provide a space for all relevant stakeholders to showcase their action, share information, foster new cooperation and raise awareness on climate change and the solutions available.
The EU has a rich programme of side events at COP24 – it will host more than 100 events over the two weeks, at the EU Pavilion in the conference centre.
What is the EU doing to reduce its own greenhouse gas emissions?
The EU's NDC for Paris is to reduce its greenhouse gas (GHG) emissions by at least 40% by 2030 compared to 1990. This target is part of a wider EU climate and energy framework for 2030 and builds on the 2020 target to cut emissions by 20%, which the EU is well on course to exceed.
The EU has worked intensely to establish an economy-wide framework of legislation and initiatives that will allow the bloc to meet its 2030 target and drive the transition to a low-carbon, climate-resilient society. All key legislation for 2030 has already been adopted, including a modernisation of the EU Emissions Trading System (EU ETS) and new energy efficiency and renewable energy targets to ensure the power sector and energy-intensive industries deliver the necessary emissions cuts, and new 2030 targets for all Member States to reduce emissions in non-ETS sectors including transport, buildings, agriculture and waste. New legislation will also ensure that emissions from land use and forestry will be balanced out by removals. Ambitious proposals to reduce EU road transport emissions are also on the table and still being negotiated by member states and the European Parliament. Fully implemented these measures could lead to an EU GHG emissions reduction of around 45% in 2030.
However, EU ambition and vision goes far beyond 2030. In March this year, following a similar request from the European Parliament, EU leaders called on the Commission to present a proposal for a strategy for long-term EU GHG emissions reduction, in line with the goals of the Paris Agreement.
Following broad stakeholder consultation and taking into account the IPCC special report on global warming of 1.5°C, the Commission this week presented a strategic vision for a prosperous, modern, competitive and climate neutral EU economy in 2050. It is an ambitious vision in line with the Paris Agreement goals providing sustainable growth and jobs and improving the quality of life of all EU citizens.
The strategic vision will be followed by a broad debate among EU decision-makers and all stakeholders, which should allow the EU to adopt a long-term strategy and submit it to the UNFCCC by 2020, as requested under the Paris Agreement. The Commission will present its strategic vision to all global partners at COP24, hoping it can inspire others to prepare their own long-term strategies.
How does the Paris Agreement ensure countries deliver on their commitments?
In 2015, countries agreed to set up an enhanced transparency framework for action and support to build mutual trust and confidence and to promote effective implementation of the Paris commitments. The key task is to make this framework a reality by adopting a strong set of detailed rules.
The enhanced transparency framework will help not only the understanding of progress made individually by Parties in the implementation of their nationally determined contributions, but is also critical for providing robust data to support the global stocktakes and assess the progress towards the long-term goals.
Solid multilateral transparency and accountability guidelines would help countries to design good policies at home. They should provide an incentive to build and maintain domestic institutions, data collection and tracking systems that policymakers need to make the right decisions.
The transparency, accountability and compliance system under the Paris Agreement is not punitive, but it is meant to identify when Parties are off track and help them to get back on track if they are not delivering. Underpinning this system are new and comprehensive requirements and procedures applicable to all Parties to track and facilitate their performance. These include technical expert reviews, a multilateral peer review process, and a standing committee on implementation and compliance. Together, these will maintain a focus on both technical and political aspects of performance.
What does the Paris Agreement mean for the EU's contribution to climate finance for developing countries before 2020?
At the UN climate conference in Copenhagen in 2009, developed countries collectively committed to contribute USD 100 billion of climate finance per year by 2020, from both public and private sources, for meaningful mitigation action and transparency of implementation. In Paris in 2015, the EU and other developed countries committed to continue to provide financial resources to help developing countries tackle climate change.
Together, the EU, its Member States and the European Investment Bank are the biggest donor of climate finance to developing countries. We have progressively raised our contribution in recent years, providing EUR 20.4 billion in 2017 alone. The EU is delivering its fair share of the overall USD 100 billion commitment.
The Paris Agreement called for a "concrete roadmap" to achieve the USD 100 billion goal, with a Climate Finance Roadmap prepared by the donor community in 2016 indicating that they are on track to meet the ambitious goal.
How does the Paris Agreement address adaptation and loss and damage associated with the impacts of climate change?
The Paris Agreement put adaptation on an equal footing with mitigation and established the first global goal on adaptation, namely to enhance adaptive capacity, strengthen resilience and reduce vulnerability to climate change. The global stocktake will review the overall progress towards this goal. Adaptation is a key element of EU policy and planning. National, regional and local adaptation strategies are gaining ground since the adoption of the EU Adaptation Strategy in 2013. Today, 25 Member States have a strategy or plan and over 1,500 cities and municipalities have committed to developing one, in the framework of the Covenant of Mayors for Climate and Energy.
The Commission published an evaluation of the Adaptation Strategy earlier this month – highlighting successes achieved and actions needed to further reduce Europe's vulnerability to climate impacts. The evaluation also concluded that adapting EU regions and economic sectors to the impacts of climate change is now more urgent than forecast when the strategy was adopted in 2013.
In addition, the EU is highly committed to supporting partner countries to take climate action, including adaptation efforts. The percentage of EU climate finance targeted at adaptation is increasing, with particular focus on action in the most vulnerable countries. In 2017, roughly 50% of climate finance from the EU budget (excludes Member State funds) was dedicated to adaptation projects. The Paris Agreement recognises the importance of averting, minimising and addressing loss and damage associated with climate change, including extreme weather events, such as floods, landslides, storms and forest fires, and slow onset events such as the loss of fresh water aquifers and glaciers.
These concerns were addressed when the Paris Agreement was adopted by giving the Warsaw International Mechanism on Loss and Damage the role of promoting cooperation on these issues. This includes further work on emergency response and insurance issues and a task force to develop recommendations on approaches to address displacement due to climate change, which delivered comprehensive recommendations on the subject.
What is the role for business and other non-state actors and how can the Global Climate Action Agenda be strengthened?
The Paris Agreement recognises the key role of businesses, local governments, cities and other organisations in the transition to a low-carbon and climate-resilient world. The private sector will ultimately need to bring about the economic transformation, turning challenges into business opportunities. The sharing of experience from the private sector side, on the conditions to achieve sustainability in practice, is therefore extremely valuable.
Actions showcased through the Global Climate Action Agenda (GCAA) – also known as the Marrakesh Partnership on Global Climate Action – are helping to build on the growing momentum. The GCAA has the potential to deliver transformative impacts on the ground, enhance ambition pre-2020 and contribute to implementing national climate plans and the long-term Paris goals.
While measuring the impact and identifying what is additional to national climate pledges remains difficult, data indicates that the aggregated impact of the initiatives is in the order of a few gigatonnes of carbon dioxide equivalent (GtCO2e) in 2030 beyond the current NDCs – a potentially significant contribution to closing the gap (UNEP Gap Report 2016).
The EU and its Member States have been proactive in promoting and sponsoring specific GCAA initiatives. Flagship initiatives include the Global Covenant of Mayors for Climate and Energy and Mission Innovation.
The high-level events on global climate action and the thematic days at COP24 will be excellent opportunities to reflect on progress made under existing initiatives, as well as for announcements on new transformative initiatives.
Air pollution and climate change: Two sides of the same coin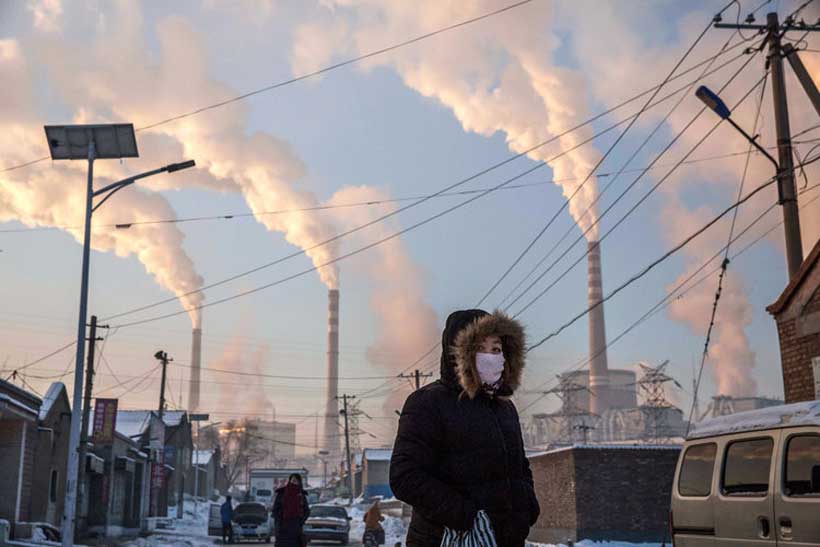 Erupting volcanoes, earthquakes, dust storms and meteorites smashing into the Earth's crust are natural phenomena that can cause climate change and air pollution: dinosaurs may have met their end after a giant meteorite kicked up so much dust that it blocked out the sun for decades, reducing photosynthesis and preventing the growth of plants.
Adding to these potential threats, we have also been contributing to air pollution and global warming through our resource-intensive lifestyles. We're producing and consuming more than ever before, and we're generating more greenhouse gases as a result, as well as air pollutants in the form of chemicals and particulate matter, including "black carbon".
Although they may seem to be two very different issues, climate change and air pollution are closely interlinked, so by reducing air pollution we also protect the climate. Air pollutants include more than just greenhouse gases—principally carbon dioxide but also methane, nitrous oxide and others—but there's a big overlap: the two often interact with each other.
For instance, air pollution in the form of particulate matter from diesel engines is circulated around the globe, ending up in the most remote places, including the polar regions. When it lands on ice and snow it darkens them slightly, leading to less sunlight being reflected back into space, and contributing to global warming. The slightly warmer temperatures encourage plants in the sub-Artic region to grow a tiny bit bigger, and as they grow through the snow they cast a shadow, which, when multiplied over millions of small plants, also has the effect of darkening the Earth's surface, leading to further warming.
The good news is that immediate changes to air pollution levels also have immediate effects. Quick action on reducing highly potent, short-lived climate pollutants—methane, tropospheric ozone, hydrofluorocarbons and black carbon—can significantly decrease the chances of triggering dangerous climate tipping points, like the irreversible release of carbon dioxide and methane from thawing Arctic permafrost.
Meanwhile, we should continue cutting down on the release of long-lived greenhouse gases like carbon dioxide.
A recent concern is trichlorofluoromethane, or CFC-11, which is to be phased out worldwide under the Montreal Protocol, the global agreement to protect the ozone layer. The industrial gas, used illegally, for example, in insulation material, also contributes to global warming.
Aerosols, the atmospheric pollutant with an effect on the climate
The October 2018 report by the Inter-governmental Panel on Climate Change (IPCC) highlights the importance of keeping global temperature rises to 1.5˚C below pre-industrial era levels. Urgent action is need over the next 12 years if there is to be any chance of achieving this target.
Aerosols may be of either natural or anthropogenic origin and can influence climate in several ways: "through both interactions that scatter and/or absorb radiation and through interactions with cloud microphysics and other cloud properties, or upon deposition on snow- or ice-covered surfaces thereby altering their albedo and contributing to climate feedback," says the Panel's report.
It defines aerosols as "a suspension of airborne solid or liquid particles, with a typical size between a few nanometres and 10 μm that reside in the atmosphere for at least several hours."
The report defines air pollution as "degradation of air quality with negative effects on human health or the natural or built environment due to the introduction, by natural processes or human activity, into the atmosphere of substances (gases, aerosols) which have a direct (primary pollutants) or indirect (secondary pollutants) harmful effect."
Air pollution is the theme for World Environment Day on 5 June 2019. The quality of the air we breathe depends on the lifestyle choices we make every day. Learn more about how air pollution affects you, and what is being done to clean the air. What are you doing to reduce your emissions footprint and #BeatAirPollution?
The 2019 World Environment Day is hosted by China.
Do The Harmless Pangolins Have To Become Extinct?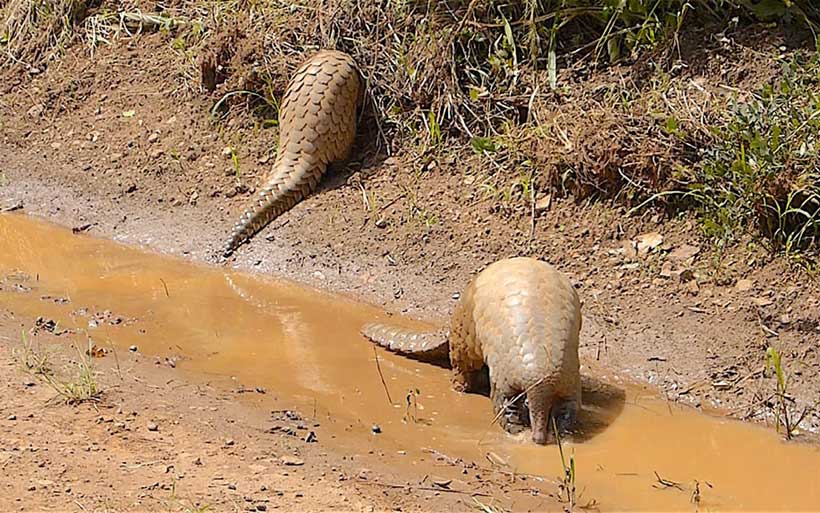 The pangolin is a timid little creature going about its nocturnal ways, slurping up ants and termites with a tongue longer than its body. It has no teeth. Its defense when threatened is to roll up into a ball shielded by its scales — an armor plating that is the cause of its woes.
Ranging in size from 3 to 73 pounds, there are eight distinct species of pangolin — their name originates in the Malay word 'penggulung' meaning the one that rolls up. In 2014, the International Union for Conservation of Nature redlisted all pangolins, classifying the four Asian species 'endangered' — of these, the Chinese and the Malay (Sunda) are critically so. Similarly threatened by decreasing numbers, the four African species were listed 'vulnerable'.
The principal reason for their plight is their defense mechanism, the scales, which in some cultures are claimed to hold magical properties. Thus in parts of Africa, a woman interested in a particular man is believed to be able to control him by burying a pangolin scale outside his front door. In China and East Asia, the scales are considered to have medicinal benefits.
The meat is also considered a delicacy. They have long been hunted in Central Africa for bushmeat but the numbers lost are not easy to calculate. In 2018, an estimate of 400,000 to 2.7 million killed for food was reported by researchers using three different methods — hence the wide range. The lead author of the study, Daniel Ingram of University College London, expressed greater confidence in the lower number.
The third Saturday in February, which fell on the 16th this year, is World Pangolin Day. Unfortunately, there was little cause for celebration as the following customs seizures from just the previous two months manifest.
On December 6, 2018 Malaysian customs officials had to incinerate 2.8 tons of pangolin scales of Cameroon and Ghanaian origin. In January, Ugandan authorities confiscated a large store of scales along with ivory of Congolese origin. Also in January on the 16th, 8.3 tons of pangolin scales were seized in Hong Kong from Nigerian cargo bound for Vietnam. A raid on a warehouse in Koto Kinabalu, Malaysia, by customs officers on February 7 yielded 30 tons of frozen pangolins and pangolin parts.
Adding to all of this is the largest haul globally in five years as reported by Singapore authorities on April 5th. They discovered 12.9 tonnes of pangolin scales from an estimated 17,000 animals along with 390 lb of ivory in a shipping container destined for Vietnam. Sadly, these efforts by authorities also attest to the ineffectiveness of the ban on all international trade in pangolins two years ago (2017) by the Convention in International Trade in Endangered Species (CITES).
Making matters worse, the pangolins are mammals and (unlike rabbits!) happen to be slow breeding. The gestation period is 5 months and mothers seldom give birth to more than one pangopup a year. Pink and soft, the newborn pups are just 6 inches long, weighing about 12 ounces. Their scales begin to harden the next day. The baby is suckled for three months but insects supplement its diet after about a month. It then takes two years to reach sexual maturity, all of which accounts for the slow replacement rate.
Their defense to roll up into a ball helps them very little for the poachers simply bag them. Moreover, biologists know little about their physiology and behavior, knowledge that might help to protect them. Being nocturnal and very shy, they are difficult to track in the wild. And adding to the challenges of research, they unhappily stress easily and usually die in captivity.
Poaching is almost impossible to stop unless the profit incentive stemming from the dubious medicinal benefits of the scales is removed — the April 5th seizure was worth $38 million. The scales are the principal source of demand and as they are made merely of keratin, the same as in human fingernails and hair, it then becomes a matter of education to curb demand.
For the gastronomic aspects, one example to follow could be shark fin soup. It is a delicacy in China and so was expected at official banquets, until banned in July 2012 following pressure from environmental groups. Sales have since plummeted.
Do pangolins have a chance? Let's hope so, or the little fellows will go the way of the African Northern White rhinoceros before we even get to know them. Sudan the last white rhino male died on March 19, 2018. As is often the case, it will take a sustained effort by environmental groups to persuade the Chinese, Vietnamese and other East Asian governments to act.
Author's Note: This article first appeared on Counterpunch.org
Dangerous Plastics Are a Threat to Us and Future Generations
Every day people make decisions about what to eat, sometimes opting for colorful fruits and veggies, sometimes finding the smell of bacon irresistible. At the end of the day people are controlling their own health. What is remarkable though, is the possibility that something one swallows today could have a lasting effect on future offspring – children, grandchildren, great grandchildren. New research is finding a generational impact of certain chemicals. This time it's not the bacon we're worried about – but plastics and the toxins within them.
Twenty years ago, researchers at Washington State University discovered accidentally that the now-infamous bisphenol A (BPA) was leaching out of plastic cages, harming the mice within. The contamination caused abnormalities in mice eggs and fertility. Numerous subsequent studies found BPA exposure affects adult fertility and health across species, including monkeys, fish, and humans. Known to decrease sperm count in rats and to cause breast cancer in women, BPA was banned in 2012 by the FDA from being used in baby bottles and sippy cups. Yet BPA is still used in many products, including epoxy resins used to coat canned foods. A 2004 study of 2,517 people found that 93% had detectable quantities of BPA's by-product in their urine.
Since the toxic effects of BPA came to light, several replacement bisphenols were quickly brought to market by chemical companies and are now in widespread use. Twenty years after the BPA toxicity discovery, by remarkable chance, the same Washington State University lab recently noticed again that something was amiss with their mice. This time the mice were housed in cages comprised of replacement bisphenols, largely believed to be safer than BPA. The researchers subsequently performed controlled studies with several of the replacement bisphenols including BPS, a widely used replacement.
Results demonstrated that the new bisphenols behaved similarly to BPA, causing health problems including detrimental effects on fertility in both males and females, reported in Cell Biology in September 2018. Scientist Sarah Hunt explained, "This paper reports a strange déjà vu experience in our laboratory." What the lab discovered once with BPA, it was seeing again with the replacements. Perhaps most troubling were the long-lasting effects of the toxins. Even if all bisphenols could be magically eliminated today, the toxic effects would still last about three generations through the germline of people already exposed. This means bisphenols ingested today could affect the fertility of one's great grandchildren.
The bisphenol case demonstrates that FDA bans do not necessarily solve the root problem. Chemical companies tend to roll out similar chemicals to those that have been banned, because this is the easiest way to bring something to market quickly. But more testing is needed before chemicals are released into the environment. Long term problems such as generational infertility and cancer risk often cannot easily be examined in clinical trials, and environmental effects are not rigorously analyzed prior to release.
The Washington State University study also proved that damaged and heated plastics are particularly deadly, as the damaged cages leached more toxins. This should serve as a warning for those who microwave food in plastic containers for their families. And it should remind us that discarded plastic bottles degrading in oceans and rivers are releasing toxins that cause irreversible infertility.
The current estimate of plastics in our oceans is approximately 150 million metric tons. By 2050, the amount is expected to 'outweigh the fish,' according to Jim Leape, co-director of the Stanford Center for Ocean Solutions. A recent study has determined microplastics (small plastic particles) are present in every river and lake in Britain. And they have been found in tap water, everywhere from the Environmental Protection Agency in Washington, DC to the Trump Grill in New York. A study of 159 drinking water samples on five continents found that 83% of those samples were contaminated. Plastics are everywhere, from the highest mountains to the deepest parts of the ocean and Arctic. Nanoplastics less than 50 nanometers long have even been found in plankton, which is ingested by fish that humans eat.
Scientists are finding that plastics are disrupting marine mammals' ability to reproduce. Many forms of plastic including polychlorinated biphenyls (PCBs) and Bisphenol A are endocrine disruptors, meaning they affect the hormonal systems of animals. An orca of adult age called Lulu, researchers recently found, was barren as if she was a juvenile. Analysis revealed very high levels of PCBs in her lipid tissues. One orca pod off the coast of Scotland has not produced a calf in 25 years. Despite bans on PCBs 30 years ago, toxins remain in orca mothers' milk, and are passed from mother to baby. A recent study published in the journal Science predicts that half the world's population of orcas will be extinct in just a few decades due to PCB poisoning. Researchers have also found that despite the PCB ban in Europe, levels of PCBs have not decreased, indicated that they may be leaching out of landfills. Hormone disruptors have also been found to impair male frogs' fertility, and to cause tadpoles to more frequently develop ovaries rather than testicles, thus skewing the proportion of males to females. Similar problems have been found in fish. Reproductive risks associated with endocrine disrupting chemicals span species.
Bisphenol A is known to decrease sperm count and to cause cancer in many species. Its counterpart replacement plastics (BPS, BPF, BPAF, BPZ, BPP, BHPF… to name just a few), researchers have recently discovered, are no better. Whether these pollutants have already affected humans is anyone's guess, but it would be wise to view statistics during the time period since plastics became popular, starting in the 1960s, and to see if there is a significant trend over time.
It appears there is. Notably, a 2017 study found that sperm counts per milliliter declined by more than 50% from 1973 to 2011, with total sperm counts down almost 60%. Two other recent studies have demonstrated that over the past few decades in the U.S. and Europe, both sperm count and motility have decreased.
The United Nations Environment Assembly (UNEA) recently debated a proposed legally binding treaty to address plastic pollution. One objective of the proposed treaty was to phase out single use plastics by 2025. Norway also suggested a global agreement for handling ocean plastic pollution. Sadly, the U.S. was the largest voice against the proposed treaty and the proposed global waste disposal plan.
Eventually a non-legally-binding agreement was reached in which the U.S. watered down the language to "significantly reduce" plastics by 2030, eleven years from now. One UN delegate described the Trump representatives as "trying to remove all targets and timelines."
Meanwhile, the U.S. has been exporting large quantities of plastics overseas for years, historically mostly to China. In the previous year, 70% was exported to China and Hong Kong. But in 2018, China banned imports of plastic waste. Since the ban the U.S. has looked to poorer nations for its overseas garbage dump. Unearthed, Greenpeace's research group, has found that in the first six months of 2018, almost half of U.S. plastic waste was sent to developing countries: Thailand, Malaysia, and Vietnam. U.S. plastic waste exports to Thailand went up by nearly 2,000% this year.
Most developing nations do not have sufficient recycling infrastructure to properly handle plastic waste. On Earth Day 2018, the top producers of mismanaged ocean plastic waste were ranked by tons of waste. The top five after China were Indonesia, the Philippines, Vietnam, Sri Lanka, and Thailand. In some cases as in parts of the Philippines, recycling is done laboriously by hand, picking bottles out of large dumps. As this is very difficult and time consuming, large quantities find their way into oceans and rivers. Sadly and not surprisingly, the Pasig River in the Philippines transports approximately 72,000 tons of plastic downstream, and has been declared "biologically dead" since 1990. Instead of helping these countries to develop recycling infrastructure, we are sending them more toxic waste.
We might think we are kicking the can down the road by sending plastics overseas but they will wash right back up on the Hawaiian and California coast. Beachgoers might witness solid litter washing ashore, or unearthed from the stomachs of dead whales. Or they might not notice the pollution — instead unknowingly consuming microplastics in their next Ahi Tuna sandwich. On the East Coast, one might encounter them in a glass of water at the Trump Grill in New York. There is only one world sink after all. Tossing poison to the other end of the tub only works for so long – it will inevitably, over time, mix and wash back to your side of the water. And when one of us is diagnosed with cancer, do we really know the cause?
It is instructive to remember the orca Lulu, a mammal like us, who no longer produces eggs. And to remember that if sperm counts continue to decline at the present rate, they will soon reach levels where it becomes difficult to have children. By then, the world's water supply may be irreversibly contaminated and an enforceable treaty will be too late.
Postponing a legally binding treaty may put us on the path of our fellow mammals the orcas, half of which already face inevitable extinction worldwide. And we can not forget the tragedy of the orca Tahlequah, who last summer carried her dead calf for a record 17 days and 1,000 miles in mourning.
Eleven years may be too late.
Author's note: this piece first appeared in CommonDreams.org