Yemen war: The battle rages on, children suffer most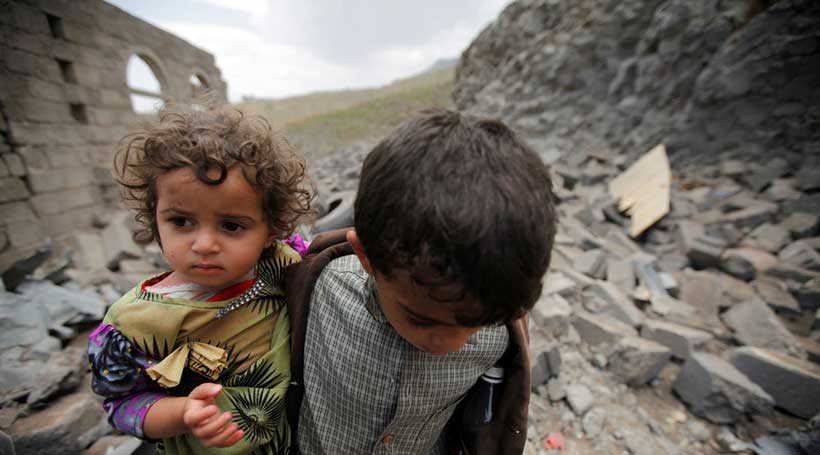 "Violence has forced over a third of all schools there to close, with 15 located on the frontline and others badly damaged or being used as shelters for displaced families," said Meritxell Relaño, UNICEF Representative in Yemen.
In the worst affected areas, only one-in-three students can continue their education and there are less than a quarter of all teachers in school.
"Most education personnel in Yemen have not received a salary in more than two years, and many have been forced to flee the violence or to find other opportunities to make ends meets," he added.
The conflict has escalated over the last three years, following a Saudi-led military intervention against a Houthi rebel insurgency, at the request of the Yemeni Government.
Meanwhile, after visiting Aden, the seat of the Yemeni Government, and the capital Sana'a – which is held by the Houthis – Andrew Gilmour, UN Assistant Secretary-General for Human Rights, urged the warring parties to do "absolutely everything humanly possible" to prevent renewed fighting in Hudaydah.
In all his meetings, Mr. Gilmour underlined the international community's demand to end the practice of recruiting children to take part in the fighting.
He underlined that it is unacceptable for any party to the conflict to deliberately create humanitarian suffering as a tactic of war and urged that delivery restrictions on emergency food and medical supplies be immediately removed.
Mr. Gilmour stressed the importance of accountability for international crimes and reiterated the need to restore law and order throughout the entire country.
In Aden, after meeting with Mothers of the Detainees who recounted harrowing and tragic tales of missing husbands, sons and brothers, he requested the government there, and the de facto authorities in Sana'a, to end unlawful detention and release all names of those in custody. He also called for improved detention conditions throughout the country.
Owing to the stigma attached to conflict-related sexual violence and the victims' fear of retribution, Mr. Gilmour expressed his belief that it was significantly under-reported. He urged all sides to make it "crystal clear to absolutely everyone that any instances of rape and other forms of sexual violence would be rigorously investigated, and all perpetrators held accountable and punished."
On behalf of the Office of the High Commissioner for Human Rights, Mr. Gilmour lauded Yemeni rights defenders who "despite enormous threats to their security and lives, continue to show extraordinary courage and compassion in order to investigate violations and campaign for improved rights."
Ten days before the Universal Declaration of Human Rights marked 70 years, he sadly pointed out that "virtually every article in that noble document is being flagrantly and brutally disregarded."
Africa's Sahel: Act now before the crisis 'becomes unmanageable'
The UN refugee agency (UNHCR) is stepping up response in Africa's Sahel region where escalating violence has forced a rising number of people to flee their homes.
Agency chief Filippo Grandi this week concluded a visit to three affected countries—Burkina Faso, Mauritania and Niger—expressing alarm over the rapidly deteriorating situation.
"We always look at the Sahel, we think about terrorism…we think about what, in theory, threatens Europe", said Mr. Grandi, speaking in Burkina Faso on Tuesday.
"But the real problem is here. The emergency is here. It is here that people are suffering, people are being killed, women are being raped, small children cannot go to school. It's here that we must intervene before this crisis becomes unmanageable."
Armed groups terrorizing local populations
The Sahel region encompasses an area south of the Sahara Desert and spans across parts of 10 countries: from Senegal in the west all the way to Eritrea, in East Africa.
Violence there intensified after the 2011 revolution in Libya, and an uprising in Mali a year later. As a result, terrorist groups, organized criminal groups and others took advantage of weak governance and ethnic tensions to move across borders and terrorize local populations.
High Commissioner Grandi praised the three countries for continuing to welcome refugees.
They have taken in around 165,000 people from Mali, expressing solidarity even as they face their own internal security and humanitarian challenges.
Generous countries shielding one million displaced
Overall, countries in the central Sahel are sheltering more than one million refugees and internally displaced people (IDPs).
"In the Sahel, some of the poorest countries in the world remain some of the most generous," Mr. Grandi commented.
The High Commissioner concluded his visit in Burkina Faso, where armed extremists have carried out brutal attacks in the north and east.
There are now some 600,000 IDPs in the country; a 1,200 per cent increase over last year.
"In the Sahel, the response to the crisis must not be a security one alone. The protection of those forced to flee must remain at the core of our response to this displacement crisis", said Mr. Grandi.
"This includes a better coordination between civilian and military authorities to ensure humanitarian access for immediate assistance. It is also critical to create the conditions for humanitarian and development actors to help with solutions to the affected population."
Resolving Israel-Palestinian conflict, 'key to sustainable peace' in the Middle East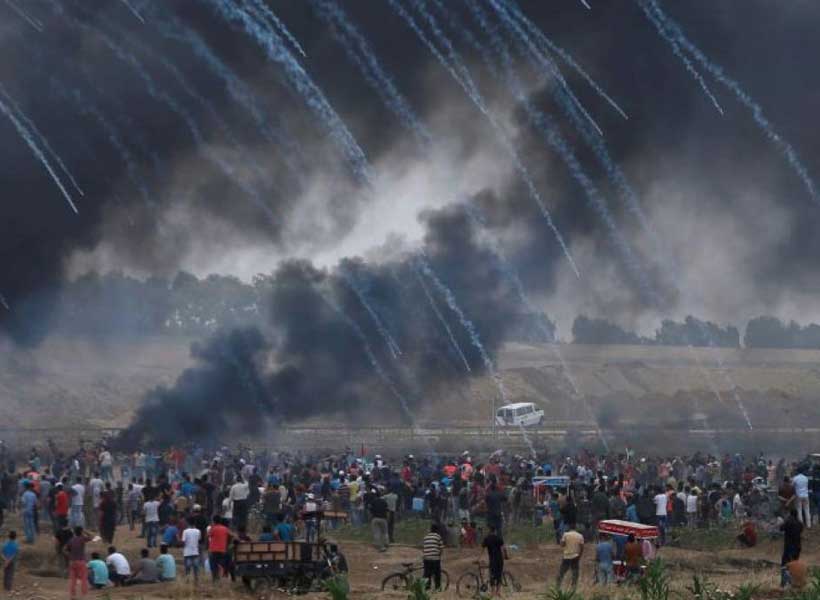 Resolving the Israeli-Palestinian conflict is "key to sustainable peace in the Middle East", the UN chief said on Tuesday, maintaining that the lack of any progress only "furthers radicalization across the region".
António Guterres told the Committee on the Exercise of the Inalienable Rights of the Palestinian People, meeting in New York, that the Organization supports an end to the decades-long conflict on the basis of numerous "resolutions, international law and bilateral agreements" that have been made, with "recognized borders on the basis of the pre-1967 lines".
He cited the expansion and acceleration of illegal settlement activities in the occupied West Bank, ongoing demolitions, seizures of Palestinian-owned property and evictions, as continuing cause for concern.
Moreover, the UN has "repeatedly stated that Jerusalem remains a final status issue", he continued, "the city's future can only be resolved on the basis of international law and through negotiations between the parties".
Unilateral proposal
Last week United States President Donald Trump proposed his 'Vision for Peace, Prosperity and a Brighter Future' that would legalize Israeli settlements in the West Bank and East Jerusalem and also allow Israel to annex around 30 per cent of the West Bank.
Michael Link, UN Special Rapporteur on the situation of human rights in Palestine, referred to it as "a one and a half State solution".
For his part, the Secretary-General responded by recalling the UN's longstanding commitment to realize a two-State solution, with Israelis and Palestinians "living side by side in peace and security within recognized borders, on the basis of the pre-1967 lines."
"The position of the United Nations on the two-State solution has been defined, throughout the years, by relevant Security Council and General Assembly resolutions by which the Secretariat is bound", he upheld.
Human suffering continues
Meanwhile, human suffering prevails throughout the occupied Palestinian territory, said the UN chief, including the "dire socio-economic conditions" facing the two million Palestinians living in the Gaza Strip.
"Projects implemented by UN agencies and other donors are bringing a measure of relief, but far more needs to be done", explained the UN chief.
Ultimately, Gaza also requires political solutions: "On its own, no amount of humanitarian or economic support will resolve either the situation in Gaza or the broader conflict", he said.
Restrictions must be eased on the movement of goods and people to and from Gaza, with the goal of ultimately lifting them.
"I call on Palestinian leaders to engage constructively with Egypt and others to advance intra-Palestinian reconciliation", Mr. Guterres stated, repeating his pleas to Member States to "ensure reliable funding for UNRWA [UN Relief and Works Agency for Palestine Refugees in the Near East] to fully continue its vital work on behalf of Palestinian refugees".
Elections 'long overdue'
Holding "long overdue general elections" in Palestine, including East Jerusalem, will be "a crucial step" towards renewed legitimacy for national institutions and "reuniting the Palestinian people under a single, legitimate and democratic Palestinian national government", according to the UN chief.
"As my Special Coordinator of the Middle East Process recently said to the Security Council, we are hopeful that the Palestinian President will very soon issue the decree scheduling legislative and presidential elections and that Israel will allow voting in East Jerusalem as well", he said.
UN's diamond anniversary
In marking the Organization's 75th anniversary, Mr. Guterres flagged, "we need a renewed commitment to uphold the values of the Charter as our shared framework of cooperation for realization of the rights of future generations of Israeli and Palestinians".
"Rest assured of my full commitment and that of the United Nations" for a "just and comprehensive peace" between Palestinians and Israelis "living side by side" as two States, concluded the Secretary-General.
UN rights expert: US Middle East peace plan 'lopsided'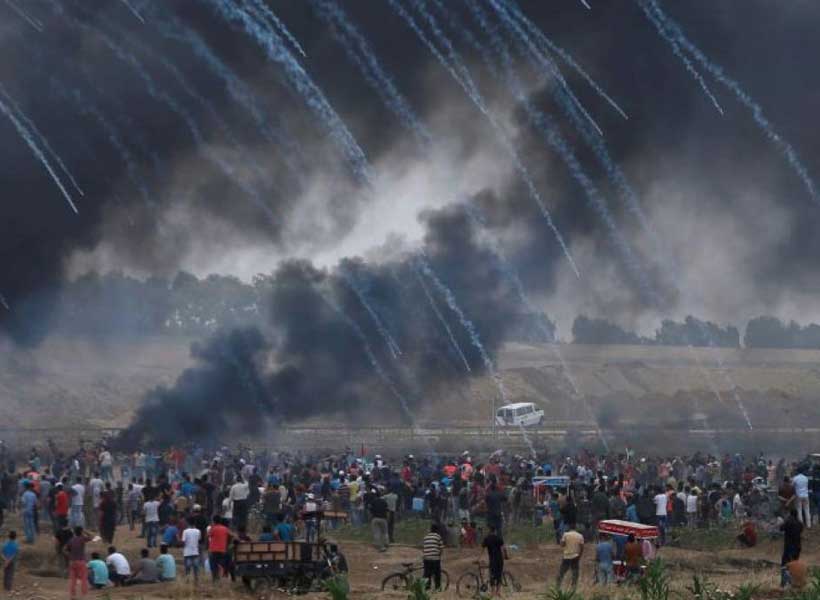 A United States plan released this week to resolve the decades-long conflict between Israelis and Palestinians is "lopsided" and will only entrench occupation, an independent UN human rights expert said on Friday.
President Donald Trump announced his administration's 'Vision for Peace, Prosperity and a Brighter Future' at the White House on Tuesday, which would legalize Israeli settlements in the West Bank and East Jerusalem. Israel also would be allowed to annex around 30 per cent of the West Bank.
In response, the UN underlined its longstanding commitment to realizing a two-State solution, with Israelis and Palestinians "living side by side in peace and security, within recognized borders, on the basis of the pre-1967 lines."
However, what the US plan offers is "a one and half state solution", according to Michael Lynk, the UN Special Rapporteur on the situation of human rights in the occupied Palestinian territory.
"This is not a recipe for a just and durable peace but rather endorses the creation of a 21st century Bantustan in the Middle East", he said, referring to the homelands established for black South Africans during the apartheid era.
"The Palestinian statelet envisioned by the American plan would be scattered archipelagos of non-contiguous territory completely surrounded by Israel, with no external borders, no control over its airspace, no right to a military to defend its security, no geographic basis for a viable economy, no freedom of movement and with no ability to complain to international judicial forums against Israel or the United States."
Mr. Lynk deplored the proposal to legalize Israeli settlements, and he urged countries to condemn any call to annex Palestinian territory, which is prohibited under international law.
"This unilateral act undermines the Palestinians' right to self-determination, and it threatens to drag the world back to darker times, when conquest was acceptable, borders could be redrawn and territorial integrity was regularly undermined", he stated.
Under the Trump plan, Jerusalem would remain Israel's undivided capital, which, Mr. Lynk called distressing as it "recognizes the conquest and illegal annexation of East Jerusalem, which remains occupied territory under international law, as embedded in scores of United Nations resolutions".
The rights expert also took issue with proposals that would prevent Palestinian refugees from returning to their homes in Israel.
"Nothing in the Trump plan alters the continuing prevalence of the laws of occupation, the human rights of the Palestinians under occupation, and the absolute obligation on the international community to redouble its efforts to achieve a just, equitable and durable solution on the basis of equal rights for Palestinians and Israelis alike," said Mr. Lynk.
"International law remains the Northern Star, the only guide to a sustainable peace."
Independent experts' role
Independent experts and Special Rapporteurs and are appointed by the Geneva-based UN Human Rights Council to examine and report back on a specific human rights theme or a country situation. The positions are honorary and the experts are not UN staff, nor are they paid for their work.