Viktoria Marinova and dangerous EU journalism
In October, the murder of a Bulgarian TV journalist Viktoria Marinova caused worldwide condemnation. The case of the journalist, raped and killed in Ruse, northern Bulgaria, was covered in international media. Although it caused quite a fuss, the attention drawn to the topic faded quickly as it was revealed that the murder wasn't connected to the fraud investigation led by Marinova.
Viktoria Marinova's body was discovered in a park in a Danube border city of Ruse on October 6. She was killed by blows on the head and suffocation and raped while she was still alive, the authorities said. On October 9, Severin Krassimirov, a 20-year-old Bulgarian national suspected of raping and murdering the journalist was arrested in the German town of Stade. Later in court Krassimirov admitted hitting the woman in the face and throwing her in the bushes before blacking out. He denied, however, raping and robbing her.
According to Bulgarian officials, DNA evidence found on Viktoria Marinova's body indicated that Krassimirov took part in her killing. Also, items belonging to the victim were found in the suspect's house.
Recently, there emerged a peculiar detail – Severin Krassimirov was transported to a mental hospital since the Prosecution insisted on psychiatric expertise. As stated by Ruse Mental Center, the suspect is mentally retarded.
Marinova's murder provoked international condemnation and caused speculation that it might have been a "warning" as she was investigating alleged fraud involving EU funds, high-ranking Bulgarian officials and business persons. In this connection, Bulgaria's prime minister, Boyko Borisov, launched an attack on journalists and his political opponents.
"I read monstrous things about Bulgaria in the past three days and nothing was true," he said. "We, as a country, did not deserve to be smeared like this."
Borisov lashed out at political opponents for "sending emails to Brussels and the United States, as if this is not something that happens in other countries and is an isolated case".
Despite Borisov's indignation, it's no wonder that Bulgarian officials are suspected of being involved in the murder as the country has been ranked the 111th in the world when it comes to press freedom, lower than any other EU state.
Days before her death, Marinova presented her program which involved an interview with two journalists investigating corruption. "Viktoria's death, the brutal manner in which she was killed, is an execution. It was meant to serve as an example, something like a warning," said Asen Yordanov, the owner of the investigative website that featured on the program.
Although it seems that Viktoria Marinova's murder has nothing to do with her work, journalism in the EU has become dreadfully dangerous in recent years. In past October, Daphne Caruana Galizia, a prominent investigative reporter in Malta, was killed in a car bombing. On February 21, the Slovakian investigative journalist Jan Kuciak and his fiancée were murdered at his home in the village Velka Matca, 50km east of Bratislava; the organizers still haven't been found. The recent case of Jamal Khashoggi shows that no one can feel safe even in the building of a diplomatic mission.
Those who stand behind these crimes know: they have impunity. However, these are only the most famous cases; many journalist murders weren't covered that broadly. According to the Committee to Protect Journalists (CPJ), a New-York based organization defending the freedom of the press, at least 43 journalists have been killed in 2018 so far. In 2017, 46 journalists were killed. Journalism has always been a dangerous profession but today those whose illegal activity is targeted by journalists prove to one another that there are no consequences if you "deal with the problem" in such a way. What we should do is to support the people who do their hard and dangerous work and not let their efforts and names be forgotten…
Making Europe's future rhyme for the Next Generation
History does not always repeat itself but for Europe it does usually rhyme. Or at least it used to.
In the face of a virus that has taken lives and livelihoods across the world, Europe did not give in to age-old instincts or re-open barely healed wounds from the financial crisis a decade ago. Instead, we chose to pull each other through and invest in a common future.
This is why we can say that last week's decision by the Leaders of the 27 Member States to endorse the European Commission's recovery proposal was historic.
Firstly, the numbers. Europe will have at its disposal a recovery tool worth 750 billion EUR to support those hit hardest by this crisis. Called NextGenerationEU, it will invest in a recovery that builds a greener, more digital and more resilient Union for our children. This will be topped up by the EU budget for the next seven years, bringing the overall package to 1.8 trillion EUR.
Secondly, it is historic because of how Europe makes it work. For the first time on this scale, the European Commission – backed by the 27 Member States – will use its strong credit rating to raise money on the capital markets for NextGenerationEU.
In past crises, the better off survived while the most vulnerable paid a heavy price. But this time it has to be different. This time we can only get back to our feet if we all pull each other up. This is why most of NextGenerationEU funds will be distributed in grants to Member States to finance crucial reforms and investment. This is European money supporting projects and people from Flensburg to Freiburg, creating jobs locally from Cottbus to Cologne, and Europe's strength globally.
Reforms and investment will be tailored to what each country needs and be in line with our wider European goals. For some, this will support reforms in the labour market to boost productivity, while others will focus more on education and training to help people develop the skills they need. Some will invest in improving digital infrastructure and others on transport connections. But, crucially, all will contribute to the goals of the European Green Deal. 30% of the overall 1.8 trillion will be ring-fenced for climate related spending and a new Just Transition Fund of 17.5 billion will help those people and regions who have to make a bigger transformation than most.
The third reason we can use the word historic is because of how the money will be repaid. To avoid sending a higher bill to Member States in the future, Europe should repay the funds through what we call new own resources. These will include a levy on big tech companies, a tax on non-recycled plastics and putting a carbon price on imports coming from countries with lower climate ambitions.
Some people will ask about why Germany should raise or repay money with another country thousands of kilometres away. The answer is simple. Europe's prosperity lies in its unity, its community and its single market. So for us solidarity is actually self-interest and a euro invested in one country is actually a euro invested for all.
Think about what happens to our tourism industry if people from across Europe cannot afford to come to our Alps or to visit our Baltic Sea beaches anymore. Think about what happens to our manufacturers if they cannot get the parts they need from their suppliers in different European countries. Think about how the crisis has taken its toll on us all – on the wellbeing of people, the solvency of businesses, the functioning of society and the health of every single European economy. And it is not over yet.
This is why we need to act urgently, decisively and collectively. And last week, Europe has shown that it is up to the task. Of course, some will point to the long and difficult Summit and see that as hesitation or weakness. We see it as the ultimate sign of Europe's unique strength.
Just take a step back and look around. Nowhere else in the world could 27 different countries even discuss financing their recovery and future together. We did it over one long weekend. At this very fragile moment in history, being in Europe is the best place to be. And now we need to keep it that way for all by working with governments and parliaments to bring this recovery to life.
Our Union should always be judged on what it can offer for the future. That vision of a common future enabled us to take every bold step in our history: uniting Europe after the Second World War or the end of the Cold War, creating our common market and introducing our common currency. Today, it is that same pioneering vision enabling us to make another historic step for our Union.
Where do we go from here? -revisiting words of Steve Clemons
On 1 July 2020,the first real-time conference in Europe past the early-spring lockdown took place at the Diplomatic Academy Vienna. This highly anticipated event, entitled From the Victory Day to Corona Disarray 75 years of Europe's Collective Security and Human Rights System Legacy of antifascism for the common pan-European future, was organized by the International Institute for the Middle East and Balkan Studies, Media Platform Modern Diplomacy, Scientific Journal European Perspectives, and Action Platform Culture for Peace. (the entire conference proceedings are available
After the end of World War II, the United Nations was founded in 1945 to maintain international peace and security, build relationships among nations, promote social progress, better living standards, and human rights. The Nurnberg and Tokyo trials (1945-1948) prosecuted war crimes and contributed to the development of international criminal law as well as the Universal Declaration of Human Rights (1948). These laid down the foundation for the liberal international system that is based on the shared interest in maintaining rule of law, the cooperation to resolve security issues, and to maintain an open, stable system, in which institutions reinforce cooperation and collective problem-solving.
The first panel reflected on the legacy of World War II, collective security, Human Rights, and the importance of mutual trust within alliances. Discussions emphasized the testing times that we are living in, which unwittingly remind us of the set of challenges that the international system must overcome. Challenges that will commend other solutions, while testing the integrity of the current international system. During the first panel, discussions touched upon a crucial and complex issue, which came under the spotlight due to the severe worldwide effects of the COVID-19 pandemic, the state of international institutions as well as the transatlantic relations.
As the health crisis started to unfold rapidly, an unprecedented macroeconomic shock was triggered. To slow the spread of the virus, national governments-imposed sanctions, lockdowns, curfews, closed educational institutions, and non-essential businesses. National borders were shut down in a matter of hours, governments started to look for unilateral solutions to solve their lack of medical and food supply, and suddenly it seemed like the globalized world and the relevance of the international organizations are fading away, as the interest to act in concert would not exist anymore.
National crisis management aimed at containing the spread of the virus and minimize the economic damages, at the same time sent an immediate warning that the collective problem-solving mechanisms are not functioning properly. It also demonstrated how interdependent the economic, social systems are and this magnitude of crisis cannot be dealt with unilaterally within national borders. As Mr. Steve Clemons, Editor-at-large, HILL pointed out in his intervention, the course that a nation should take is more in question than it has ever been before. 'When you look at the Transatlantic experiment, it looked like it succeeded enormously until it stopped succeeding and working.'
As the C-19 crisis demonstrates, the scale of transnational threats cannot be dealt with on a national level. Combatting interstate terrorism, cybercrimes, climate change, the slow pace of clean energy transition, migration, global pandemics require transnational solutions. Meanwhile, countries are putting more emphasis on strengthening their positions as a nation in the international discourse and seeking a different role by redefining themselves and embracing other core values and institutions.
Attempts to look for alternatives and transform the existing institutional structure put in place after World War II have surged in the last decade, especially after 9/11, the financial crisis in 2008, but with the outbreak of the COVID-19 pandemic, the world arrived at another tipping point. As Mr. Clemons phrased it: 'A point of diminishing return that these institutions need to be rethought, reconsidered, and recalibrated, that the power players that now guide much of the world need to be reassorted. There is no doubt that countries like Brazil, India, etc. are not included in those power centers, and yet they have enormous stakes in the way global affairs occur.'
A global power transition has been taking place for years, the question is how the shift from unipolarity will accommodate rising powers, who will be able to take the lead and fill the power vacuum that the United States leaves behind. As opposed to the rules of the liberal value-based world order, a new set of rules is being written by rising powers. Some of the political leaders turned back to ideologies like nationalism and populism, as a potential alternative to liberalism. Conflicts in recent years reinforced this tendency, like disputes between Hong Kong and mainland China, the Ukraine crisis, and Turkey`s autocratic behavior. In addition to this, the United Kingdom left the European Union and Hungary changed its raison d'état by redefining itself as an illiberal democracy.
Even the United States is less committed to the post-war world order. Demonstrating that by leaving institutions that It helped to build, such as the World Health Organization, the Paris Climate Accord, questioning the legitimacy of NATO and certain UN institutions. Mr. Clemons stated that the United States has become a serious competitor with its allies to a certain degree and the notion of shared interest has diminished. He emphasized the different stand that the United States took in the C-19 event as oppose to its position in World War II: 'The United States has chosen not to be the kind of leader that it has been in the past. It did not step forward in the C-19 crisis to help become a broker of strength and benefits and help support nations around the world. We may have done something here and there, but nothing on the scale.'
The set of challenges put the resistance of decade long alliances to a test. At the same time, they create the opportunity to find comprehensive solutions and more efficient problem-solving mechanisms for the future, by revitalizing and reforming institutions that are the cornerstones of long-standing regional orders, cooperation, and collective problem-solving. To stand resilient against global challenges like C-19, the transatlantic relationship must come back to its core values and redefine itself. Therefore, as a first step, it must be acknowledged what led to this harsh world without much leadership.
The strength lies within like-minded alliances and sharing the same core values as well as in the ability to come together despite the differences and finding a common ground again. That is what happened 75 years ago, after the end of World War II, when the United Nations was founded. Let us remember that.
EU-US: New geopolitical disharmonies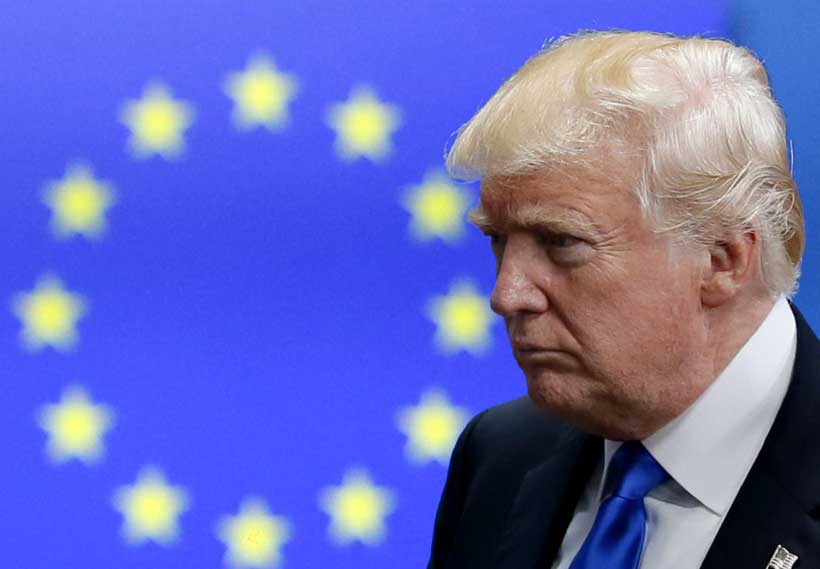 The article analyzes new trends in the development of the transatlantic partnership, laying bare the contradictions and problems that have recently been complicating the allied ties between the US and the EU.
Donald Trump's presidency has led to a noticeable cooling of relations between the United States and the European Union. Most European analysts view the Trump administration's approach to relations with the European Union as destructive, since it proceeds from the assumption that European integration is directed against the United States and that the "disunited states of Europe" thus pursue their own strategic interests. This means that the US now prefers to build privileged bilateral relations with individual countries, depending on their geopolitical and regional status and foreign policy priorities, which is clearly reflected by Washington's support for Brexit.
Signs of an unprecedented complication of transatlantic ties abound, as was clearly confirmed by the June 20, 2020 videoconference by the foreign ministers of 27 EU member states, attended by US Secretary of State Mike Pompeo, and which the authoritative French newspaper Le Monde very aptly described as a "dialogue of the deaf."
The United States' approach to tackling the COVID-19 pandemic differs notably from the EU's. While the European Union believes that the vaccine, which is currently being developed in various countries, should belong to all mankind, Washington wants to have exclusive access to it with an eye to monopolizing its use in the world. Trump has tried to persuade the German firm CureVac, developing a vaccine for coronavirus, to move its research work to the United States, and ignored a call from various international organizations to reconsider the US decision to break off relations with WHO, and a joint appeal to this effect from European Commission President Ursula von der Leyen and the EU's High Representative for Foreign Affairs and Security Policy Josep Borrell.
The Protecting Europe's Energy Security Act of 2019, introduced by a group of US Senators, provides for harsh sanctions against anyone involved in the construction of the Nord Stream 2 gas pipeline. The bill expands existing US sanctions related to the provision of pipe-laying vessels and applies to all companies involved in the pipeline's construction, operation and maintenance.
If enacted, the bill will affect more than 120 companies from 12 European countries, since seaports, legal and insurance companies will suffer too. It also stipulates that if the construction of the pipeline is completed, sanctions will be applied also to specialized organizations that certify it.
The EU's reaction came quickly. In her July 1, 2020 address to the Bundestag, German Chancellor Angela Merkel minced no words openly describing Washington's extraterritorial sanctions against Nord Stream 2 as illegal. Her statement was all the more significant since it coincided with the start of Germany's presidency of the EU Council for the next six months. Commenting on the country's foreign policy priorities for this period in light of the US pressure on the EU, Foreign Minister Heiko Maas laid out the EU's sovereign strategic and tactical position: "We do not intend to be guided by anyone; we want to go our own way and actively influence geopolitical agenda."
The German MPs were much less diplomatic though.
"We are convinced that the time of diplomatic restraint is now over. To protect European interests, the German government and the European Union should introduce countermeasures and consider the use of retaliatory sanctions, for example, against US shale gas. The real threat of serious retaliatory sanctions is the only way we can possibly resolve the conflict. This is the only language Donald Trump understands," Timon Gremmels (SPD faction's speaker on gas policy) and Markus Töns (SPD faction's speaker on trade policy) stated.
The lack of unanimity of positions on Iran has become a serious sticking point in EU-US relations. France, Germany and even Washington's closest ally Britain have criticized the new American sanctions against the Islamic Republic, demonstrating their opposition to the US intention to nix the landmark nuclear deal with Tehran, reached in 2015.
Disagreements within the US-EU-NATO geopolitical triangle have escalated sharply, with French President Emmanuel Macron publicly describing NATO, where the US plays a leading role, as being "brain dead." After his oft-repeated demands for Germany to almost double its financial contribution to NATO were essentially ignored by Berlin, Trump decided to cut the US military contingent in Germany by 9,500 troops on the pretext that the US was overburdened with ensuring Germany's security.
For all his unpredictability, Donald Trump is pretty much consistent when it comes to his stance concerning the transatlantic military-political partnership. Attentive observers will recall that when speaking in the press about his support for one of the candidates for the US presidency three decades ago, Trump said he was unhappy about American resources going to protect rich allies that did not invest enough in their own defense and essentially benefited at Washington's expense. Therefore, he insisted that United States should stop paying for a world order that primarily accommodates the needs of other countries, even if they happen to be America's allies.
After the Polish government said it would welcome a full-fledged US military base on its territory, manned by the US troops being withdrawn from Germany, Trump invited Polish President Andrzej Duda to visit the United States just a few days ahead of this year's presidential elections in Poland. The US meddling in the 2020 summer election campaign in an EU country was as obvious as it was unceremonious. Moreover, it sent a clear message to Angela Merkel as a reminder of her refusal to come to Washington for the G7 summit in June.
In a research project "State of the World 2020. The End of American Leadership?" a team of French political scientists expressed their conviction that "militarily, the EU must get rid of the illusion of a protective American umbrella by providing its own collective defense. America's strategic distance (from Europe – M.N.) fits into the long-term perspective. Consequently, dependence on NATO can threaten security on the continent." [3, p.181]
The foresight of Cyril N. Parkinson, the author of the famous "Parkinson's Laws," who, decades ago, predicted a crisis in relations between the United States and Europe, has proved surprisingly accurate. In comments to his "Laws…" Parkinson explained that if the West wants to survive, it must achieve a certain unity and rally its ranks, which is not even mentioned now. If links begin to fall out of this goal, it will not happen in a border state, where tension always persists, not in countries that desperately cling to their elusive sovereign status – a breakdown will occur where there is seemingly complete grace: in Brussels or Washington "[1, c.318]
However, speaking about the end of the transatlantic partnership would be a far-fetched exaggeration. Today, the time-tested allied relationship between the EU and the US, based on fully or partially shared values as well as ideological, political and economic priorities, is being tested by serious international challenges and threats and, simultaneously, by initiatives coming from the Trump administration that are particularly painful for the EU. Even though the interests of the parties diverge and the format of their relations is changing or being modified, in the present geopolitical context this is unlikely to erode the bonds of transatlantic partnership, much less to precipitate any major crisis. Meanwhile, amid a protracted crisis of the liberal model of the world order, the competitive partnership between the US and the EU will keep hitting snags, but this will still not become a mainstream antagonistic trend in their relations.
From our partner International Affairs