Shapers of America: The Role of George H. W. Bush in Foreign Policy Making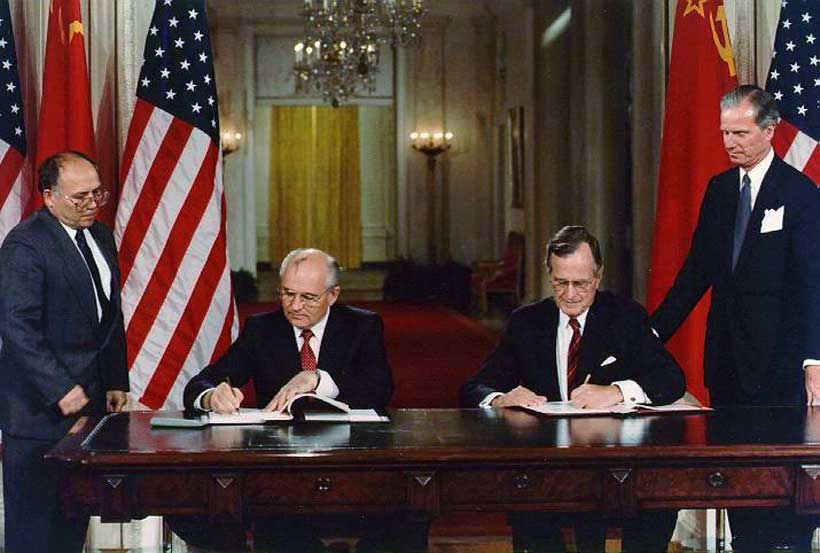 Authors: Srimal Fernando and Pooja Singh*
The sad news on Friday of Former US President George .H. Bush's death at the age of 94 spread all over the world in no time. His lasting legacy on the US political system and his accomplishments during his presidency from 1989 to 1993 touches nearly everyone. Former President Obama also paid tribute, saying: "America has lost a patriot and humble servant in George Herbert Walker Bush" While our hearts are heavy today, they are also filled with gratitude".
In 1989 when Vice President Bush assumed power, his foreign Policy strategy was unfamiliar to the world. For the next four years, his administration tried to make the best out of the bad, often impossible task to change the course of United States (US) relations with former Soviet Union (USSR) and Warsaw bloc nations. Apart from diplomatic efforts his Presidency focused on economic diplomacy.  The signing the North American Free Trade Agreement (NAFTA) transformed trade ties with the trading bloc. Former President Bush addressing one of his key speeches on trade, in 6 February 1989 e stated, "We don't want an America that is closed to the world. What we want is a world that is open to America"
Bush senior was a modern American Foreign policy architect credited for ending of the Cold War. Hence looking back it was a moment for celebration and pride when George Bush was chosen as Vice President during Regan's two-termed presidency.  It was apparent as President Bush laid out policy approach of overcoming numerous national security and diplomatic challenges. However, his major foreign policy   problems from the start had been the Soviet Union (USSR) and integration of East European nations into the European Union (EU). It took full four years and turned to be as one of the most rigorous consultative processes in the US- USSR relations. In fact, soon after the fall of the Berlin Wall in 1989, the meeting was held between George Bush and Mikhail Gorbachev on the Mediterranean island of Malta. The collaborative diplomacy between the two superpowers with considerable negotiations between Bush and Gorbachev in reducing the nuclear warheads during the Strategic Arms Reduction Treaty (START) -1 and 2 had its cost. Having the Strategic Arms Reduction Treaty (START I) as the prime subject of summit and the arrangement took nine years in taking the real shape.  Comparatively START -1 was the main understanding since the marking of the Intermediate-Range Nuclear Forces Treaty by Reagan and Gorbachev in 1987. The idea behind conducting a summit on START is to lessen the percentage of nuclear weapons of both the United States (US) and the USSR by about 35 percent in more than seven years down the line.
During this period, there was intense debate about the meaning and scope of new foreign ties with Commonwealth of Independent States (CIS ) states, East European nations and the expansion of NATO agenda over the former Warsaw led nations. A crucial element in these changing pictures was US's shift on the status question with former Soviet Union (USSR) nations, after the collapse of the former Soviet Union in 1991.
Unexpected summer of 1990 turned out to be a testing time for his presidency on the Iraqi invasion by Saddam Hussein. The question was much concern and caused debate. Hence, the events in the oil rich Kuwait attracted considerable global attention. On 17 January 1991 early in the morning where the allied forces launched their first attack that included in excess of 4,000 bombings owned by coalition aircrafts and   a month later on 24th February a large scale invasion pushed by the allied forces liberated Kuwait. The US led Gulf war and liberation of Kuwait was highly sensitive issue and wreaked Bush's Presidency. In 1992, President Bush of the Republican Party lost to Bill Clinton of Democratic Party in Presidential elections.
Over the decades after retirement from Presidency, there has been an opposing view on his presidency. In 2011 it was another turning point in US political history where Bush seniors son George. W Bush junior   became the 43rd President, which only happened twice after John Adam's son who also served as US president. During his presidency, Bush senior along with Clinton toured tsunami-hit nations. In 2011 the much-loved peoples President was honored with the Medal of Freedom, the most astounding US non-military personnel respect granted by then President Obama.
It is a powerful reminder of the manifold ways his presidential influence go beyond the scope of America and well beyond the first world nations essentially shaping   global foreign policy   mandate. When America fell silent on the sad demise of George H. W. Bush, many Americans and the international community might have felt they lost a hero. Yet Bush's legacy represents the aspirations, the hopes of the American people and the global community. Perhaps these beliefs and values can build a more tolerant and respectful global society in the near future.
*Pooja Singh, a scholar of Masters in Diplomacy, Law, Business at Jindal School of International Affairs, India.
Russia Or China: Is Biden Right To Target Russia?
No one can disagree with President Joe Biden when he wants to overhaul infrastructure — although a single-minded concentration on one aspect is likely to be longer lasting and a legacy. Consider, for example, a high-speed rail link between New York and Los Angeles, True high-speed, that is, and truly modern like the new lines in China with a design speed up to 350 km/h (220 mph), or preferably higher by the time the rails are constructed in the US. It would make overnight coast to coast (3,000 miles) railroad trips a reality.
What is more difficult to fathom is Biden's foreign policy. He appears to have identified Russia as an adversary or worse, starting with calling Vladimir Putin a killer and exposing several Russian companies that possibly support its intelligence services. Do American companies ever provide cover for the CIA? That is the obvious question coming to mind with an obvious answer. Have western intelligence services including the CIA ever carried out assassinations? If so, would the US president be called a killer?
At the same time, Russia is not the country with a stated goal of becoming the world's leader in its economy, technology and military. No, that's China. Russia only wants closer ties with the west but is being driven into the arms of China.
Given China's stated goals and its progress towards them, it is transparent that its aims require the displacement of the US from its leadership position. Any prospect of thwarting China's ambitions would impel the US to cordon the country to some extent or at the very least attempt to challenge its influence. Instead, China is signing treaties with neighbors. It is in Iran and it announced that it might send its own troops to Afghanistan to maintain its "peace" after the US departs. Afghanistan, by the way, is rich in minerals and rare earth elements.
So far Mr. Biden's foreign policy initiatives appear tactical with a kind of tit-for-tat approach that is absent a coordinated (with allies) strategic plan to prepare the US for a confrontation politically and economically — not militarily, although as the US ramps up pressure, a skirmish here and there on the high seas could be a possibility.
A string of Chinese bases now ring the Persian Gulf extending west to East Africa and east along the Iran and Pakistan coast to Sri Lanka, across to Burma and then south to the western end of Indonesia. The recent treaty with Russia allows convenient Eurasian access while the new closeness with Iran permits an overland route to its oil riches. East of Iran is Pakistan which is a Chinese client state of long standing and where it has built the Gwadar port.
Given the circumstances, the US is obliged to reassess Iran from a geostrategic perspective but also Pakistan, a country that has been on the frontlines of the Afghan war since the beginning. Pakistan is also a key to long term peace in Afghanistan as its own Pashtun population is connected to Pashtuns there through family ties and a traditionally porous border. They also command a plurality as the largest ethnic group in Afghanistan.
Further east China is increasing its influence in Sri Lanka, and is by far Burma's largest trading partner. The recent coup in Burma is its own story and an oft-reported tale in that country without noting China's silence.
Despite the local politics, the US can ill afford to surrender such a vast region to China without counter moves to ensure some freedom of movement within China's tight embrace.
Playing Politics in Times of Covid: AMLO's Whimsical Inoculation Programme
Andrés Manuel López Obrador (AMLO) has capriciously modified Mexico's inoculation programme as he sees fit. He has followed an improvised strategy along the way that follow no logical approach.
The initial vaccination schedule was set up in 5 stages that placed frontline and essential workers as priority sectors; the rest of the population would be divided up by age ranges and inoculated accordingly. However, last January, AMLO announced the creation of 10,000 brigades who would oversee the vaccination programme. Each brigade is made up 12 people majority of whose are active members of the president's political party MORENA. They also were prioritised for vaccination, even ahead, some key workers. This process alone took up 120,000 vaccines that otherwise would have gone directly to frontline workers or the elderly.
As of mid April, Mexico, with a population of 117 million people, has only vaccinated over 10 million people, roughly 8.5% of the population. Only 2.6 million have received the second shot, only 2.2%. The government also announced that it was prioritising the poorest citizens and indigenous communities. In a more recent announcement, he declared teachers would be also bumped up for priority vaccination ahead of the elderly. This again demonstrates the arbitrary standards of his vaccination schedule.
The government's decision to inoculate teachers ahead of even health workers does not come as a surprise: they're a key voting bloc. Mexico is holding mid-term elections this coming July, and vaccinating teachers so close to voting time is the latest evidence that the president is playing politics with the vaccinations. Just like in old times under the hegemonic party, unionised teachers are crucial for AMLO's political party to win the most votes in the next elections.
Using certain sectors of the population to mobilise voters in favour of political party is not something new in Mexican politics. In Mexico, just like in many other unconsolidated democracies, political parties and candidates themselves can turn to political agents to ensure victory in elections through the use of patronage systems or vote-buying strategies.
To fully understand the role of the Teachers' Union (SNTE and CNTE) as a political machine, it is essential to understand its history and role in elections over the last decades. The SNTE has more than 1.6 million members nationally, while the CNTE has over 100,000 members, it was founded in 1980 and has considerably less influence than the SNTE.
The SNTE was founded in 1949, and since then they served as a satellite organisation of the hegemonic party, PRI. Up until 1992, it was mandatory for all Union members to register as active party members. Therefore, throughout these years, the PRI, regularly received electoral support from the Union. The alliance between the hegemonic party and the SNTE strengthened in 1989 when Elba Esther Gordillo was appointed as the new leader of the Union.
What was behind the motivation of the SNTE in becoming an electoral agent? For many years, the Union received monetary incentives and access to political posts. Under this arrangement, political parties and even candidates may monitor the performance of such agents to make sure they are still aligned to those of the government, political party or candidate. As long as the interests of both sides are aligned, the electoral agent is expected to work efficiently to deliver the expected results either on election day or throughout the length of the administration.
In 2005, Elba Esther Gordillo was expelled from the PRI, ending the alliance between the SNTE and the hegemonic party. The leader of the Union founded her own political party, PANAL, and participated in the 2016 federal elections. However, due to the number of voters the newly created party attracted, it was only limited to proportional representation positions. Although PANAL, presented its own candidate for the presidency, Elba Esther offered the votes of the Union in the presidential elections to other political parties with greater possibilities of winning.
The SNTE supported Felipe Calderón, the PAN candidate in 2006 and in 2012 they backed the PRI candidate, Enrique Peña Nieto. The SNTE's geographical outreach and the role of teachers as community and educational leaders facilitate their role as electoral agents. They're able to influence informally the vote of others as well as the opinions and voting decisions of students and their parents.
In many democracies, it is not unusual for teachers to have strong ties to political parties and their candidates, and this is critical when it comes to explaining their effectiveness as electoral agents. It is not uncommon also for teachers to be appointed as voting stations representatives. The combination of these institutional characteristics opens the door for teachers to continue to influence voters through either legal or illegal.
AMLO's courting of the Teachers' Union dates to his electoral campaign in 2018. José Alfredo González, son in law of Elba Esther Gordillo, was seen in a presidential campaign event to support AMLO's candidacy. He is also an active member of Redes Sociales Progresistas, a newly created party with links to Elba Esther Gordillo. Soon after AMLO's inauguration in 2018, AMLO set to dismantle the education reform that has been approved by Enrique Peña Nieto in 2012. This was well received by the 2 Teachers' Trade Unions. In 2020, the SNTE expressed its support for the president, and they also ratified its adherence to the political programme of the president. AMLO also publicly asked Elba Esther Gordillo to talk openly about the (alleged) fraud of 2006. AMLO's intentions in doing this are very clear: He wants the former leader of the Union to enter the political game by talking about the issue and taking a stance that would not be antagonistic towards the incumbent party.
There is no doubt that the president has an underlying agenda in prioritising the vaccination of teachers when mid-term elections will be held in less than 2 months in Mexico. The president has chosen CanSino as the vaccination to be used to inoculate teachers across Mexico to allow schools to reopen by the end of May in some states. Now, with only less proven vaccine options, CanSino has an efficacy rate of less than 65%, questions undoubtedly arise as to how effective the inoculation of Mexicans will be with the use of these vaccines over the already proven ones.
United States must rebalance its relationship with Russia
Hours after signing an executive order, on April 15, 2021, which imposed sanctions on Russia, US President Joe Biden stated that the door for diplomacy and engagement with Moscow was far from closed. Said the US President:
'Throughout our long history of competition, our two countries have been able to find ways to manage tensions and to keep them from escalating out of control.'
Days before the imposition of sanctions, Biden had spoken to Russian President Vladimir Putin. During the conversation with Putin, Biden had indicated that he would be taking action against Russia for interference in the 2020 US Presidential election (a US intelligence report had pointed to Iranian and Russian meddling in the 2020 election), as well as cyber attacks against the US government. While emphatically stating that the US would firmly safeguard its interests and not refrain from strong retaliation in response to any provocative actions by Russia, Biden also proposed a summit with Putin in Europe.
Significantly during his conversation with Putin, Biden according to a White House release:
'discussed a number of regional and global issues, including the intent of the United States and Russia to pursue a strategic stability dialogue on a range of arms control and emerging security issues, building on the extension of the New START Treaty.
Soon after the Biden administration had taken over it had been decided to extend the treaty which came into force on February 5, 2011 and would have ended February 5, 2021. The treaty limits the number of deployed strategic nuclear warheads to 1,550 and deployed missiles and bombers to 700 for each country.
Sanctions imposed by Biden Administration
The sanctions imposed by the Biden Administration on April 15thinclude; expulsion of 10 Russian diplomats stationed in Washington DC, sanctions on six Russian technology companies which allegedly provided support to Russian hacking operations during US elections, barring US financial institutions from participating in the primary market for rouble and non-rouble-denominated sovereign bonds, from June 14, 2021 and individuals and entities associated with Moscow's actions in Crimea.
Significantly, Biden's predecessor Trump had defended Russia against allegations of interference in the US Presidential election of 2016.
Russia's response to US sanctions
Russia responded to the imposition of US sanctions by expelling US diplomats, imposed sanctions on 8 US officials, and would put an end to the activities of US NGOs in Russia, since they interfered in Russia's politics. Russian Foreign Minister Sergey Lavrov warned the US that Moscow would be compelled to take strong measures against Washington, if the latter adopts a 'confrontational course'.
US Sanctions measured
According to many observers, the sanctions imposed by the US on Russia were not particularly harsh and underscore the point, that the Biden Administration while seeking to sending out a strong message to Russia, also realizes that it can not permit the bilateral relationship to slide down any further for a myriad of reasons. First, US needs to cooperate with Russia on a number of global issues, such as jointly battling the covid 19 pandemic, confronting challenges posed by climate change, working together to resolve the Iran and North Korea issue.
Second, it needs to prevent Moscow from moving closer to Beijing. Last month after Biden's strong attack on Putin, Foreign Ministers of Russia, Sergey Lavrov and China Wang Yi, had held a summit in China in March, days after Biden had attacked Russian President Vladimir Putin in an interview. The Russian Foreign Minister criticised US for its role in 'underming the world order' and both sides also proposed the need for reducing their dependence upon the US dollar.
An anonymous paper published by the Atlantic Council had emphasised on the need for a pragmatic policy vis-à-vis Russia, and also to prevent Moscow from moving closer to Beijing. Said the paper titled the Longer Telegram:
'..United States must rebalance its relationship with Russia whether it likes it or not.. Allowing Russia to drift fully into China's strategic embrace over the last decade will go down as the single greatest geostrategic error of successive US administrations'
Third, a number of US allies have strong ties with Moscow, and the US can not expect them to make clear choices (this is an important point made by a large number of US commentators)
In conclusion, Biden's approach vis-à-vis Russia so far has been a blend of diplomacy and firm measures. His focus on dialogue and finding common ground on important bilateral security issues and global issues is significant. Washington while giving precedence to its own interests needs to adapt to the changing geopolitical situation especially the increasing proximity between Moscow and Beijing.