European Commission calls for a climate neutral Europe by 2050
European Commission adopted a strategic long-term vision for a prosperous, modern, competitive and climate neutral economy by 2050 – A Clean Planet for all.
The strategy shows how Europe can lead the way to climate neutrality by investing into realistic technological solutions, empowering citizens, and aligning action in key areas such as industrial policy, finance, or research – while ensuring social fairness for a just transition.
The Vice-President responsible for the Energy Union, Maroš Šefčovič said: "We cannot safely live on a planet with the climate that is out of control. But that does not mean that to reduce emissions, we should sacrifice the livelihoods of Europeans. Over the last years, we have shown how to reduce emissions, while creating prosperity, high-quality local jobs, and improving people's quality of life. Europe will inevitably continue to transform. Our strategy now shows that by 2050, it is realistic to make Europe both climate neutral and prosperous, while leaving no European and no region behind."
Commissioner for Climate Action and Energy, Miguel Arias Cañete said: "The EU has already started the modernisation and transformation towards a climate neutral economy. And today, we are stepping up our efforts as we propose a strategy for Europe to become the world's first major economy to go climate neutral by 2050. Going climate neutral is necessary, possible and in Europe's interest. It is necessary to meet the long-term temperature goals of the Paris Agreement. It is possible with current technologies and those close to deployment. And it is in Europe's interest to stop spending on fossil fuel imports and invest in meaningful improvements to the daily lives of all Europeans. No European, no region should be left behind. The EU will support those more impacted by this transition so that everyone's ready to adapt to the new requirements of a climate neutral economy."
Commissioner for Transport, Violeta Bulc said: "All transport modes should contribute to the decarbonisation of our mobility system. The goal is to reach net-zero emissions by 2050. This requires a system approach with low and zero emission vehicles, strong increase in rail network capacity, and a much more efficient organisation of the transport system, based on digitalisation; incentives for behavioural changes; alternative fuels and smart infrastructure; and global commitments. All this driven by innovation and investments."
Following the invitation by the European Council in March 2018, the Commission's vision for a climate-neutral future covers nearly all EU policies and is in line with the Paris Agreement objective to keep temperature increase to well below 2°C, and pursue efforts to keep it to 1.5°C. For the EU to lead the world towards climate neutralitymeans achieving it by 2050.
The purpose of this long-term strategy is not to set targets, but to create a vision and sense of direction, plan for it, and inspire as well as enable stakeholders, researchers, entrepreneurs and citizens alike to develop new and innovative industries, businesses and associated jobs. We have a strong mandate from our citizens: according to the latest special Eurobarometer (November 2018) 93% of Europeansbelieve climate change to be caused by human activity and 85% agree thatfighting climate change and using energy more efficiently can create economic growth and jobs in Europe. With the vision we are presenting today, the EU can inform others how we can deliver collectively a clean planet and show that transforming our economy is possible and beneficial.
The long-term strategy looks into the portfolio of options available for Member States, business and citizens, and how these can contribute to the modernisation of our economy and improve the quality of life of Europeans. It seeks to ensure that this transition is socially fair and enhances the competitiveness of EU economy and industry on global markets, securing high quality jobs and sustainable growth in Europe, while also helping address other environmental challenges, such as air quality or biodiversity loss.
The road to a climate neutral economy would require joint action in seven strategic areas: energy efficiency; deployment of renewables; clean, safe and connected mobility; competitive industry and circular economy; infrastructure and interconnections; bio-economy and natural carbon sinks; carbon capture and storage to address remaining emissions. Pursuing all these strategic priorities would contribute to making our vision a reality.
The next steps
The European Commission invites the European Council, the European Parliament, the Committee of the Regions and the Economic and Social Committee to consider the EU vision for a climate neutral Europe by 2050. In order to prepare EU Heads of State and Government for shaping the Future of Europe at the European Council on 9 May 2019 in Sibiu, ministers in all relevant Council formations should hold extensive policy debates on the contribution of their respective policy areas to the overall vision.
The long-term strategy is an invitation to all EU institutions, the national parliaments, business sector, non-governmental organisations, cities and communities, as well as citizens – and especially the youth, to participate in ensuring the EU can continue to show leadership and hold other international partners to do the same. This EU-wide informed debate should allow the EU to adopt and submit an ambitious strategy by early 2020 to the UNFCCC as requested under the Paris Agreement.
Member States will submit to the European Commission, by the end of 2018, their draft National Climate and Energy Plans, which are central for the achievement of the 2030 climate and energy targets and which should be forward-looking and take into account in the EU long term strategy. In addition, an increasing number of regions, municipalities and business associations are drawing up their own vision for 2050 which will enrich the debate and contribute to defining Europe's answer to the global challenge of climate change.
Internationally, over the coming year the EU should expand its cooperation closely with its international partners, so that all parties to the Paris Agreement develop and submit a long-term national mid-century strategy by 2020 in the light of the recent IPCC Special report on 1.5̊ Celsius.
Today the high level panel of independent experts on decarbonisation pathways – an advisory body to Commissioner Moedas – has published a report on the role of research and innovation in achieving the objectives of the Paris Agreement while putting the EU at a competitive advantage in the decarbonisation race. The report underpins the vision as presented in today's communication.
Tackling e-waste challenges in Latin America
The issue of e-waste continues to represent a threat to both the global environment and human health, and it shows no signs of slowing down anytime soon. E-waste is the quickest-growing waste stream in the world.
Currently, the world produces approximately 50 million tonnes of e-waste a year. This equals the total weight of all the commercial airliners ever made. This figure is predicted to rise to 120m tonnes by 2050.
From 17–22 March, political and technical representatives from 13 countries across Latin America and e-waste experts from around the world will meet in San Jose, Costa Rica, to discuss how to tackle the e-waste landscape in the region.
The second Expert Meeting on the Effective Management and Disposal of E-waste in Latin America under the Stockholm Convention on Persistent Organic Pollutants is being convened by the United Nations Industrial Development Organization (UNIDO), in cooperation with the Ministry of Health of Costa Rica and with co-financing from the Global Environment Facility (GEF.
The meeting is part of a UNIDO-GEF project to assist 13 Latin American countries both technically and financially, advising on e-waste policies and regulations, suitable management technologies, business models, capacity-building, and awareness-raising.
At the national level, the project seeks to strengthen policies and train technical staff and government officials. At the regional level, the project seeks to harmonize key aspects of e-waste policies and strengthen regional cooperation and knowledge exchange. A key element of this year's Expert Meeting is the E-waste Academy for Managers with the participation of renowned e-waste management experts.
UNIDO collaborates with a large number of organizations on the project, including the United Nations University (UNU), the International Labour Organization (ILO), the International Telecommunications Union (ITU), and the World Health Organization (WHO), as well as various other partners, such as Dell, Microsoft, RELAC and the International Solid Waste Association (ISWA).
The meeting coincides with Global Recycling Day on 18 March. Launched in 2018, the Day is an initiative of the Global Recycling Foundation to help recognize and celebrate the importance of recycling for preserving precious primary resources.
China to host World Environment Day 2019 on air pollution
Today, the head of Chinese delegation, Zhao Yingmin, Vice Minister of Ecology and Environment, and Joyce Msuya, Acting Head of UN Environment, jointly announced that China will host the global World Environment Day celebrations on 5 June 2019 with a theme of air pollution.
Approximately 7 million people worldwide die prematurely each year from air pollution, with about 4 million of these deaths occurring in Asia-Pacific. World Environment Day 2019 will urge governments, industry, communities, and individuals to come together to explore renewable energy and green technologies, and improve air quality in cities and regions across the world.
The Government of China has committed to organizing World Environment Day celebrations across multiple cities, with Hangzhou, in the province of Zhejiang, to host the main event.
The announcement comes as environment ministers from across the globe participate in the world's highest-level environmental forum in Nairobi. Negotiations at the Fourth UN Environment Assembly 11-15 March are expected to tackle critical issues such as stopping food waste and promoting the spread of electric cars. It also follows the publication of a review report of 20 Years' of air pollution control in Beijing.
"China will be a great global host of 2019's World Environment Day celebrations," said Joyce Msuya at the announcement on Friday. "The country has demonstrated tremendous leadership in tackling air pollution domestically. It can now help spur the world to greater action. Air pollution is a global emergency affecting everyone. China will now be leading the push and stimulating global action to save millions of lives."
China with its growing green energy sector, has emerged as a climate leader. The country owns half the world's electric vehicles and 99 percent of the world's electric buses. By hosting World Environment Day 2019, the Chinese government will be able to showcase its innovation and progress toward a cleaner environment.
According to a new UN report on air pollution in Asia and the Pacific, implementing 25 technology policies could see up to a 20 per cent reduction in carbon dioxide and a 45 per cent reduction in methane emissions globally, leading to a third of a degree Celsius saving of global warming.
World Environment Day is a UN Environment-led global event, which takes place on June 5 every year and is celebrated by thousands of communities worldwide.
Since it began in 1972, it has grown to become the single largest celebration of our environment each year.
Air Pollution facts:
92 per cent of people worldwide do not breathe clean air
Air pollution costs the global economy $5 trillion every year in welfare costs
Ground-level ozone pollution is expected to reduce staple crop yields by 26 per cent by 2030
Reducing carbon emissions: EU targets and measures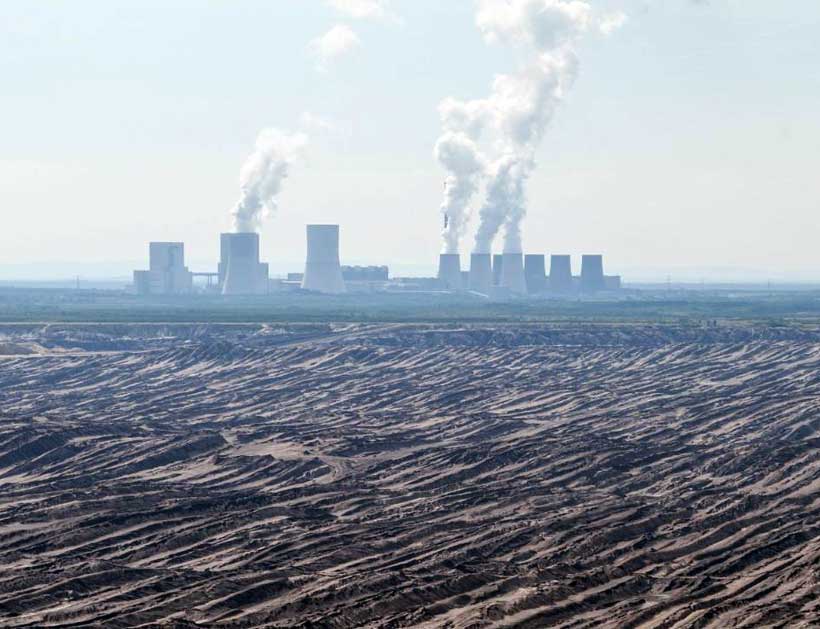 To prevent dangerous climate change, the EU has committed to cut its greenhouse gas emissions by at least 40% below 1990 levels by 2030 under the Paris Agreement .
In November 2018, the European Commission presented a long-term strategy for the EU to achieve a climate-neutral economy by 2050, including eight possible pathways.
Ahead of a European Council meeting in May, where EU leaders are expected to adopt the strategy, the European Parliament adopted a resolution outlining its recommendations on 14 March 2019.
MEPs called for the EU to raise the 2030 emission reduction target and reiterated the Parliament's position to allocate at least 35% of the EU's expenditure on research to support climate objectives.

To reach its climate goal, the European Union has come up with ambitious legislation.
An Emissions Trading System for industry

The EU's Emissions Trading System (ETS) aims to reduce the industry's carbon emissions by obliging companies to hold a permit for each tonne of CO2 they emit. Companies have to buy them through auctions. There are some incentives to boost innovation in the sector.

The European Emissions Trading System is the world's first major carbon market and remains the largest one. It regulates about 45% of total EU greenhouse gas emissions and covers approximately 11,000 power stations and manufacturing plants in the EU. The goal is to reduce emissions by 43% compared to 2005.

Tackling carbon emissions from other sectors

Sectors not covered by the Emissions Trading System – such as transport, agriculture, buildings and waste management – still account for nearly 60% of the EU's overall emissions. Emissions from these sectors will be cut by 30% by 2030 compared to 2005.

This will be done through agreed national emission targets which are calculated based on countries' gross domestic product per capita. Lower-income EU countries will be provided with support.

Managing forests for climate change

EU forests absorb the equivalent of 10.9% of total EU greenhouse gas emissions each year. The EU wants to use this power to fight climate change.

New legislation aims to prevent emissions caused by deforestation and oblige each EU country to compensate changes in land use, which lead to emissions of CO2, by better managing or increasing their forests.
Reducing car emissions

Cars and vans produce 15% of EU's CO2 emissions. The EU is working on legislation to toughen car emissions standards. The Parliament is also calling for measures to facilitate the shift to electric and hybrid vehicles.