Can disruption empower youth in politics? Interview with Malaysian Minister of Youth and Sports Syed Saddiq
Bangkok – On a hectic Wednesday night, I rushed to the heart of Bangkok for an event hosted by Oxford Foundation and Talk Foundation. The audiences were debaters, students, and young politicians from leading Thai political parties eager to have a glimpse of ASEAN's youngest Minister.
Eager to learn from his "success".
A special guest was in town; it was a fireside conversation in the honor of Malaysian Minister of Youth and Sports, Syed Saddiq Syed Abdul Rahman.
In the landslide election in May that brought Mahathir, a veteran, 93 years old, back to office, it was undoubtedly clear that youth voters were amongst the key component to that victory and Syed Saddiq was the player in that triumphant election.
Amongst all the techniques he used, he mobilized new millennials through social networks. With 1.5 million followers on Instagram, he told the audience how he used these online platforms for his political purpose.
Youth votes accounted for 41% of Malaysian electorates.
"On the eve of the election, we told everyone to watch Facebook Live at 10 pm. On that day, all Party members were garnering support through local places and online platforms to build up for the 10 pm Live. By 10 pm, we broadcasted Mahathir speech to the public."
"The parents' and grandparents' generations were still with the current government. So, we relied on youth. We asked them to use their cell phones and they showed that to their parents."
"It worked".
When asked what can youth bring to politics, Saddiq seemed fixed that "disruption is the only way to go".
"We need to disrupt, disrupt the old ways of doing things, disrupt old politics, disrupt corruption."
"The lowering of voting age is the case in point where disruption is a successful technique to champion youth agenda."
Malaysia has recently been successful in lowering the youth eligibility to votes from 21 years old to 18 years old.
He was not naïve, however. He went on to elaborate his points that one needed to "pick the battle".
All politician do.
Saddiq gave an interview that it is important for youth to strategize their precious voices for things that matter to them. Saddiq was confident it was education, a better and fairer education system, employment, and good standard of living.
"I said time and again that the Ministry of Youth and Sports must work hands in hands with the Ministry of Education. The two issues are different, but intertwined".
In a casual, meticulous, leather jacket, Saddiq won the crowd on that day with his wit and humor. Instead of talking top down and being patronizing, the young politician was vibrant with energy and optimism.
He was on point.
The night was straightforward and inspiring. A young man aimed high and succeeded. He brought a new face to the old politics of Malaysian longstanding cronyism.
Saddiq stood tall and high as an epitome of youth empowerment.
But youth in politics is nothing new. The 1970s in Thailand democratic demonstrations to topple military dictatorship, the Vietnam war uprising in the United States or the recent rounds of youth activism for debt, LGBT and sexual harassment as well as the Apartheid Disinvestment in the 1970s to 1980s saw youth participation in good numbers.
There is no debate on whether the young are powerful. Of course, they are. The power of the young is immeasurable and there is a lot youth can bring to politics.
But youth in politics must bring more than young faces in the old regime. Youth in politics requires a new way of thinking – disruption perhaps – but how to make it sustainable? Youth in politics demands us to take ourselves seriously and reflect respect in our opinion as something serious and accountable.
When talking about youth, most of the time, it is the case that the loudest and most privileged are the ones that get heard and make noise. How can the new system ensure all kinds of youth voices count?
This reminded me of Les Miserables by Victor Hugo. If I could paraphrase the Broadway famous song:
"Do you hear the youth sing? Singing the song of angry men and women and gay and the poor? This is the song of young people who will not be slave again."
To make politics work for youth, it must not be a rich boy game.
The fight has just begun. I wish you well.
Learning to build a community from a "Solok Literacy Community"in the West Sumatra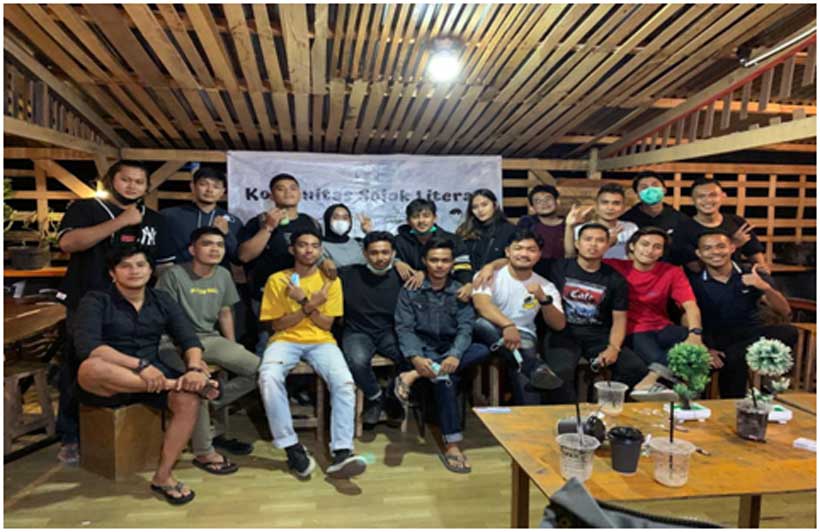 Established on September 21, 2020 in Solok City, West Sumatra Province, Indonesia. Solok Literacy Community initiated by the young people of Solok City has grown rapidly into a community that has its own trendsetter among young people. Bringing narratives smelling of education, The Literacy Solok Community has a movement with measurable progressiveness that can be seen from its flagship programs.
Starting from the free reading stall movement that has been moving in various corners of Solok City over the past few months. The concept of film surgery that provides proactive discussion space for all segmentation in society. "Diskusi Ngopi" activities which in fact is the concept of FGD (Focus Group Discussion), run with interesting themes and issues so that it can be considered as one of the favorite programs that are often attended by many young people in Solok. Then a class of interests and talents aimed at reactivating the soft skills and great talents of the children of Solok City.
Solok Literacy Community has a long-term goal of making Solok City as a Literacy City in 2025. With these noble targets, of course we together need small steps in the form of programs that run consistently over time. Because after all, a long journey will always begin with small steps in the process of achieving it.
Many appreciations and positive impressions from the surrounding community continue to be received by the Solok Literacy Community. This is certainly a big responsibility for the Solok Literacy Community to continue to commit to grounding literacy in Solok City. Solok Literacy Community activities can be checked directly through instagram social media accounts @solok_literasi. Carrying the tagline #penetrategloomy or penetrating the gloom and #lawanpembodohan, members of the Solok Literacy Community or better known as Soliters, will always make innovative breakthroughs in completing the goal of making Solok City 2025 as a Literacy City.
Indonesia Submit Extended Continental Shelf Proposal Amidst Pandemic: Why now is important?
Authors: Aristyo Rizka Darmawan and Arie Afriansyah*
Indonesia's active cases of coronavirus have been getting more worrying with more than 100.000 active cases. With nearly a year of pandemic, Indonesia's not only facing a serious health crisis but also an economic catastrophe. People lose their jobs and GDP expected to shrink by 1.5 percent. Jakarta government therefore should work hard to anticipate the worst condition in 2021.
With this serious economic threat, Indonesia surely has to explore maximize its maritime geographic potential to pass this economic crisis and gain more national revenue to recover from the impact of the pandemic. And there where the Extended Continental Shelf submission should play an important role.
Recently this week, Indonesia submit a second proposal for the extended continental shelf in the southwest of the island of Sumatra to the United Nations Commission on the Limit of the Continental Shelf (CLCS). Continental shelf is that part of the seabed over which a coastal State exercises sovereign rights concerning the exploration and exploitation of natural resources including oil and gas deposits as well as other minerals and biological resources.
Therefore, this article argues that now is the right time for Indonesia to maximize its Continental Shelf claim under the law of the sea convention for at least three reasons.
First, one could not underestimate the economic potential of the Continental Shelf, since the US Truman Proclamation in 1945, countries have been aware of the economic potential from the oil and gas exploration in the continental shelf.
By being able to explore and exploit natural resources in the strategic continental shelf, at least Indonesia will gain more revenue to recover the economy. Even though indeed the oil and gas business is also hit by the pandemic, however, Indonesia's extended continental shelf area might give a future potentials area for exploitation in long term. Therefore, it will help Indonesia prepare a long-term economic strategy to recover from the pandemic. After Indonesia can prove that there is a natural prolongation of the continental shelf.
Second, as the Indo-Pacific region is getting more significant in world affairs, it is strategic for Indonesia to have a more strategic presence in the region. This will make Indonesia not only an object of the geopolitical competition to utilize resources in the region, but also a player in getting the economic potential of the region.
And third, it is also showing that President Joko Widodo's global maritime fulcrum agenda is not yet to perish. Even though in his second term of administration global maritime fulcrum has nearly never been discussed, this momentum could be a good time to prove that Indonesia are still committed to the Global maritime fulcrum by enhancing more maritime diplomacy.
Though this is not the first time Indonesia submit an extended Continental Shelf proposal to the CLCS, this time it is more likely to be accepted by the commission. Not to mention the geographical elements of natural prolongation of the continental shelf that has to be proved by geologist.
The fact that Indonesia has no maritime border with any neighboring states in the Southwest of Sumatra. Therefore, unlike Malaysia's extended continental shelf proposal in the South China Sea that provoke many political responses from many states, it is less likely that Indonesia extended continental shelf proposal will raise protest from any states.
However, the most important thing to realize the potential benefit of the extended continental shelf as discussed earlier, Indonesia should have a strategy and road map how what to do after Indonesia gets the extended continental shelf.
*Arie Afriansyah is a Senior Lecturer in international law and Chairman of the Center for Sustainable Ocean Policy at University of Indonesia.
The China factor in India's recent engagement with Vietnam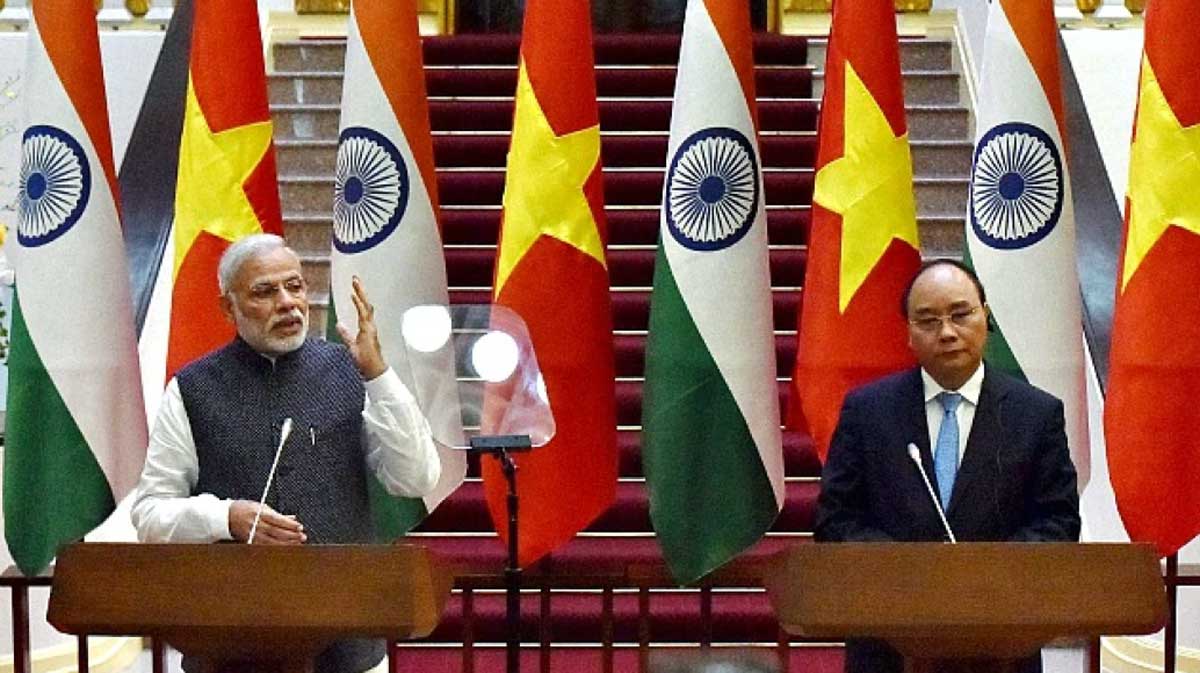 In its fourth year since the elevation of ties to a Comprehensive Strategic Partnership, December 2020 witnessed an enhanced cooperation between New Delhi and Hanoi, ranging from humanitarian assistance and disaster relief to defence and maritime cooperation, amid common concerns about China.
***
In an effort to boost defence cooperation, the navies of India and Vietnam conducted atwo-day passage exercise (Passex) in the South China Sea on December 26 and 27, 2020, reinforcing interoperability and jointness in the maritime sphere. Two days before this exercise has begun, an Indian naval ship arrived at Nha Rong Port in Ho Chi Minh City to offer humanitarian assistance for the flood-affected parts of Central Vietnam.
Before this, in the same week, during a virtual summit between Indian Prime Minister Narendra Modi and his Vietnamese counterpart Nguyen Xuan Phuc on December 21, both countries inked seven agreements on miscellaneous areas of cooperation and jointly unveiled a vision and plan of action for the future, as both countries encounter the common Chinese threat in their respective neighbourhoods.
Vietnam's disputes with China
India's bone of contention with China ranges from the Himalayas to the Indian Ocean. Both Vietnam and India share territorial borders with China. Well, it seems odd that despite its common socialistic political backgrounds, China and Vietnam remains largely hostile.
Having a 3,260 km coastline, covering much of the western part of South China Sea, Vietnam's exclusive economic zone (EEZ) overlaps with Chinese claims based on the legally invalid and vaguely defined Nine-Dash Line concept, unacceptable for all the other countries in the region, including Vietnam, Philippines, Malaysia, and Brunei.
In 2016, China lost a case brought out by the Philippines at the Permanent Court of Arbitration based in The Hague when the court ruled that Beijing's had no legal basis to claim 'historic rights' as per the nine-dash line. China rejected the ruling and continued to build artificial islands in the South China Sea, which it has been doing since 2013, some of them later militarized to gain favourable strategic footholds in the sea and the entire region.
The Paracel and the Spratly Islands in the South China Sea has been historically considered part of Vietnam. The Geneva Accords of 1954, which ended the First Indochina War, gave the erstwhile South Vietnam control of territories south of the 17th Parallel, which included these island groups. But, China lays claims on all of these islands and occupies some of them, leading to an ongoing dispute with Vietnam.
China and Vietnam also fought a border war from 1979 to 1990. But today, the disputes largely remain in the maritime sphere, in the South China Sea.
China's eyes on the Indian Ocean
The Indian Ocean has been long regarded as India's sphere of influence. But with the Belt and Road Initiative, a trillion-dollar megaproject proposed by Chinese President Xi Jinping in 2013, and the Maritime Silk Road connecting three continents, which is part of it, China has grand ambitions in the Indian Ocean. Theories such as 'String of Pearls' shed light on an overambitious Beijing, whichattempts to encircle India with ports and bases operating under its control.
China has also opened a military base in Djibouti, overlooking the Indian Ocean, in 2017 and it has also gained control of the strategic port of Hambantota in the southern tip of the island of Sri Lanka, the same year.
Chinese presence in Gwadar in Pakistan, where the Maritime Silk Route meets the land route of BRI, is also a matter of concern for India. Moreover, the land route passes through the disputed Gilgit-Baltistan region, which is under Pakistani control, but is also claimed by India. China has also been developing partnerships with Bangladesh and Myanmar to gain access to its ports in the Bay of Bengal.
Notwithstanding all this, India's response has been robust and proactive. The Indian Navy has been building partnership with all the littoral states and small island states such as Mauritius and Seychelles to counter the Chinese threat.
India has also been engaged in humanitarian and developmental assistance in the Indian Ocean region, even much before the pandemic, to build mutual trust and cooperation among these countries. Last month, India's National Security Adviser Ajit Doval visited Sri Lanka to revive a trilateral maritime security dialogue with India's two most important South Asian maritime neighbours, the islands of Sri Lanka and the Maldives.
Foe's foe is friend
The Indian Navy holding a Passex with Vietnam in the South China Sea, which is China's backyard, is a clear message to Beijing. This means, if China ups the ante in the Indian Ocean or in the Tibetan border along the Himalayas, India will intensify its joint exercises and defence cooperation with Vietnam.
A permanent Indian presence in the South China Sea is something which Beijing's never wish to see materialise in the new future. So, India's engagement with Vietnam, which has a long coast in this sea, is a serious matter of concern for Beijing.
During this month's virtual summit, Prime Minister Modi has also reiterated that Vietnam is a key partner of India in its Indo-Pacific vision, a term that Beijing vehemently opposes and considers as a containment strategy against its rise led by the United States.
Milestones in India-Vietnam ties – a quick look-back
There was a time when India supported Vietnam's independence from France, and had opposed US-initiated war in the Southeast Asian country in the latter half of the previous century. Later, India hailed there-unification of North and South Vietnams.
Even though India maintained consulate-level relations with the then North and South Vietnams before the re-unification, it was elevated to ambassadorial level in 1972, thereby establishing full diplomatic ties that year.
During the Vietnam War, India supported the North, despite being a non-communist country, but without forging open hostilities with the South. Today, India partners with both France and the United States, Vietnam's former colonizers, in its Indo-Pacific vision, comfortably along with Vietnam as geopolitical dynamics witnessed a sea change in the past few years and decades.
Way ahead
Today, these two civilizational states, sharing religio-cultural links dating many centuries back, is coming together again to ensure a favourable balance of power in Asia. Being a key part of India's 'Act East' policy and 'Quad Plus' conceptualisation, Vietnam's role is poised to increase in the years to come as China continues to project its power in Asia and beyond.