The most polluted capital in Europe, you didn't even know about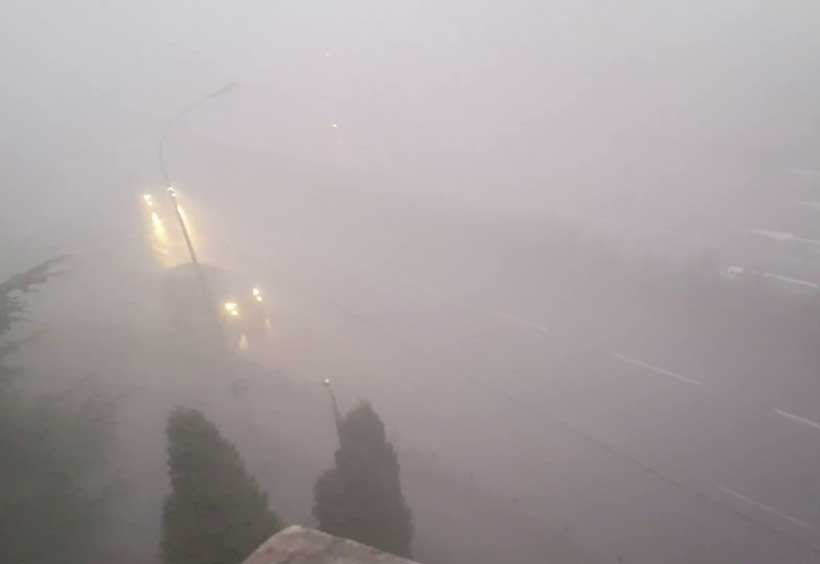 "Mama, why do I have to wear this again? It hurts my mouth," says Norik, 5, to his mother, Igballe, before she puts a small, child-size air pollution mask over his face.
Igballe Ferati, a finance specialist, makes the usual walk to a local kindergarten every weekday with Norik along the streets of central Skopje, a city which often experiences dangerous levels of air pollution.
"I am really scared about the health of my child and I always check the pollution levels on my phone via the MojVozduh [MyAir] app before going outside. Especially in winter when the air pollution gets worse, I can't let Norik go out, and I know some parents who don't even allow their children to go to school on certain days, so they are not exposed to the air pollution. We are locked in our houses with air purifiers hoping that this will not affect the health of our children in the years to come," says Igballe.
"We are forced to tell the children that they are superheroes to put on the masks. It is too difficult and sad to explain this situation to a child."
Skopje, a city of more than half a million people, located in the centre of the Balkan peninsula in southern Europe has been listed by the World Health Organization (WHO) amongst the cities in Europe with the highest concentration of harmful fine particulate matter (PM) 2.5 in the air.
Particulate matter 2.5 includes a variety of components such as nitrates, sulphates, organic chemicals, metals, dust and black carbon, which pose a risk to human health. Due to their small size, they penetrate the lungs and are known to cause heart, lung and other diseases.
The latest data released by the World Health Organization in 2018 shows a PM 2.5 annual mean level of 40 micrograms per cubic metre in Skopje—four times the recommended levels of 10µg/m³.
In terms of mean concentrations of both PM 10 and PM 2.5, the World Health Organization Ambient Pollution Database for 2018 ranks Skopje as Europe's most polluted capital city.
Moreover, Skopje suffers spikes in air pollution. To take one day as an example, on 13 November 2018, the European Environment Agency rated the Skopje municipality of Karpos as having "very poor" air quality. It registered 104.6µg/m3 of PM 2.5 – more than 10 times the levels recommended by the World Health Organization.
The organization estimates that 2,574 people die prematurely in the country annually because of air pollution.
Causes of the Skopje air pollution
The city's pollution has been blamed on a mix of coal burning, fuel oil and wood burning stoves in households, open waste burning, emissions from aging industry and old, highly-polluting vehicles.
In particular, the city has been reliant on lignite coal for heat during winters – a leftover from the Yugoslav era.
Many Skopje residents cannot afford to move to cleaner, more sustainable forms of heating and thus rely on cheaper, more polluting ones, such as wood.
The geography of Skopje, surrounded by mountains, means that the polluted air is effectively trapped. Skopje is particularly affected by pollution in the winter season which has contributed several times to the closure of the city's airport.
"You can feel a sour, metallic taste in your mouth when the air pollution levels get high," says Hristijan Gjorgievski, a Skopje office worker.
The unanswered call for solutions
Numerous public protests have taken place in Skopje and in a city in the north of the country, Tetovo, calling for state action against air pollution in those areas.
"While there has been much talk of the damage that climate change is doing in the long term, we need to look at the damage that air pollution is doing now, to Skopje and to the people who live there," says Ana Čolović Lesoska, from Eko-svest (Eco-sense), a non-profit organization that advocates for environmental protection. "A lot of people have had enough of inaction on air pollution and civil society across the country is rising up to force change."
On days with high air pollution in the city, Skopje authorities deploy emergency measures such as days off from work for pregnant women, those over 60 years of age, and people suffering from chronic asthma and related conditions. The city has previously offered free public transport and cancelled sporting events.
However, the root causes of pollution still need to be addressed. The city encourages people to move away from polluting heating systems such as wood-burning stoves to pellets and is considering car scrappage schemes for older, more polluting cars. If households burned cured wood instead of young, wet wood, that would also reduce smoky emissions.
"An integrated approach is really necessary and there is not going to be a 'silver bullet' for cities like Skopje," says Rob de Jong, Head of UN Environment's Air Quality and Mobility Unit. "UN Environment's Share the Road Programme is centered around designing cities for pedestrians, to make it easier for those who walk and cycle while trying to reduce people's reliance on polluting vehicles."
The European Bank for Reconstruction and Development approved a US$13.5 million project to upgrade Skopje's older diesel buses to low-emission, compressed natural gas buses. The government itself approved a US$1.8 million programme in November 2018 to tackle air pollution.
Given that household heating accounts for 32 per cent of the city's air pollution, the United Nations Development Programme's office in Skopje works with national partners to design cost-effective solutions to reduce air pollution caused by polluting heating systems.
"I am really scared of what the long-term health effects on children growing up in Skopje might be," says Igballe. "My family and I have to get away from the city on the weekends in search of clean air. This affects our lives and budgets heavily."
"What is clear is that if the authorities don't react timely with a structured and serious approach towards the reduction of air pollution in the city, then the consequences for families living in cities such as Skopje are going to be severe."
Water logging and Salinity: A threat in the face of barrenness
The Annual cost of crop losses from the problem of water logging and salinity has been estimated between Rs 15bn and Rs 55bn
Currently, different areas in the world have face the issues of water logging and salinity but they are intensified due to number of factors including unsuitable pattern of cropping, floods and heavy rain falls and uncontrolled drainage.
Water Logging and salinity are the most devastating effects of the irrigation development. Though, both of them are entirely different problems but still they are discussed as twin problems with reference to Pakistan. As we know that Pakistan has alluvial soil means when less amount of water is given to the land all those salts that are present under the soil start gathering on the surface near the roots and if such land are not properly leached with the passage of time those lands will lose their fertility turning into barren lands.
According to the report published by the United Nations food organization out of total 20.8 m hectares cultivable land in Pakistan 1.55 m hectares are affected by water logging whereas 5.33 m hectares affect by salinity. We are losing our cultivable land at very fast rate especially in the areas of Punjab. It is very important to understand the concept of water logging and salinity. Basically, water logging represents the phenomena in which underground water comes to the surface and also gathers on the ground surface of the land. In water logged areas for plants very few spaces are present for air that's means there is deficiency of oxygen
Whereas in case of salinity the ground water does not reach the desired level casing accumulation of land salts near the roots so in a nut shell one can say that both of these processes decreases the efficiency as well as productivity of cultivable lands. Let me say that all those areas that fall in Indus basin system like Faisalabad, Gujranwala and Jhang have been devastatingly affected by water logging and salinity. Pakistan has been its victim since many decades but it has drastically affected the farmers because of increasing in the percentage of uncultivable land causing major cuts in the incomes of farmers leading to small scale famines and poverty. In this regard there is no significant role of provincial governments and due to their negligence and lack of planning the farmers are facing low quality production and no subsidies from the government side. Actually the problem of salinity is not natural its man made because of our method of irrigation. River water or canal water is widely used for irrigation that contains high amounts of salts and when the water evaporates large amount of salts remain behind causing salinity. I would like to share some suggestions in order to curb these menaces.
A question is always raised from the farmers side that how to overcome the grave problem of salinity? Simply the application of gypsum into affected lands and soil salinity control by salivation and reclaiming the affected lands. In order to curb water logging the most effective method is biological drainage in which role of trees, bushes and crops is of significance importance to control water logging. It is obvious that selection of crops in water logged areas is important like grain legumes and canola have more power of tolerance against the menace of water logging as compared to beans or cereals. Another question needs to be addressed that can we do anything to mitigate the effects of water logging before it happens? Yes this could be done by following methods increasing nitrogen level of crops before water logging even occurs.
On the other hand nitrogen fertilizers can also be applied at the end of water logging season but it should be done soon after seeding process. The Proper Lining of canals and closure for a temporary period of time is necessary so water will only be used when needed. Installing of tube wells in those areas where we have high underground water tables and plantation of eucalyptus trees in water logged areas. Eventually, both of these problems could be addressed in a proper way if the efficiency of irrigation system gets improved and more and more such crops are cultivated that needs less water in arid and semi arid regions. Moreover improving drainage system should also be prioritized as we receive massive rainfalls and floods during monsoons so incase of inappropriate drainage system the rain water will seep into the soil increasing the water table leading to water logging. If we don't act soon in the coming next 5 to 10 years nearly half of the cultivable land of Pakistan will become victim of water logging and salinity. Nevertheless it is the responsibility of the government to create awareness among the masses regarding drainage, water logging and salinity and how to curb this menace.
WWF Launches Activation Hub to Help Prevent 10 Million Metric Tons of Global Plastic Waste
The global plastic pollution crisis is threatening the natural environment on which we depend – impacting oceans, communities, wildlife, and people at an unprecedented rate. While many companies and organizations are committing to curb plastic pollution, some lack a roadmap to follow when implementing these commitments. Today WWF launched a new activation hub, ReSource: Plastic, to help solve this problem.
WWF estimates as few as 100 companies have the potential to help prevent roughly 10 million metric tons of the world's plastic waste pollution – If done through industry, private sector and government collaboration. Even more, this number could triple by inspiring a ripple effect across supply chains and industry sectors.
ReSource seeks to tap into this massive potential by helping companies align their large-scale plastic commitments from aspiration to meaningful, measurable action. ReSource will collaborate with industries to ensure a systems-based approach to addressing plastic production, consumption, waste management and recycling as a single system.
"ReSource is designed to identify the concrete changes that will make the biggest impacts in reducing a company's plastic pollution footprint," said Nik Sekhran, Chief Conservation Officer, World Wildlife Fund. "To get closer to our goal of no plastic in nature will take nothing short of transforming the entire value chain. With ReSource, companies now have access to more advanced tools to maximize, measure and multiply their commitments to make this a reality."
Six of the world's leading companies, including Keurig Dr Pepper, McDonald's, Procter & Gamble, Starbucks, Tetra Pak and The Coca-Cola Company have signed on as Principal Members.
"Addressing the plastic problem in our oceans, rivers and land is everyone's responsibility – including the companies that use much of the plastic in the world today. It's a complex issue with no one-size-fits-all solution, and that's why we're so energized by the approach WWF is taking with the ReSource program," said Virginie Helias, Vice President and Chief Sustainability Officer, Procter & Gamble. "ReSource will bring a systems approach in partnership with many stakeholders – common metrics, best practices, accountability – that is much needed to accelerate progress on long-term solutions."
A recent report by WWF, "No Plastic in Nature: A Practical Guide for Business Engagement," examined the scope and causes of the plastic waste crisis and laid out a clear and pragmatic guide for businesses to lead the much-needed plastics revolution. This guide provided the vision and foundation for the design of ReSource. Measurement and transparent reporting are paramount if this challenge is to be met. ReSource will track and publicly report progress on the amount of plastic waste prevented by participants on an annual basis.
"We are proud to join WWF as a Principal Member of ReSource," said Francesca DeBiase, McDonald's Executive Vice President and Chief Supply Chain and Sustainability Officer. "This partnership perfectly aligns with our ambition to use our Scale for Good and work with others to develop thoughtful, scalable solutions that will make a significant impact on the plastic pollution challenge."
WWF is working to change the way the world sources, designs, collects and reuses plastic – taking the approach that no individual, organization, business or government can tackle the root causes of plastic pollution on their own. The complexity of the challenge demands collaboration and ReSource delivers on this demand by connecting companies with other key stakeholders to share discoveries and investments that will multiply the impact of these efforts globally.
Leading organizations tackling the plastic waste crisis, Ellen MacArthur Foundation (EMF) and Ocean Conservancy, have joined ReSource as Thought Partners. EMF has already united hundreds of organizations around a set of 2025 targets through the New Plastics Economy Global Commitment. EMF will work closely with WWF to ensure ReSource is aligned with their vision of a circular economy for plastics and to provide organizations with the tools needed to achieve these targets. For years, Ocean Conservancy has convened scientists and businesses around solutions to the ocean plastic crisis through its Trash Free Seas Alliance®, of which WWF is a member. Ocean Conservancy will help ensure ReSource is informed by deep ocean expertise, particularly as ocean plastic pollution has become a driver for change toward a circular economy.
"World Wildlife Fund is a key partner for Starbucks in our efforts to continue minimizing our environmental footprint," said John Kelly, Senior Vice President of Global Public Affairs and Social Impact, Starbucks. "We look forward to being a part of ReSource: Plastic as we know it takes collaboration to find scalable, truly impactful solutions. We're committed to learning and leading alongside other brands as we work toward our aspiration of sustainable coffee, served sustainably."
ReSource is part of WWF's global No Plastic in Nature campaign to protect the world's oceans and biodiversity by tackling marine litter and unnecessary plastic consumption.
Prevailing Plastic Pollution in Pakistan
In recent times our globe has trodden the path of development and advancement by leaps and bounds. This advancement and progress have taken place up to such extent that a lower class citizen finds himself besieged by multiple machines in his small home. The excess services of the technology have taken the world by storm because it has facilitated humanity with astonishing services. Advancement in technology has a direct link with that of globalization. With the advancement in globalization, the trends of people have altered their preferences. During the last decade, there is a glaring rise in the trends of shopping. The drifts of globalization with capitalism have enticed people to widen their demands. And obviously, one can witness that even a beggar seems to purchase some eatable or aught. With the augmentation in the trends of business and purchasing, there is rampant use of plastic bags and plastic commodities. But this wonder of plastic got a little out of hand.
However, in this technological, globalized, and capitalistic era, our biodiversity with worth trillion dollars is on a perilous verge. Overuse of technological accessories, industrialization, mobilization, and globalization from one perspective have posed a threat to our ecosystem. The one darkest commodity of this globalized and technologically sophisticated world is the menace of plastic. Yes, during these times when the advantages of technology and globalization are getting much publicity, they have posed threat on either side as well. Plastic is one of these perils and has saturated our environment. The invention of this commodity has completely invaded our lives. During these times, everything is at least partly fabricated from plastic. Our clothes, items of furniture, houses, bags, and several items that surround us possess a specific share of plastic in them. In short, our lives are turning into plastic.
Plastic is the biggest threat to biodiversity. The question that arises why it is a threat to the environment? The answer is obvious that plastic is non-biodegradable (not able to be decomposed). The plastic bags that we see on shopping centers usually take 10-100 years to decompose and normal plastic products take 450 years to decompose. According to the report, the world is currently producing nearly 300 million tons of plastic each year. Now imagine for a moment that such a prolific quantity of plastic that is being produced every year, how long it will take to decompose? Centuries of course.
Another question that rears is the plastic that has produced till date, created the perplexity up to which extent? The answer is that it has wreaked havoc in the environment. Particularly, it has harmed marine life. Since heaps of garbage are dumped into the sea, so that refuse involves plastic in it. As seafood is an important source of protein; pollution and damage propagated by plastic are immeasurable. Over 600 marine species are being harmed by plastic pollution every day. Aforementioned that plastic takes many years to decompose, so marine animals can't digest it. When they ingest plastic bags, gills are wrapped by the plastic bags. In this way, suffocation occurs which leads them to death. Their death brings about further pollution to the sea. By this mean, we are squandering our sea boon.
The issue doesn't end here, the life on the earth crust and in the atmosphere is also not safe from this menace. Many people inhabited in small towns and village burn plastic, in order to annihilate. The burning of plastic causes damage to the atmosphere as plastic comprises poisonous chemicals. The polluted air when inhaled by humans and animals affect their health and can cause respiratory problems. Likewise, when plastic is dumped in landfills, it interacts with water and forms hazardous chemicals. When these chemicals seep underground, they degrade the water quality. In these ways, plastic is damaging our globe.
Following analyzing the downside of plastic, the next question inevitably dominates the thinking that how much the government of Pakistan is serious to sort out this issue. The answer to this question is the government is iota interested in this matter. Almost eight months have passed yet the government seems uninterested in this matter. Around 55 billion plastic bags are being used annually in Pakistan. In my city or district, I see at every outlet the plastic bags hung. Every customer carries the eatable or necessity item in the plastic bag. There is no observance of the ban on the use of the plastic bag. On the contrary, many European countries have devised plans and passed the rules against the use of plastic bags. The incumbent government is just good at reprimanding the previous governments. Pakistan is among the top 10 polluted countries and doubtlessly plastic pollution is responsible for bringing at status quo. The government should impose a ban on plastic bag manufacturing factories. Also, it should abbreviate the use of plastic commodities.
Multiple convenient solutions have been proposed in combating plastic pollution. Switching to reusable bags would help a lot in reducing plastic pollution. Organic cotton grocery bags, canvas market bags, and, grab bags are the best alternatives to plastic bags. In 2016, after consuming five years searching through piles of waste, Japanese researchers found a strain of bacteria that naturally grew to eat away at polyethylene terephthalate, which is common plastic and known as polyester. This bacteria is known as Mutant Enzyme. The know-how of the proper way to recycle common plastics is necessary, can also do wonders. Arranging awareness seminars on the detrimental effects of plastic is yet another effective way.
Despite many proposed and effective solutions above the incumbent government is tethered to combat the menace of plastic. The government should be mindful that if we keep going on this trajectory, there will be more plastic than fish by 2050. The government, the NGO's, social welfare organization, civil societies, and we as the unit should join hands together to fight that perilous issue lest it should late.