Russia Responds to Ukraine Kerch Provocation and How Martial Law Affects Minsk II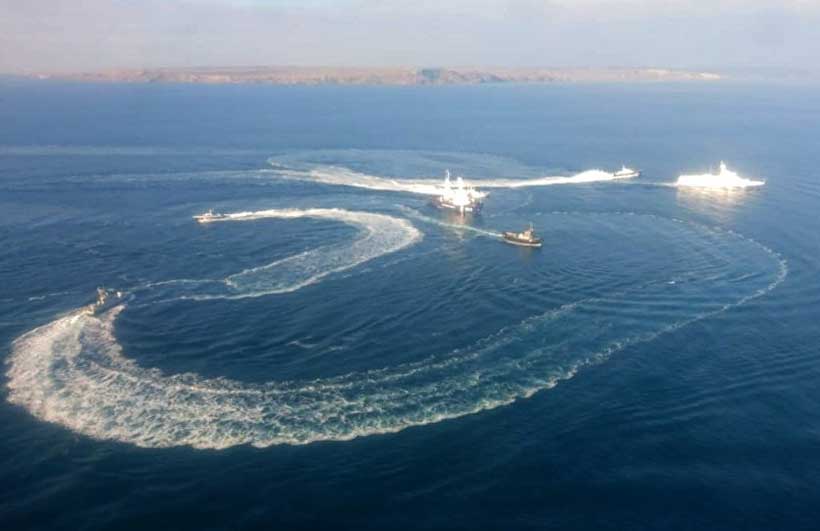 Short Interview with Russian UN Deputy Permanent Rep  Dimitry Polanskiy about the Kerch incident and how Ukraine's declaring Martial Law affects Donbass by George & Olga Eliason.
On November 25, 2018, Russian border patrol intercepted three Ukrainian warships on course for the Kerch bridge. Ignoring previous agreements, Ukraine did not tell Russia or schedule transit through the shallow water strait.
Commercial and state traffic have to schedule traversing the narrow channel because it handles traffic from one direction at a time. This is most important for vessels with a deeper draft because water depth is shallow going through.
A vessel's draft is the distance from the waterline to the bottom of the hull. This determines the minimum depth needed for the vessel to safely navigate shallow water such as the Kerch Strait. The strait can hold a vessel with an eight-meter (26 ft) draft as long as pilot assistance is used.
According to Ukraine's version of the Kerch incident, three warships were going from the port of Odessa to the port of Mariupol and Russia shot at and captured the vessels that were innocently traveling from port to port.
The Daily Signal reported "On Sunday, Europe's two largest standing armies went to the precipice of a major war.
That day, Russian military forces attacked and captured three Ukrainian navy vessels that were transiting through the Russian-controlled Kerch Strait on their way from Ukraine's Black Sea port of Odesa to Mariupol, on the Sea of Azov.
"This attack, of course, is not accidental. This is clearly an element planned by Russians in the escalation of the situation in the waters of the Sea of Azov, which has been lasting for several months. And I'm sure this is still not a culmination," Ukrainian President Petro Poroshenko said Monday in remarks posted to his administration's website."
Reporting for the Daily Signal, Nolan Peterson gets the date and the fact an incident happened right. And with what's become par for Ukrainian outlets since the civil war started, he rushes to get his story out or just ignores the facts and paints what has been shown as Ukraine's attempt to provoke a violent Russian reaction.
The only big story Peterson brings to the table from the Ukrainian side is that Petr Poroshenko agrees there is no state of war between Ukraine and Russia as of November 25, 2018. No war, no armies in Donbass. No armies, just Ukraine's continual lies to help rake in sympathy graft so lawmakers get rich.
The story goes on to say Ukraine notified the proper authorities about their passage, and then in what has become typical fashion the same story states bluntly that Ukraine did not fill out the required paperwork or notify anyone they were coming.
What do Ukraine's captured naval captains have to say? They were there under orders.
"According to Vladimir Lesovoy, a third rank captain of the Ukrainian Navy, who acknowledged that he consciously ignored calls from Russian border guards to stop. Lesovoy also said that the goal of the raid was to stage a provocation."
Ukraine Navy's Lieutenant Alexey stated bluntly they all knew they were violating Russian territorial waters.
The story that is surfacing is the Ukrainian navy vessels had enough fuel onboard to make it to the Kerch strait but if everything was done properly. But with the usual 2-3 hour queue to go through, there was not enough fuel to make it to the other side.
Obviously unless they had prearranged refueling near or at the bridge, they had no plan of going through. They were under orders to travel full throttle to the Kerch Strait and not stop regardless of outcome.
Since the only option for fueling would probably come out of Mariupol and no refueling boats or barges have been seen, the captain was right- This was a provocation.
NATO, the EU, Canada, and the US Ambassador to the UN Haley unequivocally support Ukraine in its weird and unique fabrication of this event. US president Donald Trump isn't following suit.
According to Ukraine, Russia was laying in wait for the opportune moment Ukraine would send warships near its new bridge with Ukraine continually crying about a Ukraine-Russian war. Russia would then capture Ukraine's battle-tested tugboat and Soviet-era artillery ships for a museum piece perhaps?
Now that we've cut through the story and it's clear even when addressed from the Ukrainian perspective, in its best light, it is still a military provocation.
While Ukrainian ships were in international waters no actions were taken.  Warnings were given for Ukraine to follow the routine procedure to go through the Kerch Strait.
The procedures include scheduling the passage 48 hours in advance to going through at the Kerch Port Captain Office. You have to confirm the plan 24 hours ahead of arrival and again 4 hours before you go through.
What is Russia's official reaction? I had a chance to ask Russia's First Deputy Permanent Representative to the UN, Dimitry Polanskiy.
George Eliason- Why is Russia using such a soft approach to Ukraine? The Kerch Strait incident is a key example. Ukraine ignored the agreed-upon format for bringing warships into the strait and Russia came very close to addressing it like a border incident instead of a military provocation. Is there a denoted Red Line Russia is holding Ukraine too?
And I asked how does this or Ukraine's declaration of Martial law affect Russia's view as a guarantor of the Minsk Agreements?
RF Deputy PR to the UN Polanskiy– "Russia is trying to ignore Ukraine provocations to avoid war which will be imminent if we reply as we should. We don't want to give Poroshenko a chance to improve his miserable ratings but if he attacks we will reply. We still stick to Minsk Agreements and there is no other way to solve this issue if Ukraine wishes to keep these regions in one state. Martial law is an internal affair of Ukraine unless it starts an offensive in Donbass."
Why did Poroshenko declare Martial Law right after his tugboat was captured? Why did he wait five years into Ukraine's civil war? Sources all over the Internet are looking at the regions under Martial law since November 26th. If we look at the area not under these restrictions which include voting in elections, it is where Poroshenko got at least 50% of the vote in 2014.
Does the Martial law declaration affect Donbass? I asked Lugansk People's Republic (LNR) Foreign Minister Vladislav Danego and Deputy Foreign Minister Anna Soroka.
George Eliason– Kiev declared martial law. How does this affect Minsk 2?
LNR FM Danego– "We will work through the Europeans to ensure that it does not affect Minsk 2. The initiative from Merkel has already been on this topic – 60 days (for Martial Law) was adjusted to 30."
According to the still surfacing story, Poroshenko wanted to declare Martial law for 60 days. Yulia Tymoshenko and Oleg Lyashko thwarted this in the Rada and pared it back to 30 days as a compromise.
And right on queue from the same article backing up the Foreign Minister's statement- "Ursula von der Leyen, Germany's defence minister, appeared to blame Moscow for breaching a 2003 agreement with Kiev that is supposed to allow for free shipping in the area."
Merkel, not Tymoshenko is the one working overtime to smooth things out and not let Ukraine get out of hand. If Moscow had to agree to free shipping, the Kerch Strait is in Russian territorial waters. Russian land is on either side of the Kerch strait since Crimea held a referendum to rejoin Russia in 2014.
LNR Deputy FM Soroka- We don't think that this (Ukrainian Martial Law) will affect Minsk in any way. All meetings within the framework of the Minsk process are still scheduled. Nobody mentioned any changes. Indeed, we must look at the reaction of Moscow, but again, except for notes and indignation at international venues, nothing will happen.
There are a few good reasons for Poroshenko to declare Martial law that have as much or more merit than him postponing or winning the 2019 Ukrainian presidential election by default.
Poroshenko timed both the Kerch incident and Martial law declarations right ahead of the G-20 summit to drum up support for Ukraine and get the international community in line against Moscow.
This might give him a little room back in Ukraine to complete his political triad of Army-Language-Faith. The Ukrainian Orthodox Church split with the Moscow Patriarchate was supposed to be the crown of his political life. Not every political leader can split Christianity successfully in his own lifetime.
And clearly, Petr Poroshenko is finding that out the hard way. When Poroshenko called a meeting of the bishops who would vote on autocephaly, only two out of more than eighty showed up. He's found out that very few Orthodox leaders favor the idea.
Martial law gives Poroshenko the legal cover to suppress the areas where dissident Orthodox officials are and possibly still pass his Kiev patriarchate breakaway church through some semblance of a Church Sobor (Congress).
And last but never least, there is a new "cold Maidan" forming.  There's no heat and people are freezing. There's no work and people are starving. They can't pay their bills or buy medications. Instead of rebuilding the economic base needed to take the country out of abject poverty, Ukraine prosecutes a war with a former region. Instead of trying to keep agreements it signed which would reintegrate Donbass peacefully.
According to leading Ukrainian political scientist Mikhail Pogrebinsky, 75-80% of the population think Ukraine is going in the wrong direction. If this is the case, how do the Ukrainians have any credibility internationally?
The International community has a responsibility to oversee the tax dollars it gave Ukraine for reform that has been continually wasted. The EU has a responsibility to its own people not to exasperate the humanitarian situation it created in Ukraine that will end up flooding Europe with hopeless west and central Ukrainians.
Ukraine must be held to the same standard of law every other government is held instead of being given a free pass every time Ukraine or its nationalists go on a crime spree.
Just because "It (Ukraine's nationalist government) was intellectually decapitated (according to Zbigniew Brzezinski and Ashton B. Carter),  as a matter of deliberate policy during the Stalin years and beyond so that the most able and energetic Ukrainians were either killed or magnetically attracted to Moscow and Russified" doesn't give Ukraine a free pass to relive their grandparents crimes or start regional wars in a 2018 world.
What UK defense minister was doing in Odessa, or a taste for farce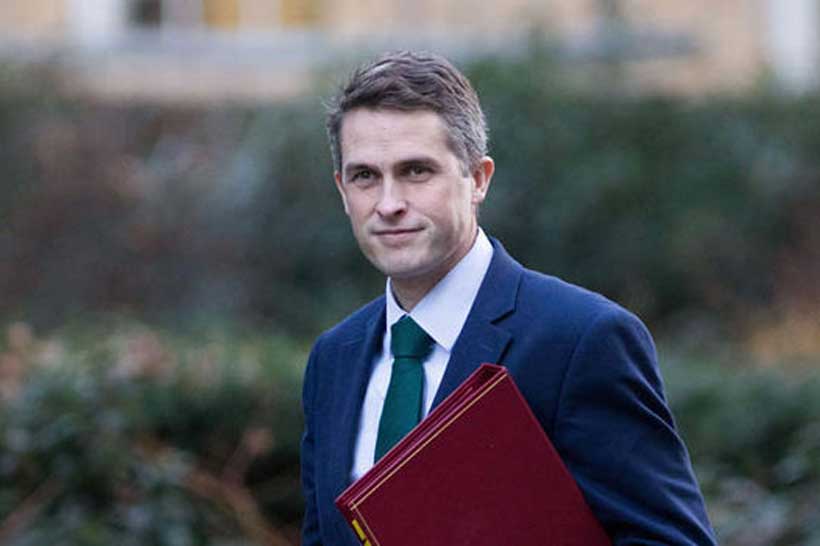 History repeats itself. This popular maxim also rings very true today. Many episodes of the Crimean War are still fresh on the memory of Russians, French and the British. Disregarding the sanctions and "annexation," Britons and French nationals keep coming to Sevastopol to take part in a historical festival, donning period costumes and engaging in mock battles.
And yet, the distant successors of those who fought Russia during that war still remember, on a genetic level, how Russian soldiers kept fighting on against the tallest of odds (during one of the battles fought  in Sevastopol, mortally wounded and bleeding members of a Russian regiment still refused to plead for mercy and, instead, continued fighting the enemy with their bayonets) even at lunch, after five in the evening, and, most unpleasantly, at night. The war fought not by the book, the freezing cold of the Crimean winter and the well-known "balaclava" headdress is something Russia's foreign guests will never forget.
It still looks like the lessons of history have been lost on some representatives of the British elite. In December 2018, Britain's Defense Minister Gavin Williamson arrived in Odessa in southern Ukraine to vent his outrage about the detention by Russia's Coast Guards of three Ukrainian boats at the approaches to the Kerch Strait, and express London's support for a second Ukrainian naval foray into the Sea of Azov. It was not Williamson's first visit to Ukraine though – in September 2018, he bravely spent a whole 20 minutes on the line of disengagement in Donbass.
London is backing up its military-diplomatic efforts with real action.
"At 20:30 local time, on December 17, 2018, the Royal hydrographic survey ship HMS Echo sailed into the Black Sea via the Bosporus Strait. This modern reconnaissance ship is designed to conduct operations in support of submarines and amphibious operations. It can share adapted information almost in real time. (…) This is the first NATO warship to enter the Black Sea in the wake of the Azov crisis to demonstrate the UK's support for ensuring freedom of navigation in the region," Ukrainian expert Andrei Klimenko happily wrote.
In the mid-19th century, Britain regarded Russia as an enemy in the Big Game, and opposed it using political and economic means available to it. Simultaneously, it was the case of an empire facing off against another empire – in the Balkans, in the Caucasus and over the straits (Bosporus and Dardanelles). Britain no longer rules the seas, but its keen interest in strategic straits, such the Kerch Strait, is still very much alive.
London's strategy, being implemented as part of the anti-Russian bloc, can best be described as "I'm doing all I can." However, the former empire is playing an ever increasing role now that Ukraine is not being viewed by US President Donald Trump as an object worth of any effort. Still, there are powerful anti-Russian forces out there, which will not just sit and watch the presidential elections in Ukraine and, even though they have lost their patron in the person of the US president, they remain hell-bent on making Ukraine instrumental in their efforts to ramp up the conflict with Moscow.
Washington is reviewing international agreements and withdrawing its forces from Syria focusing instead on playing spy games, but now on its own territory, to fight the "Russian threat," "Russian aggression," and most importantly – "Russian intervention." The central events and characters here are the Mueller investigation, the case of Maria Butina, and the recent detention in Moscow of a former US Marine, Paul Whelan, on charges of espionage.
But this is not enough, so you need something else, more dramatic and attention-grabbing, preferably done by someone else.
No matter how opposed to Trump's policies some top officials in the US government may be, they still can't afford to openly defy the president and thus destroy the country's power institutions. And here political analysts  come up with a very interesting version: "Therefore, England takes the burden of orchestrating the Ukrainian-Russian war in its own hands. Well, not England as such, but, rather, the real masters of both England and the United States (…) Poroshenko may not venture a provocation, and to make sure that he gets no ideas about giving up on the war, the British defense minister arrived in Ukraine. (…) Britain is bringing pressure to bear on Kiev to go to war with Russia in the coming week, period."
Although a second foray into the Kerch Strait planned for the coming week never happened, the plan itself hasn't gone anywhere. A follow-up to the provocation in the Kerch Strait has gone beyond the time frame outlined by the martial law President Poroshenko imposed ahead of the presidential election, but the threat of new provocations fraught with a confrontation  lingers on nonetheless.
The law "On the adjacent zone of Ukraine," signed by Petro Poroshenko in December 2018, provides a legal basis for actions by the Ukrainian military and diplomats by expanding Kiev's border and customs control in the Black Sea.
"In the adjacent zone, the State Border Service of Ukraine will prevent violations of national immigration and sanitary legislation. Border guards will be able to stop vessels, inspect them, detain or seize vessels or their crew members, with the exception of warships and other state ships used for non-commercial purposes."
The new law sets the stage for further provocations against Russia by portraying it as "an aggressor and invader," backing this up with "irrefutable evidence" and showing it on TV.
The coordinated nature of the actions and intentions by the "friends" of Russia in ensuring "free navigation in international waters" is too obvious to ignore. Following the provocation in the Kerch Strait, the US guided-missile destroyer McCampbell was allegedly spotted in the vicinity of a Russian naval base in Vladivostok.
US Pacific Fleet spokeswoman Rachel McMarr said that the ship had carried out a "freedom of navigation" operation.
"The USS McCampbell sailed in the vicinity of Peter the Great Bay to challenge Russia's excessive maritime claims and uphold the rights, freedoms, and lawful uses of the sea enjoyed by the United States and other Nations," McMarr told CNN.
She emphasized that "the United States will fly, sail and operate wherever international law allows."
Britain's policy of the past few years has been pretty strange. Execution-wise, its actions are perceived as a farce and essentially as a tragedy for the country's political elite. London is taking cue from Kiev, with its actions and "projects" (the Skripal case and the Salisbury subproject) very much resembling Ukrainian projects. London came up with the "Skripal poisoning," and Kiev – with the day-long "Babchenko's murder" circus.
Sadly, this anti-Russian trend translates into a real policy based on farce and fakes, which does not change the essence of London's foreign policy projects based on fakes.
Ukraine, for its part, continues its attempts at "coercion to conflict," which may bring about a clash of civilizations, since this is an attempt to influence the decisions of the "core states of civilization (Samuel Huntington). However, the conflicts that Ukraine has been involved in and has initiated are the result of outside bidding and made possible thanks to the support from and sanctions by external forces.
Ukraine's foreign policy is by and large determined by the logic of its policy at home. Ending up as a zone of inter-civilization conflict, Kiev is willy-nilly trying to rebuild the cultural foundations of the Ukrainian state and society.
The West appears all set to extract Ukraine from the sphere of the political, economic and socio-cultural influence of Russia. It is within this framework that Kiev and all sorts of other actors are working as they try to achieve their domestic goals thus stoking up tensions and radicalizing both the country's political forces and some elements of the Ukrainian society.
All this farce and grandstanding by European and overseas leaders and politicians still fails to smokescreen the potential threats to the security of the Russian Federation. In this sense, the Sea of Azov and the Kerch Strait should be viewed as a place where the West may attempt a series of "tests" similar to the November 2018 attempt by Ukrainian naval boats to break into the Sea of Azov. The recent "heroic" cruise by US naval ships 100 kilometers off Vladivostok, presumably to "challenge Russia's excessive maritime claims and uphold the rights, freedoms, and lawful uses of the sea enjoyed by the United States and other nations," could be repeated also in the Sea of Azov and the Kerch Strait, along the Northern Sea Route, in the Arctic and the Baltic Sea.
The Black Sea region thus becomes a model of counteracting the "sea claims of Russia." Indeed, it is a really volatile region with an unstable Ukraine ready for any provocations, Crimea, reunited with Russia (plus the Crimean Bridge), a high-handed NATO member, Turkey, which maintains close contacts with both Russia and the West, and the Caucasus region. It poses a problem for Russia due to the flurry of potential and real threats existing there, but it is also a problem for Russia's "friends," because of the high degree of security of the Crimean border and other borders of the Russian Federation. This combination of security and threats makes the Black Sea region an ideal place for all sorts of provocations and endurance tests.
Well aware of Russia's strength, the West is trying to test Moscow's determination with small, albeit significant, provocations, such as the Ukrainian naval ships' attempt to enter the Sea of Azov on November 25, 2018. The West is equally aware of Russia's response to such provocations by Kiev. What is not so clear to the West, however, and London's activity attests to this, is how Russia will respond to similar passages by multinational flotillas. This uncertainty could only stem from a desire to trigger a conflict or from misguided thoughts about Russia's indecisiveness to enter into a serious confrontation with the West.
Whatever grounds London or Washington may have for organizing a second cruise to the Crimean Bridge, no matter how many ships will take part and the flags they will sail under, Russia will do all it takes to protect its territory, border, water area, and important infrastructure.
The question London has to answer now is how will the former empire get out of this situation? There are only two options available: either to stage ever new provocations or continue grandstanding and firing verbal broadsides.
First published in our partner International Affairs
2019: A difficult political year in Lithuania
2019 will be a big political year in Lithuania, with elections in national focus. Lithuania will hold presidential, municipal and European Parliament elections this year.
Lithuanian President Dalia Grybauskaite in her traditional New Year congratulation message was very restrained and short-spoken. She clearly understands that she did nothing outstanding to be proud of. This message looked more as a warning. It could be read between the lines that she warned of a new difficult year with the same unsolved problems.
The outgoing president said that "there are many challenges ahead next year – on the international arena and domestically." It is hard to disagree. Lithuanian politics in 2018 has not been shaped by brilliant economic, social or military policy decisions or results.
Thus, Lithuanian politician, Kęstutis Girnius, is also sure that the coming year will not be easy. He said that the prolonged massive teacher strikes at the end of the year is a very important thing to remember in 2019. "Teachers and medics are those professional groups in Lithuania that always stand up and speak up. Neither this government nor the previous ones were able to solve their issues."
The authorities did not consider those groups' problems important in due course and as a result they faced national defiance. Much more seriously the authorities treated the Russian threat, though yet only potential.
In the past year, the military budgets of the Baltic countries swiftly overcame the two percent barrier. The region's political elite concentrated on anti-Russian rhetoric, very often to the detriment of their economic interests. Though authorities need to recognize the impossibility to change the political course of the giant Russia. For example, Lithuania's 2 percent of GDP on defence expenditures will not stop Russia, but could seriously harm the welfare of its people. Supporting the US' idea of increasing defence expending, at the same time Lithuanian government overlooked the real problems of teachers and doctors putting them at risk of poverty.
The more so, the authorities believe in vain that ordinary people do not understand the threat of an armed conflict between Russia and the US on the territory of the Baltics. Providing the territory for conducting large-scale maneuvers the Baltic States irritate Russia and necessitate her to deploy troops closer to their borders. Closed circle: even small increasing of defence capabilities in the Baltic States causes huge increasing of defence capabilities in Russia.
A new old minister of defense in Latvia
The process of forming a new government in Latvia has become an exciting political show. And show must go on. And it really goes on. After three unsuccessful attempts to find a candidate for the prime-minister post who could overcome disagreement between political parties, President Vejonis hopes that Krišjānis Kariņš after all will gain support and will be able to form the government.
Though this question remains open, it is already known that For Development/For alliance (after 2018 Latvian parliamentary election it is the 4th largest party in Latvia) has decided to support a government proposed by the New Unity's Krišjānis Kariņš and is delegating Artis Pabriks, Juris Pūce and Ilze Viņķele for ministerial positions, told the alliance's representative Laila Spaliņa.
For Development/For proposes Pabriks for the position of defence minister, Puce for environmental protection and regional development minister and Viņķele for health minister.
For Development/For co-chairman Pūce believes that Pabriks' previous job experience as minister of foreign affairs and defence makes him a good candidate for defence minister and vice-premier. Pabriks would be able to "successfully introduce a comprehensive defence system in Latvia, coordinating the work of various institutions and cooperation between the public and private sector."
It must be noted, that Artis Pabriks is a controversial person in Latvian politics. Though he has some political support, Latvians do not like him. His statements very often became headlines and were severely criticised by his colleges and ordinary people.
For example in 2006 he had an idea to create movies and documentaries that objectively would reflect the history of the country. Another question is how this objectiveness was understood. "I think, that Latvia is not so poor and we could allocate at least two million euros …", said Pabriks in the interview to Neatkarīgā. Latvians did not like the idea to spend money on its realization.
He also has not achieved yet one of his aims: to persuade Russia to accept the fact of Latvia's occupation. He wanted public recognition, and he insisted that Russia conduct public survey or referendum where he hopes people admit Latvia's occupation.
His political incompetence is visible to the naked eye. Russia will never rewrite its history and will never admit something that downplays its significance on the international arena. But the worst thing in the internal affairs in Latvia is lack of new politicians, lack of new ideas and thus lack of new possibilities to male life better.
Latvians who want to see new faces in politics could not really expect changes in the defence system because of a new "old" minister. Everything will remain the same. Why then a new government?