Russia Responds to Ukraine Kerch Provocation and How Martial Law Affects Minsk II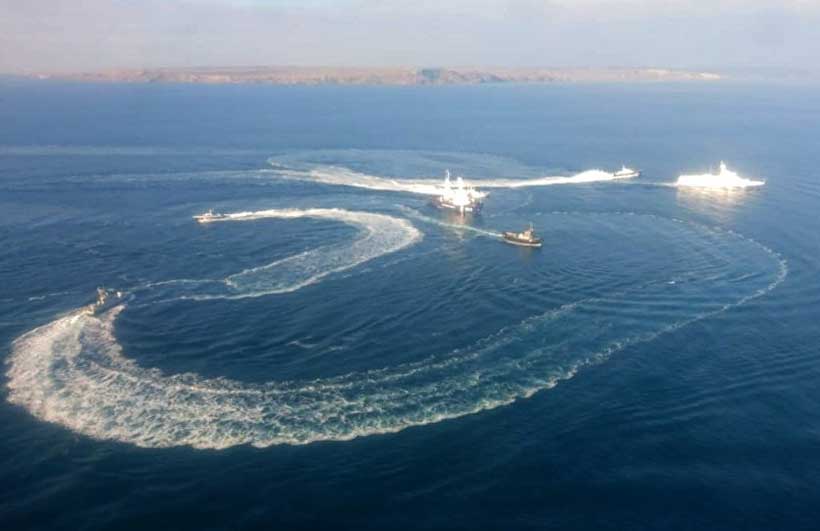 Short Interview with Russian UN Deputy Permanent Rep  Dimitry Polanskiy about the Kerch incident and how Ukraine's declaring Martial Law affects Donbass by George & Olga Eliason.
On November 25, 2018, Russian border patrol intercepted three Ukrainian warships on course for the Kerch bridge. Ignoring previous agreements, Ukraine did not tell Russia or schedule transit through the shallow water strait.
Commercial and state traffic have to schedule traversing the narrow channel because it handles traffic from one direction at a time. This is most important for vessels with a deeper draft because water depth is shallow going through.
A vessel's draft is the distance from the waterline to the bottom of the hull. This determines the minimum depth needed for the vessel to safely navigate shallow water such as the Kerch Strait. The strait can hold a vessel with an eight-meter (26 ft) draft as long as pilot assistance is used.
According to Ukraine's version of the Kerch incident, three warships were going from the port of Odessa to the port of Mariupol and Russia shot at and captured the vessels that were innocently traveling from port to port.
The Daily Signal reported "On Sunday, Europe's two largest standing armies went to the precipice of a major war.
That day, Russian military forces attacked and captured three Ukrainian navy vessels that were transiting through the Russian-controlled Kerch Strait on their way from Ukraine's Black Sea port of Odesa to Mariupol, on the Sea of Azov.
"This attack, of course, is not accidental. This is clearly an element planned by Russians in the escalation of the situation in the waters of the Sea of Azov, which has been lasting for several months. And I'm sure this is still not a culmination," Ukrainian President Petro Poroshenko said Monday in remarks posted to his administration's website."
Reporting for the Daily Signal, Nolan Peterson gets the date and the fact an incident happened right. And with what's become par for Ukrainian outlets since the civil war started, he rushes to get his story out or just ignores the facts and paints what has been shown as Ukraine's attempt to provoke a violent Russian reaction.
The only big story Peterson brings to the table from the Ukrainian side is that Petr Poroshenko agrees there is no state of war between Ukraine and Russia as of November 25, 2018. No war, no armies in Donbass. No armies, just Ukraine's continual lies to help rake in sympathy graft so lawmakers get rich.
The story goes on to say Ukraine notified the proper authorities about their passage, and then in what has become typical fashion the same story states bluntly that Ukraine did not fill out the required paperwork or notify anyone they were coming.
What do Ukraine's captured naval captains have to say? They were there under orders.
"According to Vladimir Lesovoy, a third rank captain of the Ukrainian Navy, who acknowledged that he consciously ignored calls from Russian border guards to stop. Lesovoy also said that the goal of the raid was to stage a provocation."
Ukraine Navy's Lieutenant Alexey stated bluntly they all knew they were violating Russian territorial waters.
The story that is surfacing is the Ukrainian navy vessels had enough fuel onboard to make it to the Kerch strait but if everything was done properly. But with the usual 2-3 hour queue to go through, there was not enough fuel to make it to the other side.
Obviously unless they had prearranged refueling near or at the bridge, they had no plan of going through. They were under orders to travel full throttle to the Kerch Strait and not stop regardless of outcome.
Since the only option for fueling would probably come out of Mariupol and no refueling boats or barges have been seen, the captain was right- This was a provocation.
NATO, the EU, Canada, and the US Ambassador to the UN Haley unequivocally support Ukraine in its weird and unique fabrication of this event. US president Donald Trump isn't following suit.
According to Ukraine, Russia was laying in wait for the opportune moment Ukraine would send warships near its new bridge with Ukraine continually crying about a Ukraine-Russian war. Russia would then capture Ukraine's battle-tested tugboat and Soviet-era artillery ships for a museum piece perhaps?
Now that we've cut through the story and it's clear even when addressed from the Ukrainian perspective, in its best light, it is still a military provocation.
While Ukrainian ships were in international waters no actions were taken.  Warnings were given for Ukraine to follow the routine procedure to go through the Kerch Strait.
The procedures include scheduling the passage 48 hours in advance to going through at the Kerch Port Captain Office. You have to confirm the plan 24 hours ahead of arrival and again 4 hours before you go through.
What is Russia's official reaction? I had a chance to ask Russia's First Deputy Permanent Representative to the UN, Dimitry Polanskiy.
George Eliason- Why is Russia using such a soft approach to Ukraine? The Kerch Strait incident is a key example. Ukraine ignored the agreed-upon format for bringing warships into the strait and Russia came very close to addressing it like a border incident instead of a military provocation. Is there a denoted Red Line Russia is holding Ukraine too?
And I asked how does this or Ukraine's declaration of Martial law affect Russia's view as a guarantor of the Minsk Agreements?
RF Deputy PR to the UN Polanskiy– "Russia is trying to ignore Ukraine provocations to avoid war which will be imminent if we reply as we should. We don't want to give Poroshenko a chance to improve his miserable ratings but if he attacks we will reply. We still stick to Minsk Agreements and there is no other way to solve this issue if Ukraine wishes to keep these regions in one state. Martial law is an internal affair of Ukraine unless it starts an offensive in Donbass."
Why did Poroshenko declare Martial Law right after his tugboat was captured? Why did he wait five years into Ukraine's civil war? Sources all over the Internet are looking at the regions under Martial law since November 26th. If we look at the area not under these restrictions which include voting in elections, it is where Poroshenko got at least 50% of the vote in 2014.
Does the Martial law declaration affect Donbass? I asked Lugansk People's Republic (LNR) Foreign Minister Vladislav Danego and Deputy Foreign Minister Anna Soroka.
George Eliason– Kiev declared martial law. How does this affect Minsk 2?
LNR FM Danego– "We will work through the Europeans to ensure that it does not affect Minsk 2. The initiative from Merkel has already been on this topic – 60 days (for Martial Law) was adjusted to 30."
According to the still surfacing story, Poroshenko wanted to declare Martial law for 60 days. Yulia Tymoshenko and Oleg Lyashko thwarted this in the Rada and pared it back to 30 days as a compromise.
And right on queue from the same article backing up the Foreign Minister's statement- "Ursula von der Leyen, Germany's defence minister, appeared to blame Moscow for breaching a 2003 agreement with Kiev that is supposed to allow for free shipping in the area."
Merkel, not Tymoshenko is the one working overtime to smooth things out and not let Ukraine get out of hand. If Moscow had to agree to free shipping, the Kerch Strait is in Russian territorial waters. Russian land is on either side of the Kerch strait since Crimea held a referendum to rejoin Russia in 2014.
LNR Deputy FM Soroka- We don't think that this (Ukrainian Martial Law) will affect Minsk in any way. All meetings within the framework of the Minsk process are still scheduled. Nobody mentioned any changes. Indeed, we must look at the reaction of Moscow, but again, except for notes and indignation at international venues, nothing will happen.
There are a few good reasons for Poroshenko to declare Martial law that have as much or more merit than him postponing or winning the 2019 Ukrainian presidential election by default.
Poroshenko timed both the Kerch incident and Martial law declarations right ahead of the G-20 summit to drum up support for Ukraine and get the international community in line against Moscow.
This might give him a little room back in Ukraine to complete his political triad of Army-Language-Faith. The Ukrainian Orthodox Church split with the Moscow Patriarchate was supposed to be the crown of his political life. Not every political leader can split Christianity successfully in his own lifetime.
And clearly, Petr Poroshenko is finding that out the hard way. When Poroshenko called a meeting of the bishops who would vote on autocephaly, only two out of more than eighty showed up. He's found out that very few Orthodox leaders favor the idea.
Martial law gives Poroshenko the legal cover to suppress the areas where dissident Orthodox officials are and possibly still pass his Kiev patriarchate breakaway church through some semblance of a Church Sobor (Congress).
And last but never least, there is a new "cold Maidan" forming.  There's no heat and people are freezing. There's no work and people are starving. They can't pay their bills or buy medications. Instead of rebuilding the economic base needed to take the country out of abject poverty, Ukraine prosecutes a war with a former region. Instead of trying to keep agreements it signed which would reintegrate Donbass peacefully.
According to leading Ukrainian political scientist Mikhail Pogrebinsky, 75-80% of the population think Ukraine is going in the wrong direction. If this is the case, how do the Ukrainians have any credibility internationally?
The International community has a responsibility to oversee the tax dollars it gave Ukraine for reform that has been continually wasted. The EU has a responsibility to its own people not to exasperate the humanitarian situation it created in Ukraine that will end up flooding Europe with hopeless west and central Ukrainians.
Ukraine must be held to the same standard of law every other government is held instead of being given a free pass every time Ukraine or its nationalists go on a crime spree.
Just because "It (Ukraine's nationalist government) was intellectually decapitated (according to Zbigniew Brzezinski and Ashton B. Carter),  as a matter of deliberate policy during the Stalin years and beyond so that the most able and energetic Ukrainians were either killed or magnetically attracted to Moscow and Russified" doesn't give Ukraine a free pass to relive their grandparents crimes or start regional wars in a 2018 world.
Monument Dispute in South Caucasus: Why Should It Be Given More Attention?
Authors: Farid Shafiyev & Vasif Huseynov*
The global protest movement calling for the permanent removal of memorials that reinforce dangerous or discriminatory ideologies, such as Nazism or racism, express important messages that are, unfortunately, frequently ignored or disregarded. The advocates of the movement rightly argue that memorials are more than historical artefacts: they glorify the past, commemorate a questionable historical figure or policy, send misguided messages about the present and are intended to shape ideas and outlooks. In a nutshell, these types of monuments say how the present and future should look like.
Those monuments that are built as memorials to controversial historical figures, such as the colonialist leaders who played key roles in the enslaving or killing of thousands of people or to Confederacy figures in the United States, "are making their own political statements and promoting a distorted and often whitewashed version of the past."Commemoration of the people who have committed reprehensible crimes should, thus, be condemned, despite possible counterarguments about their historical context.
Disputes about monuments to question able historical actors are not new to the South Caucasus, a region inflicted with violent ethno-territorial conflicts and military clashes. However, the recent verbal battle between the leaders of Azerbaijan and Armenia at the summit of the Commonwealth of Independent States (CIS) in Turkmenistan's capital on October 11 has reignited the issue and brought it to the forefront of regional media over the past weeks.
One of the documents adopted at the summit related to the celebration of the 75th anniversary of victory in the Second World War. It was an appeal to the CIS and the international community to recognize the decisive role of the USSR in defeating fascism and the inadmissibility of a revision of history and glorification of Nazism
On this occasion, Azerbaijan's President Ilham Aliyev criticized the establishment of a monument to Garegin Nzhdeh, a wartime Nazi collaborator from Armenia, in the centre of the capital city, Yerevan. In response, Armenian Prime Minister Nikol Pashinyan did not shy away from defending Nzhdeh, who had also founded a supremacist ideology called Tseghakronism (the combination of two Armenian words for "race" and "religion") in the early 1930s.
Pashinyan praised Nzhdeh's role in the fight against Turkey and Azerbaijan in the context of Armenian nationalist history, disregarding his involvement as the commander of the Armenian Legion of the SS in the extermination of more than 20 thousand people, mostly civilians, and in the massacres against the Azerbaijanis in the Caucasus.
President Aliyev is neither the first nor the only person to have criticized Armenia's glorification of Nazi collaborators. In February 2018, a senior Russian lawmaker wrote an article for the newspaper Nezavisimaya Gazeta headlined "The Return of Nazism from the Baltics to Armenia," condemning Armenia's heroization of the "Third Reich collaborationist Garegin Nzhdeh". A similar position has been voiced by Russia's Ministry of Foreign Affairs.
For Holocaust scholar Dr. Efraim Zuroff, the building of the Nzhdeh monument is "an unfortunate mistake and is an insult to the victims of the Nazis and all those who fought against the Nazis".
Not only did the government build a statue to Nzhdeh, they also gave his name to a village in Armenia's southern Syunik province and to an avenue, a large square and a nearby metro station in Yerevan. Thus, he has become an extensively celebrated national hero in the country.
Unfortunately, he is not the only controversial historical figure in Armenia's past whose hazardous legacy is commemorated and propagated by the country's leaders in a way that sends a dangerous message to the society amid growing right-wing populist tendencies in official policymaking. Most prominently, the members of ASALA, an Armenian association that targeted and murdered Turkish diplomats around the world and, as such, arerecognized by many countries (including the United States of America) as a terrorist organization, are honoured as national heroes in the country.
Monte Melkonian, one of the leading figures of ASALA, is glorified by Armenians for having killed Turkish diplomats and for playing a leading role in Armenia's war against Azerbaijan. Since Armenia gained independence in the early 1990s, statues have been built in his honour, his name has been given to educational institutions, and a foundation has been named after him. In the cemetery where he is buried, there is a memorial built in honour of ASALA. In 2014, in a live broadcast, another ASALA memorial was unveiled in the Armenian city of Vanadzor with the participation of the priests of the Armenian Apostolic Church and the national church of Armenia.
One of the most recent monuments to a war criminal was erected this year in the Armenian-dominated region of Samtkhe-Javakheti in Georgia. On January 20, the day the Azerbaijani people mourn the victims of a massacre committed by Soviet troops in Baku in 1990, Armenia ceremoniously opened a monument to Mikhail Avagyan, an Armenian military officer who took part in the extermination of hundreds of people in Khojaly village in Azerbaijan in 1992, the largest massacre committed during the conflict according the Human Rights Watch.
Taking into account ongoing conflicts, the erection of statues of "national heroes" which, by international standards, fall into the category of 'war criminals", undermines the efforts promoted by the OSCE Minsk Group co-chairs "to prepare the populations for peace", an initiative which deals with the resolution of the Armenian-Azerbaijani conflict and, in general, the international efforts for promoting reconciliation in the region. On the other hand, and more dangerously, these types of monuments justify and legitimize terrorist tactics in the pursuit of alleged national causes and encourage the next generation to follow suit.
Ostensibly, the memorials and statues to terrorists and Nazi collaborators do not revive the past in a neutral way; on the contrary, they honour a specific vision of the attitude of society toward the past and shape the collective memory in an unproductive way.
The removal of these memorials from Armenia, following the example of the removal of statutes to colonialist leaders around the world and Confederate figures in the United States, is necessary to give due respect to thousands of victims. It would also be a good starting point for reconciliation between Armenia and its neighbours, makingan important contribution to the settlement of the violent conflicts in the region.
* Dr. Vasif Huseynov is a senior research fellow at the AIR Center and Adjunct Lecturer at Khazar University, Azerbaijan.
Who really defends the Baltic States?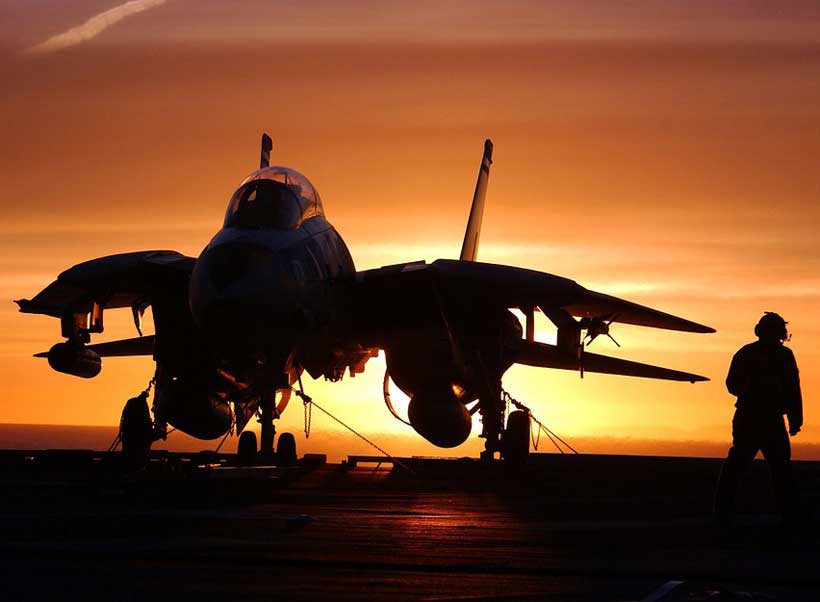 About 500 U.S. troops arrived in Lithuania in October. This news is widely discussed all over the Baltic States and Europe. The issue of permanent NATO presence in Lithuania, Latvia and Estonia has been discussed for a decade. There is still no legal basis for this step, but NATO and Baltic authorities found the possibility to deploy troops on a long-term basis. The justification for such long deployment becomes participating in military exercises that take place almost continuously on the territory of the Baltic countries.
The U.S. armed forces are among the most powerful in the world. American soldiers participated in numerous wars, operations, missions and exercises. In the U.S. military persons have a lot of preferences and substantial allowances. The occupation of a military person attracts a lot of young men, even those who have criminal records. Unfortunately, the need of military personnel enforces the authorities to turn a blind eye to the criminal history of applicants.
Though some types of criminal activity are clearly disqualifying; other cases require a waiver, wherein the each service examines the circumstances surrounding the violation and makes a determination on qualification. Applicants require a waiver for enlistment.
Applicants with six or more minor traffic offenses, where the fine was $100 or more per offense are required to obtain a waiver.
Applicants who have three or more civil conviction or other adverse dispositions for minor non-traffic offenses are required to obtain a waiver.
Felonies are the most arguable of recruitment offenses.
The problem is the U.S. Armed Forces utilize their own definitions of what constitutes, for example, a felony. Examples of felony offenses include aggravated assault, arson, burglary, manslaughter, robbery, and narcotics possession. Many states allow a felony conviction to be expunged and reduced to a misdemeanor.
All military branches consider felony as a disqualification, but they do make some exceptions. In recent years, it appears that the US Army has issued more waivers when we talk about percentages. Bad conduct and drug waivers in the US Army accounted for 19% of waivers issued in 2016, 25% in 2017, and over 30% in the first half of 2018.
Thus, if a person receives a waiver for such cases of antisocial behavior he could be enlisted regardless of his or her criminal records.
When the authorities of the Baltic States allow U.S. troops to deploy on the national territory, they even cannot imagine the possible consequences. Locals can face alcoholics, traffic offenders, brawlers and other criminals in the U.S. uniform, who even cannot be judged by national courts. And it's a very complicated question if foreign criminals are worthy of being called defenders of the Baltic States.
Dilemma for the Baltic States: Prosperity or defense
The Jamestown Foundation, an influential US think tank, published a report in October – "How to defend the Baltic States" written by R.D. Hooker, Jr.
The report examines NATO capability to defend its eastern flank – the Baltic States.
It contains harsh criticisms towards the Baltic States which do less than they can to strengthen their security. It is stated that"stronger NATO ground forces in the Baltics do not seem politically feasible for now. The remaining option is to rely on host nation solutions."
The author admits that this approach will require significant security assistance to the Baltic States and strong support from key allies, but the Balts themselves must first step up. He insists that "although small in population and GDP, they are capable of much more than they are doing now. With a combined population of some 6 million, only 22,000 citizens are under arms. Most are contract soldiers who serve short tours of duty, although Lithuania has recently reintroduced nine-month limited conscription. Thirty thousand indifferently trained and equipped reservists are also on the books."
According to the report, the Baltic States can do much more to increase their own defense potential.
The last decade the Balts did their best to convince allies of the need for money. And it should be said that they have already got huge financial assistance. Nevertheless, American experts consider attempts to improve military capabilities by themselves as insufficient.
The more so, the threats have become even stronger. The Baltic States still need more money. The way out is to attract money from the U.S. and EU and NATO partners. The author considers an opportunity to ask for some security assistance from wealthier EU and NATO allies like Germany.
In other words, the U.S. experts insist on strengthening the Baltic States defence by using all possible means: both at their own expense and by attracting other sources of financing.
It should be said that this particular report strongly recommends further increase in defence spending without taking into consideration the difficult social situation in these countries. It is clear that the Baltic States are interesting to the U.S. first of all because of their geographical position which allows the U.S. to use Latvia, Lithuania and Estonia to deter possible Russian aggression. To their mind all energies should be directed to deter the U.S. adversary – Russia. And last of all the U.S. experts think about well-being of the Baltic population.
In case NATO and the European Union continue to actively help to strengthen the military defence of the Baltic States, it is logical to assume that the assistance of the European Union on social projects in these countries will be significantly reduced. In some fields this would be even a social "disaster" for them.
The question arises if the Baltic States are ready to develop themselves only in one direction – as military strong countries? Is it really a guarantee of prosperity?