Russia Responds to Ukraine Kerch Provocation and How Martial Law Affects Minsk II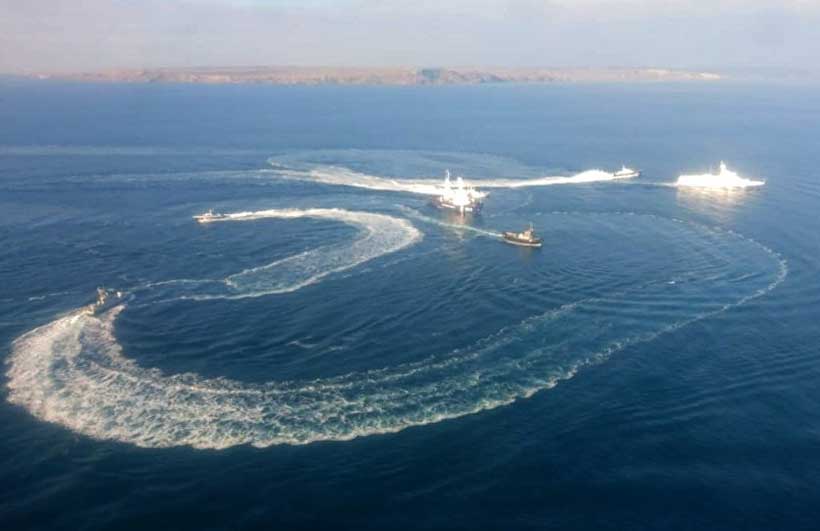 Short Interview with Russian UN Deputy Permanent Rep  Dimitry Polanskiy about the Kerch incident and how Ukraine's declaring Martial Law affects Donbass by George & Olga Eliason.
On November 25, 2018, Russian border patrol intercepted three Ukrainian warships on course for the Kerch bridge. Ignoring previous agreements, Ukraine did not tell Russia or schedule transit through the shallow water strait.
Commercial and state traffic have to schedule traversing the narrow channel because it handles traffic from one direction at a time. This is most important for vessels with a deeper draft because water depth is shallow going through.
A vessel's draft is the distance from the waterline to the bottom of the hull. This determines the minimum depth needed for the vessel to safely navigate shallow water such as the Kerch Strait. The strait can hold a vessel with an eight-meter (26 ft) draft as long as pilot assistance is used.
According to Ukraine's version of the Kerch incident, three warships were going from the port of Odessa to the port of Mariupol and Russia shot at and captured the vessels that were innocently traveling from port to port.
The Daily Signal reported "On Sunday, Europe's two largest standing armies went to the precipice of a major war.
That day, Russian military forces attacked and captured three Ukrainian navy vessels that were transiting through the Russian-controlled Kerch Strait on their way from Ukraine's Black Sea port of Odesa to Mariupol, on the Sea of Azov.
"This attack, of course, is not accidental. This is clearly an element planned by Russians in the escalation of the situation in the waters of the Sea of Azov, which has been lasting for several months. And I'm sure this is still not a culmination," Ukrainian President Petro Poroshenko said Monday in remarks posted to his administration's website."
Reporting for the Daily Signal, Nolan Peterson gets the date and the fact an incident happened right. And with what's become par for Ukrainian outlets since the civil war started, he rushes to get his story out or just ignores the facts and paints what has been shown as Ukraine's attempt to provoke a violent Russian reaction.
The only big story Peterson brings to the table from the Ukrainian side is that Petr Poroshenko agrees there is no state of war between Ukraine and Russia as of November 25, 2018. No war, no armies in Donbass. No armies, just Ukraine's continual lies to help rake in sympathy graft so lawmakers get rich.
The story goes on to say Ukraine notified the proper authorities about their passage, and then in what has become typical fashion the same story states bluntly that Ukraine did not fill out the required paperwork or notify anyone they were coming.
What do Ukraine's captured naval captains have to say? They were there under orders.
"According to Vladimir Lesovoy, a third rank captain of the Ukrainian Navy, who acknowledged that he consciously ignored calls from Russian border guards to stop. Lesovoy also said that the goal of the raid was to stage a provocation."
Ukraine Navy's Lieutenant Alexey stated bluntly they all knew they were violating Russian territorial waters.
The story that is surfacing is the Ukrainian navy vessels had enough fuel onboard to make it to the Kerch strait but if everything was done properly. But with the usual 2-3 hour queue to go through, there was not enough fuel to make it to the other side.
Obviously unless they had prearranged refueling near or at the bridge, they had no plan of going through. They were under orders to travel full throttle to the Kerch Strait and not stop regardless of outcome.
Since the only option for fueling would probably come out of Mariupol and no refueling boats or barges have been seen, the captain was right- This was a provocation.
NATO, the EU, Canada, and the US Ambassador to the UN Haley unequivocally support Ukraine in its weird and unique fabrication of this event. US president Donald Trump isn't following suit.
According to Ukraine, Russia was laying in wait for the opportune moment Ukraine would send warships near its new bridge with Ukraine continually crying about a Ukraine-Russian war. Russia would then capture Ukraine's battle-tested tugboat and Soviet-era artillery ships for a museum piece perhaps?
Now that we've cut through the story and it's clear even when addressed from the Ukrainian perspective, in its best light, it is still a military provocation.
While Ukrainian ships were in international waters no actions were taken.  Warnings were given for Ukraine to follow the routine procedure to go through the Kerch Strait.
The procedures include scheduling the passage 48 hours in advance to going through at the Kerch Port Captain Office. You have to confirm the plan 24 hours ahead of arrival and again 4 hours before you go through.
What is Russia's official reaction? I had a chance to ask Russia's First Deputy Permanent Representative to the UN, Dimitry Polanskiy.
George Eliason- Why is Russia using such a soft approach to Ukraine? The Kerch Strait incident is a key example. Ukraine ignored the agreed-upon format for bringing warships into the strait and Russia came very close to addressing it like a border incident instead of a military provocation. Is there a denoted Red Line Russia is holding Ukraine too?
And I asked how does this or Ukraine's declaration of Martial law affect Russia's view as a guarantor of the Minsk Agreements?
RF Deputy PR to the UN Polanskiy– "Russia is trying to ignore Ukraine provocations to avoid war which will be imminent if we reply as we should. We don't want to give Poroshenko a chance to improve his miserable ratings but if he attacks we will reply. We still stick to Minsk Agreements and there is no other way to solve this issue if Ukraine wishes to keep these regions in one state. Martial law is an internal affair of Ukraine unless it starts an offensive in Donbass."
Why did Poroshenko declare Martial Law right after his tugboat was captured? Why did he wait five years into Ukraine's civil war? Sources all over the Internet are looking at the regions under Martial law since November 26th. If we look at the area not under these restrictions which include voting in elections, it is where Poroshenko got at least 50% of the vote in 2014.
Does the Martial law declaration affect Donbass? I asked Lugansk People's Republic (LNR) Foreign Minister Vladislav Danego and Deputy Foreign Minister Anna Soroka.
George Eliason– Kiev declared martial law. How does this affect Minsk 2?
LNR FM Danego– "We will work through the Europeans to ensure that it does not affect Minsk 2. The initiative from Merkel has already been on this topic – 60 days (for Martial Law) was adjusted to 30."
According to the still surfacing story, Poroshenko wanted to declare Martial law for 60 days. Yulia Tymoshenko and Oleg Lyashko thwarted this in the Rada and pared it back to 30 days as a compromise.
And right on queue from the same article backing up the Foreign Minister's statement- "Ursula von der Leyen, Germany's defence minister, appeared to blame Moscow for breaching a 2003 agreement with Kiev that is supposed to allow for free shipping in the area."
Merkel, not Tymoshenko is the one working overtime to smooth things out and not let Ukraine get out of hand. If Moscow had to agree to free shipping, the Kerch Strait is in Russian territorial waters. Russian land is on either side of the Kerch strait since Crimea held a referendum to rejoin Russia in 2014.
LNR Deputy FM Soroka- We don't think that this (Ukrainian Martial Law) will affect Minsk in any way. All meetings within the framework of the Minsk process are still scheduled. Nobody mentioned any changes. Indeed, we must look at the reaction of Moscow, but again, except for notes and indignation at international venues, nothing will happen.
There are a few good reasons for Poroshenko to declare Martial law that have as much or more merit than him postponing or winning the 2019 Ukrainian presidential election by default.
Poroshenko timed both the Kerch incident and Martial law declarations right ahead of the G-20 summit to drum up support for Ukraine and get the international community in line against Moscow.
This might give him a little room back in Ukraine to complete his political triad of Army-Language-Faith. The Ukrainian Orthodox Church split with the Moscow Patriarchate was supposed to be the crown of his political life. Not every political leader can split Christianity successfully in his own lifetime.
And clearly, Petr Poroshenko is finding that out the hard way. When Poroshenko called a meeting of the bishops who would vote on autocephaly, only two out of more than eighty showed up. He's found out that very few Orthodox leaders favor the idea.
Martial law gives Poroshenko the legal cover to suppress the areas where dissident Orthodox officials are and possibly still pass his Kiev patriarchate breakaway church through some semblance of a Church Sobor (Congress).
And last but never least, there is a new "cold Maidan" forming.  There's no heat and people are freezing. There's no work and people are starving. They can't pay their bills or buy medications. Instead of rebuilding the economic base needed to take the country out of abject poverty, Ukraine prosecutes a war with a former region. Instead of trying to keep agreements it signed which would reintegrate Donbass peacefully.
According to leading Ukrainian political scientist Mikhail Pogrebinsky, 75-80% of the population think Ukraine is going in the wrong direction. If this is the case, how do the Ukrainians have any credibility internationally?
The International community has a responsibility to oversee the tax dollars it gave Ukraine for reform that has been continually wasted. The EU has a responsibility to its own people not to exasperate the humanitarian situation it created in Ukraine that will end up flooding Europe with hopeless west and central Ukrainians.
Ukraine must be held to the same standard of law every other government is held instead of being given a free pass every time Ukraine or its nationalists go on a crime spree.
Just because "It (Ukraine's nationalist government) was intellectually decapitated (according to Zbigniew Brzezinski and Ashton B. Carter),  as a matter of deliberate policy during the Stalin years and beyond so that the most able and energetic Ukrainians were either killed or magnetically attracted to Moscow and Russified" doesn't give Ukraine a free pass to relive their grandparents crimes or start regional wars in a 2018 world.
Demystifying the Myth of War Crimes in Ukraine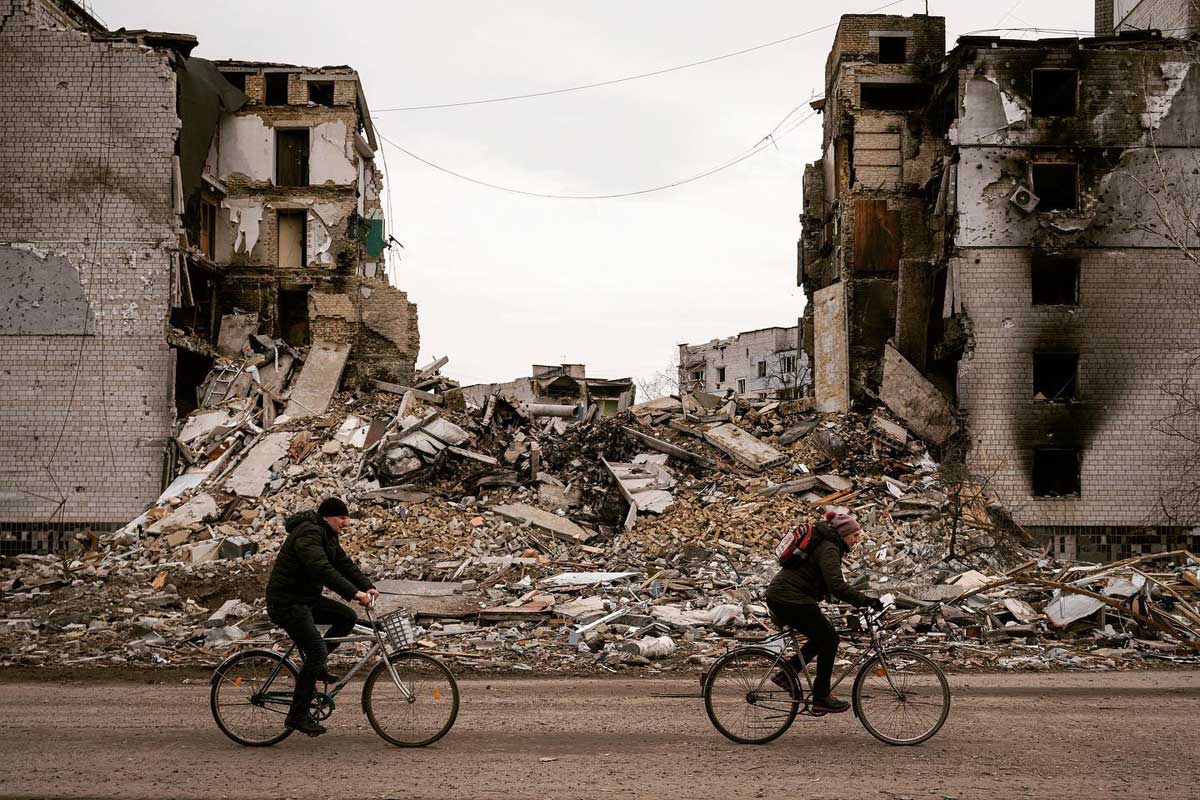 Hypocrisy – a prevalent trait of the western powers. West's policies on human rights are deluged with double standards. What is going around the world is a secondary, to them safeguarding their interest is prime. What Indian barbaric regime is doing in India with the minorities and in Indian occupied Kashmir, Israelis in Palestine, is not enough to catch an eye, because Muslims are dying, its none of their business. Let's recap what USA did in Afghanistan and Iraq. How war crimes done by the west in these countries can be ignored. Humanity suffered at the hands of these western states. Innocent people got killed in the drone strikes and the West called it 'Collateral Damage'. Innocent civilians suffered pain, hunger, and anguish, but West was mute. Human rights are for all without any discrimination based on religion, origin, race and colour. Unfortunately, the hypocrite USA only consider Human Rights for its allies and the holy land of USA. Clear violations of international humanitarian law are done by USA and its western allies in Afghanistan and other states. Moreover, the crime partner of USA, India is doing ferocious acts in India Occupied Kashmir, but all of them are silent.
As per the standards set by USA, kill innocent people and then an apology by Central Command is enough to justify an unjust loss of human life. Yes, the world should follow this too. Why only Americans have the right to make unjust just. Who will set an example of justice, war mongers, liars and killer USA? Oh yes, wonderful, now make big news out of nothing or yes something on Ukraine. Ukrainians are the only human left on the face of earth to get the western sympathizes. But it's important for the Ukrainian decision makers to not to be fooled by the USA. Demystifying the war crimes by Russia in Ukraine is not to support Ukraine but yes to counter Russia. The very reason why this conflict started is West itself. And then, yes USA is excellent at imposing sanctions and it did the same with Russians as well. But, literally speaking who is going to listen to USA, not even India, one of the USA's defense partners.
International Criminal Court – ICC should know its responsibility and first of all held USA accountable for the war crimes in Afghanistan and Iraq. Fake news, misinformation, mal-information, and disinformation is playing big role in manipulating the contemporary international politics. States are using this to hijack the actual information and create an environment of mistrust. Access to actual information in such circumstances in becoming difficult. Why Russian news channels are blacklisted, why only Ukrainian and other foreign media outlets are into play. USA is busy in narrative building based on fake information. USA is actually selling the despairs of Ukrainian people. Therefore, huge responsibility also lies on journalists as well. Are we living in the stone age or in 21st century? Where is responsible journalism? The journalist and civil societies should work as pressure groups and push ICC to open investigations on unlawful killings by USA and its allies in Afghanistan. ICC also open inquires on the atrocities done by Israelis in Palestine, and Indian barbarism in Indian Occupied Kashmir. A detailed systematic investigation is need of hour.
This will reveal the horrible face of these elites of international arena. The USA forces in Afghanistan have "committed acts of torture, killings, cruel treatment, outrages upon personal dignity, rape and sexual violence". Did Russian forces have created a 'secret kill team' to allegedly kill innocent Ukrainian Civilians? The answer is NO. Let's also consider 'Collateral Damage' in the case of Russia – Ukraine War. Instead of making world fool again on Ukraine, USA should remorse over its war crimes. A shameless country with no ethos is going to advocate Human Rights when its own citizens are not safe from the hate-fire it started. Humanity – a word, not known to USA. All it knows is to control other states' resources, sovereignty, and independence. Subtle interference in the other countries' internal matters, and creating fault-lines to manipulate the policy making. I doubt USA as an example of human rights and democracy. Disinformation is the new normal for USA.
The Illusion of Constraint: Russia Advances in Eastern Ukraine Despite Harsh Sanctions
The war of attrition is gradually becoming a reality as Russia continues to make gains in the east. According to Ukrainian officials, Russian forces now control about 80% of the eastern Ukrainian city of Severodonetsk. Despite new aid packages by the US and European Union (EU), Ukrainian armed forces are struggling in Donbas as a brutal Russian offensive is underway – forces now controlling over 20% of Ukrainian territory, according to president Zelensky. Analytical estimates reveal that Russia (alongside pro-Russian rebels) has already seized almost 90% of eastern Donbas; en route to upend the city of Severodonetsk and Lysychansk in the province of Luhansk. And geopolitical experts believe a similar showdown in the neighboring Donetsk province would ease Russian domination over the entire Donbas region.
The Ukrainian dignitaries have consistently insisted on long-range artillery support to counter Russia's onslaught. However, a single contention prevails in the Western cohort: supplying long-range weaponry could enable Ukrainian attacks beyond Russian borders, perhaps invoking a direct conflict with a belligerent Russia. Thus, the Western support remains mostly limited to conservative alternatives as Russia defies earlier odds to gain an upper-hand. The core western defense has been the barrage of sanctions imposed on Russia and the damage to the Russian economy. The West believes it could avoid militarily provoking Russia and still economically debilitate the country to the point of desperate negotiation. However, the truth is far divergent from this popular belief.
Even after three and a half months, the torrent of sanctions has failed to decimate the Russian economy as initially envisioned by the West. Putin has spent the last two decades fortifying the Russian economy via integration into the global financial apparatus. Sure, the invasion in late February spurred financial restrictions and constraints on trade. But the initial panic has since receded as relative stability is taking on the reins. The Central Bank of Russia has played a pivotal role in preventing a financial collapse. As sanctions threatened to spur a crisis, the Bank of Russia hiked the policy rate to 20% – encouraging savings; preventing the egress of investments. The Kremlin mandated the state-owned enterprises to hold export receipts in Roubles. And salaries and pensions were generously increased to compensate for the inflationary effects of the invasion. Three months forward, the interest rates are back to the pre-invasion level of 9.5%. The Rouble – crashing to a record low in days following the invasion – is trading near four-year highs. And inflation, though still a vice, has cooled off to 17% year-on-year from a two-decade peak in April. While fiscal and monetary policies have considerably stabilized the economy, another underlying factor has unsurprisingly buttressed the rebound: the Russian energy sector.
Foreign companies are pulling out, investments are downgrading, and currency reserves are locked up around the globe. Then how exactly is Russia financing the war in Ukraine? Sure the stocks of imports are running low, and people are spending less. Yet how is the Russian war machine still operational when the world is closing up for Russia? Ironically, the world is indirectly financing the Russian agenda in Ukraine. Fossil fuel exports have always been monumental for the Russian economy. Receipts from oil and gas exports made up roughly 45% of Russia's federal budget in 2021. According to a market report of the International Energy Agency (IEA), Russia's oil revenue alone is up by 50% this year – despite the toughest raft of sanctions ever meted out by the West. The US has utterly banned Russian energy imports while the EU has managed to reduce its reliance on Russian energy supplies. According to the data from the Center for Research on Energy and Clean Air (CREA) – a Finnish nonprofit think tank – the EU lowered natural gas imports from Russia by 23% in the first 100 days of the invasion (February 24 to June 3) compared to the same period last year. The data further reveals that the EU reduced its oil imports from Russia by 18% in May. Still, Russia earned a record $97 billion in revenue from exports of fossil fuels despite a modest fall of 15% in export volumes. How is that possible?
Despite trading at roughly 30% discount from international prices, Russian crude is sailing as surging global oil prices are still fetching receipts over 60% higher compared to last year. The volumes have certainly lowered as many countries have refused to trade with Russia to avoid American fury. Yet some countries have contended for cheap Russian energy supplies to guard domestic economic interests. India has been surprisingly vocal and determined about its choices of self-interest despite Western pressure. Since the invasion, India has procured 27% of its crude needs from Russia – up from less than 5% in April. According to research, India has cumulatively imported roughly 18% of Russia's total oil exports since the invasion – increasing from roughly 1% pre-war quota. China has been another noteworthy importer of Russian oil, building its strategic reserves amid high global oil prices. Despite agreeing on a partial embargo banning roughly three-quarters of Russian oil imports to the region, Europe would not cast a substantial blow to Russia until 2023. While criticizing India and China for purchasing Russian oil, the EU has perhaps neglected its own energy imports from Russia, approximating €57 billion in the first 100 days of the invasion. And in spite of lofty promises to wean off Russian energy, European countries like Hungary and Slovakia would continue to rely on Russian oil via pipeline till at least 2024. Hence, while the West convenes to topple Russian dominance in Ukraine, the efforts are unfortunately not enough to fluster Putin – at least in the short run.
Nonetheless, the sanctions would hurt Russia somewhere down the line. Elvira Nabiullina – Governor of the Bank of Russia – recently admitted: "The effect of sanctions has not been acute as we feared at the beginning. [However] it would be premature to say that the full effect of sanctions has manifested itself." The windfall energy export receipts may continue, but the import shortfall could damage the productivity of other sectors of the Russian economy. However, we need to understand that this is a war of attrition. And (despite a budget deficit) Russia has enough fiscal room to finance its domestic and military needs shortly. Mr.Richard Connolly – Director of the Eastern Advisory Group – sums up the reality perfectly: "For as long as the political will is there in the Kremlin and for as long as export prices remain high, I don't see any immediate financial constraints confronting the Kremlin." Hence, as sanctions fall short and Ukrainian defense fissures, the outlook is bleak – especially when Kyiv is resistant to negotiate territorial gains to fend off a humanitarian catastrophe.
Ultimately, the West needs to acknowledge its failure and decide: Is the sluggish war in favor of Ukraine or Russia? And what would be the primary goal of negotiations if Russia gains enough territory to dictate the terms? Given how the West has already exhausted almost all of its economic options and military options are off the table, I wonder how even the negotiations could do any good to Ukraine!
Lithuania to lose confidence for German troops in near future
Nine NATO member states held talks in Romania on Friday ahead of a key NATO summit later this month.
The nine, including Romania, Poland, Hungary, Bulgaria, the Czech Republic, Slovakia, Estonia, Latvia and Lithuania urged NATO to increase their protection.
It should be noted that some of these countries use every political event to call NATO for additional troops on their territories. Thus, the Baltic States are the leaders among applicants.
Germany in its turn agreed last week to increase its contribution to NATO's Enhanced Forward Presence (eFP) battalion in Lithuania. German Chancellor Olaf Scholz announced such plans after passing legislation to increase defense spending during a visit to Vilnius on Tuesday.Germany leads the 1,200-strong eFP battlegroup in Lithuania and currently has around 500 soldiers stationed there.
"We are going to increase our contribution by strengthening the Eastern flank of NATO. We are going to create a strong brigade and we have discussed that together in our meetings and we are going to have to work towards this direction," Scholz said at a press conference with Baltic and German leaders.A brigade usually consists of between 3,000-5,000 troops. So, Berlin intends to increase its troops by 10 times.
The Baltic States welcomed Germany's "historic decision" without suspecting what it could lead to.
It is no secret that German military contingent has very dubious reputation. In 2021 Germany had to recall a platoon from a NATO mission in Lithuania after reports emerged of troops engaging in racist and anti-Semitic behaviour, as well as sexual assault.According to Der Spiegel, the allegations relate to a party held at a hotel in Lithuania at the end of April, 2021.Some 30 German soldiers headed home from Lithuania.
The misconduct of foreign soldiers in Lithuania was a slap in the face of Lithuanian population who believed troops are here to defend.
A number of troops were also suspected of bullying, threatening violence and filming an incident of sexual assault.
Such behaviour is not only inexcusable but brings shame on Germany as NATO's security guarantor.
Meanwhile, according to the FT latest publication, the proposal from Berlin is that a 3,500-strong brigade would only have a permanent headquarters in Lithuania, staffed by 50 to 60 personnel, but be based in Germany.
And probably, this Germany's back step will secure Lithuanian population.
The Berlin's decision to increase its military presence in Lithuania by 10 times could cause potential threat of increasing the number of incidents with inappropriate behavior of German military personnel by 10 times. It is logical that the number of crimes will rise and the residents' trust in NATO ally will drop significantly. Is Lithuania ready to tolerate aggressive foreign soldiers in the streets of its cities? Can Lithuanians be calm for their children? Does Lithuania really need such foreign troops increasing? There are too many questions to answer before making the final decision.