ADB Promoting Access to Justice to Fight Gender-Based Violence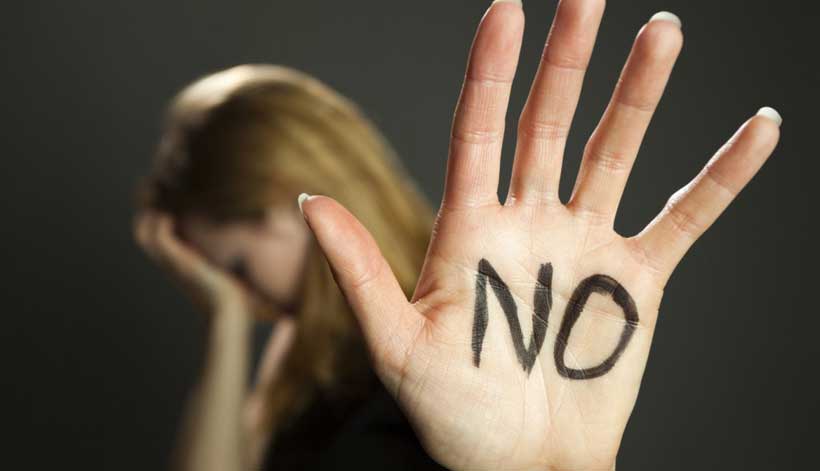 Countries should invest in measures that protect women's physical security and promote access to justice to help end the global pandemic of gender-based violence, said Asian Development Bank (ADB) Vice-President for Administration and Corporate Management Ms. Deborah Stokes.
"The main drivers of violence against women are gender inequality, discrimination, and marginalization. This means empowering women is a very high priority," Ms. Stokes said at an event to mark International Day for the Elimination of Violence Against Women held at ADB headquarters today. "It is essential to challenge the widespread acceptance of domestic violence as a 'norm' or justified under certain circumstances."
Discussions at the event explored the importance of the rule of law and access to justice for women and girls, the role of legal and regulatory experts, and possible ways to build up legal and judicial systems to make it easier for women to access them.
Speakers included Deputy Inspector General of Police in Nepal Mr. Hari Bhakta Prajapati, Superintendent of Police at Nepal's Ministry of Home Affairs Ms. Kiran Rana, Judge at Pakistan's Civil Courts Ms. Shazia Munawar Makhdoom, Founding Chair of the Child Justice League in the Philippines Ms. Katrina Legarda, and ADB's Chief of the Transport Sector Group Mr. Jamie Leather.
A global survey conducted by the World Health Organization estimated that, on average, 1 in 3 women in the Asia and Pacific region have experienced physical or sexual violence from an intimate partner. Moreover, in some countries, up to 80% of women report experiencing some form of violence in their lifetime. Underreporting means that these numbers are likely to be significantly higher. For example, according to a UN Women's report, only 1% of females who experienced forced sexual intercourse sought professional help. Many of the victims do not report these crimes because they do not want the offender to go to prison, because they are family, or because of economic necessity.
"Today's forum underscores the widespread nature of the problem and the importance and urgency of needed reforms to laws and mindsets," ADB General Counsel Mr. Christopher Stephens said in closing comments at the event.
In recent years, ADB has been investing in building legal and judicial systems in Asia and the Pacific to improve women's access to justice as part of its continued efforts in tackling violence against women. ADB's Law and Policy Reform Program has been supporting strengthened gender equality laws, such as a recently enacted Gender Equality Law in the Maldives. ADB also provided technical assistance to combat domestic violence in Mongolia through the delivery of livelihood assistance services to survivors, while training officers to provide gender-sensitive support to survivors.
Such interventions are already reaping rewards. Since the establishment of Asia's first specialized court in Pakistan for gender-based violence cases, supported by ADB, the conviction rate in rape cases has risen from 2% in 2016 to 17% in 2018. Meanwhile, a Women and Children Service Center Project, implemented in 20 districts in Nepal, has resulted in a 36% rise in the number of crimes reported and a 64% increase in people's confidence in women and children service centers.
Steps taken to end Saudi 'guardianship' system for women, 'encouraging' start
Allowing Saudi women to apply for passports and travel without their guardians' permission is "an encouraging move" towards the "complete abolition of the 'guardianship' system," independent United Nations rights experts said on Thursday, but more action is needed to fully dismantle these restrictions.
"Any progress will remain very frail unless accompanied by wider reforms and by measures to ensure that rights are reflected and enshrined in the constitution of the Kingdom of Saudi Arabia and not solely through royal decrees," the six experts said in a joint statement.
Saudi Arabia loosened some social restrictions on women in 2017. And now, by Royal decree, Saudi women will be able to apply for passports. Those over 21 will be allowed to travel independently – without permission from their so-called guardians – by the end of this month.
According to news reports, while human rights advocates have welcomed the move, they have also noted that women still require the permission of a male relative to marry, or leave women's shelters, and some rights activists remain on trial or in detention for campaigning to change the system.
"We should not forget that these positive developments are the result of years of relentless advocacy and effort of many human rights and women's rights defenders in Saudi Arabia", underscored the independent UN experts, calling "for their immediate release".
Men thwarting progress
Women "continue to face numerous restrictions" under a guardianship system that "negates their fundamental human rights and their dignity as autonomous human beings", according to the experts.
Giving men arbitrary authority over their female relatives results in discrimination against women.
"It severely impairs women's equal participation and decision-making in political, economic and social affairs and the enjoyment of their human rights including the rights to freedom of movement, education, work, access to justice, privacy and family life," they stressed.
The Special Rapporteur on Privacy, Joseph Cannataci, expressed his grave concern over the technological tools and apps that extend male guardians' control over women through the digital sphere.
"I am particularly concerned about the use of the Absher mobile phone app that allows male 'guardians' to monitor, restrict and control women's whereabouts and freedom of movement in ways that are incompatible with their human right to privacy," he said. "I expect that this type of functionality will be immediately abolished in order to be compliant with both the spirit and the letter of the new law."
While acknowledging this welcoming initiative, the experts urged the government to fulfil without any further delay its pledge to fully abolish the male 'guardianship' system as promised at the UN Human Rights Council in March 2019.
The UN experts are Joseph Cannataci, the first Special Rapporteur on the right to privacy and the UN Working Group on discrimination against women and girls, comprised of Meskerem Geset Techane, Elizabeth Broderick, Ivana Radačić, Alda Facio and Melissa Upreti.
UN independent experts are appointed by the Geneva-based UN Human Rights Council to examine and report back on a specific human rights theme or a country situation. The positions are honorary, and the experts are not UN staff, nor are they paid for their work.
2021 declared International Year for the Elimination of Child Labour
The United Nations General Assembly (UNGA) has unanimously adopted a resolution declaring 2021 as the International Year for the Elimination of Child Labour, and has asked the International Labour Organization to take the lead in its implementation.

The resolution highlights the member States' commitments "to take immediate and effective measures to eradicate forced labour, end modern slavery and human trafficking and secure the prohibition and elimination of the worst forms of child labour, including recruitment and use of child soldiers, and by 2025 end child labour in all its forms."

The UNGA acknowledged the importance of the ILO's Minimum Age Convention, 1973 (No. 138) and the Convention on the Worst Forms of Child Labour, 1999 (No. 182) – which is close to universal ratification by the ILO's 187 member States – as well as the Convention on the Rights of the Child.

It also recognized the importance of "revitalized global partnerships to ensure the implementation of the 2030 Agenda for Sustainable Development , including the implementation of the goals and targets related to the elimination of child labour."

Argentina took a lead role in advocating for this global commitment, as a follow up to the IV Global Conference on the Sustained Eradication of Child Labour , which took place in Buenos Aires in November 2017. Seventy-eight countries co-sponsored the resolution.

"We hope that this will be one more step to redouble our efforts and our progress to advance, day by day, towards a world in which no child is subjected to child labour or exploitation and a world where decent work for all will be a reality," said Martin Garcia Moritán, Argentina's representative to the UN.

The ILO has been working for the abolition of child labour throughout its 100 year-history, and one of the first Conventions it adopted was on Minimum Age in Industry (No. 5, 1919) .

The organization is a partner in Alliance 8.7 and serves as the secretariat of this global partnership for eradicating forced labour, modern slavery, human trafficking and child labour around the world.

Substantial progress has been achieved in recent years, largely because of intense advocacy and national mobilization backed by legislative and practical action. Between 2000 and 2016 alone, there was a 38 per cent decrease in child labour globally.

"The struggle against child labour has gained extraordinary momentum over the past two decades," said Beate Andrees, Chief of the ILO's Fundamentals Principles and Rights at Work Branch. "Yet, 152 million children across the world are still in child labour. We obviously need to scale up action further, and the decision by the General Assembly to declare 2021 the International Year for the Elimination of Child Labour will be a great help in focusing attention on the millions of girls and boys still toiling in the fields, in the mines and in factories."
ICJ orders Pakistan to review death penalty for Indian accused of spying
In a ruling delivered on Wednesday, the International Court of Justice (ICJ) ordered Pakistan to review a death sentence handed down in the case of a former Indian Navy officer accused by Pakistan of spying, finding that the country's authorities acted in breach of the Vienna Convention, which lays out rules for diplomatic relations between countries.
Kulbhushan Jadhav, said the Court, had not been informed of his rights by the Pakistani authorities, and that the Indian Government has been deprived of "consular access": the right to communicate with him.
During the hearings, the ICJ had directed Pakistan not to carry out the death sentence until the Court's final ruling. On Wednesday, the Court ordered a "continued stay of execution", as a "indispensable condition for the effective review and reconsideration of the conviction and sentence".
Mr. Jadhav was arrested three years ago by Pakistani authorities, who say that he was in the restive Balochistan province, which is home to a separatist insurgency that Pakistan accuses India of backing. The charges levelled against Mr. Jadhav were of "espionage and sabotage activities against Pakistan".
Although a video was released shortly after Mr. Jadhav's arrest, in which he was shown admitting involvement in spying, India has always questioned the alleged confession, saying that it was extracted under duress. The Indian authorities also deny that Jadhav is a spy and say that he was kidnapped in Iran, which borders the province, which he was visiting on business.
Following Pakistan's pronouncement of the death penalty, in April 2017, India filed a case with the ICJ, calling the trial, which took place in a military court, "farcical", and asked for a stay of execution and consular access to Mr. Jadhav. Pakistan countered that Mr. Jadhav was not given consular access because he is a spy who illegally entered the country in order to create "unrest and instability".