Trade supports over 36 million jobs across the EU
Two new studies published today by the European Commission highlight the increasing importance of EU exports for job opportunities in Europe and beyond.
EU exports to the world are more important than ever, supporting 36 million jobs across Europe, two thirds more than in 2000. 14 million of these jobs are held by women. In addition, EU exports to the world generate €2.3 trillion of value added in the EU.
Since the beginning of this Commission in 2014, the number of jobs supported by exports has increased by 3.5 million. These jobs are on average 12% better paid than jobs in the rest of the economy.
Commissioner for Trade Cecilia Malmström said: "This study makes it crystal clear that trade means jobs. Exports from the EU to the world support the livelihoods of a vast, and increasing, number of citizens in every corner of Europe. Almost 40 percent of those whose jobs are supported by trade are women. EU trade also supports millions of jobs far beyond EU borders, including in developing countries. So here's even more proof that trade can be a win-win: what's good for us is also good for our partners around the world."
The report released today, during the EU Trade Policy Day, includes detailed factsheets about the results for every EU Member State. Exports create and support jobs all across the EU, and the numbers are increasing. The highest increases have been seen since 2000 in Bulgaria (+312%), Slovakia (+213%), Portugal (+172%), Lithuania (+153%), Ireland (+147%), Estonia (+147%) and Latvia (+138%).
The figures released today highlight an important positive spillover effect from exports to the world. When EU exporters in one Member State do well, workers in other Member States also benefit. This is because firms providing goods and services along the supply chain also gain when their end-customer sells the final product abroad. To give an example, French exports to the rest of the world support around 627,000 jobs in other EU Member States.
Finally, EU exports to countries around the world support almost 20 million jobs outside the EU. These jobs have more than doubled since 2000. For instance, more than 1 million jobs in the United States are supported by the production of US goods and services that are incorporated into EU exports through global supply chains.
The study looks also into the gender balance, concluding that there are almost 14 million women in jobs supported by trade in the EU.
Background
The European Commission identified trade policy as a core component of the European Union's 2020 Strategy. Given the fast changing global economy landscape it is more important than ever to fully understand how trade flows affect employment. This can only be done by gathering comprehensive, reliable and comparable information and analysis to support evidence-based policymaking.
Guided by that objective, the European Commission's Joint Research Centre (JRC) and the Commission's Directorate General for Trade have collaborated to produce a publication that aims to be a valuable tool for trade policymakers and researcher.
Following up the first edition of 2015, the report features a series of indicators to illustrate in detail the relationship between trade and employment for the EU as a whole and for each EU Member State using the new World Input-Output Database for the year 2016 as the main data source. This information has been complemented with data on employment by age, skill and gender. All the indicators relate to the EU exports to the rest of the world to reflect the scope of EU trade policymaking.
Skills Development Vital to Enabling Transition to Industry 4.0 in Southeast Asia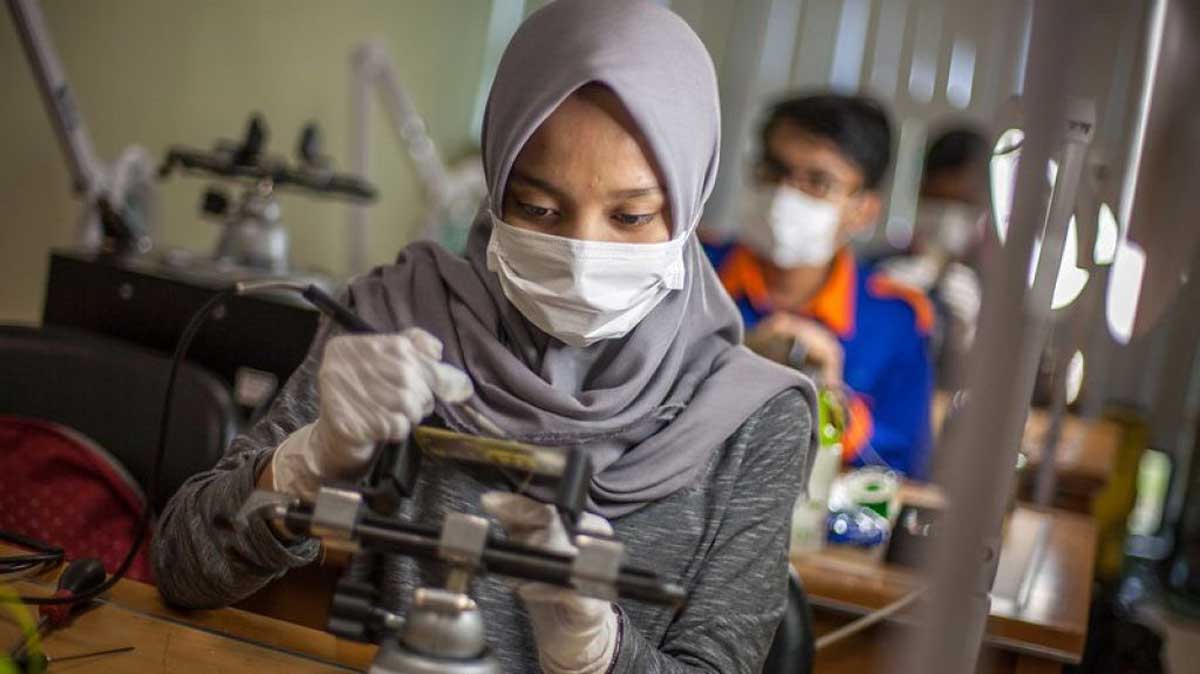 Countries in Southeast Asia should consider developing industry transformation maps in key sectors to enable the transition to the fourth industrial revolution (4IR) with adequate investment in skills development for new and repositioned jobs, according to a new study by the Asian Development Bank (ADB).
The finding is one of six key recommendations emerging from ADB's study Reaping Benefits of Industry 4.0 Through Skills Development in High-Growth Industries in Southeast Asia, covering Cambodia, Indonesia, the Philippines, and Viet Nam.
"The future of jobs is at the heart of development in Asia and the Pacific," said Director General of ADB's Sustainable Development and Climate Change Department Woochong Um. "While jobs have been lost to automation in recent years, new jobs will emerge as new and disruptive technologies are adopted. Now is the time to invest in skills development that will help displaced workers acquire the abilities necessary to move into new jobs and help job-seekers access quality jobs for greater prosperity."
The study assesses two industries in each country deemed important for growth, employment, and 4IR. Based on employer surveys, the study reports large potential returns to businesses arising from productivity increases from 4IR technologies.
By 2030, there is likely to be a positive net impact in all industries analyzed with more jobs created than displaced. Although a third of agro-processing jobs in Viet Nam may be displaced, for example, substantial net job creation of 34% is possible. There could also be net increases of 39% for garments in Cambodia, 14% for food and beverage manufacturing in Indonesia, and 11% for IT-business process outsourcing (BPO) in the Philippines.
"The findings of the study point towards a clear path for the future in Southeast Asia," said ADB Director General for Southeast Asia Ramesh Subramaniam. "While the region may face challenges in moving the displaced workers into new jobs due to inadequate skills, we are confident that countries will design appropriate policies and invest in workforce skills particularly to accelerate the post-pandemic recovery. We must do everything possible to ensure that no one is left behind."
Employers in all industries surveyed stressed the importance of skills in the context of disruptive technologies. Together, they could need an additional 169 million people trained by 2030 to prepare for the transition to 4IR.
The study recommends strengthening on-the-job training and skills development for the jobs of tomorrow. It calls for developing industry-led technical and vocational education and training programs with dedicated credentials for 4IR, and flexible and modular skills certification programs that recognize skills attainment outside of traditional education channels.
The study revealed mismatches between training institutions and employers on the perceived readiness of graduates for the workplace. While 96% of training institutions surveyed in Indonesia believed their graduates were well-prepared for work, only 33% of food and beverage manufacturing employers agreed. In Cambodia, almost 90% of surveyed employers reported that graduates were inadequately prepared for entry-level jobs.
The study recommends upgrading training delivery through the application of 4IR curriculum and technology in classrooms and training facilities in close collaboration between industry and training providers to strengthen workforce readiness. The survey of training institutions revealed limited use of advanced technologies such as virtual and augmented reality and online platforms for training delivery.
The study calls for new approaches to strengthen inclusion and social protection for entry-level workers, those at risk of job displacement, and those who need upskilling. According to IT-BPO employers in the Philippines, manual and administrative jobs which are typically held by women are likely to see the largest losses, while females in Cambodia's garments industry are more likely to be affected.
To ensure the welfare of workers, the study calls for a strong focus on reskilling and upskilling programs, and incentives schemes for employers to retrain workers. The Career-Up Josei-Kin program in Japan, which subsidizes employers to train individuals not on regular contracts is identified as a good example.
While the coronavirus disease pandemic is accelerating digital transformation, the study finds that companies deploying 4IR technologies are likely to recover faster from the disruptions caused by the pandemic and be more resilient in the future.
Thailand: Growth in Jobs Critical for Sustained COVID-19 Recovery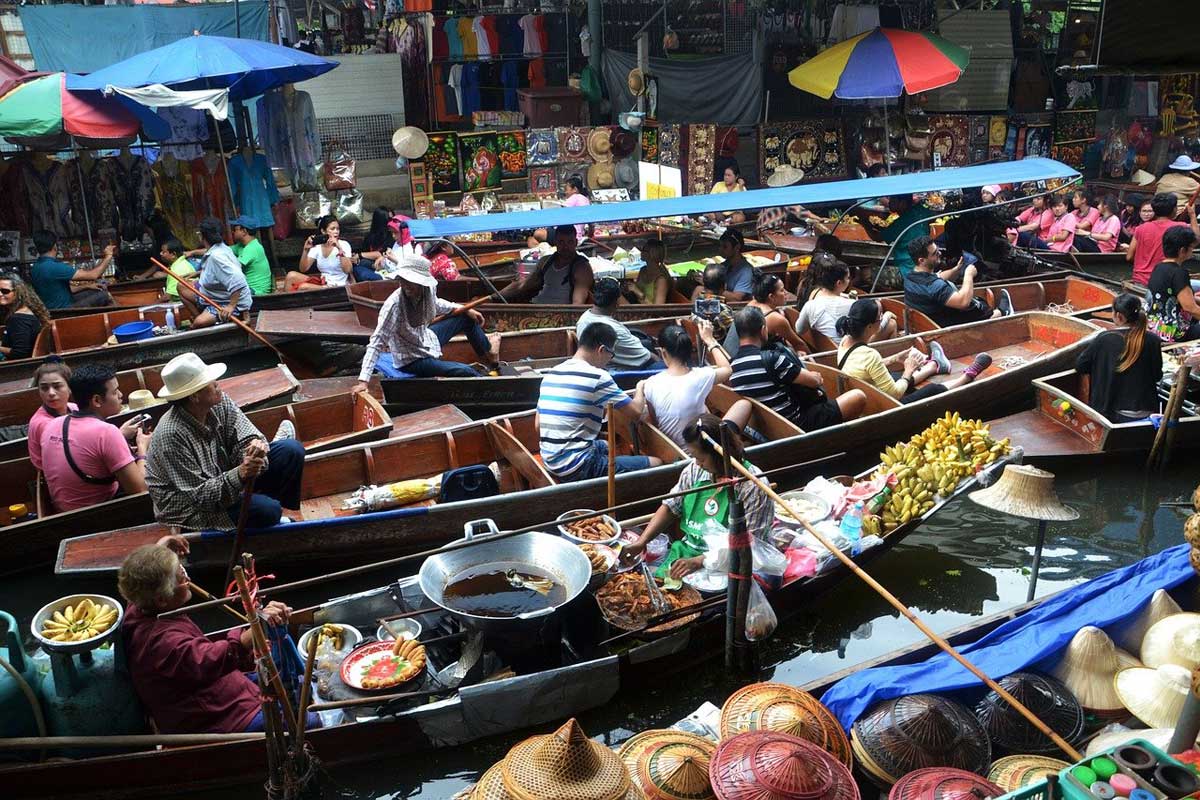 Thailand's economy was severely impacted by the COVID-19 pandemic and is estimated to have shrunk by 6.5 percent in 2020. Growth is projected to expand by 4.0 percent in 2021, according to Restoring Incomes; Recovering Jobs, the latest edition of the World Bank's Thailand Economic Monitor," launched today. The report stresses that sustained recovery in employment will be essential to helping the country bounce back in 2021 and 2022.
In 2020, weak global demand, the sharp decline in international tourist arrivals, and domestic mobility restrictions depressed goods and services exports and private consumption. Exports and private investment are estimated to have declined by 18.5 percent and 4.4 percent respectively, while household consumption declined by 1.3 percent.
The resulting declines in income have created economic hardship for many, though the Government has made good progress in implementing a substantial package of measures to support households and firms. Nevertheless, projections indicate that an additional 1.5 million people may have entered poverty in 2020 due to the economic impacts of COVID-19, based on a poverty line of US$5.50 (2011 PPP) per day.
This year, the economy is expected to recover gradually, despite the recent second outbreak of COVID-19, and growth is forecast to pick up further to 4.7 percent in 2022. However, the recovery remains vulnerable to downside risks, including from an extended resurgence of the pandemic resulting in a prolonged stagnation in tourism and domestic activity, a weaker-than-expected global recovery that could lead to continuing trade and supply chain disruptions, and high household debt levels.
The pandemic's impact has had a significant impact on Thailand's labor market, with a particularly large increase in unemployment among young people. Hours worked fell, as did monthly incomes. Hours worked have not fully recovered, and employment in several sectors including manufacturing remains smaller than a year ago. This means the labor market is in a vulnerable position to confront any future shocks including a resurgence of COVID-19.
"The COVID-19 crisis and its economic impact have highlighted a key vulnerability for Thailand: the declining number of working-aged people, which compounds the challenge of recovering the economic losses of the last year," said Birgit Hansl, World Bank Country Manager for Thailand. "Improvements in employment, productivity and labor incomes, especially among the poor, will be necessary for a sustainable recovery."
The report recommends that in the short term, the government put in place training programs to improve workers skills and provide financial support while they get back to work. Ongoing efforts are required to ensure that education and training matches the needs of employers.
In the longer term, the government can increase employment in the care sector, make childcare more accessible and decrease its cost to help increase female labor force employment. The report also recommends increasing the retirement age and putting in place performance-based compensation schemes and flexible working arrangements to extend the working lives of older people.
"The decline in the working age population will reduce labor supply and economic output over the coming decades. Good jobs will need to be created in high-productivity sectors associated with Thailand's emerging knowledge economy. Policies to boost labor productivity and labor market participation of older people and women can help promote a sustainable recovery from COVID-19, while addressing challenges associated with an aging population," according to Kiatipong Ariyapruchya, World Bank Senior Economist for Thailand.
The World Needs to Wake Up to Long-Term Risks
For the last 15 years the World Economic Forum's Global Risks Report has been warning the world about the dangers of pandemics. In 2020, we saw the effects of ignoring preparation and ignoring long-term risks. The COVID-19 pandemic has not only claimed millions of lives, but it also widened long-standing health, economic and digital disparities. Billions of caregivers, workers and students – especially minorities who were disadvantaged before the pandemic – are now at risk of missing pathways to the new and fairer societies that the recovery could unlock. According to the Global Risks Report 2021, released today, these developments may further impede the global cooperation needed to address long-term challenges such as environmental degradation.
When it comes to technology access and digital skills, the gap between the "haves" and the "have nots" risks widening and challenging social cohesion. This will particularly affect young people worldwide, as this group faces its second global crisis in a generation and could miss out altogether on opportunities in the next decade.
Financial, digital and reputational pressures resulting from COVID-19 also threaten to leave behind many companies and their workforces in the markets of the future. While these potential disparities could cause societal fragmentation for states, an increasingly tense and fragile geopolitical outlook will also hinder the global recovery if mid-sized powers lack a seat at the global table.
Once again, environmental risks dominate by impact and likelihood, looking ahead towards the next decade. Societal fractures, uncertainty and anxiety will make it more difficult to achieve the coordination needed to address the planet's continued degradation.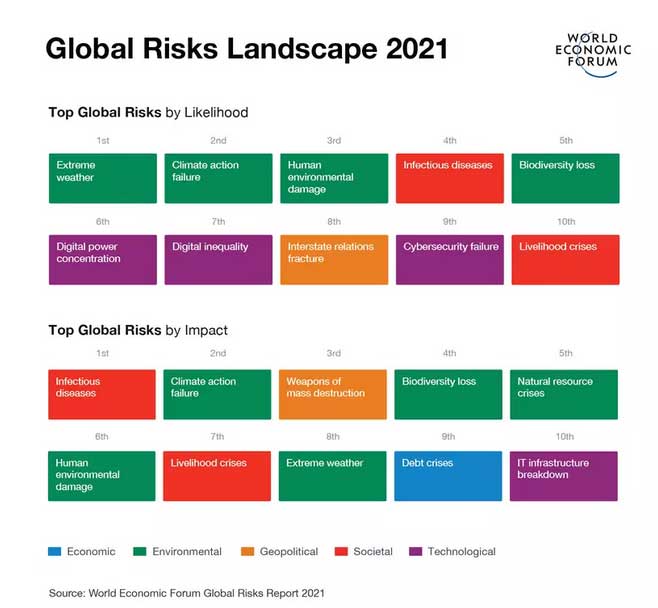 For the first time, the report also rates risks according to when respondents perceive they will pose a critical threat to the world. Clear and present dangers (0-2 years) reveal concern about lives and livelihoods – among them infectious diseases, employment crises, digital inequality and youth disillusionment. In the medium-term (3-5 years), respondents believe the world will be threatened by knock-on economic and technological risks, which may take several years to materialize – such as asset bubble bursts, IT infrastructure breakdown, price instability and debt crises. Existential threats (5-10 years) – weapons of mass destruction, state collapse, biodiversity loss and adverse technological advances – dominate long-term concerns.
"In 2020, the risk of a global pandemic became reality, something this report has been highlighting since 2006. We know how difficult it is for governments, business and other stakeholders to address such long-term risks, but the lesson here is for all of us to recognize that ignoring them doesn't make them less likely to happen. As governments, businesses and societies begin to emerge from the pandemic, they must now urgently shape new economic and social systems that improve our collective resilience and capacity to respond to shocks while reducing inequality, improving health and protecting the planet. To help meet this challenge, next week's event, The Davos Agenda, will mobilize global leaders to shape the principles, policies and partnerships needed in this new context," said Saadia Zahidi, Managing Director at the World Economic Forum.
The report also reflects on the responses to COVID-19, drawing lessons designed to bolster global resilience. These lessons include formulating analytical frameworks, fostering risk champions, building trust through clear and consistent communication, and creating new forms of partnership. The key risks outlined in the report are complemented with recommendations to help countries, businesses, and the international community to act, rather than react, in the face of cross-cutting risks. The report closes with an overview of "frontier risks" – nine high-impact, low-probability events drawn from expert foresight exercises – including geomagnetic disruption, accidental wars and exploitation of brain-machine interfaces.
"The acceleration of the digital transformation promises large benefits, such as for example the creation of almost 100 million new jobs by 2025. At the same time however, digitalization may displace some 85 million jobs, and since 60% of adults still lack basic digital skills the risk is the deepening of existing inequalities," said Peter Giger, Group Chief Risk Officer, Zurich Insurance Group. "The biggest long-term risk remains a failure to act on climate change. There is no vaccine against climate risks, so post-pandemic recovery plans must focus on growth aligning with sustainability agendas to build back better."
"Economic and societal fallout from COVID-19 will profoundly impact the way organizations interact with clients and colleagues long after any vaccine rollout. As businesses transform their workplaces, new vulnerabilities are emerging. Rapid digitalization is exponentially increasing cyber exposures, supply chain disruption is radically altering business models, and a rise in serious health issues has accompanied employees' shift to remote working," said Carolina Klint, Risk Management Leader, Continental Europe, Marsh. "Every business will need to strengthen and constantly review their risk mitigation strategies if they are to improve their resilience to future shocks."
"The pandemic in 2020 was a stress-test that shook the foundations of economies and societies worldwide. Rebuilding resilience to systemic shocks will require significant funding, international cooperation and greater social cohesion. Resilience will also hinge on the continued growth in connectivity worldwide, as we know that economies that digitized early performed relatively better in 2020," said Lee Hyung-hee, President, Social Value Committee, SK Group. "If the continued deployment of 5G and AI is to emerge as an engine of growth, however, we must urgently bridge digital divides and address ethical risks."
The Global Risks Report 2021 has been developed with the invaluable support of the World Economic Forum's Global Risks Advisory Board. It also benefits from ongoing collaboration with its Strategic Partners Marsh McLennan, SK Group and Zurich Insurance Group and its academic advisers at the Oxford Martin School (University of Oxford), the National University of Singapore and the Wharton Risk Management and Decision Processes Center (University of Pennsylvania).